WWW.KARLSWALKS.CO.UK
PICTURES AND TRIP REPORTS FROM MY WALKS IN THE ENGLISH LAKE DISTRICT
---
E-mail - karl@karlswalks.co.uk
The Green to Elterwater
15th -17th April 2022
15th - Green Rd station - The Green - Dunningwell - Baystone Bank - Stoupdale Beck - Gray Stones - Charity Chair - Buckbarrow - Whitfell - Woodend Height ( About 10 miles 2800ft ascent )
16th - Woodend Height - Woodend - Birker Fell - Grassguards - Fickle Steps - Tongue House Close - Seathwaite Tarn - Grey Friar - Black Spouts ( About 9 miles 3000ft ascent )
17th - Black Spouts - Wet Side Edge - Low Hall Garth - Slater Bridge - Wilson Place - Elterwater ( About 6 miles 500ft ascent )
A dull but dry Easter was forecast so I used my railcard to get me up to the west coast again. After my last experience of Northern Rail I was a bit apprehensive but to give them their due every train was bang on time and I arrived at Green Road exactly as planned.
Looking back down the line and the outlines of the Dunnerdale fells are very faint.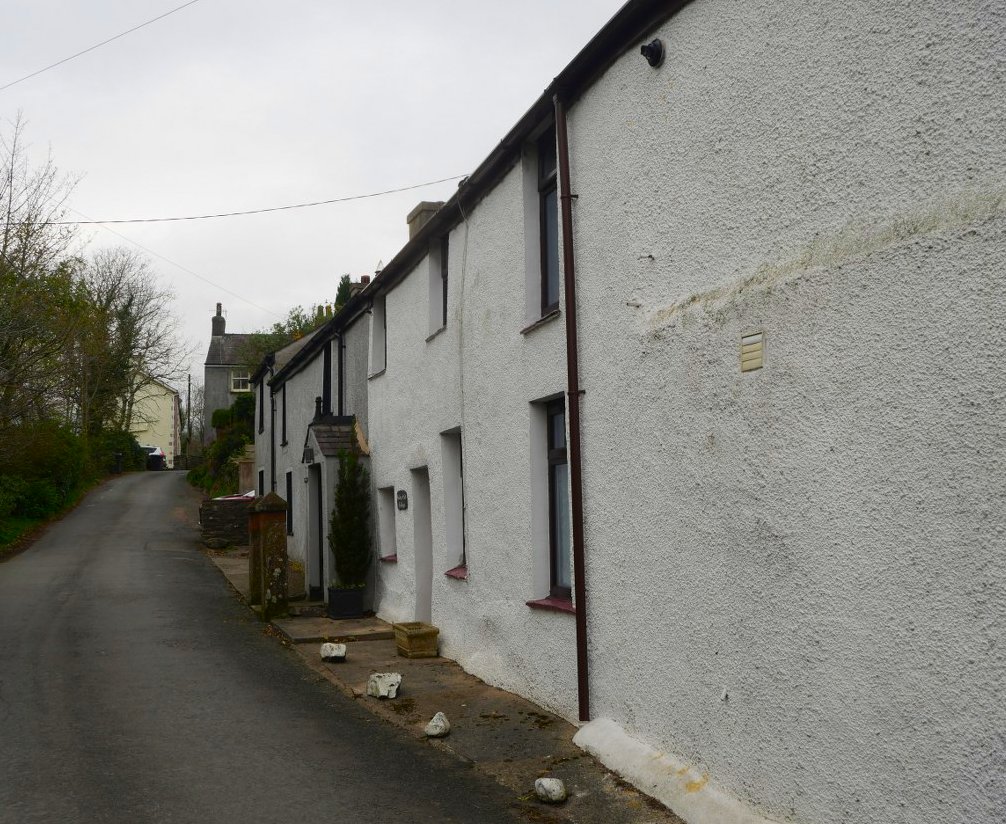 The Green is a quiet little linear village, so quiet in fact that both times I've been here I've not actually seen one person.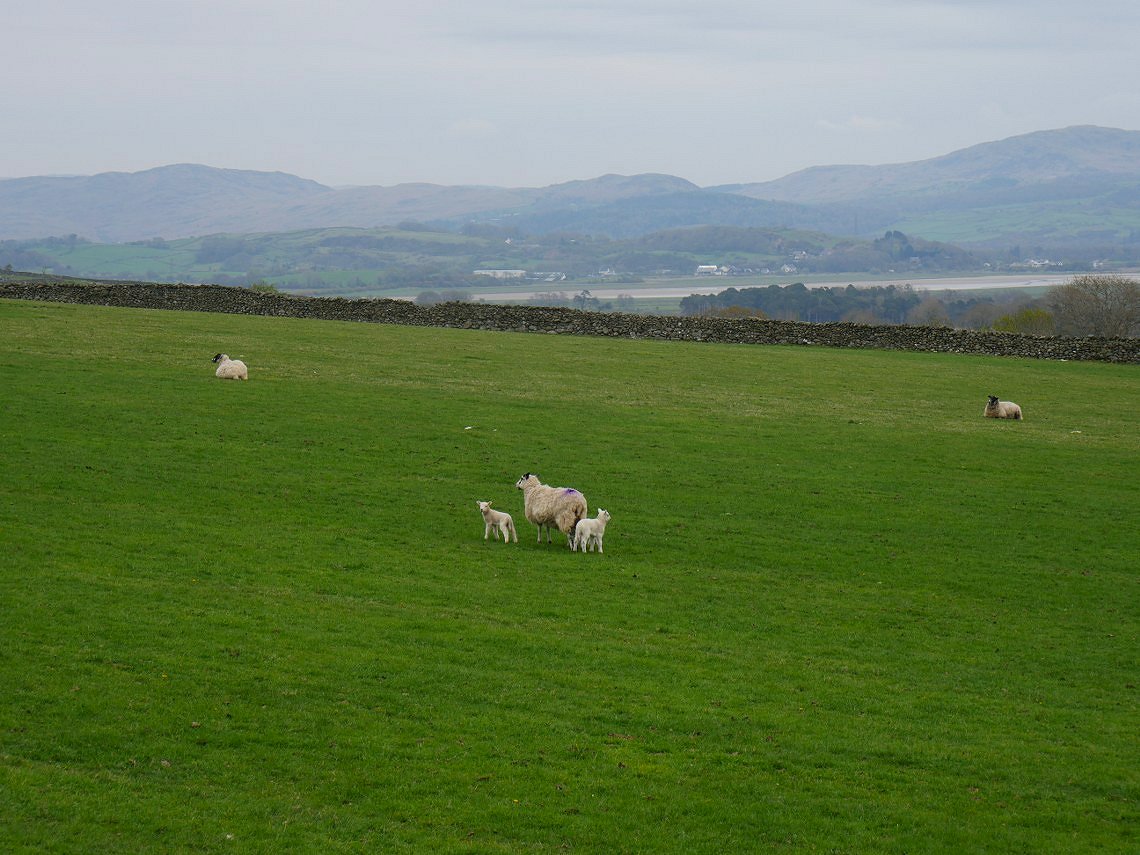 Plenty of new life in the fields above the village.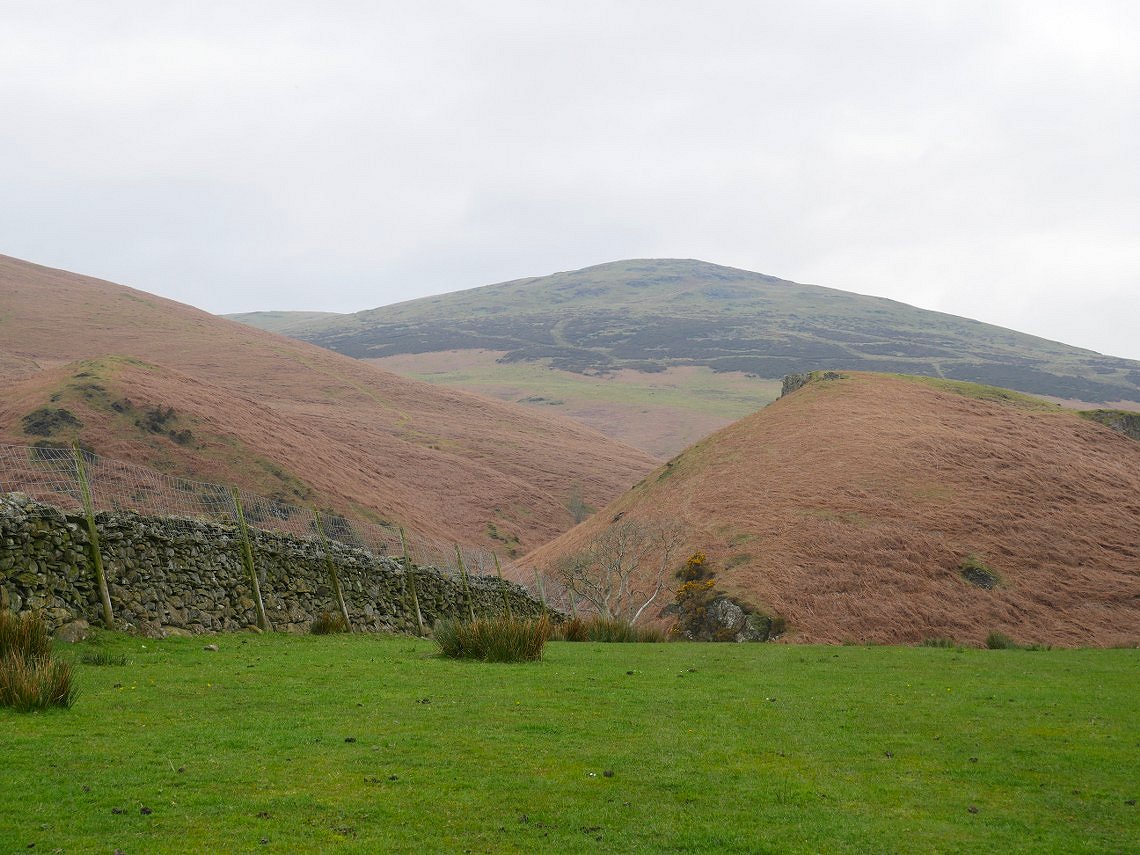 I took a different route up to the high fells than last time I came, passing the campsite at Baystone Bank and following Stoupdale Beck up to the heather covered slopes of Gray Stones.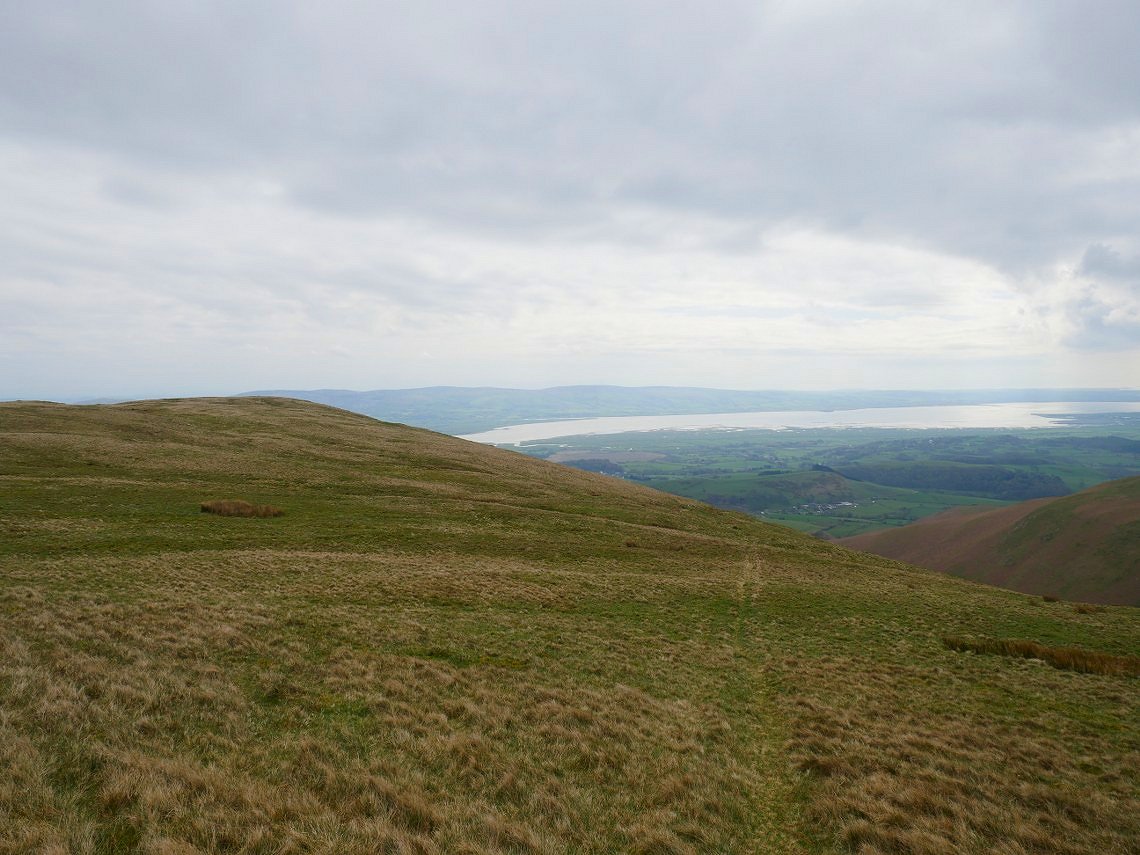 Grey Stones with the Duddon estuary beyond.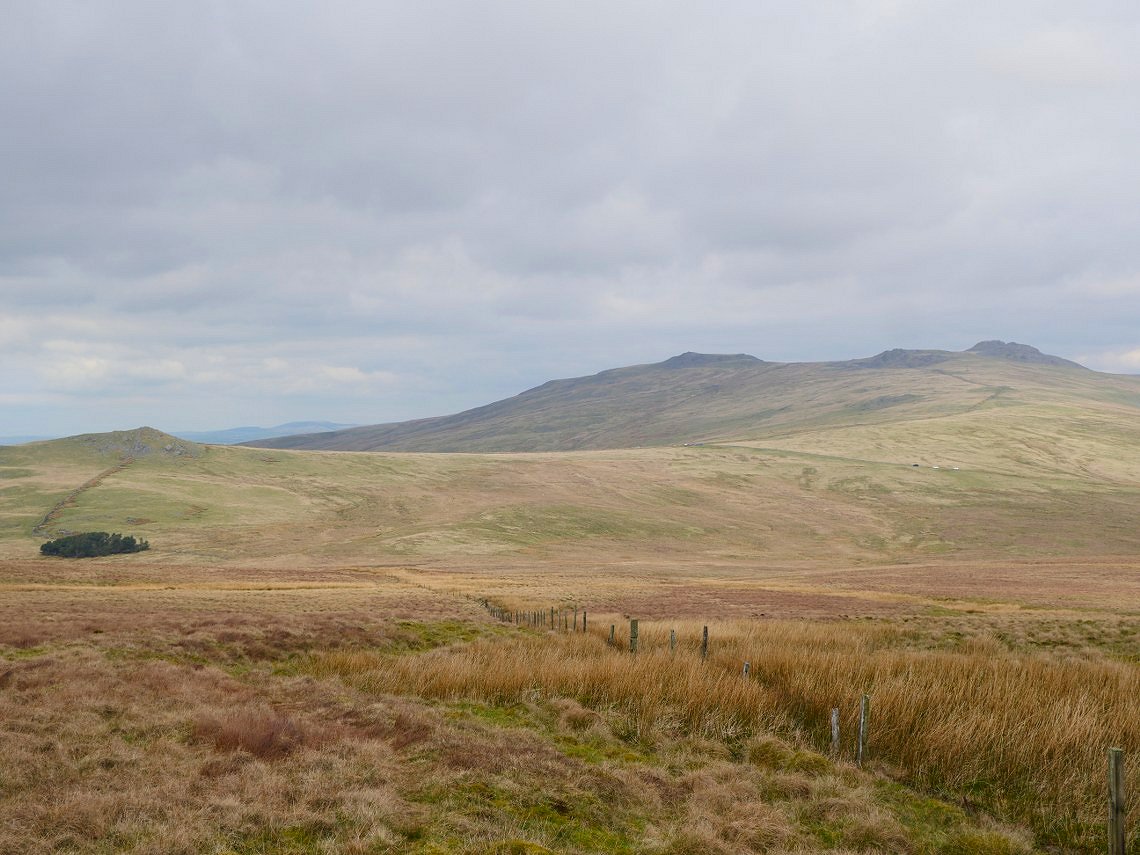 The day seems to be brightening up as I start the descent to small copse of trees at Charity Chair. From the trees it's an easy climb up over the Corney Fell road to the Buckbarrow group of hills.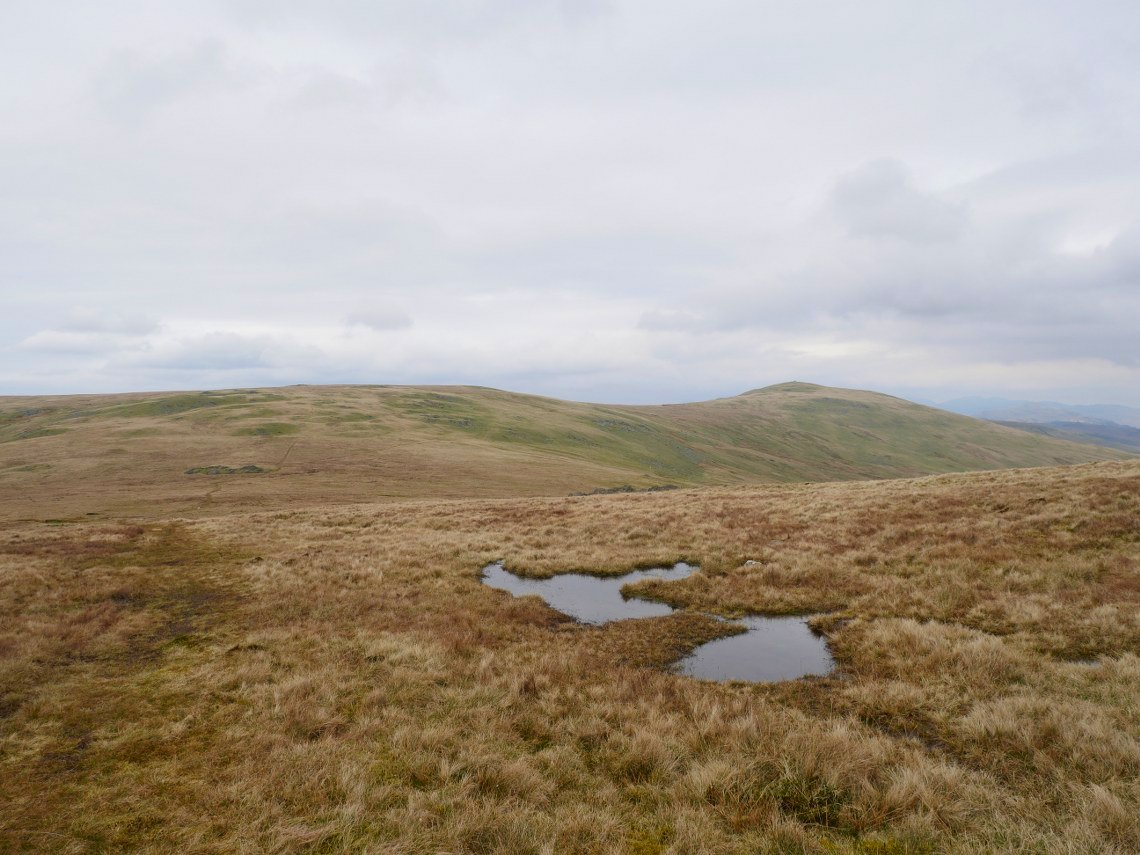 Here I am just leaving the Buckbarrow fells heading along the flank of Burn Moor to the pointed top of Whitfell. Unfortunately there are no long range views to the high fells which are usually the highlight of this section.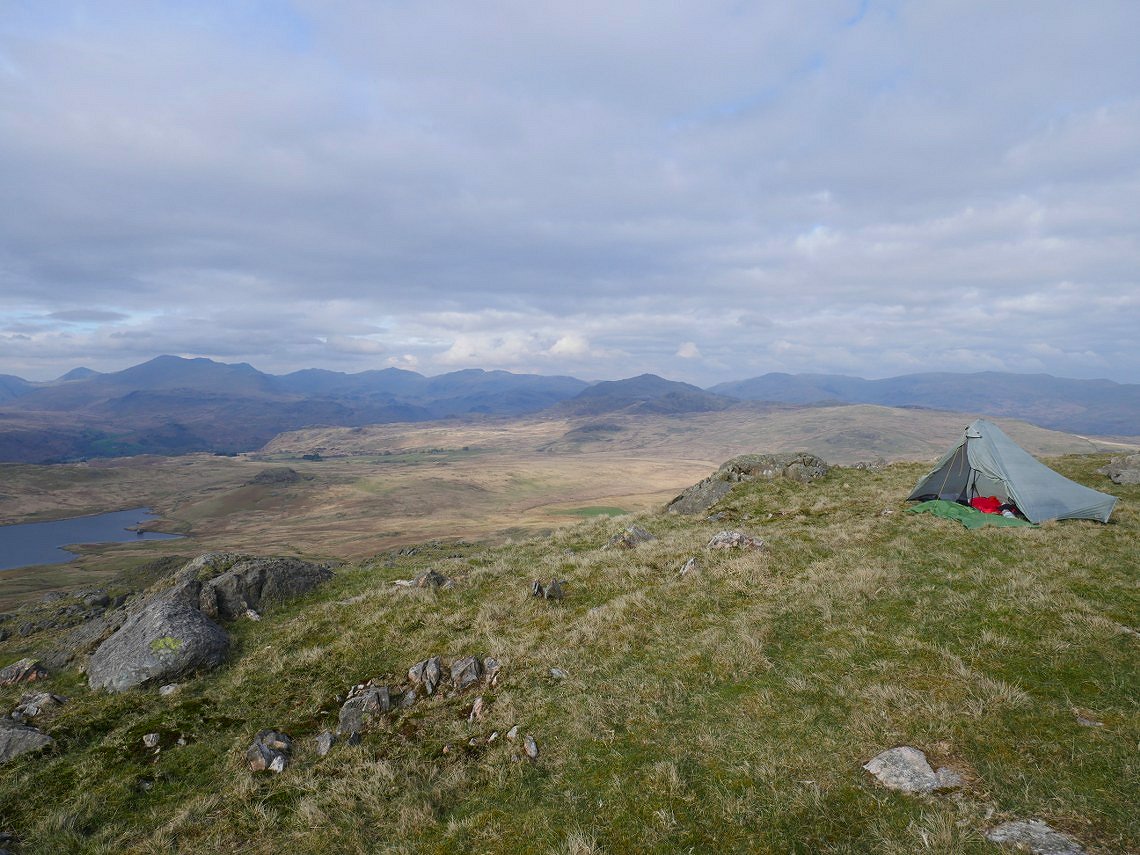 Later in the afternoon when I've pitched up just beyond Woodend Height there are good views to the high fells as well as Devoke Water of course.
.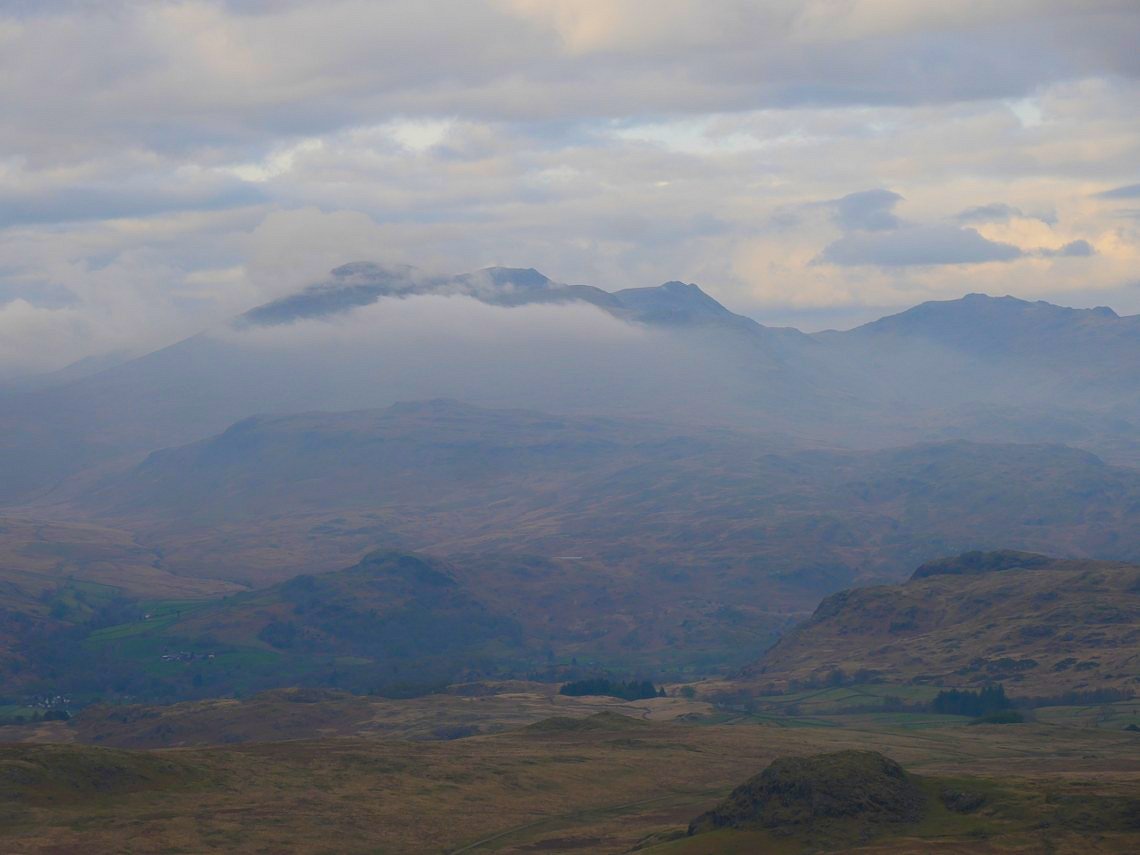 An early evening mist rolled onto the Scafell range.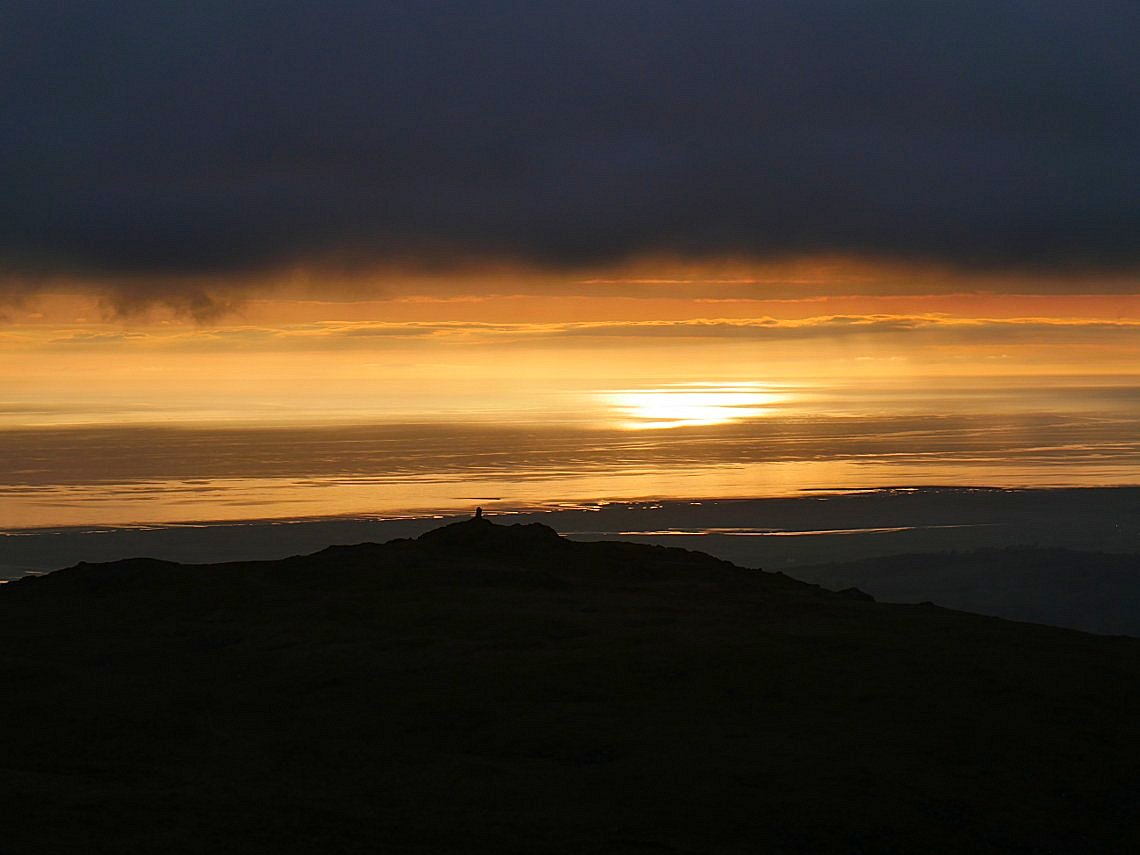 The fells of the west coast are usually a good place for sunsets and tonight didn't disappoint.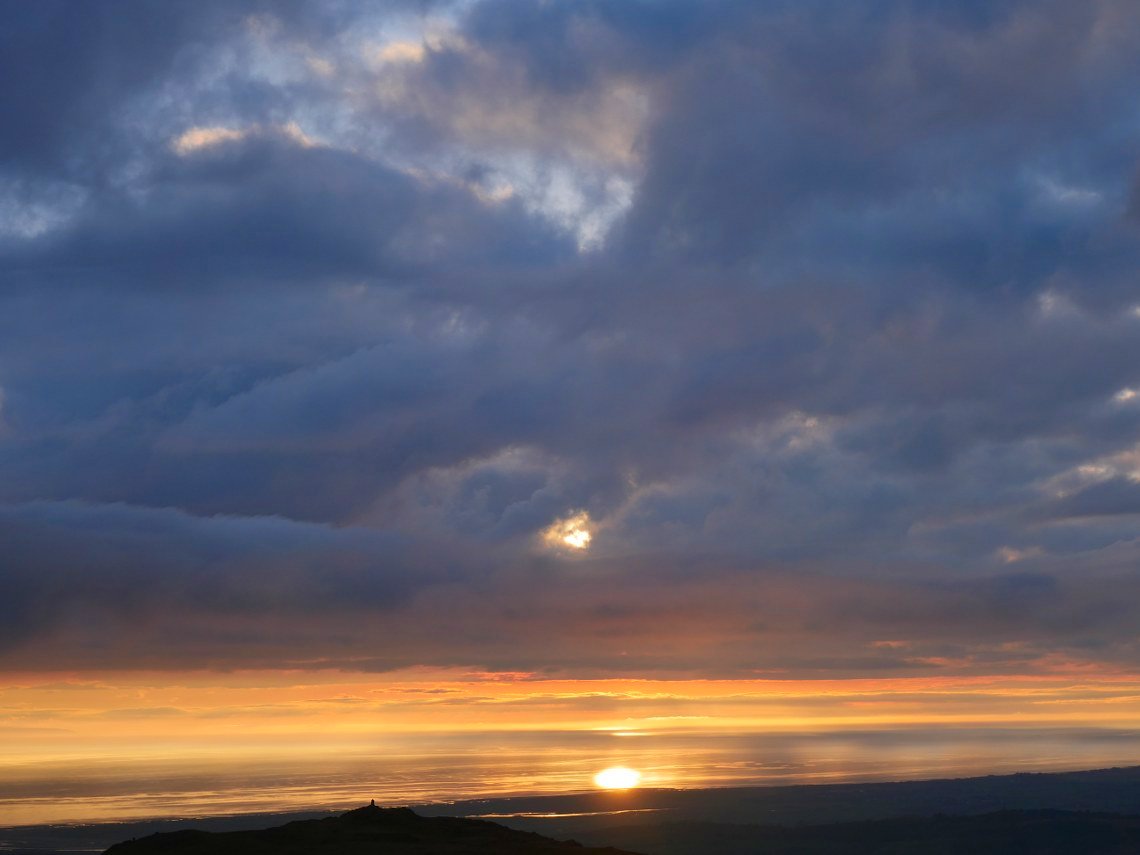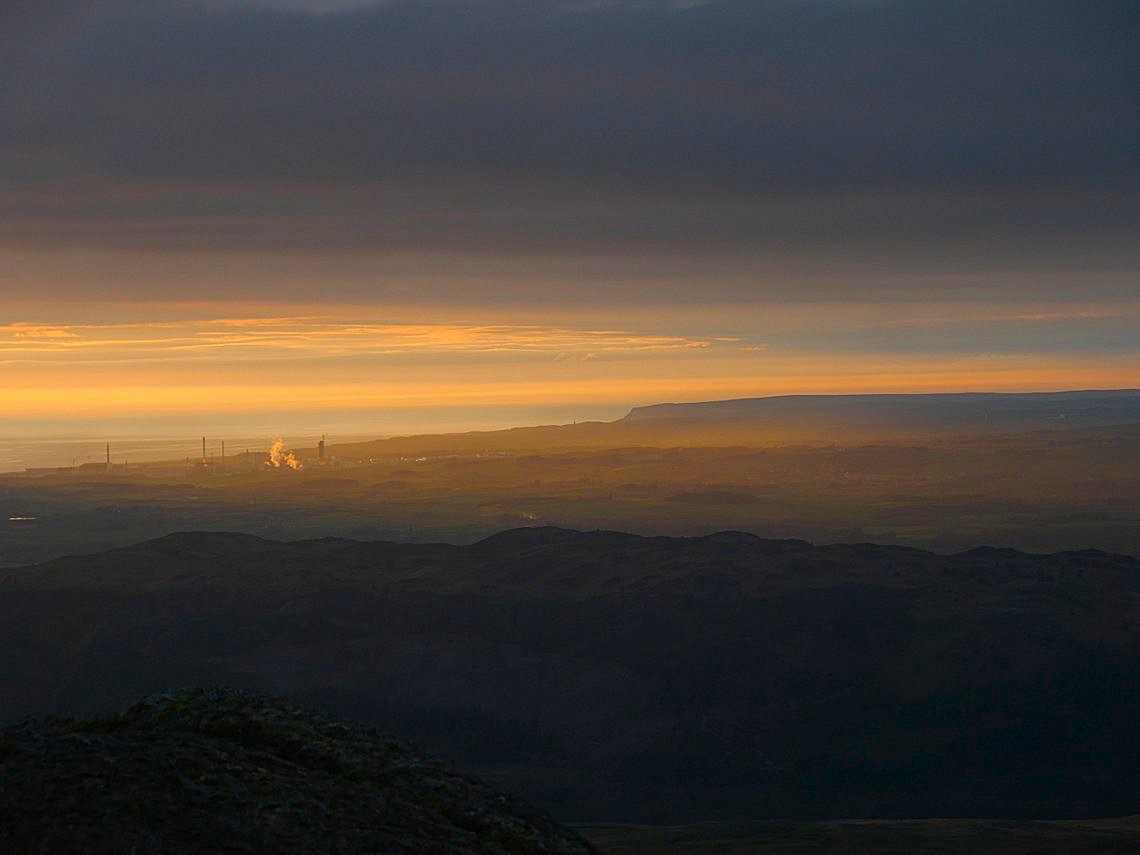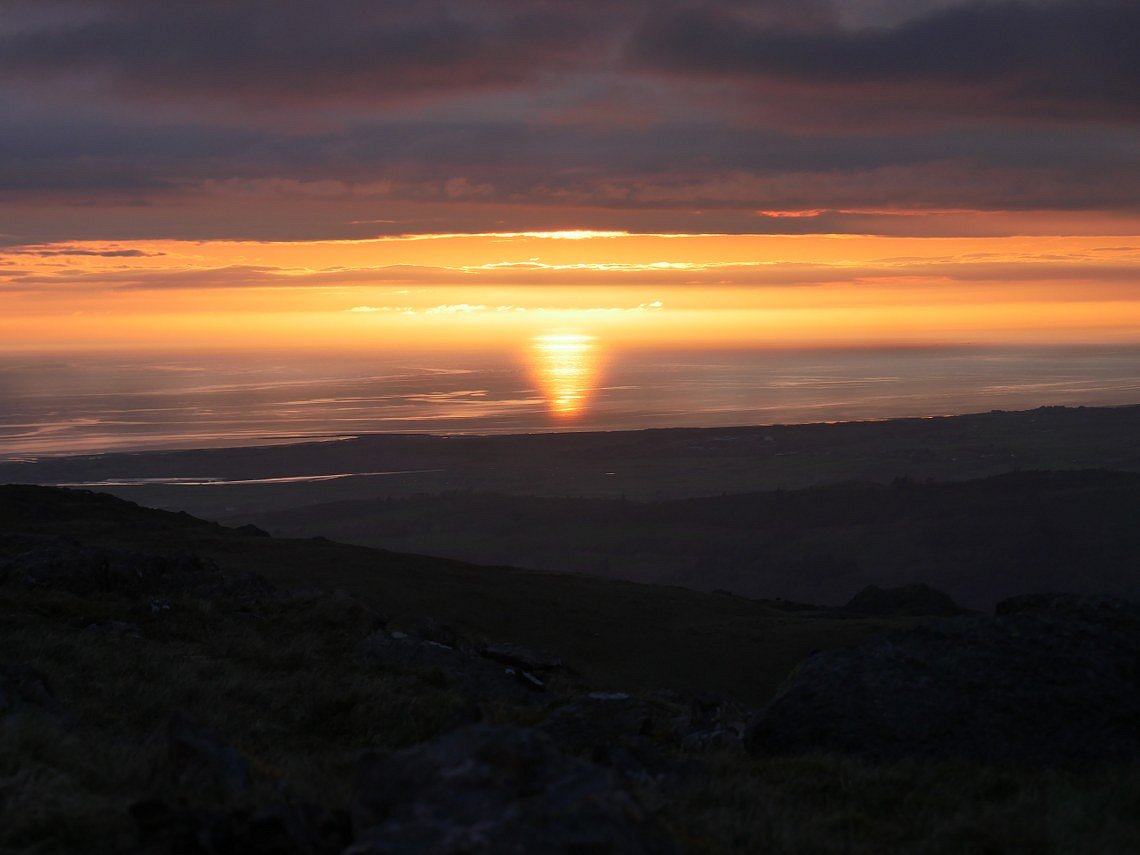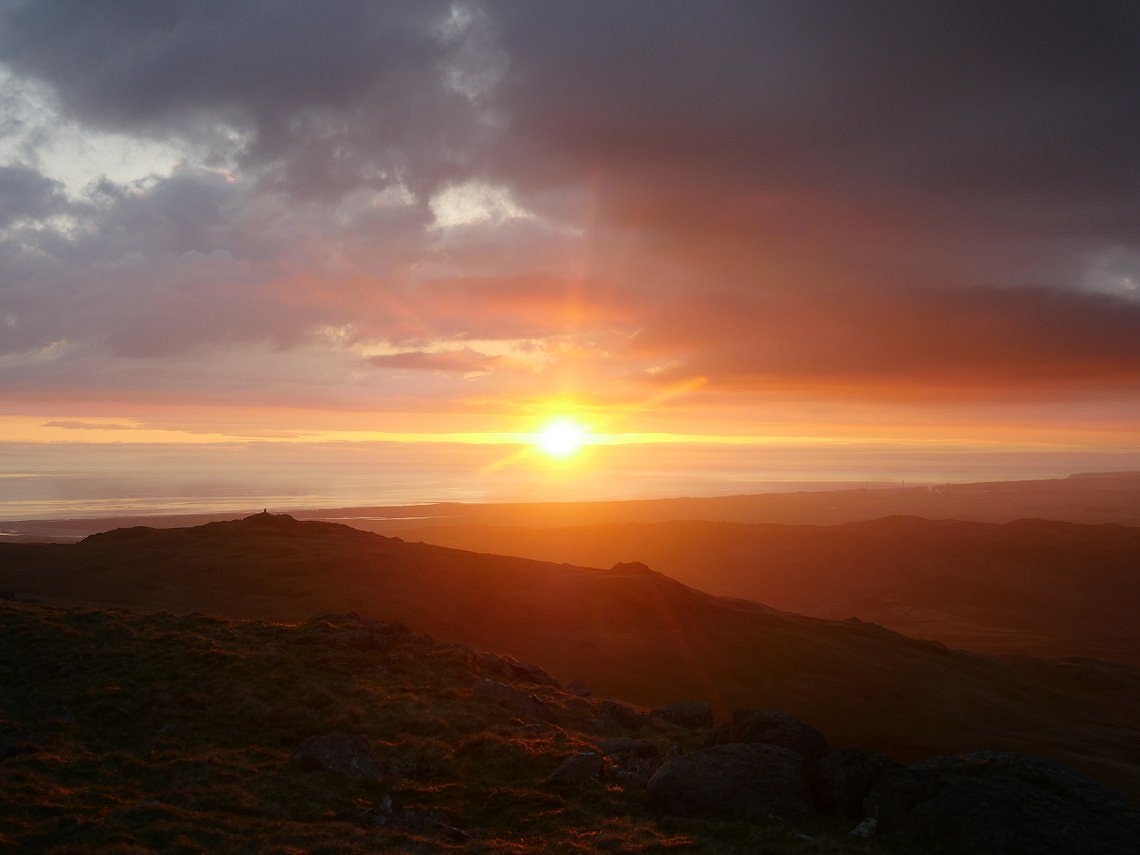 I've noticed before when there is cloud about you usually get a couple of minutes of full sun just before it sinks into the sea.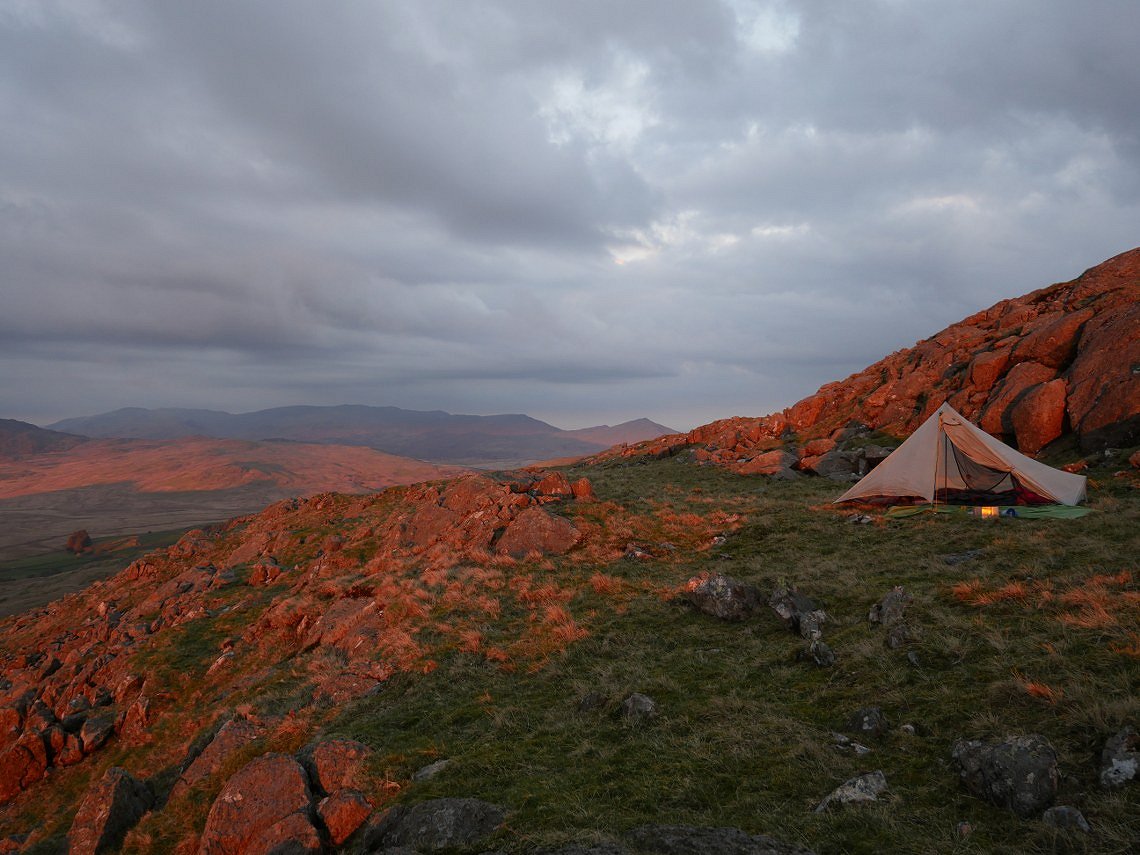 Which as in this case gives a lovely orange glow to the fells.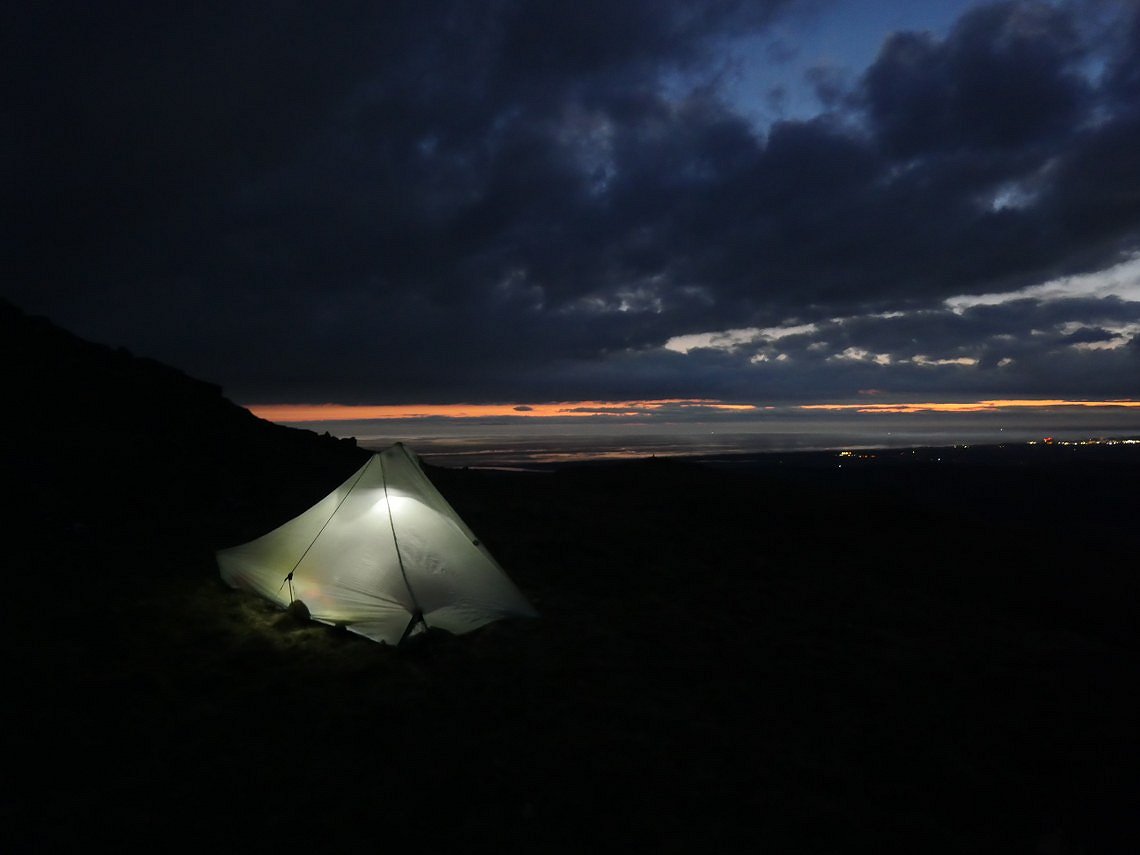 The last remnants of the day.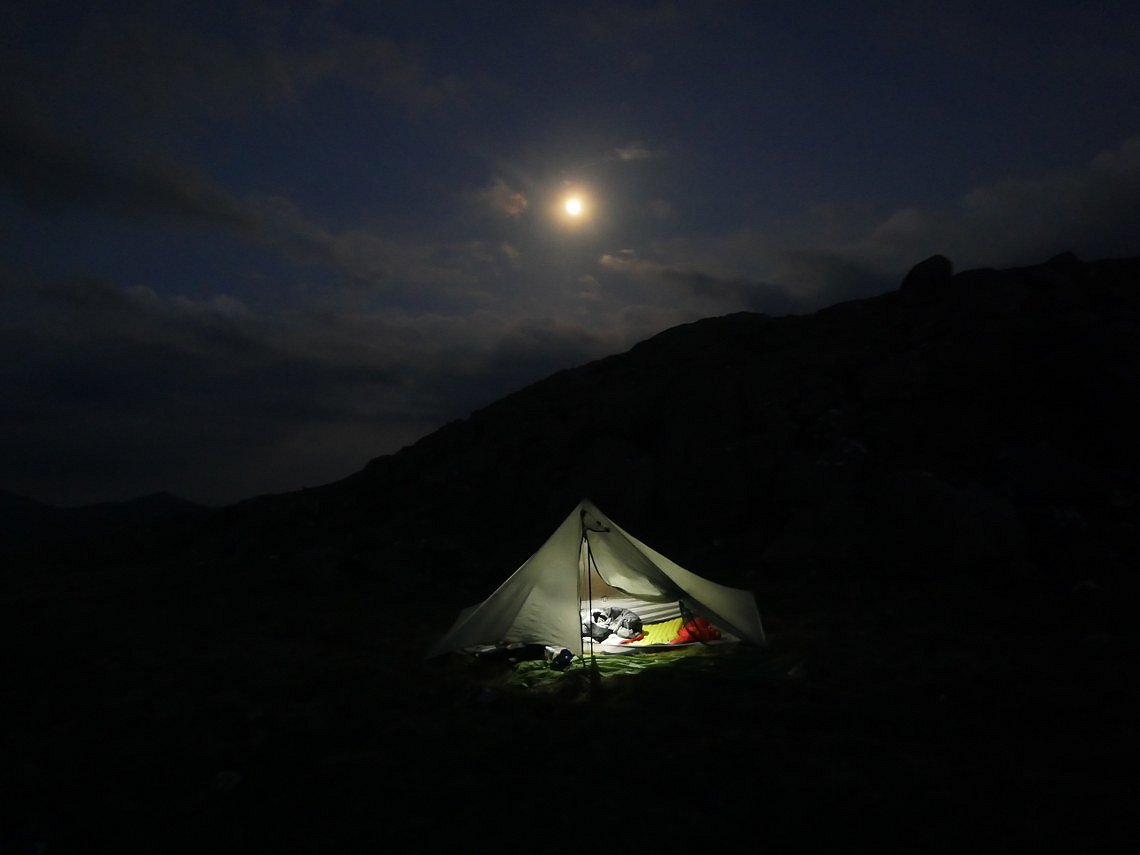 Although it never got very dark due to the very bright full moon.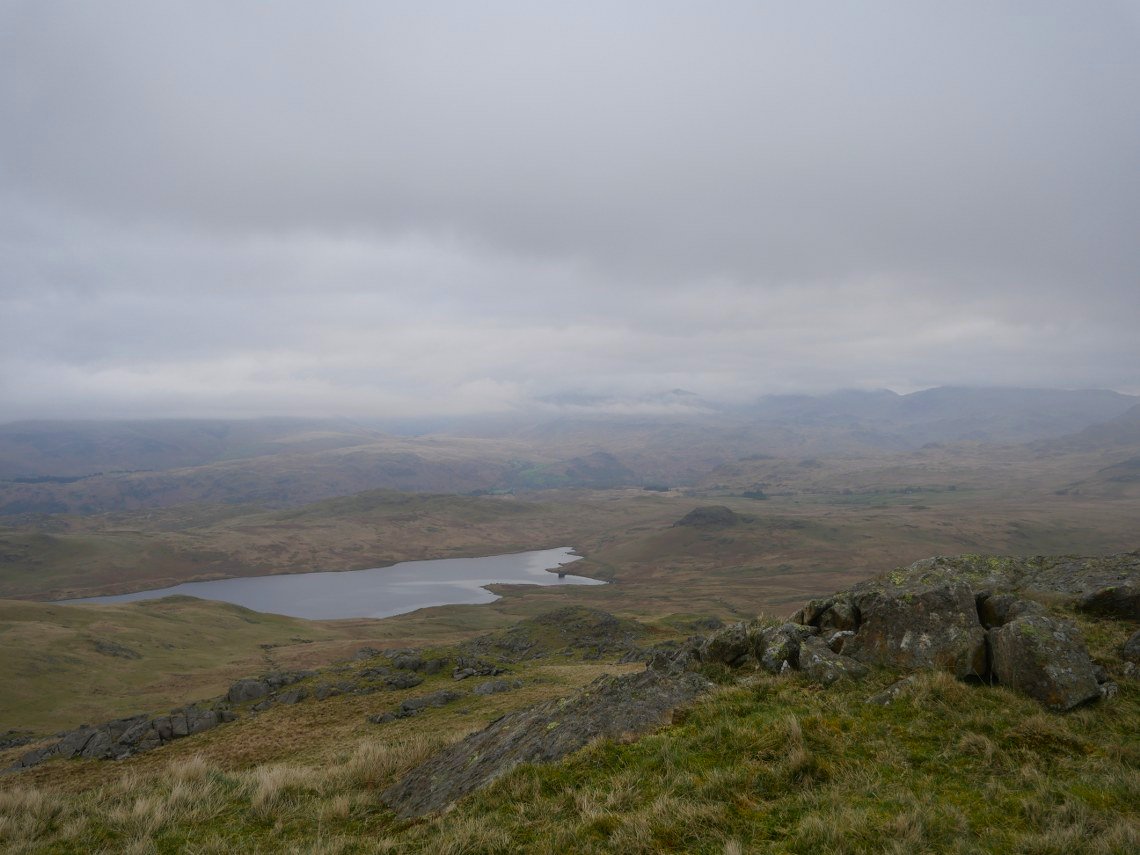 Saturday started off even mistier than Friday. I packed up and headed for Woodend.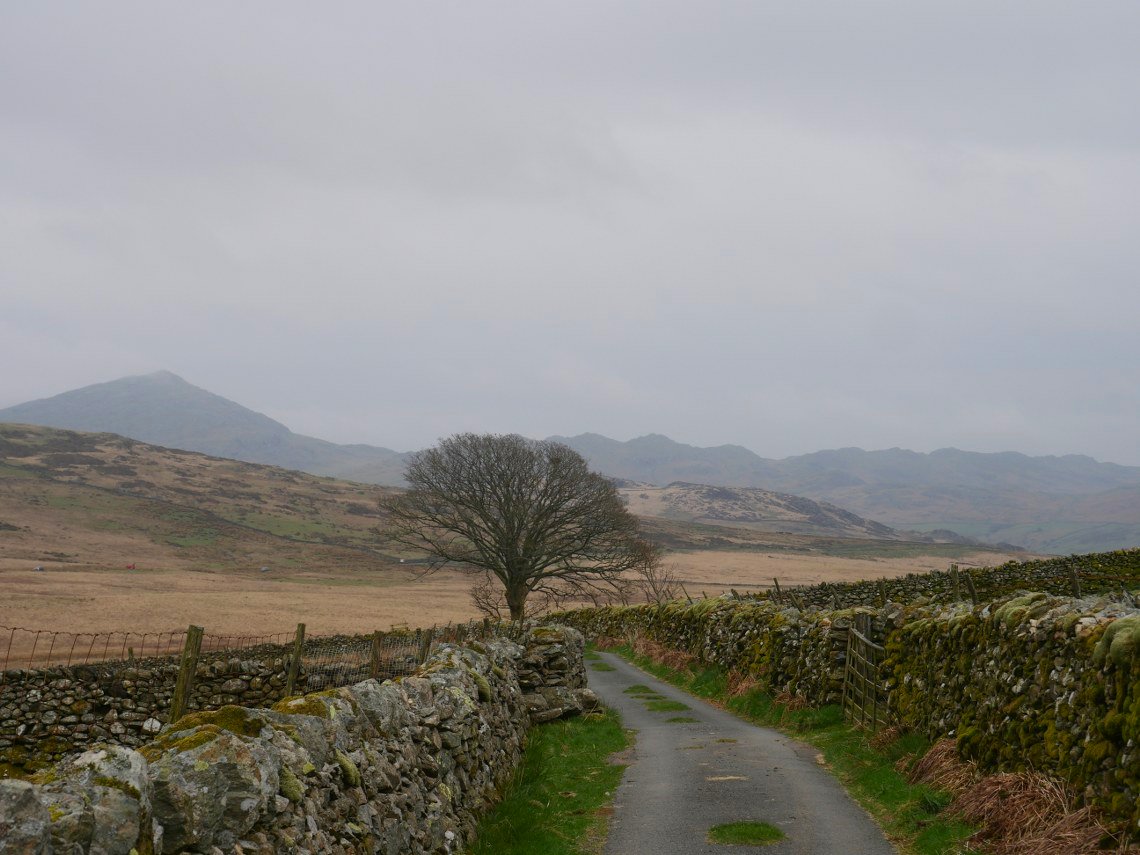 Leaving Woodend there was a hazy view of Caw and some of the other Dunnerdale fells, but as I climbed back up towards White How the mist rolled in so there was nothing to see apart from grass.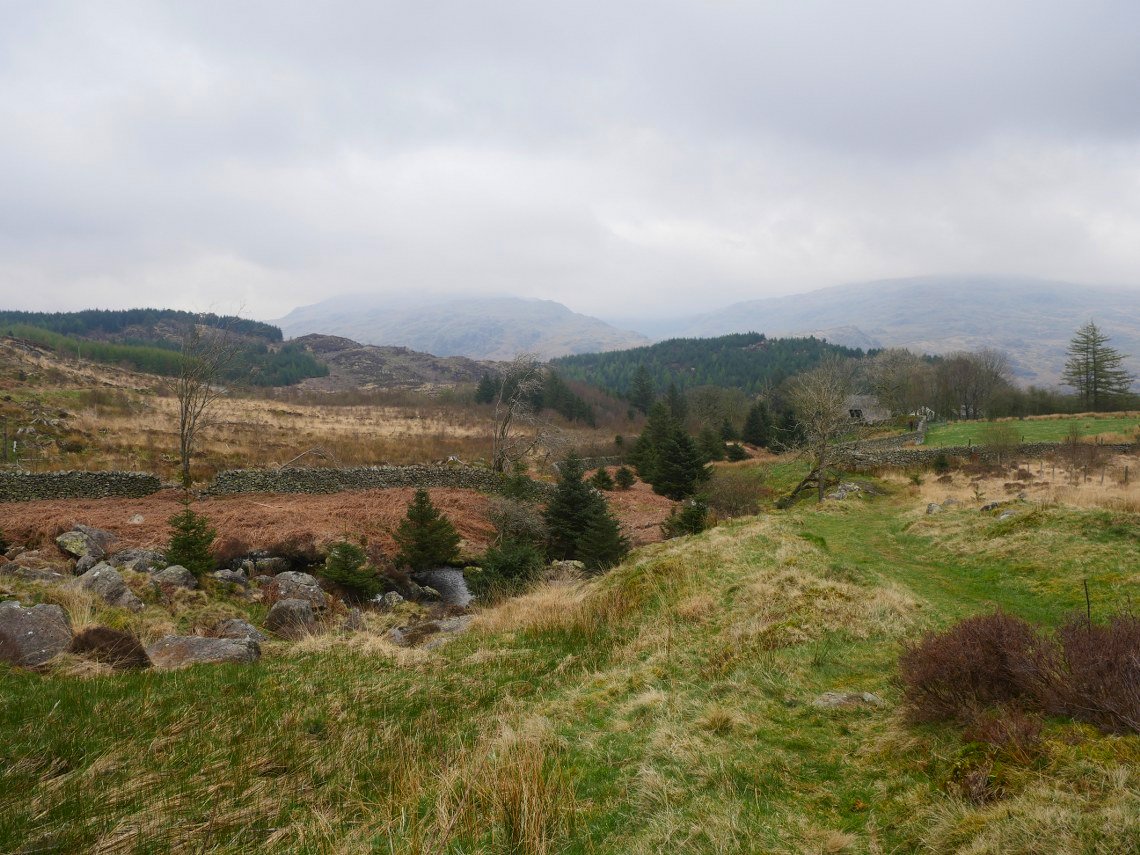 It seems there is not an easy way to get from the White How/Green Crag group of fells and I've tried a few ways but always end up with wet feet. Here I'm on drier ground approaching Grassguards Grey Friar, my intended camping spot.can just be made out centre left.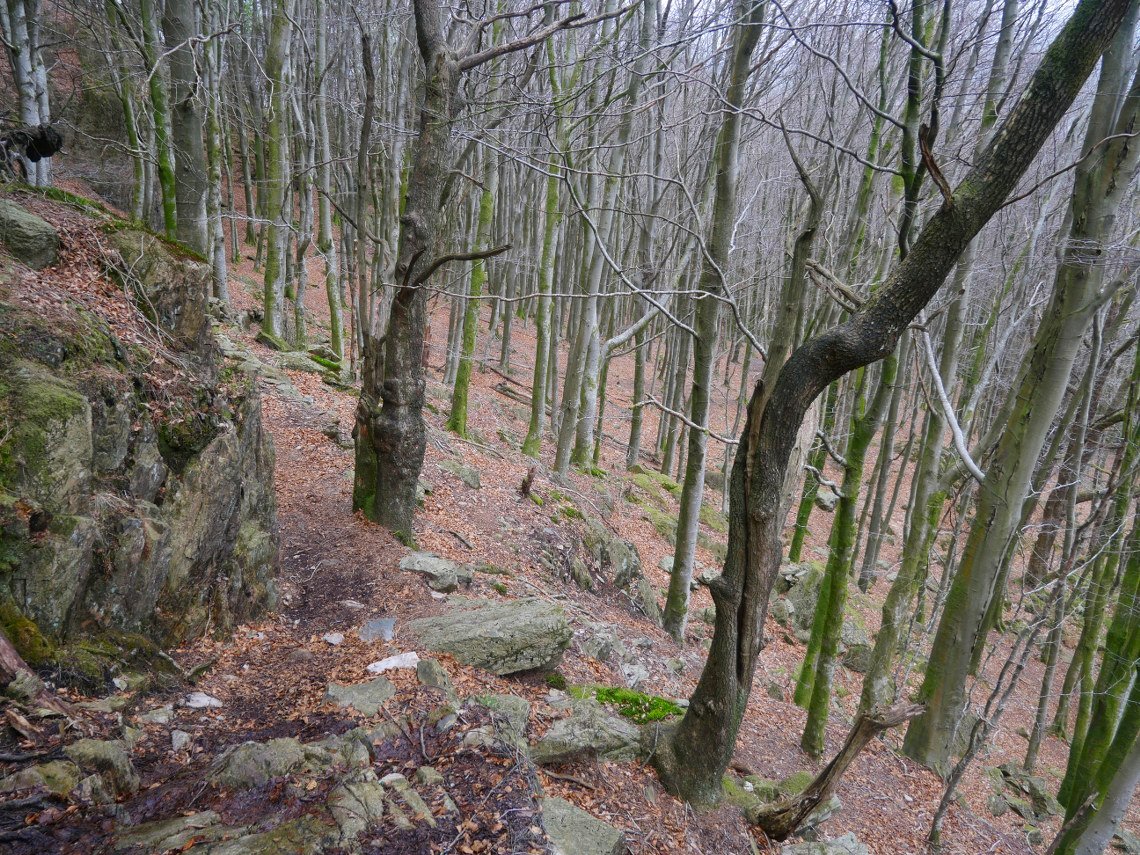 Dropping down around Fickle Crag and through the trees to Fickle Steps.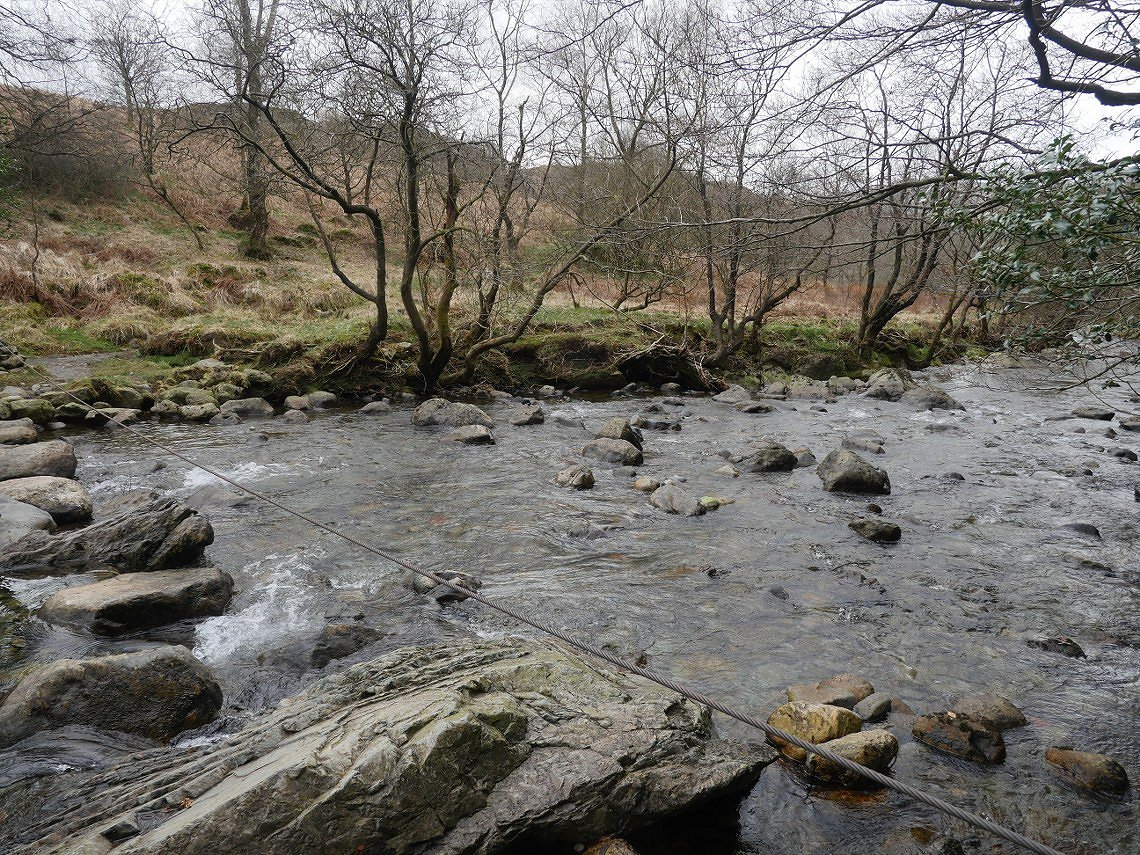 Fickle Steps over the Duddon.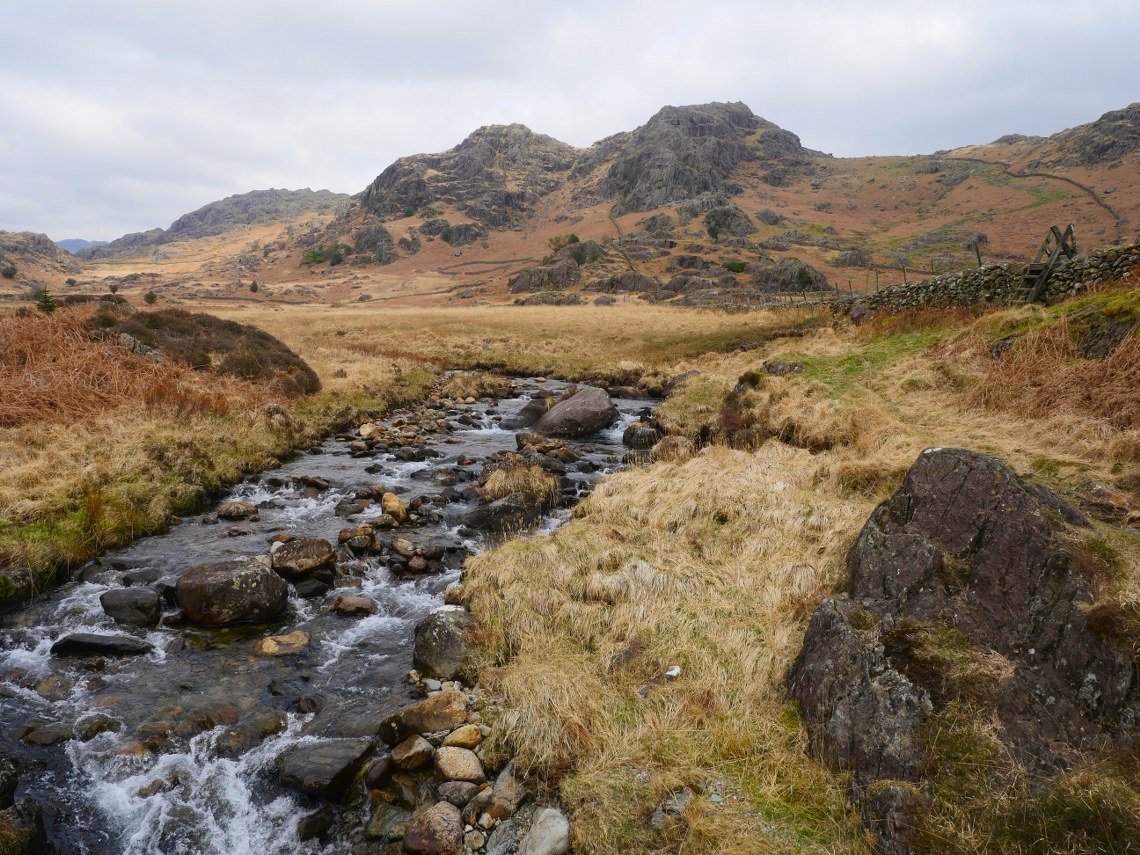 I climbed away from the Duddon and crossed the road to descend down to the valley bottom.Tongue Beck is crossed by a footbridge, the path heading up to Seathwaite Tarn can be see on the right.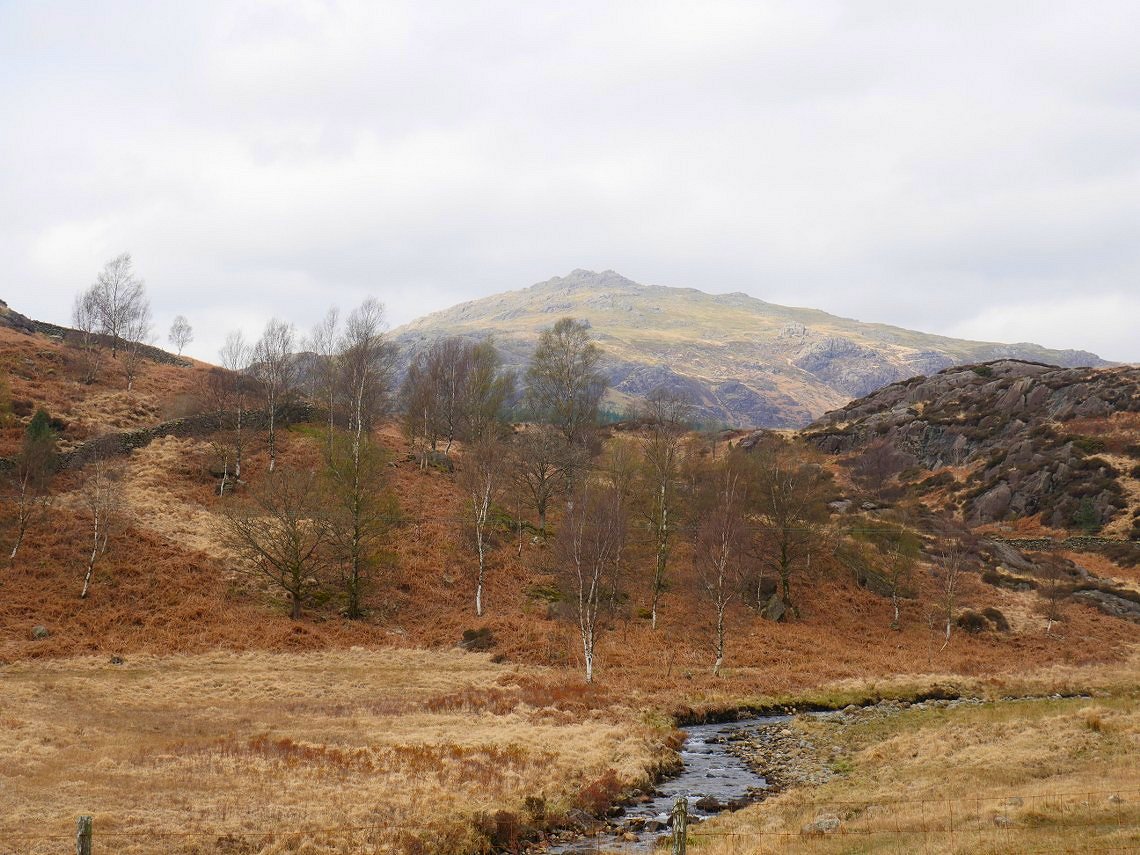 My first real view of Harter Fell.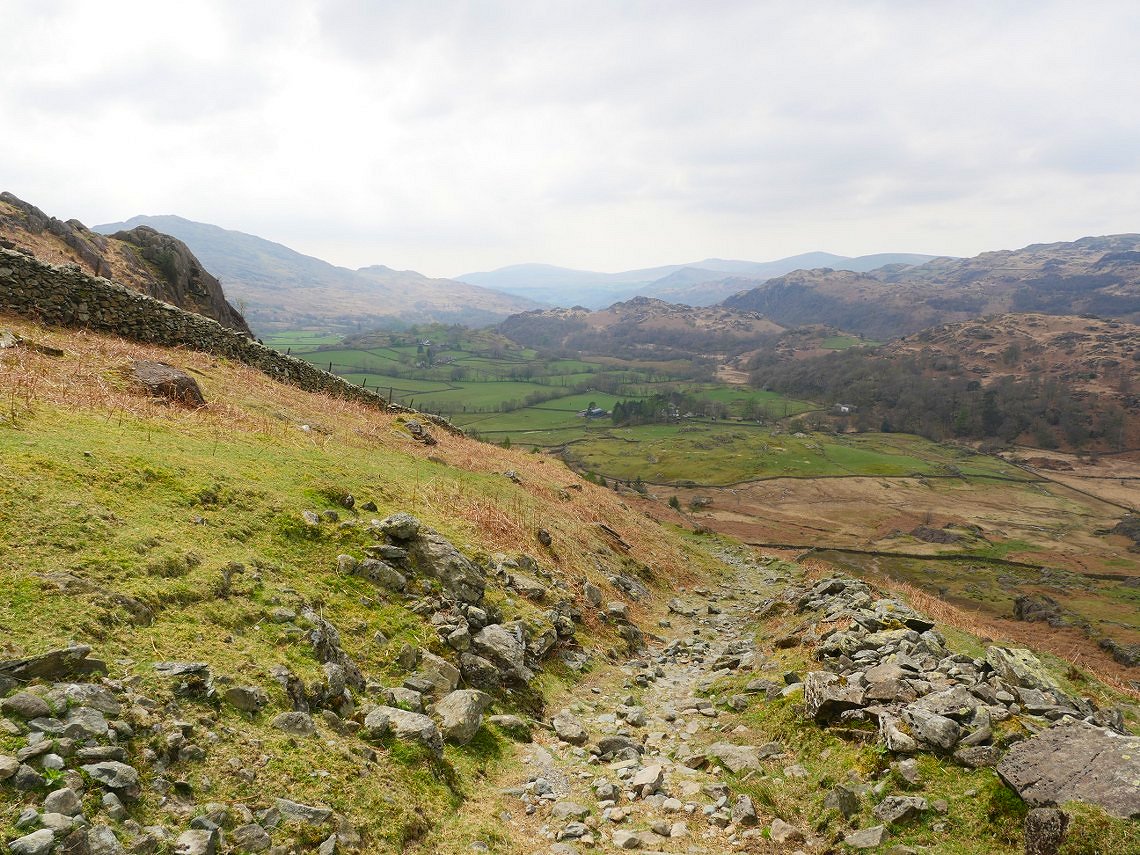 Looking down along the Duddon valley from the path.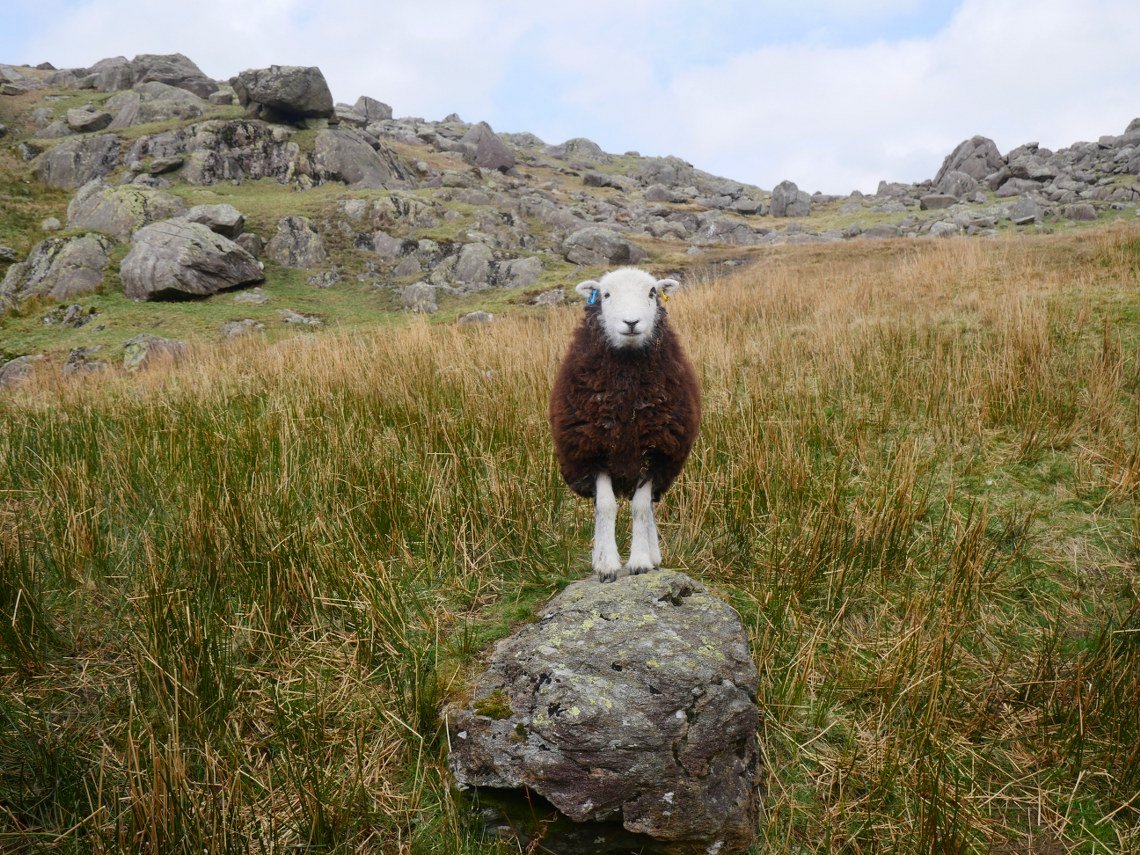 This is the first time I've ever been this way up to Seathwaite Tarn but the locals seem very friendly.
Very bad planning having Grey Friar to climb at the end of the day.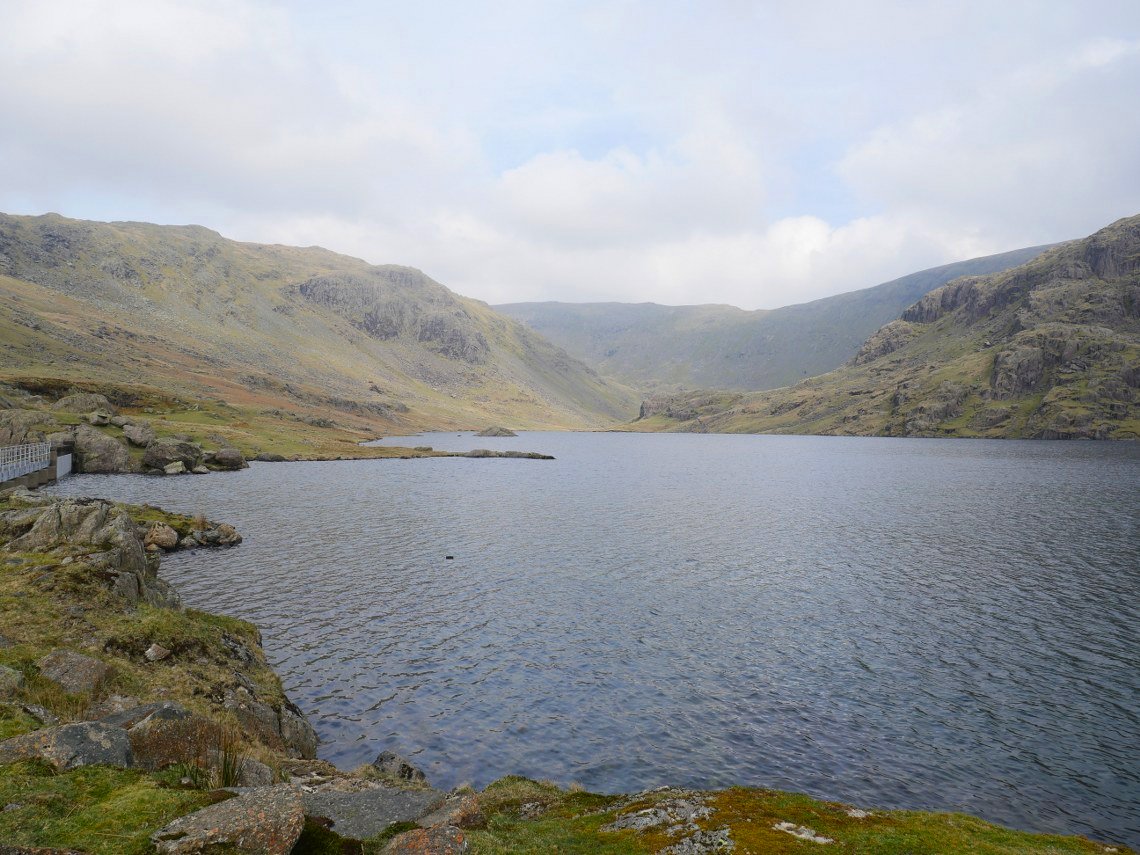 Seathwaite Tarn. It's a steep start away from the tarn but I've been this way a few times so at least knew what to expect.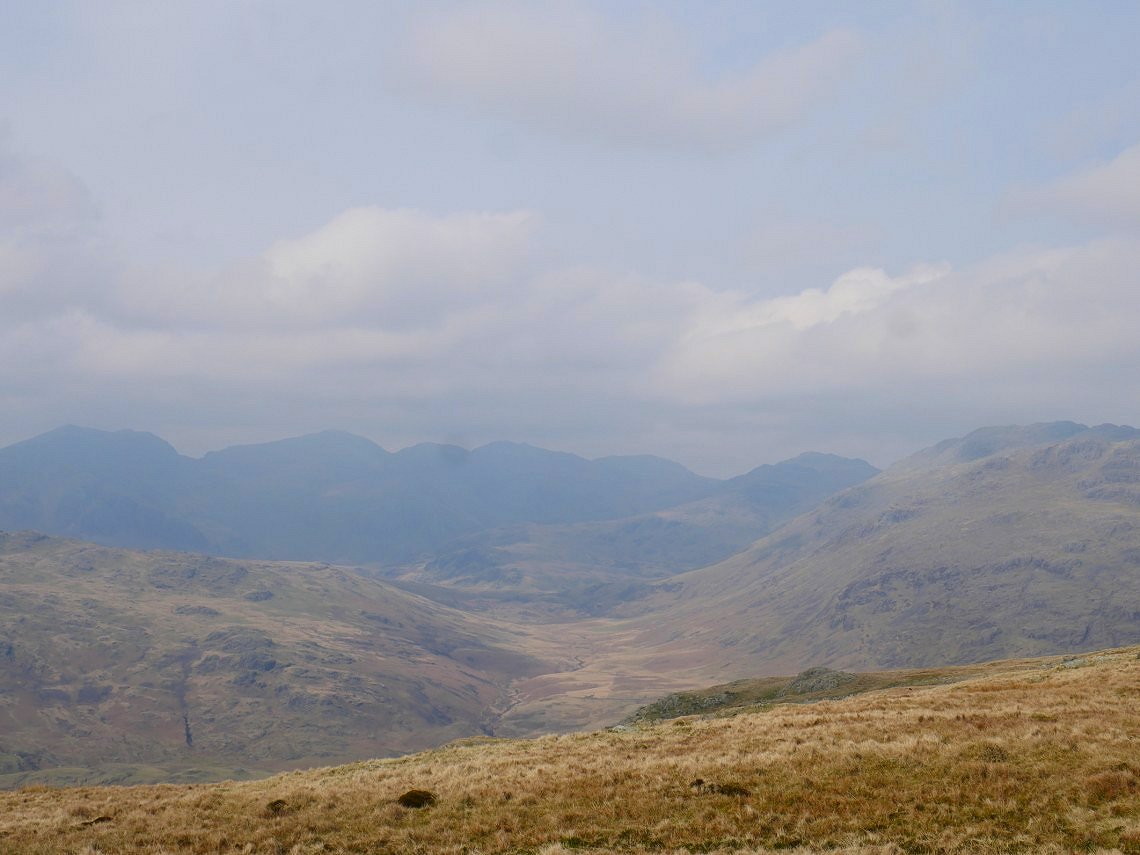 Still a bit hazy over Moasdale and Scafell way.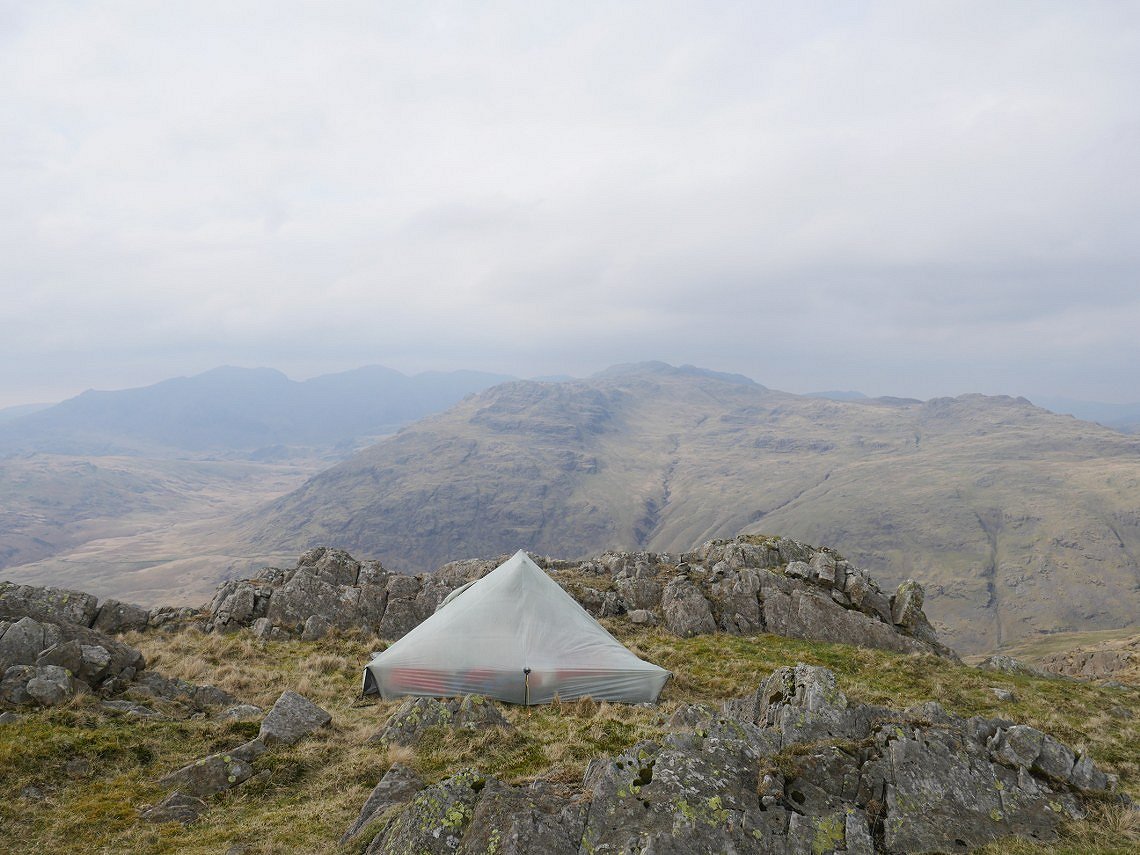 I had intended camping on the top of Grey Friar but the little pool from which I got my water was dried up which was a surprise as it was full when I camped here last summer. I followed the path down towards Fairfield and found a nice spot around Black Spouts looking across to Little Stand.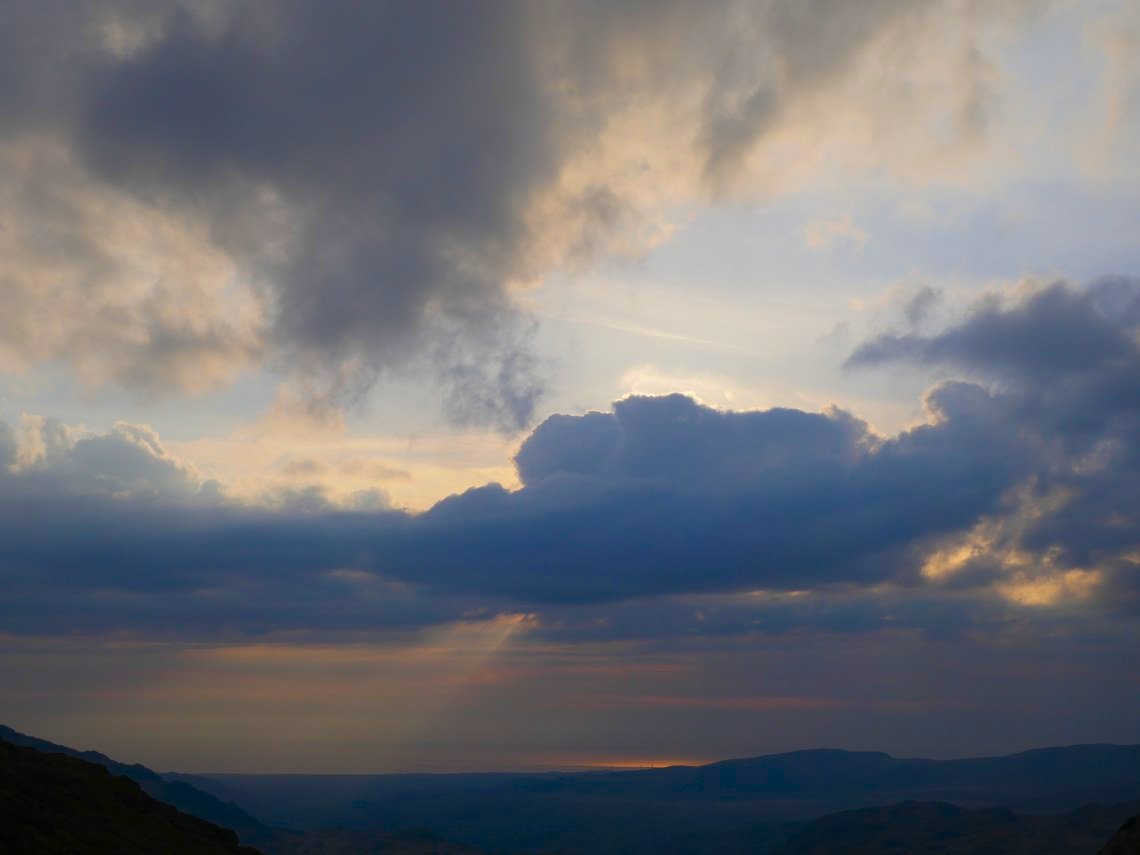 Not quite the same spectacular sunset as last night.
But the Scafell's are now very clear in the colder evening air.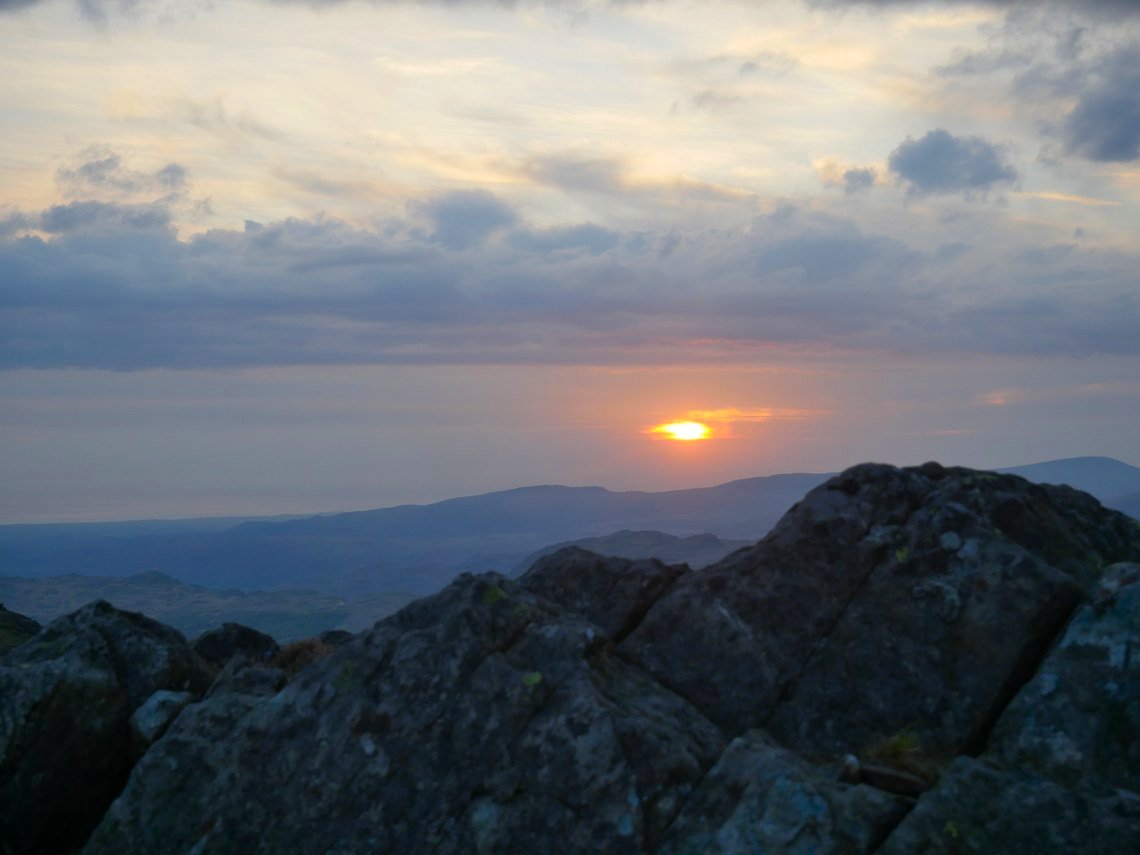 That's as good as it got.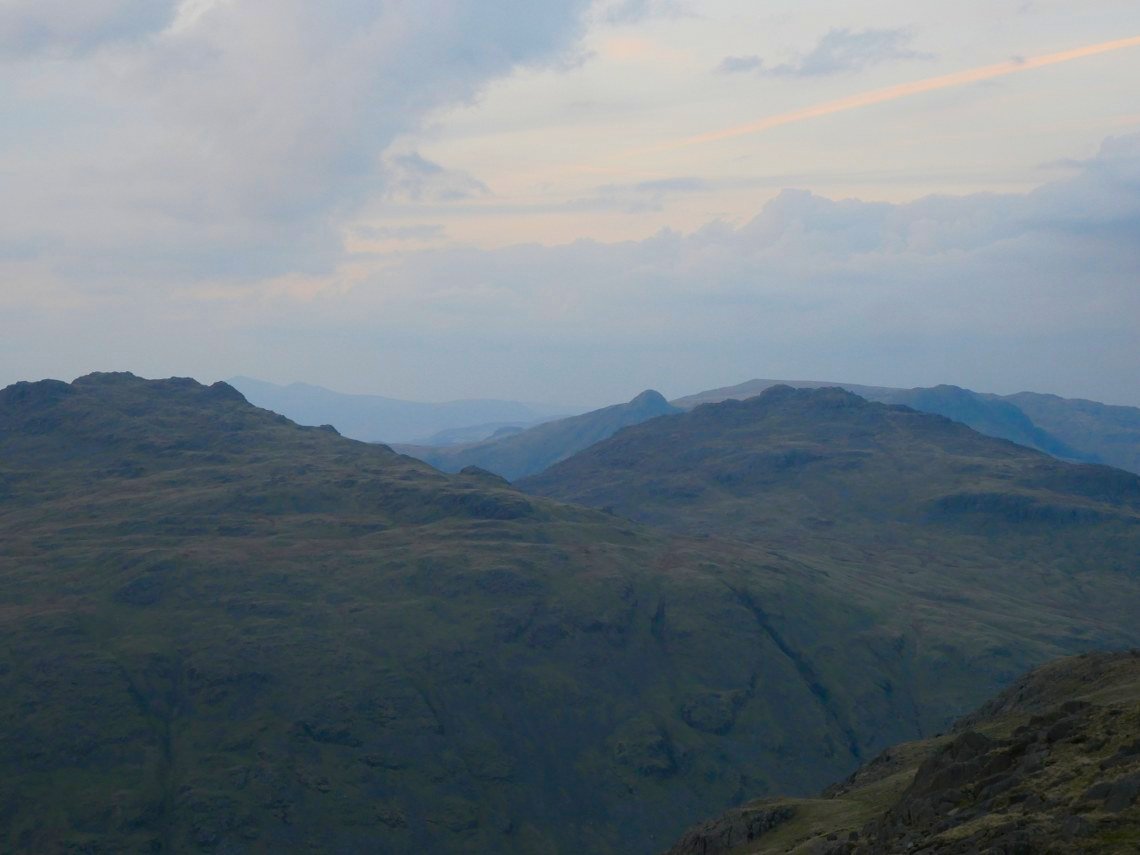 Looking past Pike of Blisco to Langdale with Pike of Stickle prominent.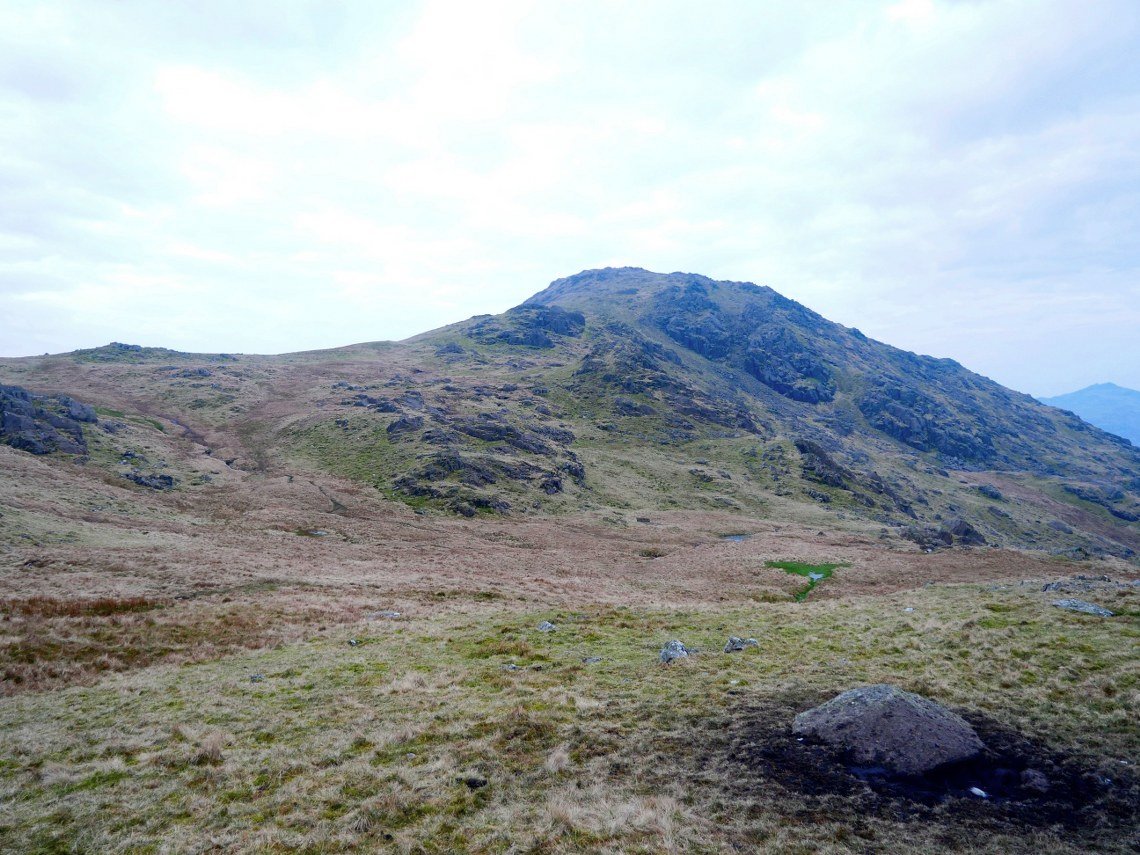 I was up earlier today as I would be traveling home on Easter Sunday when the rail network is restricted due to repairs so wasn't sure how long it would take to get home. My camp spot was on the little tor directly above the bright green pool of sphagnum moss.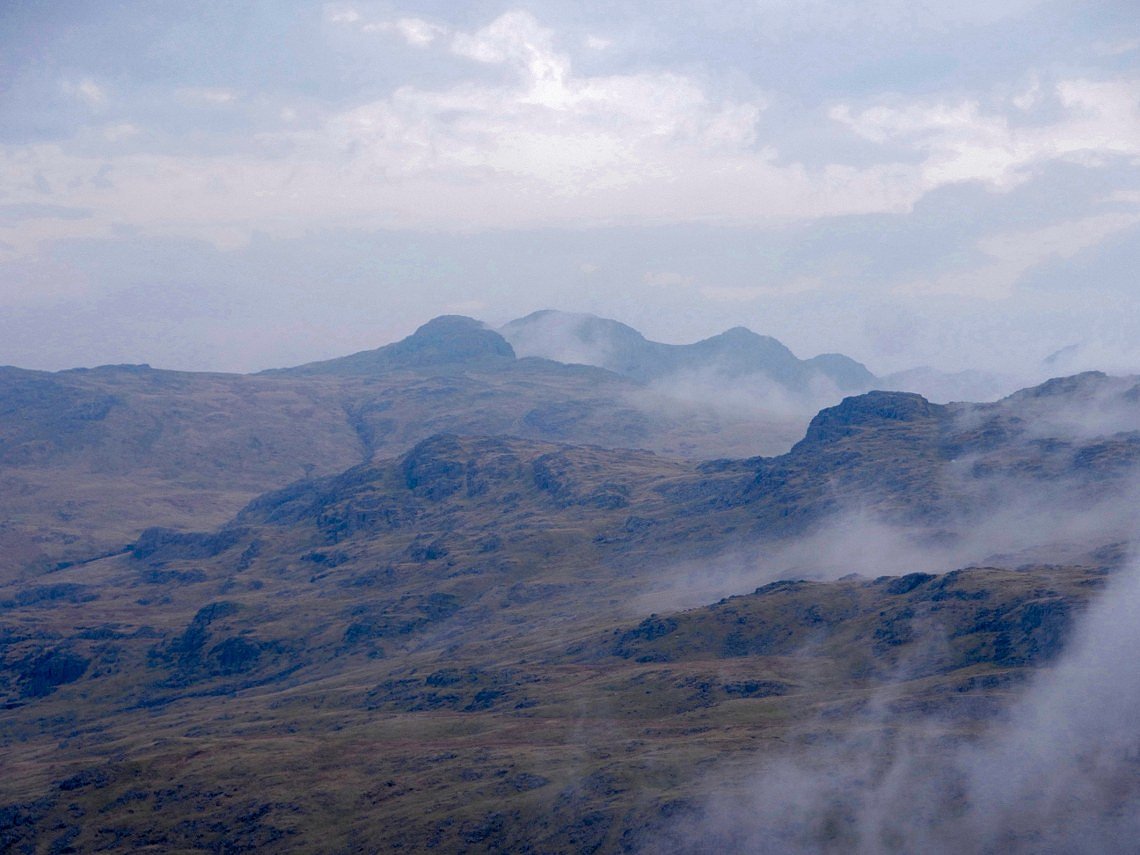 There was some lovely early morning mist on the fells.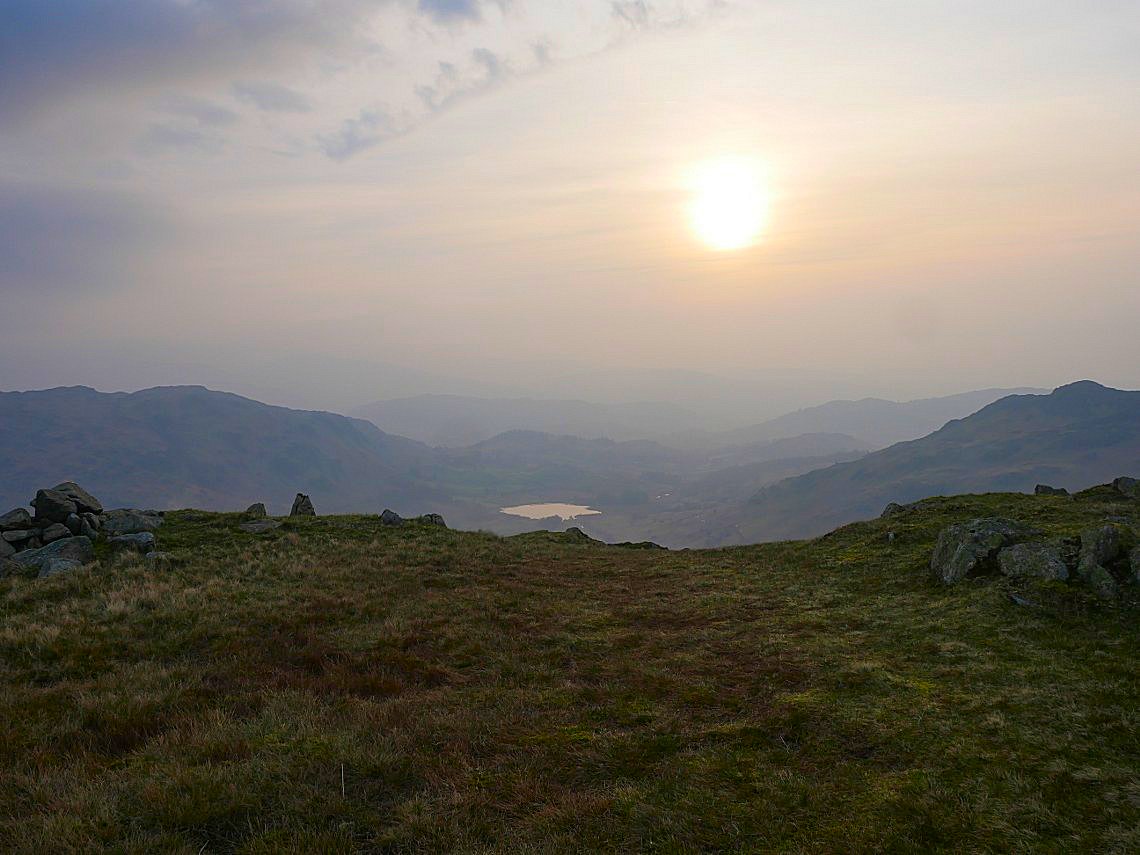 Coming down Wet Side Edge into the rising sun. Little Langdale Tarn below.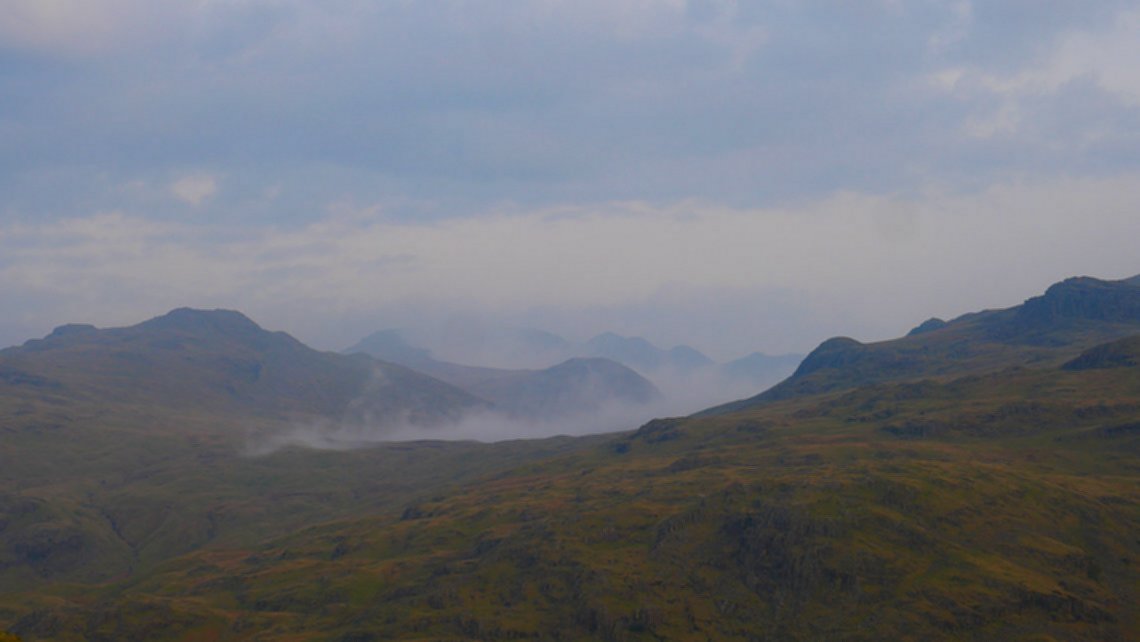 The mist was still swirling around Crinkle Crags and Bowfell.
But Swirl How and Great Carrs were now clear.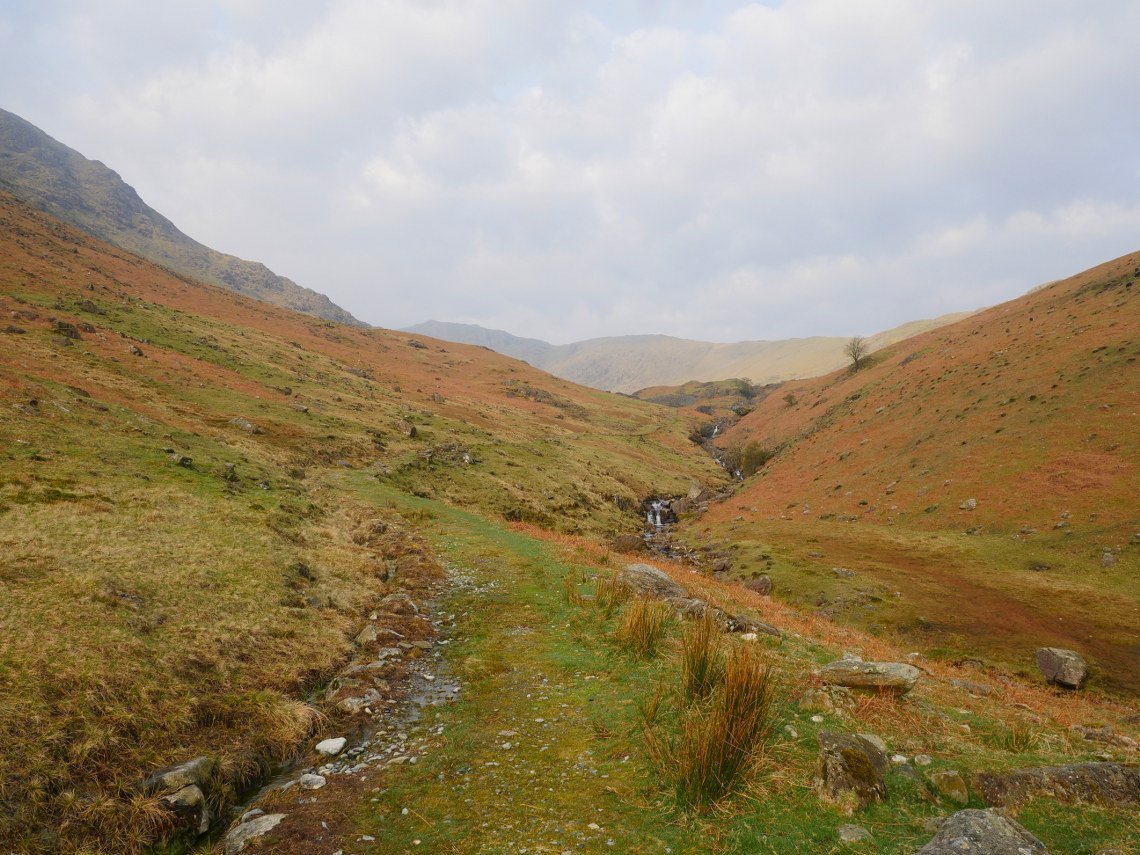 Looking back up to Wet Side Edge from the Greenburn mine path.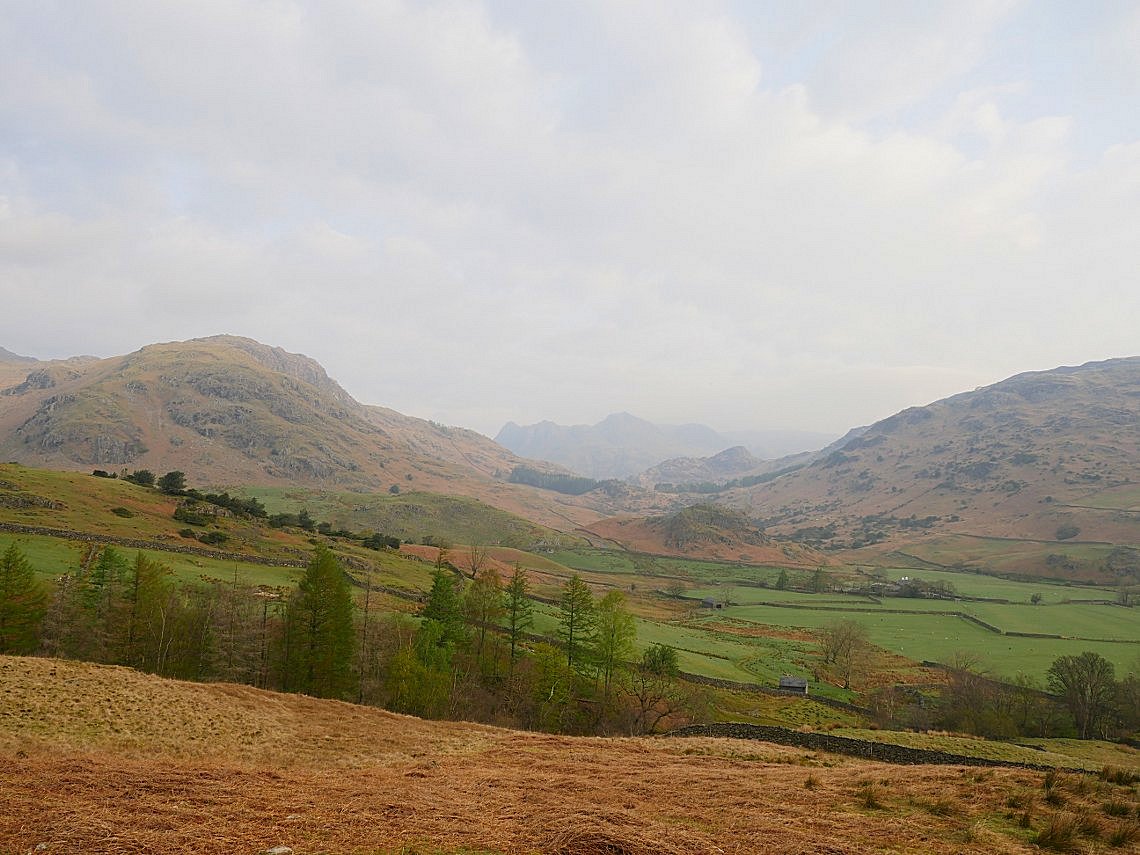 Ghostly Langdale Pikes seen through the Blea Tarn gap.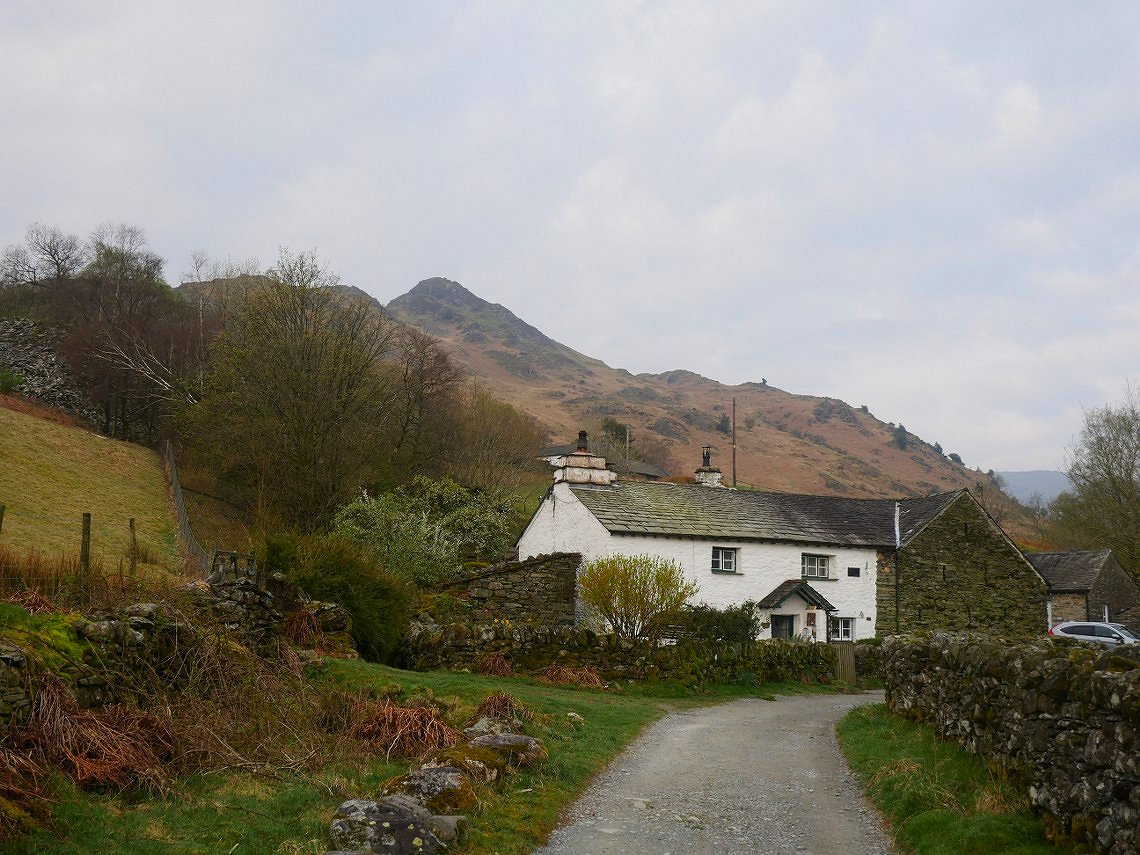 Great Intake behind Low Hall Garth.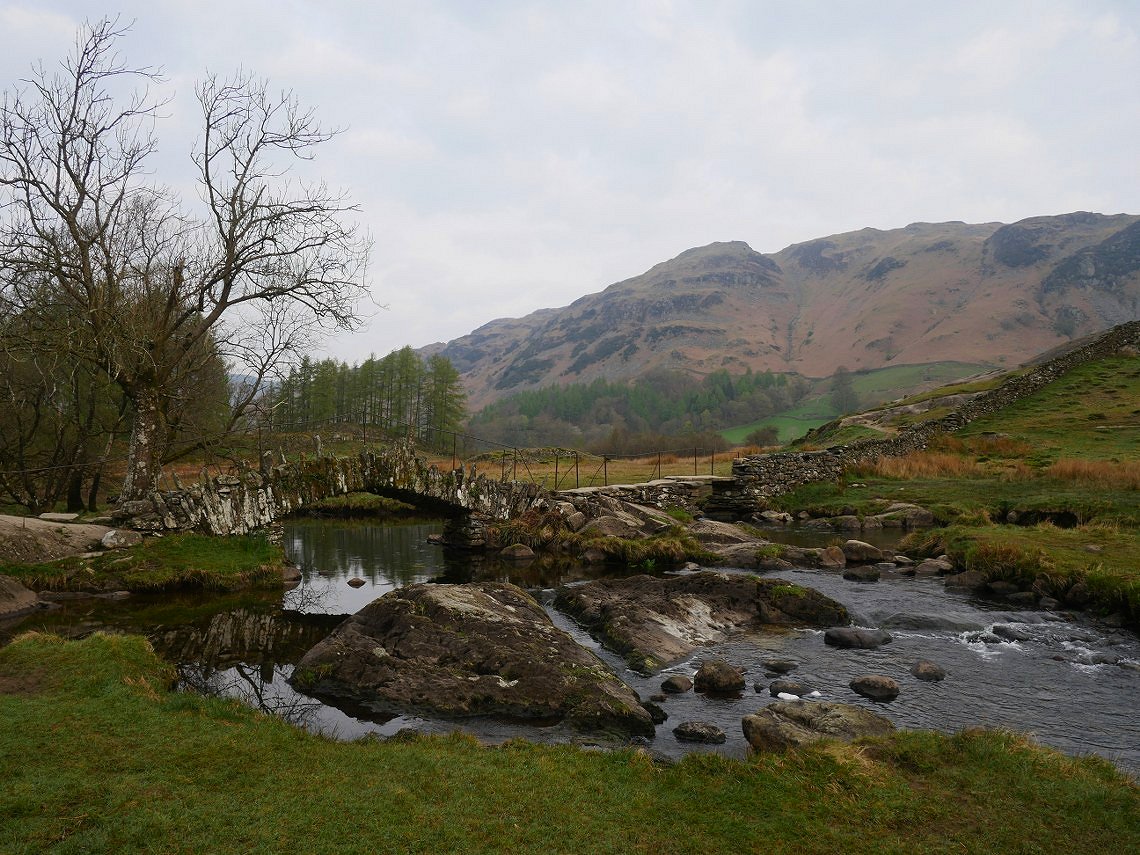 Slater Bridge, deserted for now but come back in a few hours and you would struggle to get a photo with no one in. From Slater Bridge It's an easy walk to Elterwater for the bus and train home..
Previous walk - Dale Head, Hindscarth and Robinson - Next walk - Around the head of Great Langdale