WWW.KARLSWALKS.CO.UK
PICTURES AND TRIP REPORTS FROM MY WALKS IN THE ENGLISH LAKE DISTRICT
---
E-mail - karl@karlswalks.co.uk
Ravenglass to Ravenglass
27th-28th March 2022
Route. Ravenglass - Fell Rd - Hooker Crag on Muncaster Fell - Rabbit How - Eskdale Green - Irton Park - Sandbank - Muncaster Mill - Ravenglass. ( About 11miles 1500ft ascent )
In 2022 I'm trying to camp out at least once a month and after getting a good start in January, I failed miserably due to work commitments in February so even though I knew I'd missed out on the best weather of the last week-end ( due to a family celebration ) I was still determined to get a night on the fells so had arranged a day off on Monday. Originally I was going to travel up early on Sunday morning in the car but after a few too many er.. Celebrations and an hour less in bed unsurprisingly this didn't happen. I did notice however that the postman had delivered my recently applied for old codgers rail card and I started thinking of a nice relaxing train journey up the west coast and a late afternoon stroll in lovely weather followed by a fantastic sunset.
Northern rail however had other ideas. First of all my scheduled train at 12.30 was canceled so that put me back 45 minutes, but I thought no bother I'll still be ok, just might need to tweak my route a bit. Then as we passed through Grange over sands my direct train up the west coast to Carlisle suddenly morphed into a train which terminates in Barrow in Furness. When politely inquiring about why this was I was told that no guards were available so we could go no further and was told to see the lady in the booking office. The nice lady in the booking office said not to worry and I just had to wait an hour for the train to Millom from where coaches would take us the rest of our journey ( there were seven or eight of us now in the same boat )
That was a blow as it was now quite late in the afternoon but I thought I might as well carry on as I'd come this far but now would have to seriously tweak my route. Anyway, the Millom train duly arrived and off we went ( you can probaly guess what's coming next ) we arrived at the deserted Millom station and of course there were no coaches. Oh dear, I started looking at the map for any pieces of rough ground within walking distance of Millom where I could camp. Luckily one of my fellow passengers ( who was a regular victim of Northern rail ) had the direct number of the Barrow station manager and after giving him a piece of her mind they arranged for a mini-bus to collect us which duly arrived at 7.30pm It was lovely sunset seen through the mini-bus window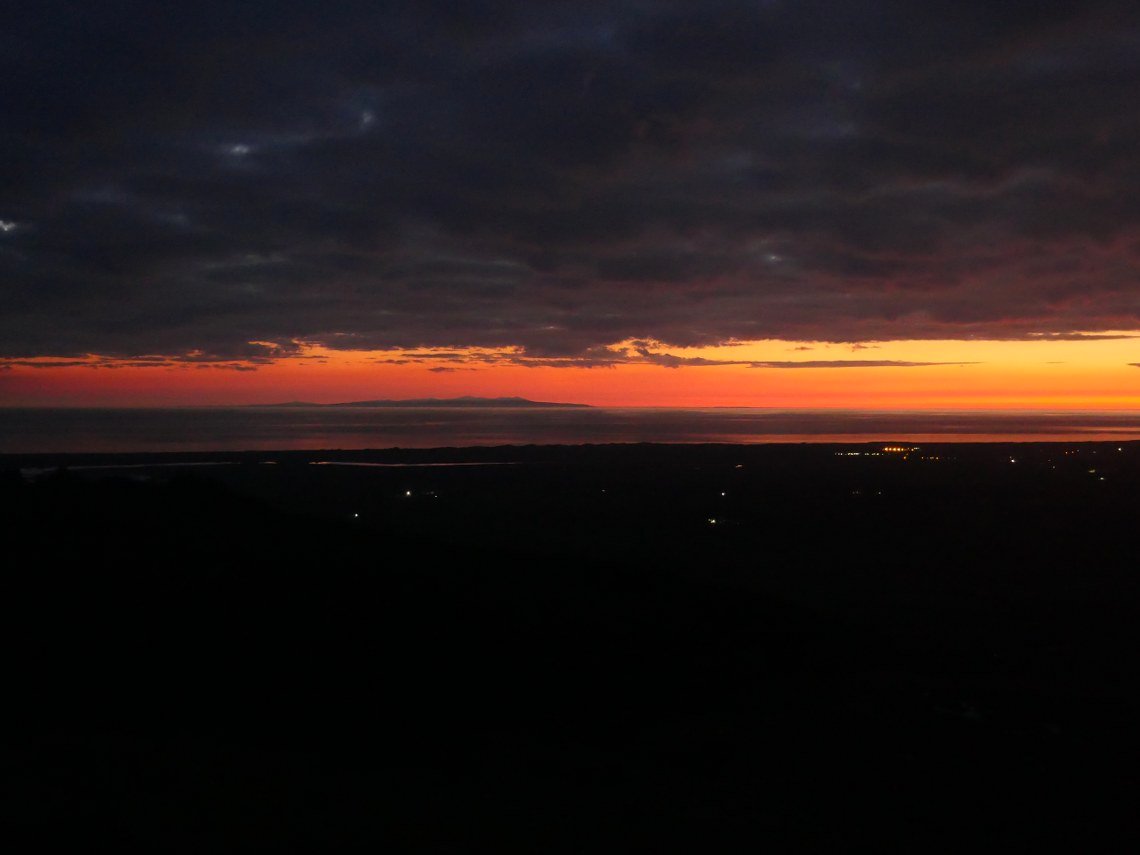 After being dropped off outside Muncaster Castle I legged it as fast as I could up Fell Lane and found a pitch on the lower slopes of Muncaster Fell with a nice view out to sea.and just got a couple of photos before darkness fell. This is the Isle of Man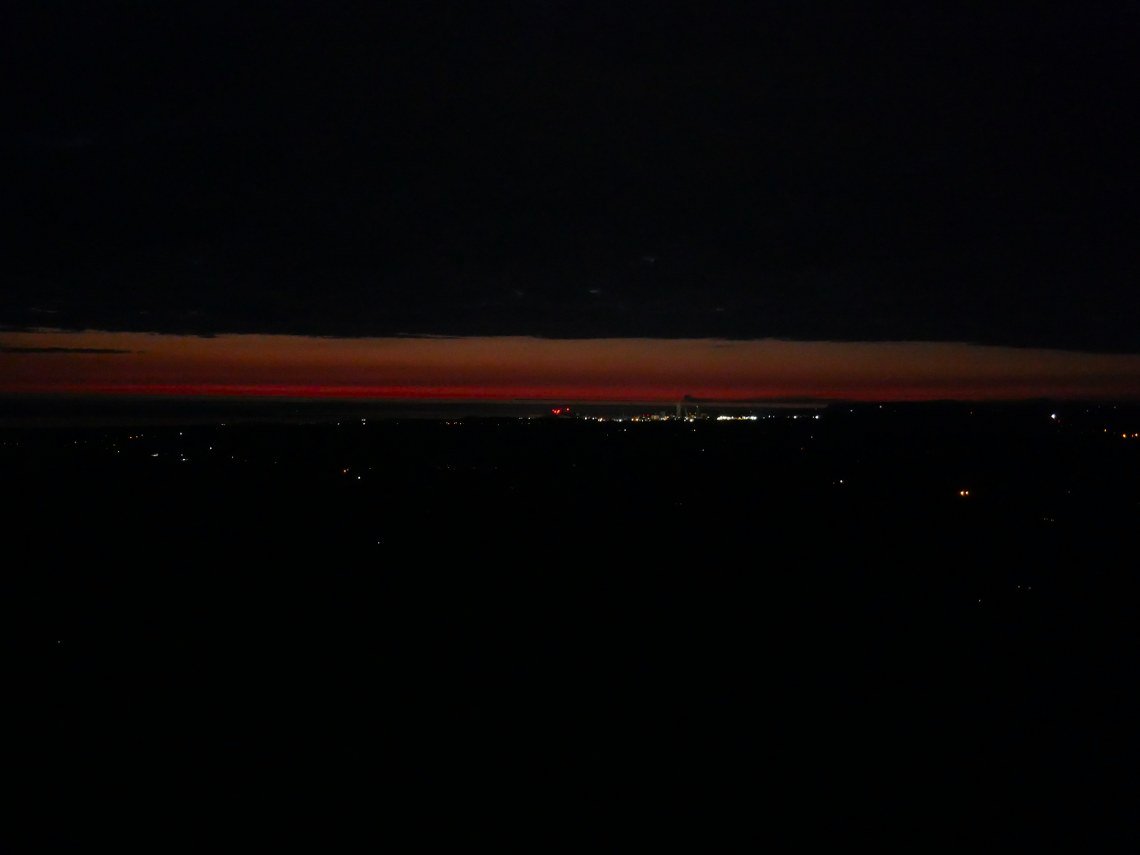 And this is Sellafield which looks nicer by night than by day.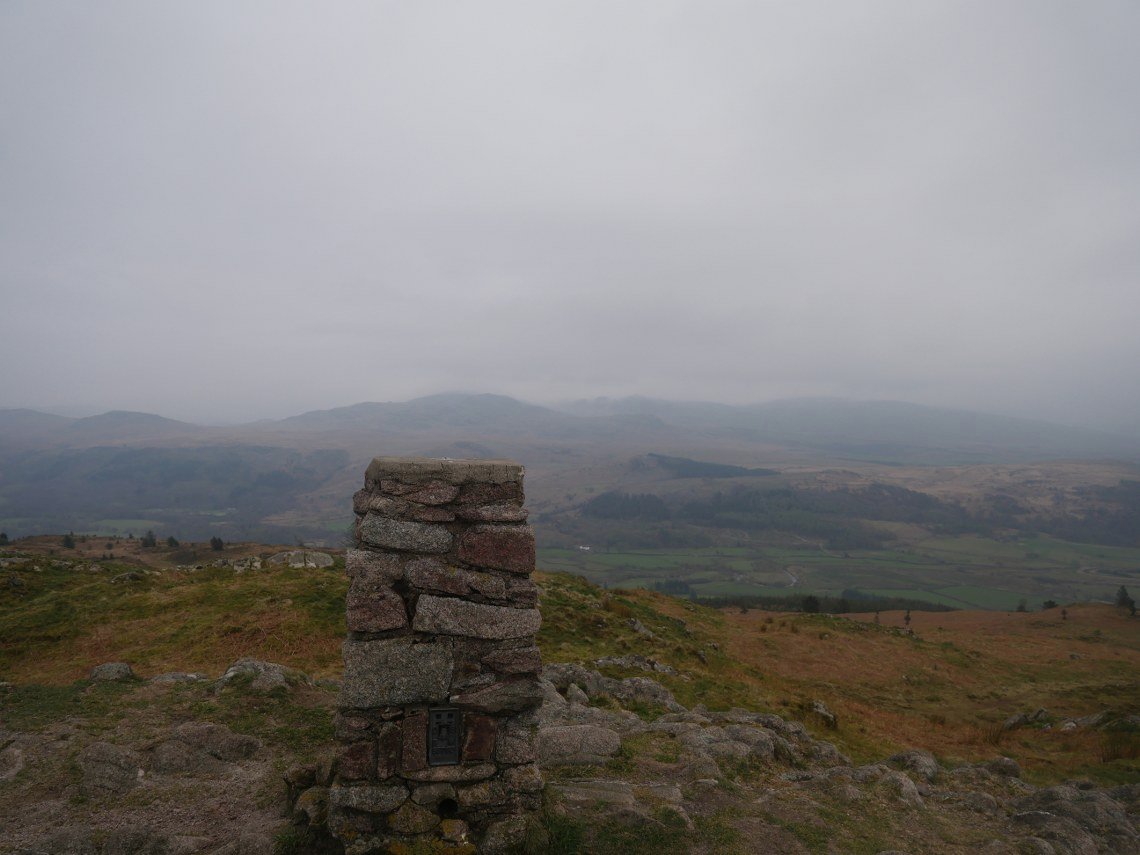 As forecast Monday was a dull day with the tops all in cloud. This is Hooker Crag the top of Muncaster Fell. In clear weather you have lovely view into the high ground beyond Eskdale
I decided then That I couldn't be bothered climbing high so worked my way over Muncaster Fell towards Eskdale.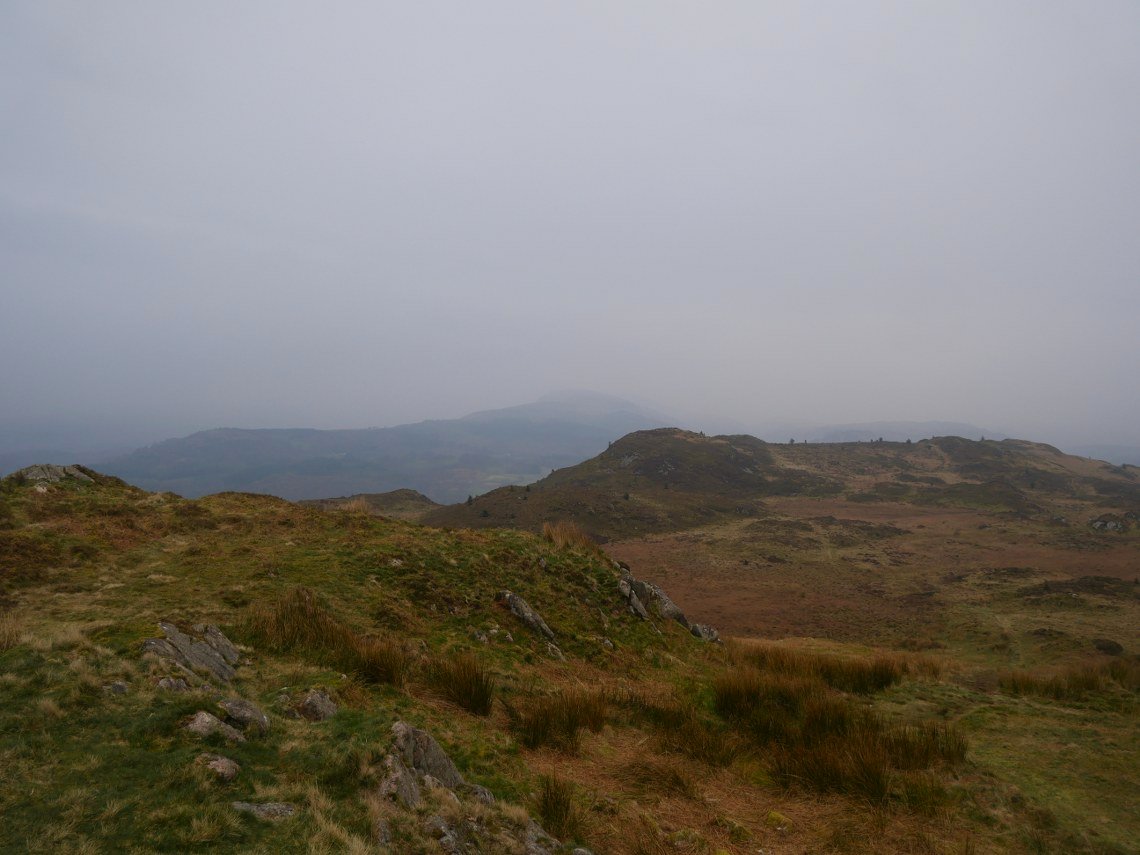 I took a path new to me which circled around Hooker Moss the very wet top of Muncaster Fell which was drier but meant that I missed out on seeing Ross's Camp.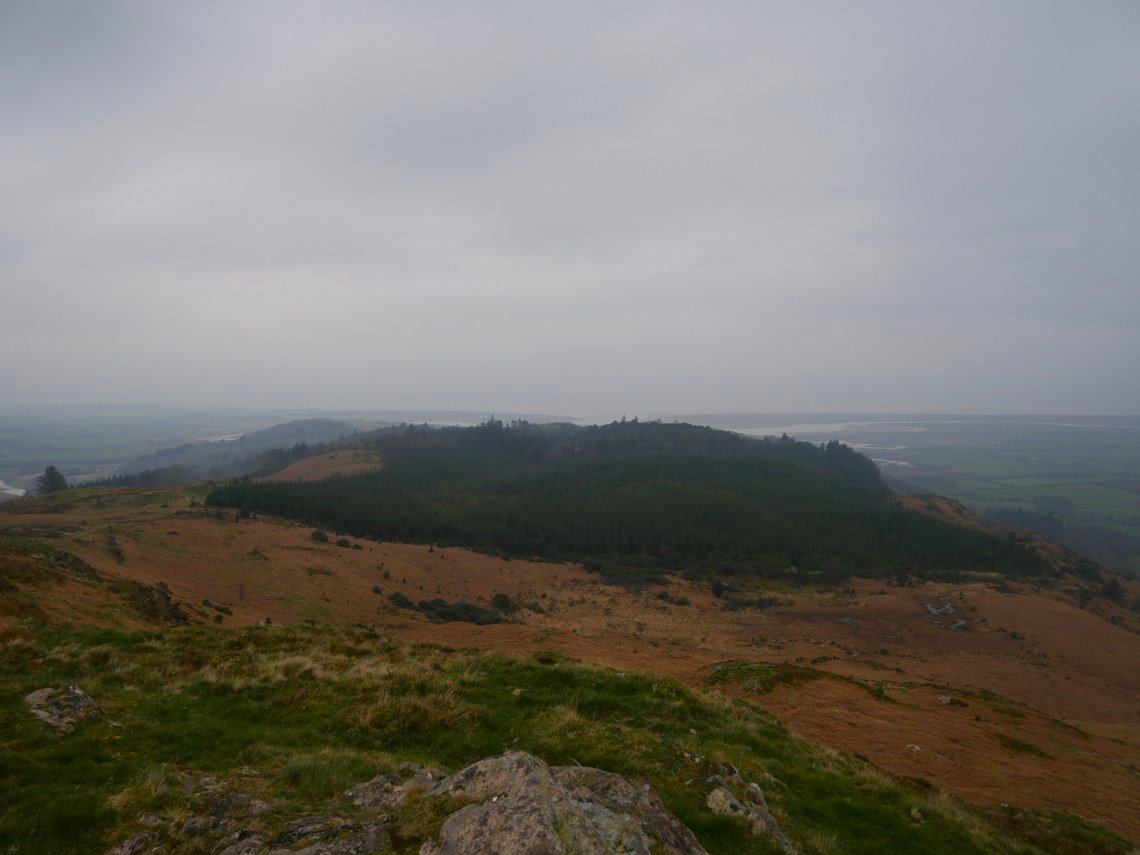 Looking back to Ravenglass.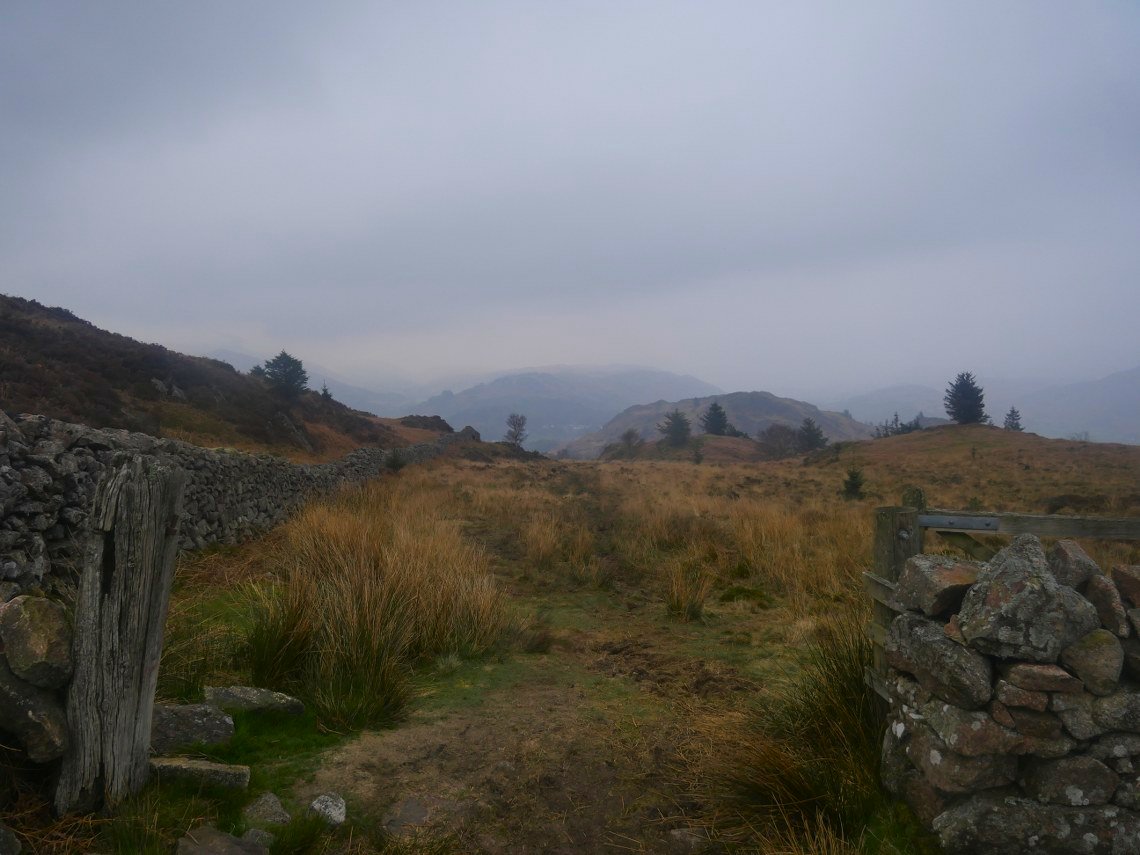 The circular path eventually joined the path which I've used before at the old gate post from where you drop down to Rabbit How.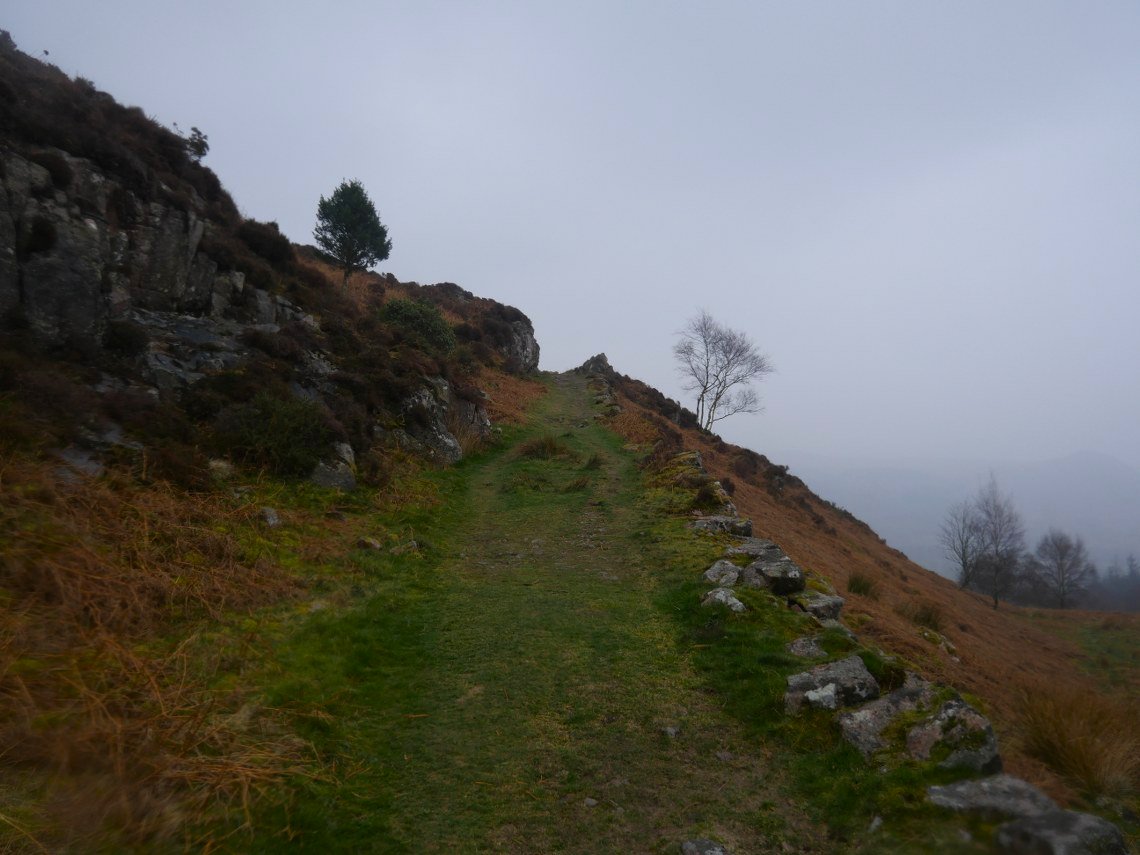 The interesting little path over Rabbit How.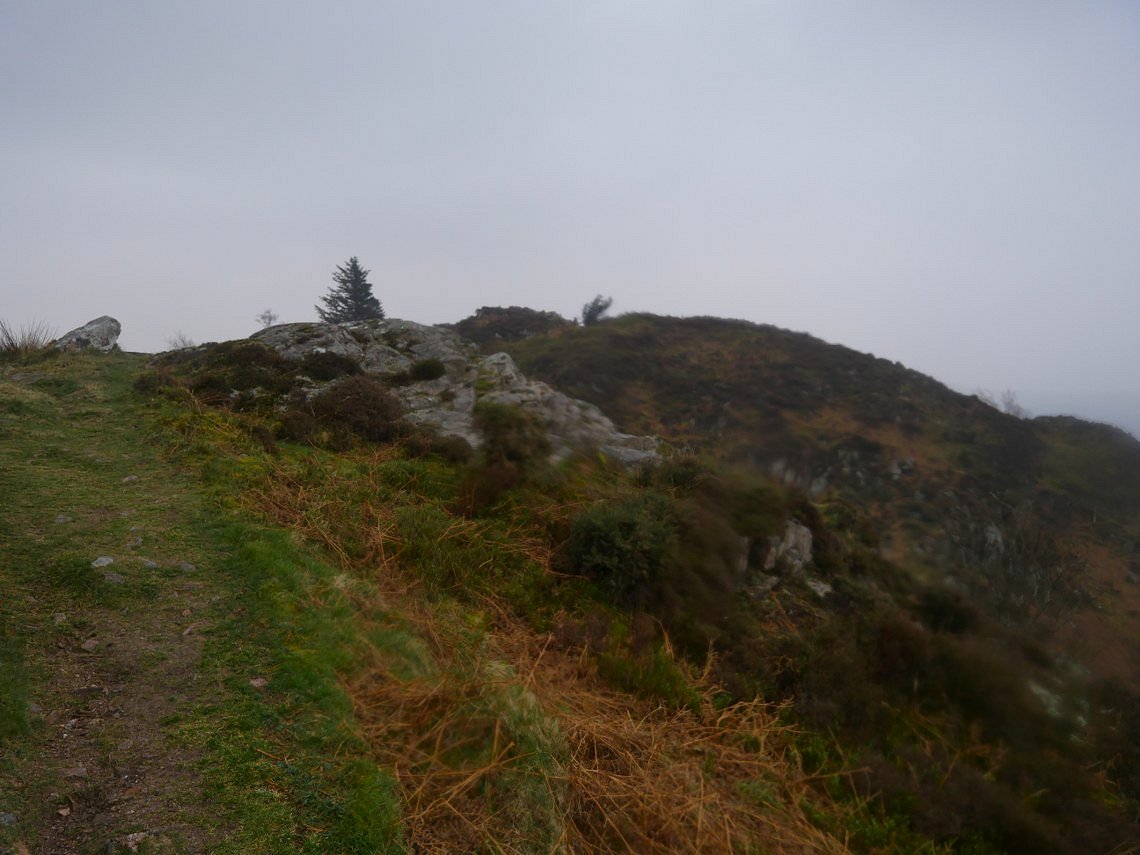 I might have missed Ross's Camp but I passed by Tom's seat.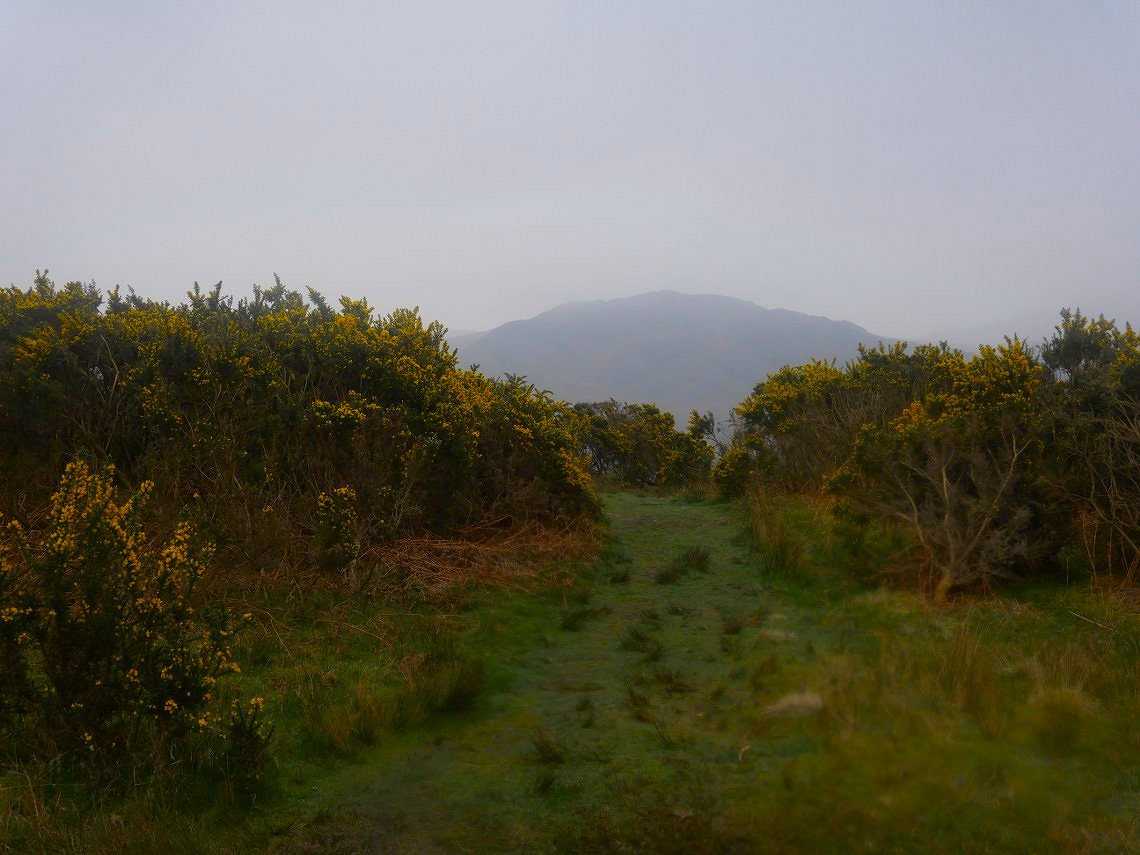 Passing through the gorse bushes which add a bit of colour to the dull day. It's started spitting with rain now and It's the annoying kind of rain which you think is not worth the bother of putting on your waterproofs but then in half an hour you're wet through.
.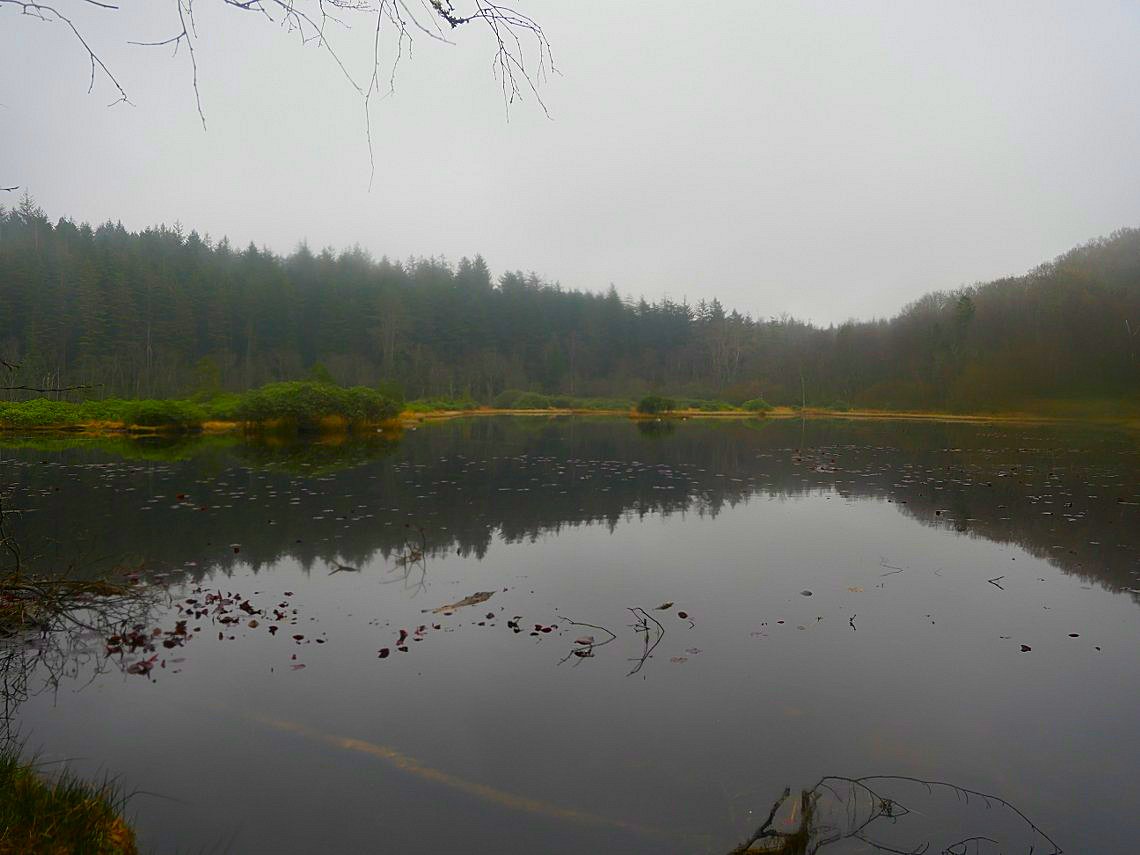 I had a few thoughts in my head as to how to get back to Ravenglass and decided on a bit of a roundabout route taking me through Irton Park passing Parkgate Tarn on the way.
Walking down Sandbank Lane and even the top of Muncaster Fell is covered now.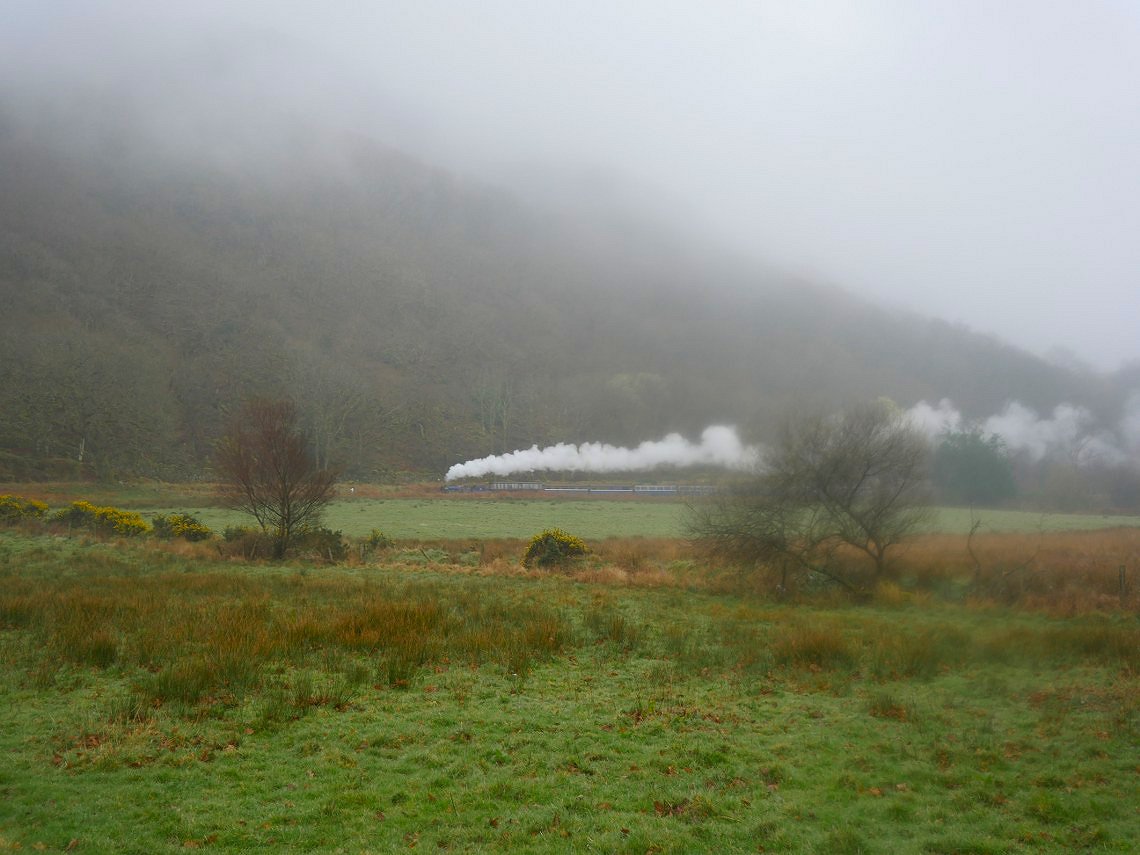 'Ratty heading for Eskdale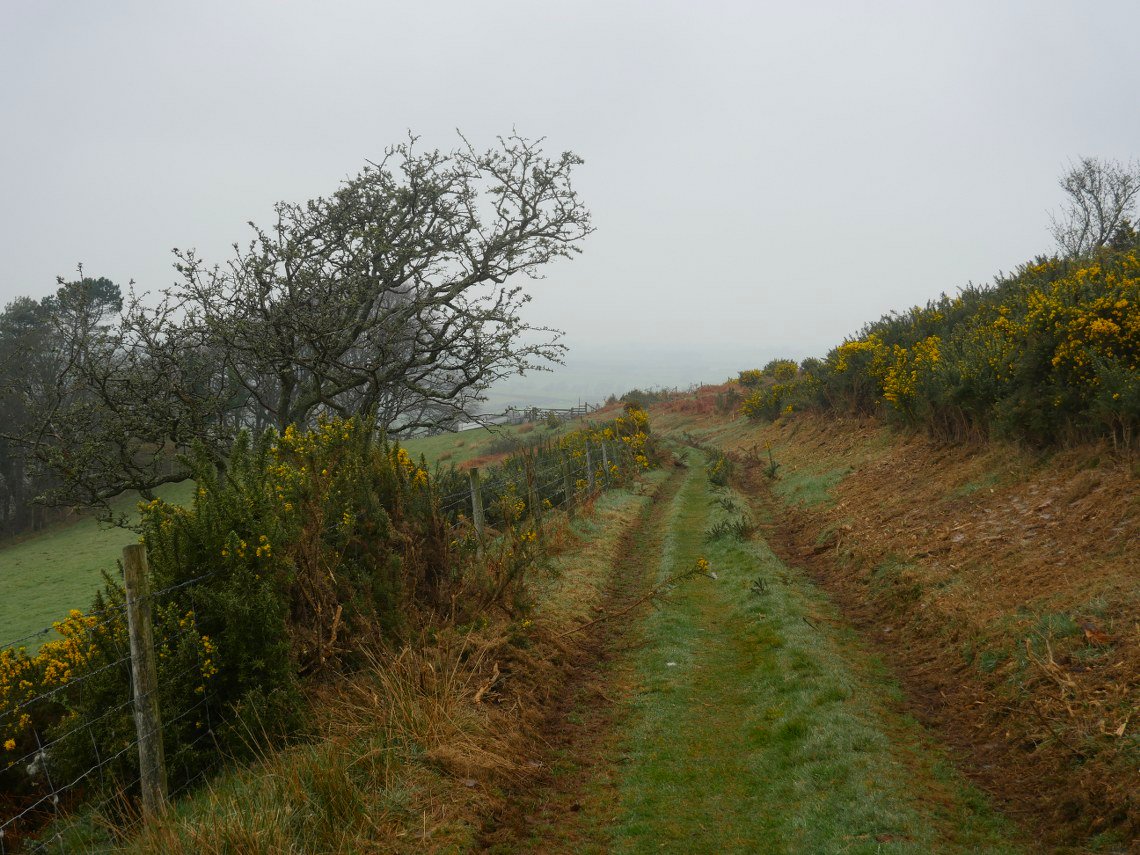 Soon I'm on the red soil lane leading me back to Ravenglass after one of my more frustrating trips out ;-).
Previous walk - Hobcarton Round - Next walk - Catbells,Maiden Moor and High Spy