WWW.KARLSWALKS.CO.UK
PICTURES AND TRIP REPORTS FROM MY WALKS IN THE ENGLISH LAKE DISTRICT
---
E-mail - karl@karlswalks.co.uk
Bowfell
13th March 2022
Route. Old Dungeon Ghyll - Oxendale - Whorneyside - Buscoe - Three Tarns - Bowfell - Ore gap - Angle Tarn - Langdale Combe - Stake Pass - Mickleden - Old Dungeon Ghyll. ( About 9.5 miles 3000ft ascent )
After a couple of nice trips it was back to duller skies and forecasted rain today but we still had a great day out and ticked Bowfell off Sue's third round total.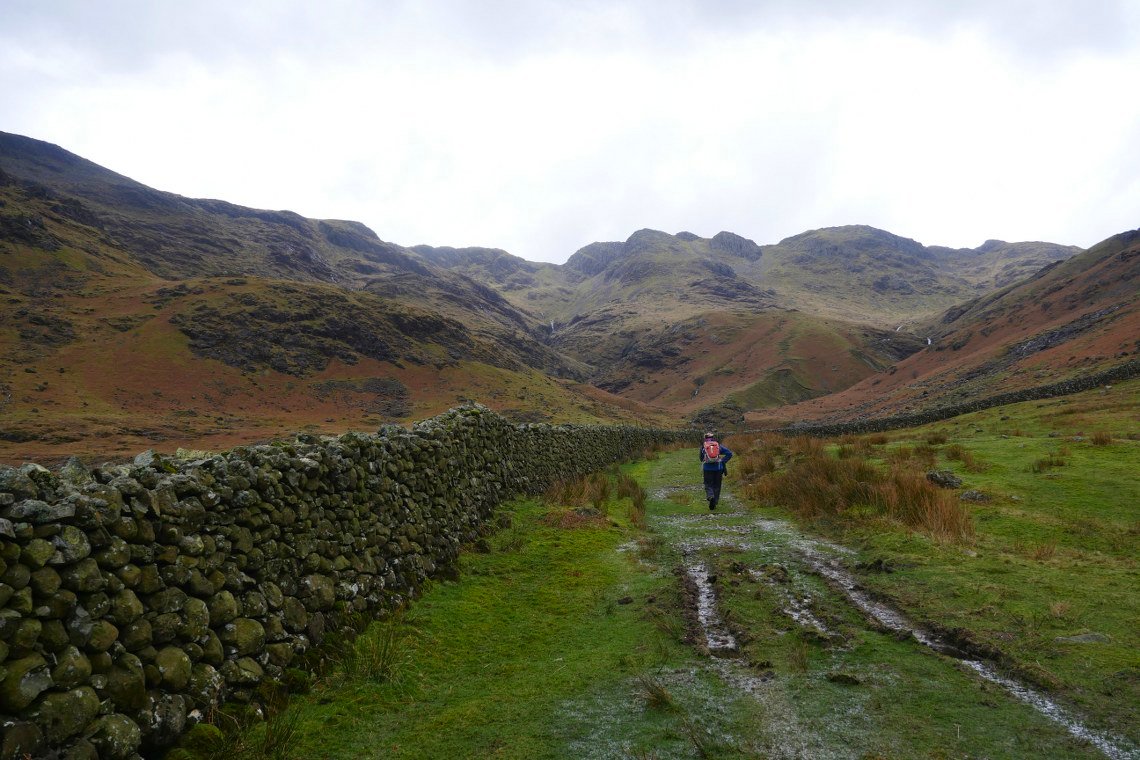 We decided we would tackle the climb up to Three Tarns by way of Whorneyside and Hell Gill. Crinkle Crags ahead.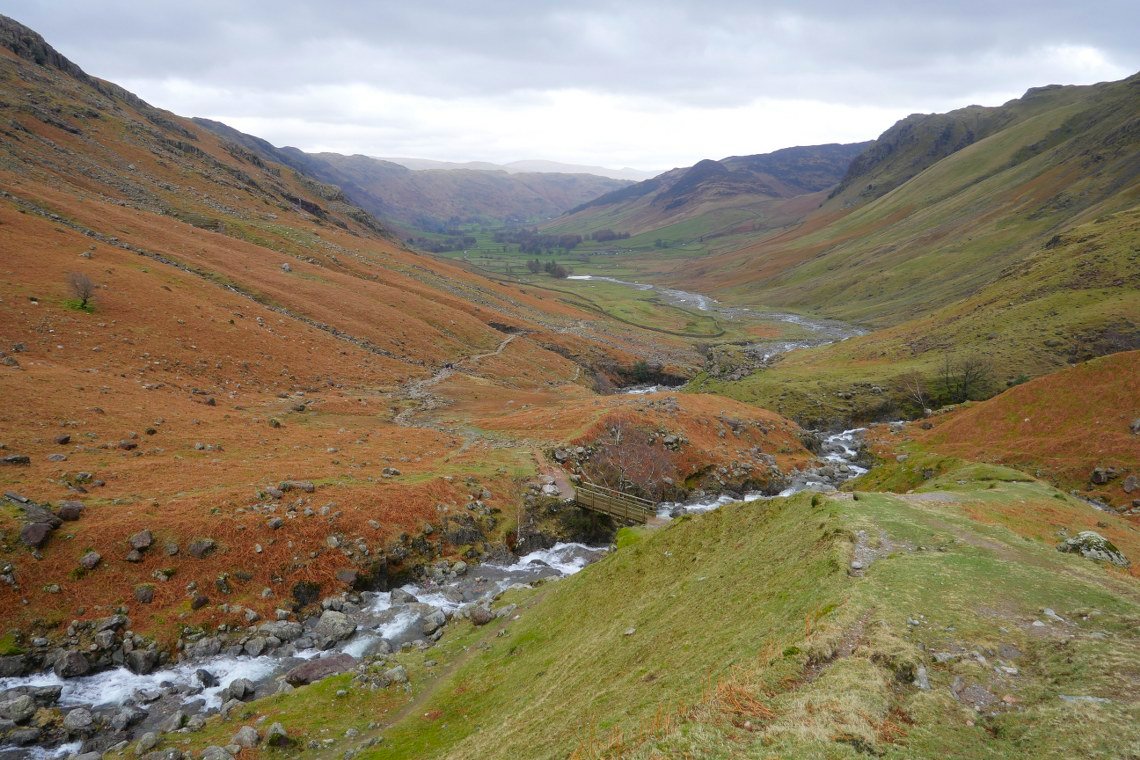 The view back down Oxendale and Great Langdale just after we have crossed Crinkle Gill.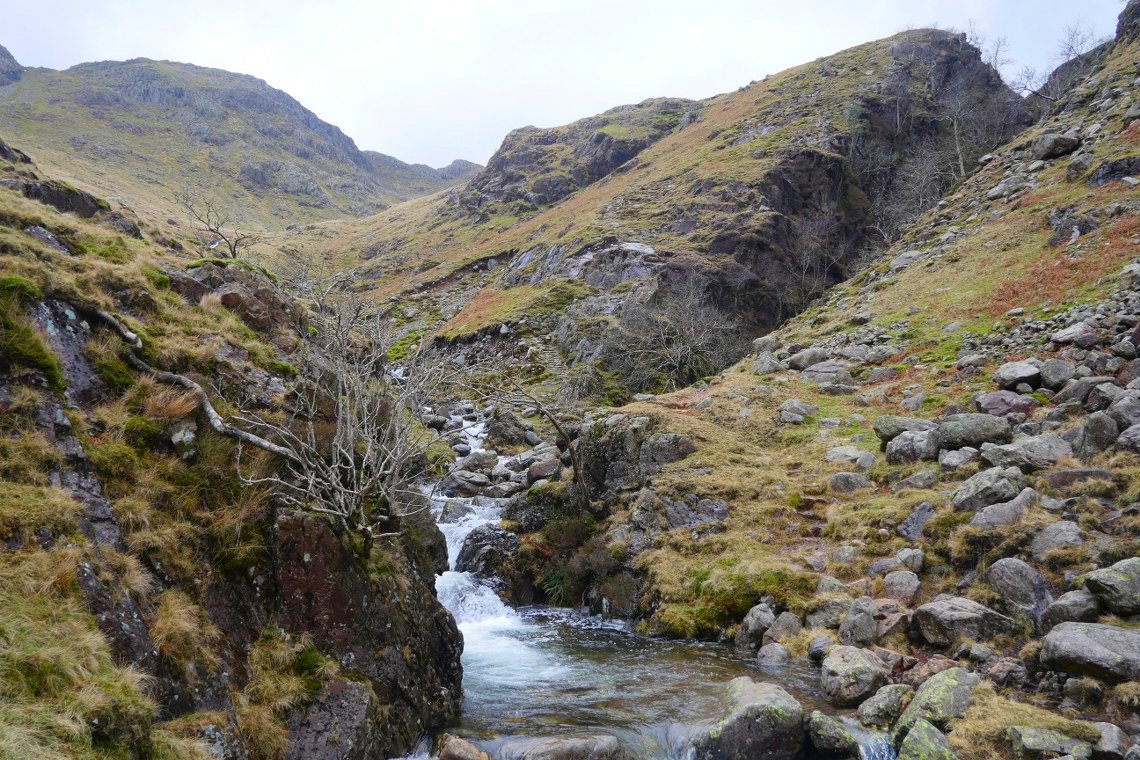 The ravine of Hell Gill ahead. There is a path on the other side of the gill but the stepping stones were well submerged so so we stuck to our side.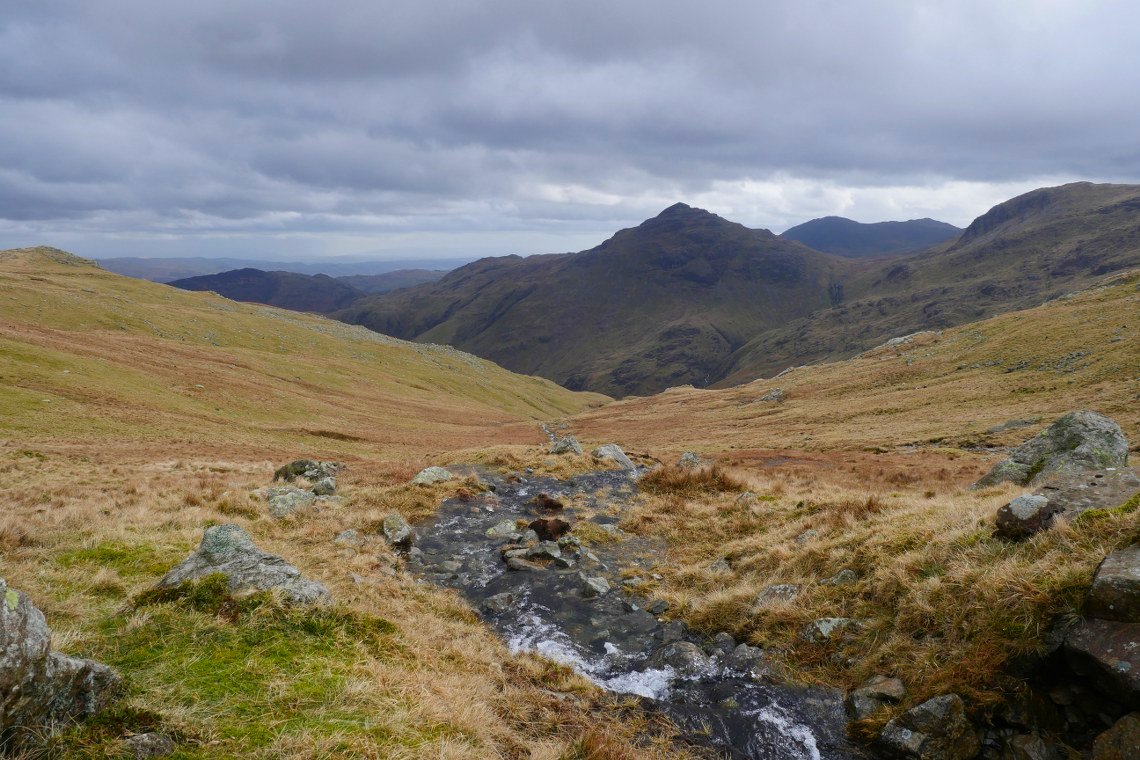 Pike of Blisco looking very mountain shaped seen from the climb by Buscoe Sike.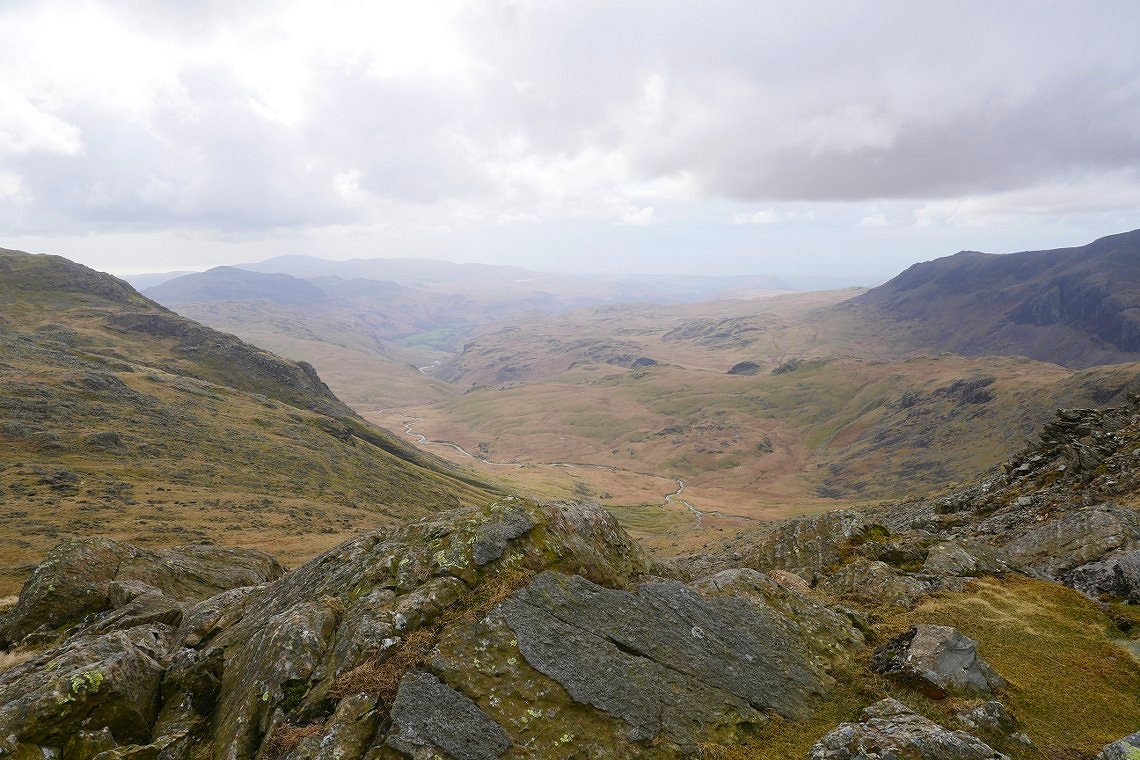 The day was shaping up better than forecast with periods of weak sunshine and blue skies. Here we are looking down into upper Eskdale from the steep rocky path from Three Tarns to Bowfell.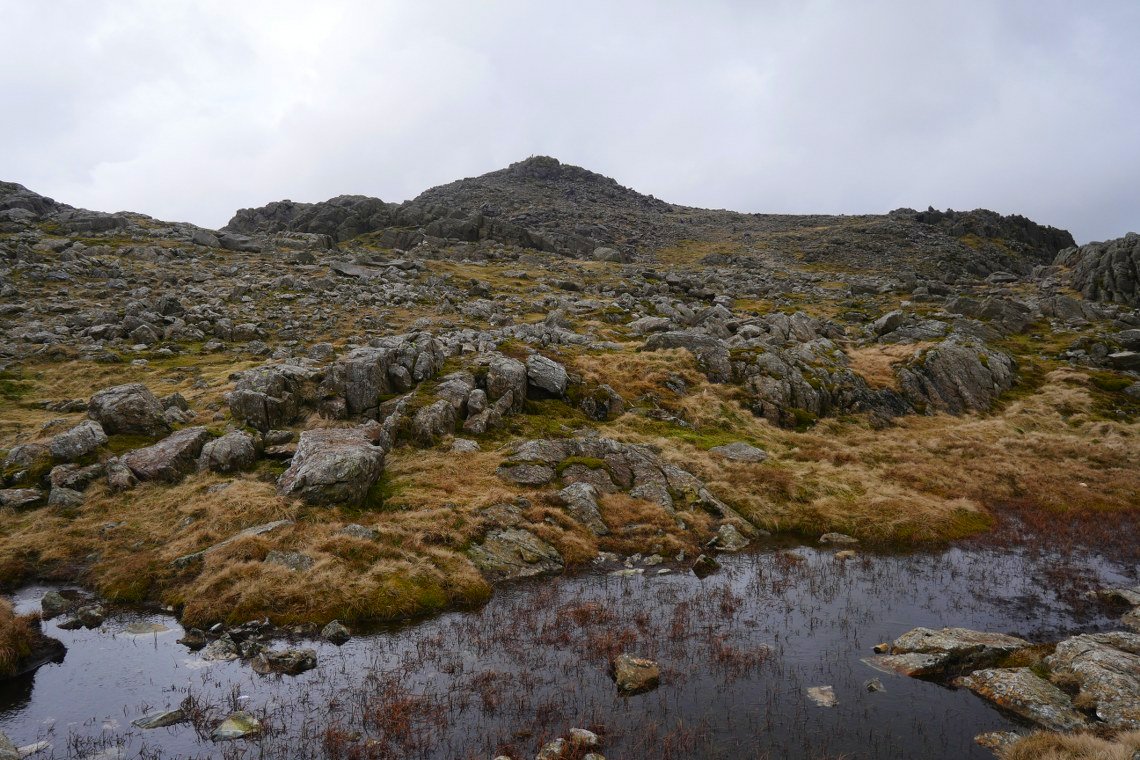 At the top of the rocky path now looking over a small pond to the main summit rocks of Bowfell.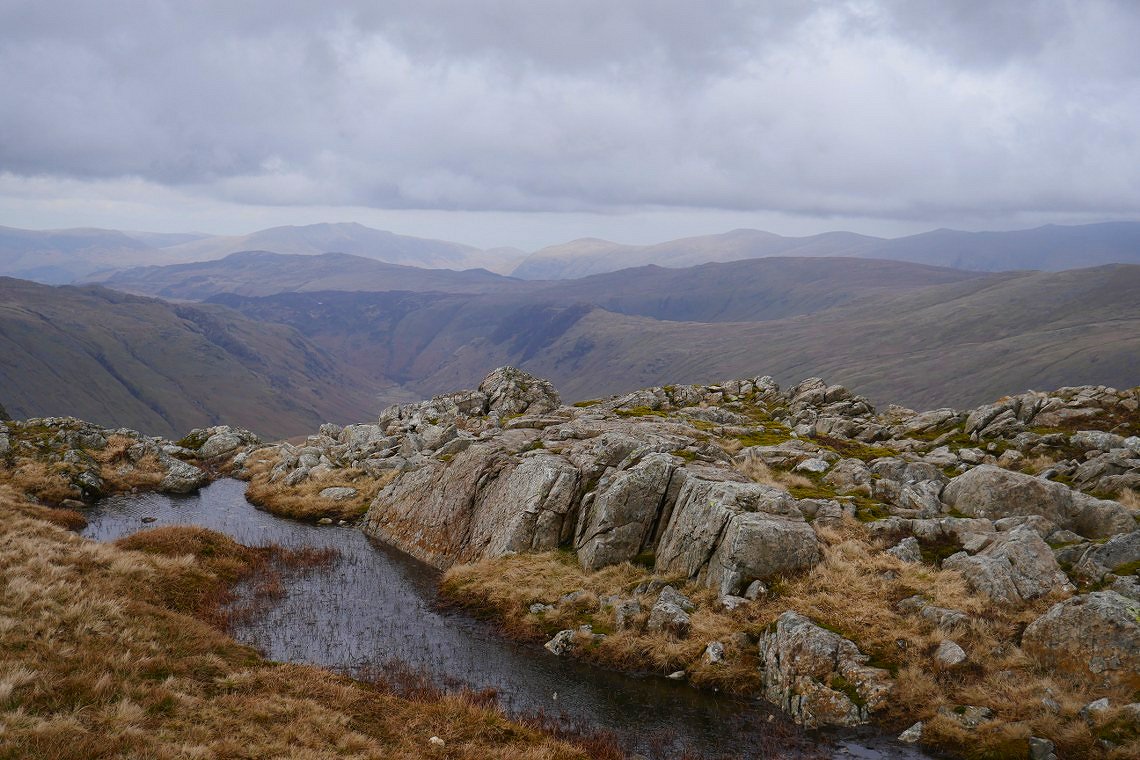 And over another small pond we can see down into Langstrath and over the fells of the central ridge to Skiddaw and the Helvellyn Dodds.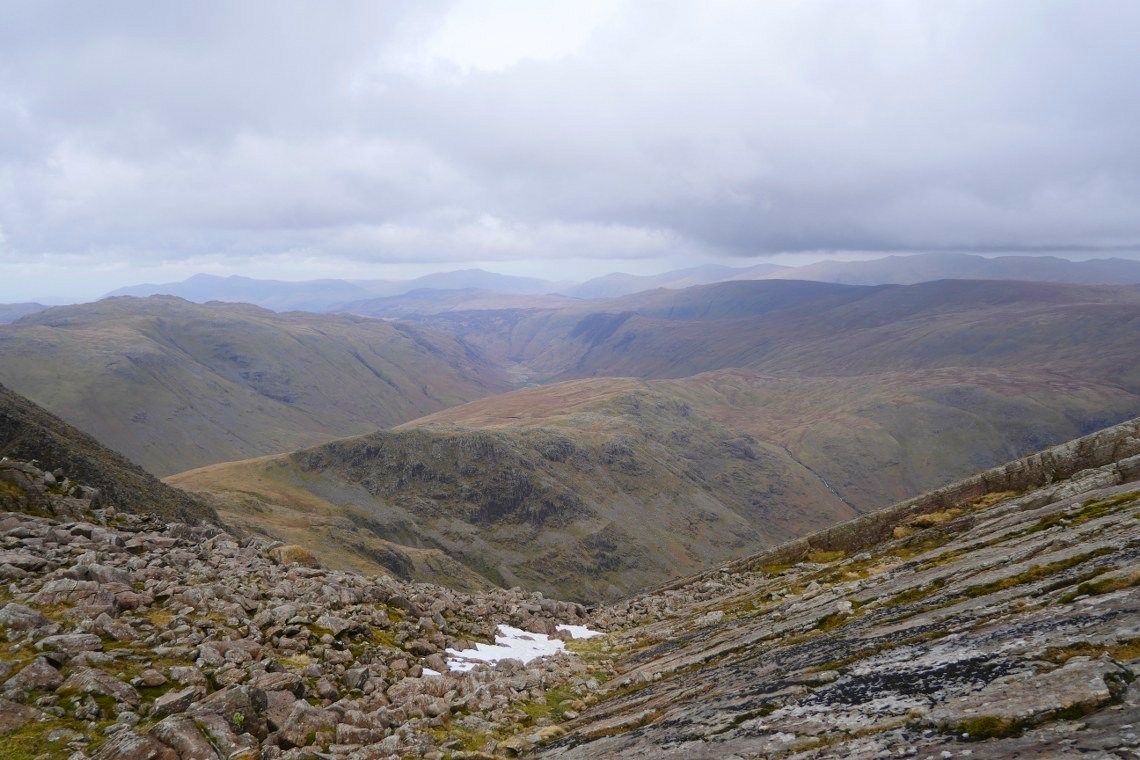 Looking the same way but from the top of the Great Slab.
.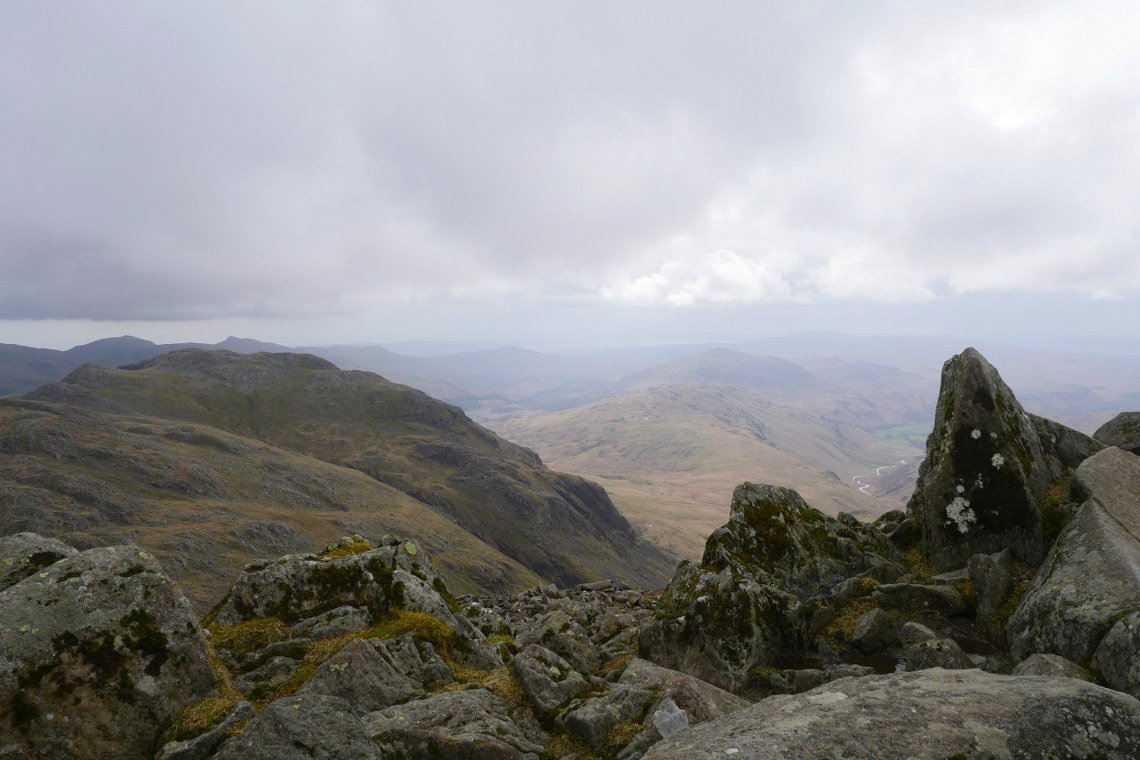 On the top now. Crinkle Crags in the foreground and Hard Knott in the background. Harter fell can just be seen but the skies are now showing signs of the forecasted rain.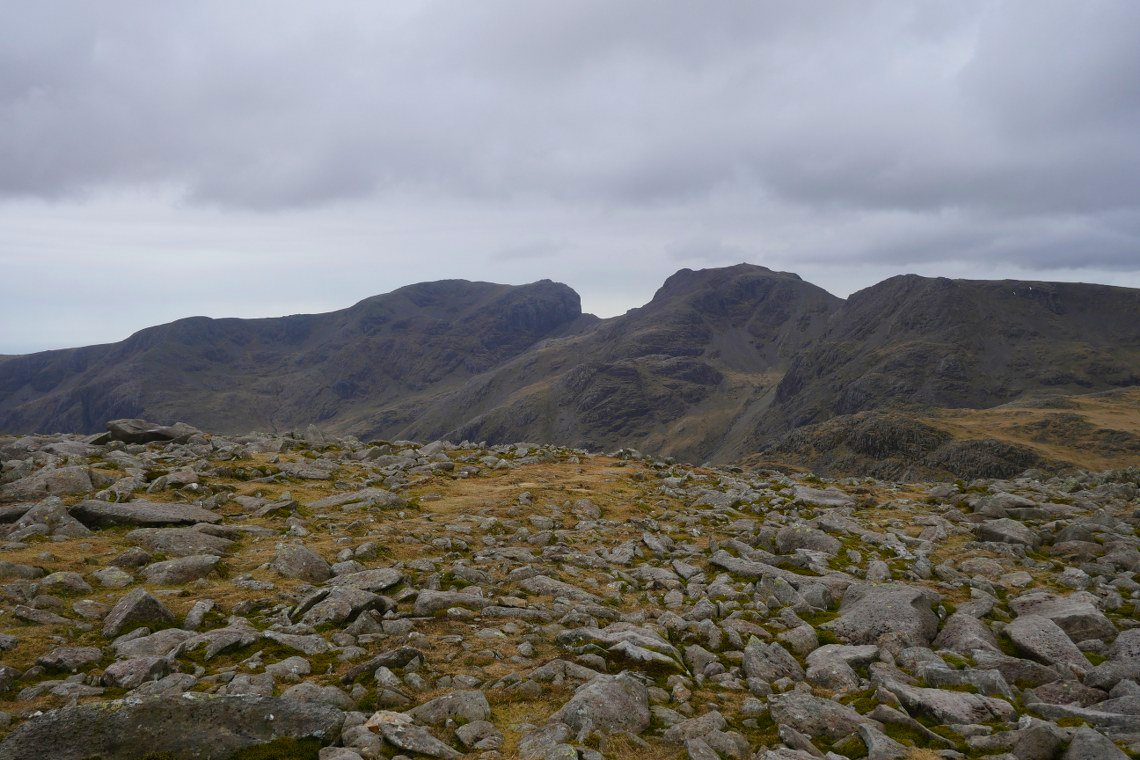 It's still nice and clear over the highest ground in England .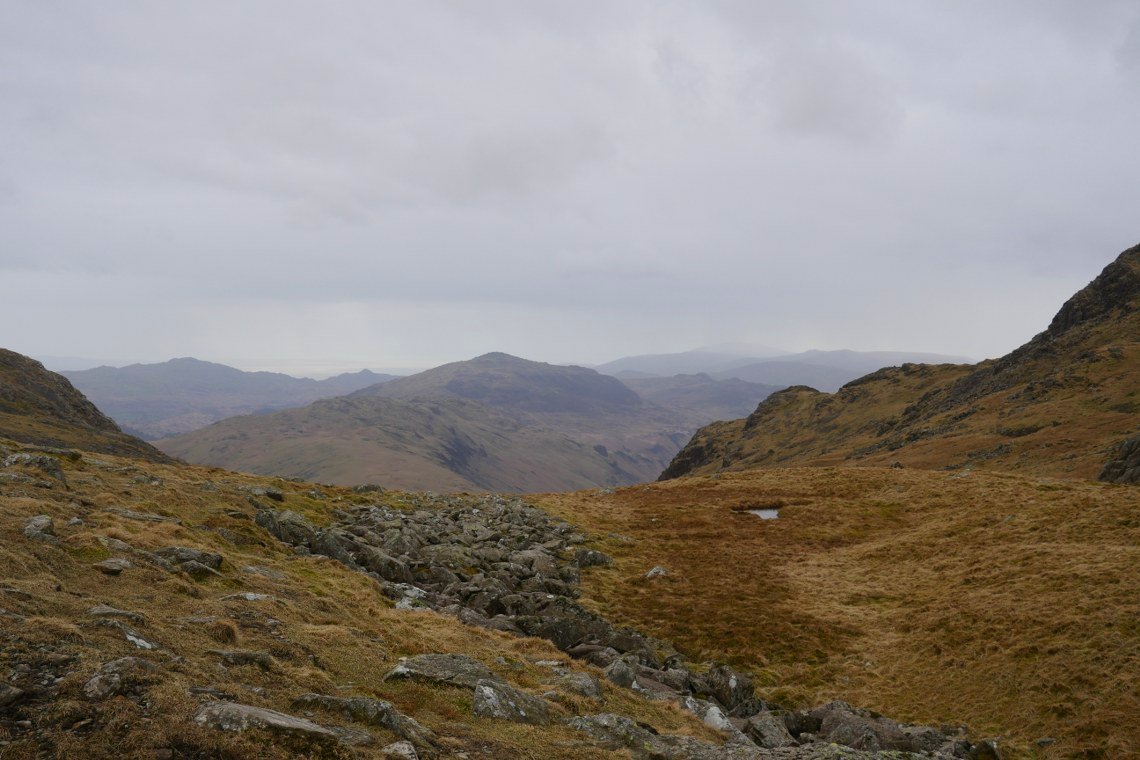 Harter Fell is now a bit clearer as we reach Ore gap but Black Combe in the distance to the right looks to have bad weather above it and within ten minutes it had started to rain.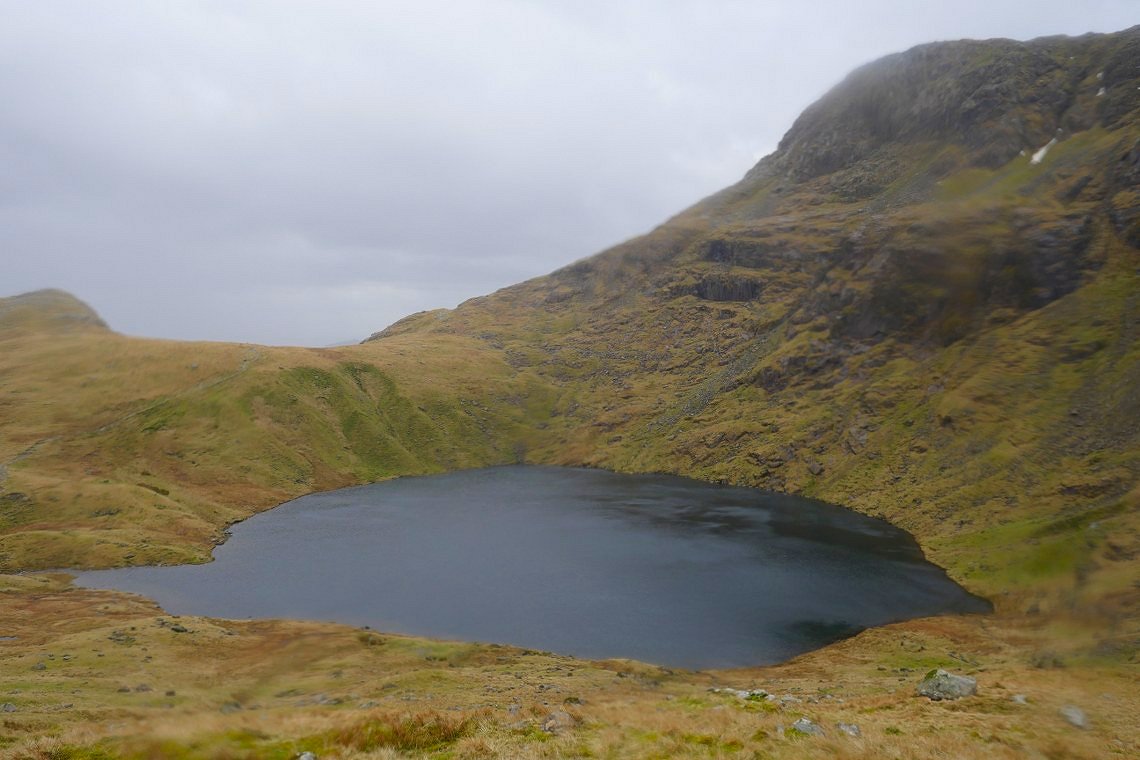 It was only light rain though as we passed Angle Tarn. We decided to extend our walk by heading along the ridge below Rossett Pike and from about half way along the rain came down in quite impressive sheets driven along by a very stiff breeze.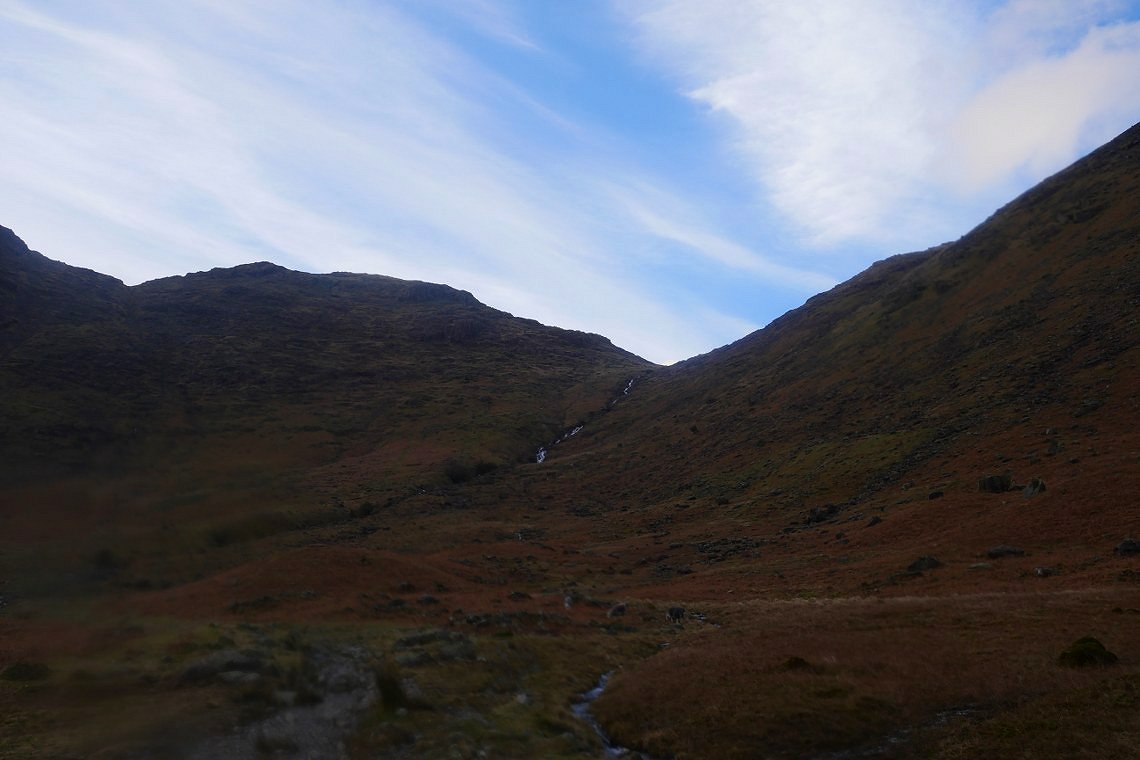 By the time we had reached the valley bottom the rain had stopped and we even had a bit of late afternoon sunshine.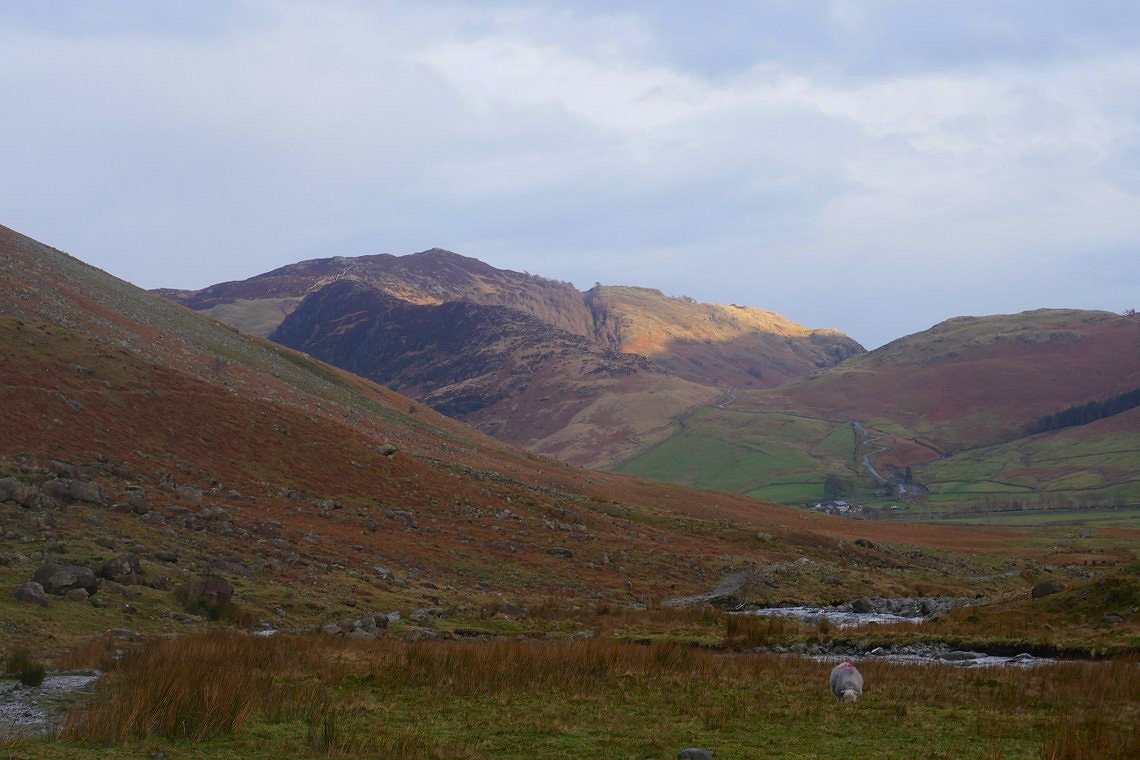 Lingmoor just catching the sunshine.
Bowfell however looks very dramatic.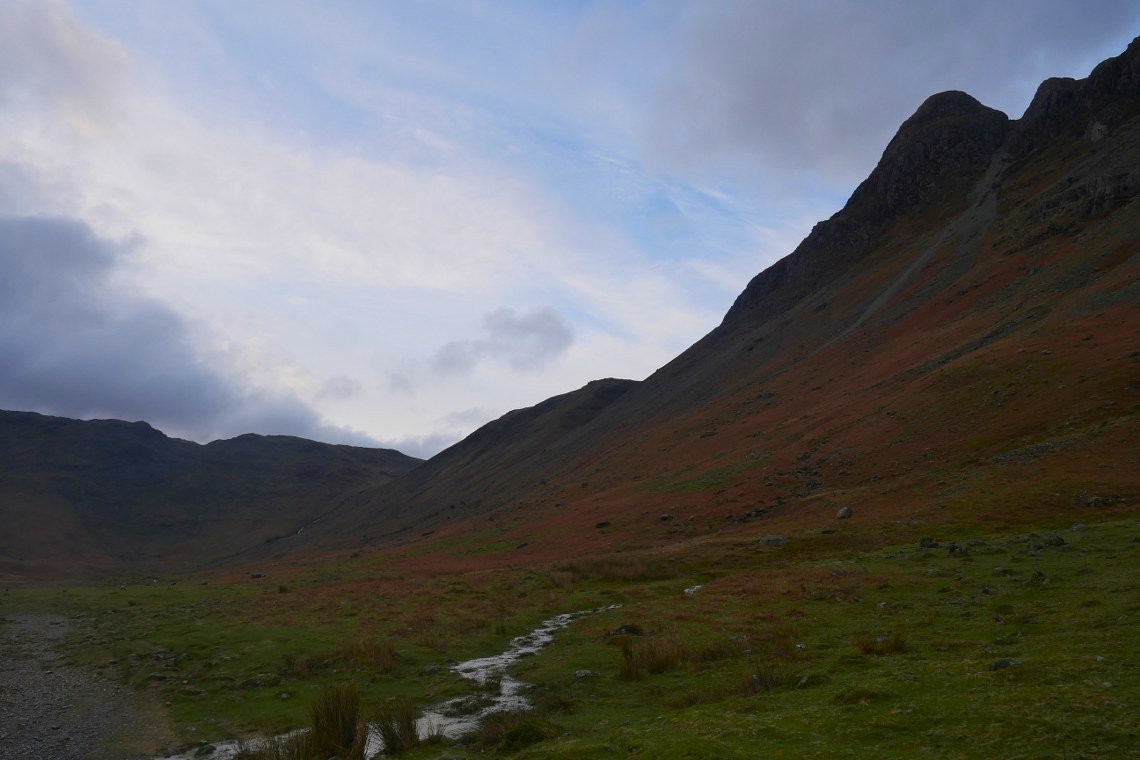 On the other side of the valley there's blue sky over Pike of Stickle.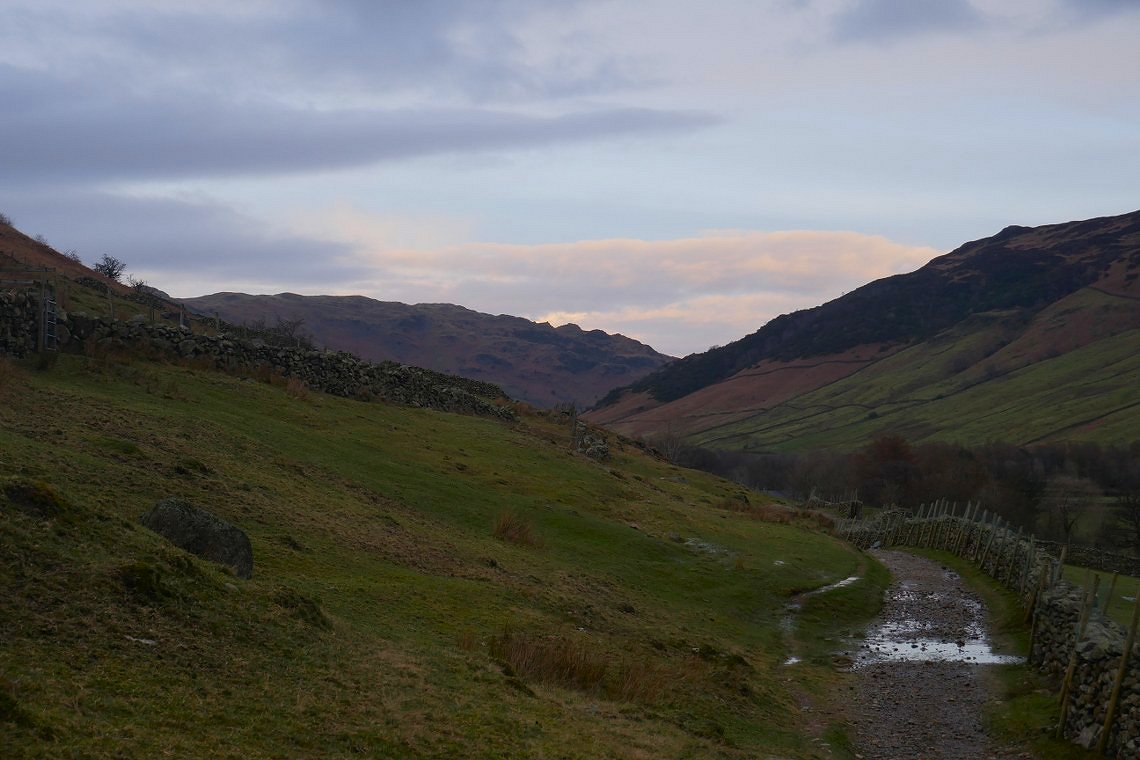 Nearly back now. The path along Mickleden always seems longer when trudging home in the evening than when you're rambling along all bright eyed and bushy tailed in the morning.
Previous walk - Ard Crags and Knott Rigg - Next walk - Hobcarton Round