WWW.KARLSWALKS.CO.UK
PICTURES AND TRIP REPORTS FROM MY WALKS IN THE ENGLISH LAKE DISTRICT
---
Silver How and Blea Rigg
9th December 2018
Route. - Grasmere - Allen Bank - Silver How - Brigstone Moss - Blea Rigg - Easedale Tarn - Grasmere ( about 8.5 miles 2100ft ascent )
A vast improvement in the weather over last week., on Sunday anyway. Saturday was a repeat of last weeks rainy damp and dismal conditions so just the weather for travel;ling up to Great Langdale to cheer on Andrew as he competed in the Langdale Christmas pudding 10 K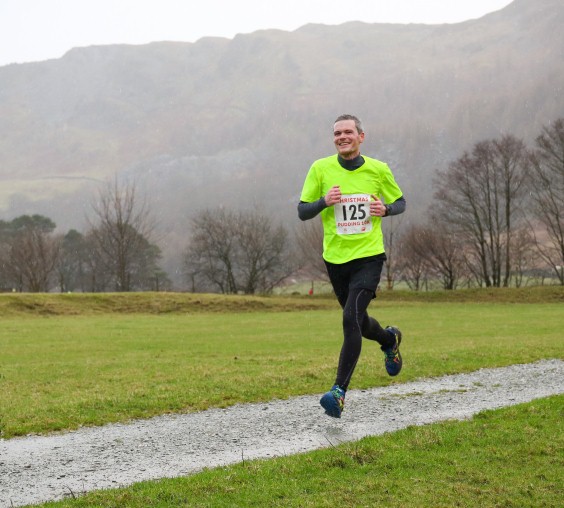 He came 91st out of 740 with a time of 46.51 which was two minutes quicker than last year ( picture by James Kirby )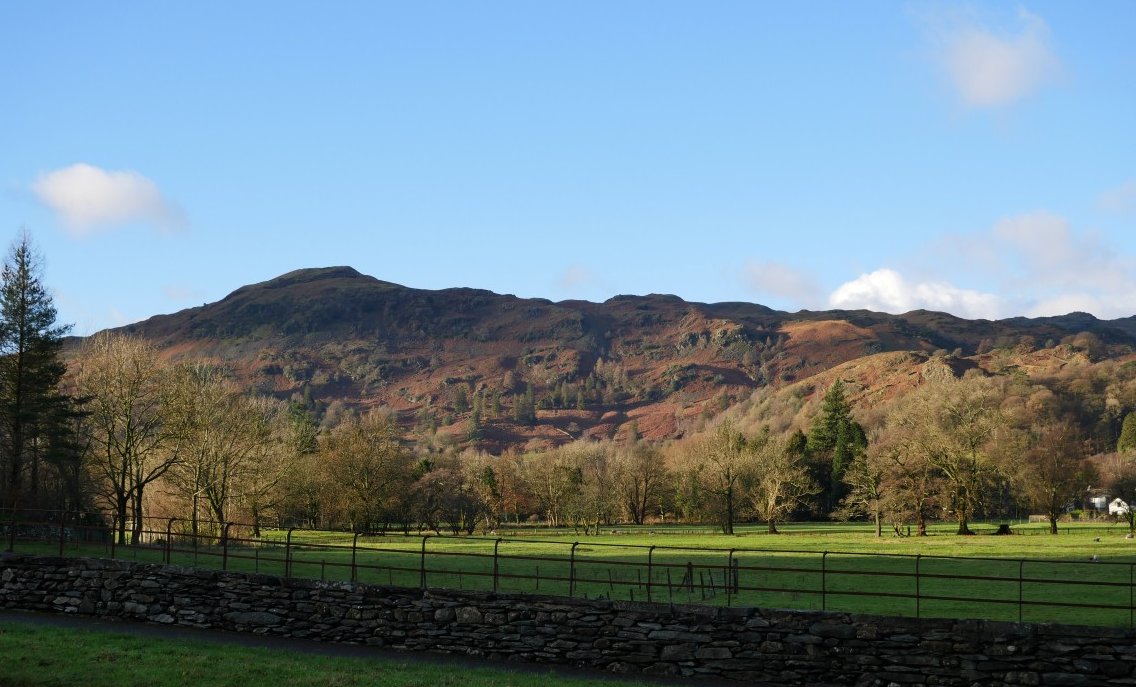 So after getting wet again I was glad to see plenty of blue sky as Sue and I parked in the large lay-by outside Grasmere. Silver How is our first target and is well seen from the village.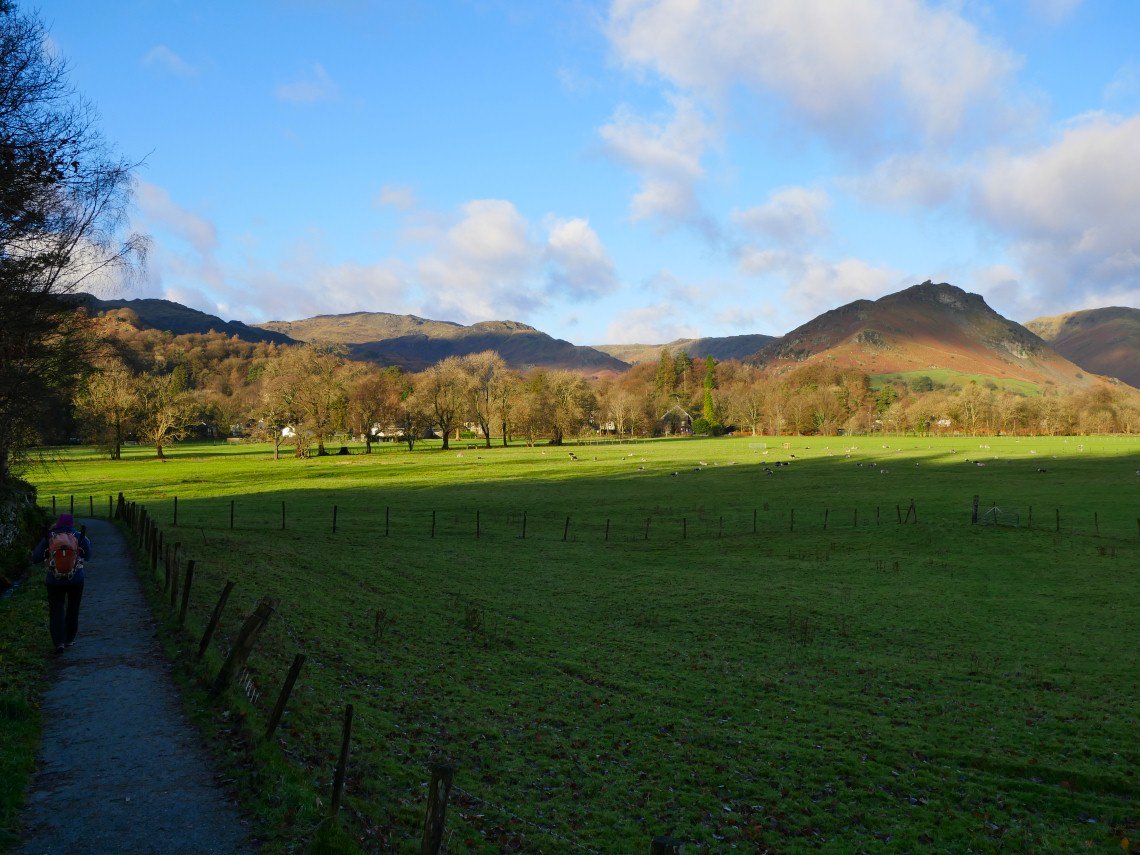 Making our way into the village looking up to Helm Crag on the right with Tarn Crag centre left and Greenup Edge behind.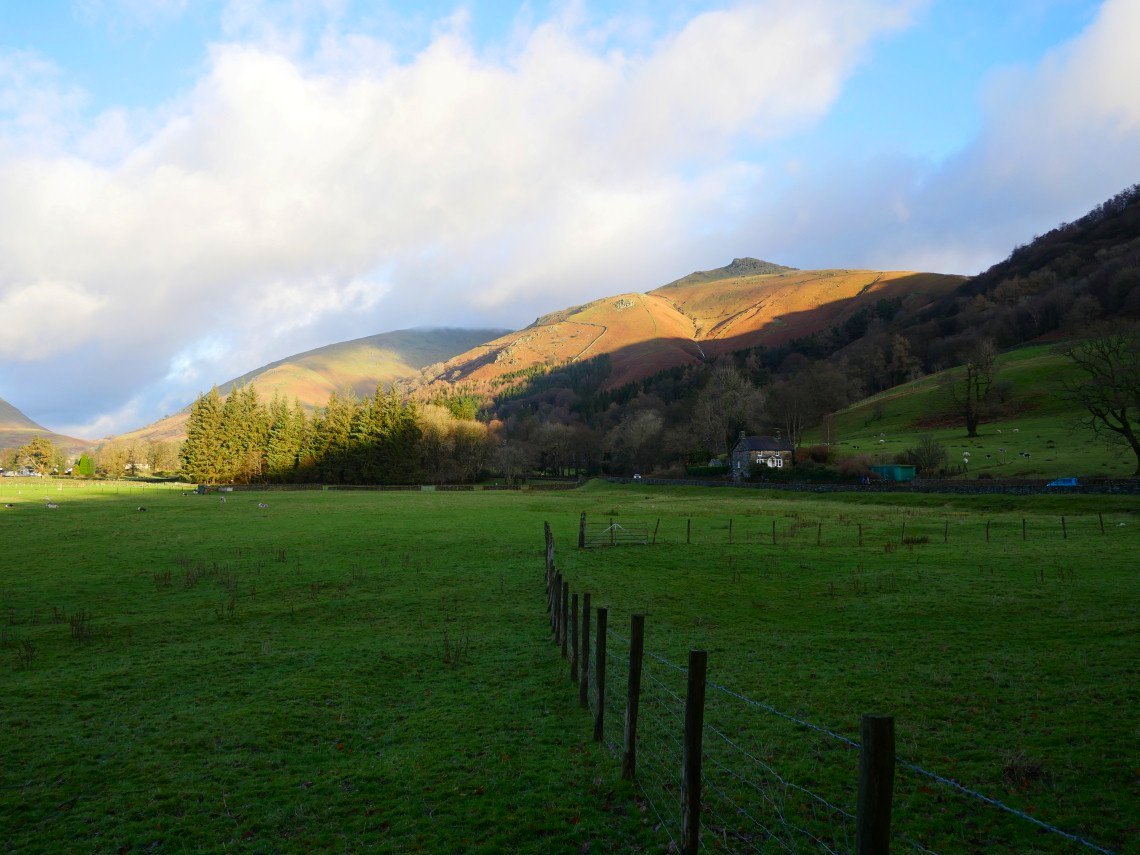 And in the other direction is Stone Arthur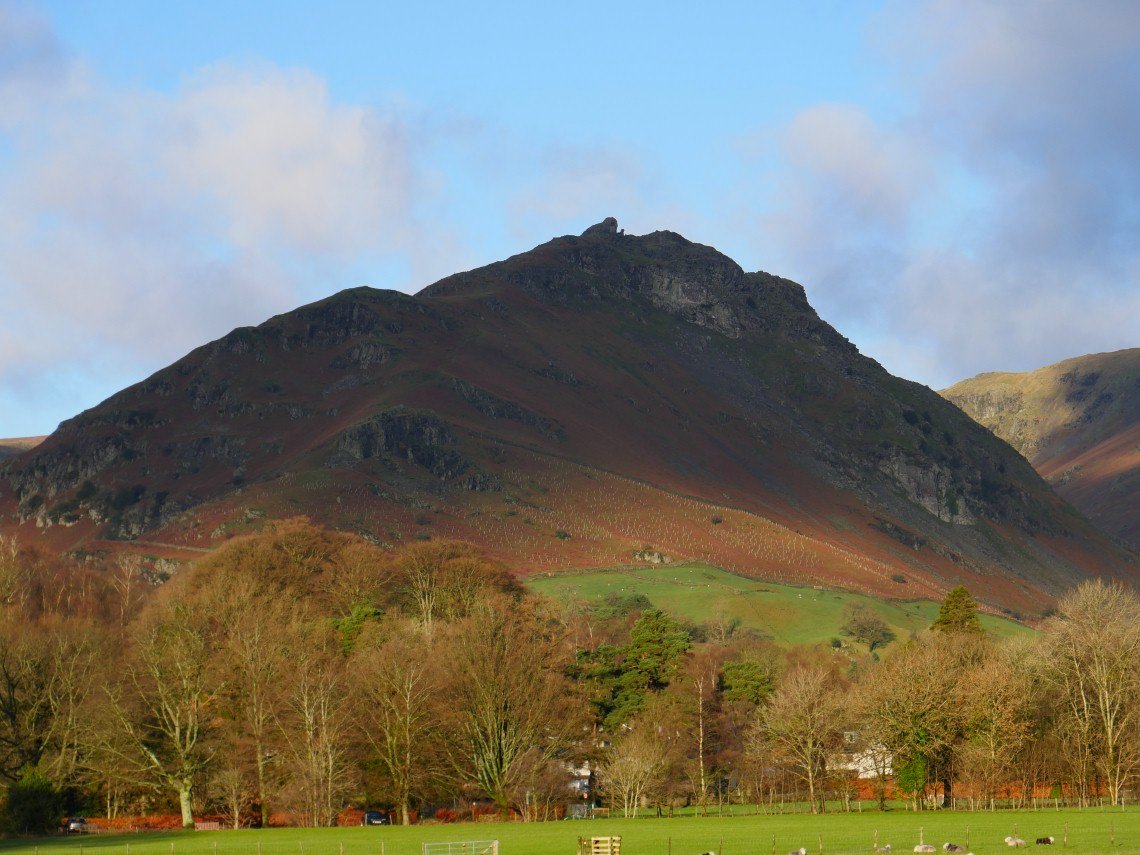 Zooming in on the Lion and the Lamb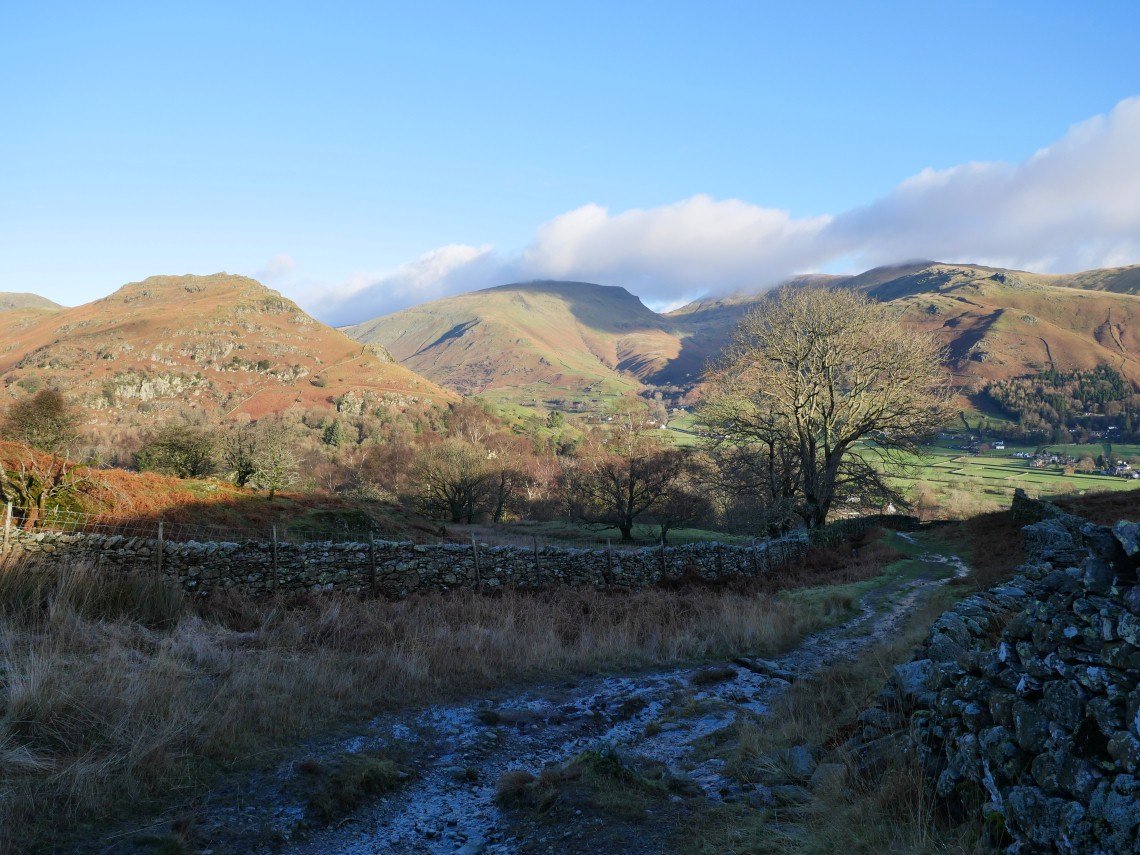 A wider view back with Helm Crag, Seat Sandal, Grisedale Hause and Fairfield whose top is hidden by cloud.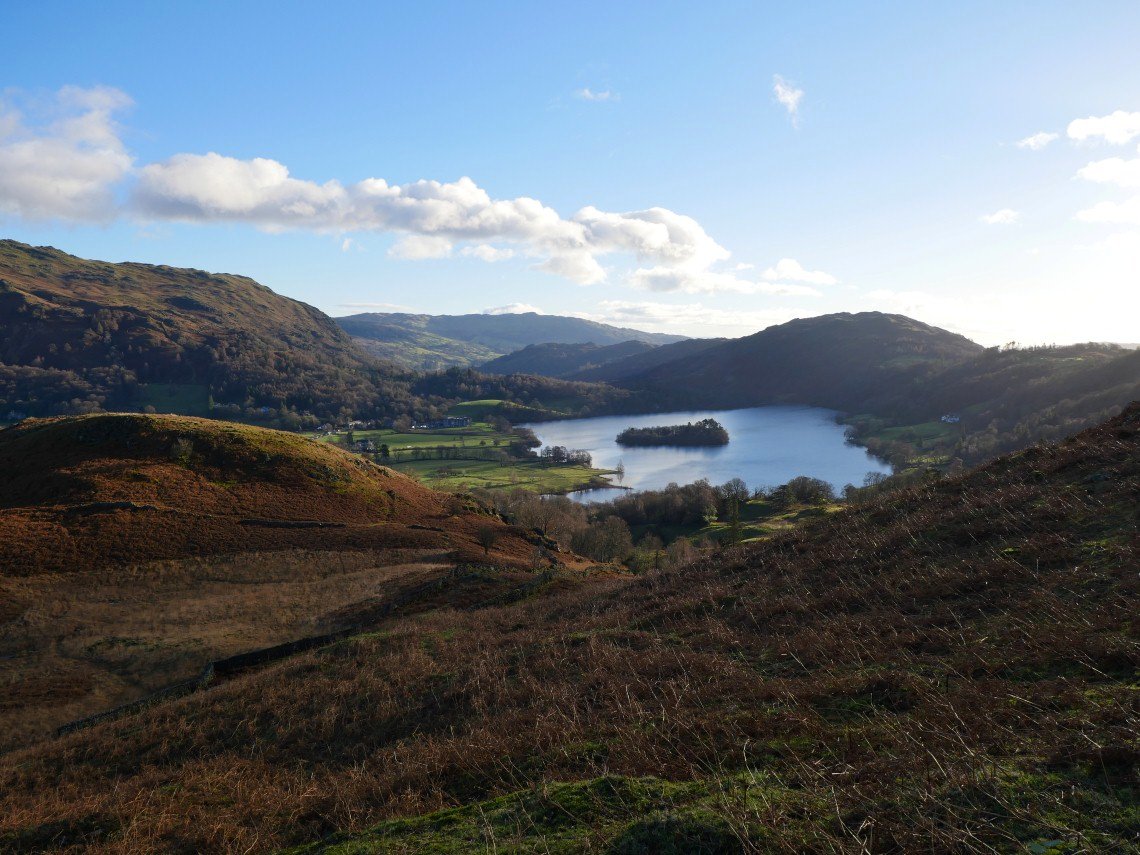 Grasmere comes into view.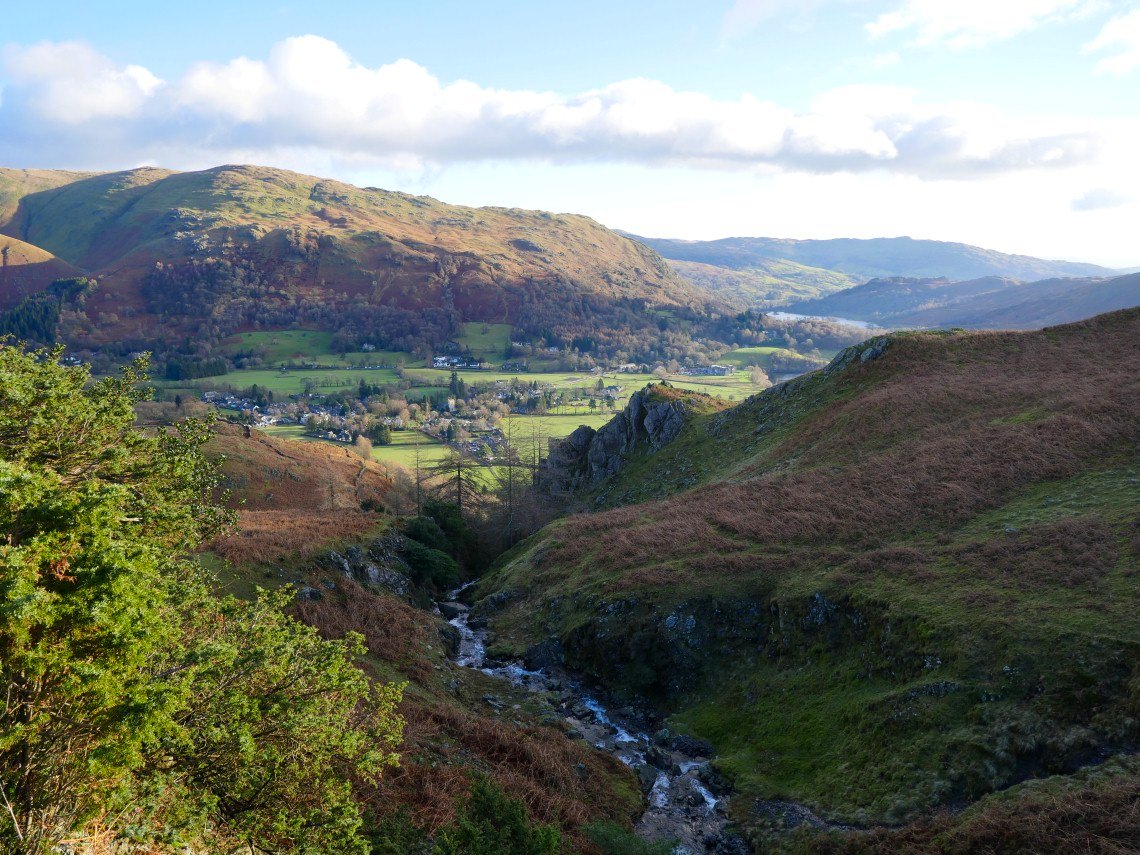 Looking down to Grasmere village from Wray Gill.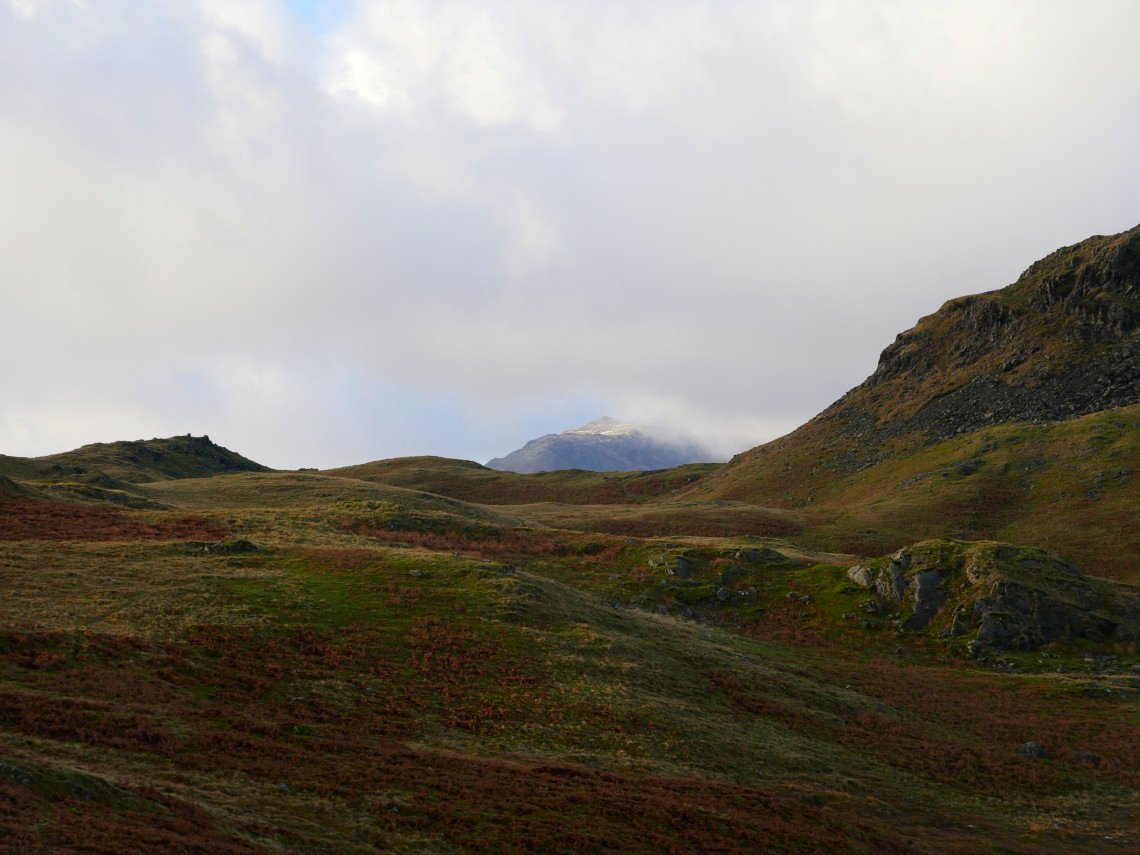 One of the nicest things about this route is the way that the bigger fells come into view gradually, here is Bowfell with a dusting of snow.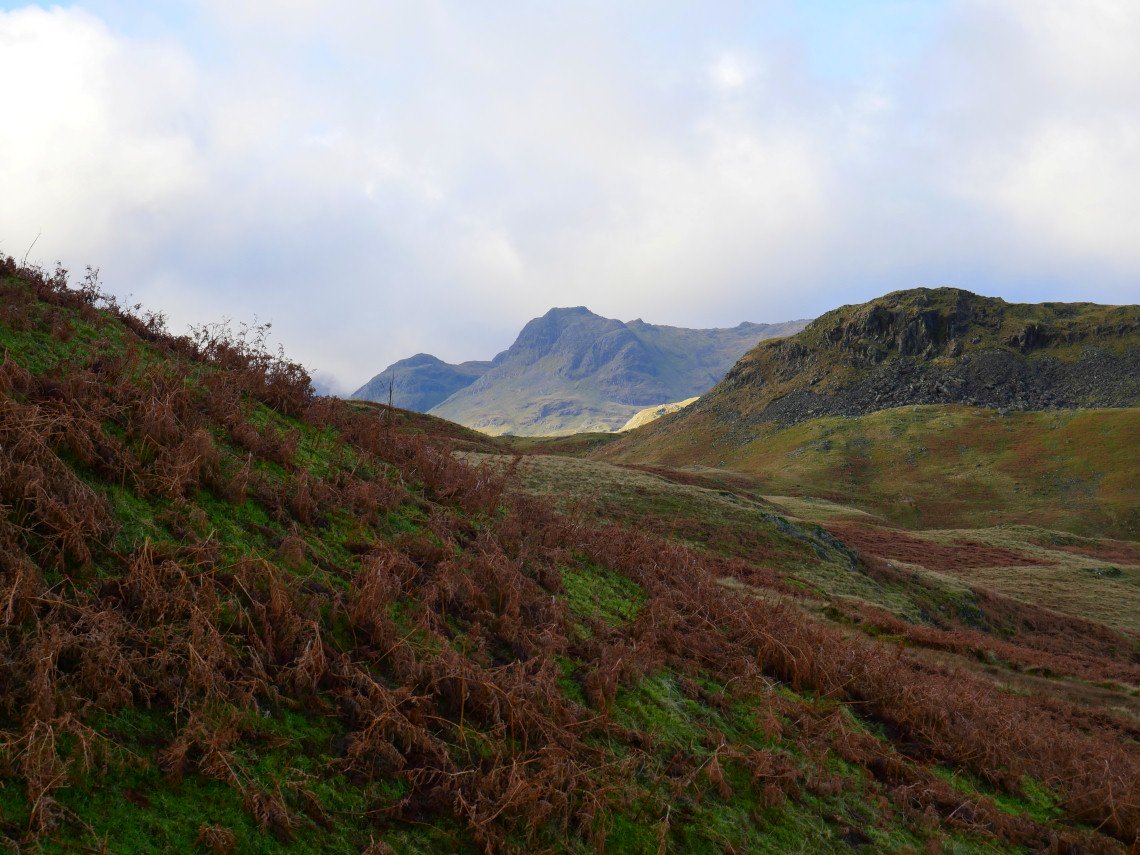 A little higher now and you have a couple of Langdale Pikes.
.
And as you reach the top the whole arc from Crinkle Crags to Harrison Stickle burst into view.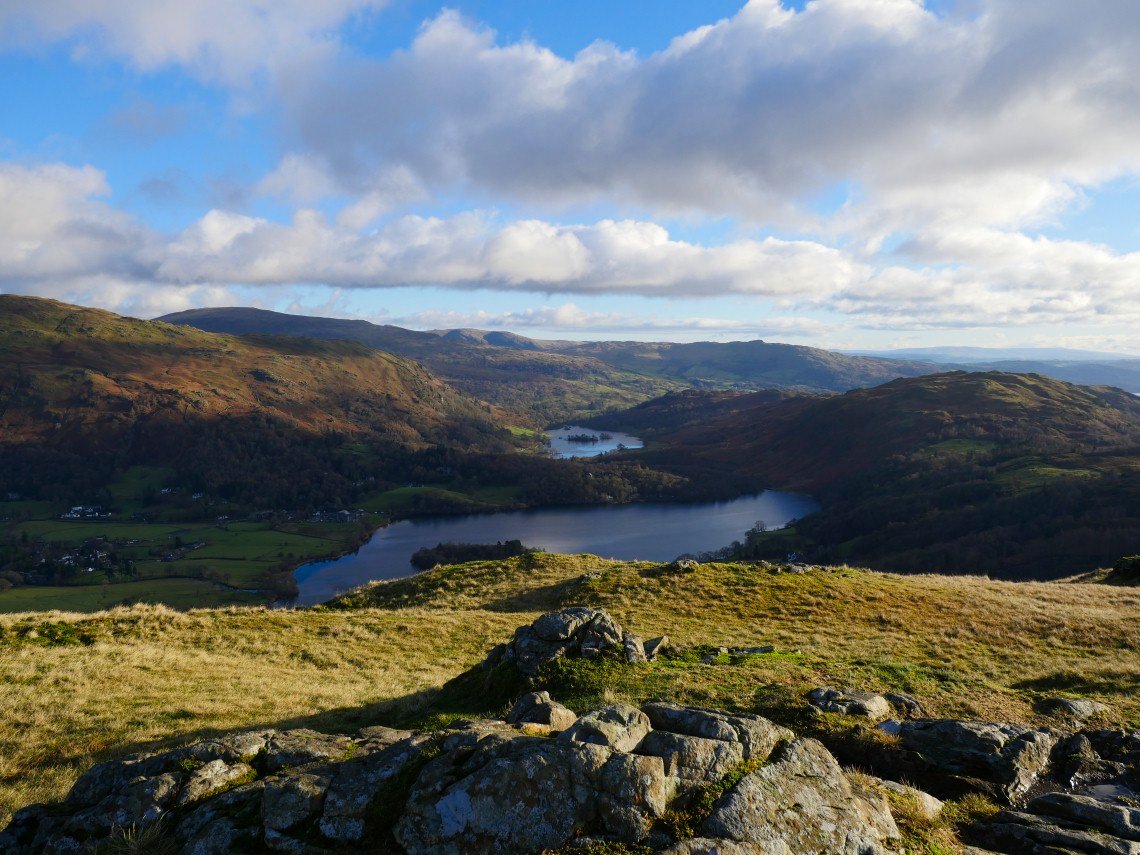 And of course you have the lovely view of Grasmere and Rydal water and the fells around in the other direction..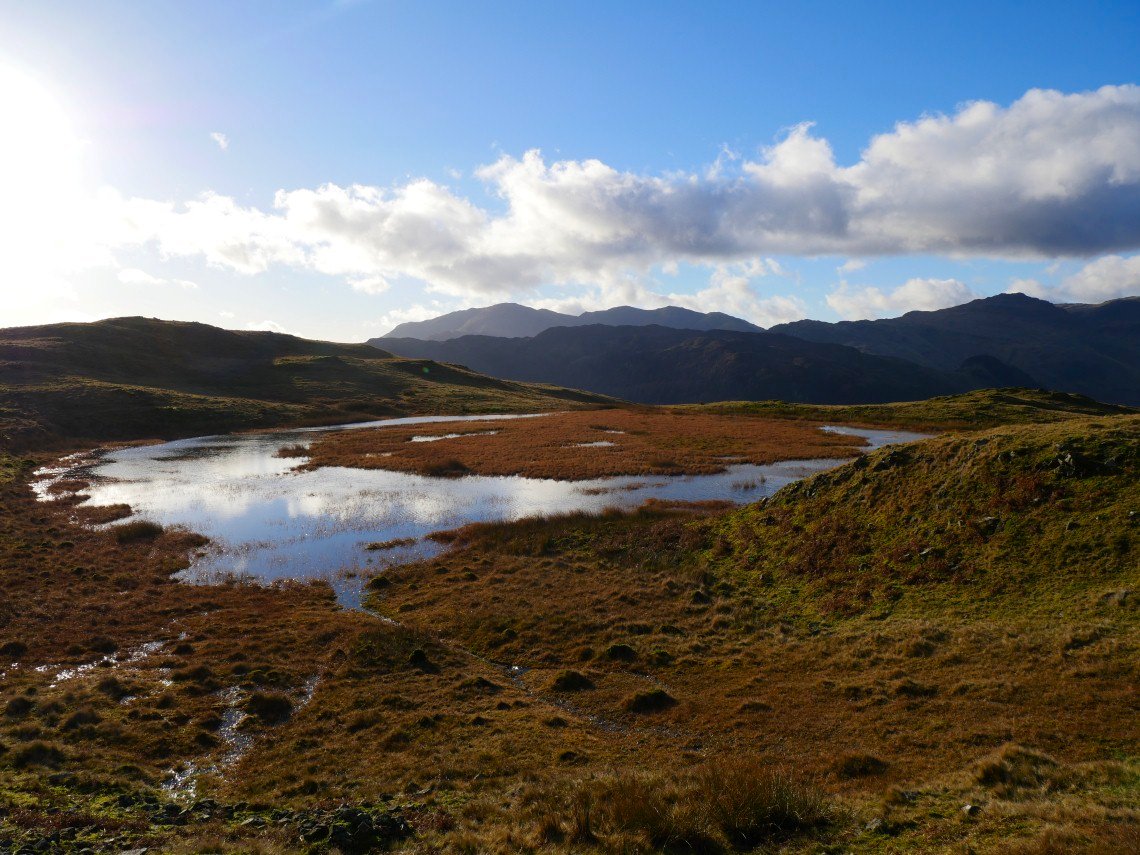 Not forgetting the Coniston group.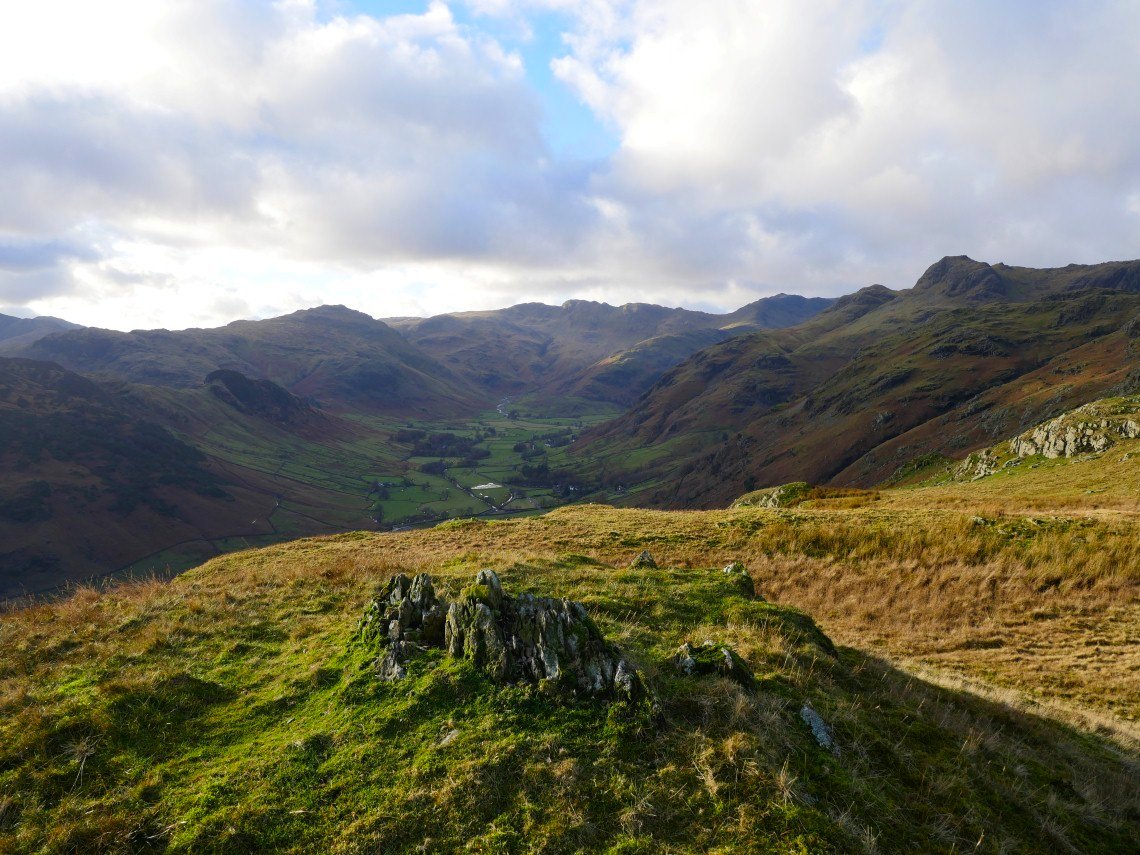 The head of Great Langdale from near Lang How.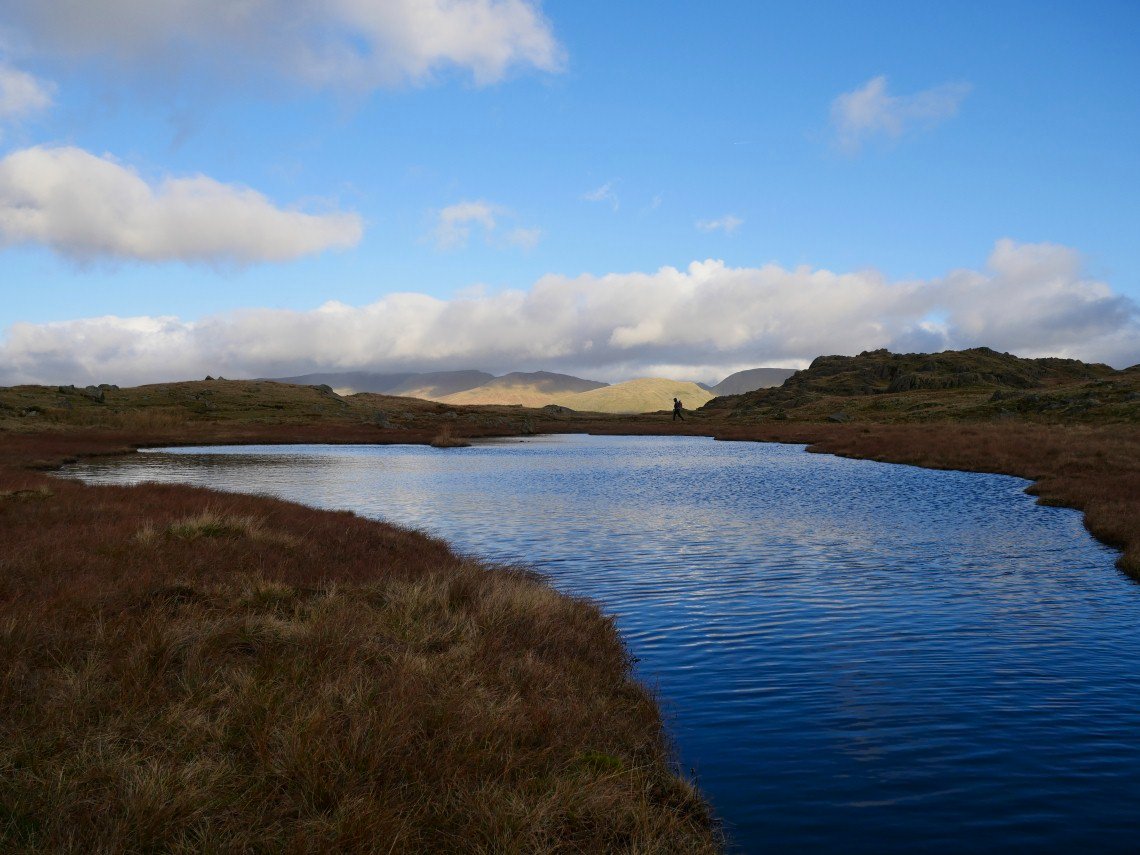 Nearing the start of the climb to Blea Rigg now. Sue is on the path on the other side of the tarn, I'm taking a wetter shortcut to take this picture.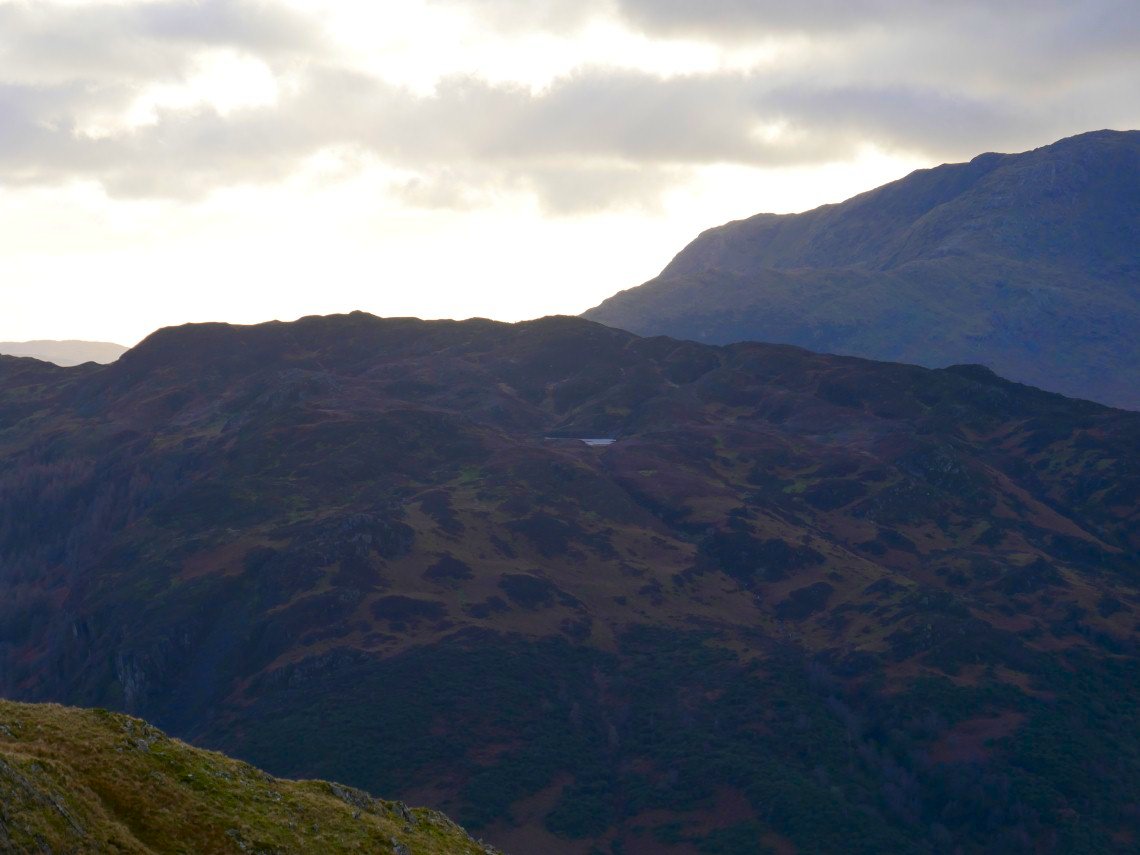 Lingmoor Tarn nestled on the side of the fell.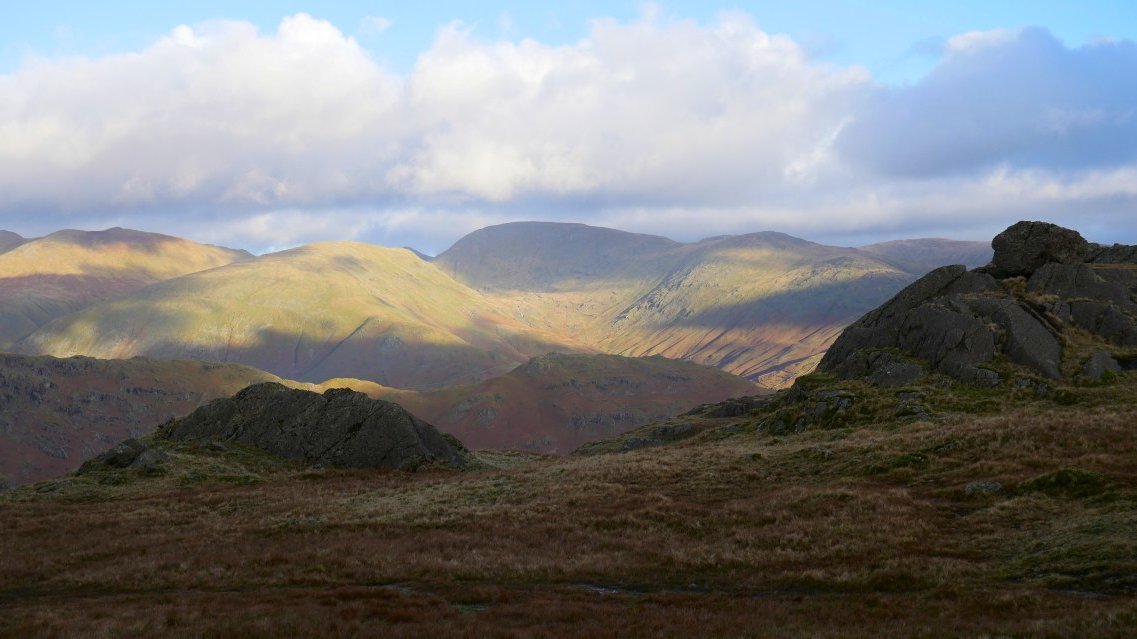 Fairfield and the fells to the east are clear now.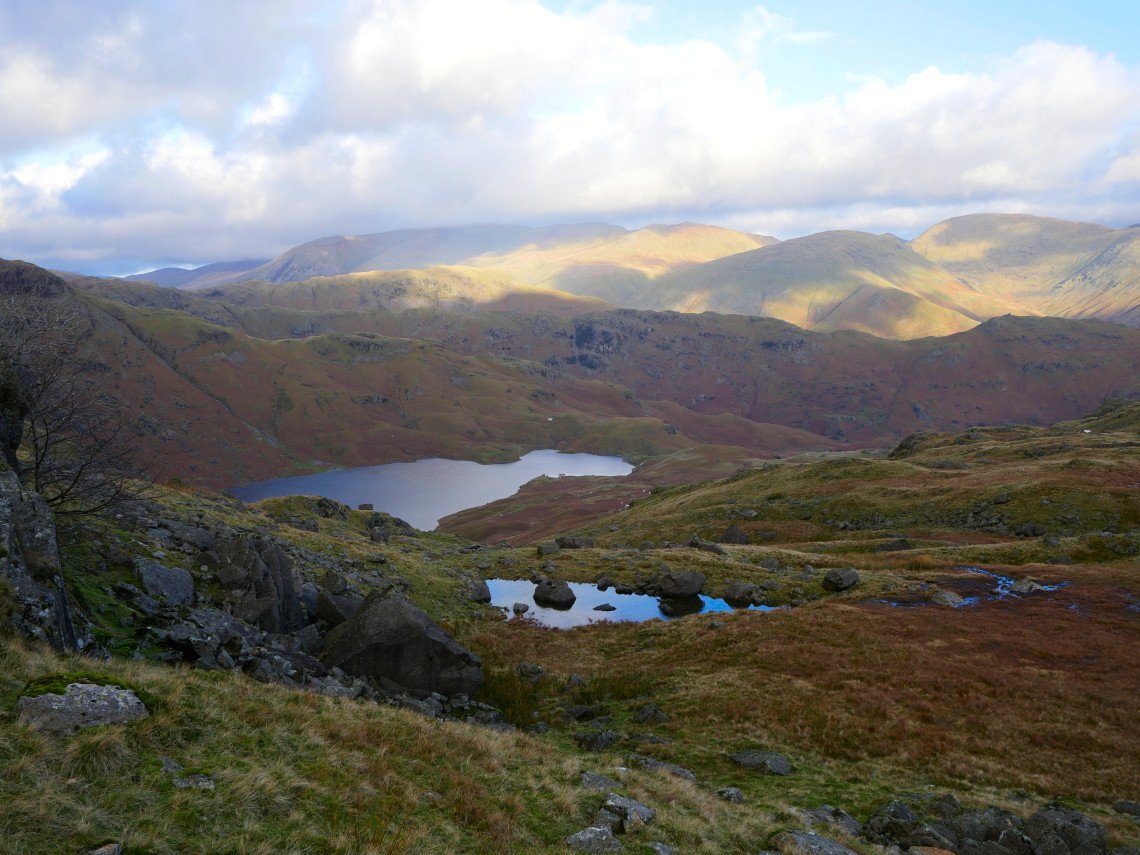 Easedale Tarn far below. Our path down follows the cleft in the hillside but first we climb up to Blea Rigg.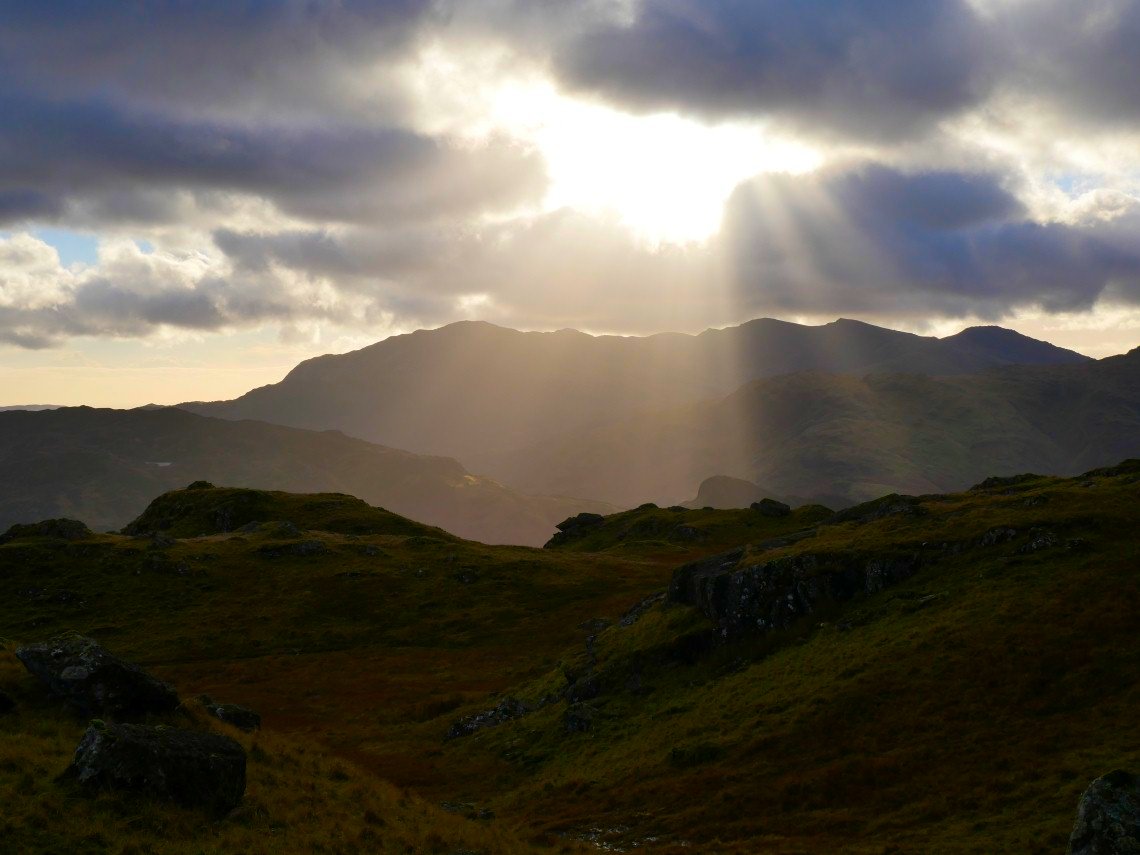 Interesting goings on in the sky over the Coniston fells.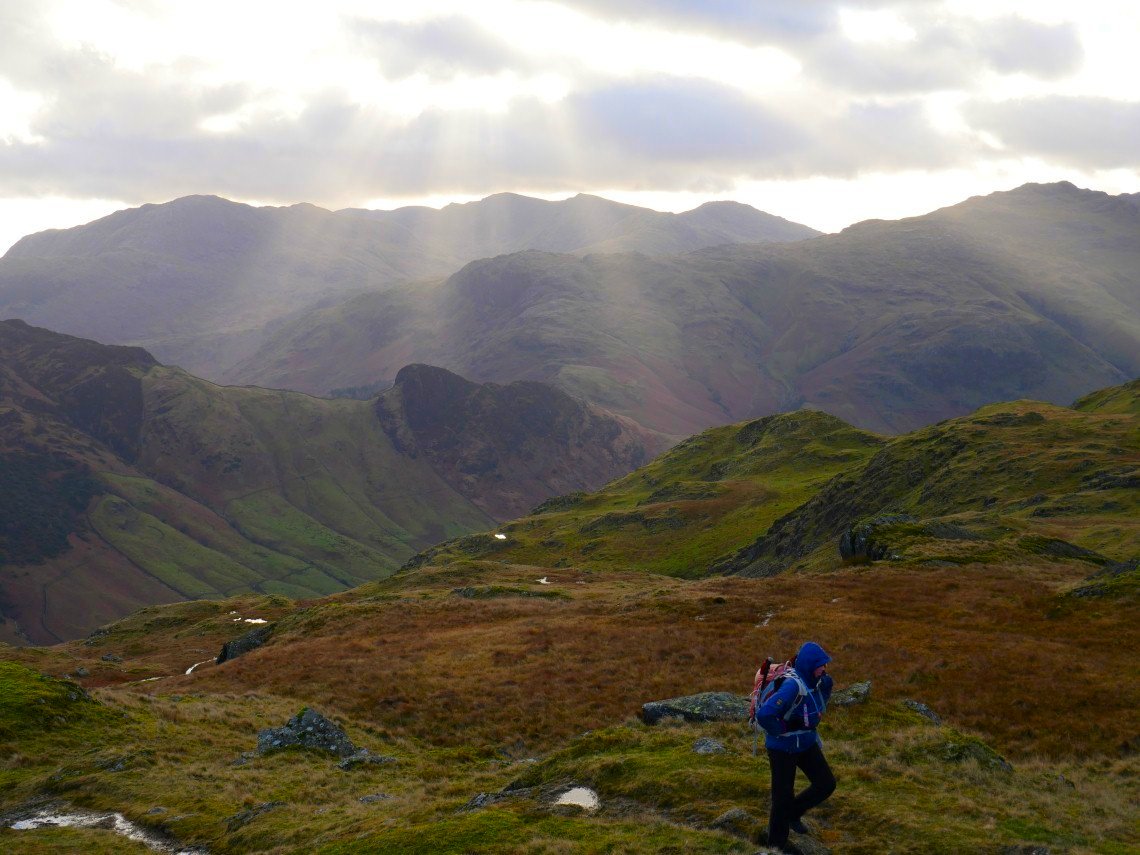 Side Pike with Blake Rigg behind and Pike O' Blisco to the right..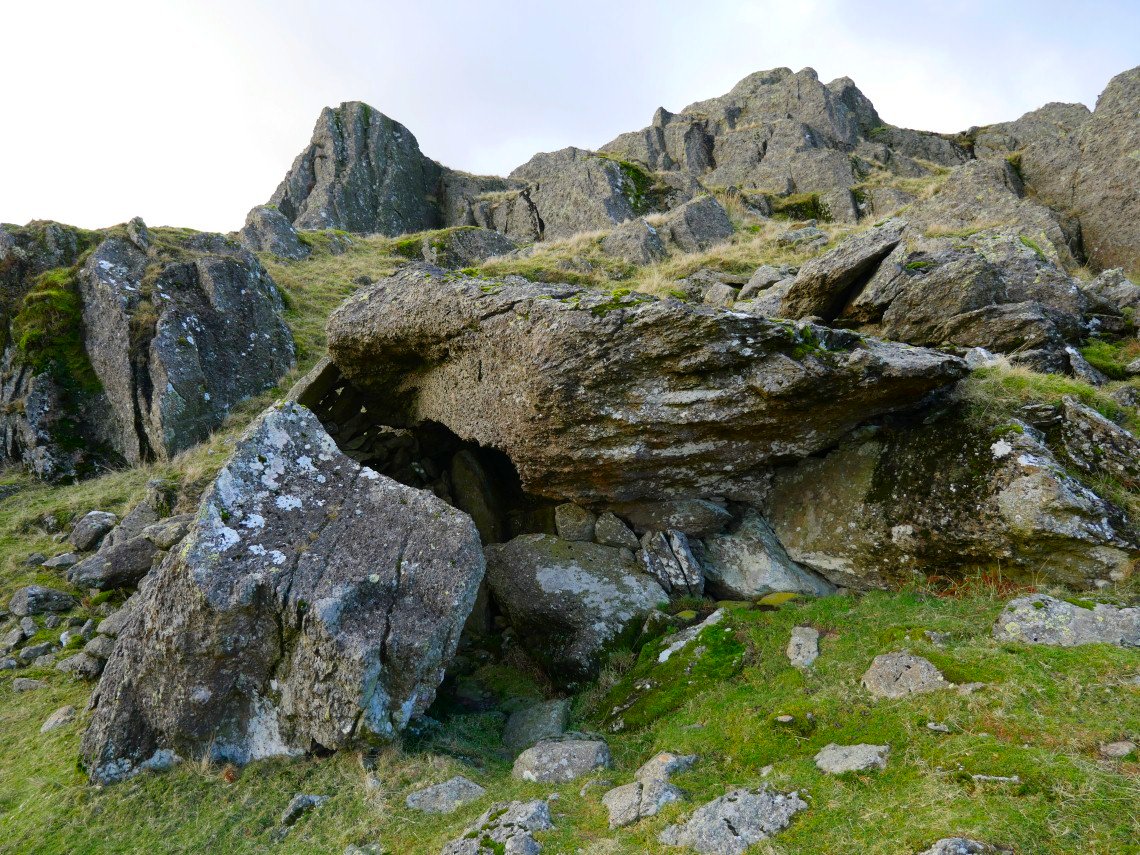 The shelter just below the summit of Blea Rigg.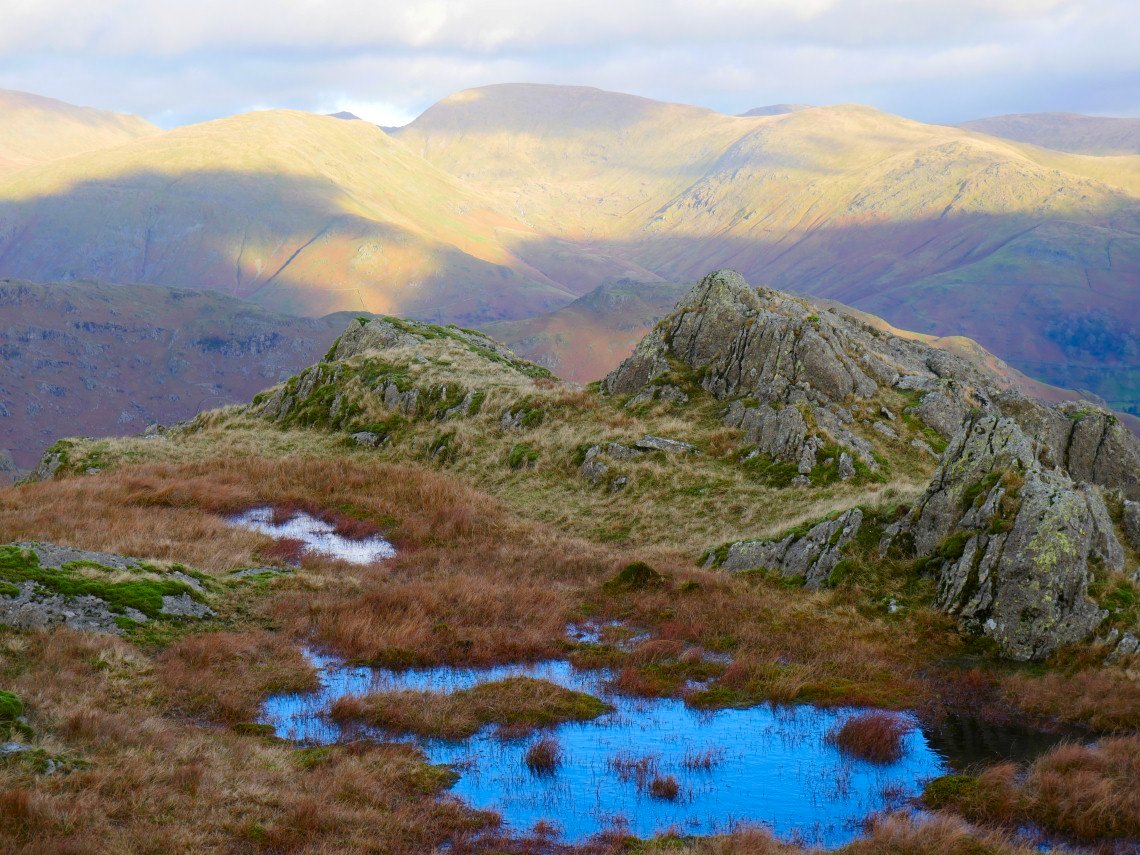 Sunny Seat Sandal, Fairfield and Great Rigg.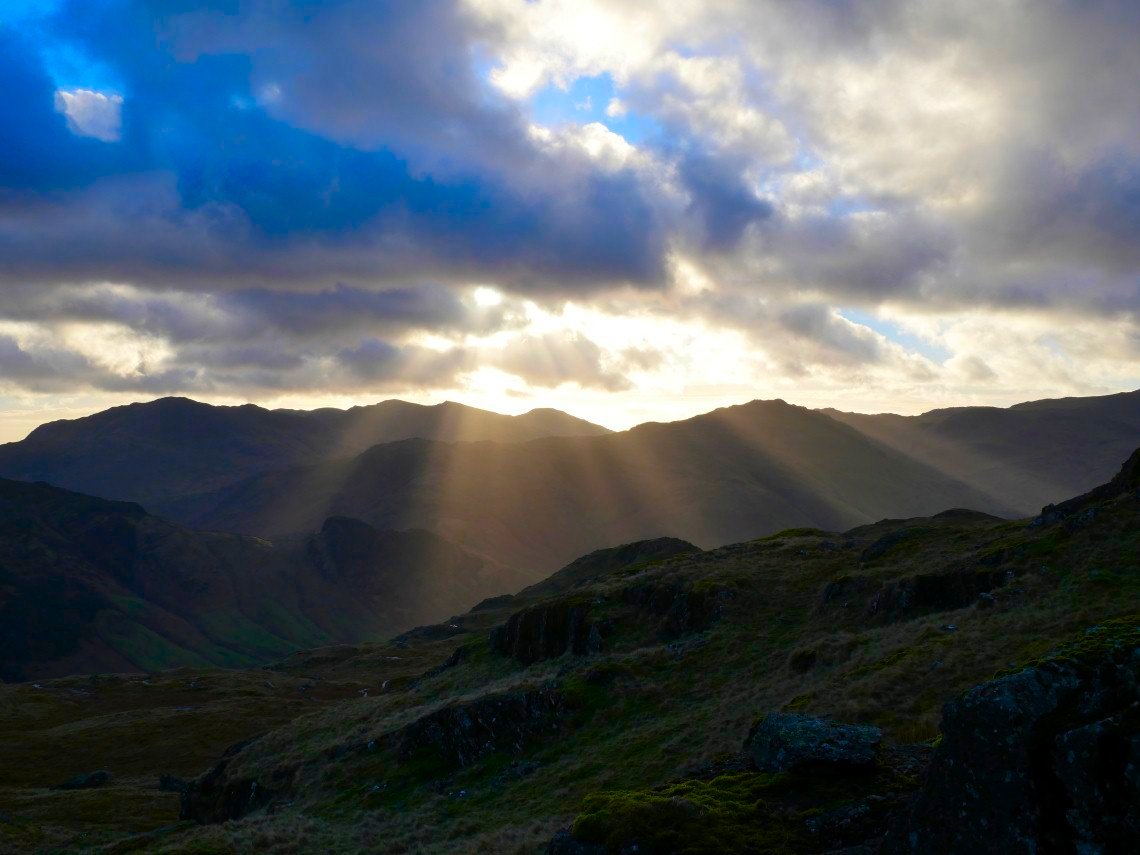 We retraced our steps down from the summit of Blea Rigg which gave us a view of the lovely sky to the west.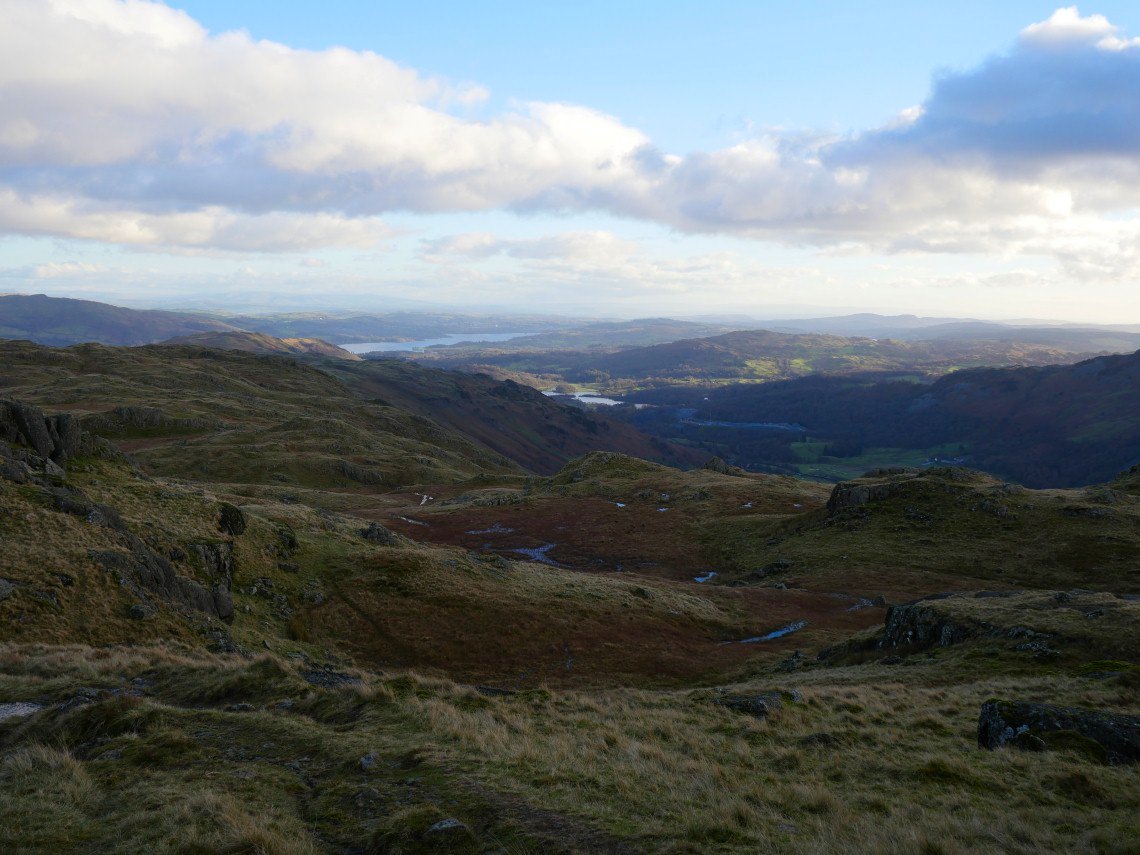 Not a bad view southwards also.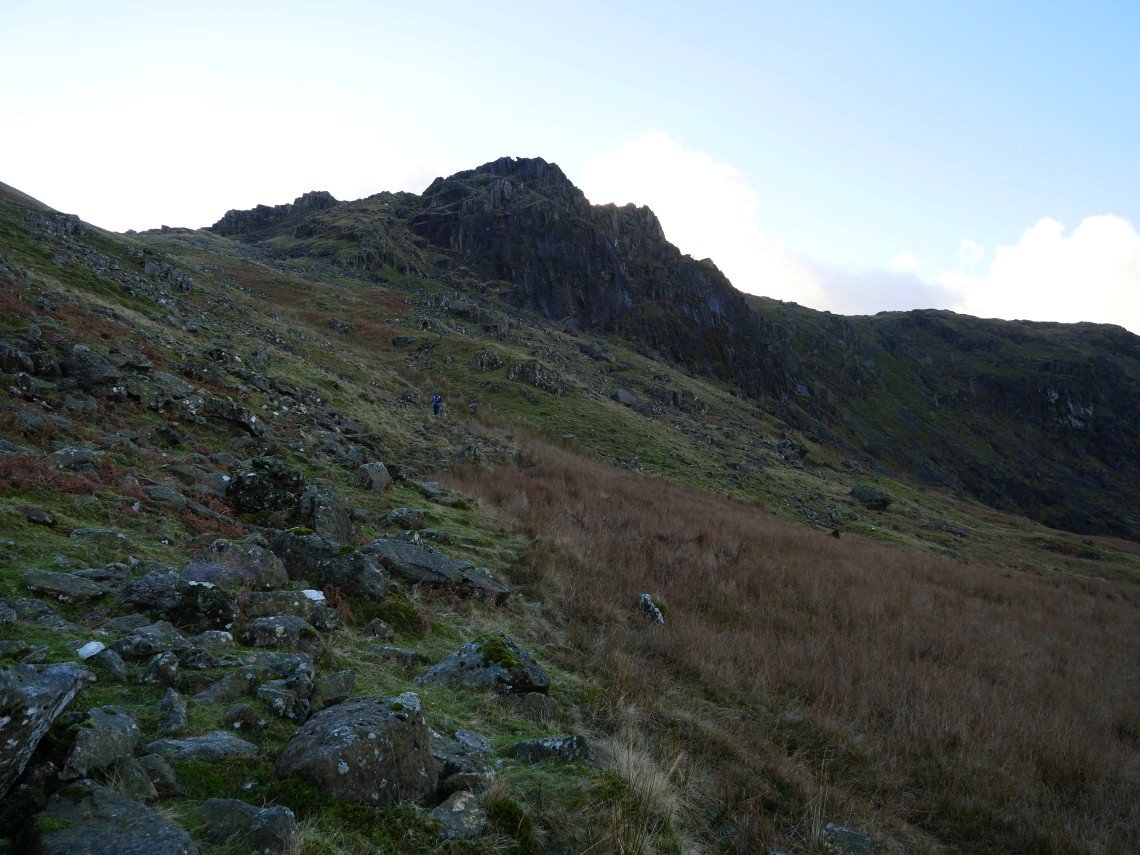 Looking back to Blea Crag from the path down..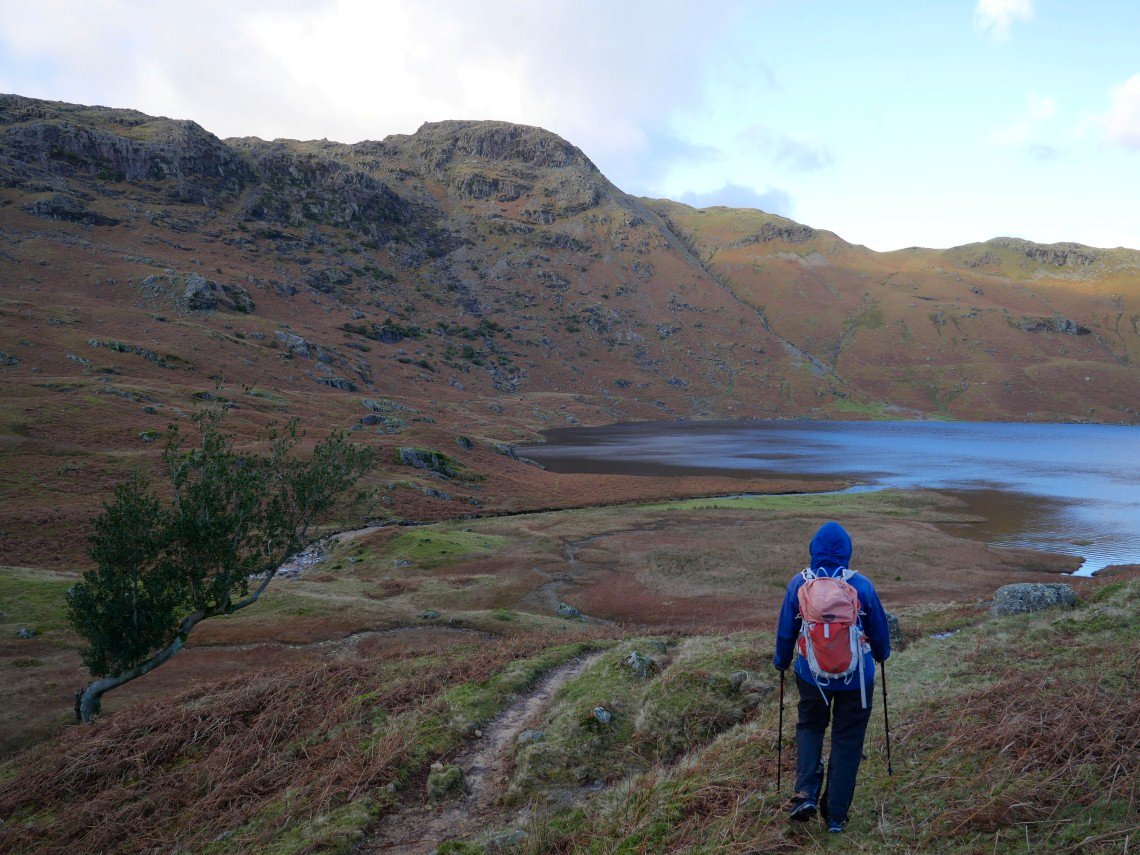 Nearing the tarn now Tarn Crag across the water.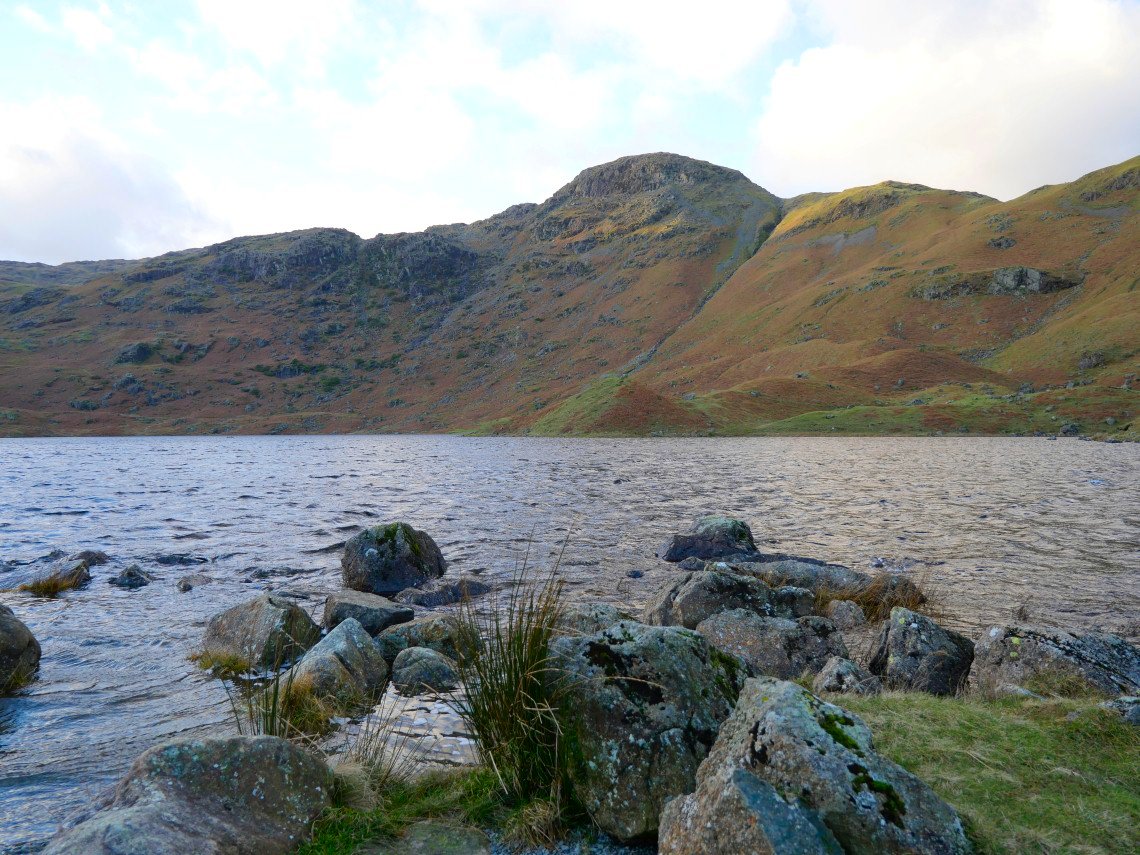 And Tarn Crag seen from the outflow..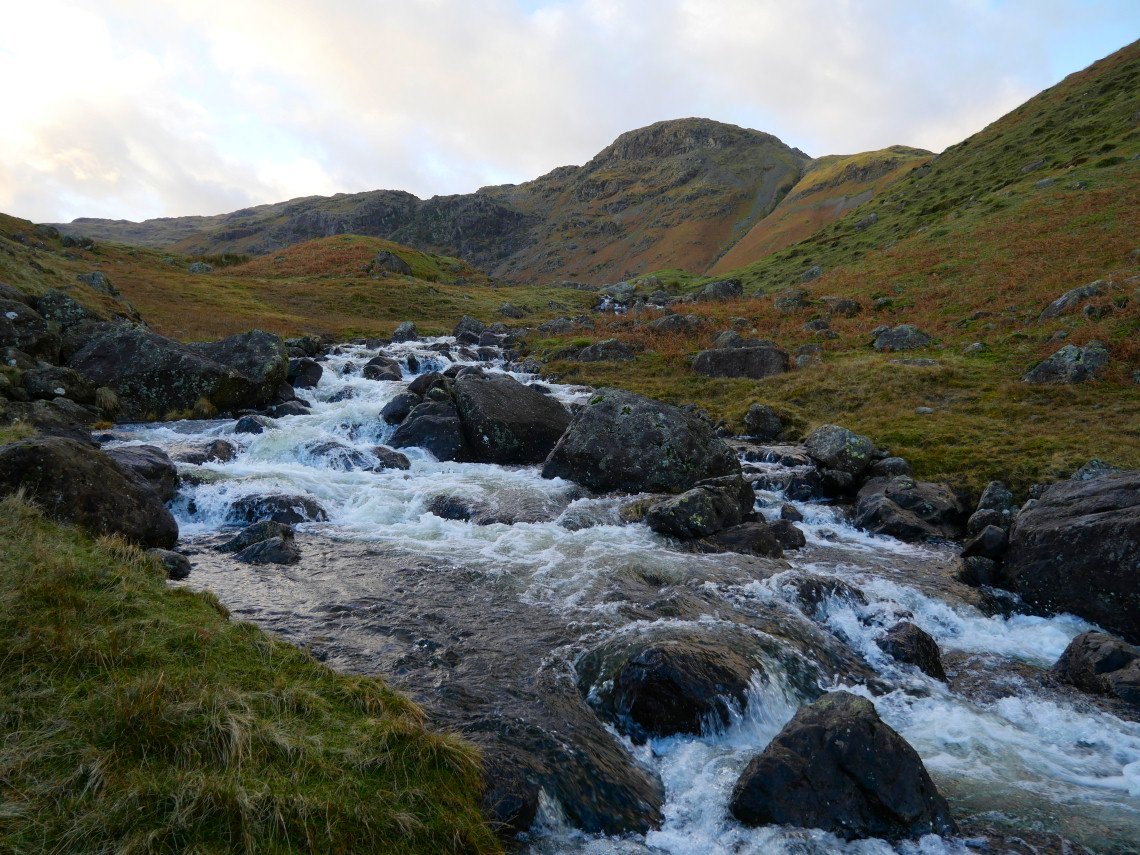 Sourmilk Gill.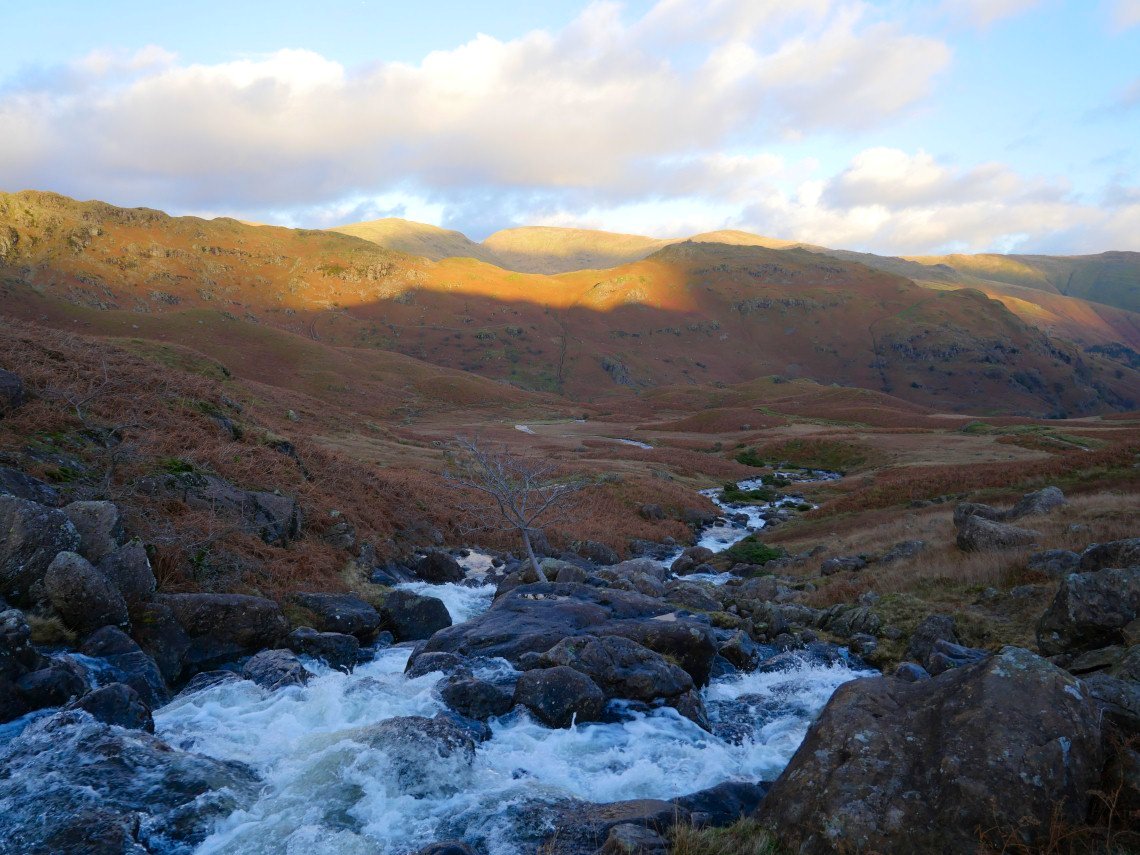 A look downstream with sunshine on Bracken Hause.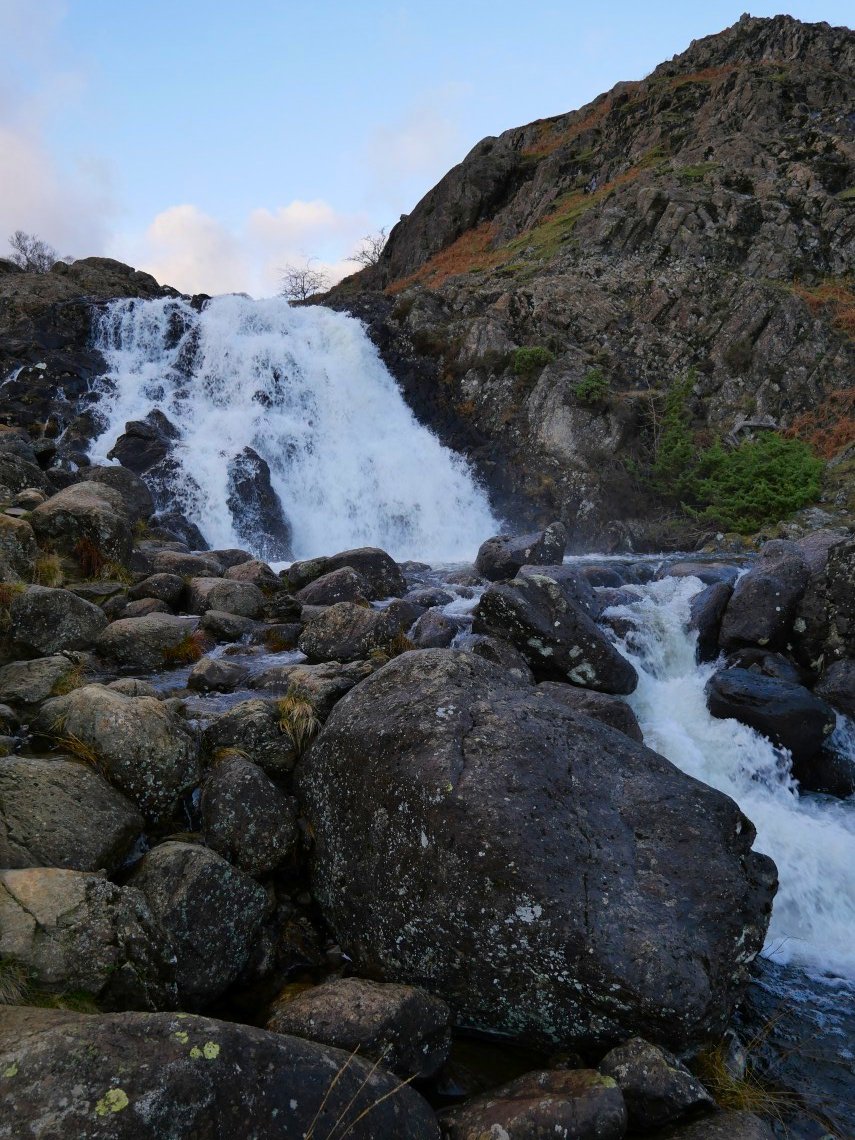 The largest of the cascades in Sourmilk Gill.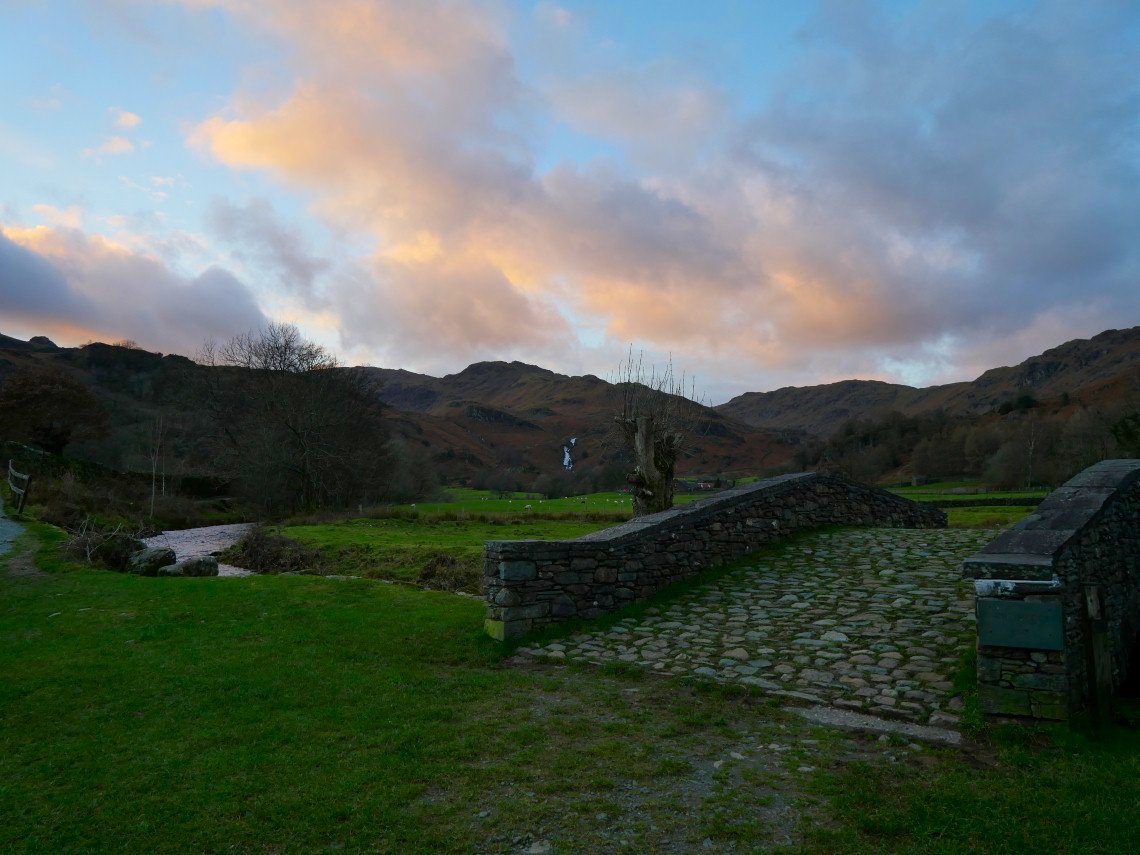 New Bridge with Sourmilk Gill in the distance.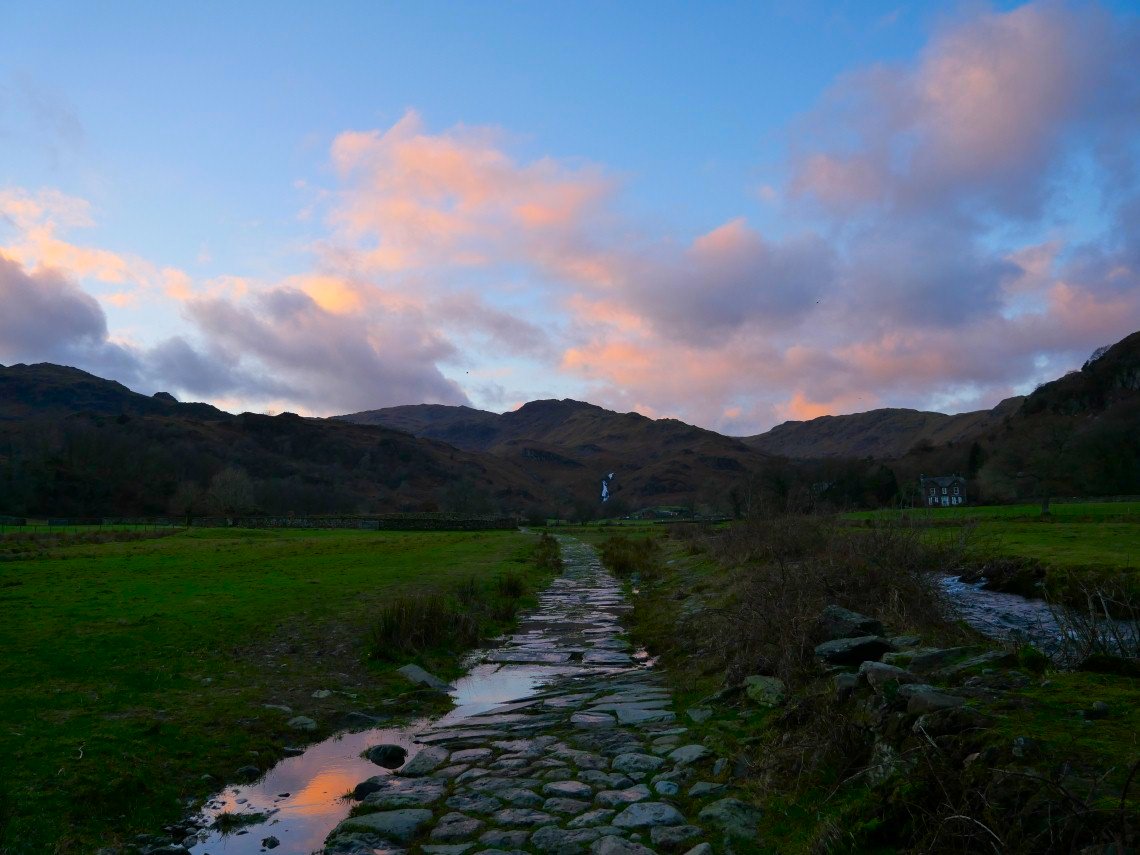 And a final look back at the winter afternoon sky as we near the village.