WWW.KARLSWALKS.CO.UK
PICTURES AND TRIP REPORTS FROM MY WALKS IN THE ENGLISH LAKE DISTRICT
---
A Wythburn round
18th December 2016
Route. Stockhow Bridge - Steel End - Dead Pike on Steel Fell - Calf Crag - Greenup Edge - Ullscarf - Black Knott - Stenkin - Stockhow Bridge.
( about 8 miles 2200ft ascent )
Now free from the tyranny of Wainwright bagging ( temporarily at least ) we can wander where we like and this week I planned a round taking in an ascent of Steel Fell that I hadn't done before and also wanted to revisit the ridge walked in a Birkett bagging expedition a couple of years ago.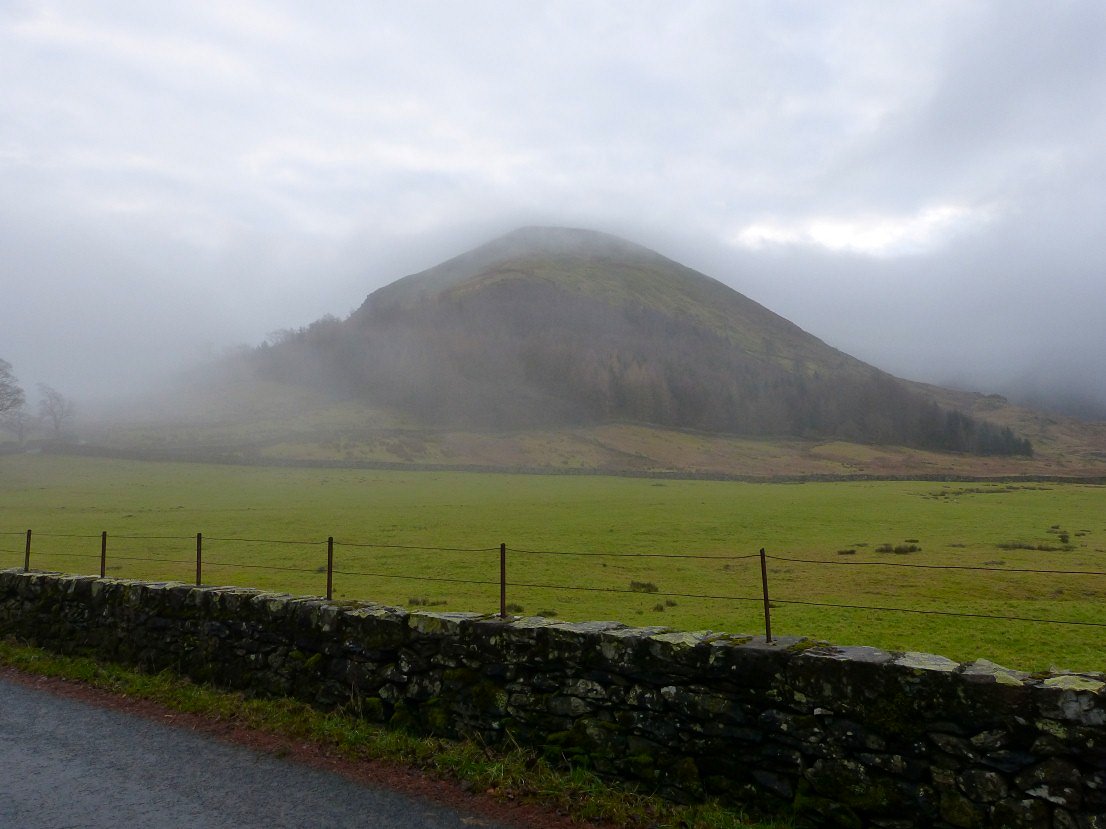 The cloud was low but we hoped we would climb above it and maybe see an inversion. Parking is still free at Stockhow Bridge so that was a good start. Our route is a relentlessly steep pull up the left of Steel Fell in this picture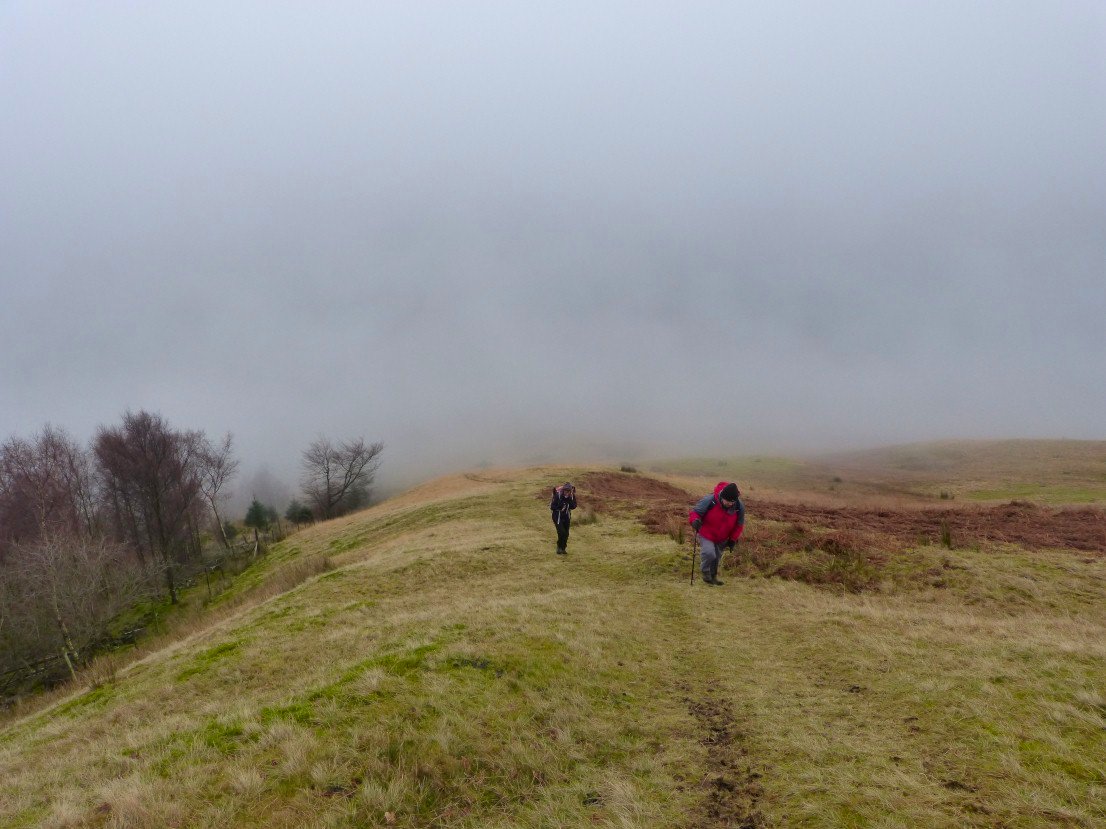 On the steep ascent now. Mark joined us today ( and according to his take on the day perhaps wished he hadn't )
We were quite surprised to see this quad bike seemingly abandoned on the fell, we couldn't see or hear the farmer rounding up any stray sheep. Our best guess was that maybe it had broken down and the farmer hadn't wanted to drive it down the near vertical slope relying just on the brakes without any engine braking.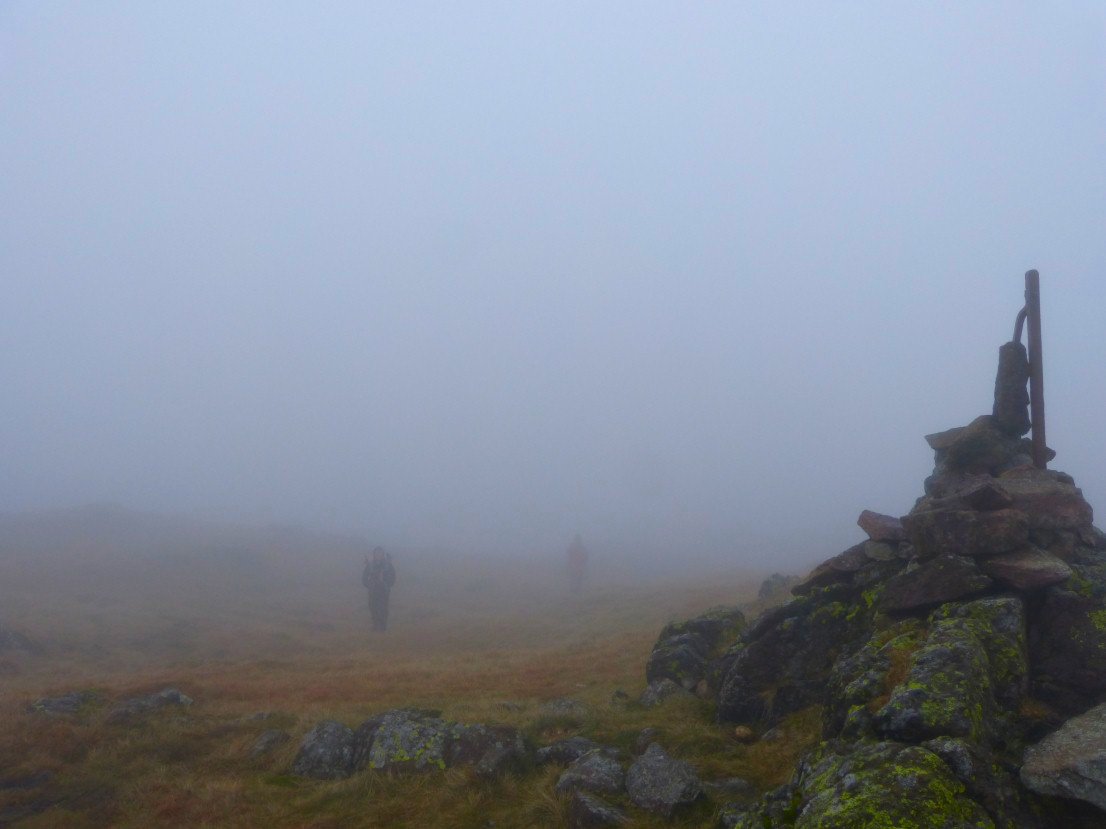 Eventually we reach the top of Steel Fell but unfortunately the mist is here as well.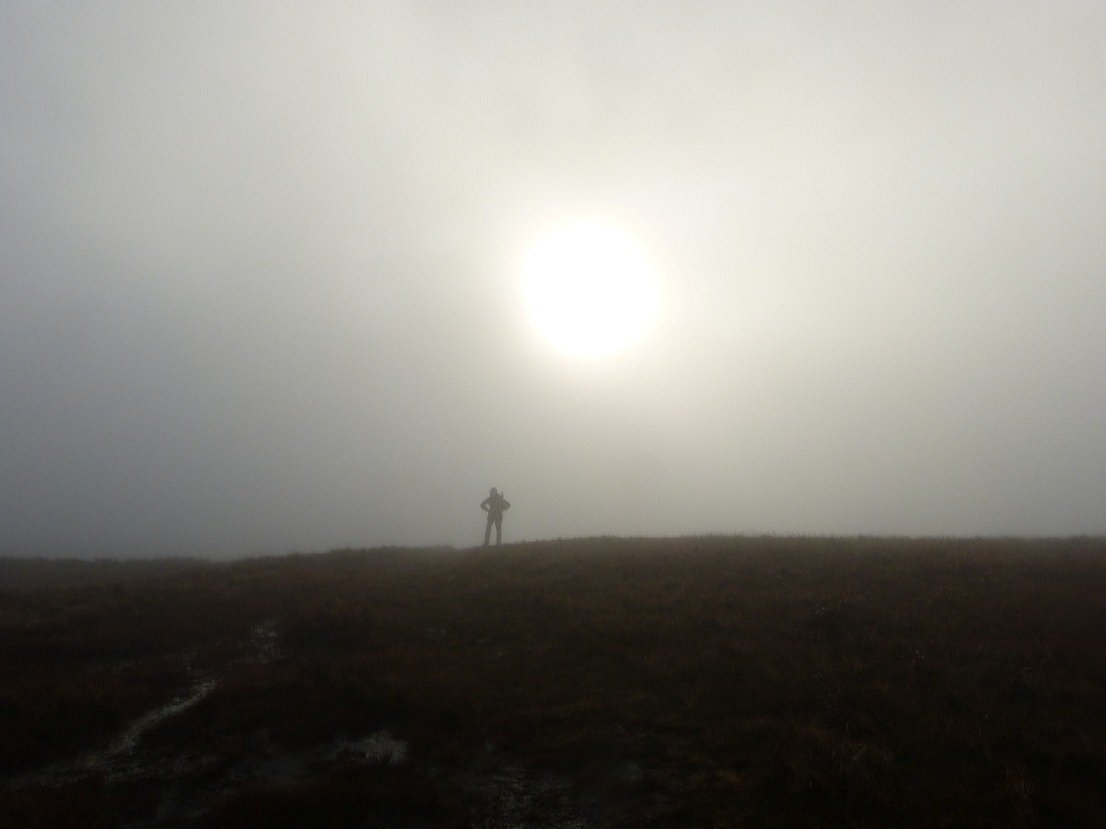 On the pull up to Ullscarf and we start to see the sun.
The previous two pictures were taken nearly two hours apart as all the way from Steel Fell to Calf Crag and then to Greenup Edge there simply wasn't anything to see. The ground underfoot was very wet but I was wearing my trail runners and waterproof socks so was quite comfortable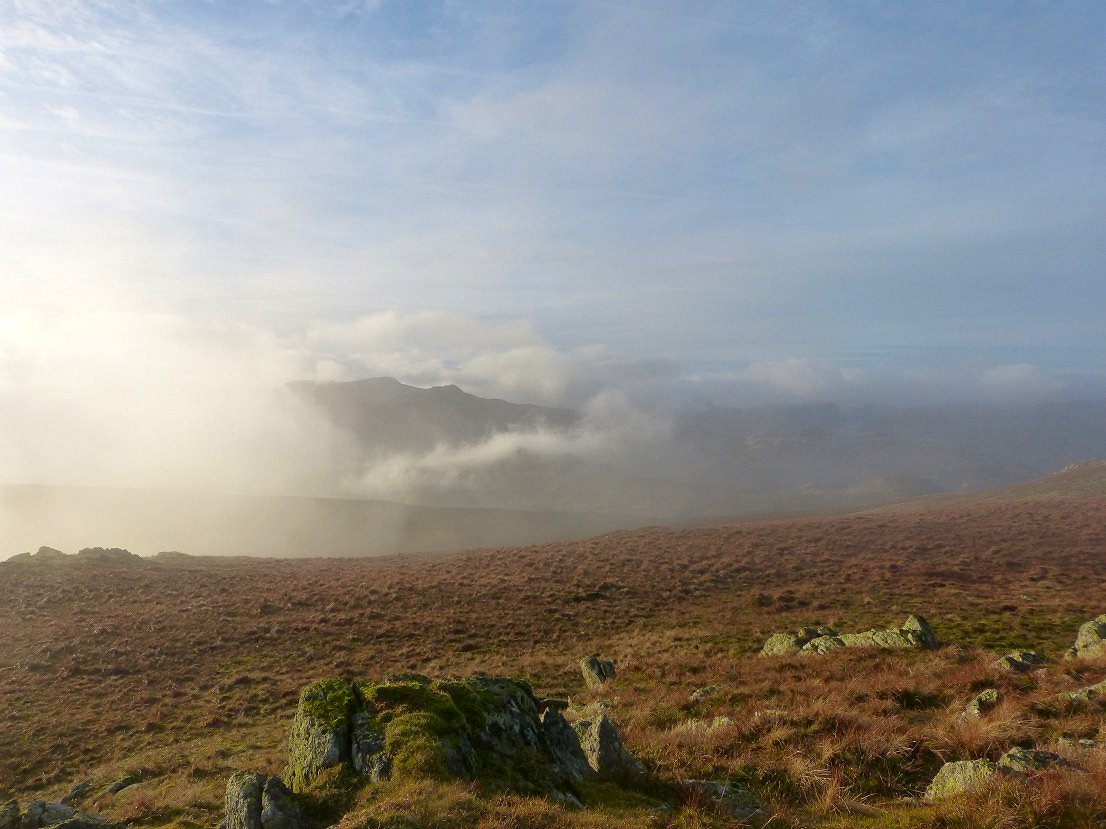 The Glaramara ridge appears out of the cloud.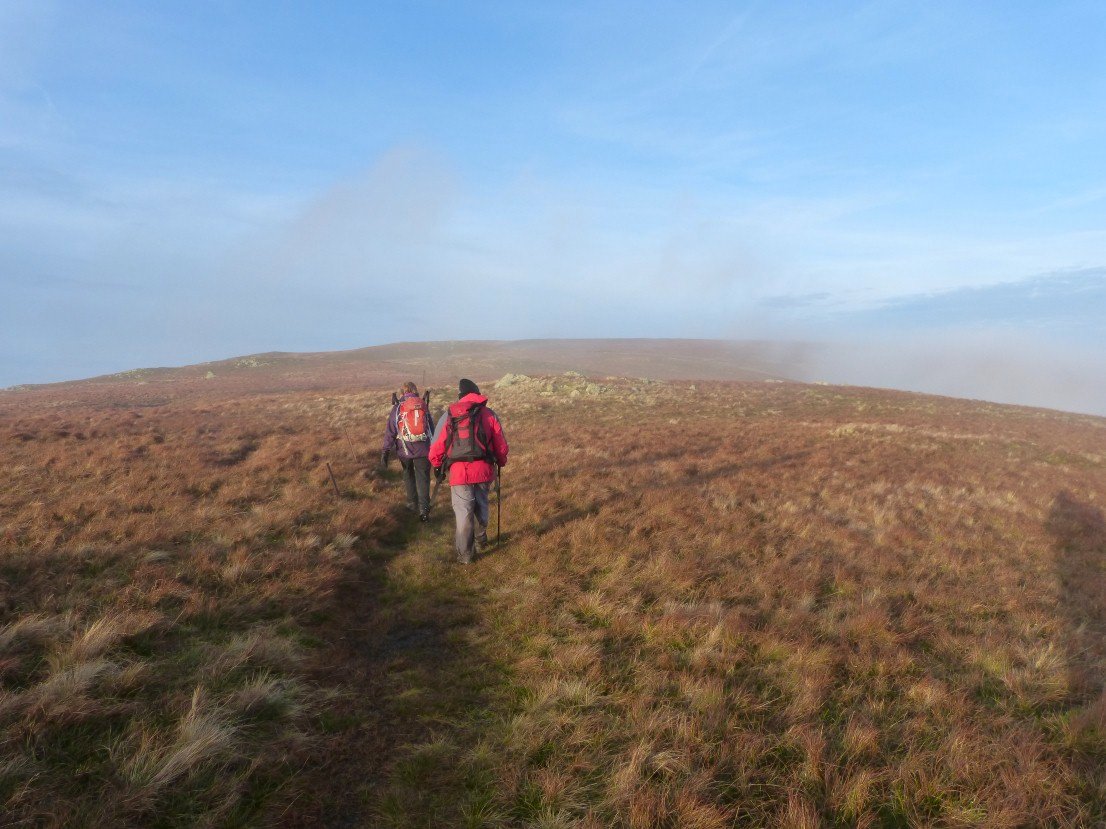 We did see a few Brocken Spectres here but they were to faint to photograph. We hadn't intended going out as far as Ullscarf but the ground to the right seemed a little rough so we made the short climb to the flat summit where we knew there was a faint path heading back in the direction of Thirlmere.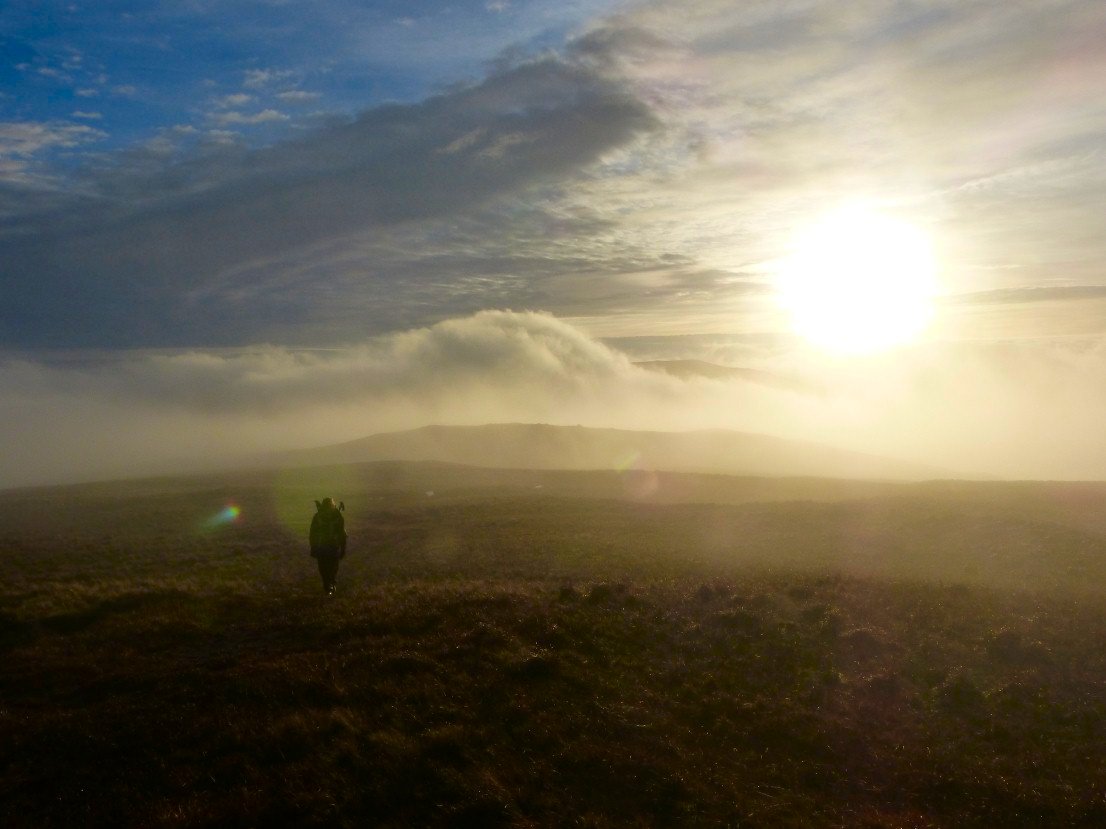 Lovely dramatic sun and clouds.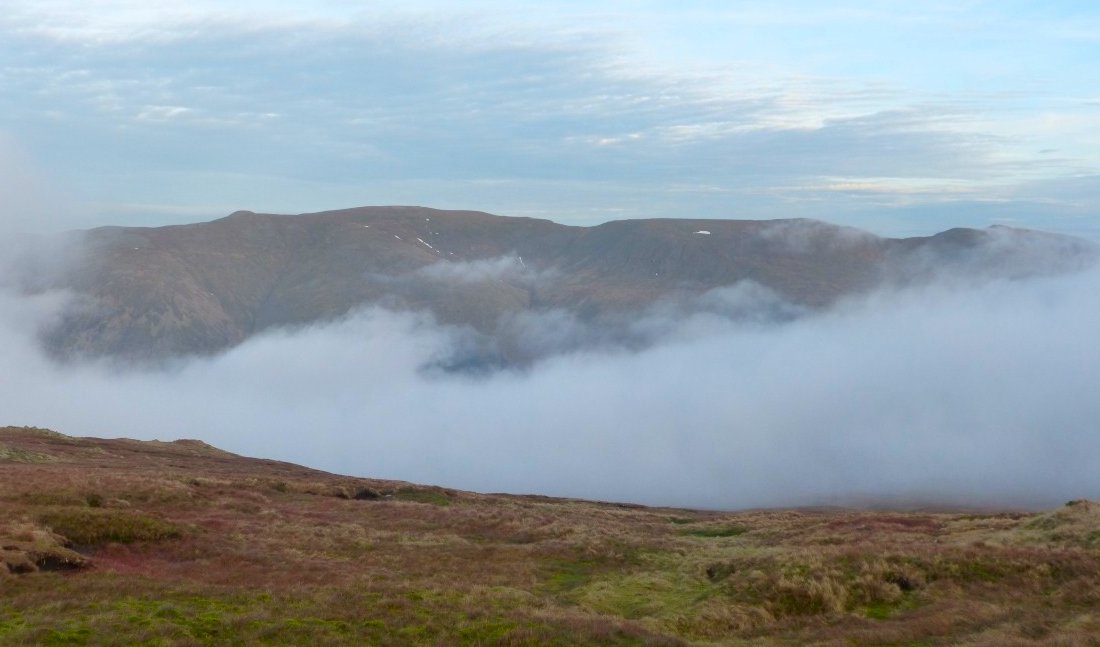 Dropping down now. As the mist was on the ridge line which we remembered was a little up and down and had quite a few small crags we walked a more direct route down the grassy hillside.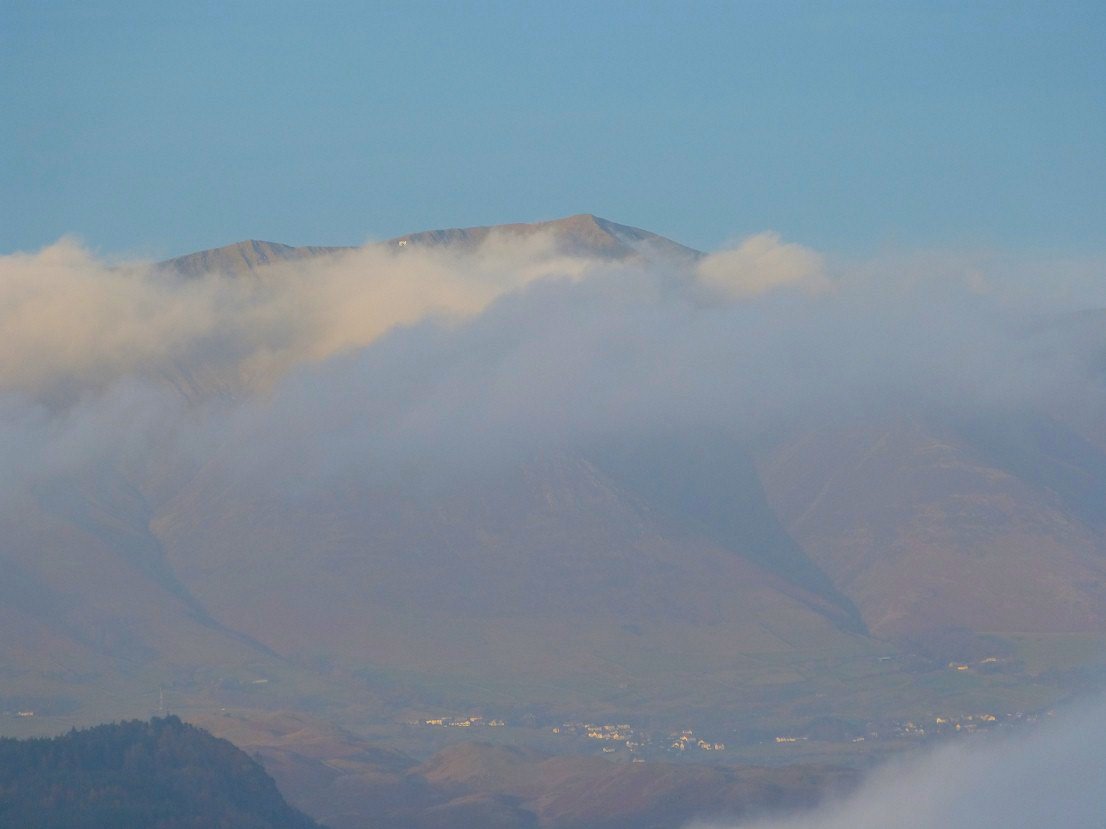 Blencathra.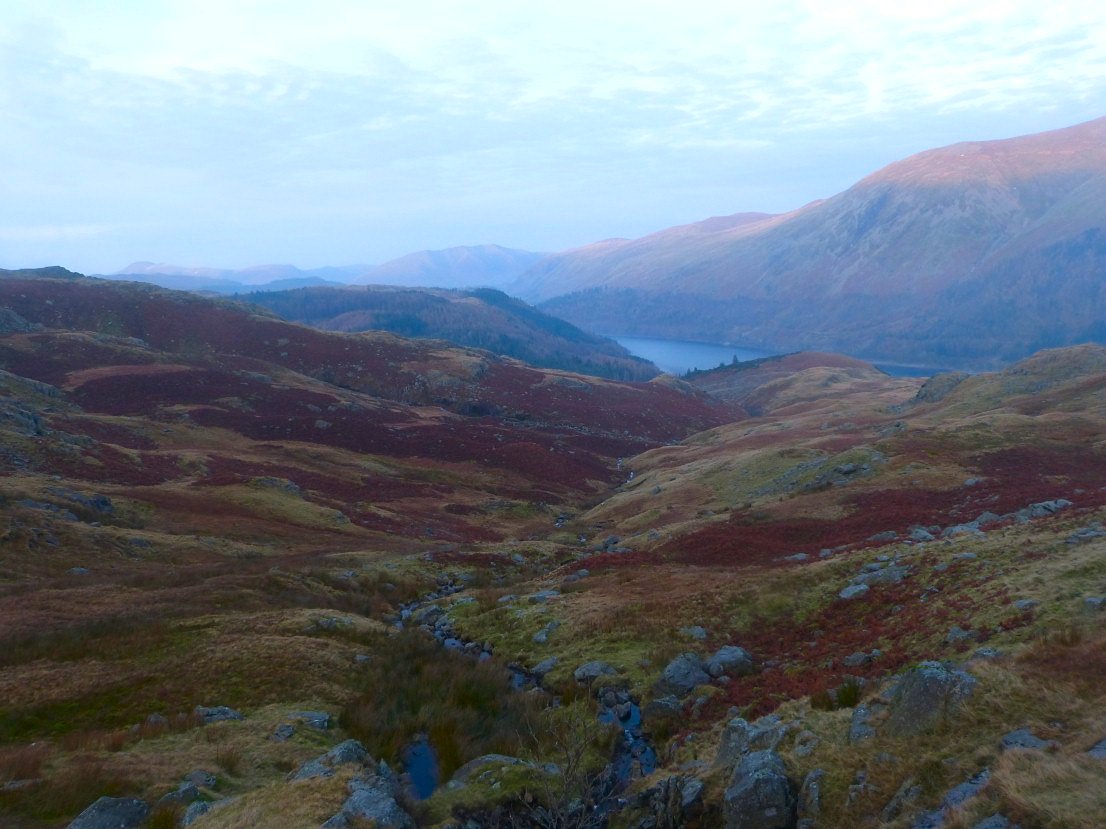 Walking down the wonderful fellside full of little streams, knolls, crags and hidden hollows ( all noted as camp spots ) I was struck once again how in the Lakes you can be only a mile or so from the road but have countryside that is as wild and rugged as this.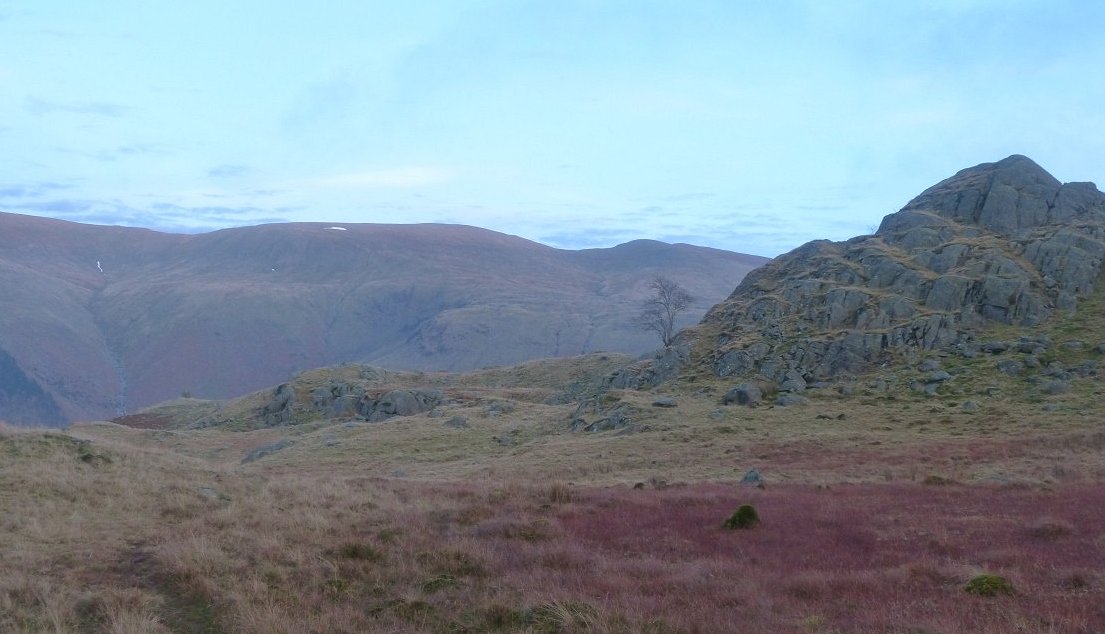 Looking over to the Beacon as marked on the map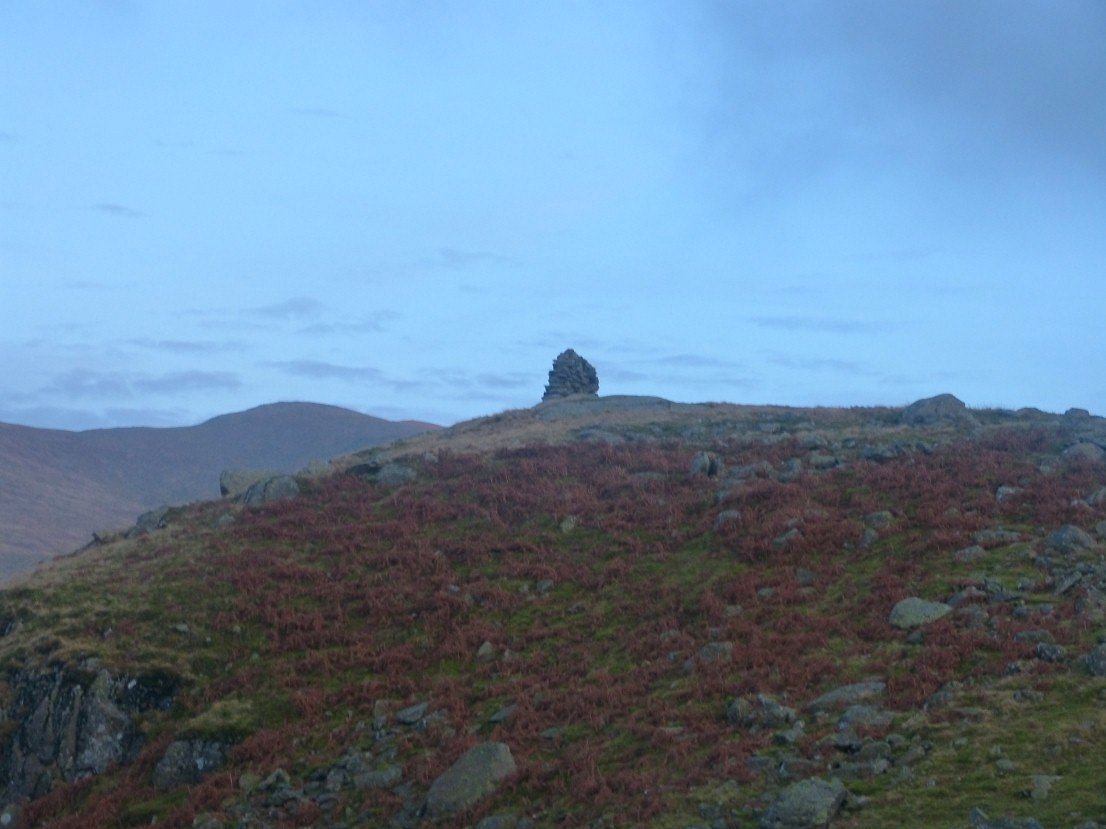 And the Beacon in close up.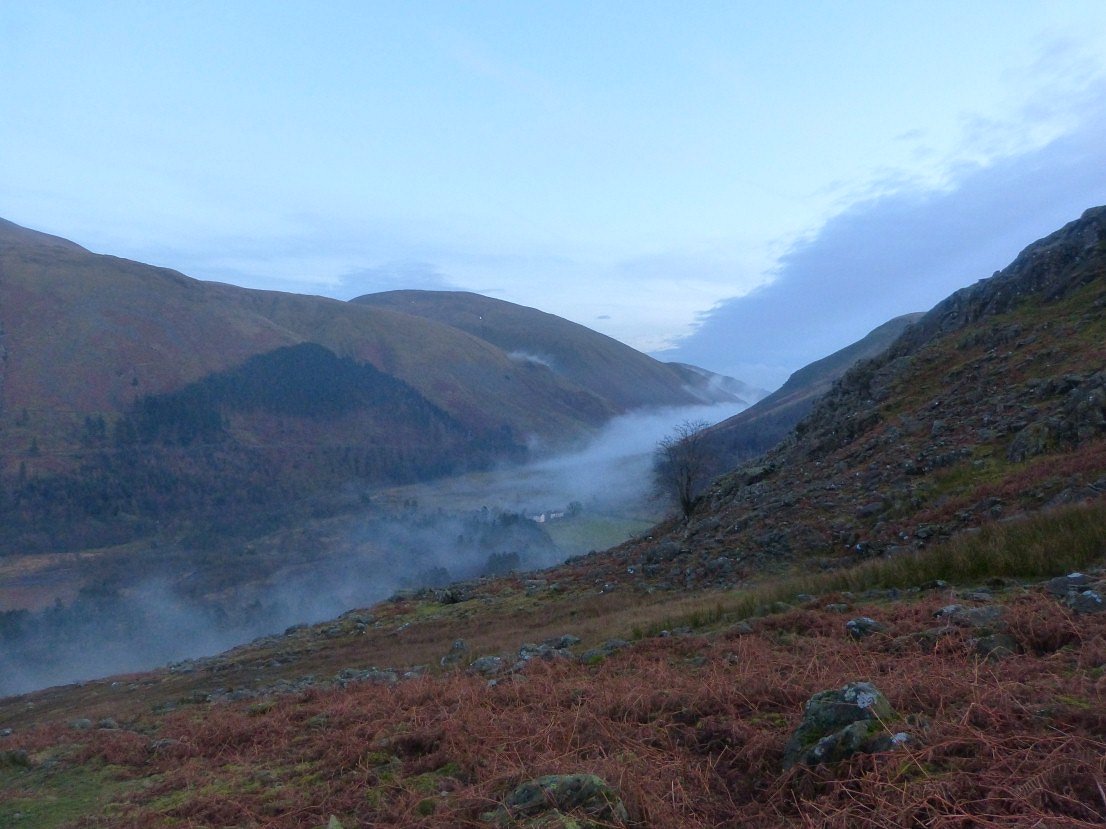 Looking down to our start point with the mist rolling in over Dunmail Raise.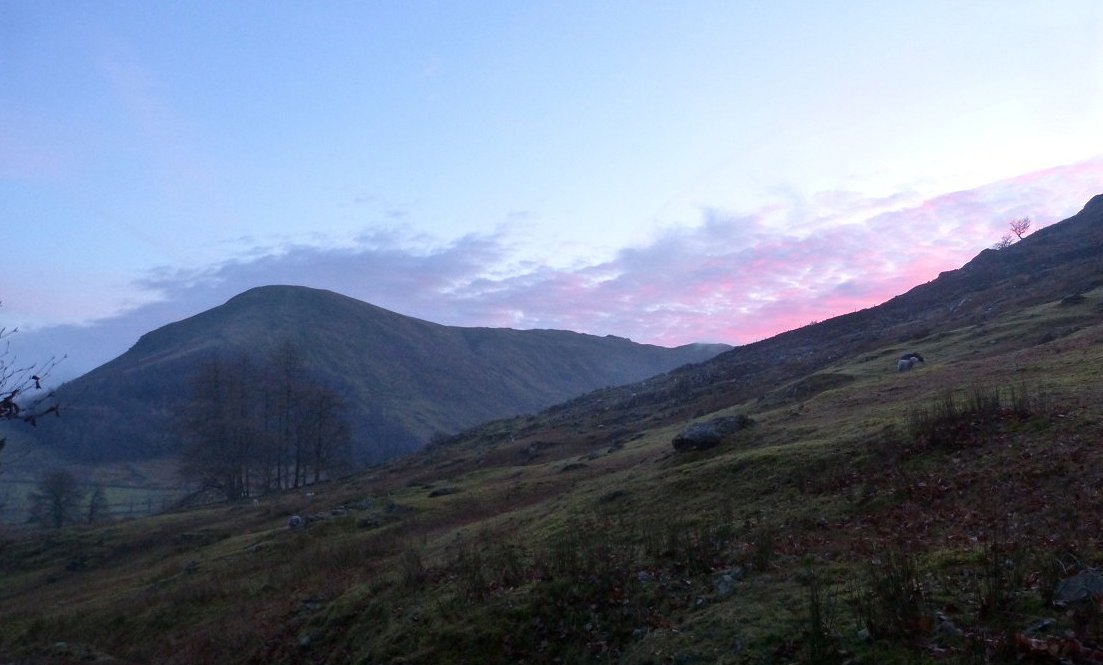 Steel Fell now clear in the evening light.