WWW.KARLSWALKS.CO.UK
PICTURES AND TRIP REPORTS FROM MY WALKS IN THE ENGLISH LAKE DISTRICT
A Swindale Round
27th June 2015
Route.
Swindale Lane - Truss Gap - Starling Gill - Langhowe Pike - Rowantree Crag - Great Ladstones - Glede How - Seat Robert - High Wether How - Fewling Stones - Beastmans Crag - Gouthercrag Gill - Truss Gap - Swindale Lane.
(about 8.5 miles 1600ft ascent)
Another ride over to the very far east of the Lakes today to walk a round above Swindale climbing three Birketts and throwing in a trio of Wainwright outliers to make a day of it.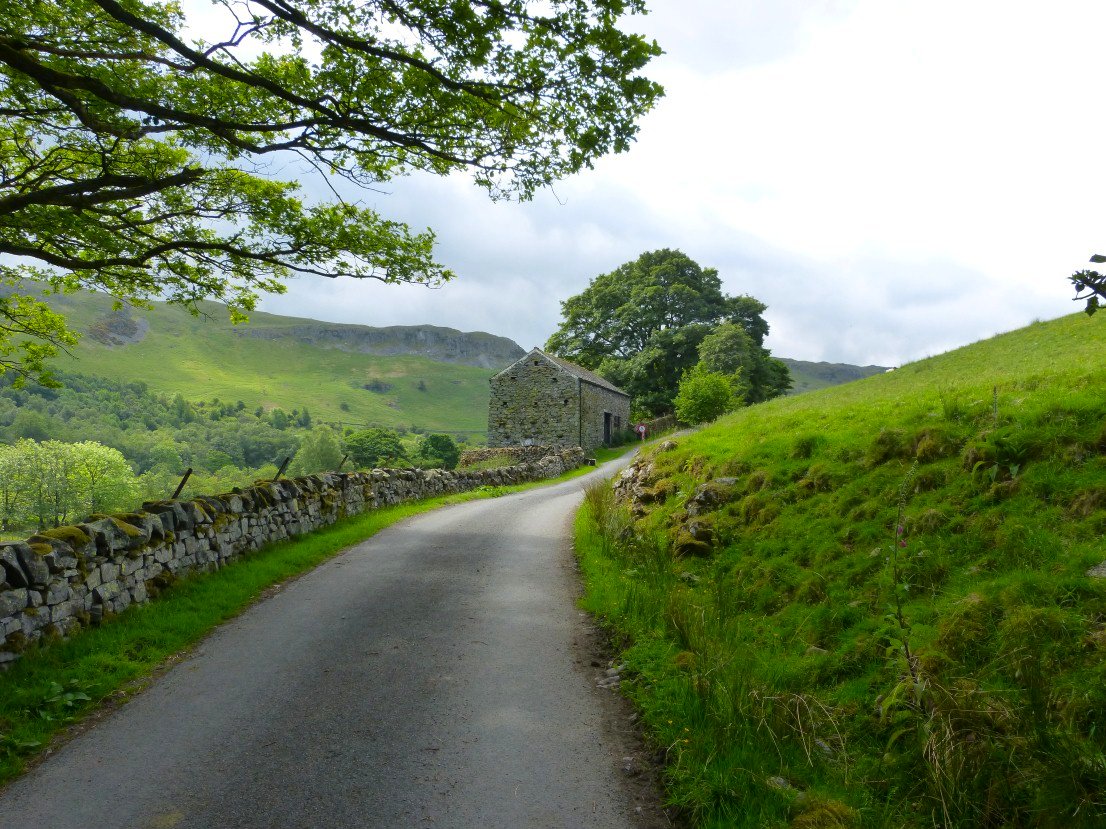 Walking along Swindale Lane heading for Truss Gap. There were a few spots of rain about here but they came to nothing and in a few minutes the skies brightened and we enjoyed a lovely summers day.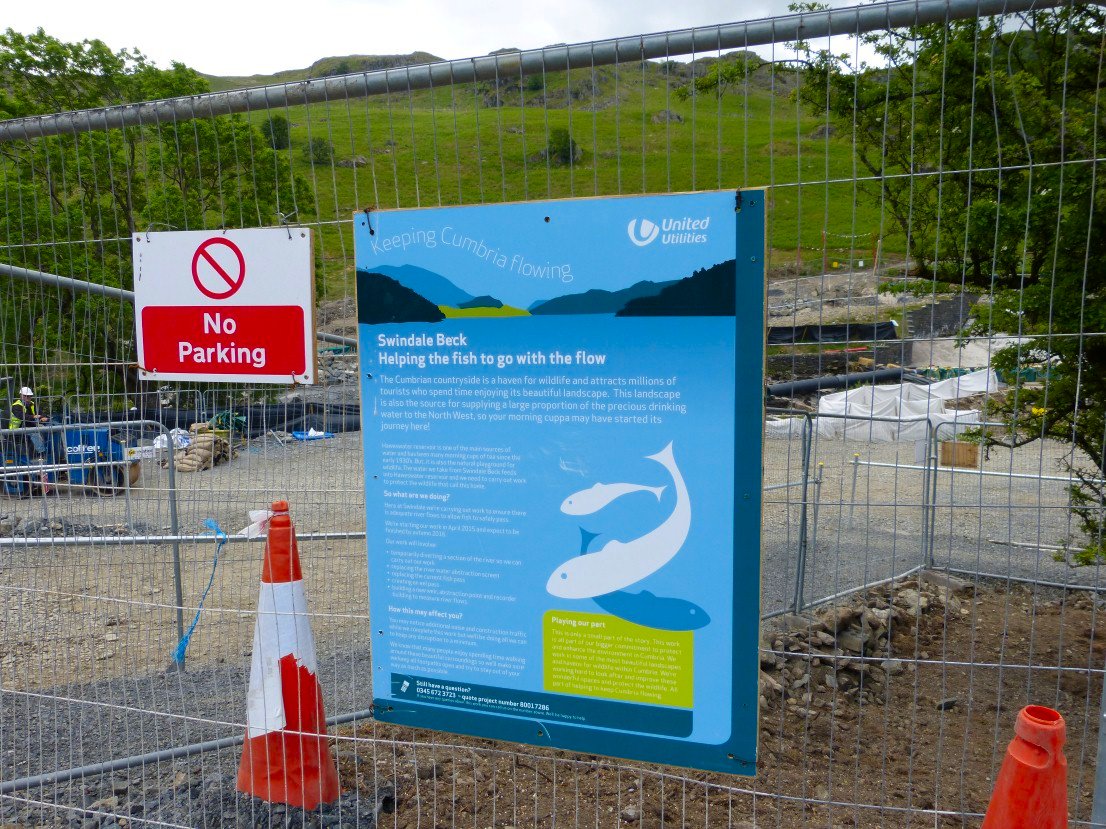 We arrived at Truss Gap to find a building site. The old bridge has ( temporality, I hope ) been removed and been replaced with a bailey bridge strong enough to carry lorries.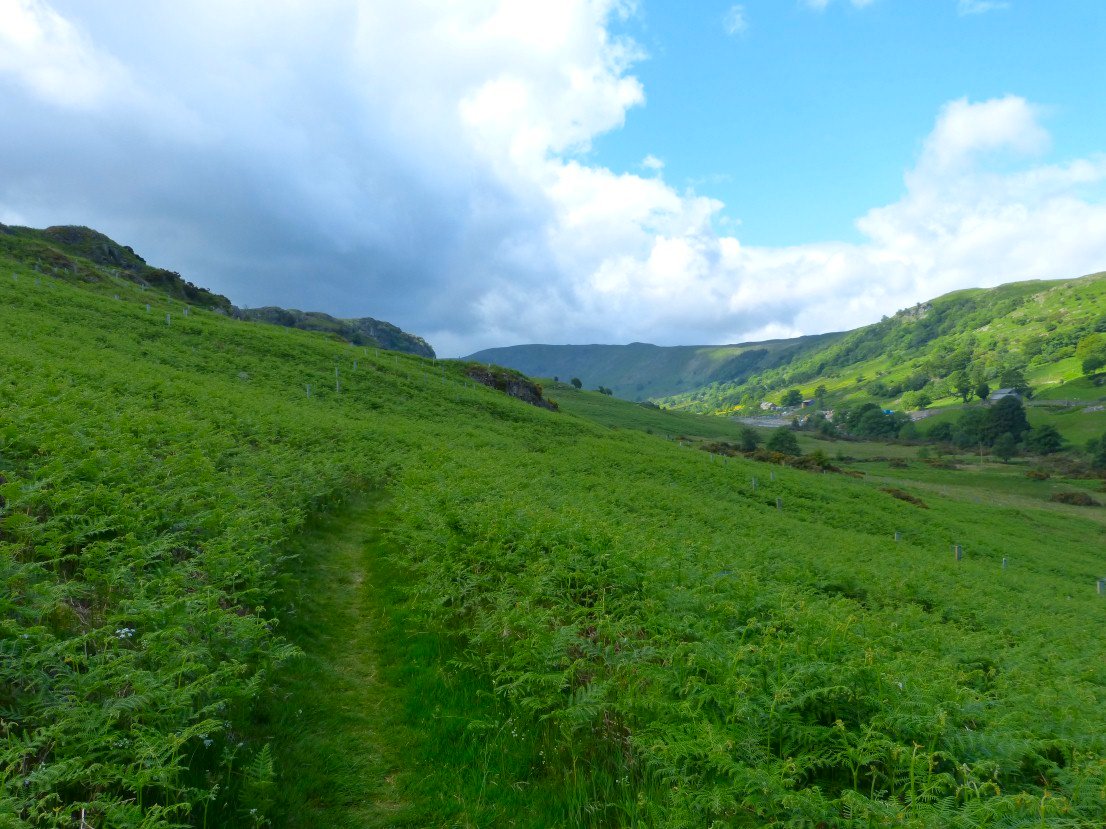 Once over the new bridge we followed the lovely path back down the other side of the river. This is looking to the head of Swindale.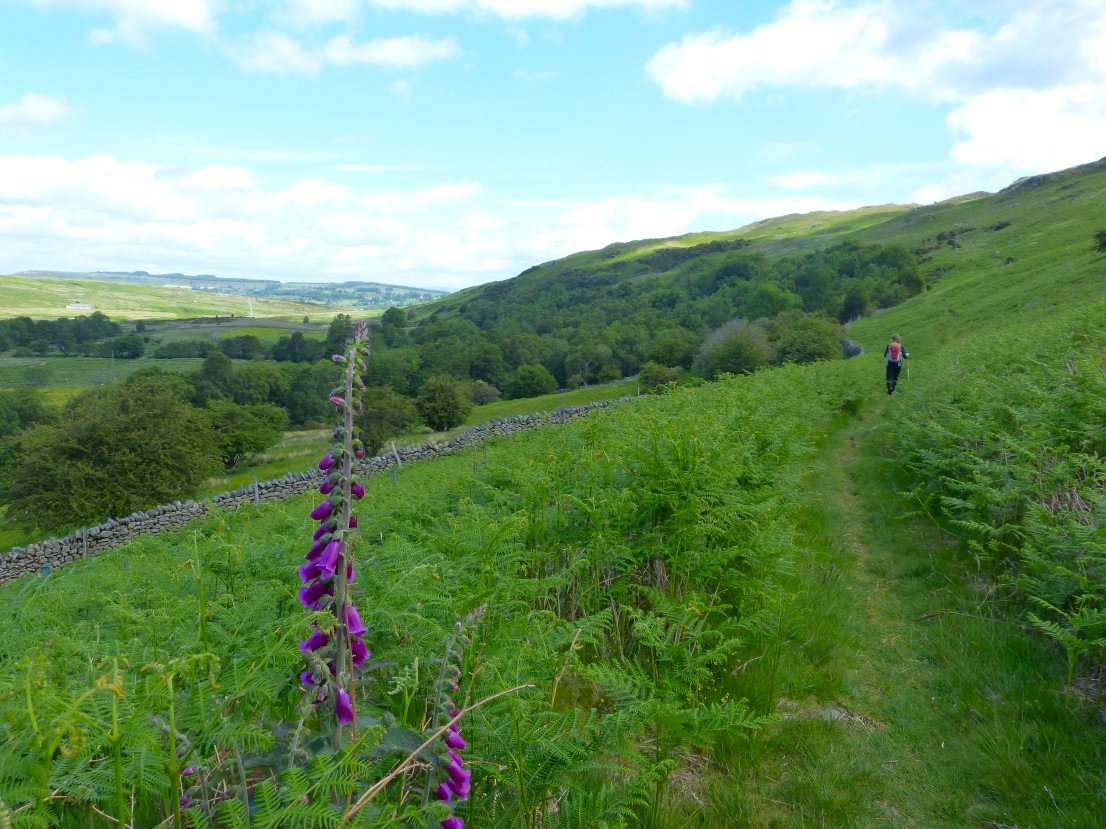 and this is looking the other way. We were walking to the high point ahead where we turned sharp right.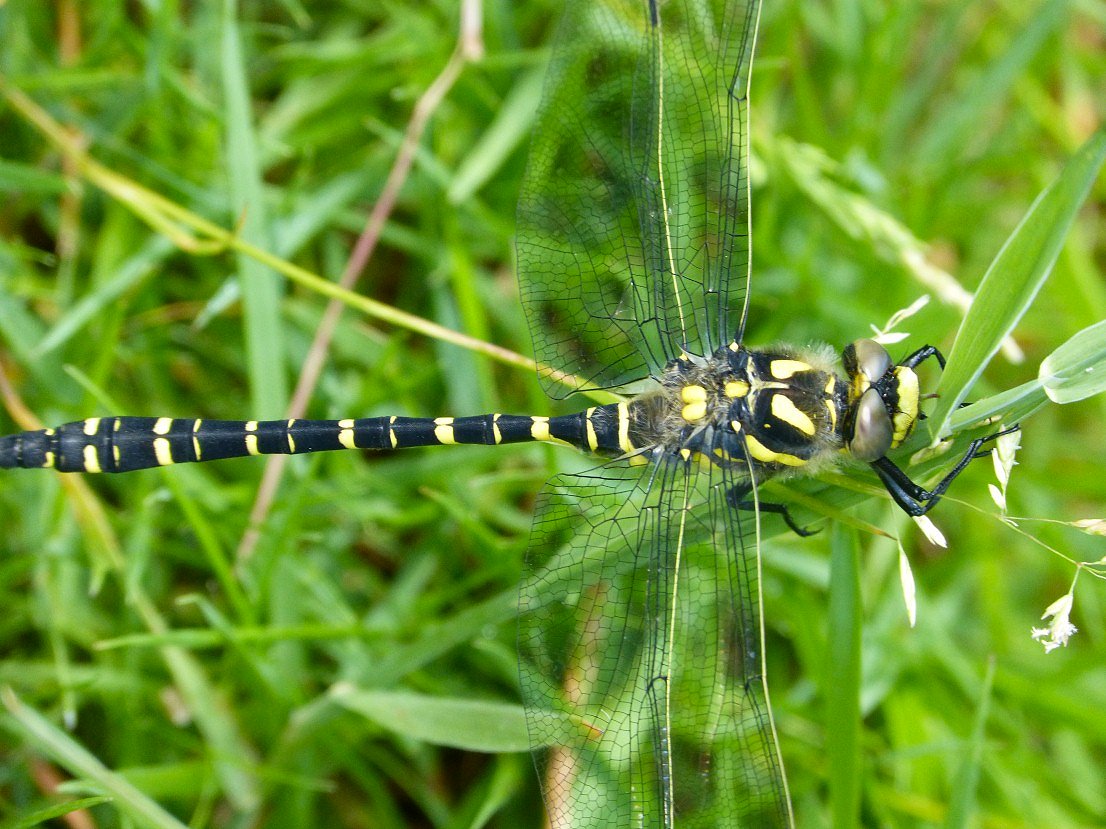 Golden Ring Dragonfly resting by the path.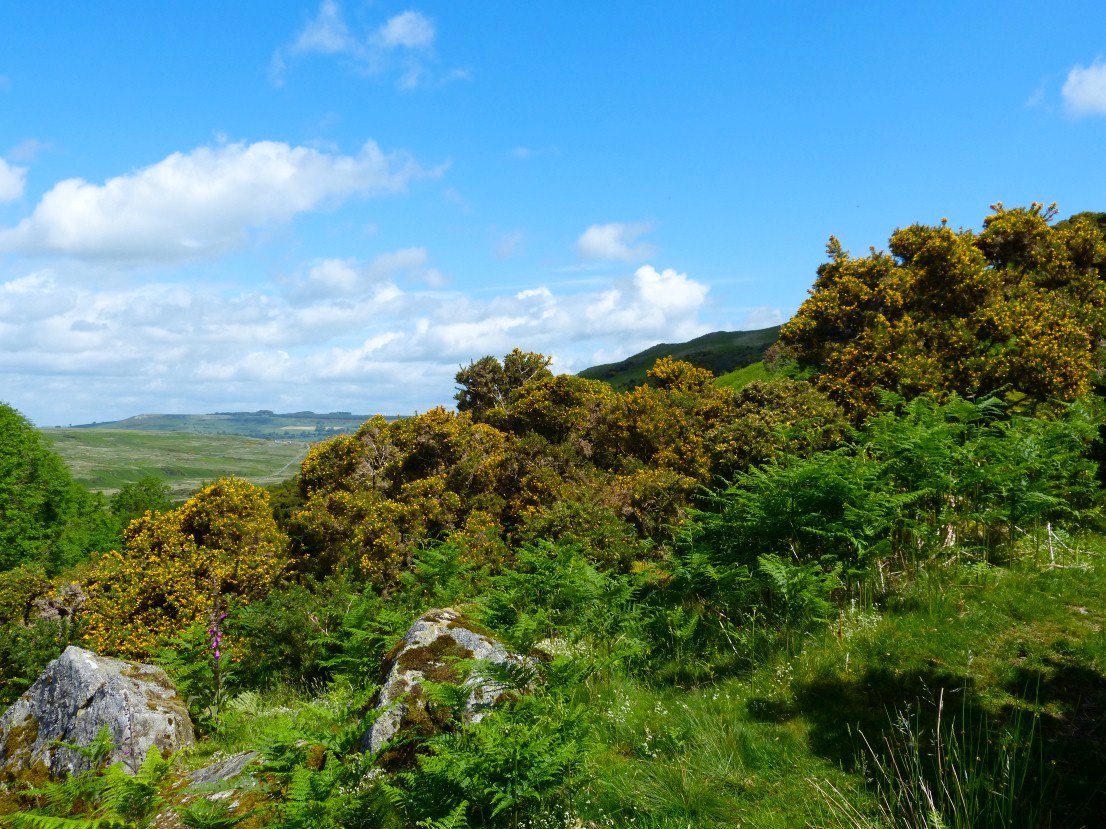 Wainwright describes this path as colourful and it was.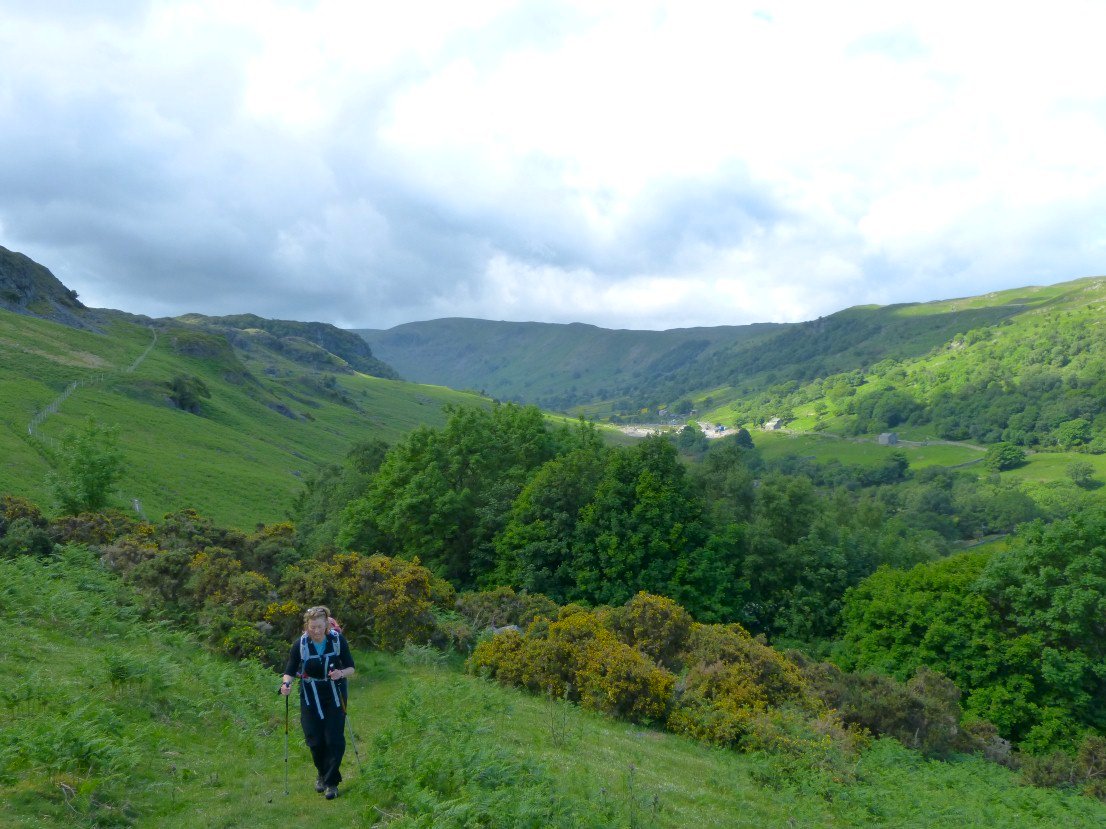 Nearly at the top now.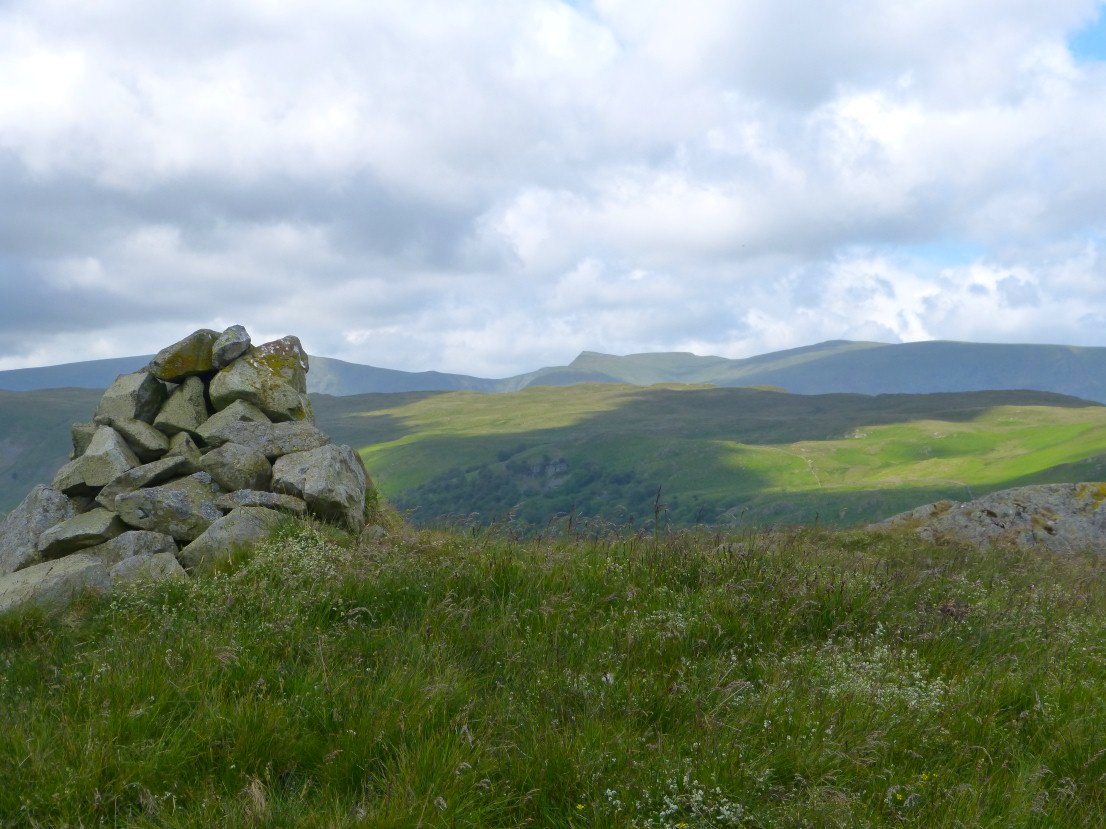 The distinctive shape of Kidsty Pike, then Rampsgill Head and High Raise seen from Langhowe Pike.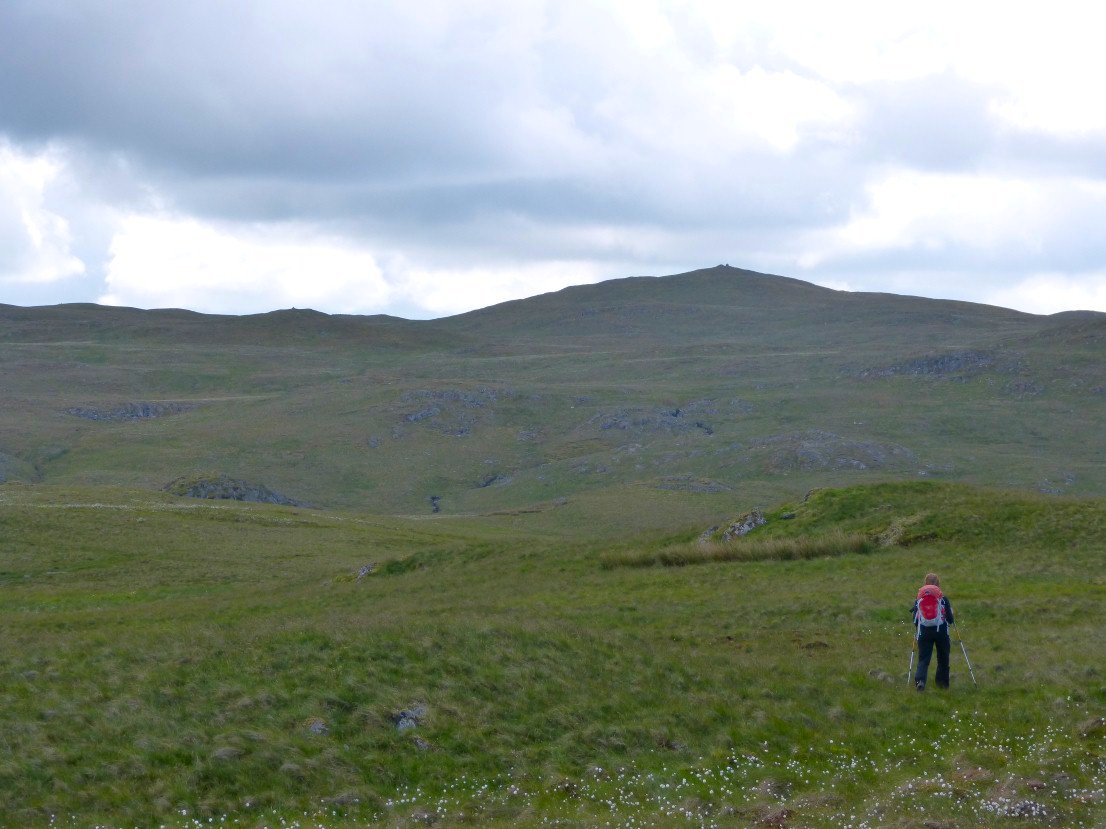 Seat Robert ahead but we are going to the left to visit Great Ladstones.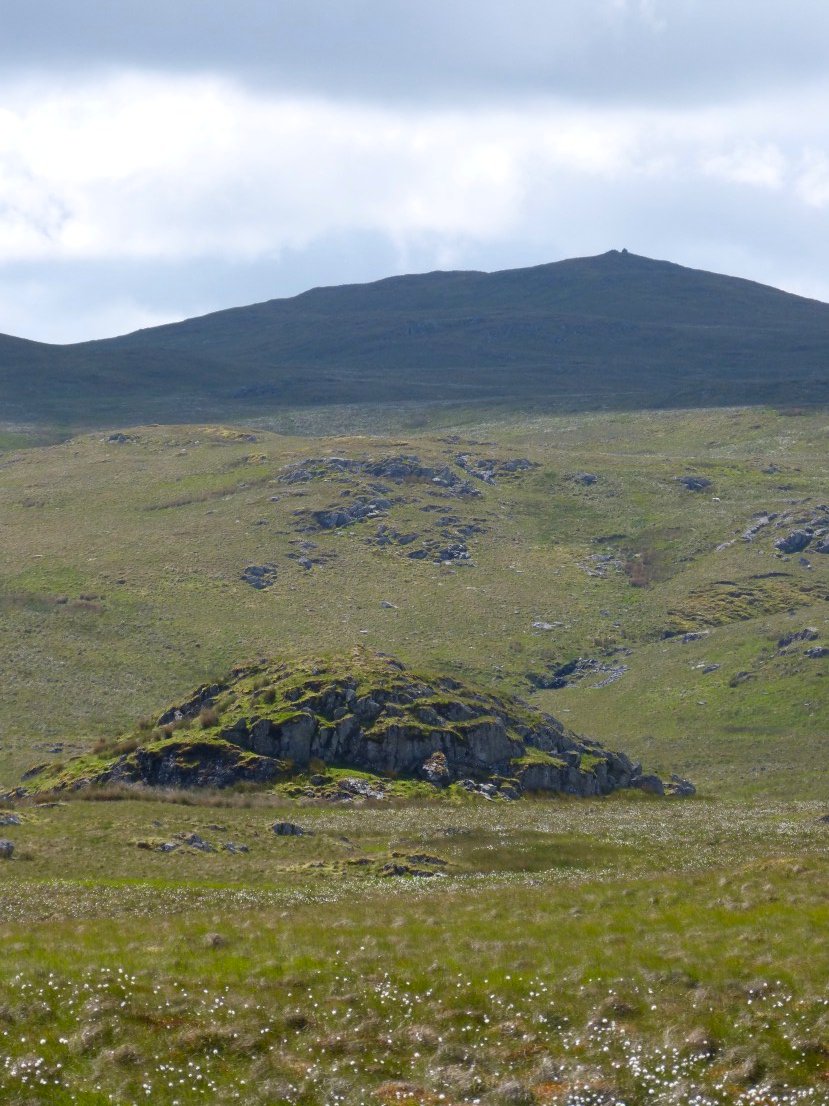 On the way we climb over Rowantree Crag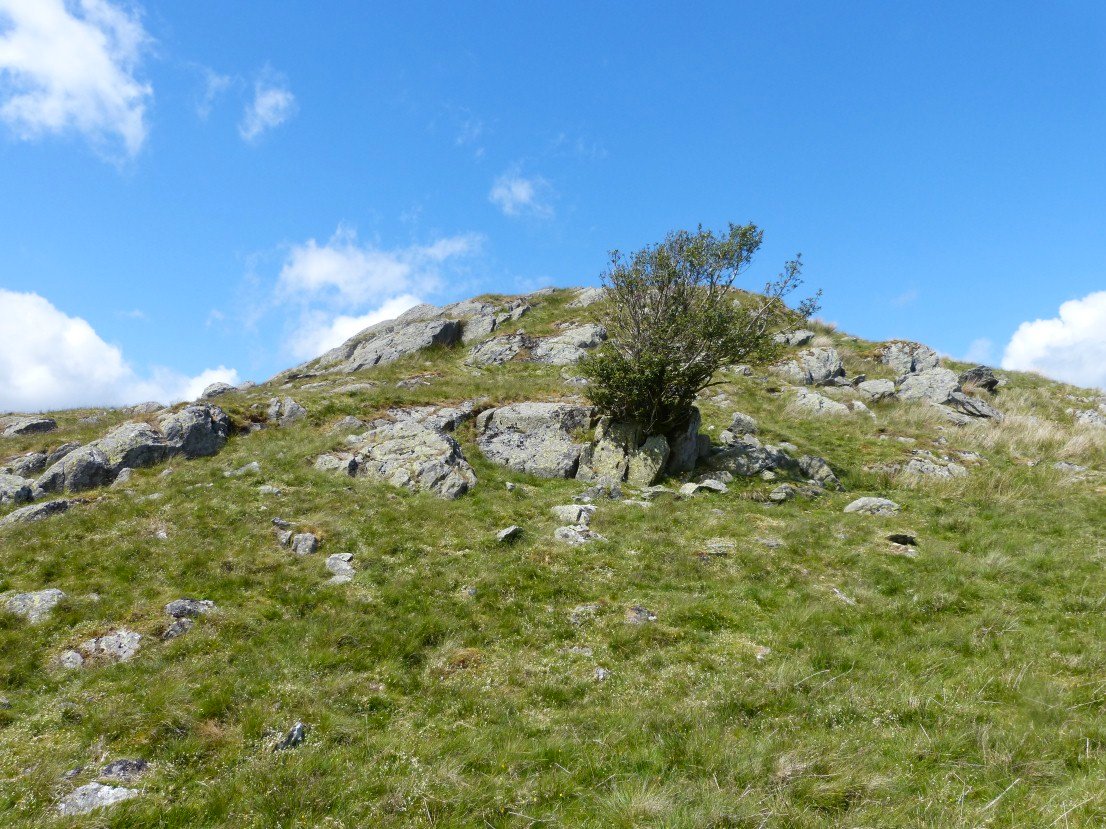 This is a Holly tree not a Rowan so should it not be Hollytree Crag.?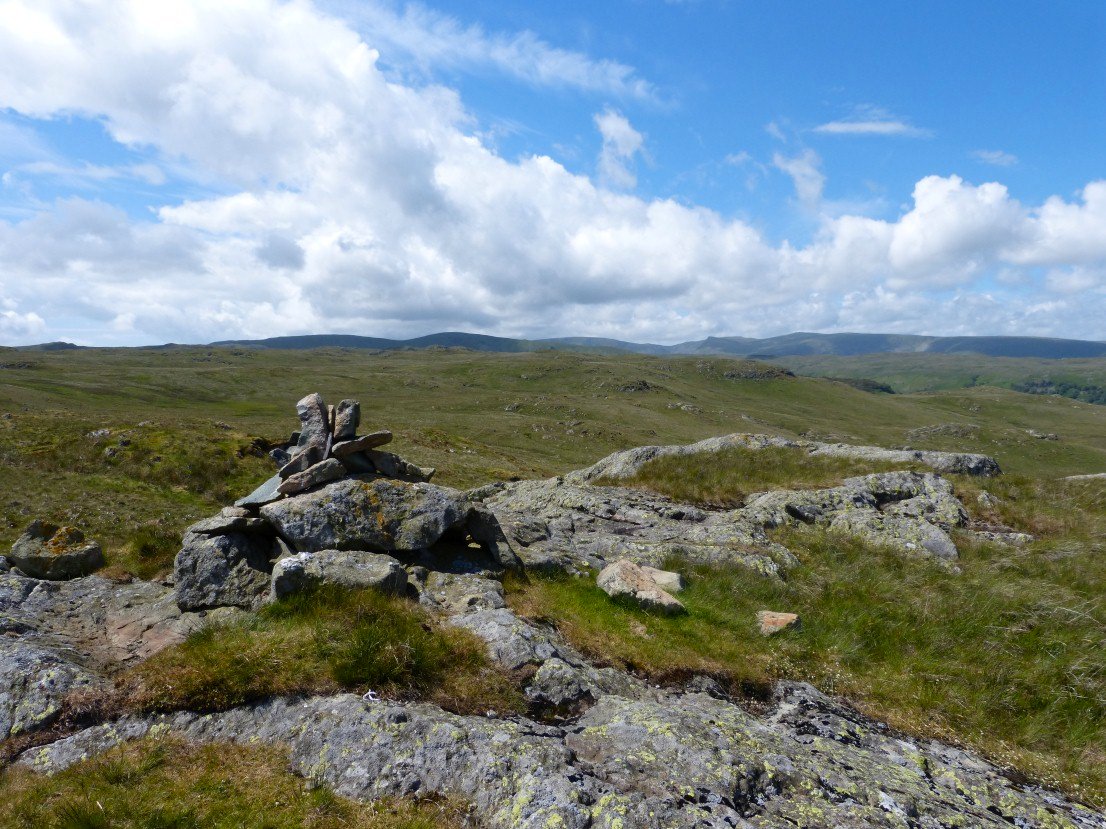 On Great Ladstones now. We crossed a bit of boggy ground to get to Glede How.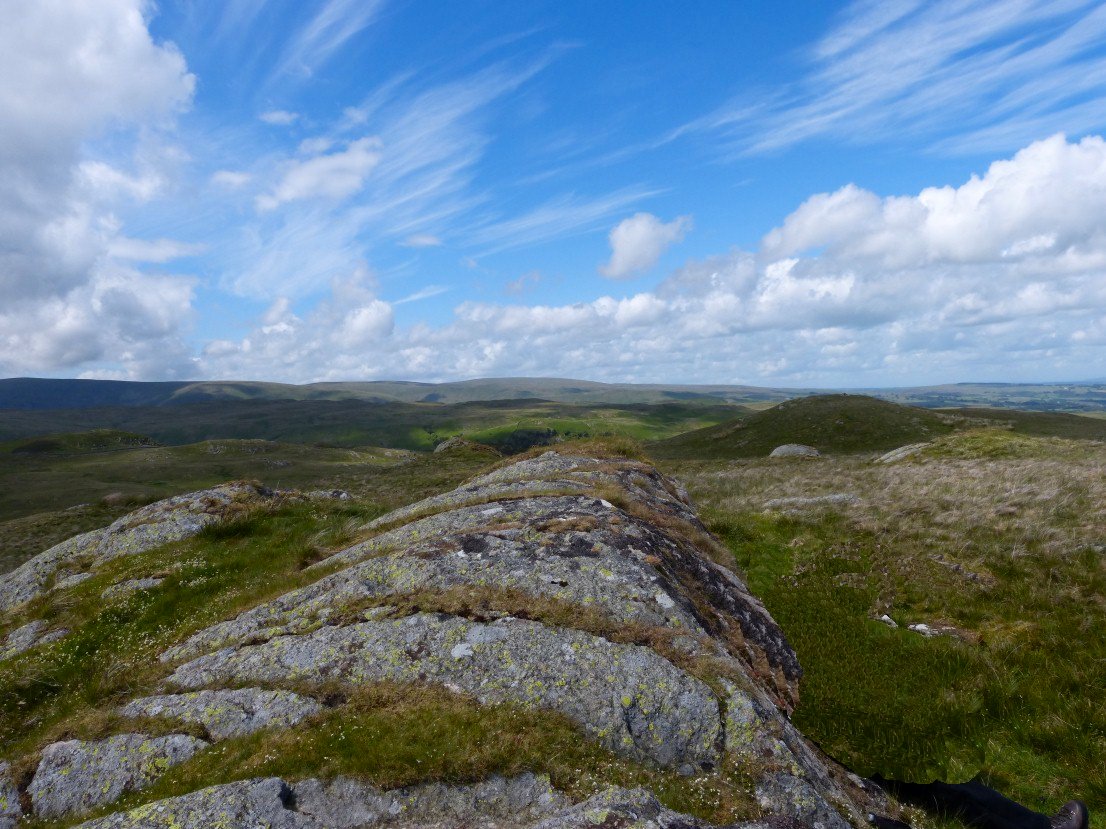 Nice clouds from the southern top on Glede How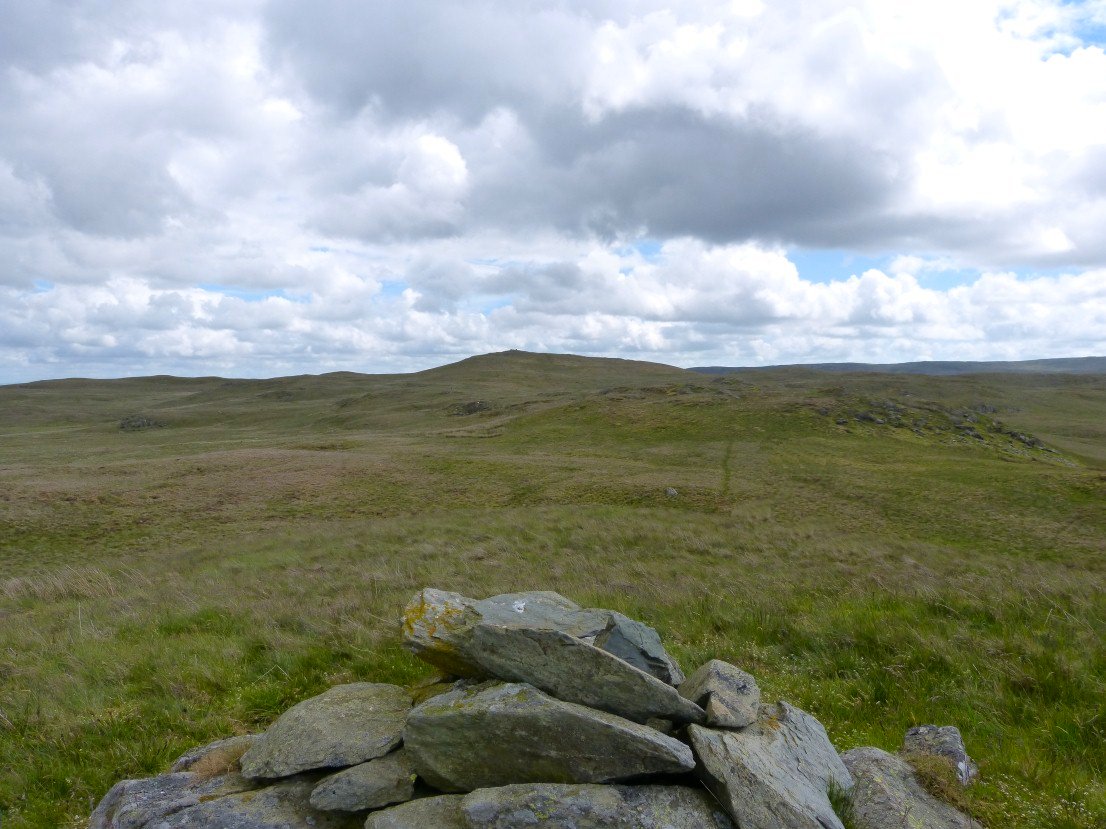 Looking back over the Southern top from the cairned northern top. Seat Robert in the distance. On the way up to Seat Robert we said hello to a chap and he is the only person we have actually met on our five walks ticking of the Shap area Birketts ( although to be fair two were done in horrendous weather and were quite short as a result)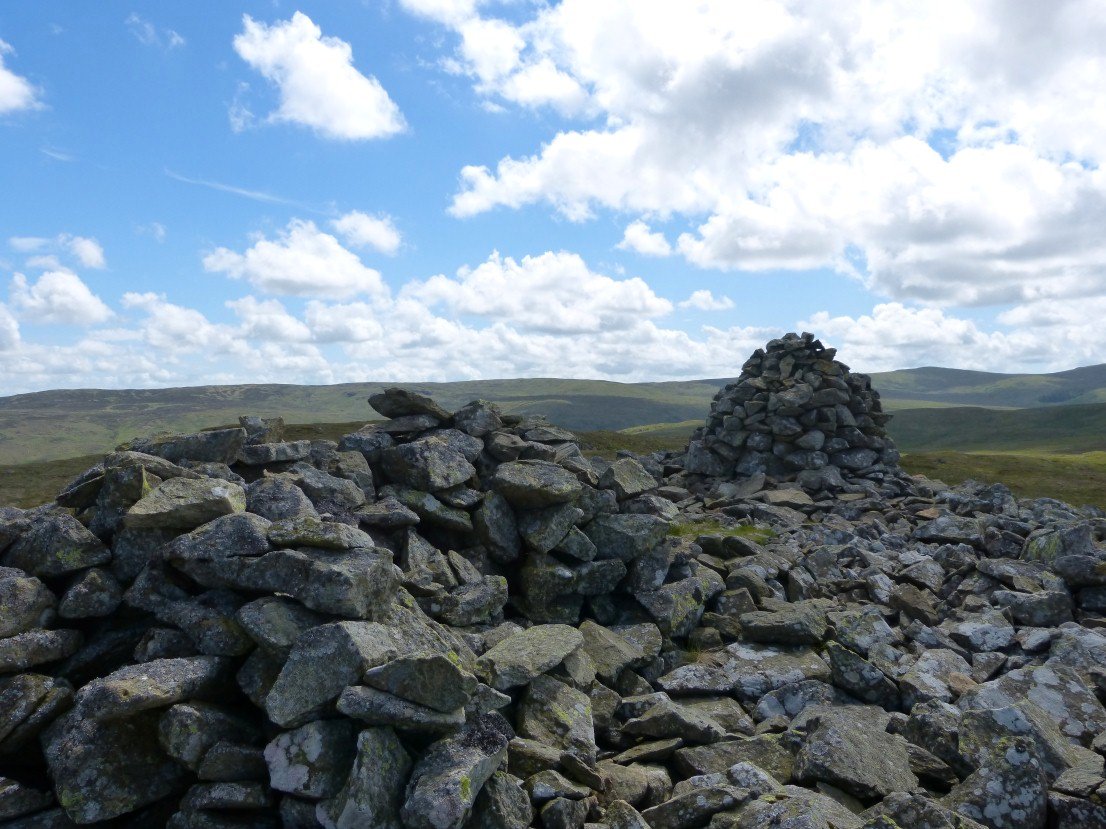 Impressive cairn and wind shelter on Seat Robert.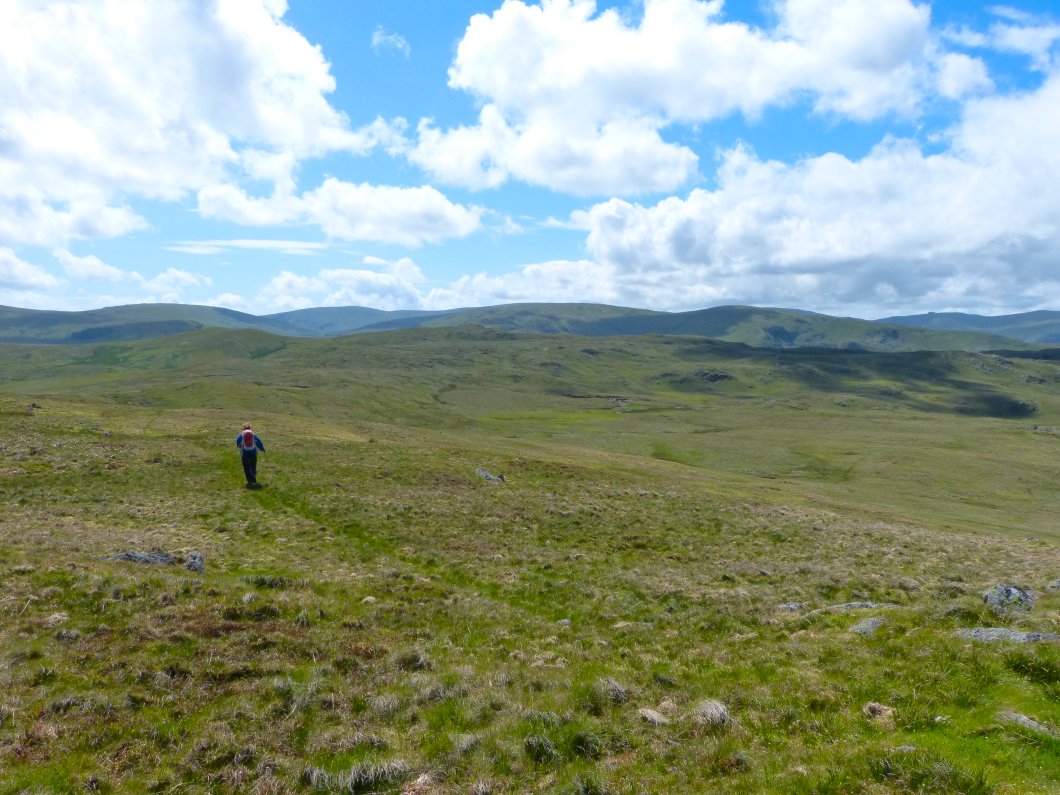 The hollow on the right is where Haskew Tarn should be but it had all dried up.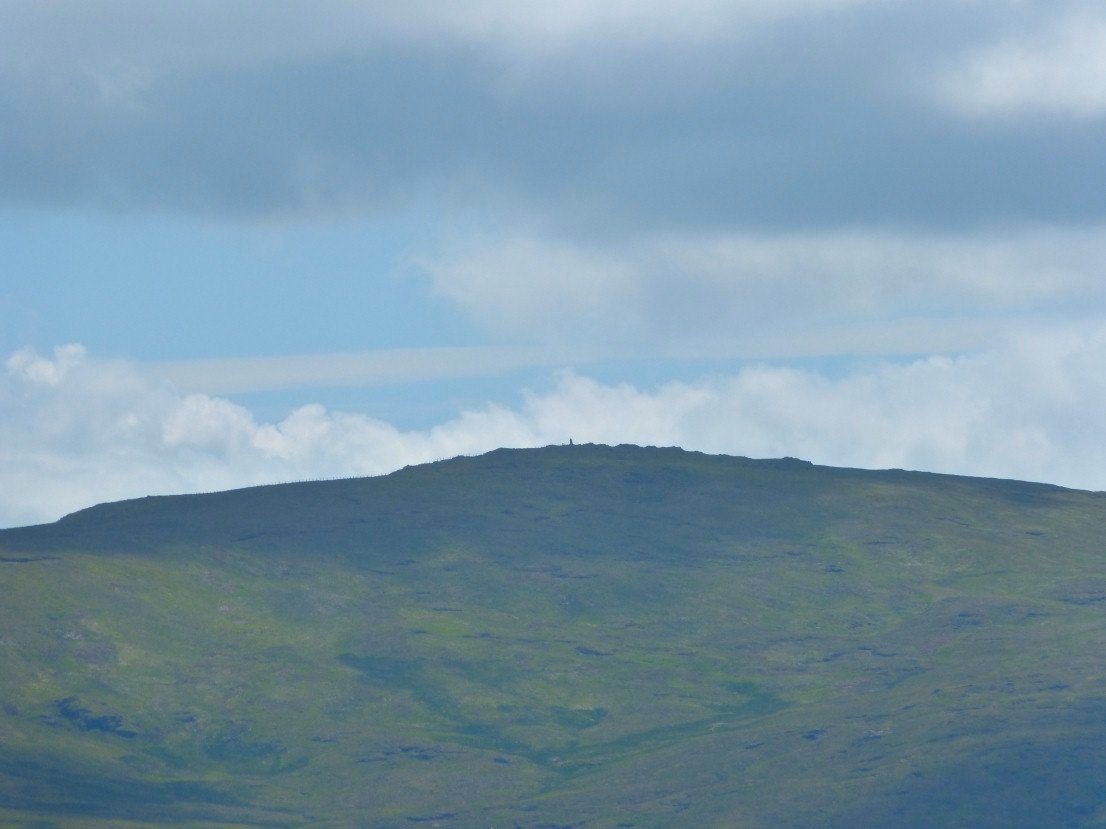 Harrop Pike and cairn seen from the walk over to High Wether How.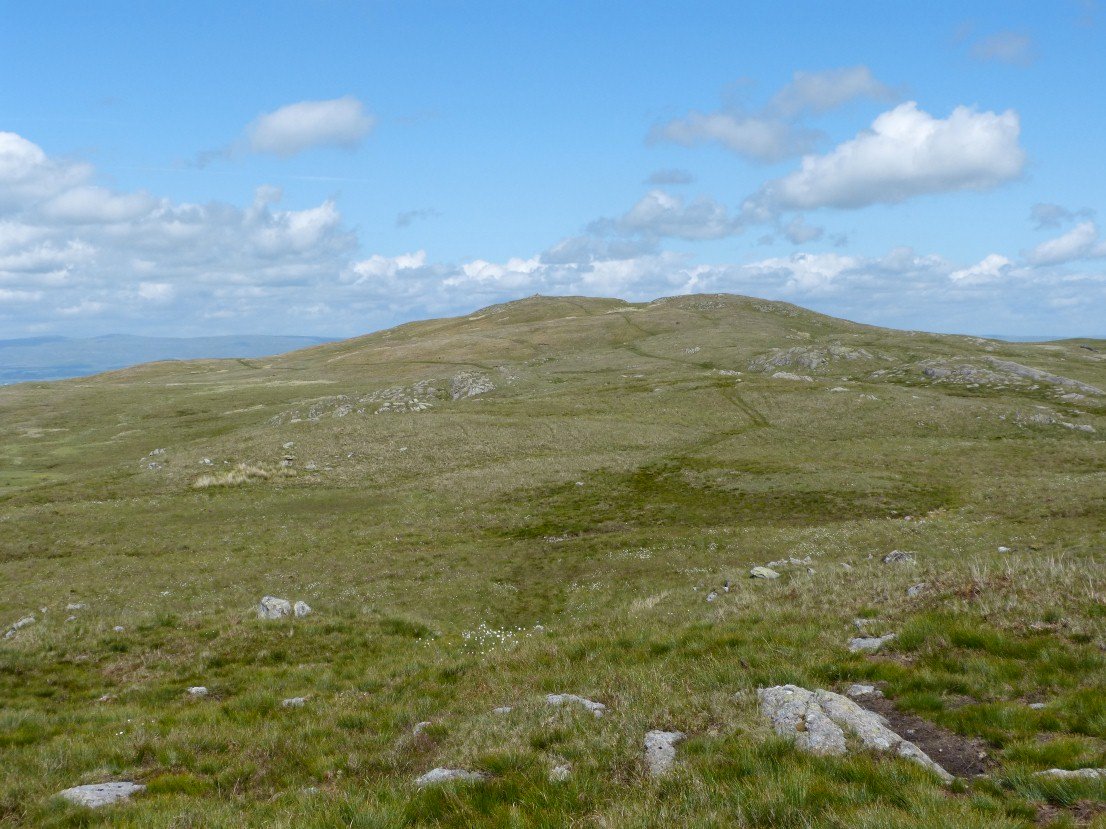 Looking back to Seat Robert.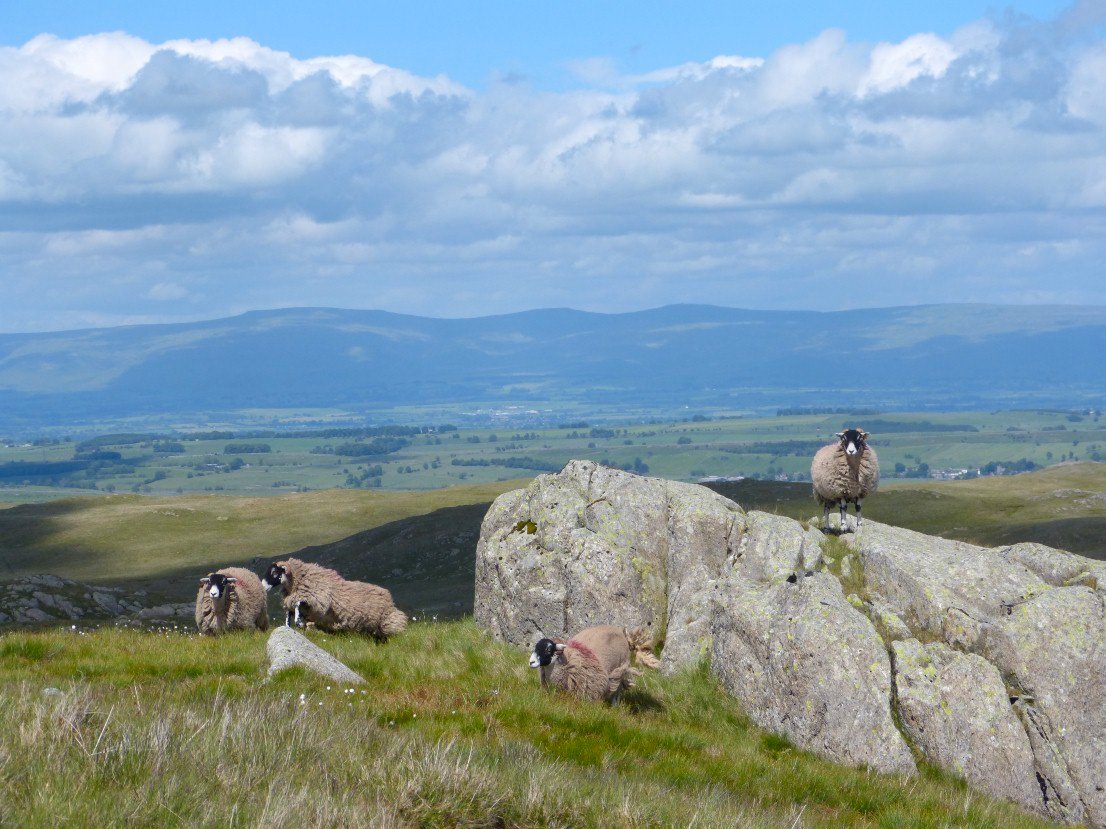 Cross Fell and the Dun Fells behind the inquisitive locals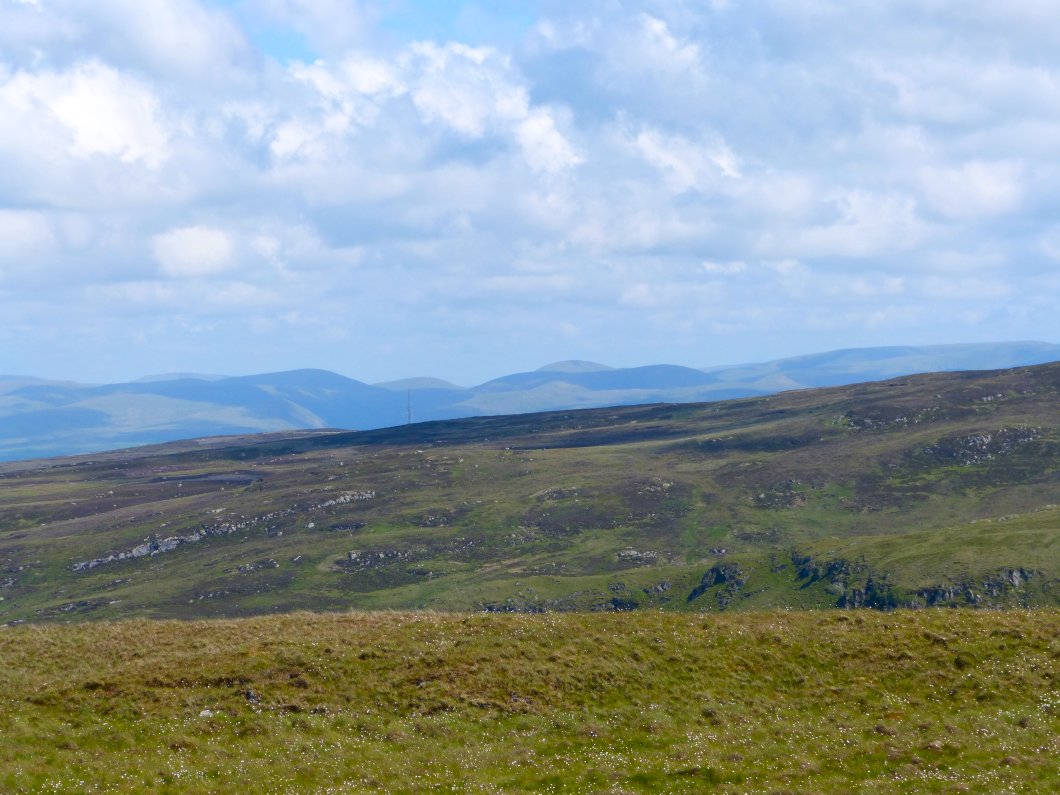 The Howgills over to the east.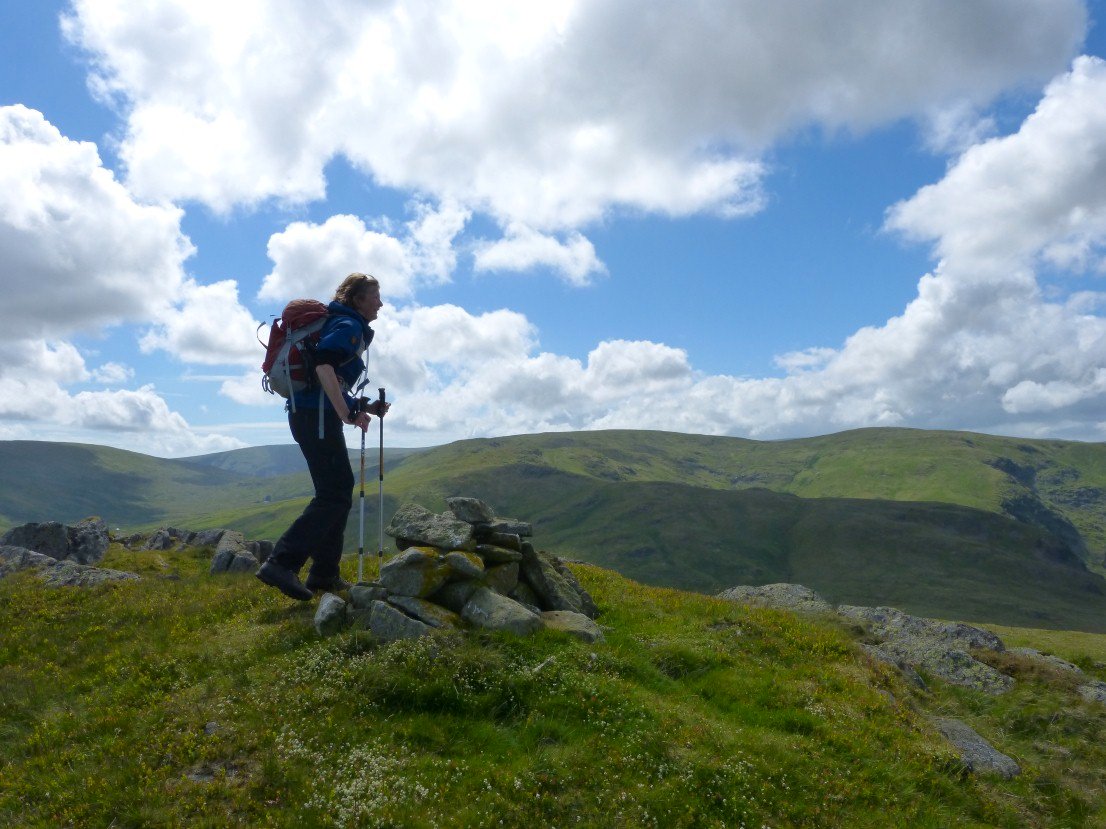 Hooray, Sue climbs her last Birkett in the Shap area. Only ten left now ( not including Pillar Rock )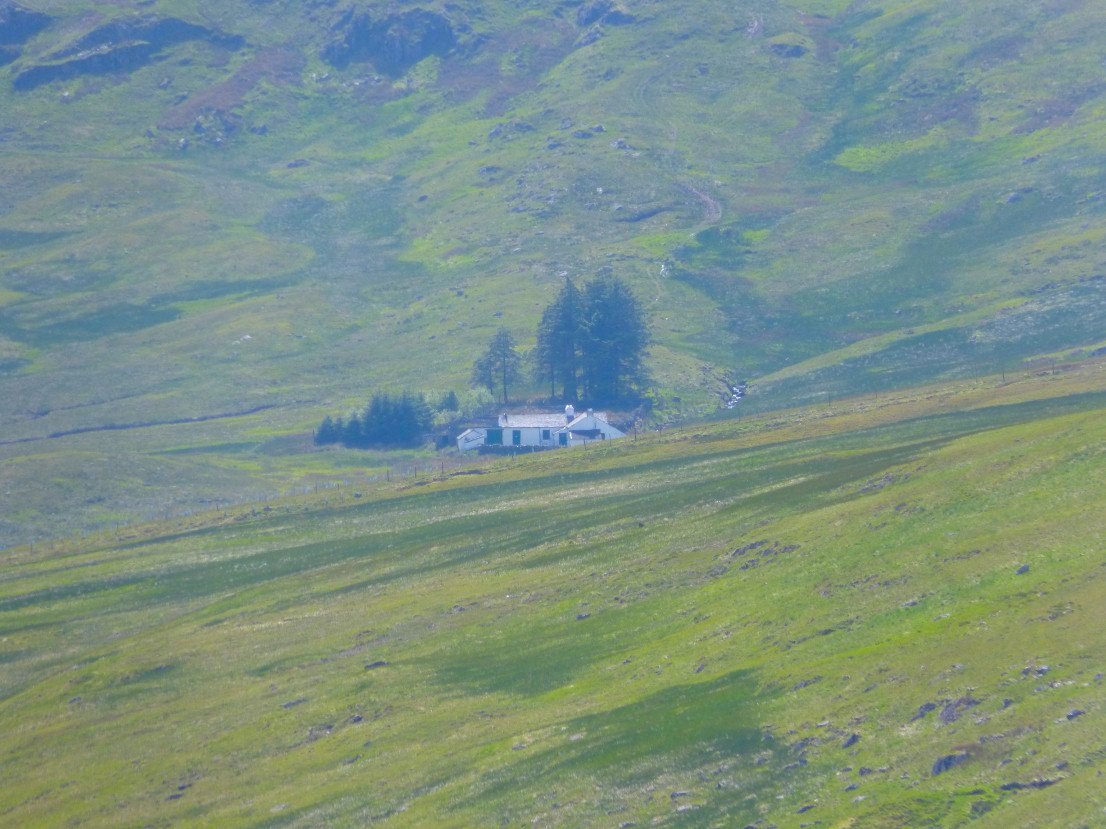 Great view to Mosedale Cottage from High Wether How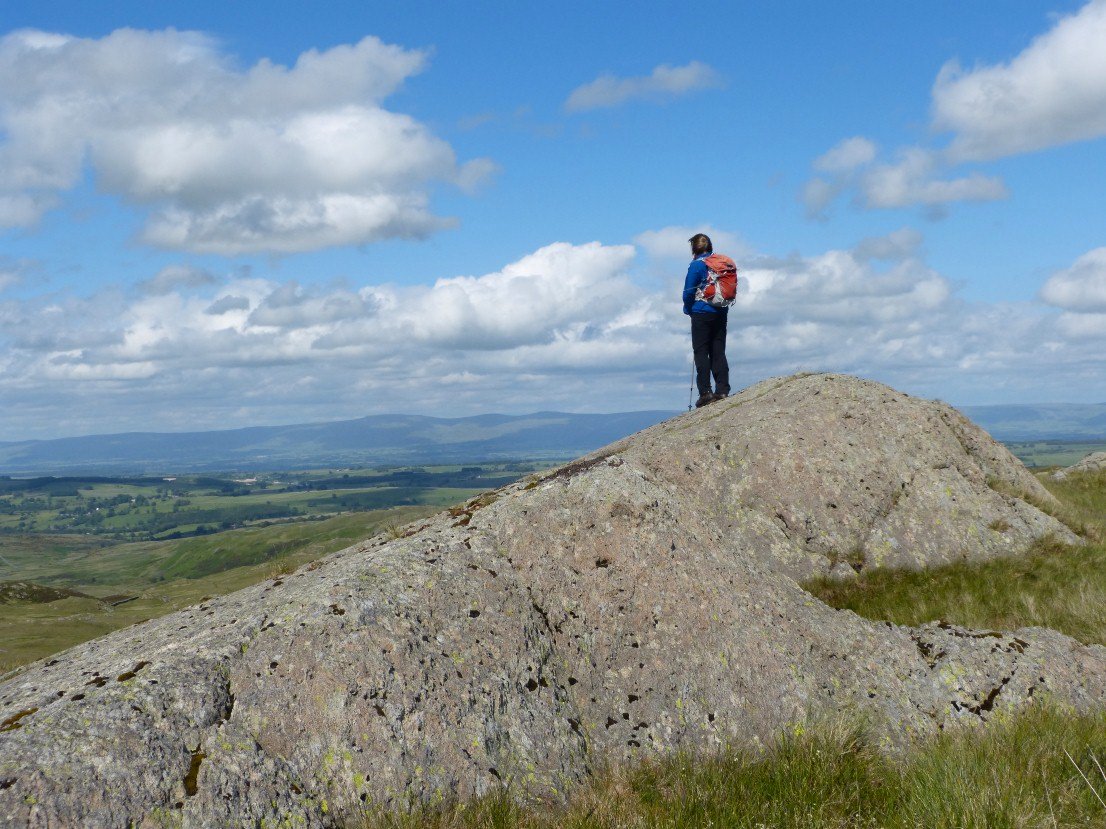 Sue standing on one of the stones of Fewling Stones.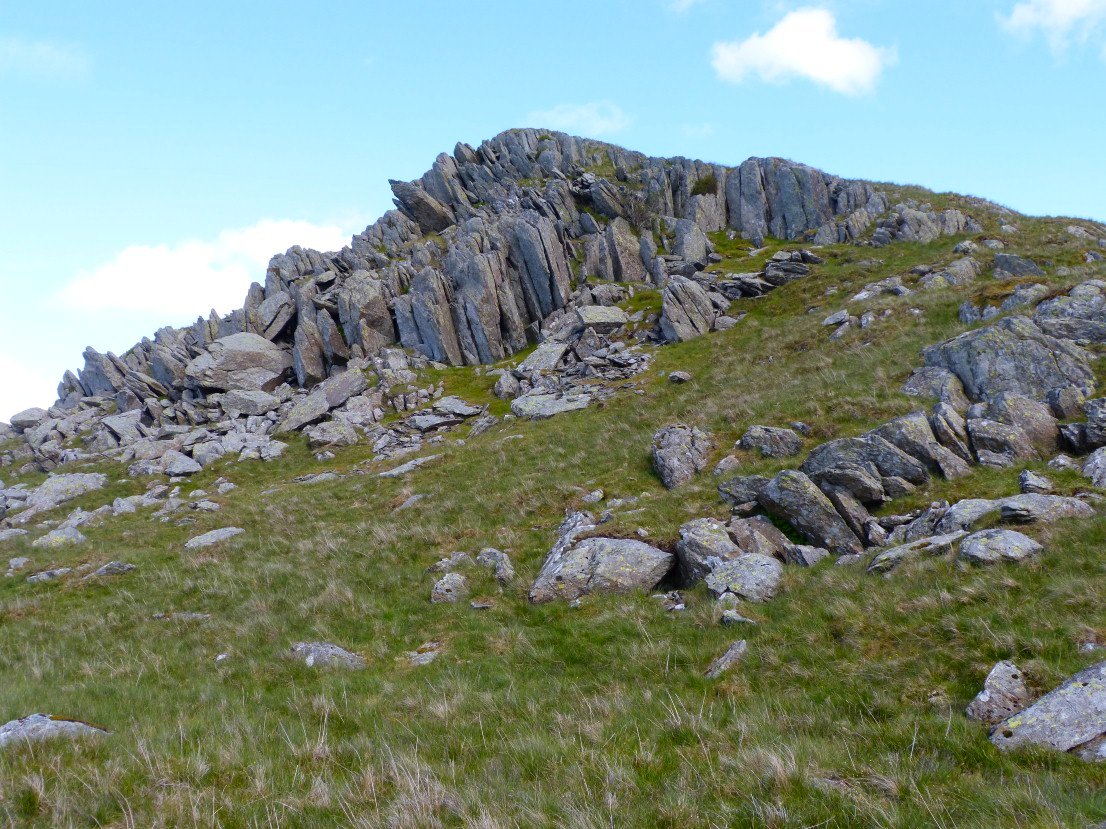 The impressive rocks of Beastmans Crag. We have found it really funny when doing the walks in this area that any little crag or feature that you wouldn't give a second glance to in Wasdale or on the side of Scafell Pike is seen as really exciting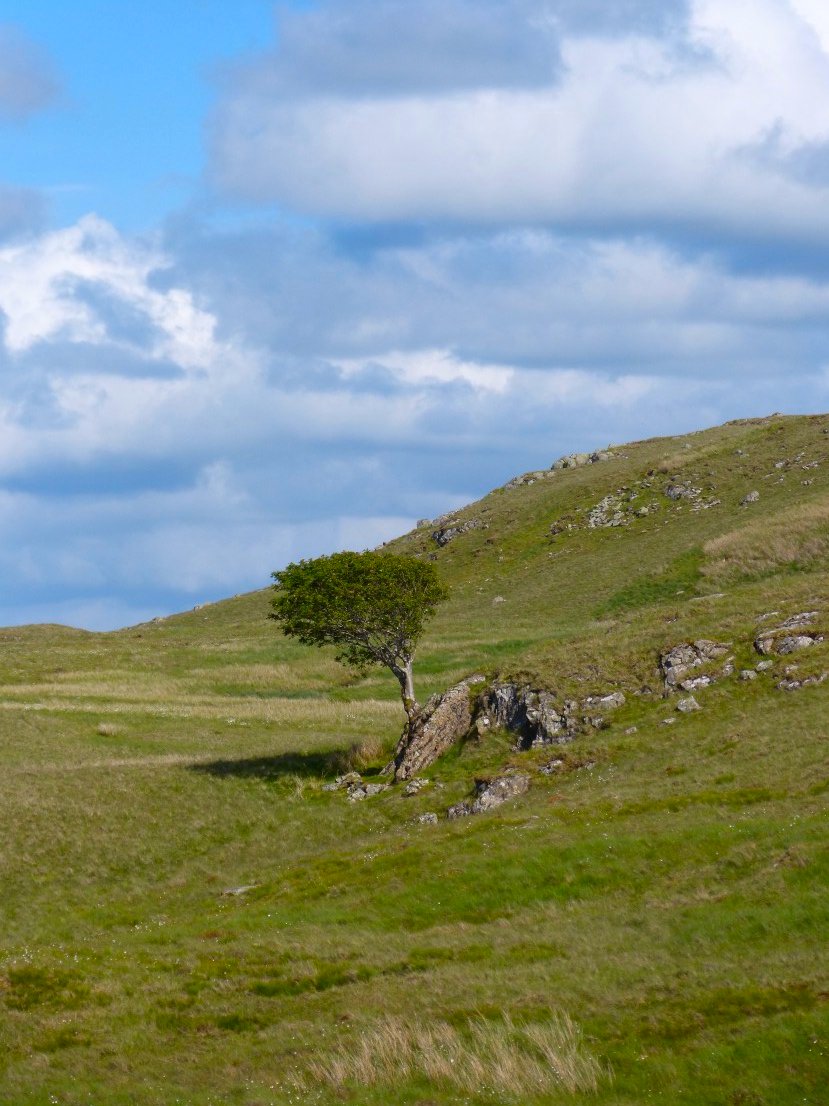 The Rowan growing from the rock as mentioned by Birkett in his route directions.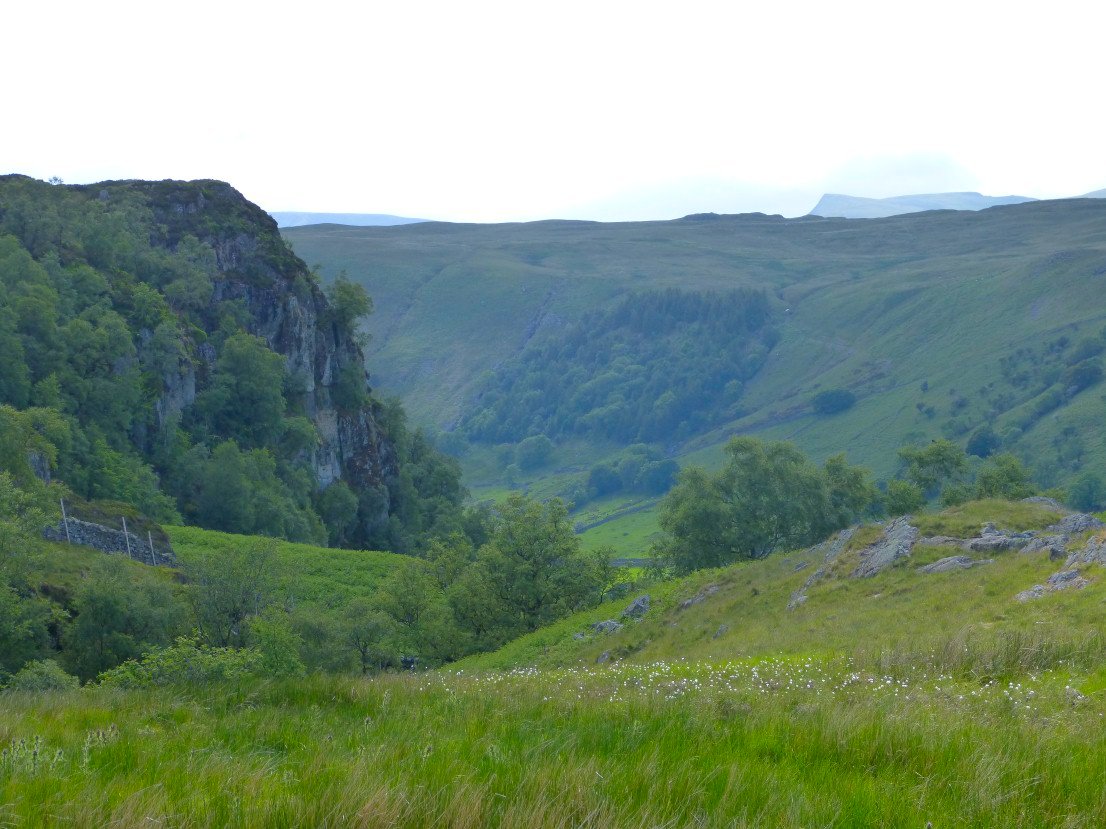 Starting the descent now past the impressive Gouther Crag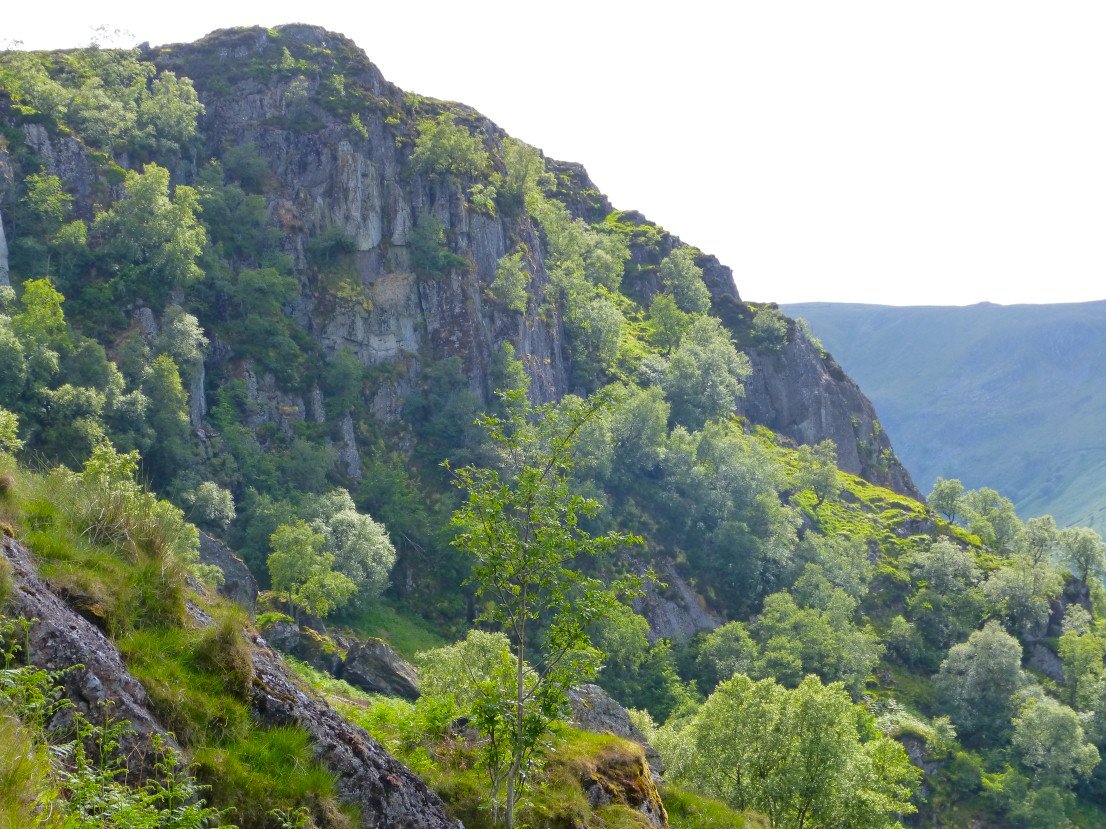 Close up of Gouther Crag.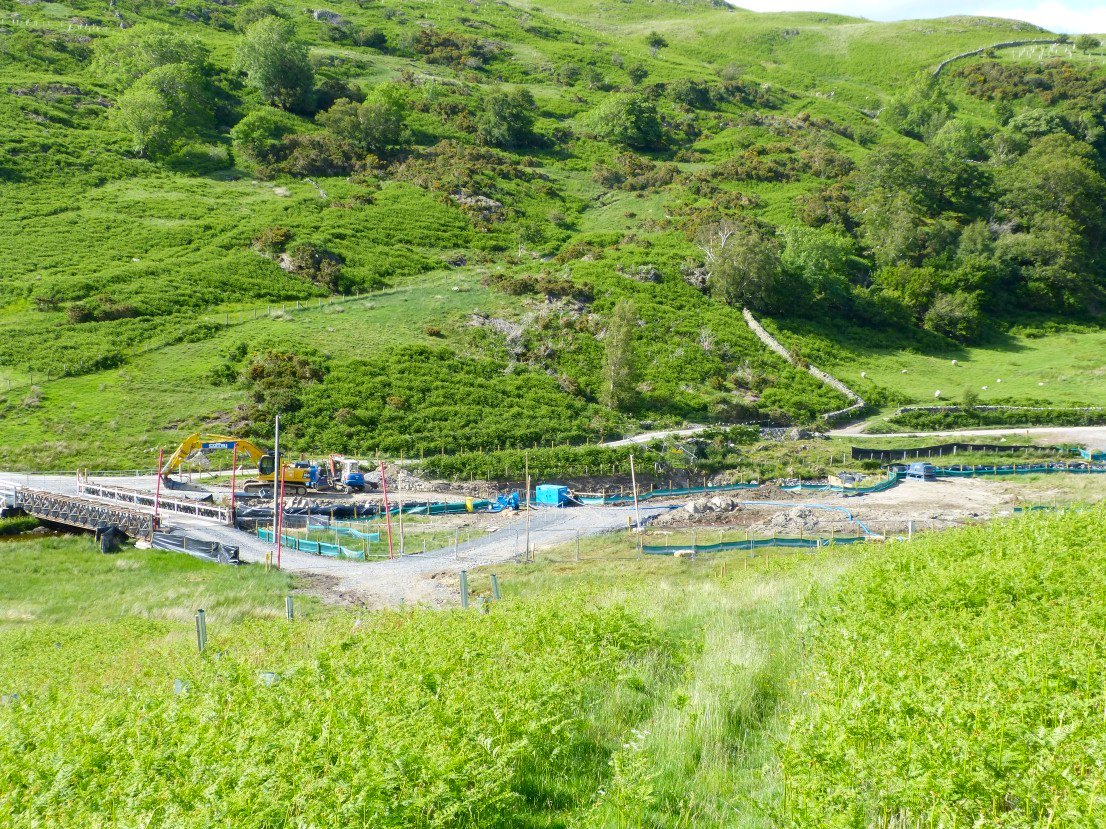 The bridge and building site.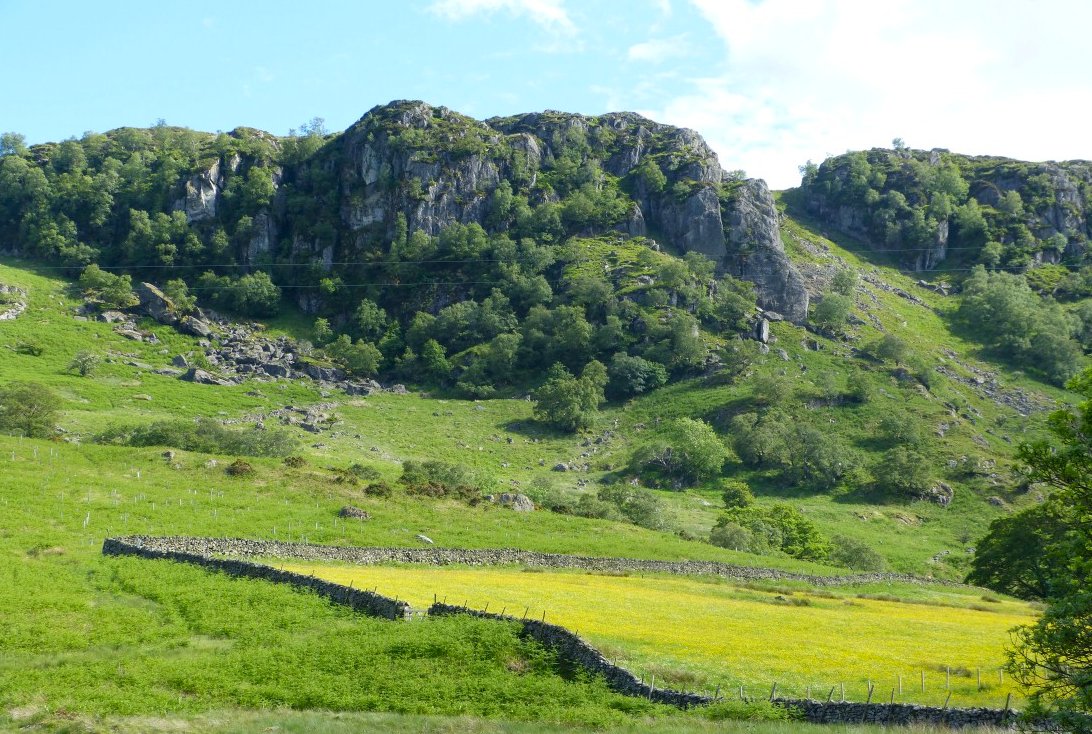 A last look back to Gouther crag from Swindale Lane.