WWW.KARLSWALKS.CO.UK
PICTURES AND TRIP REPORTS FROM MY WALKS IN THE ENGLISH LAKE DISTRICT
A walk from Hartsop and a night on the fells
27th - 28th December 2015
Route.
Day 1 - Hartsop - Hartsop Dodd - Caudale Moor ( John Bell's Banner ) - Stoney Cove Pike - Threshthwaite Mouth - Thornthwaite Crag - Gray Crag - Thornthwaite Crag - near Mardale Ill Bell (about 7 miles 3300ft ascent)
Day 2 - Near Mardale Ill Bell - Nan Bield Pass - Harter Fell - Little Harter Fell - Adam Seat - Sadgill - Cocklaw Fell - Staveley ( about 10 miles 1200ft ascent )
Sue, Lynn and I took advantage of one of the few descent spells of fine weather in December to have a stroll from Hartsop. I have got myself a new tent and have been wanting to get out but as everyone knows the weather has been awful.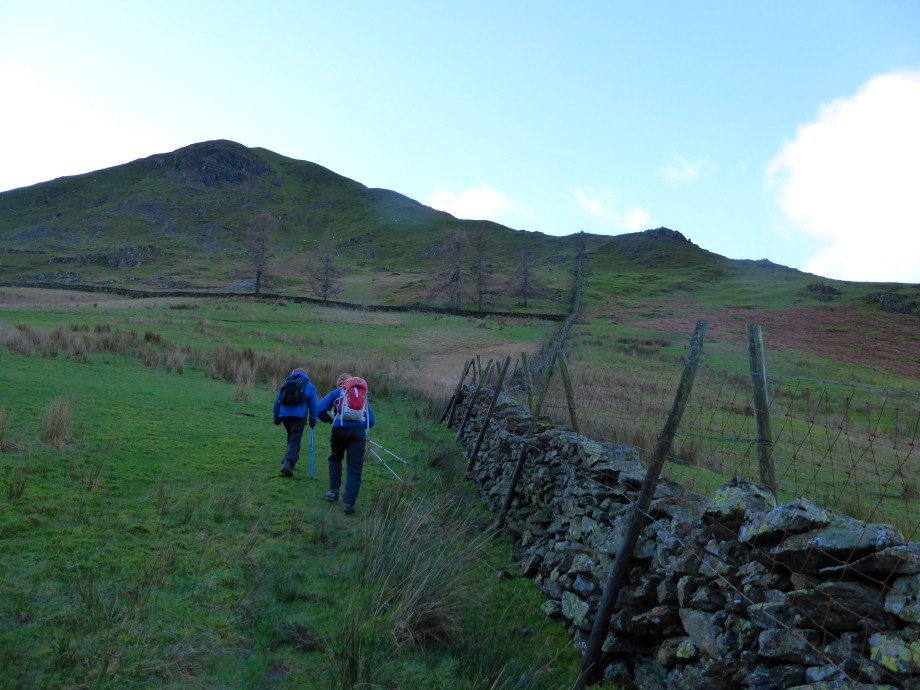 Straight from the car park without any warm up it's straight into the steep climb of Hartsop Dodd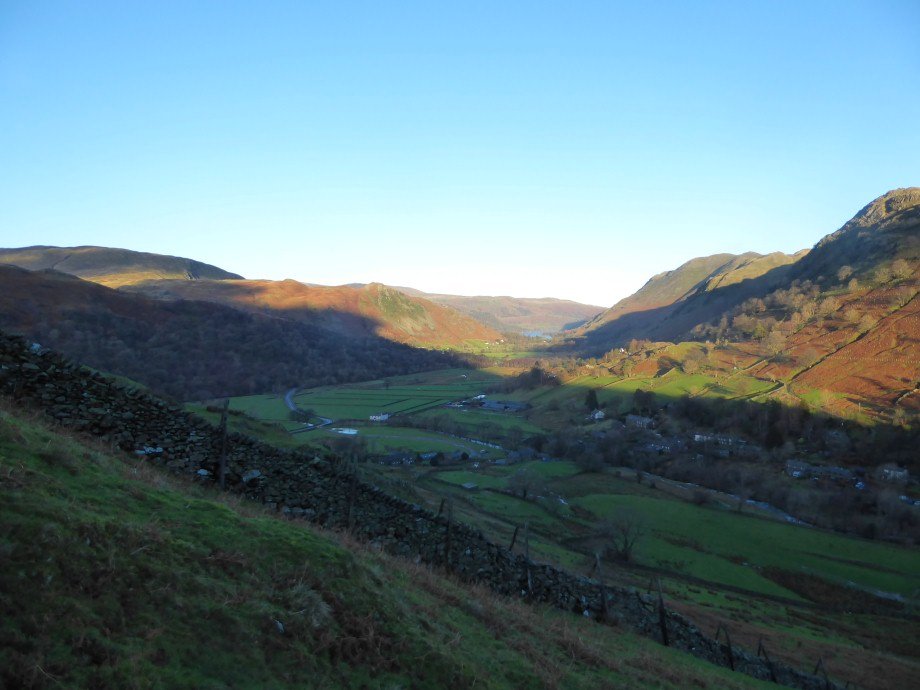 The views open up and what a treat to see blue sky for a change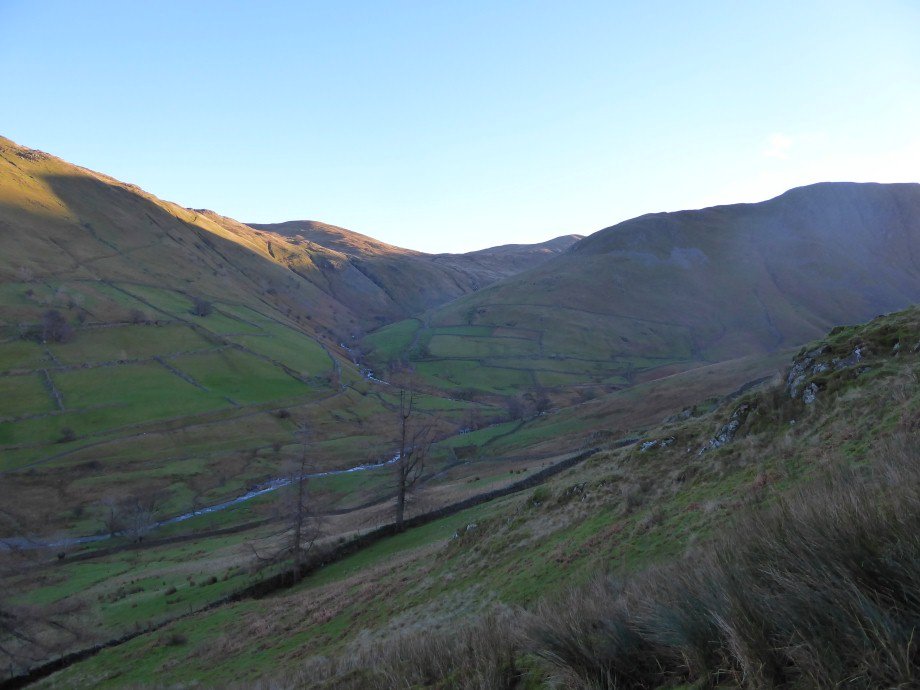 Looking up the valley towards Hayeswater.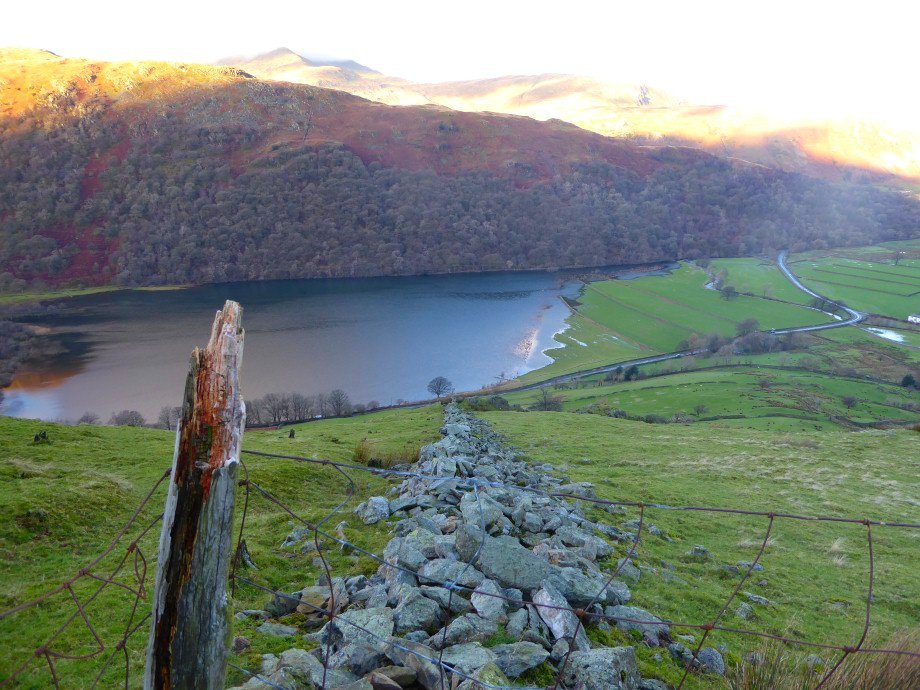 Looking down on a larger than usual Brotherswater.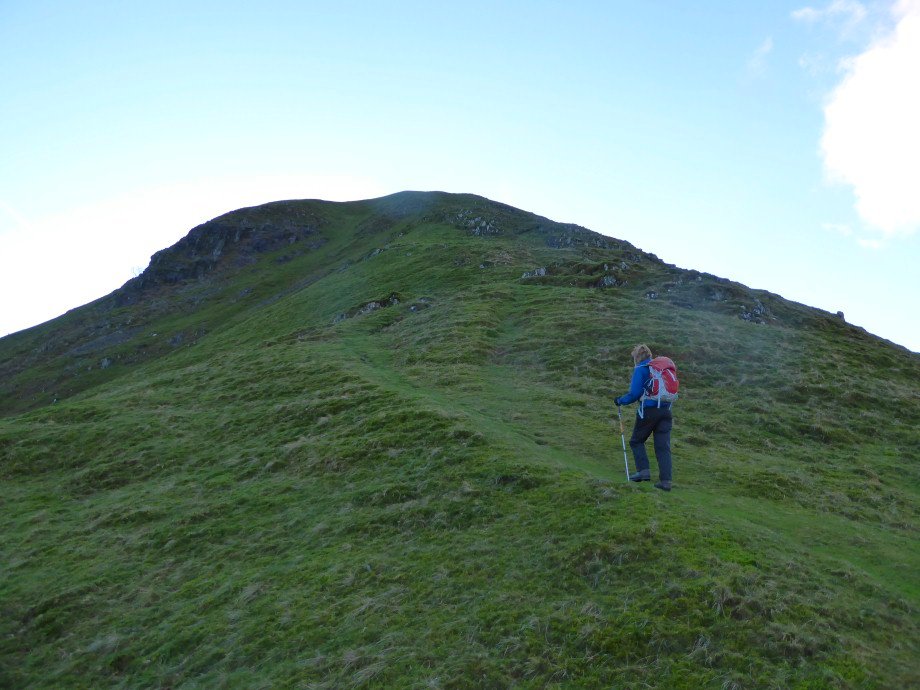 A look up the ridge.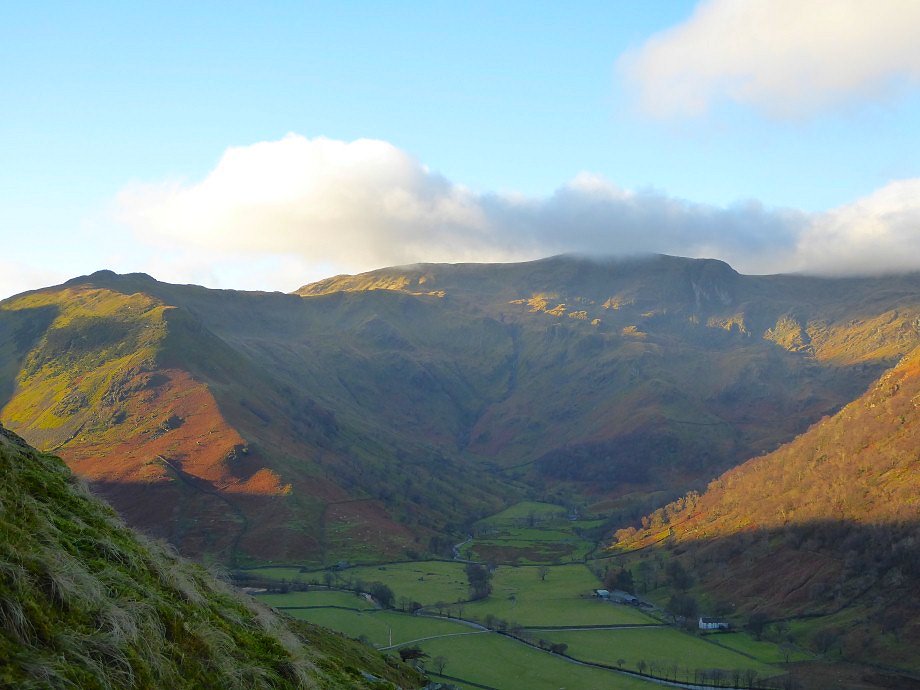 And a look across to Dovedale with Dove Crag just in cloud.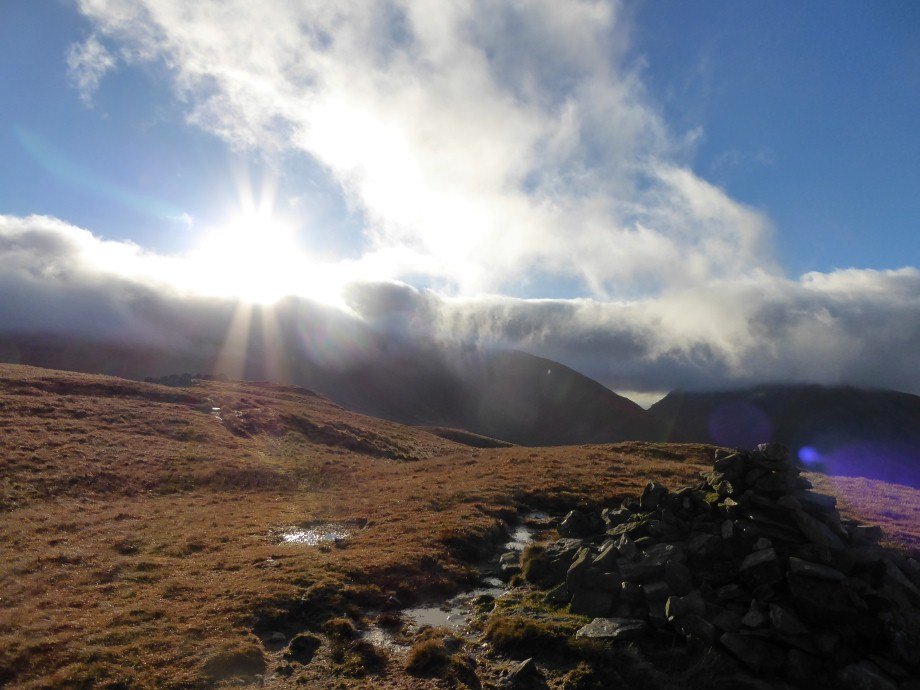 Eventually the slope eases but we met the very cold wind here which was pushing the clouds along in a great show.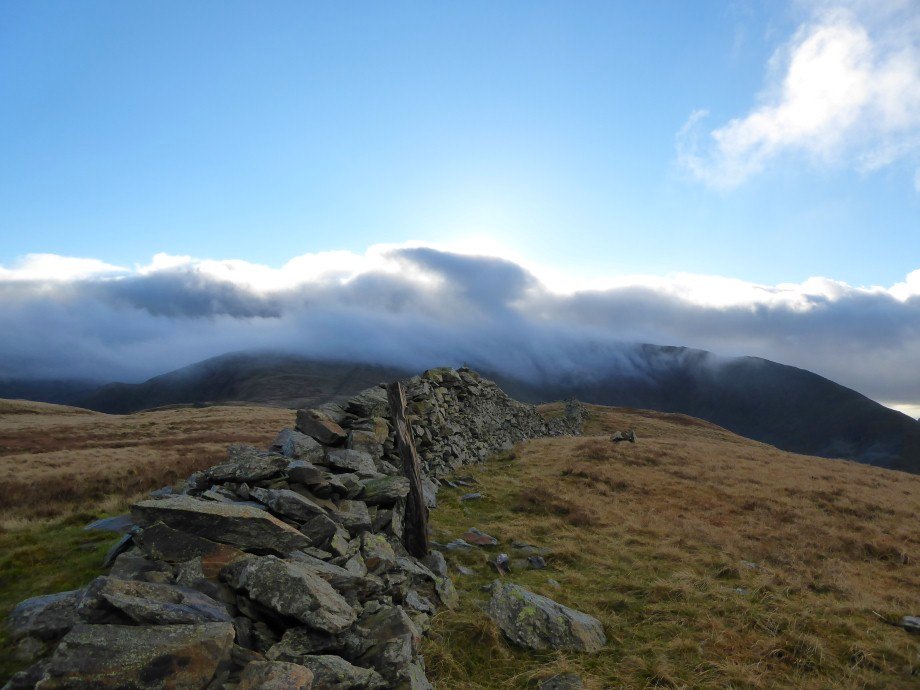 At the summit of Hartsop Dodd marked by an old fence pole in the wall.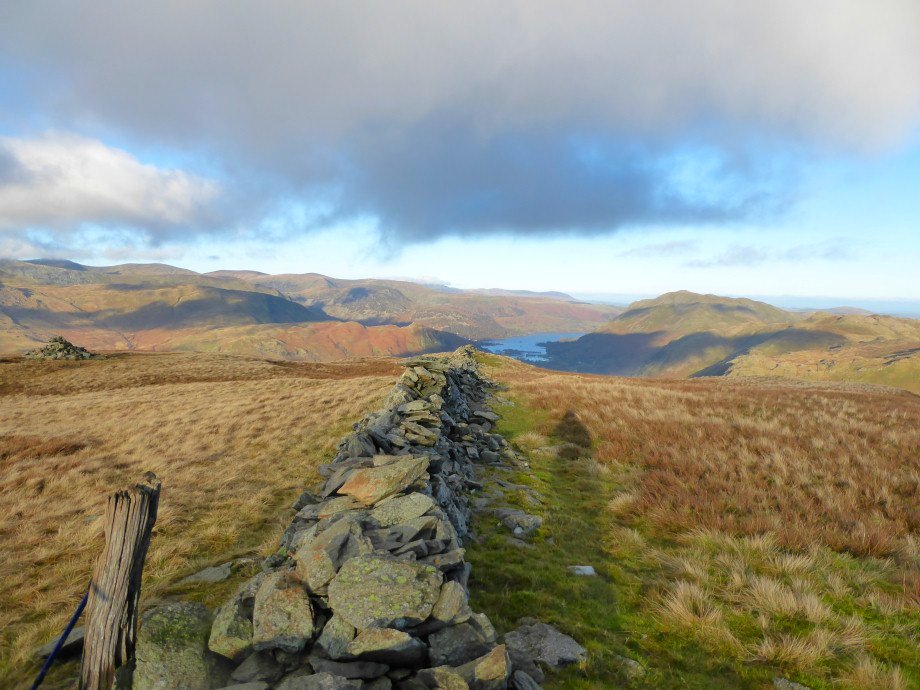 A great view back to Ullswater from the same place.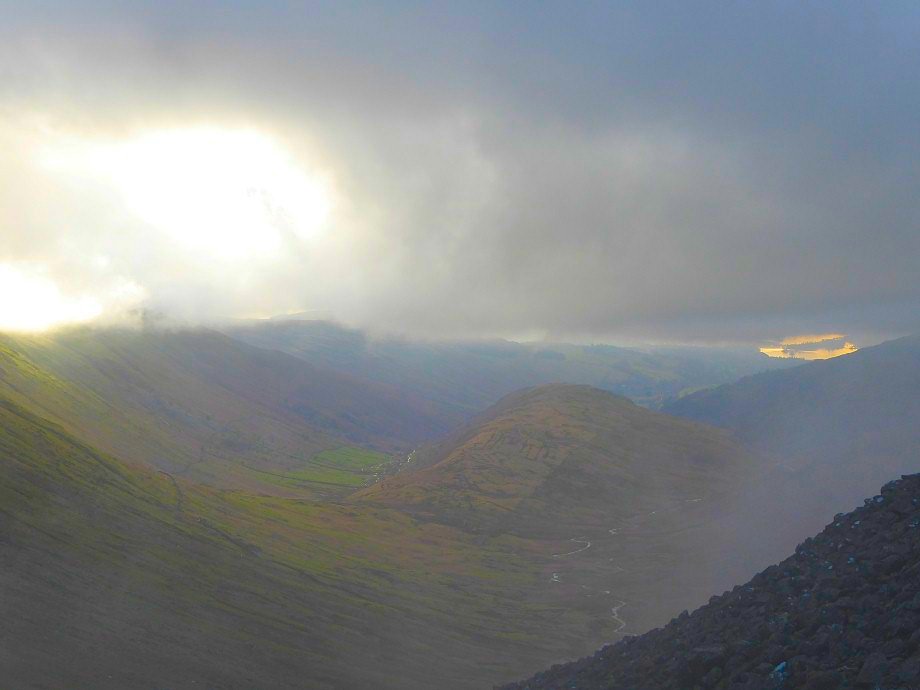 We walked up the hill and into cloud where we diverted over to the Birkett top of Caudale Moor from where it's an easy stroll to the Wainwright top of Stoney Cove Pike. From where there is a tricky descent down to the col, on the way we got this great view of Windermere seeming to float in mid air above Troutbeck Tongue.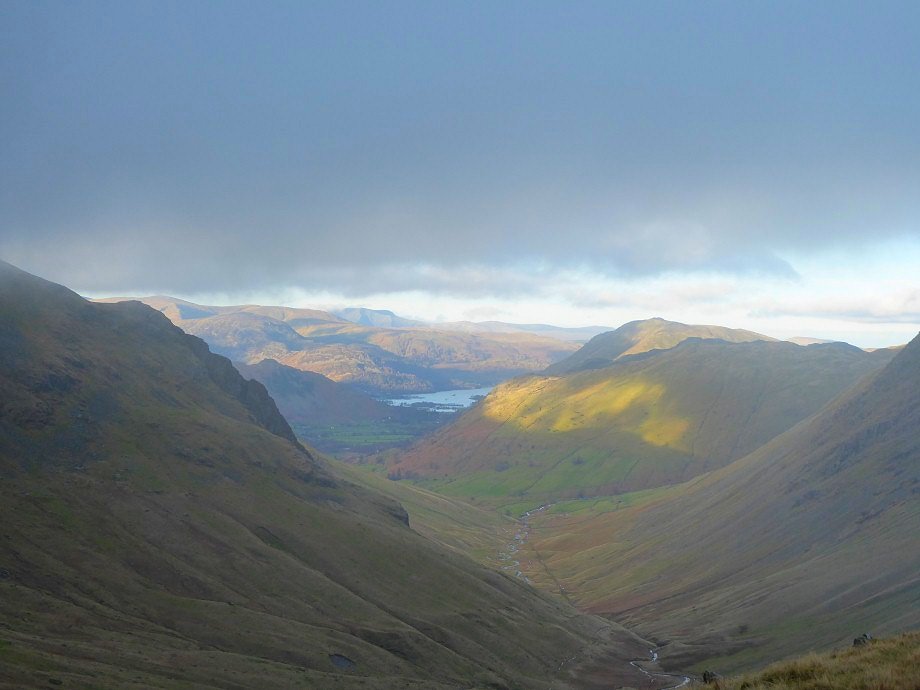 Looking back over Threshthwaite cove to Ullswater.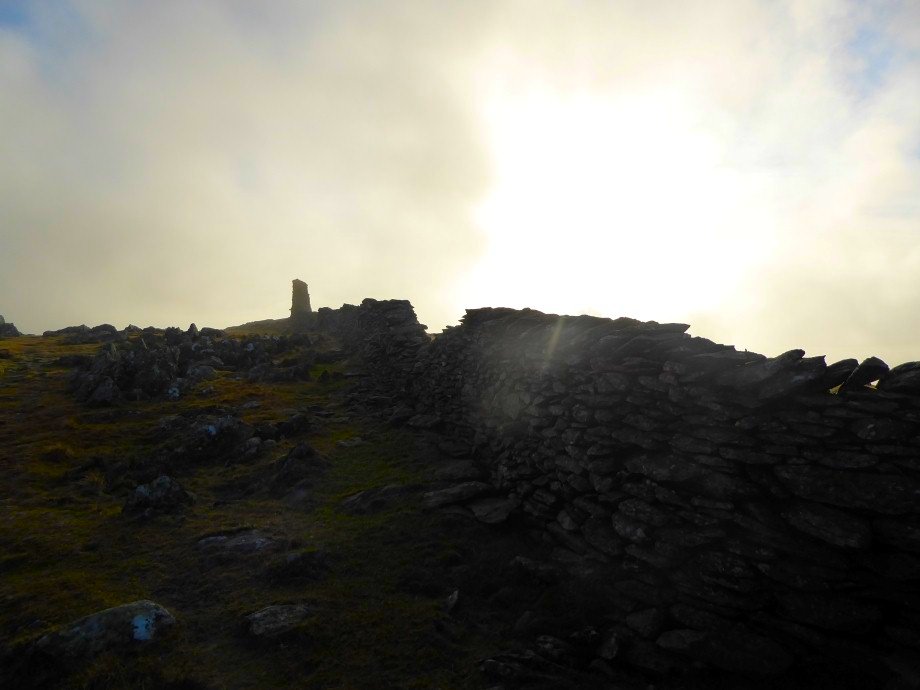 After a bit of a stiff pull we reach Thornthwaite Beacon.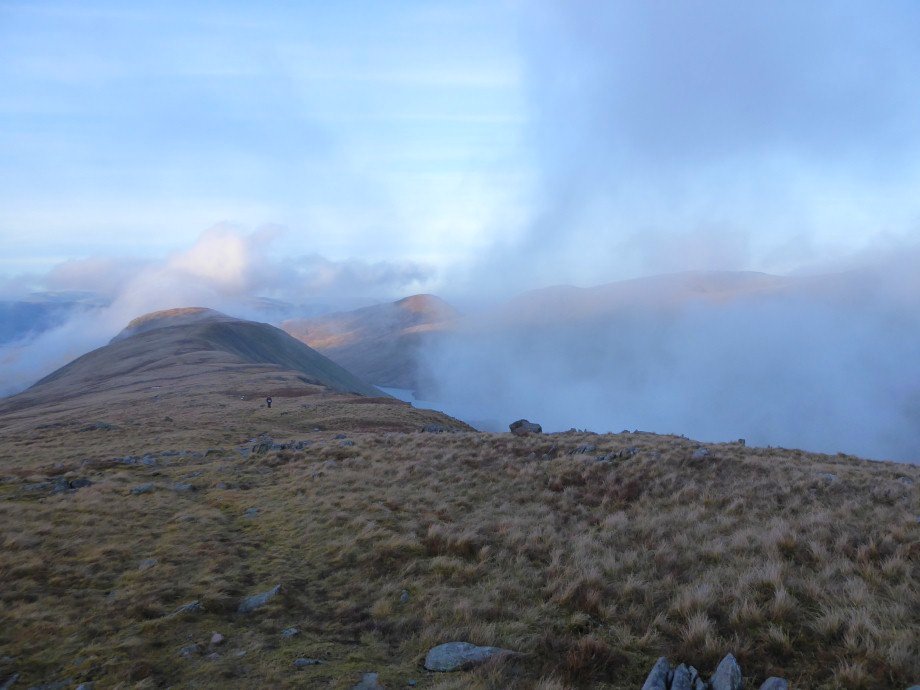 After lunch taken in the shelter of the wall we walked down along the ridge to Gray Crag.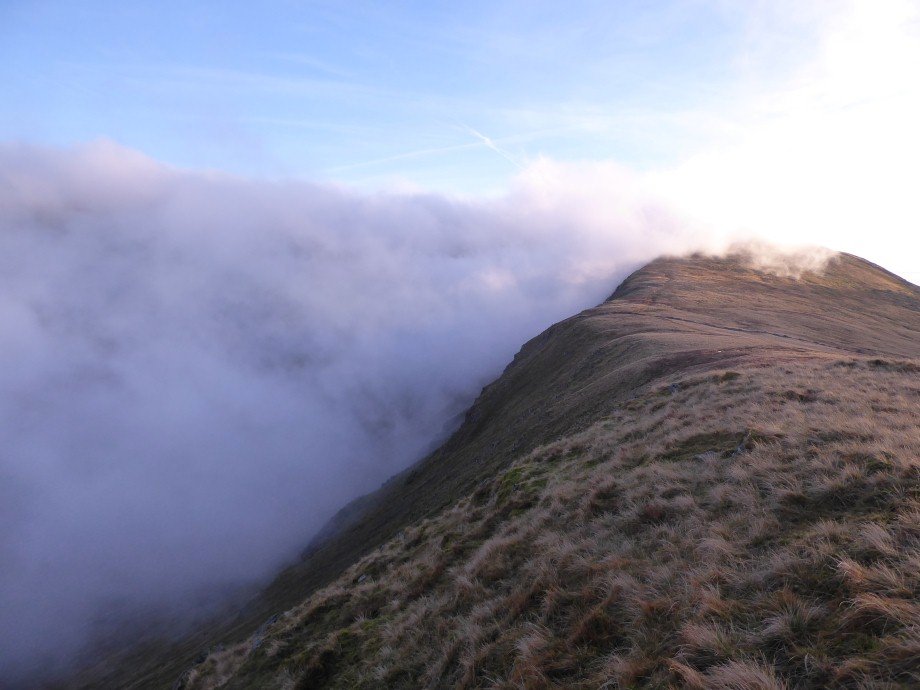 The wind was funneling the clouds along both sides of the ridge which was lovely to see.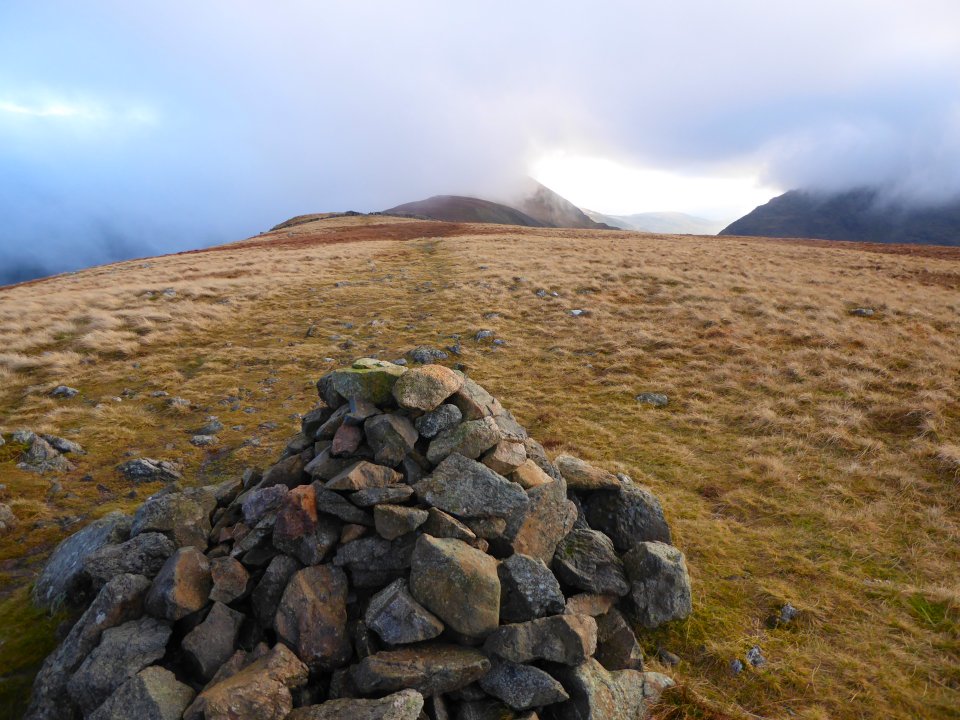 Eventually we reach Gray Crag from where I say goodbye to the girls and start the plod back up to Thornthwaite.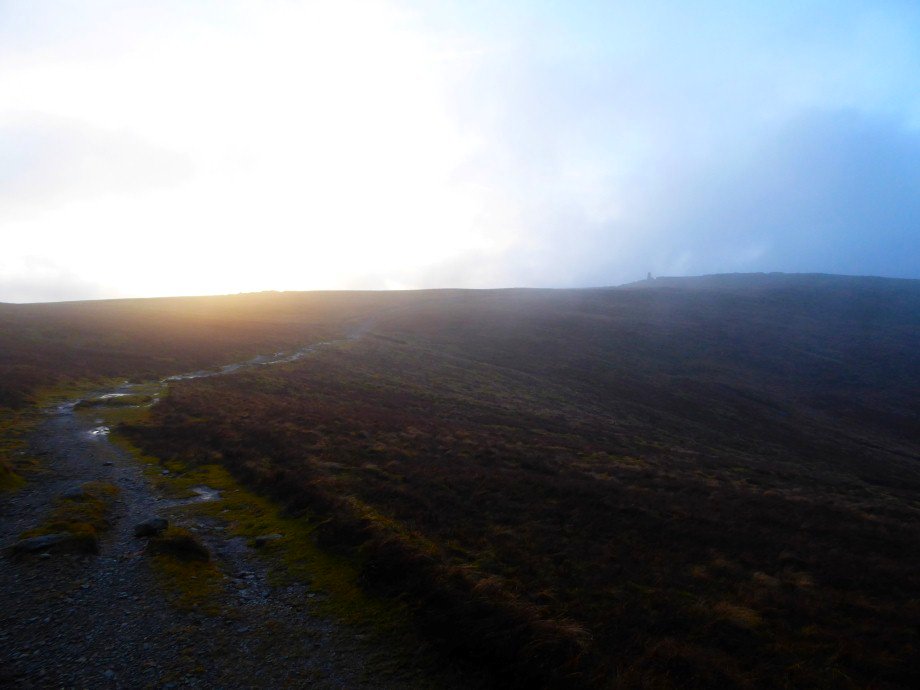 Looking back to the beacon and into the setting sun as I start the path heading for Nan Bield. Darkness started to overtake me so I found a camping spot neat to Mardale Ill Bell and got the tent up which took a bit longer than my only practice on my flat lawn with no wind but I managed and spent a comfortable night.
When I saw the red sky beyond the Harter Fell ridge I had hopes that the sun would burst over the hill filling the fells with a lovely red hue but unfortunately this was as good as it got and the sun stayed hidden by cloud all day. It was a very mild day though.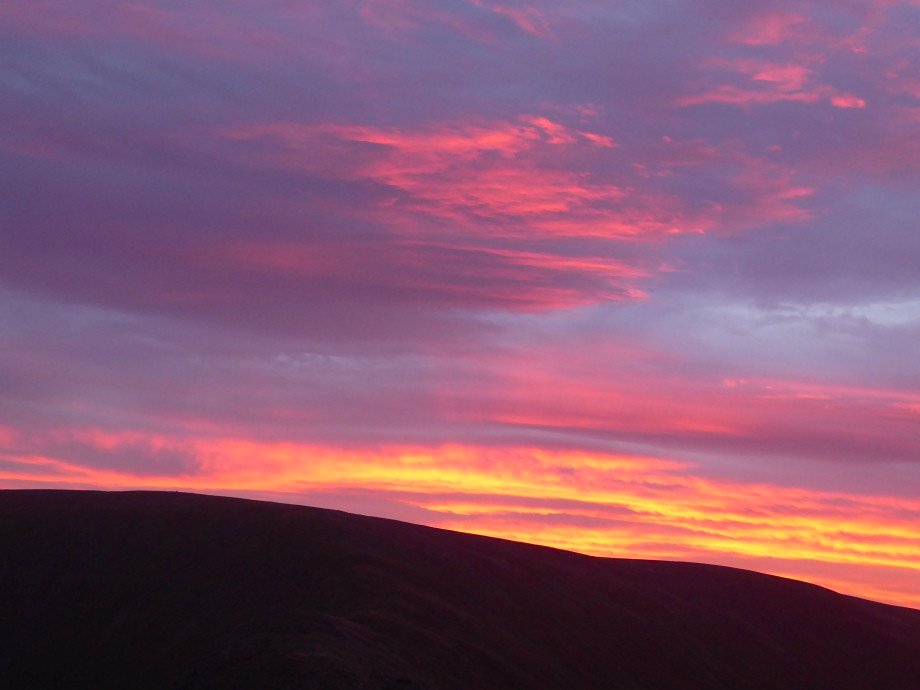 Still a lovely morning though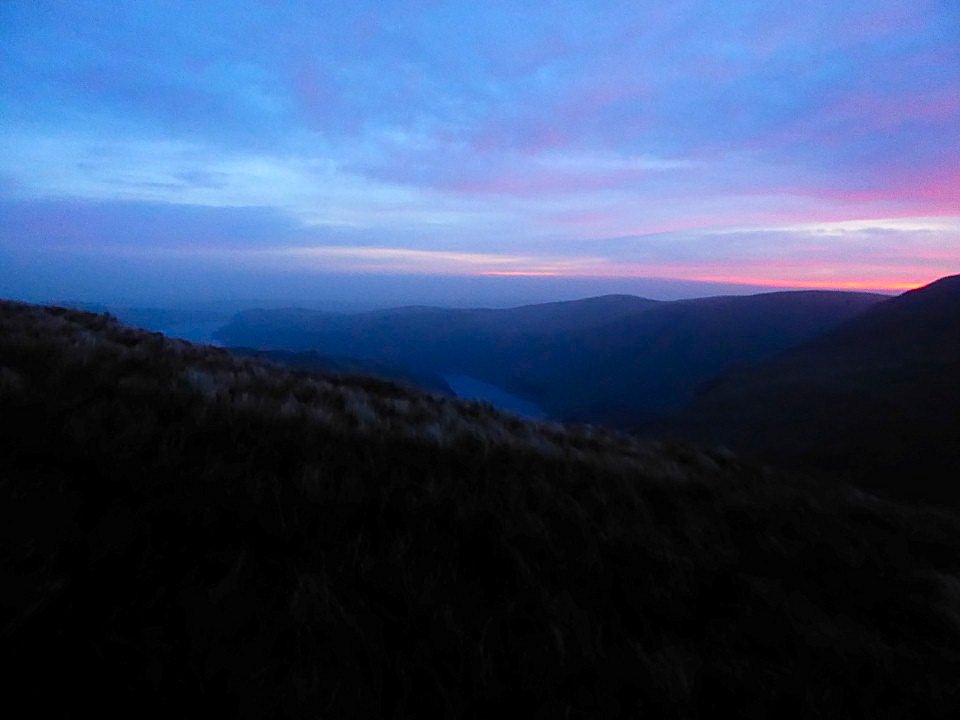 Sunrise over Haweswater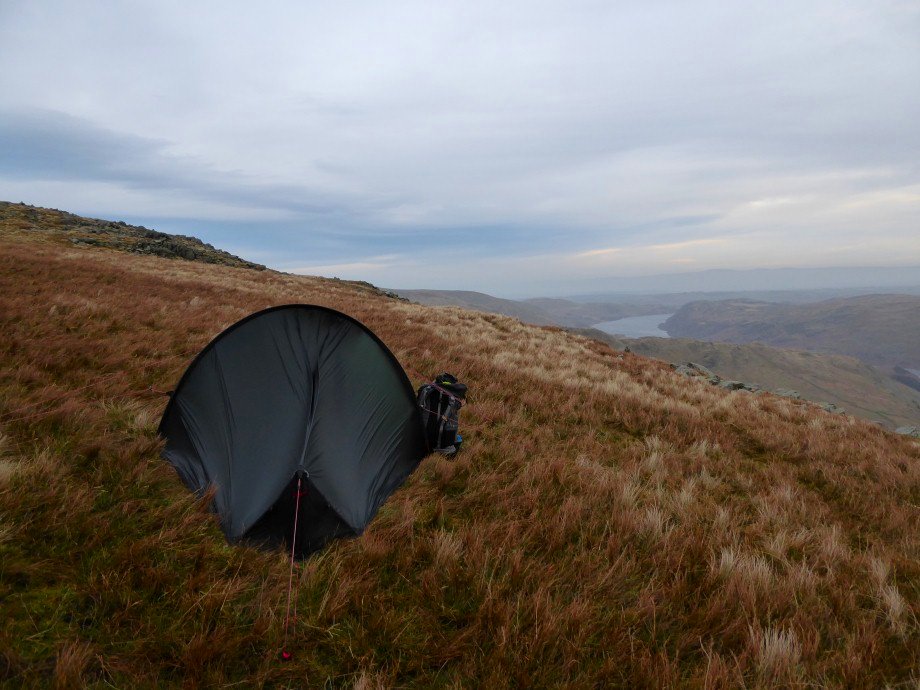 It was very windy as I packed up and the tent did try to make a bid for freedom and nearly went for a dip in Small water but I managed to hold on.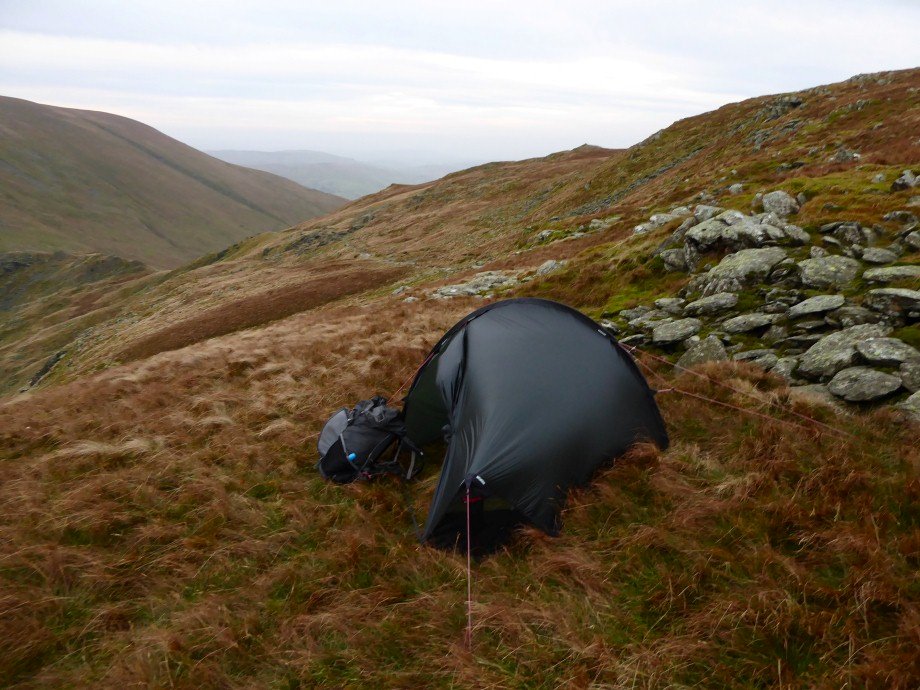 My new tent, the Hilleberg Enan. I'm hoping that with the renowned Hilleberg build quality it should see me through 'till when I'm too old and decrepit to carry a tent on the fells.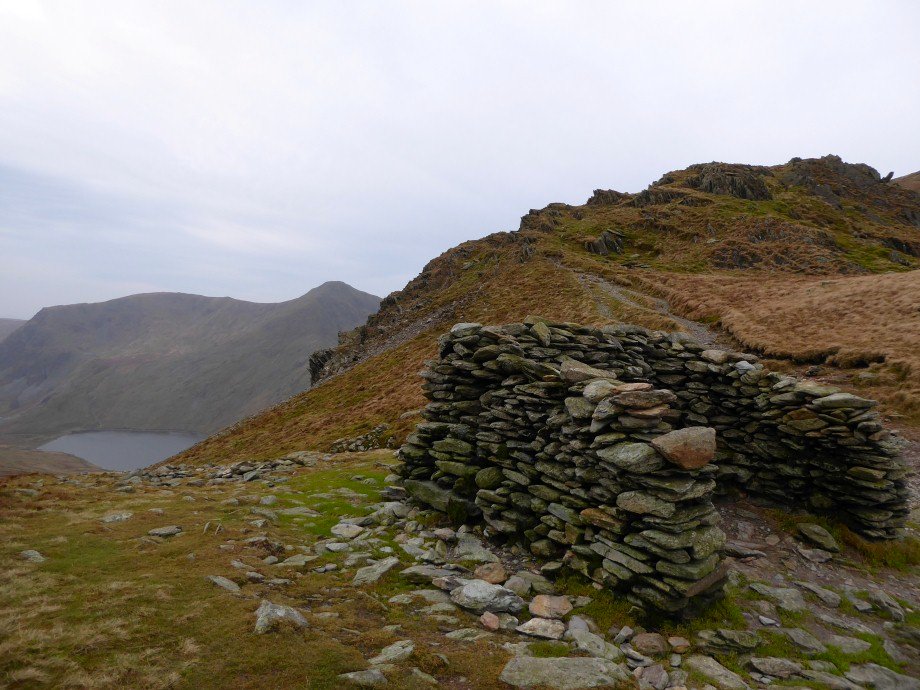 Nan Bield shelter with Kentmere res and the Ill Bell ridge behind.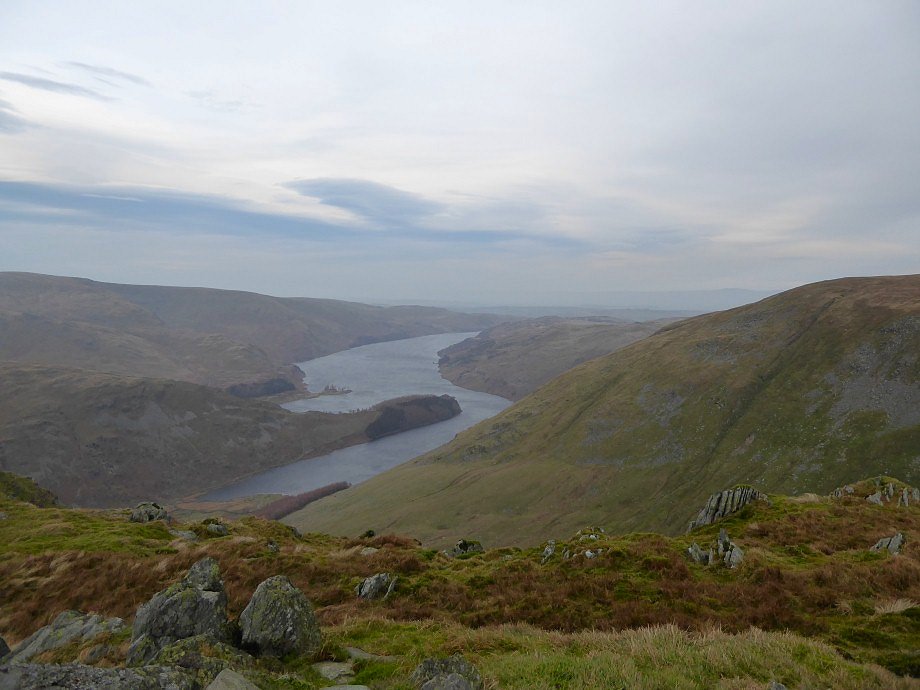 Haweswater from the Birkett top of Little Harter Fell.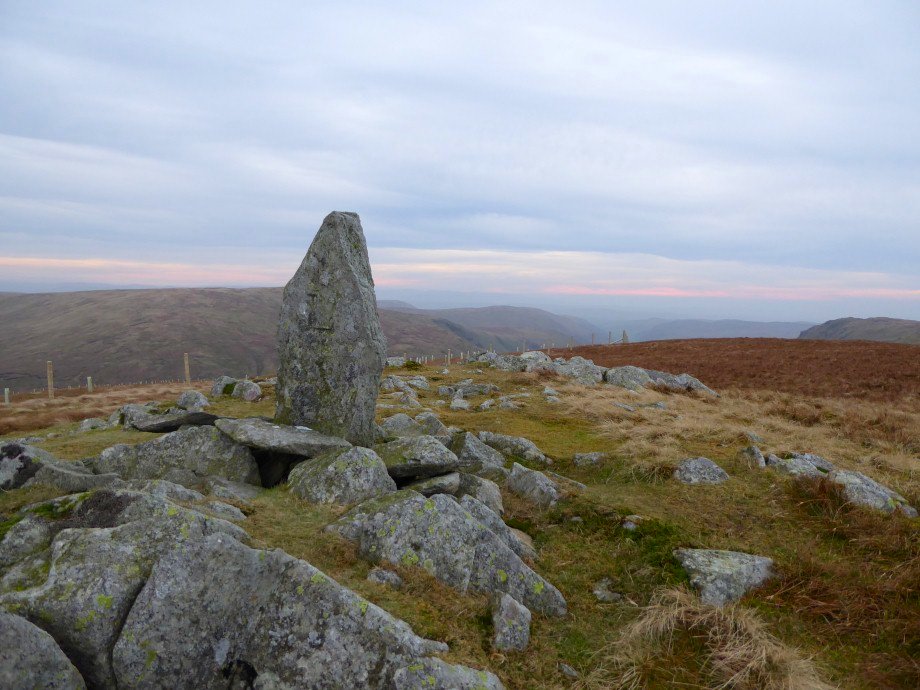 And Adam Seat another Birkett top which I have been to lazy/tired to visit when I've passed before. L for Lowther on one side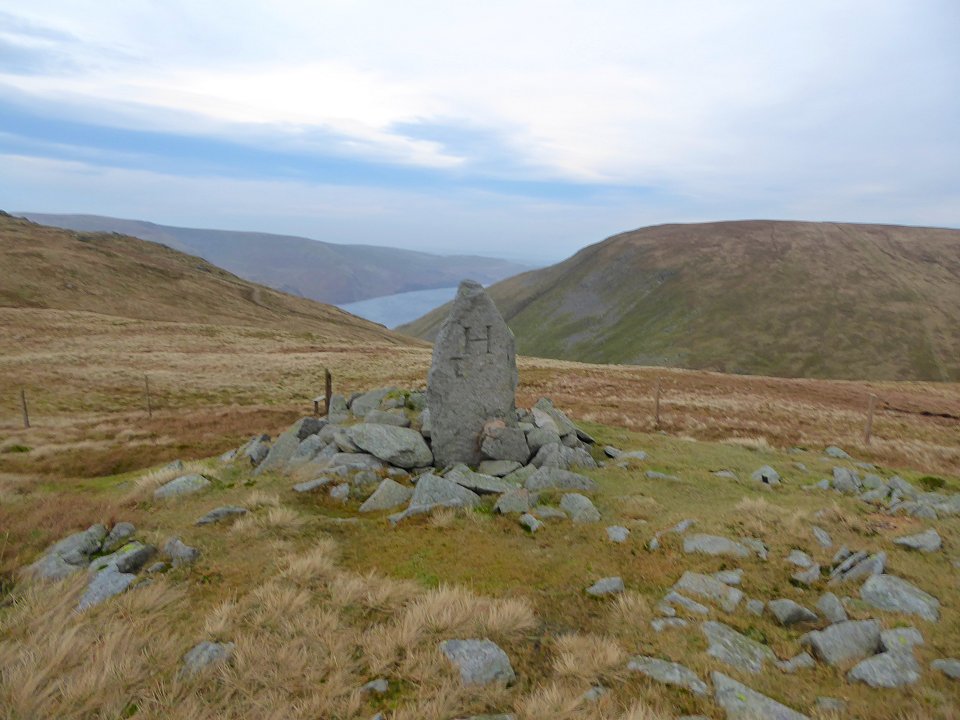 And H for Harrison on the other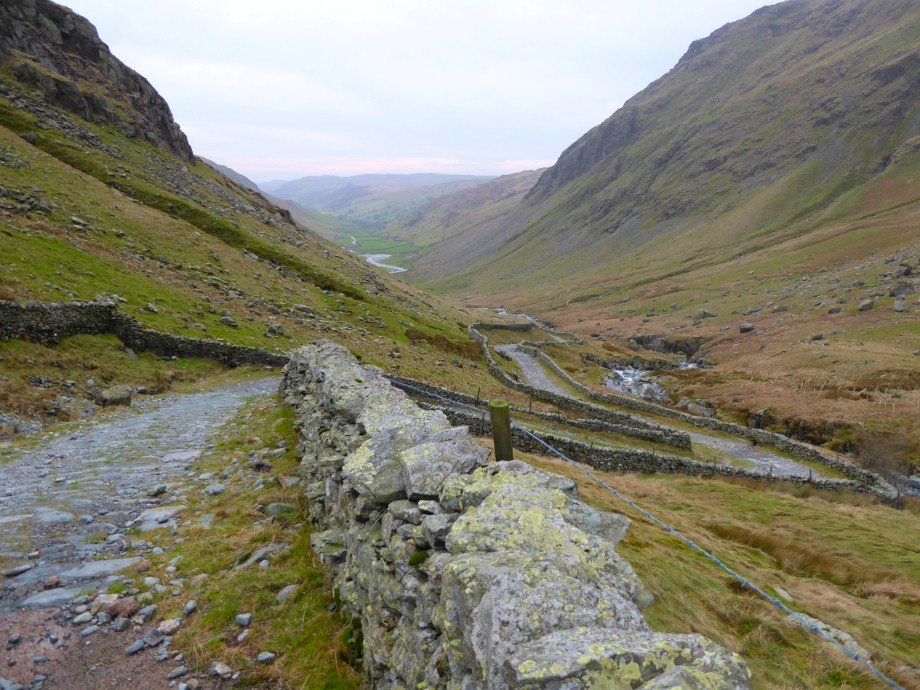 Following the yellow ( well grey ) brick road down Longsleddale.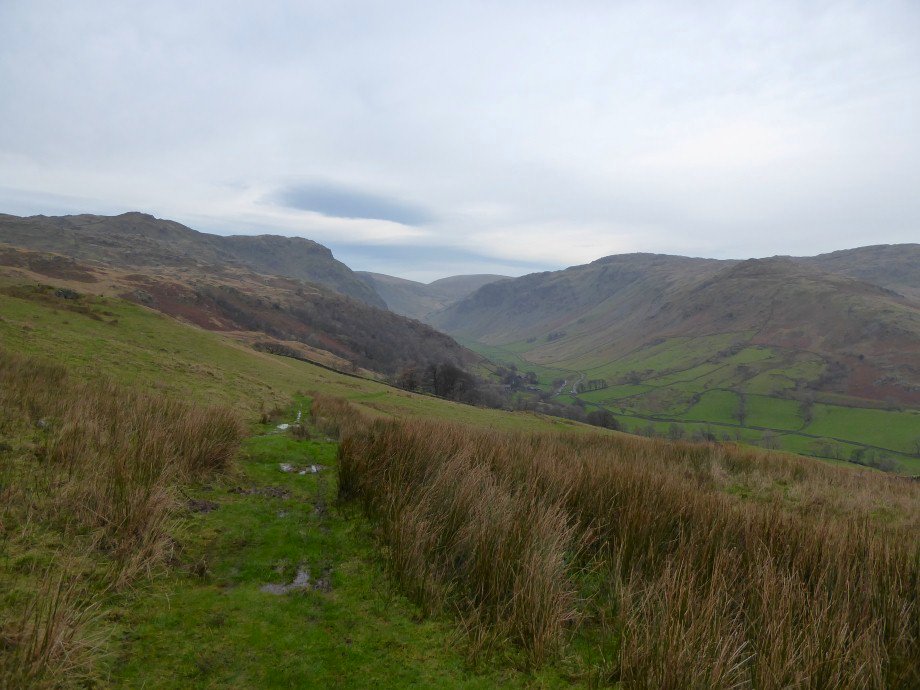 Looking back along Longsleddale from the climb to Cocklaw Moor.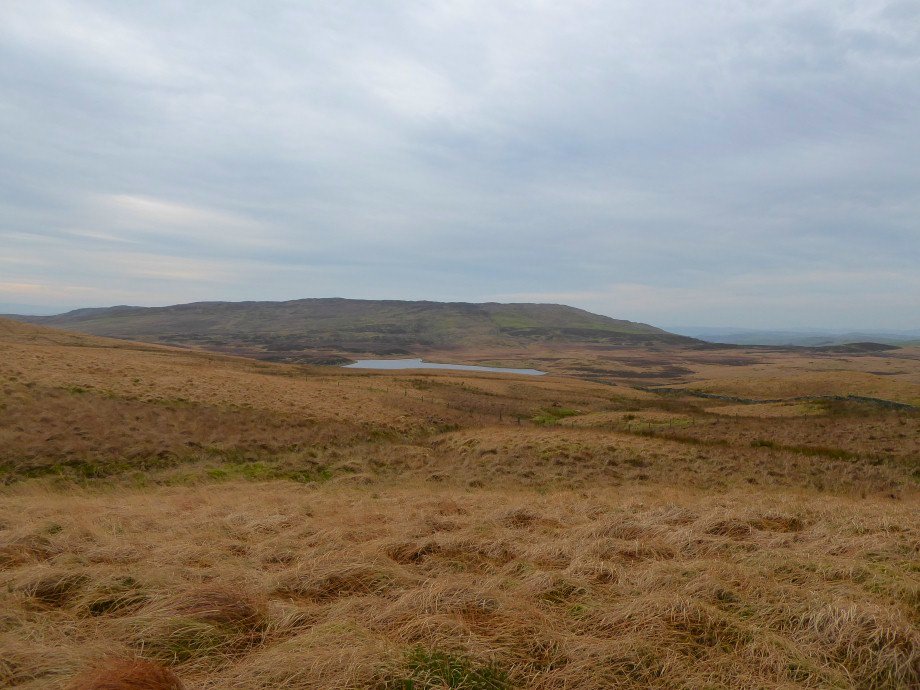 Passing Skeggles water
Plenty of water coming over the weir in Staveley and plenty of signs of damage from the recent floods.