WWW.KARLSWALKS.CO.UK
PICTURES AND TRIP REPORTS FROM MY WALKS IN THE ENGLISH LAKE DISTRICT
---
Greenburn Horseshoe
12th January 2013
Route. Lay-by A591 - Helmside - Steel Fell - Calf Crag - Gibson Knott - Helm Crag - Grasmere
( About 8 miles 2100ft ascent)
We were a bit undecided about where to walk this week but in the end we settled on this classic little round which is a lovely walk in itself but it also served the purpose of bagging Calf Crag which I needed for my second Wainwright round and had missed out when the kids and I did this walk in the summer.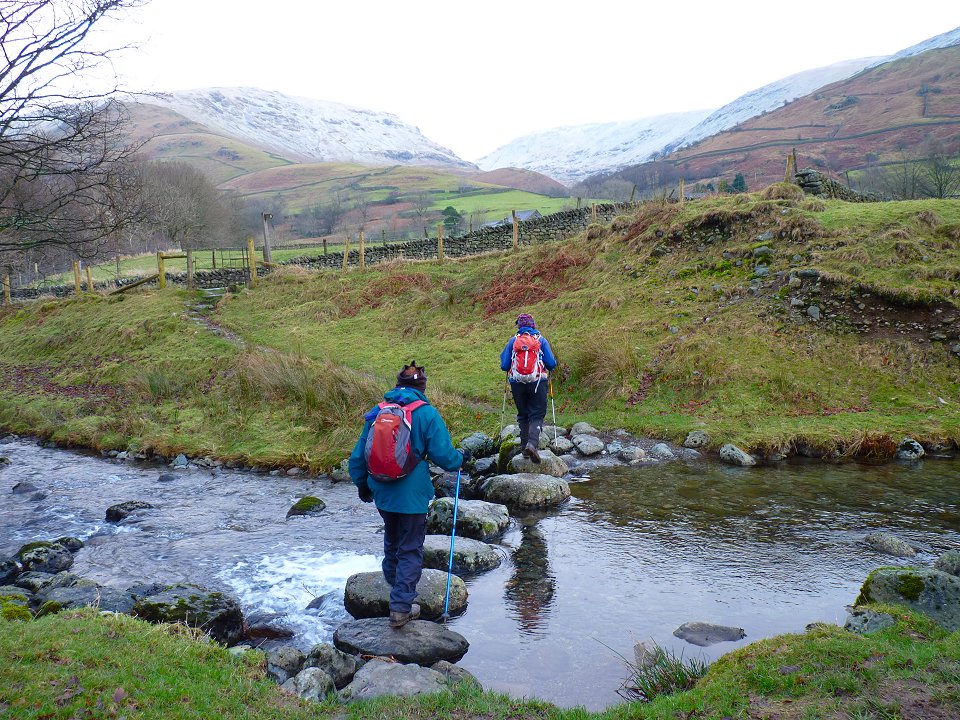 We parked on the A591 and walked across the fields to Helmside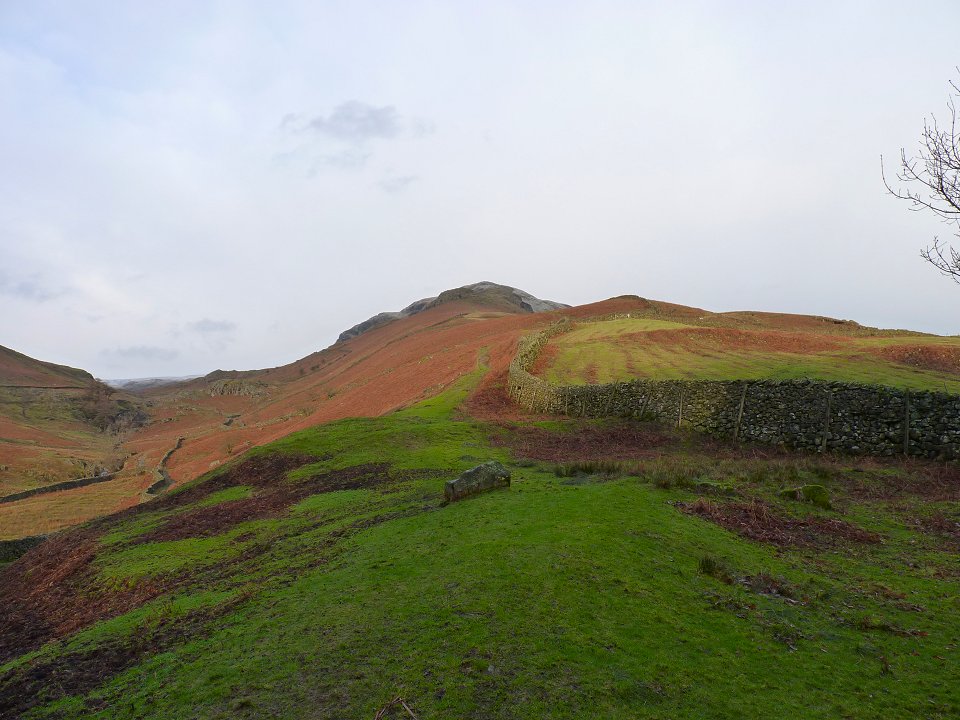 Looking up to Steel Fell from Helmside.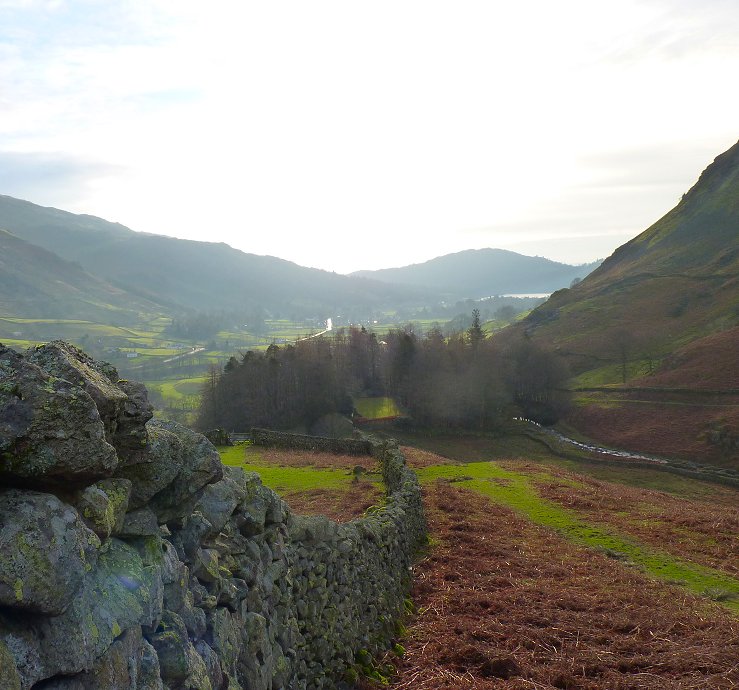 And looking back.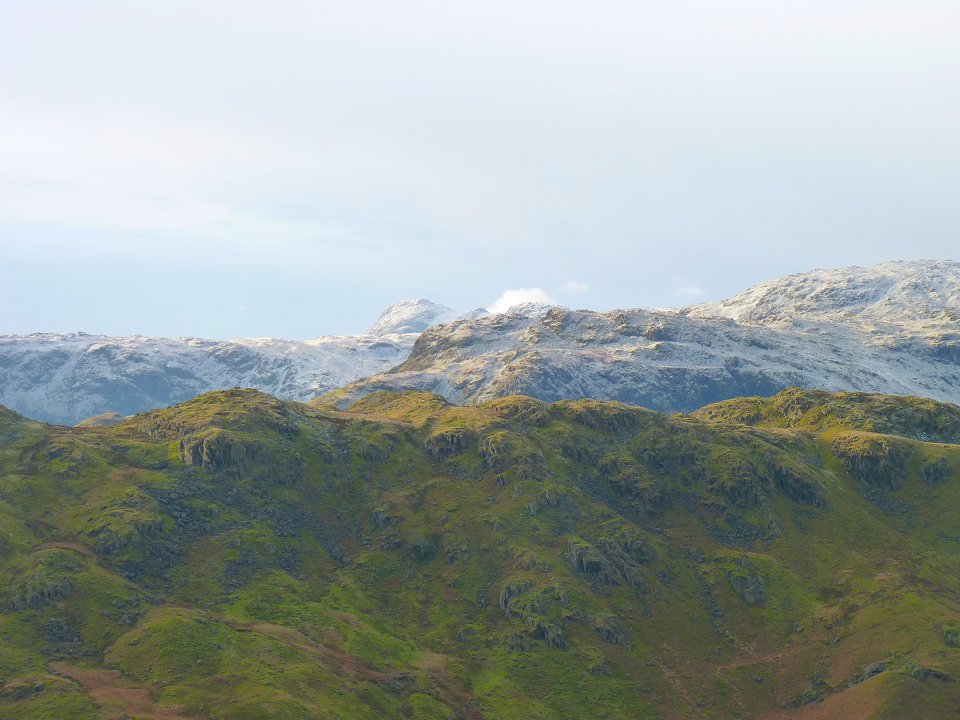 The green ridge is our route back with Tarn Crag and the Langdales behind.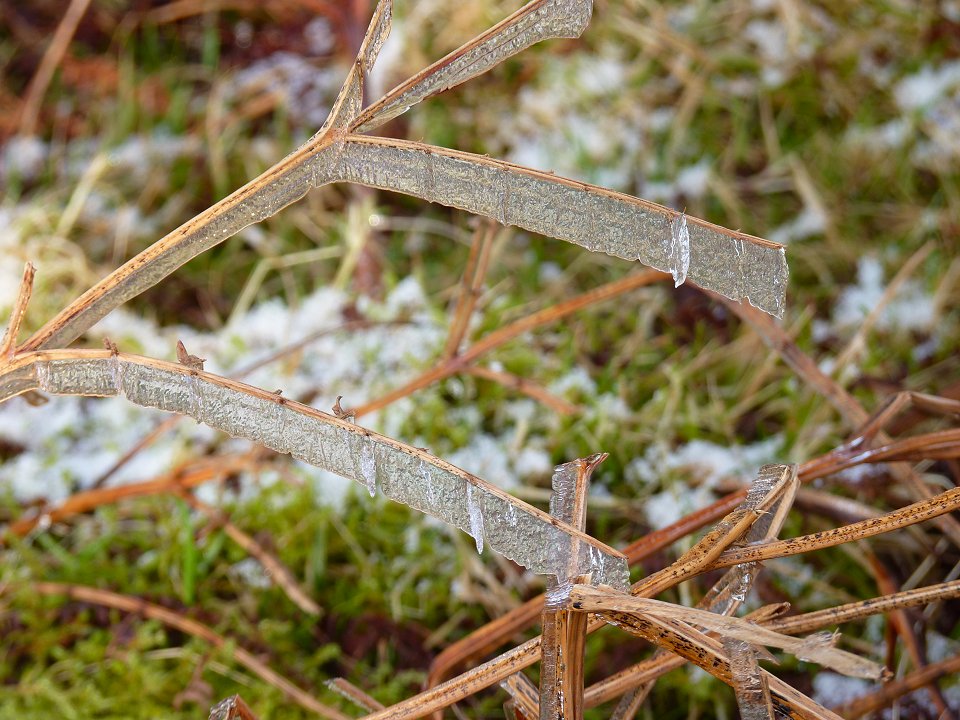 Lots of interesting ice patterns in the grass.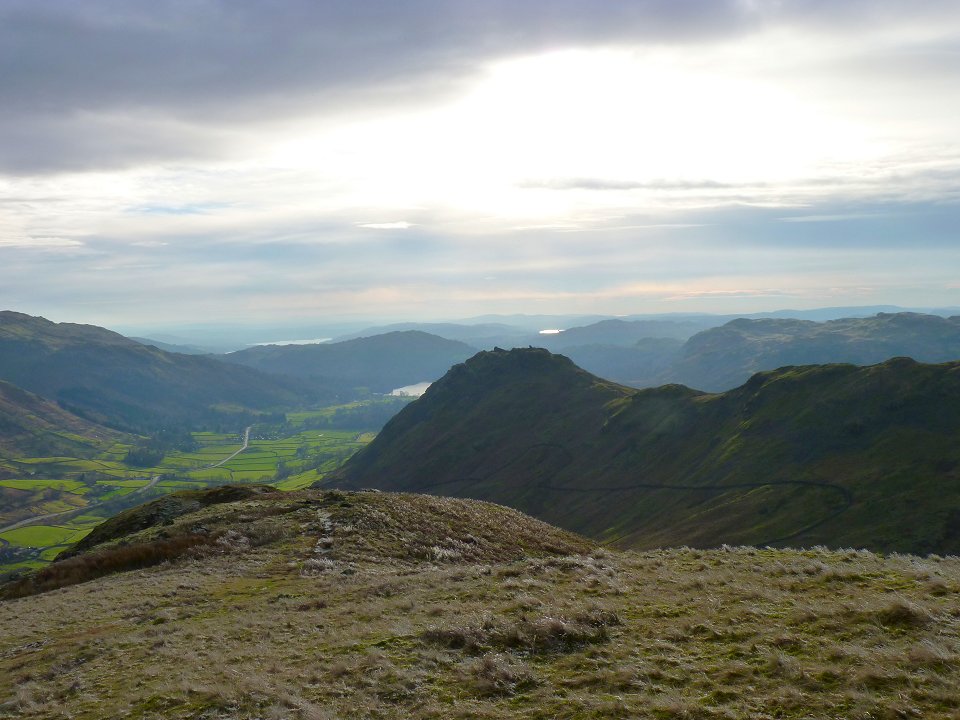 Looking over to Helm Crag, our last fell of the day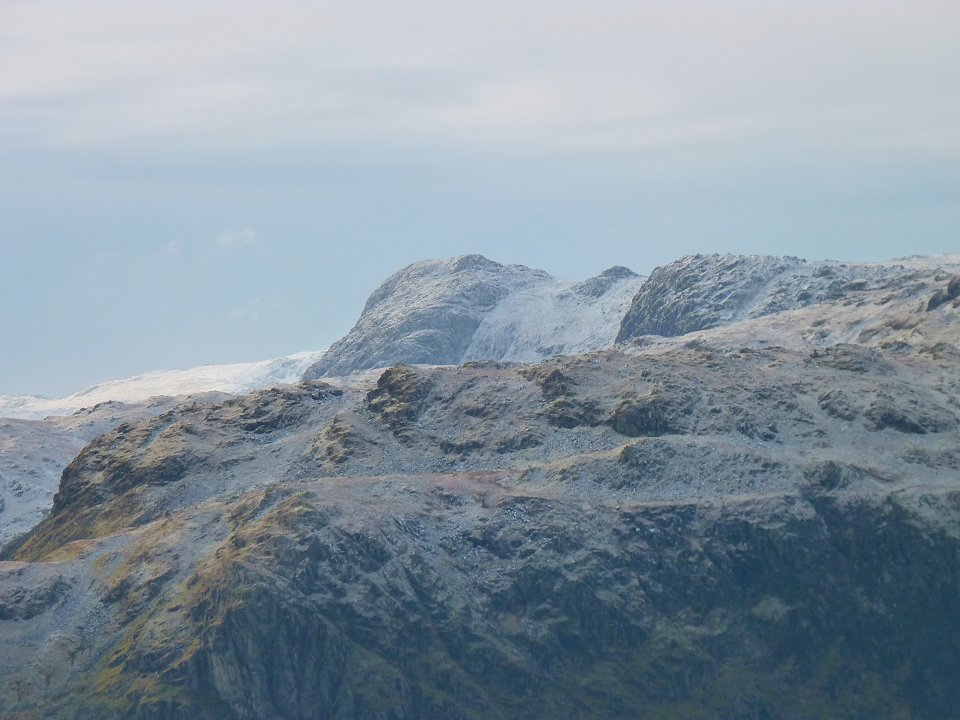 As we climb higher more of the very wintry looking Langdale Pikes appear.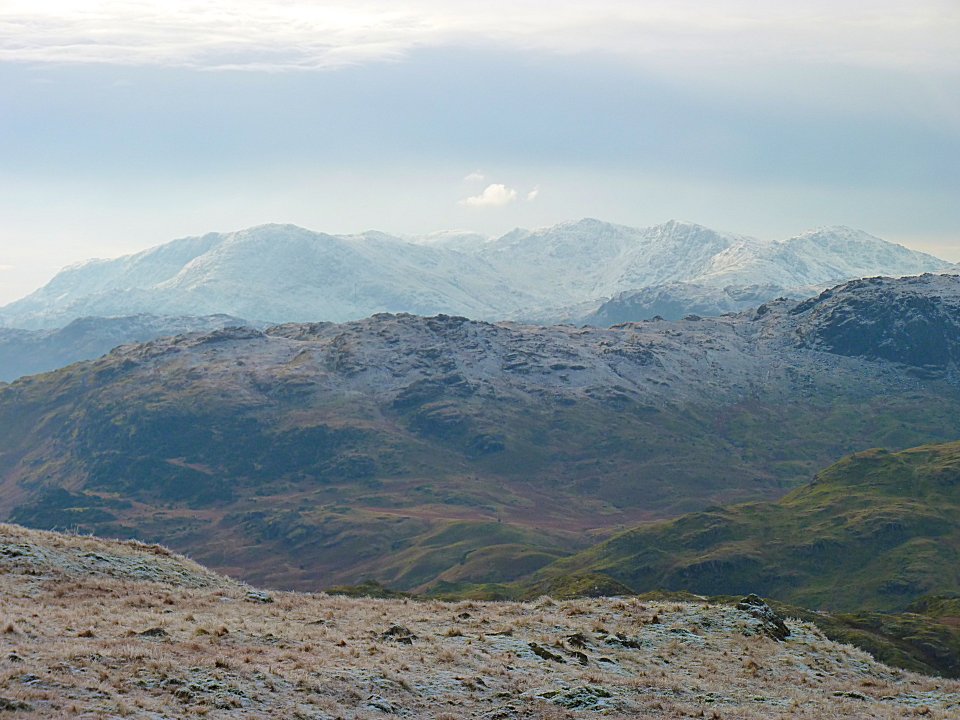 The Coniston Group of fells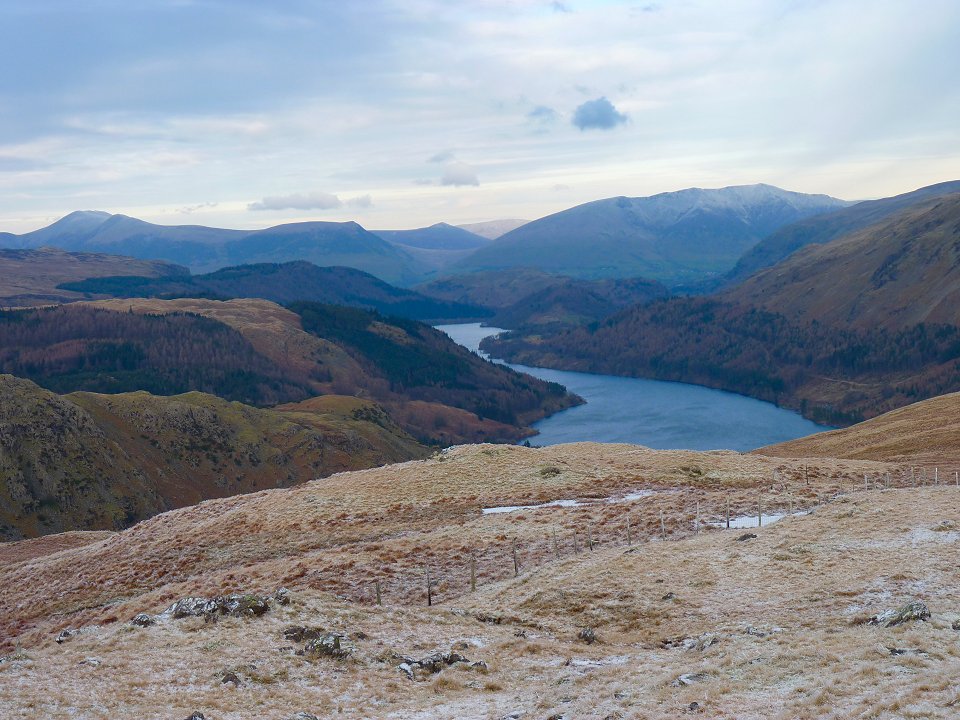 At the top now and the view to the north is fantastic. Beyond Thirlmere and the small fells at it's head are the Skiddaw group on the left with Blencathra on the right with the dark shape of Great Calva in the middle with Knott the furthest fell away .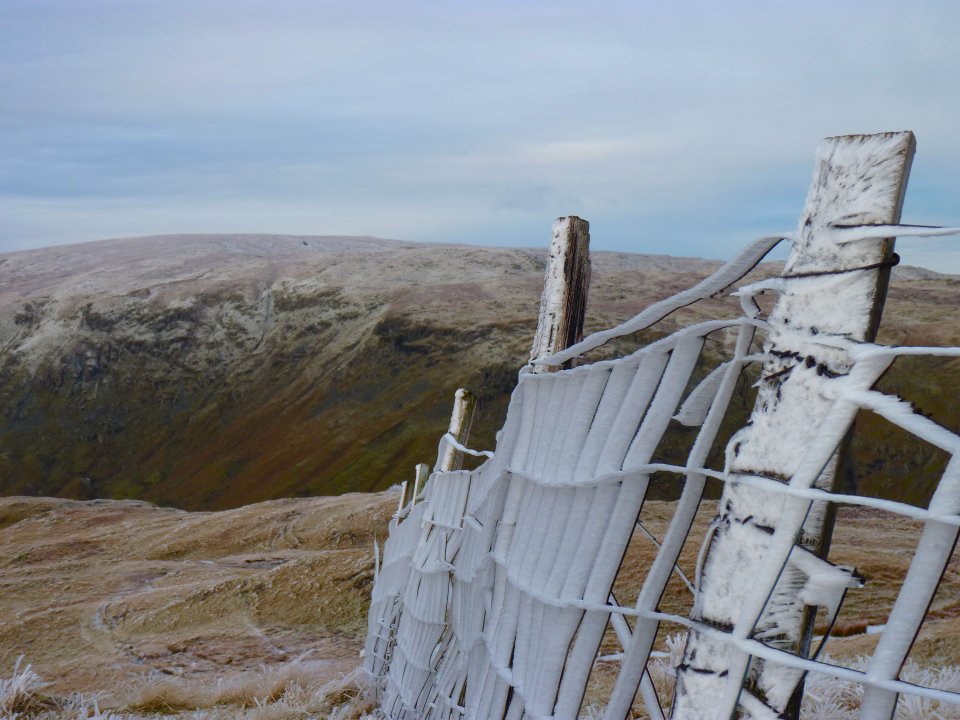 It was pretty chilly up here.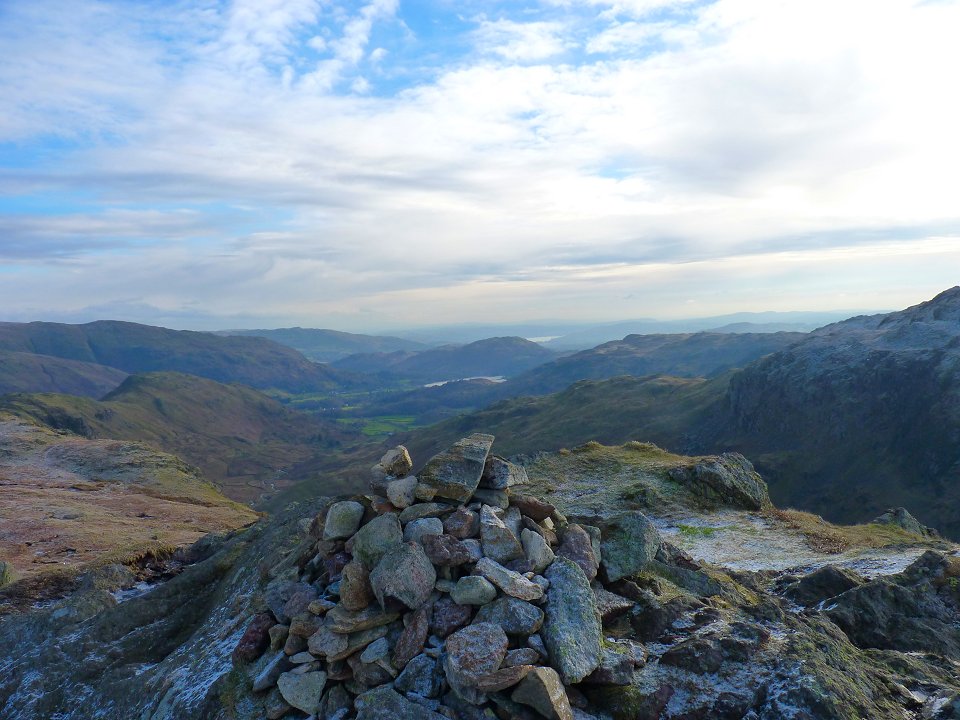 On Calf Crag now looking along the ridge home.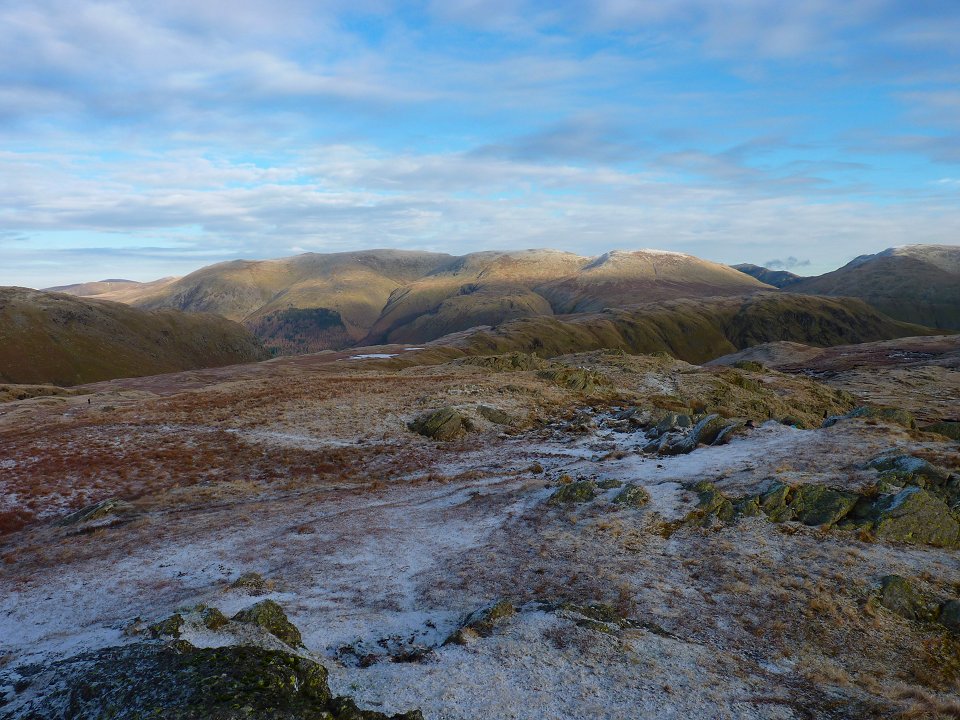 The Helvellyn fells get some sunshine.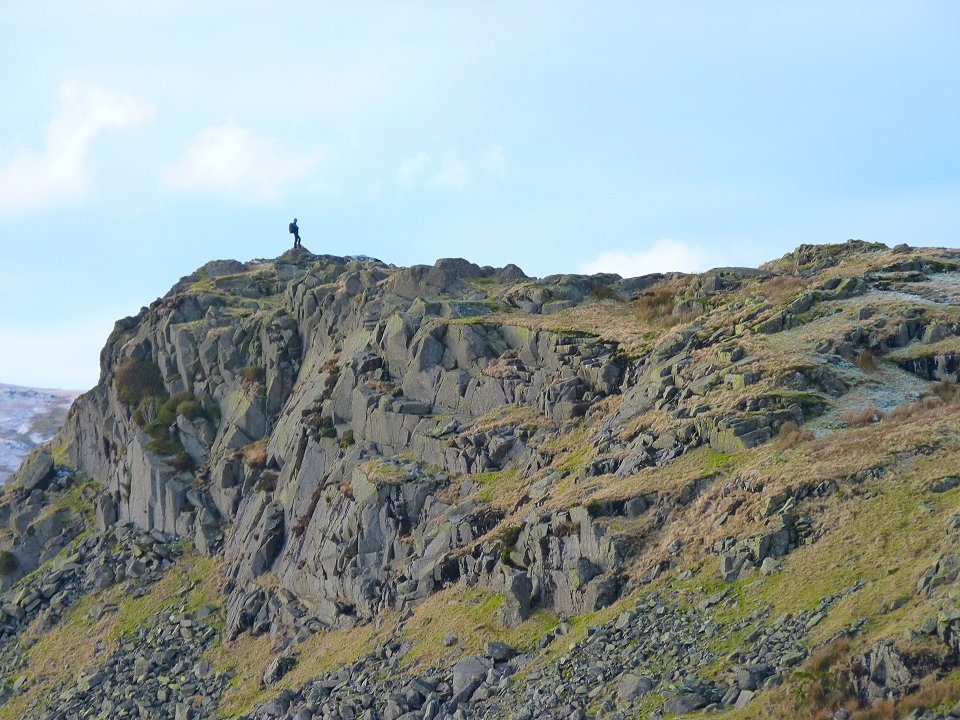 Calf Crag.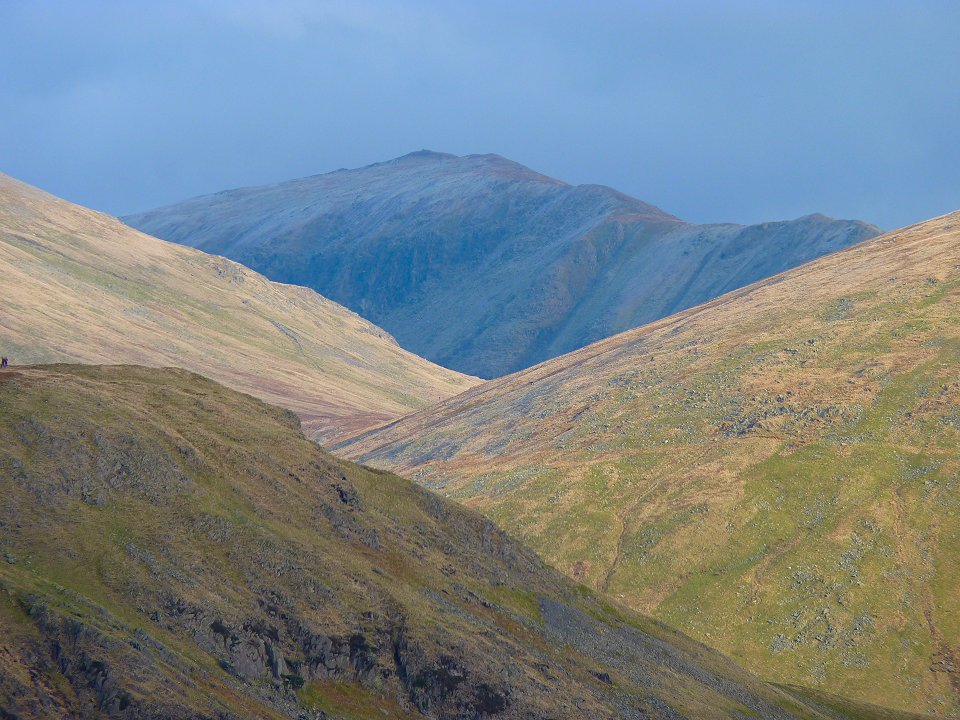 Zooming in over Seat Sandal to St.Sunday Crag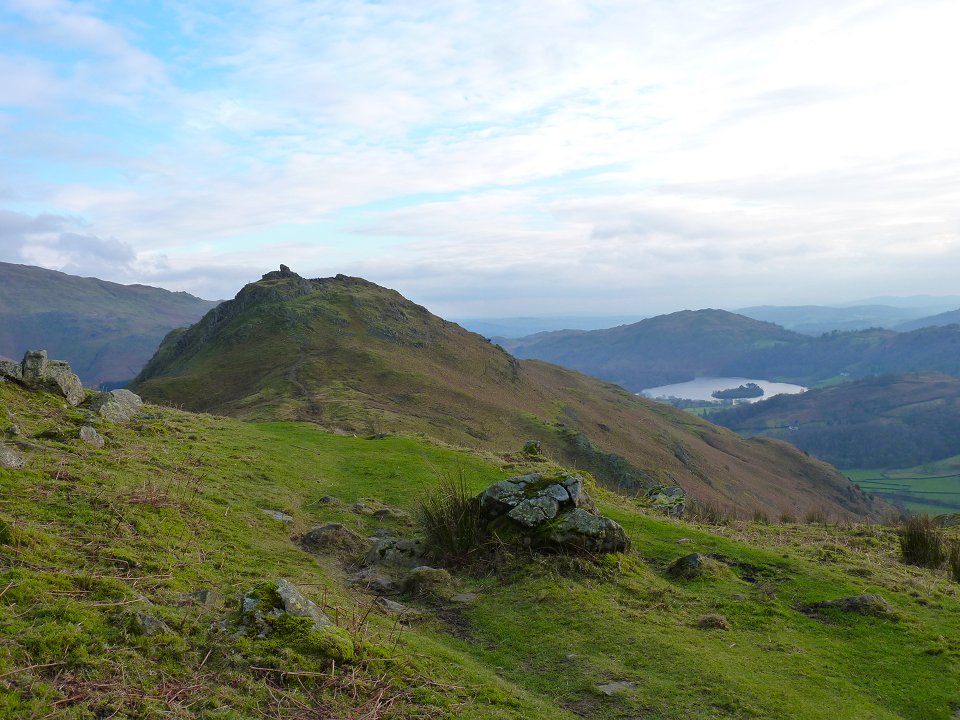 Helm Crag ahead.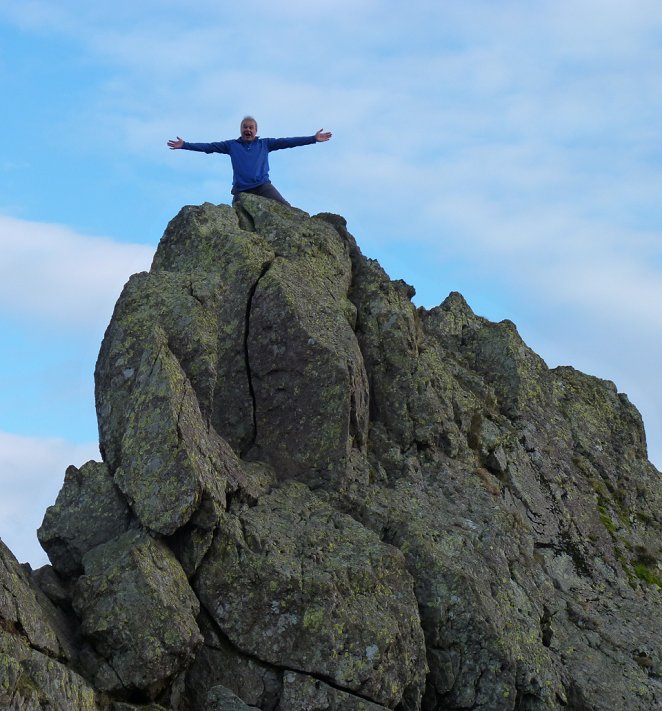 Last time we came along here I climbed the Howitzer rock but I had left it to Emily to record the moment but all we got was a picture of the sky, two of her feet and a short video of her singing. So this time I entrusted Sue with the Job.
There are usually a few people on Helm Crag but today there must have been about 20 children of all size and ages milling about and sharing a big chocolate cake and when we enquired what the celebration was we found that a young girl ( I think she was 7 ) had just completed her Wainwright round. That's a great achievement in anyone's book.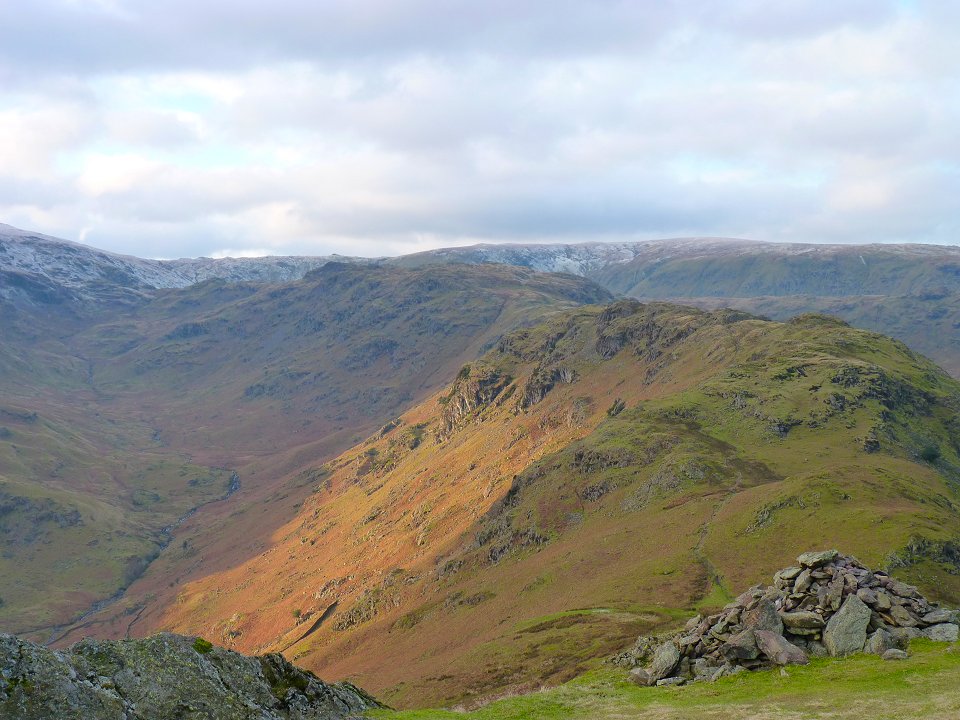 The Sun catches the ridge just walked.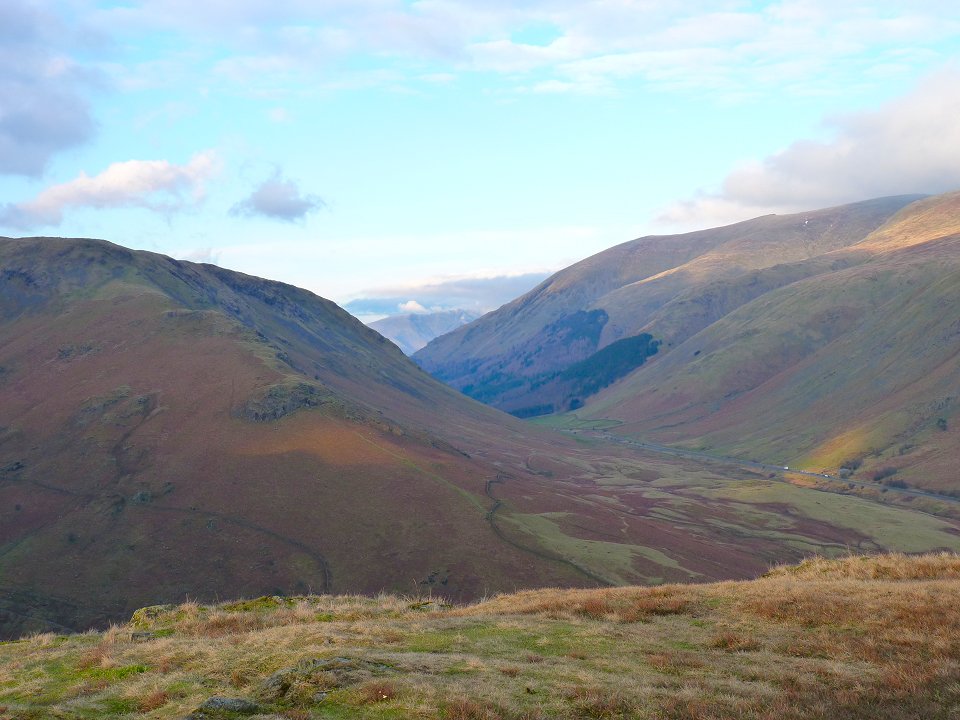 Our route of Ascent, the clear green path on Steel Fell.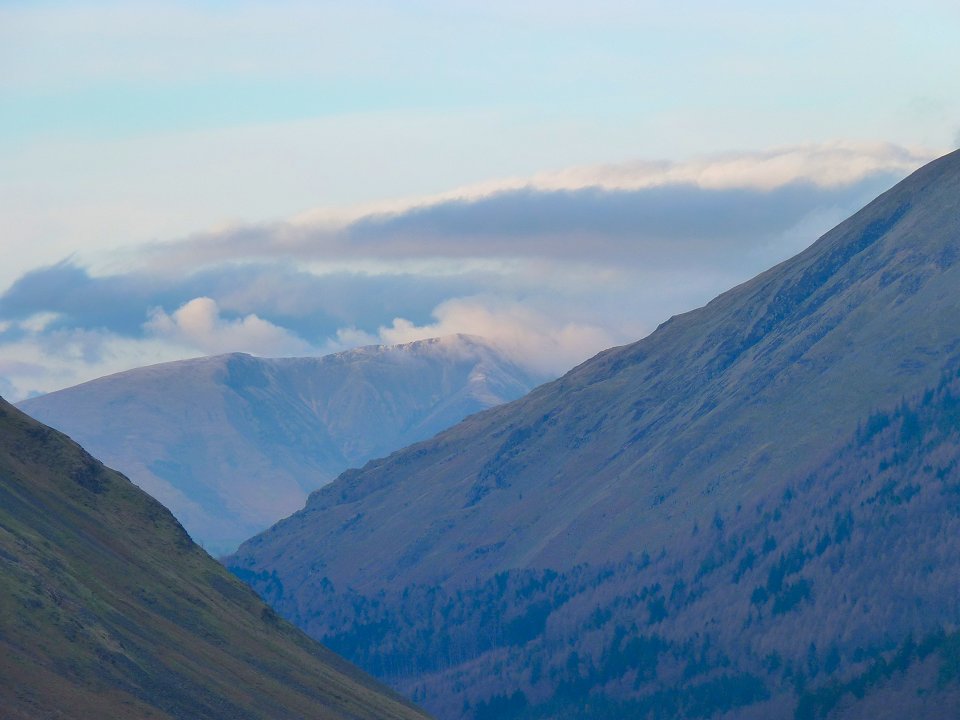 Zooming in on Blencathra.
The Howitzer rock now free of silly middle aged men.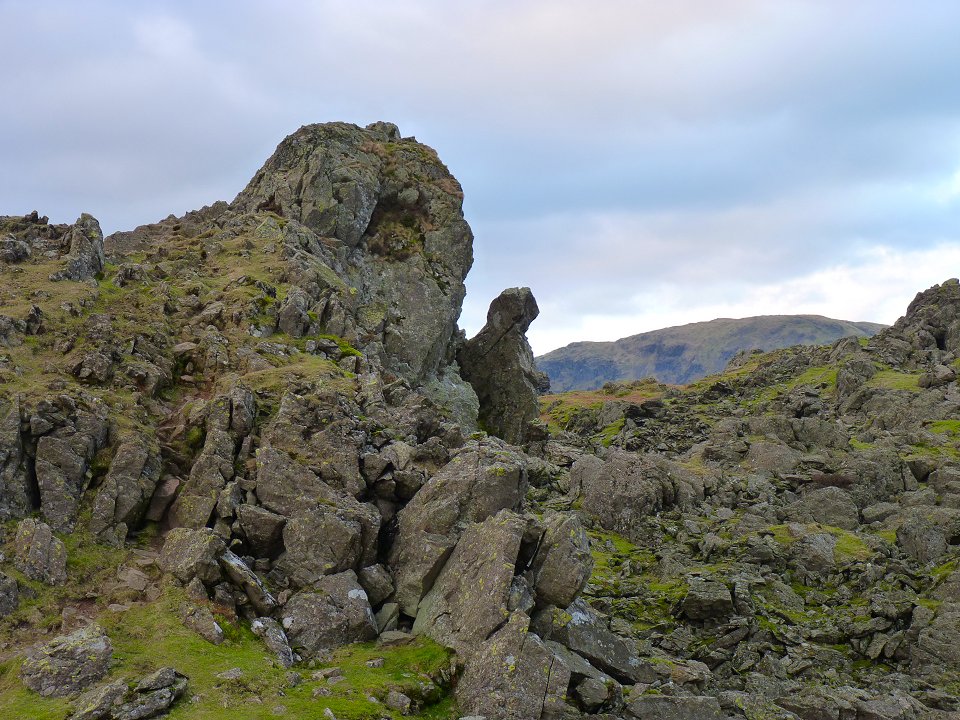 At the other end of the top of Helm Crag is the rock formation the gives the fell it's popular name the Lion and the Lamb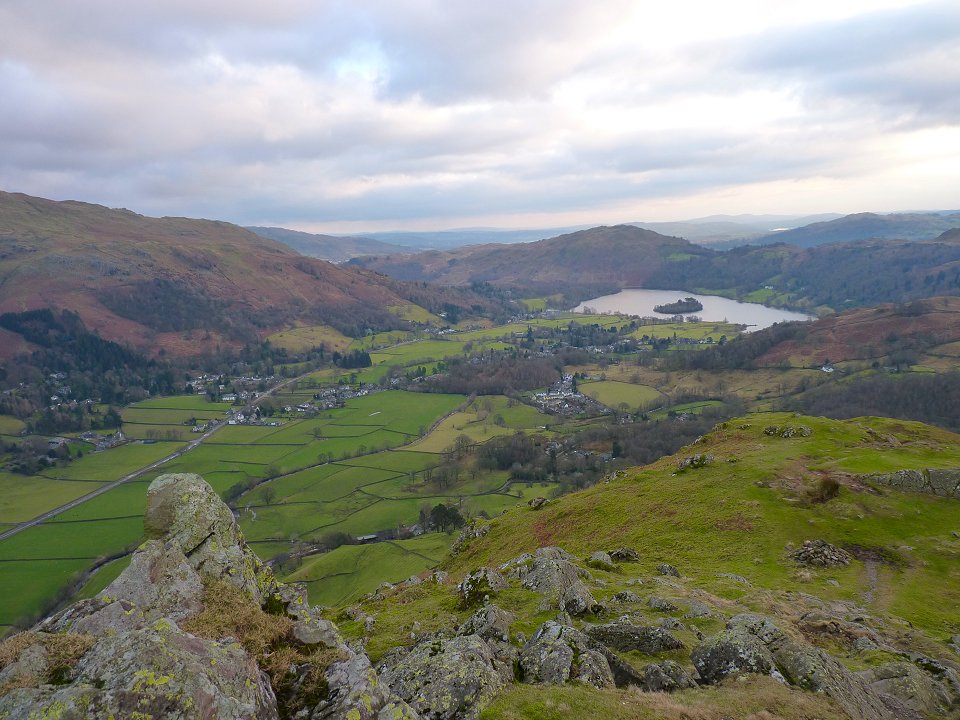 Starting the drop down to Grasmere.
Last walk - A Martindale round Next walk - Seathwaite Fell