WWW.KARLSWALKS.CO.UK
PICTURES AND TRIP REPORTS FROM MY WALKS IN THE ENGLISH LAKE DISTRICT
---
A Blencathra round
23rd November 2013
Route - Mungrisdale - Souther Fell - Scales Fell - Doddick Fell - Blencathra - Atkinson Pike - The Tongue - Mungisdale
(about 8 miles 2700 ft ascent)
I joined Sue for a walk over Blencathra from Mungrisdale taking in the couple of Birkett tops on Blencathra that she had missed on previous visits.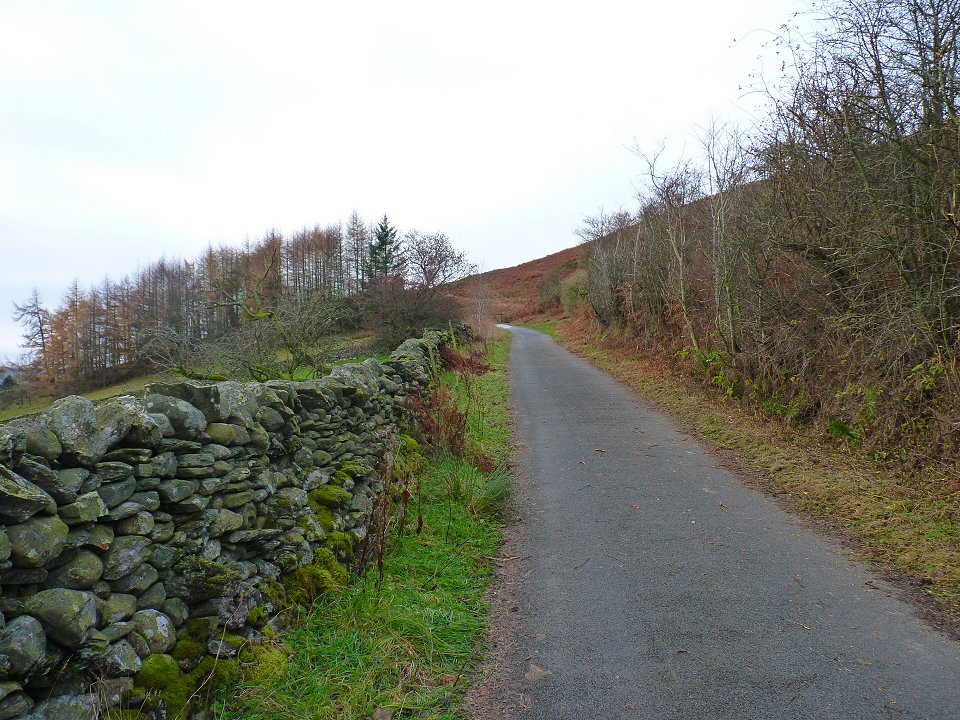 We were a bit disappointed with the weather as were were hoping for blue skies and clear tops but the day was a bit dull as we set of up the old road to the gate giving access to Souther Fell.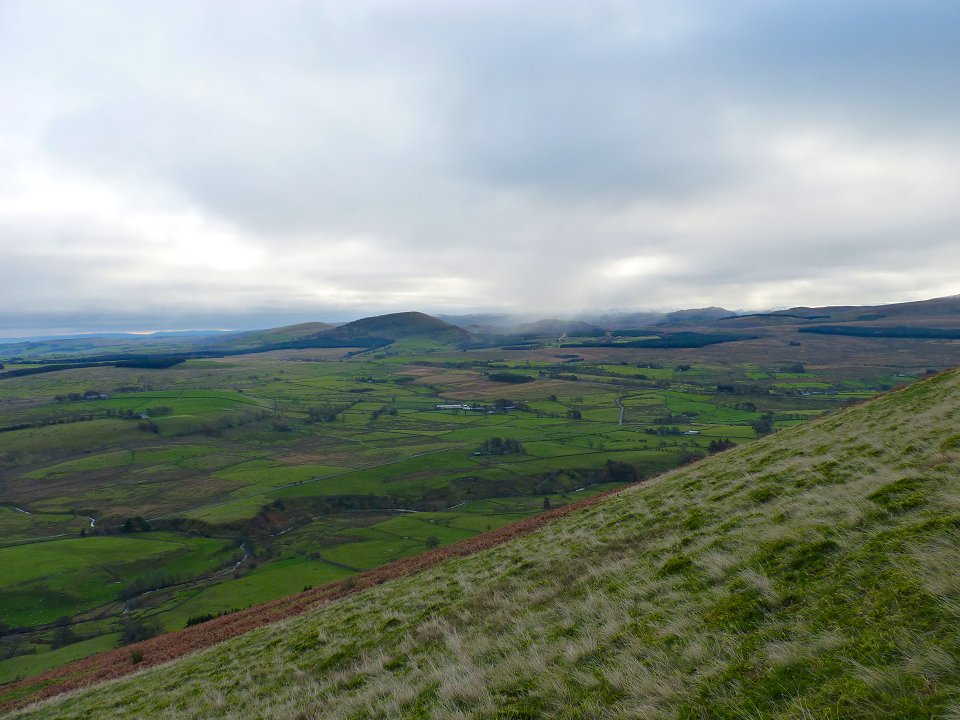 Looking over to the Mell Fells from the stiff climb up Souther.
Once the ridge is reached the view improves especially of the east ridge of Bannerdale Crags.
Looking back to the boggy top of Souther Fell.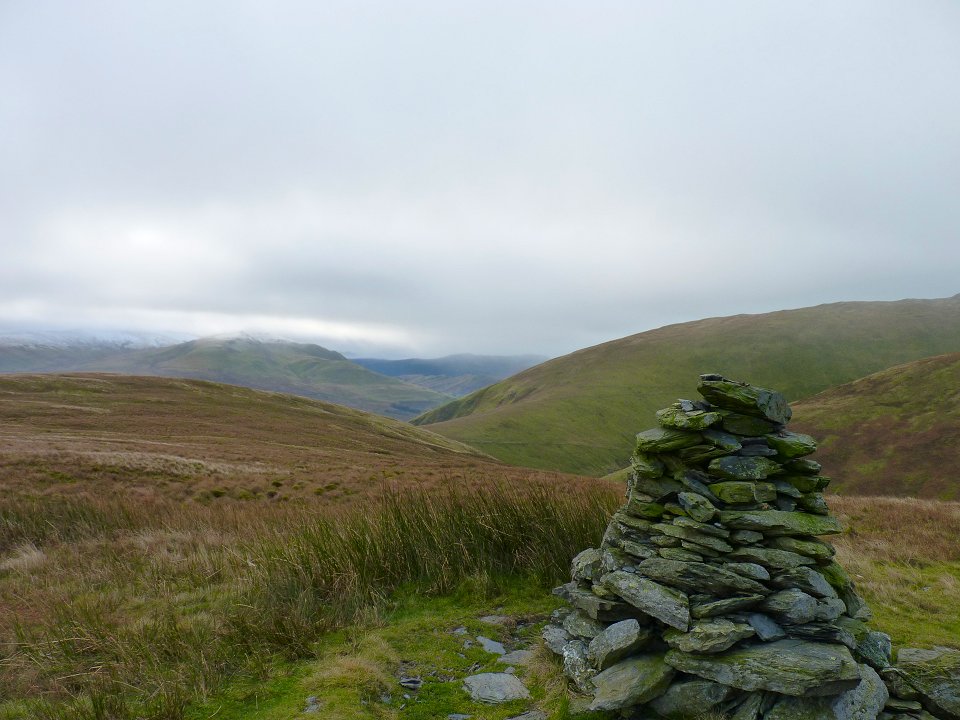 The view from the prominent cairn just of the main path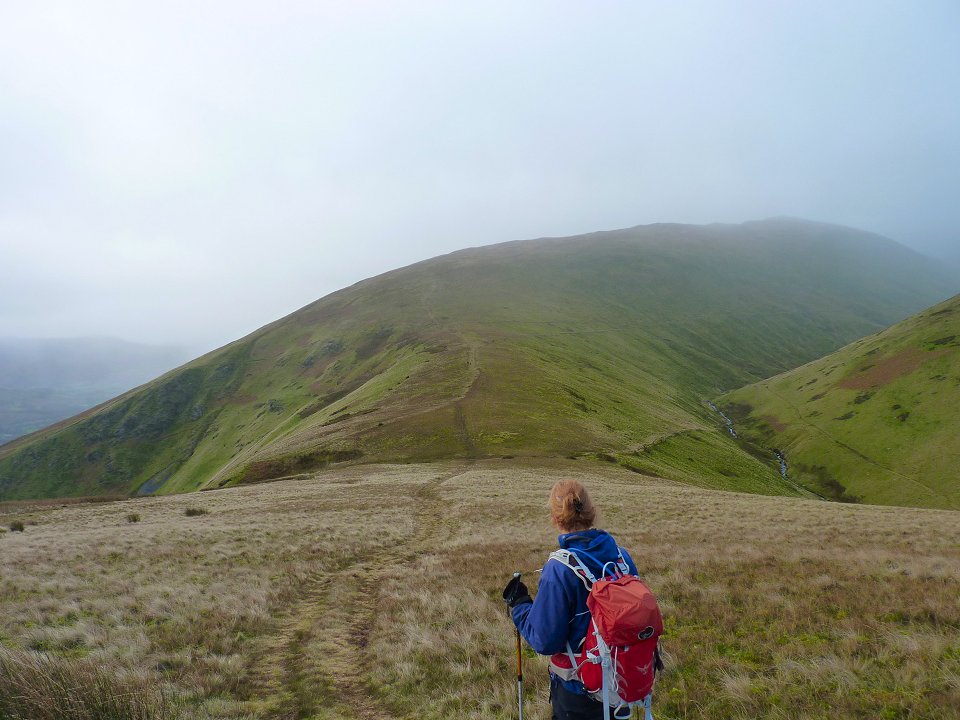 Sue checks out our route across the col and up the ridge of Scales Fell.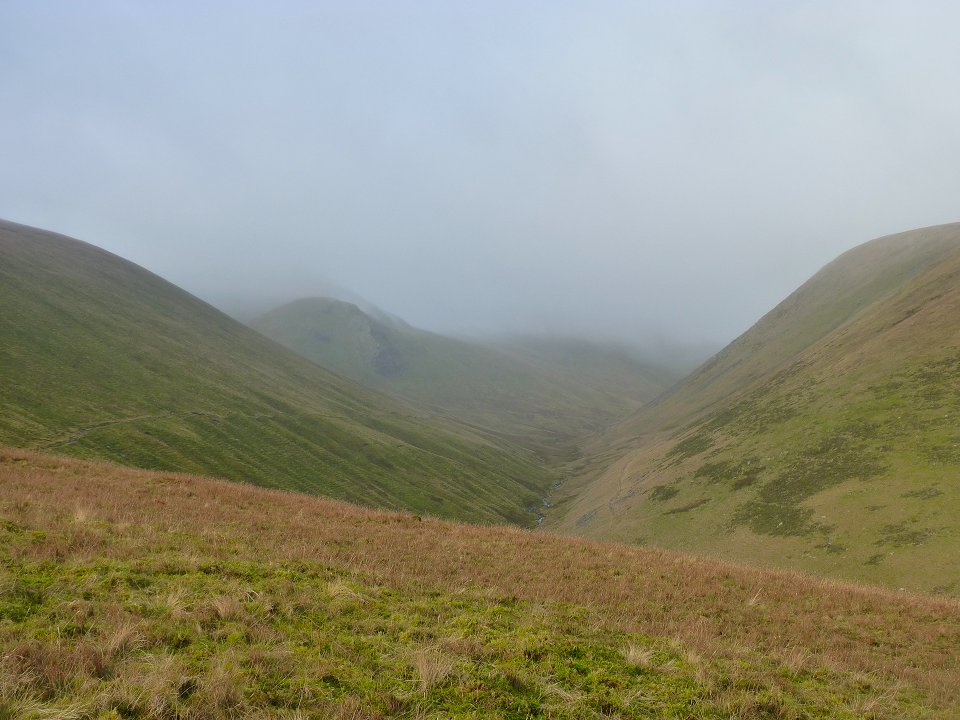 The view up along the Glenderamackin valley. The fell tops still in cloud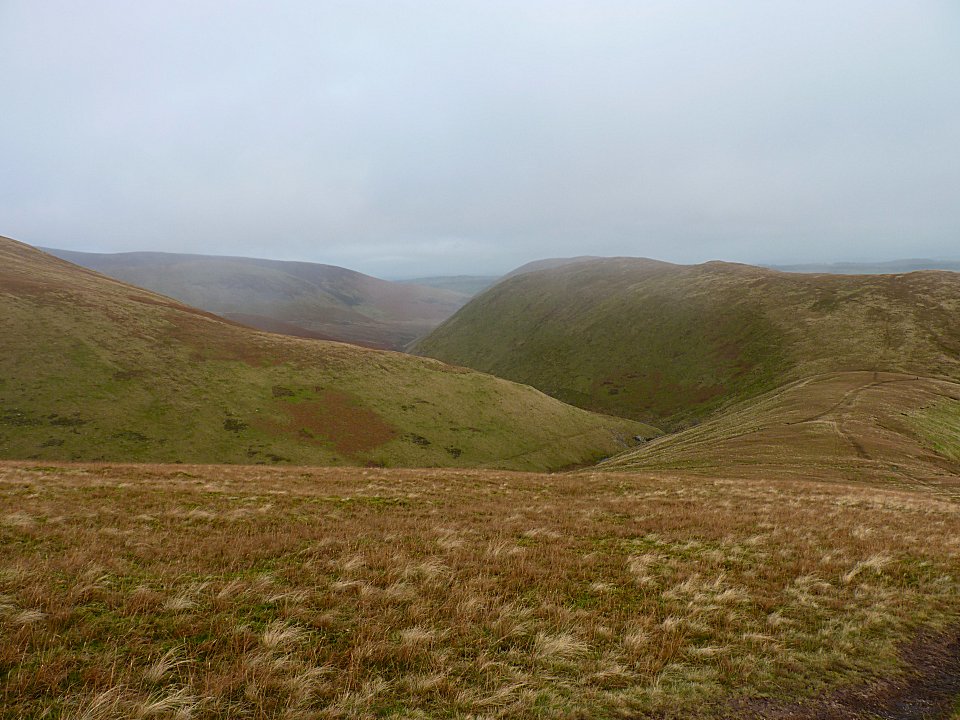 Looking the other way across the col and up to Souther Fell.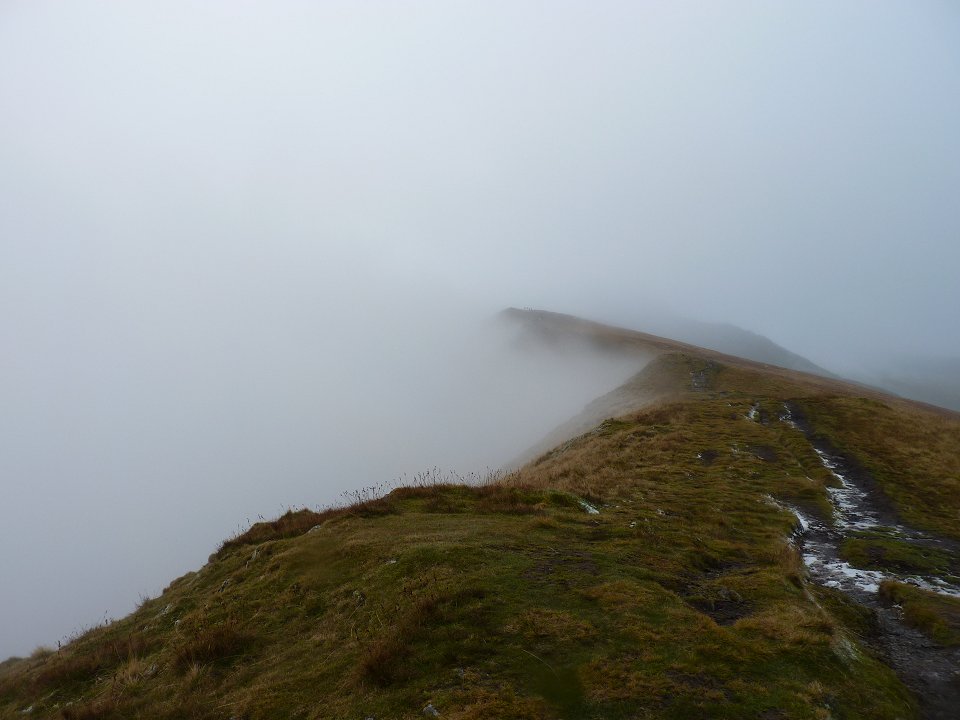 Higher up the ridge and just about to enter the cloud.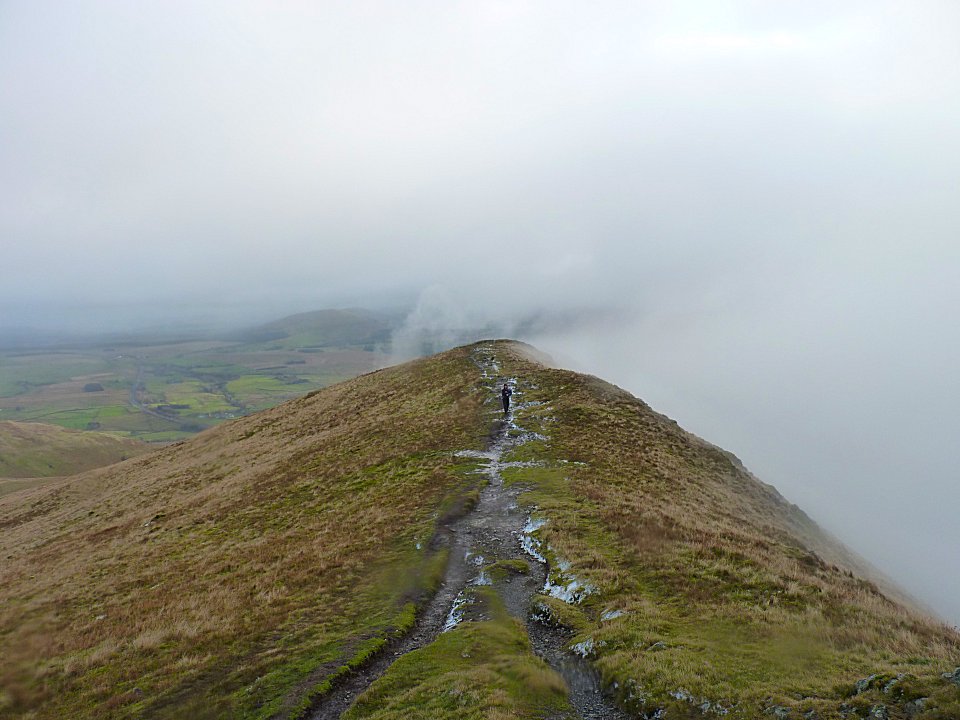 And a look back.
Sharp Edge is seen as we climb higher. One or two very brave people were having a go at the edge.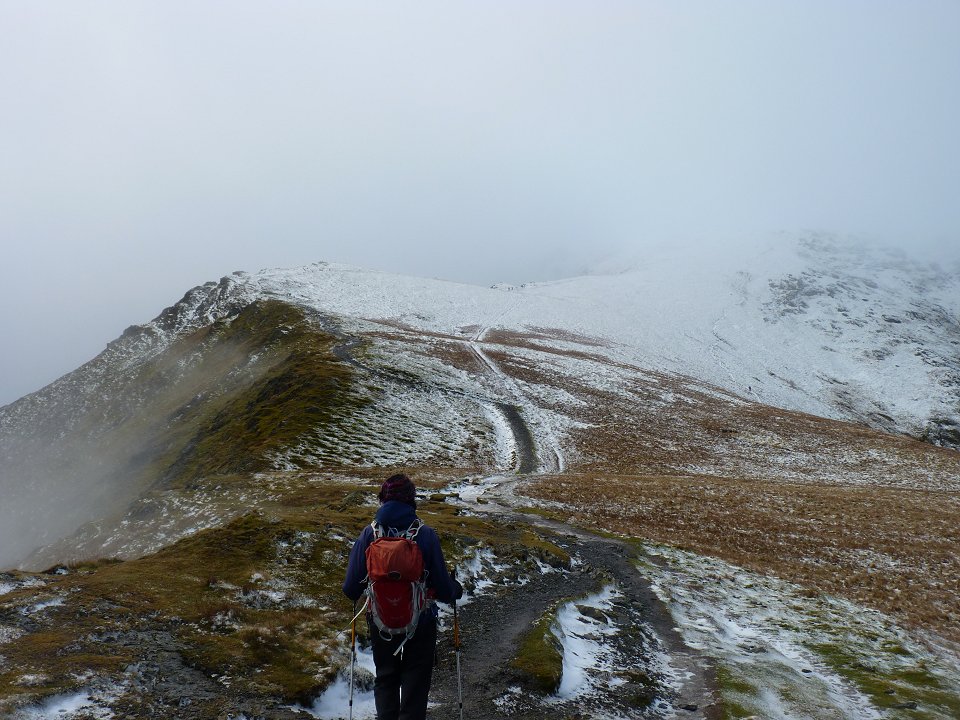 The mist kept teasing us by slightly clearing and revealing a bit more of the mountain but unfortunately it always closed in again..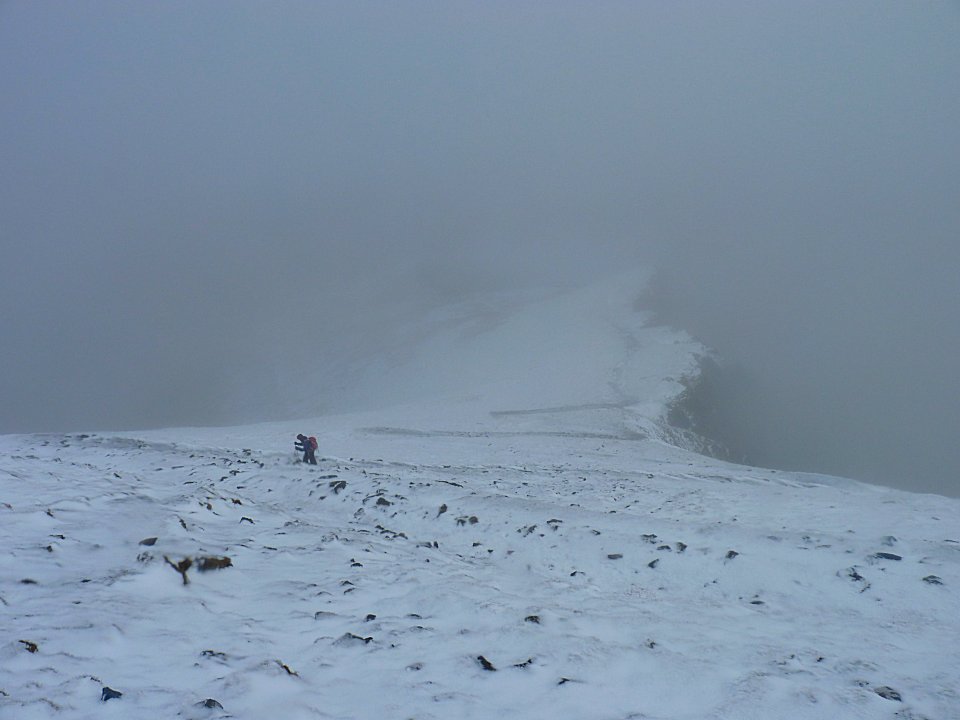 looking back down to Sue climbing the zig-zag path to the summit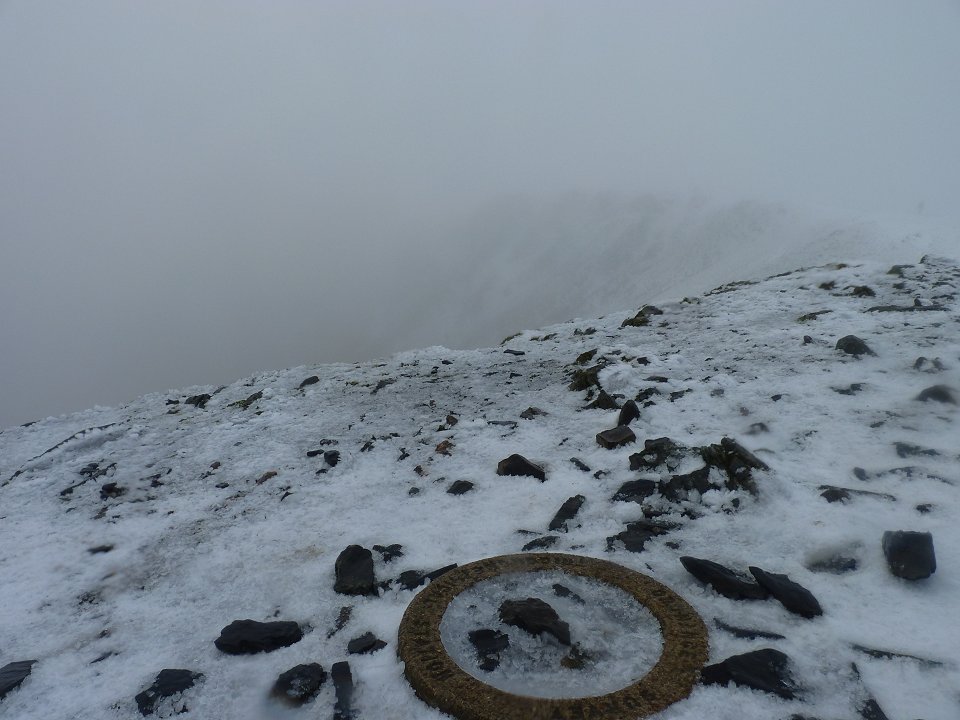 At the top but still no view to speak of.
We headed down across the frozen (and freezing) top to Atkinson Pike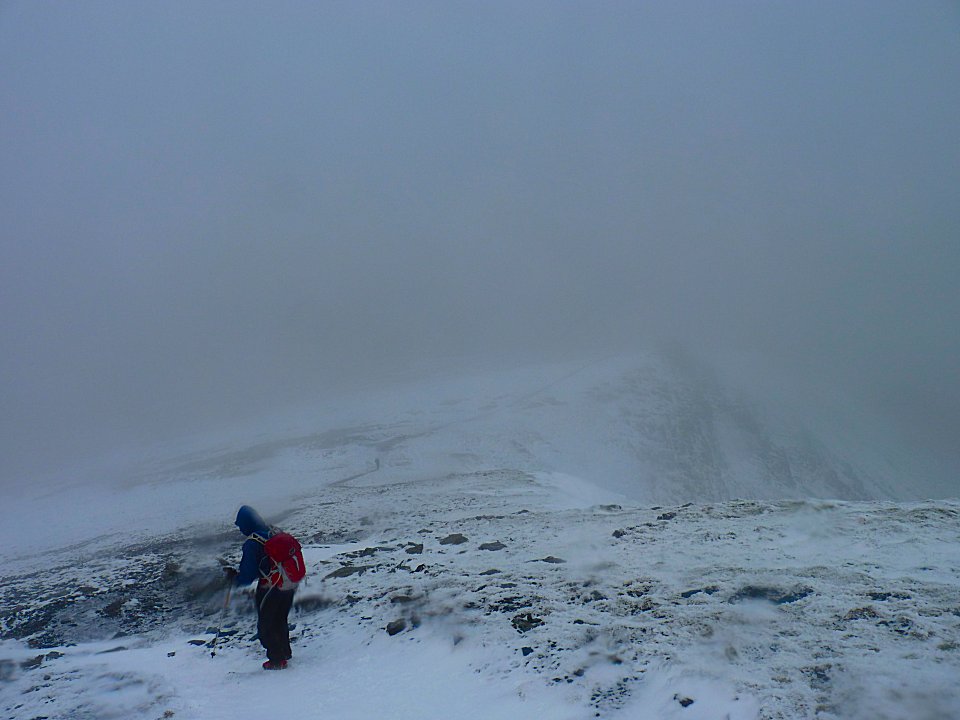 It was time for Micro Spikes as we started the very slippy path down Blue Screes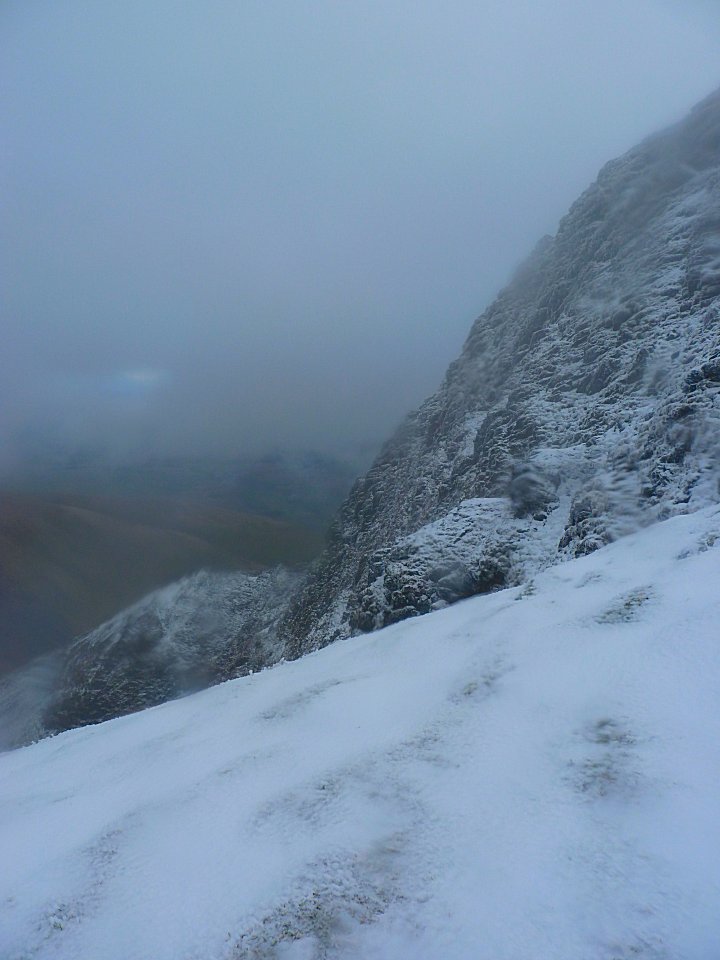 The mist turned into a cold fine rain as we passed by Foule Crag and the north side of Sharp Edge.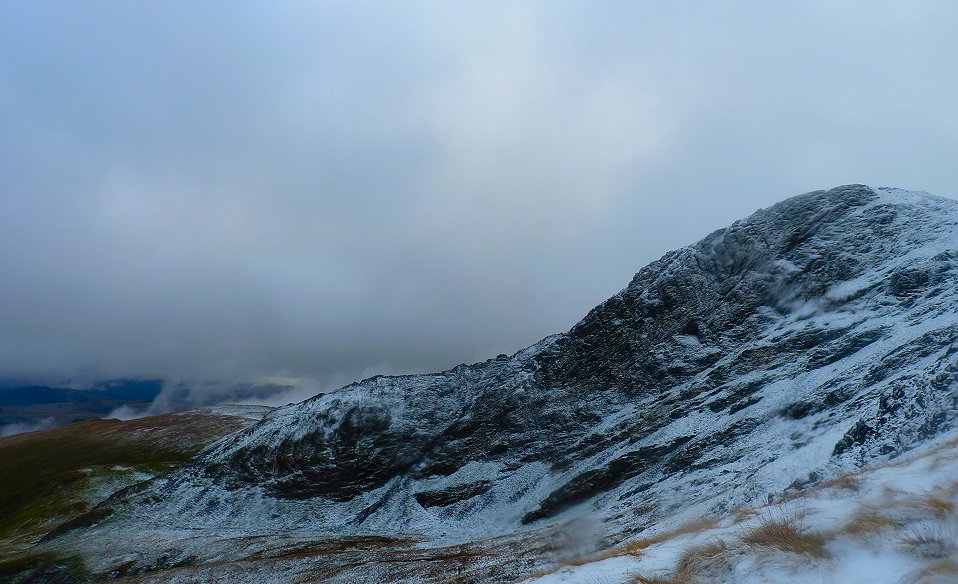 The same view from further down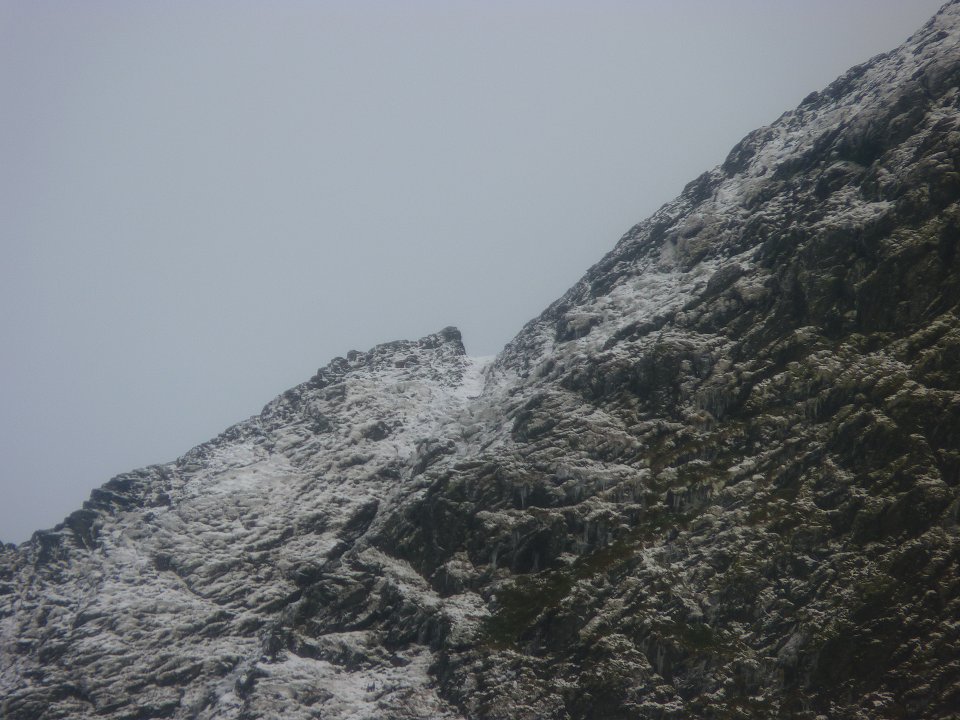 Zooming on on the rock step on Sharp Edge.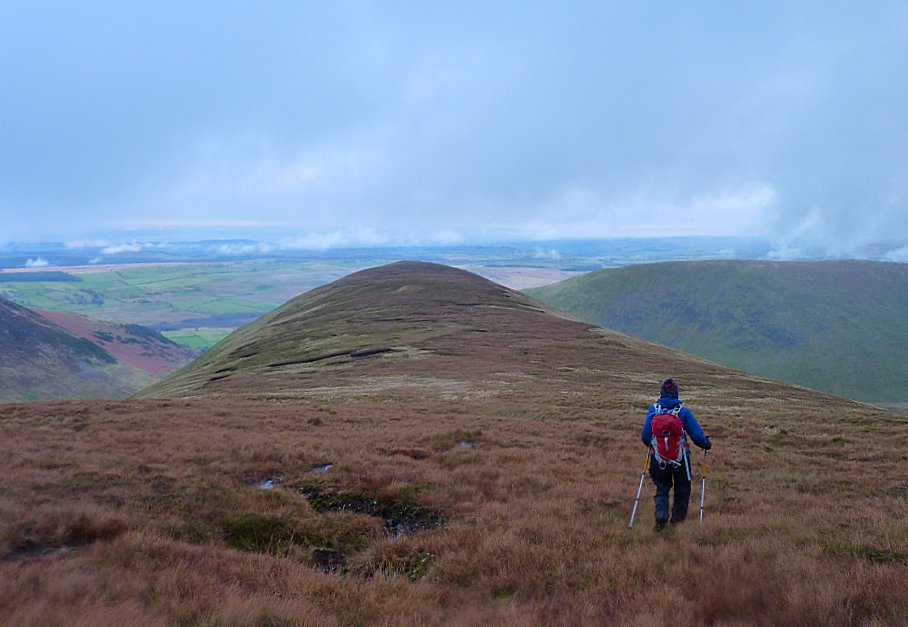 After crossing the col between Mungisdale Common and Bannerdale we followed the path headed for Bowscale Fell then turned off right and descended to The Tongue.
Looking over to Bannerdale from The Tongue.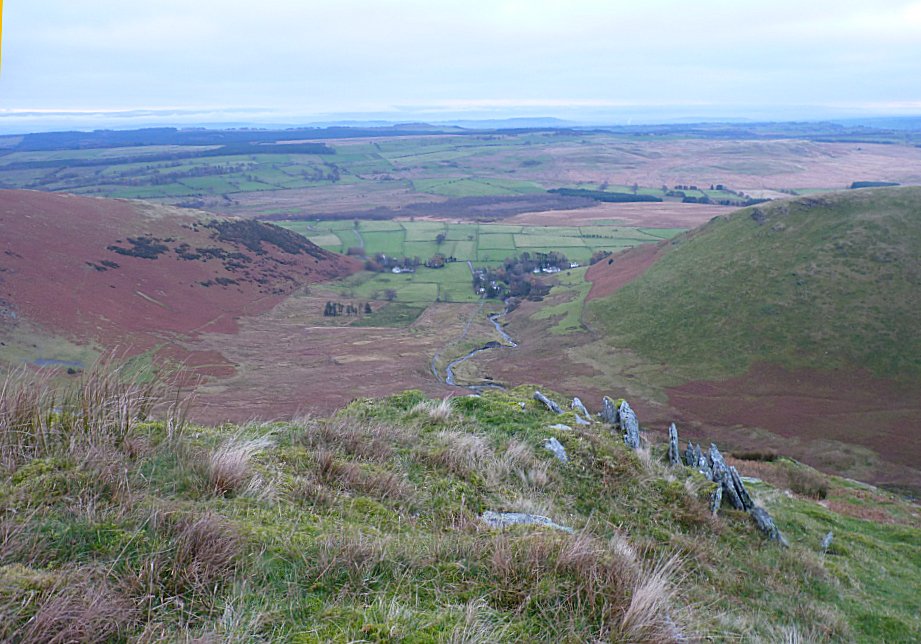 The path then takes you over the the very steep end of The Tongue. Sue put her micro spikes back on but I didn't bother saying the grass wasn't icy but after a couple of hairy slips and slides I had to admit defeat and don mine. Sue wasn't entirely convincing in her attempts not to look smug.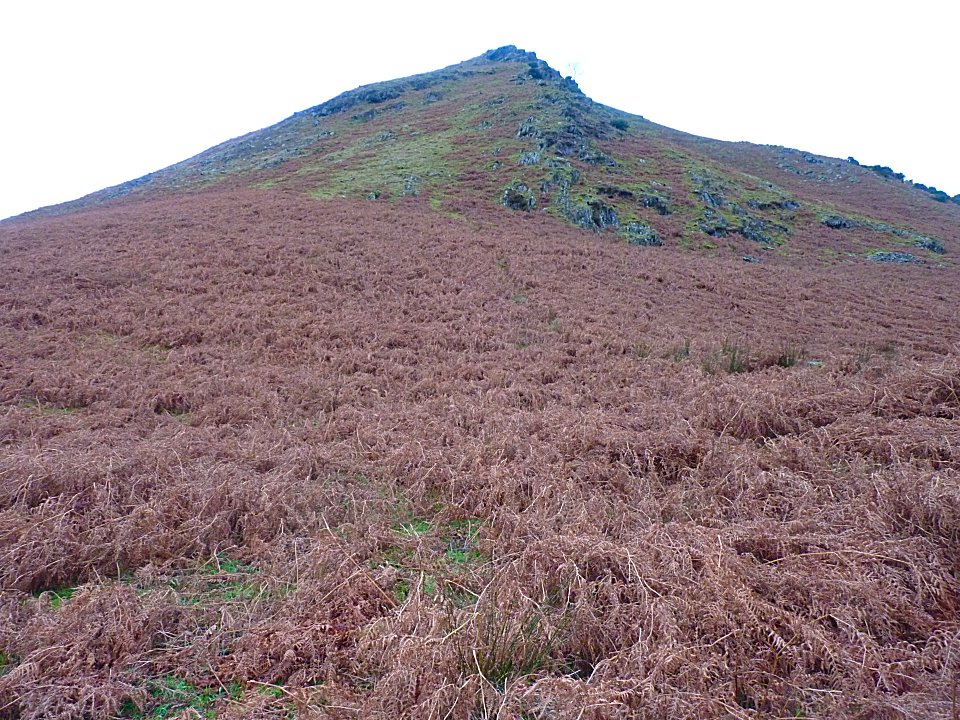 The steep front of The Tongue.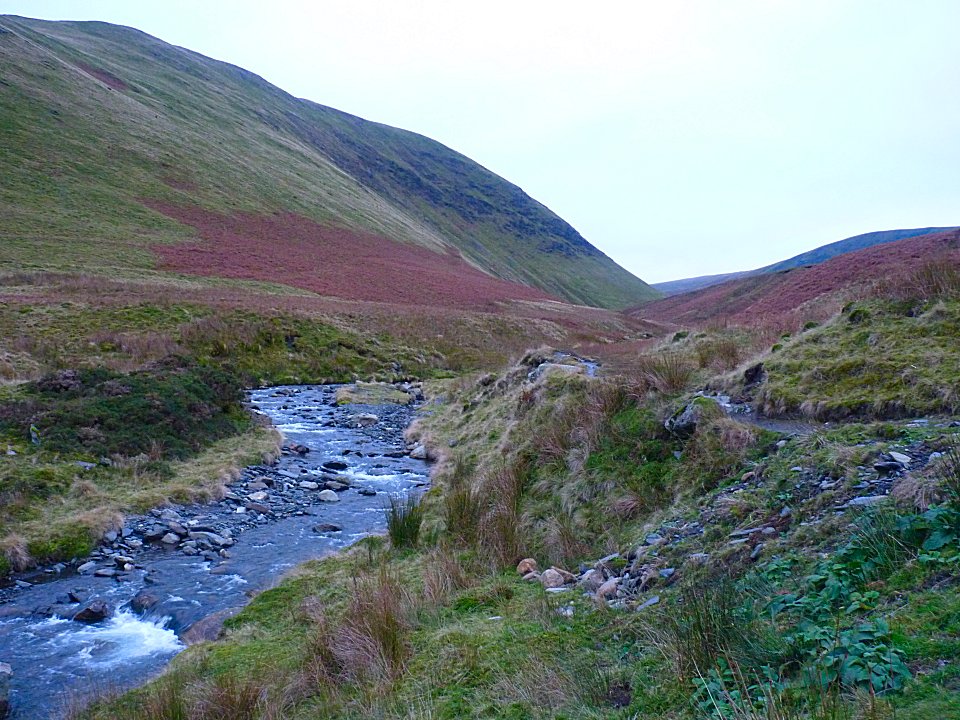 Looking back up the river Glenderamackin ( or the Glendajackson as we started calling it)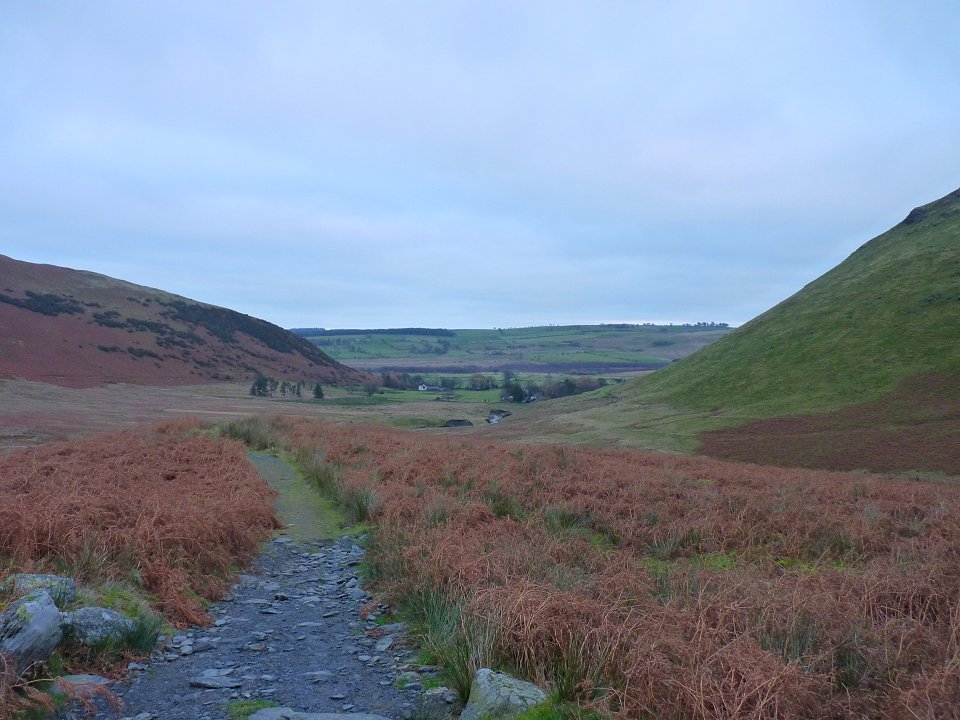 Nearly back to Mungrisdale
Last walk Great Gable - Next walk around the Combe