WWW.KARLSWALKS.CO.UK
PICTURES AND TRIP REPORTS FROM MY WALKS IN THE ENGLISH LAKE DISTRICT
---
Fountains Fell and Pen-y-Ghent
( and a few pictures from a local walk on Saturday)
9th September 2012
Route. Stainforth - Catrigg Force - Henside - Fountains Fell (south top) - Fountains Fell (north top) - Pennine Way - Pen-y Ghent - Hull Pot - Horton in Ribblesdale (about 14 miles 3000ft ascent)
I had arranged to meet Kevin on Sunday for a walk in the dales that he had organised on the walkers forum . I was telling my friend Anne about this when she mentioned that she could do with getting out more as she is going on a three week trek to Everest base camp. I then suggested that we have a go at a home made route based on the three towers challenge which is a walk joining the three Lancashire landmarks of Rivington Pike, Darwen tower and Peel tower. The route works out at about 30 miles so we decided to have a go on Saturday aiming to keep up a three mph pace and finish in 10 hours... but things didn't go entirely to plan.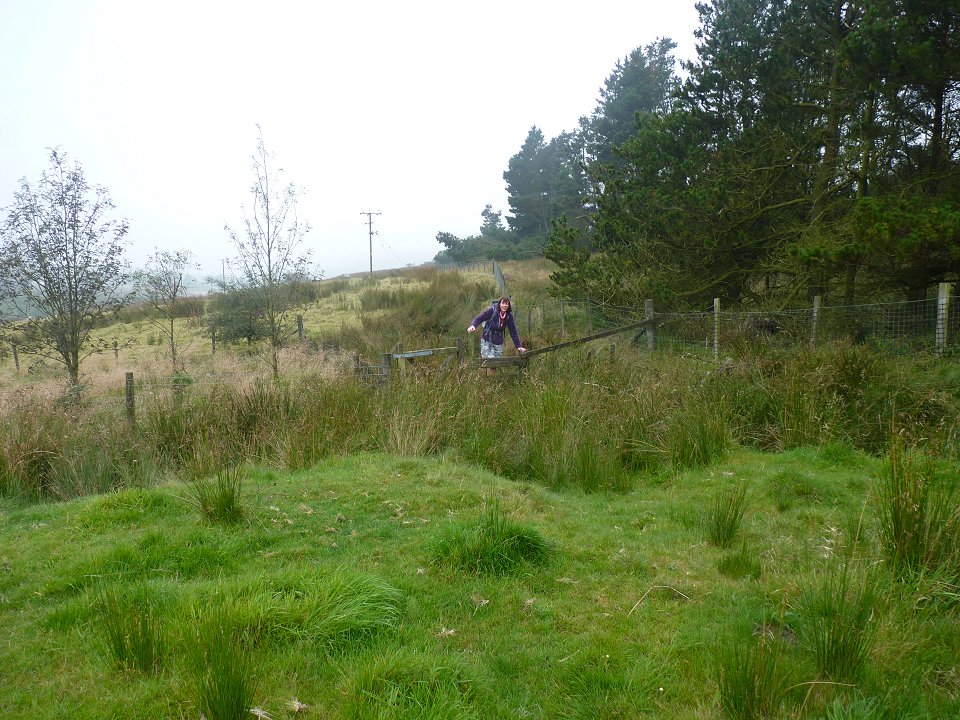 We set of in fine but misty weather at 8am (this was my first mistake. We should have set of at 7) The route is mainly over moorland which is very boggy and the first 4 or 5 miles were very hard not helped by missing stiles and non existent footpaths as well as the micro navigation needed when traveling through farmland.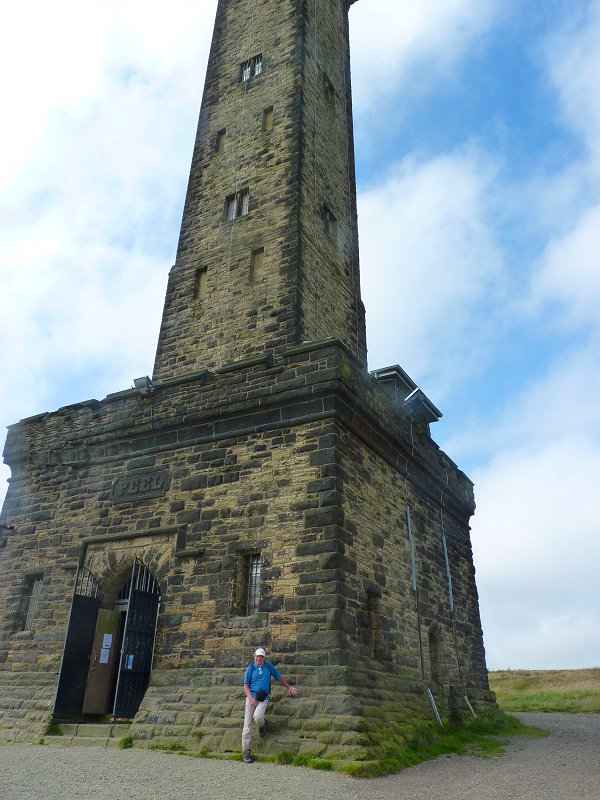 We kept up the pace though and we were not much behind schedule when after 10 miles we reached Peel Tower. This is when our plan unraveled ! I have walked this area quite often and I know that the route passes through a MOD firing range and I usually check online that firing is not taking place, this time I didn't but thought we would be ok as they wouldn't be training at the week-end would they? Well the flying flags and the sound of machine guns gave us a clue that they might be. We realised that our attempt was over but we still could have a good walk so we retraced our steps for a couple of miles and set of in the direction of home.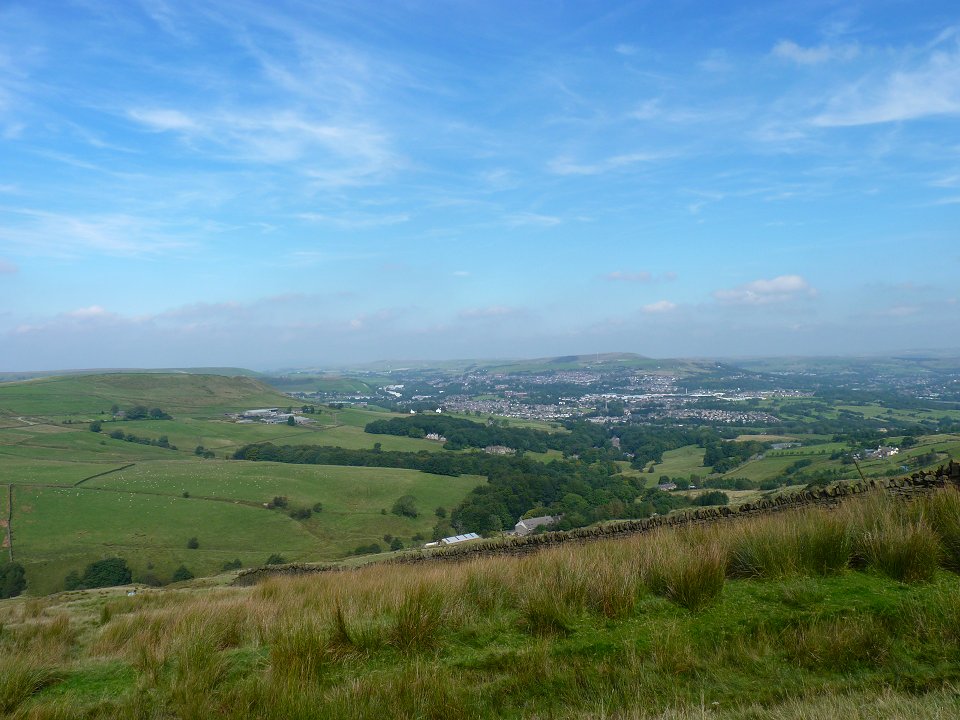 At least the weather had improved and it turned out to be a warm afternoon. This is looking north over Haslingden..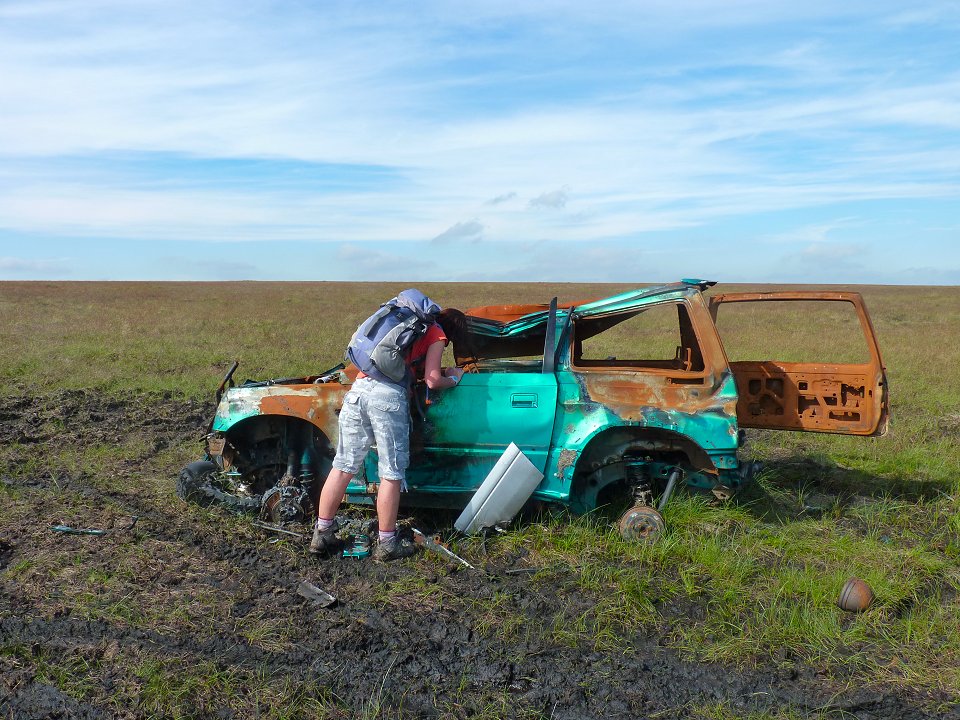 We could see an object in the distance across the moor and were a bit surprised to find what looks like a Land Rover Freelander.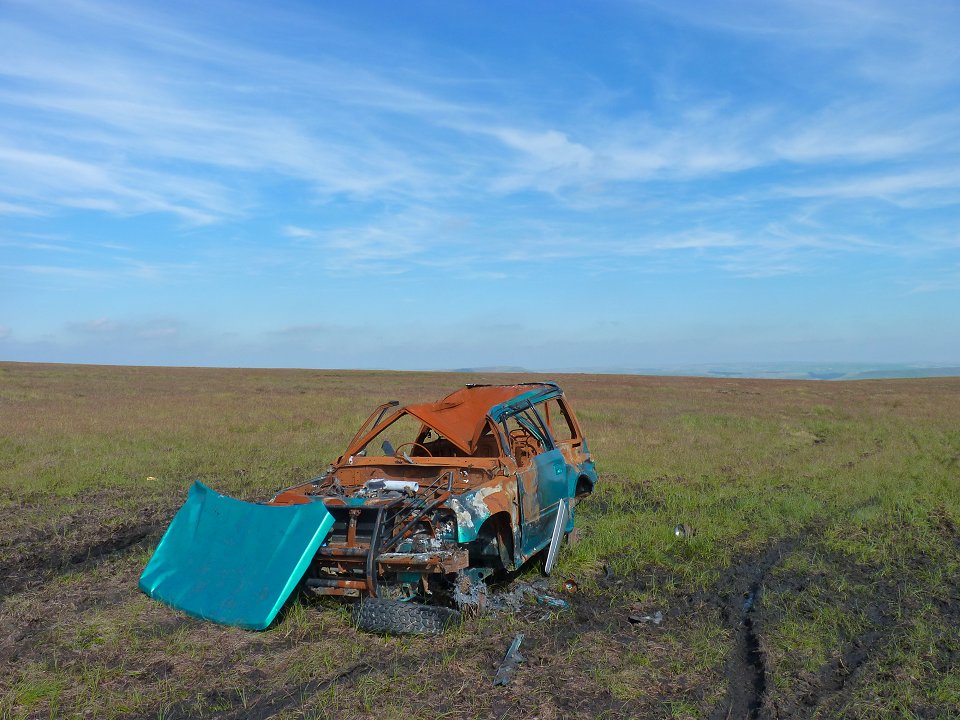 This wasn't here the last time I came.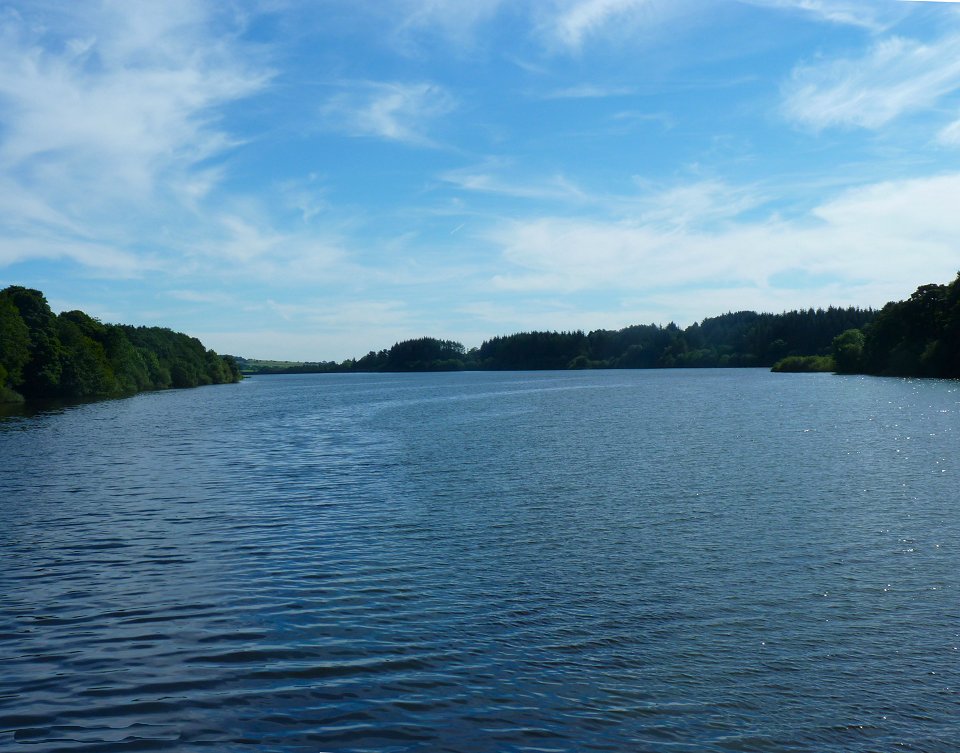 We dropped of the desolate moor and back into civilization and crossed the lovely Wayoh reservoir on the way to a pit stop at the Strawberry Duck pub.
We still ended up doing 19 miles which we thought was a good effort especially as we (Anne was now coming to Yorkshire as well) had a decent walk to look forward to the next day.
It was a glorious morning when we met up with Sue and then Kevin and left a car at Horton and another at Stainforth and set of walking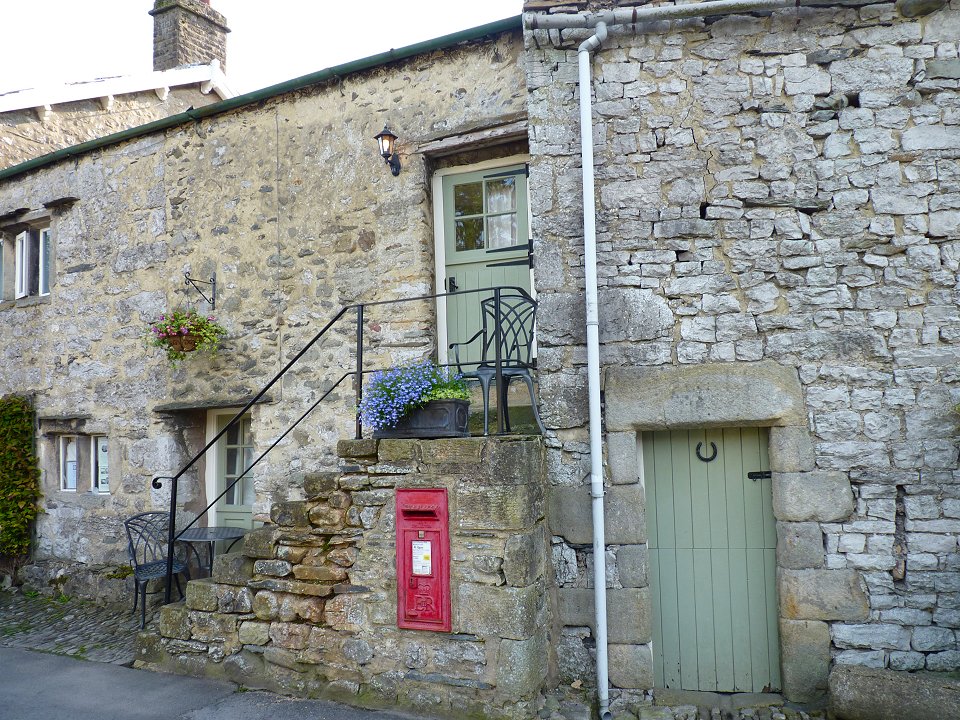 Stainforth is a lovely village to start a walk from.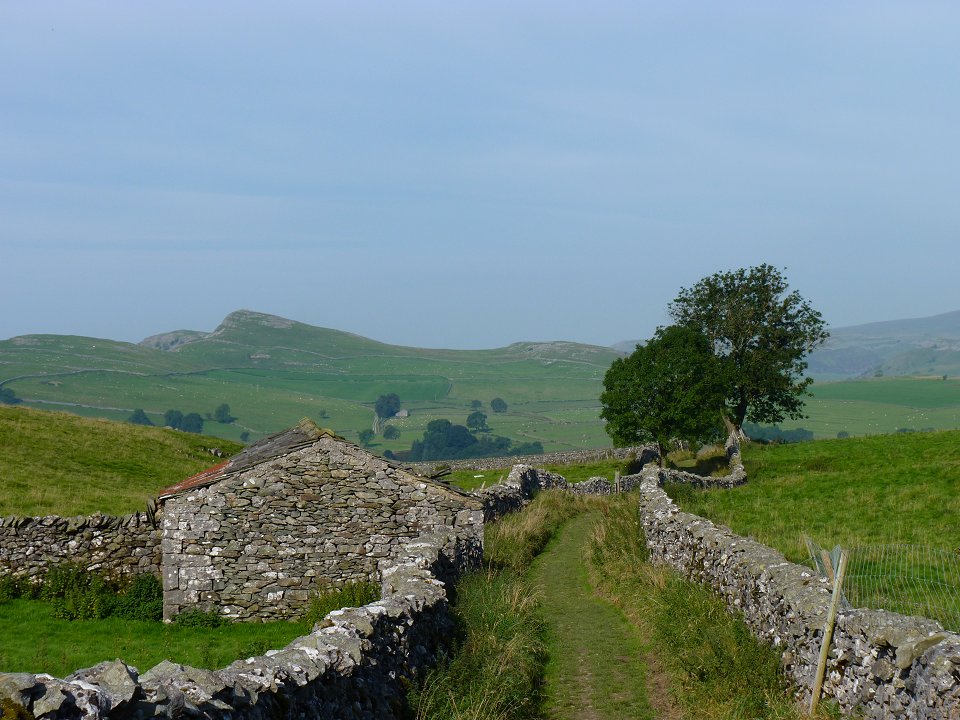 We climbed up and the scenery soon became typical Dales with lovely walled lanes and old barns.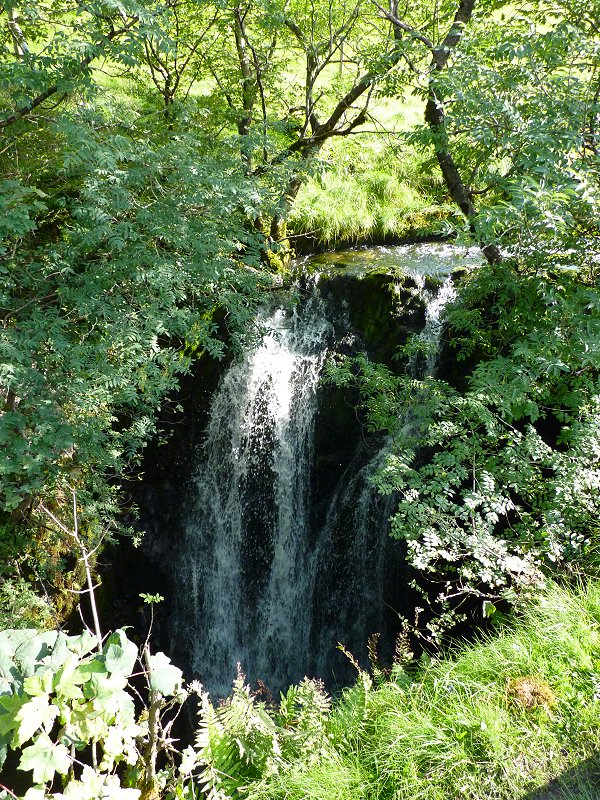 Soon we took a small diversion to visit the very impressive Catrigg Force Waterfall. This is from the top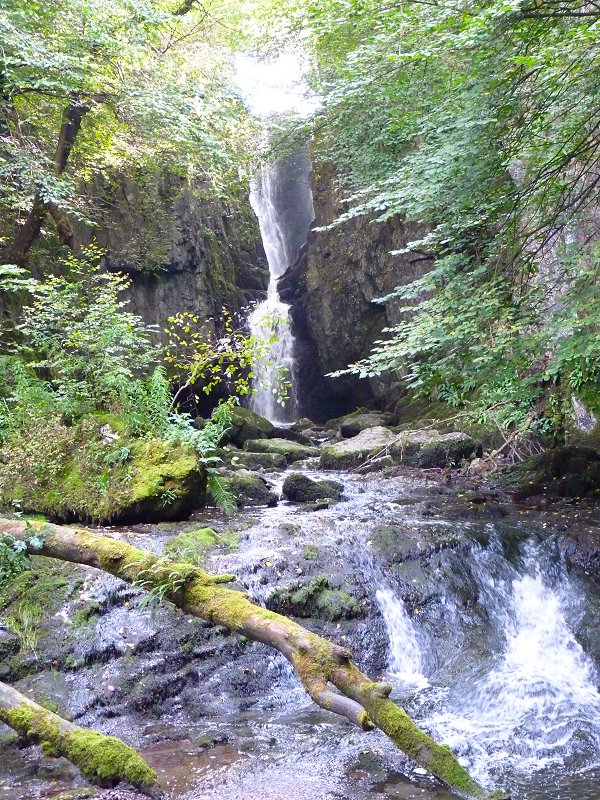 And this is from the bottom.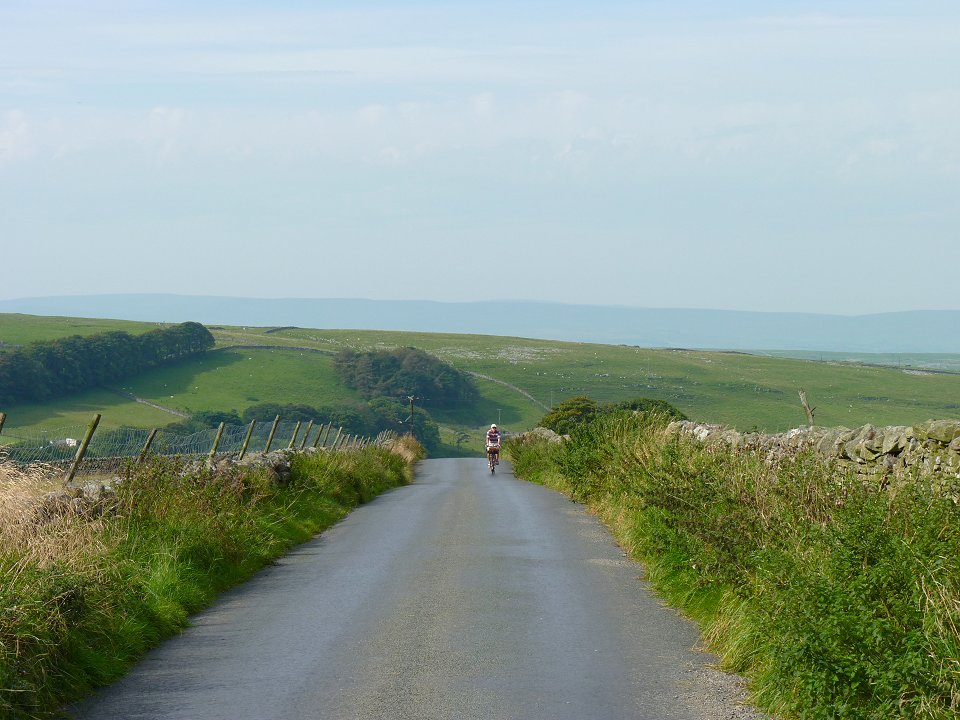 We then joined the road for a bit and climbed steadily up to the base of Fountains Fell.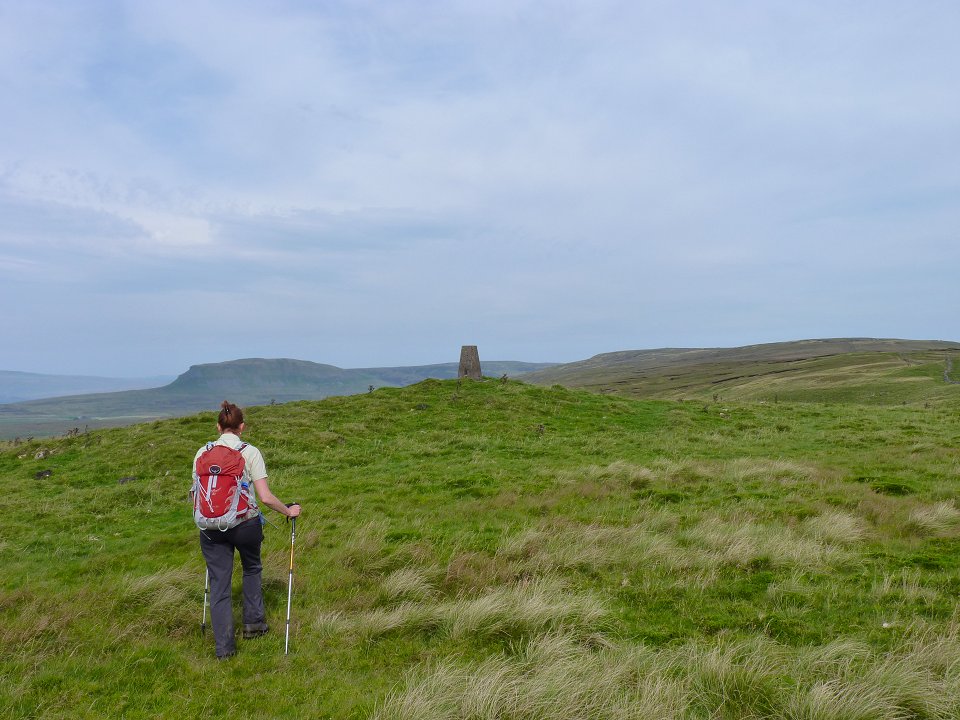 Approaching the south top of Fountains Fell. Pen-y-Ghent in the distance.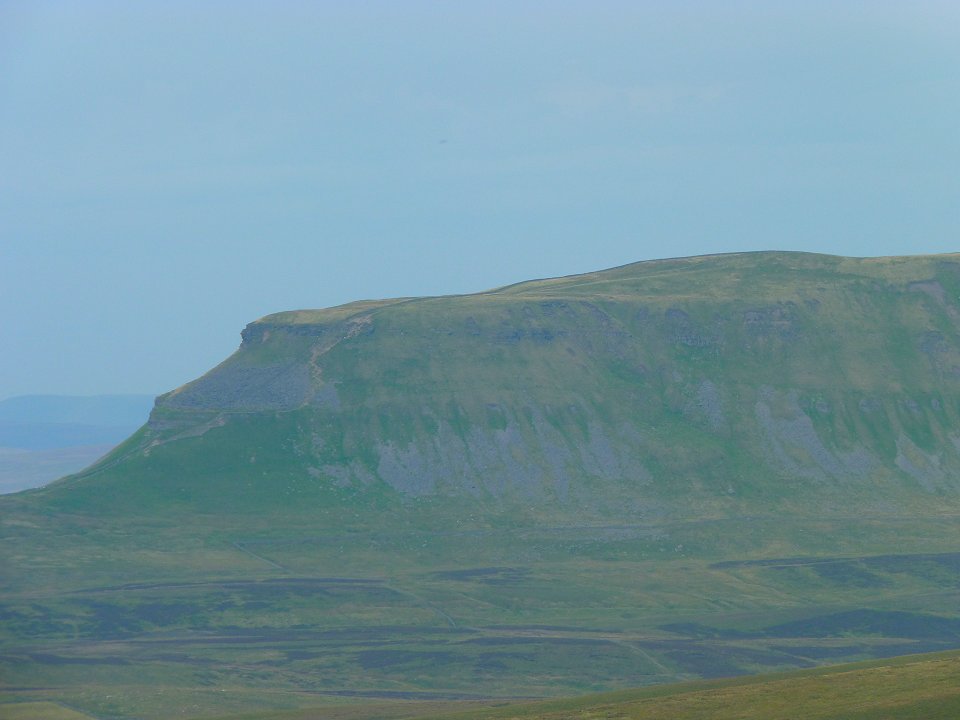 Zooming in on Pen-y Ghent with the path we would take later visible.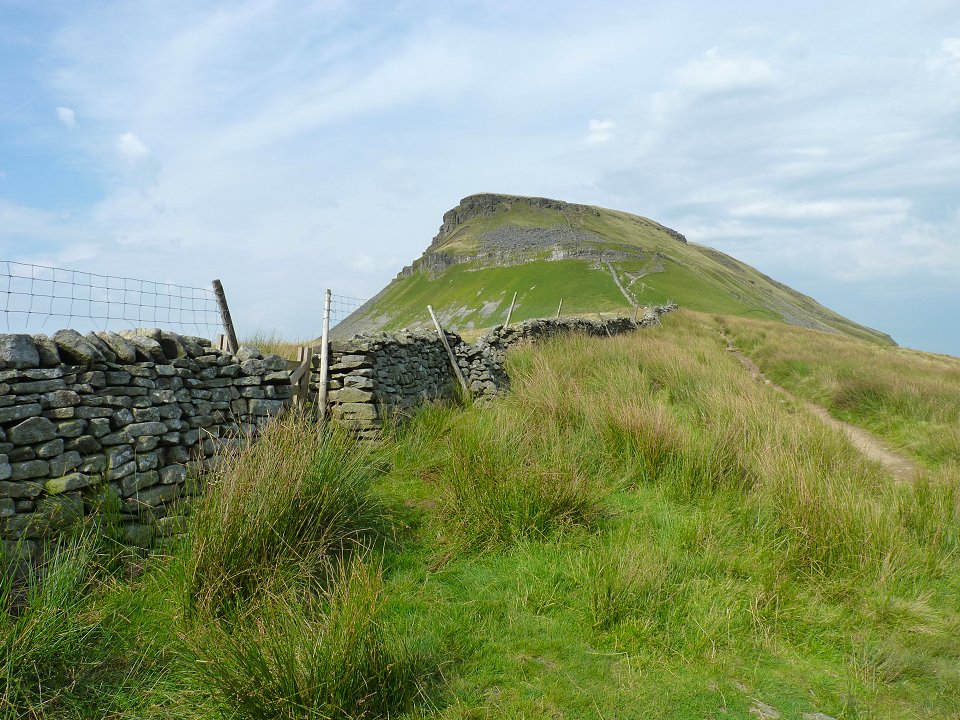 After going over the top of Fountains Fell we joined the Pennine way and dropped down to the road the and started the last climb of the day.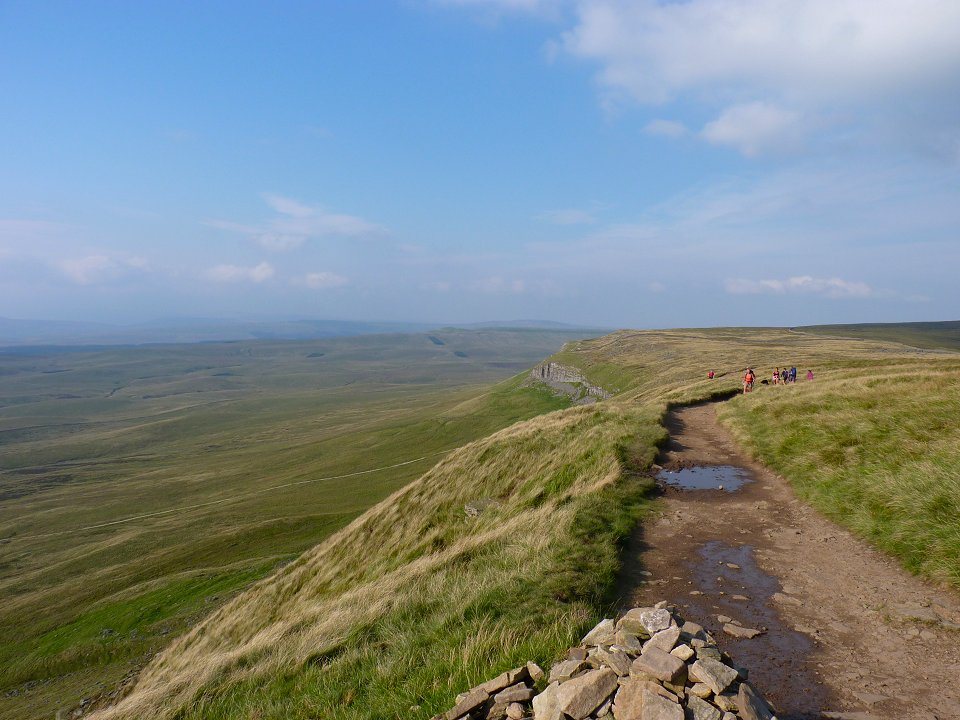 We followed the Pennine way down.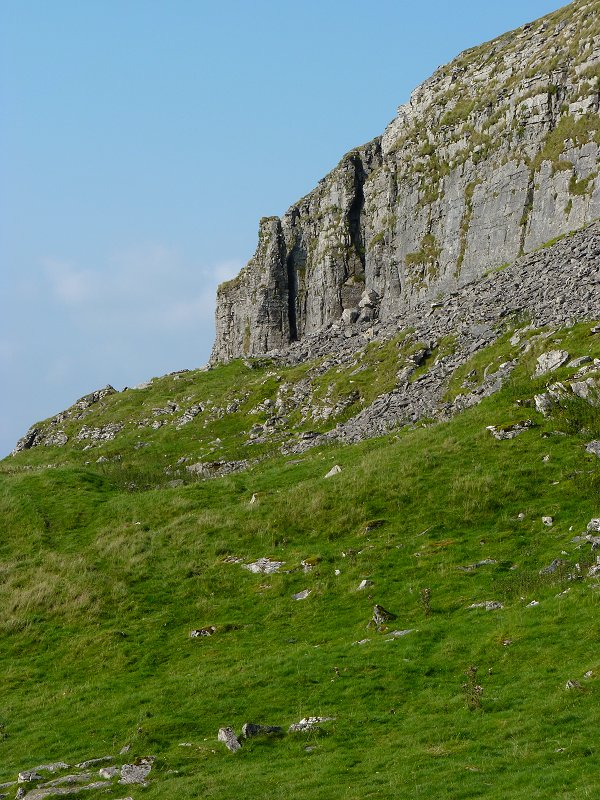 Passing the Limestone pinnacle as described by Wainwright in his "walks in limestone country" book.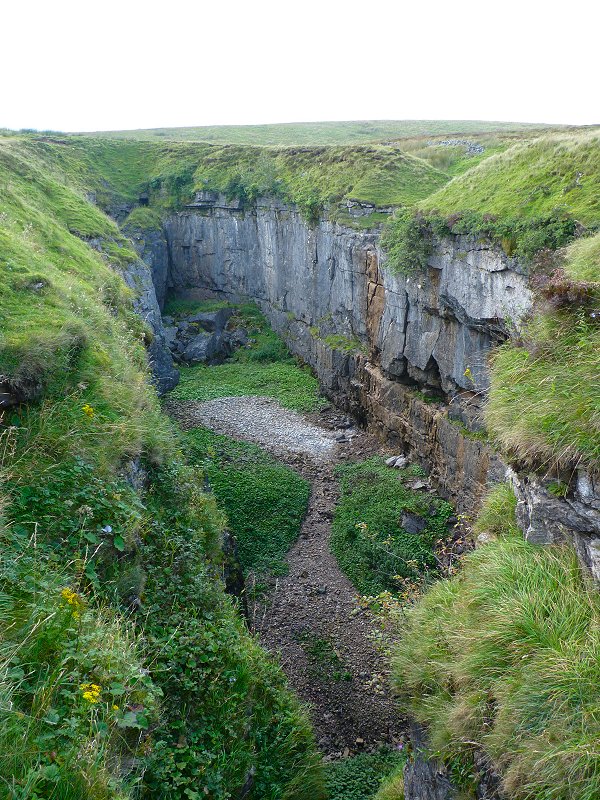 We took another short diversion to Hull pot. A collapsed cave and according to my native guide Kevin, an even more impressive sight after rain when the water rushes in from the stream seen on the middle right.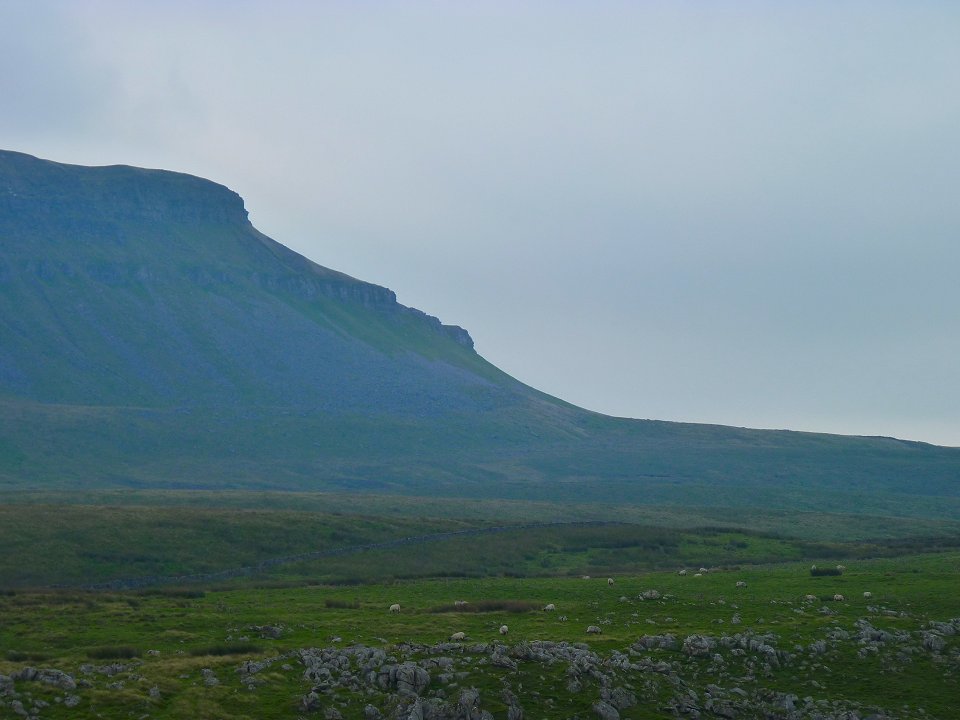 PYG from the path back down to Horton. The light was changing now as the skies darkened but we escaped the rain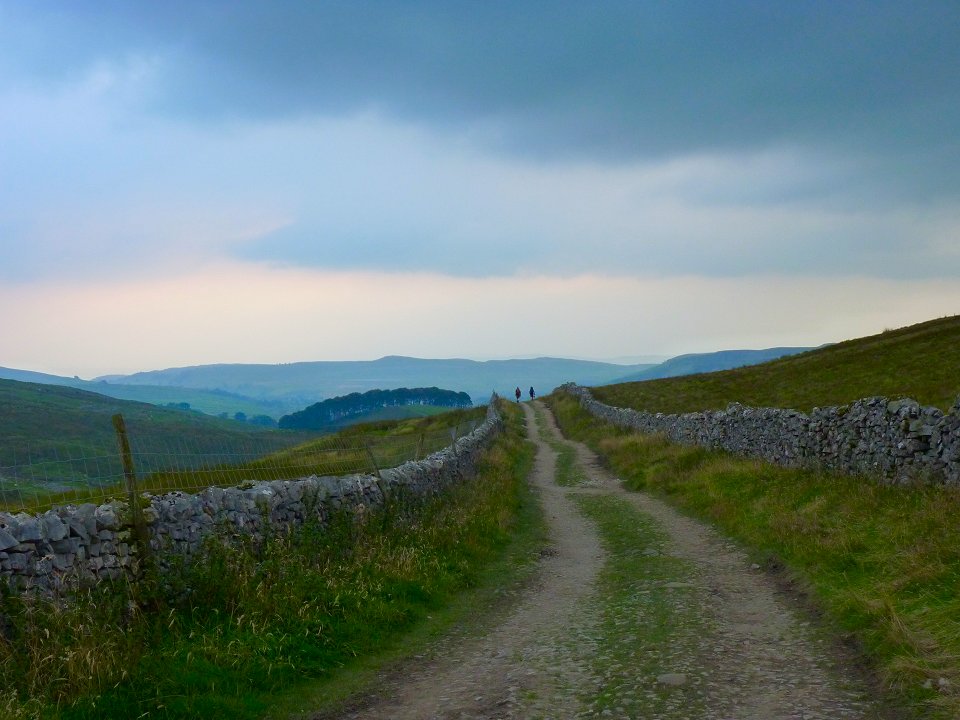 Nearly back now after a lovely day.
Last walk - 3 day backpack from Ravenglass - Next walk - Kentmere Horseshoe