WWW.KARLSWALKS.CO.UK
PICTURES AND TRIP REPORTS FROM MY WALKS IN THE ENGLISH LAKE DISTRICT
---
Arran Backpack ( part 1 )
20th -22nd May 2017
Route. 20th - Brodick - Glen Rosa - Garbh Allt - slopes of Beinn Nuis ( about 3 miles 1650ft ascent )
Route. 21st - Beinn Nuis - Beinn Tarsuinn - Belach an Fhir - Bhogha - Coire Biudhe - Caisteal Abhail - Creag Dhubh - ( about 6 miles 2700ft ascent )
Route. 22nd - Loch na Davie - Gleann - Easan Borsch - Lochranza - Bearradh Tom a' Muidhe - Creag Ghlas Laggan - Fionn Bhealach - Doire na Cerdaich - Torr na Liar Brice - ( about 10 miles 1500ft ascent )
I have wanted to visit Arran for a few years now so when Sue told me that Helen had booked a big house in Whiting Bay for her and a few friends and a lift was offered and accepted I set about planning a camping trip taking in the high ground..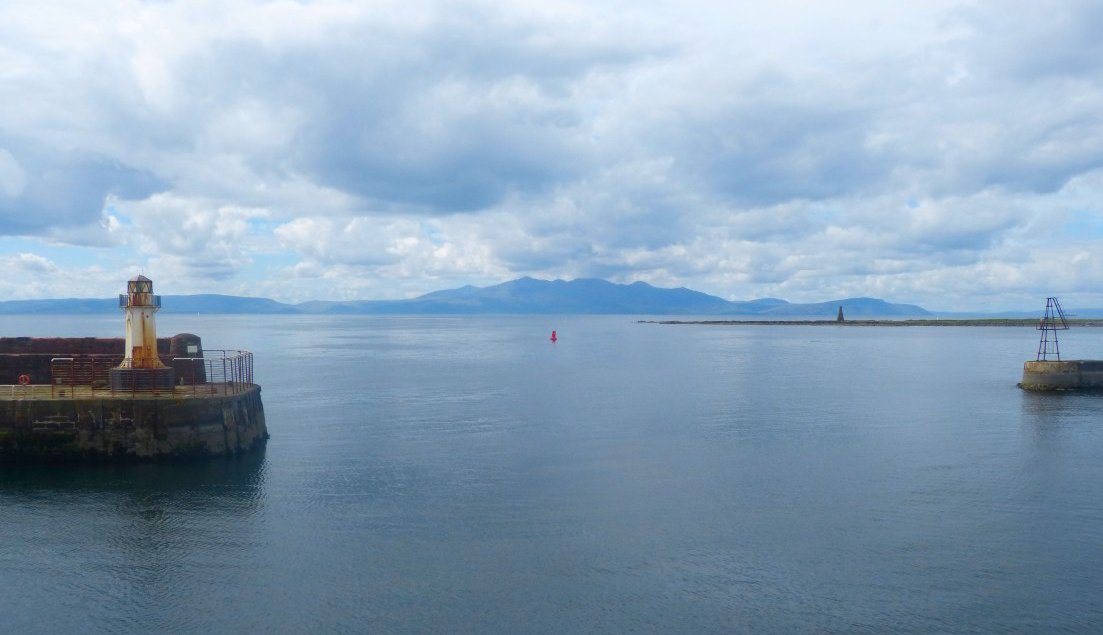 We had passed through some quite heavy bands of rain on the drive north so we were pleased when the weather seemed to be clearing up. The ferry from Adrossan takes less than an hour and we had a view to the island all the way.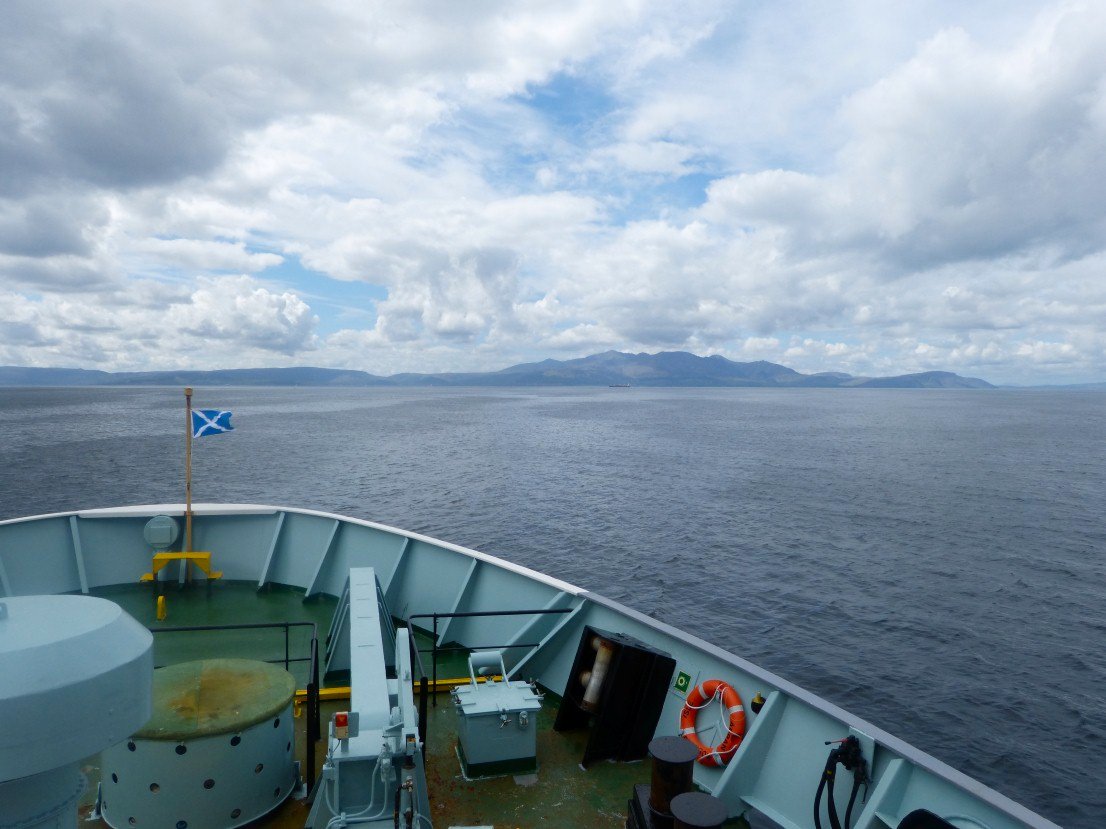 Getting nearer!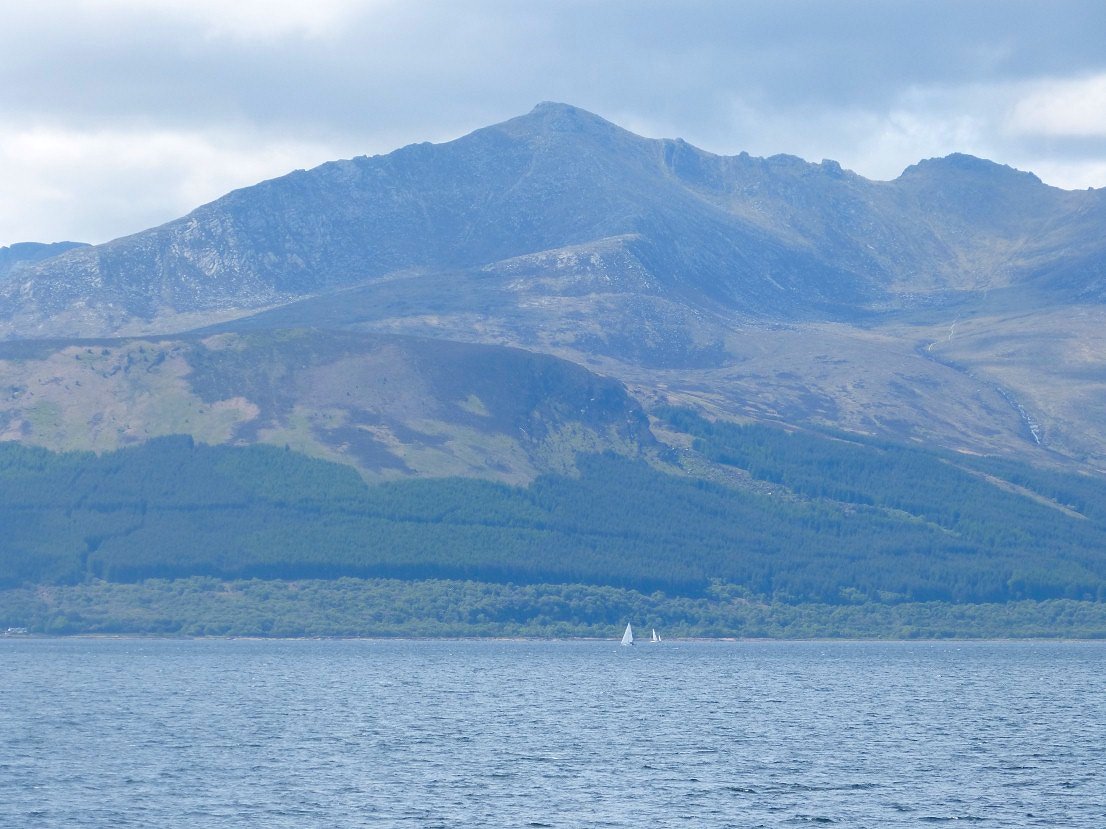 Zooming to Goatfell, Arrans' highest peak..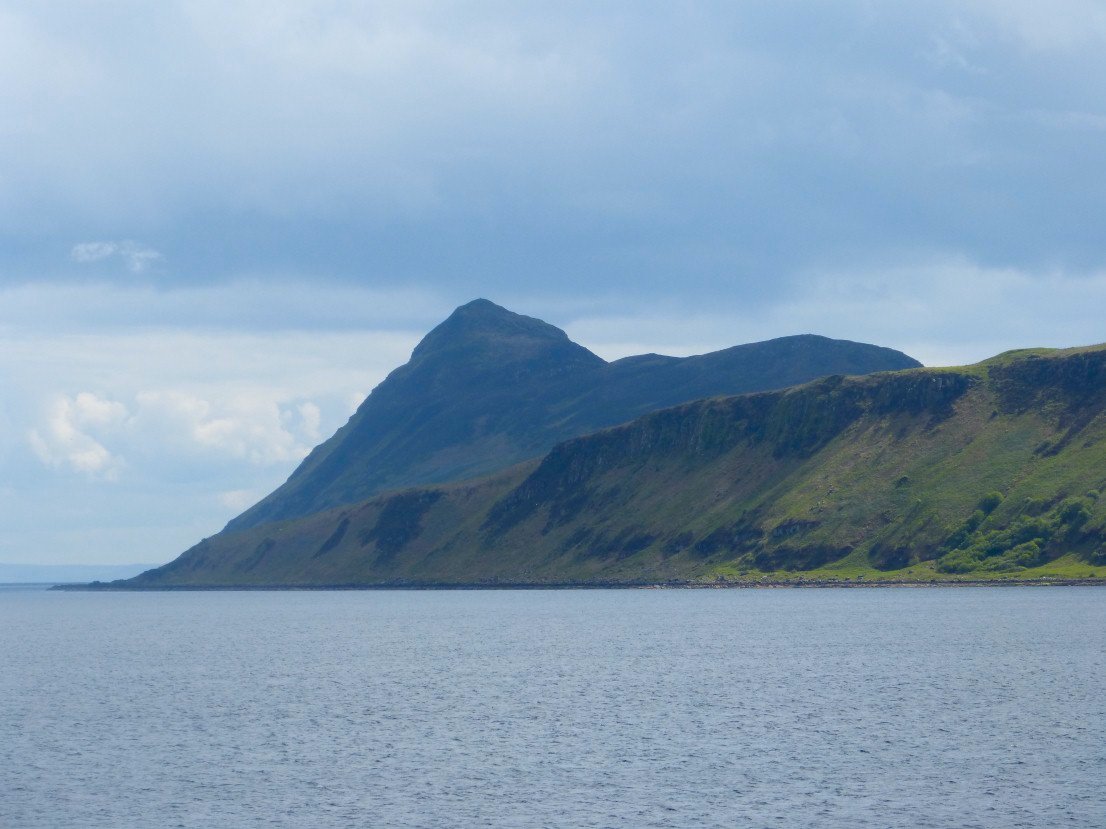 Passing Holy Island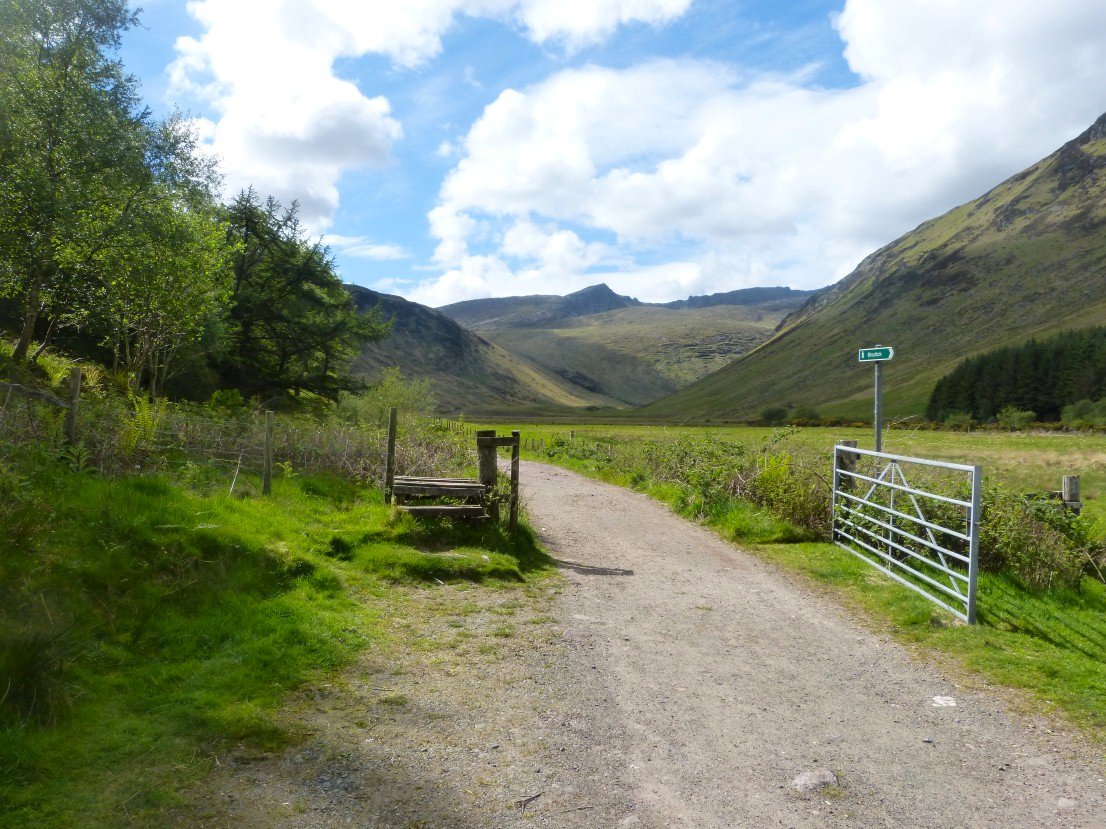 After a bit of food shopping in Brodick Sue dropped me off at the campsite in Glen Rosa from where I walked up the glen.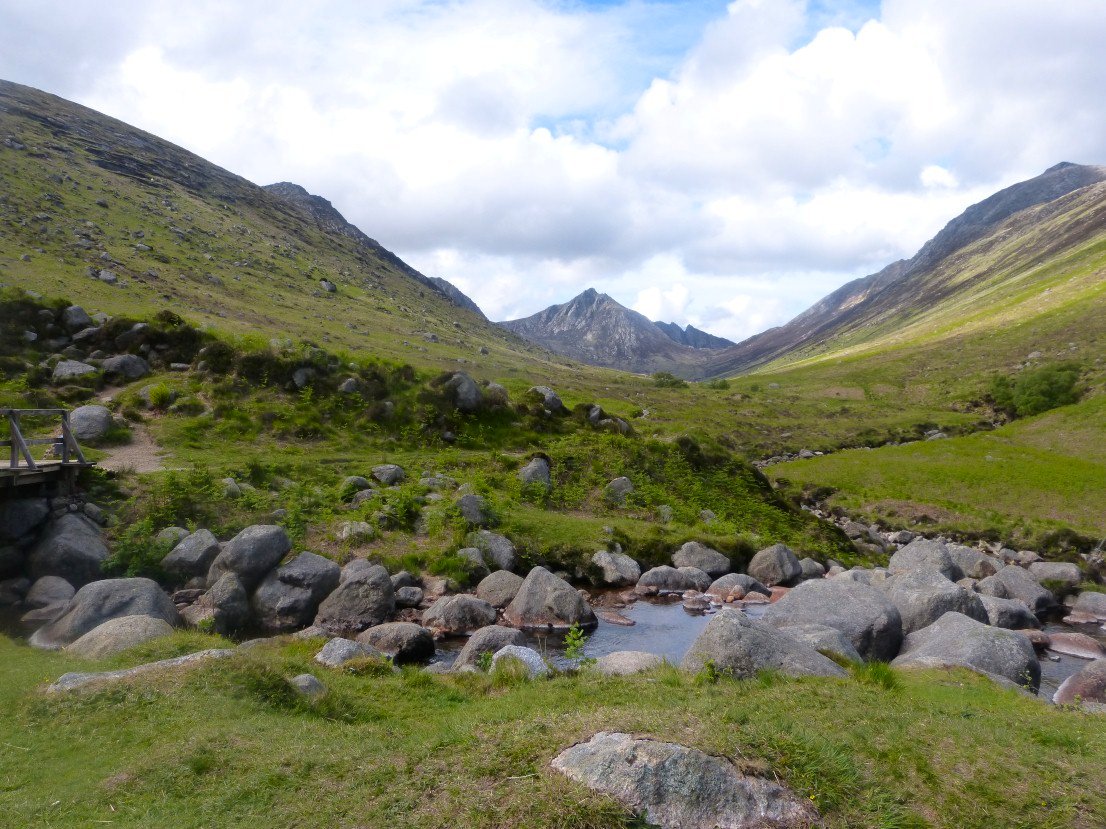 A very pleasant easy path winds it's way along the glen to a footbridge where I turned left up the hill. That's Cir Mor commanding the head of the Glen..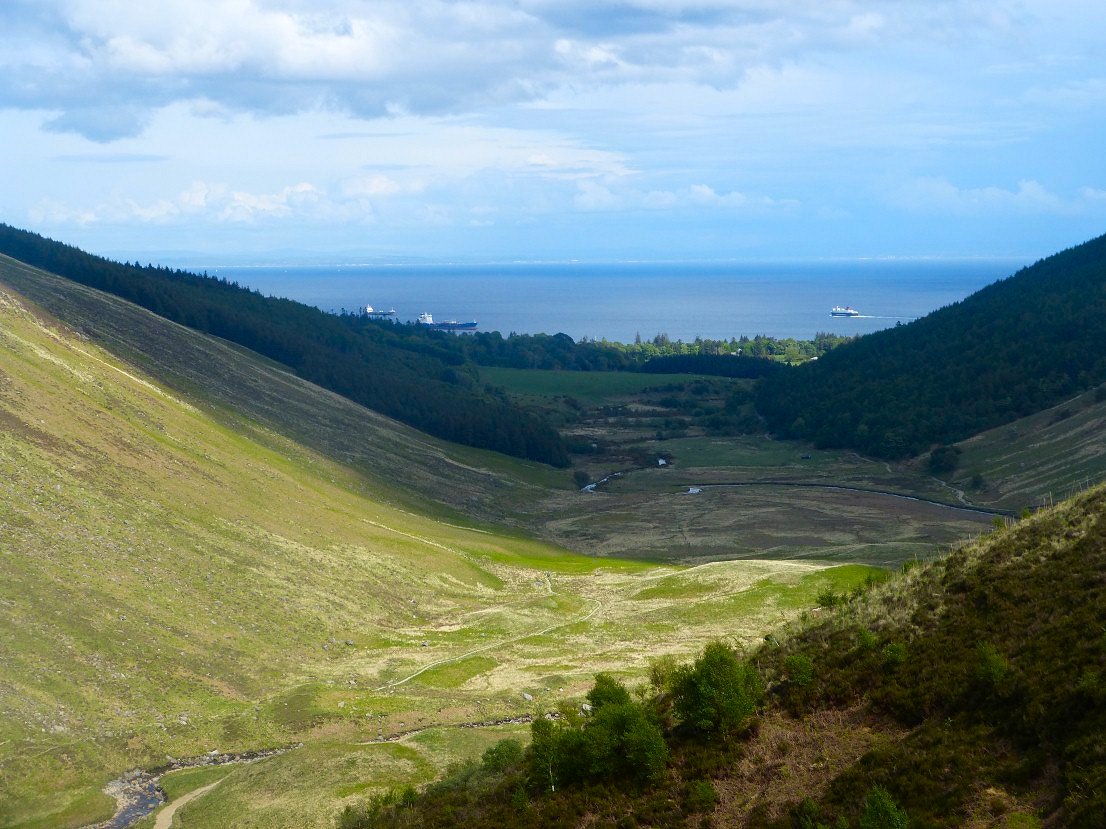 Looking back over Glen Rosa to Brodick Bay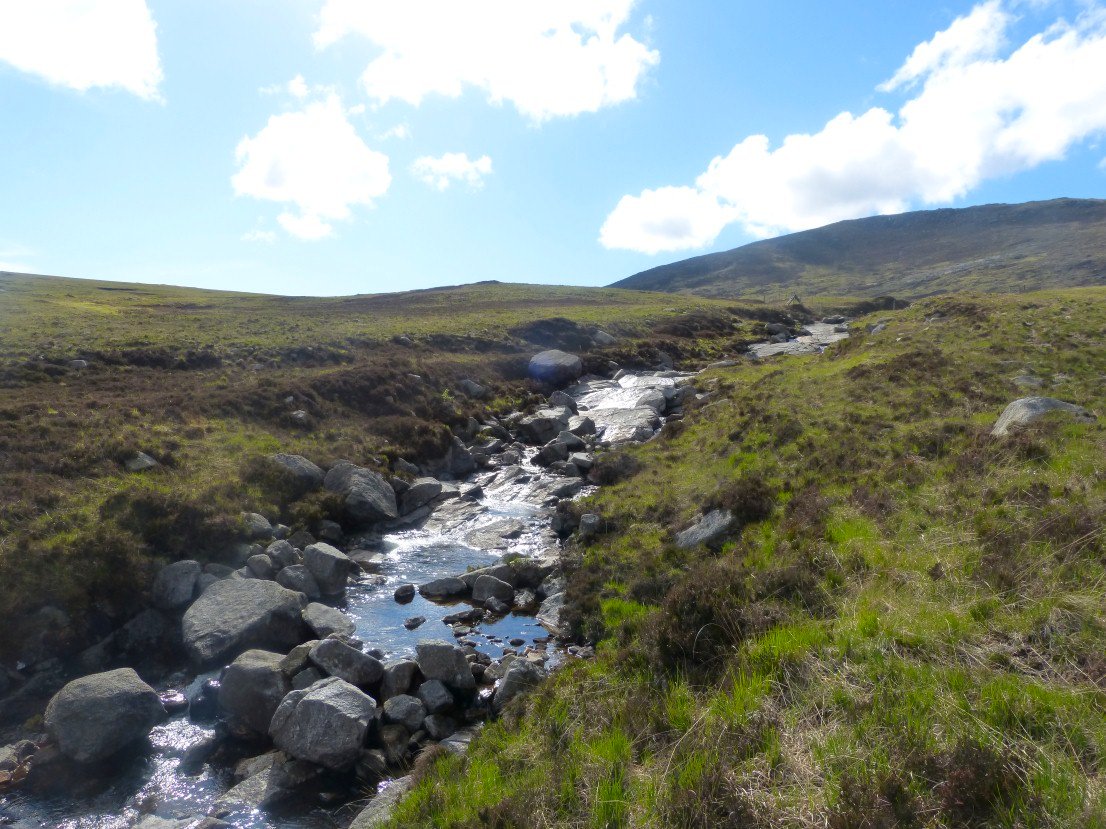 The path follows Garbh Allt to a platue below Beinn Nuis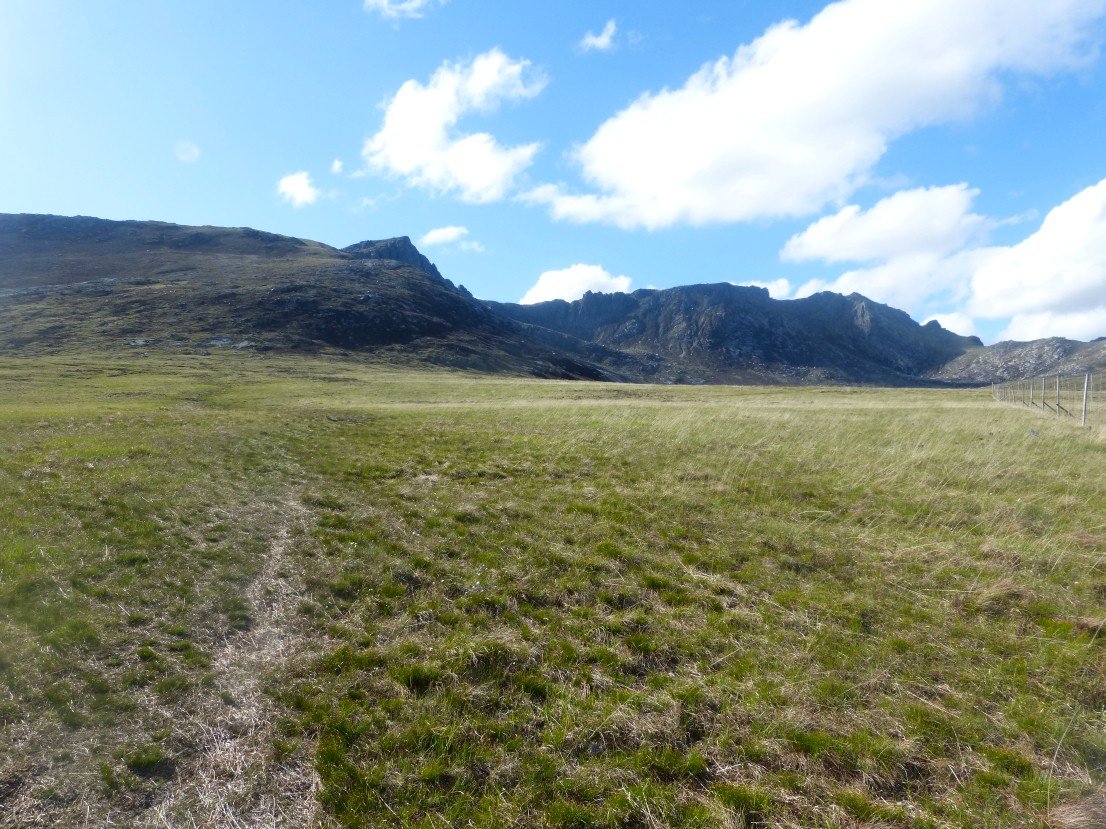 The pointy top of Beinn Nuis ahead with Beinn Tarsuinn beyond.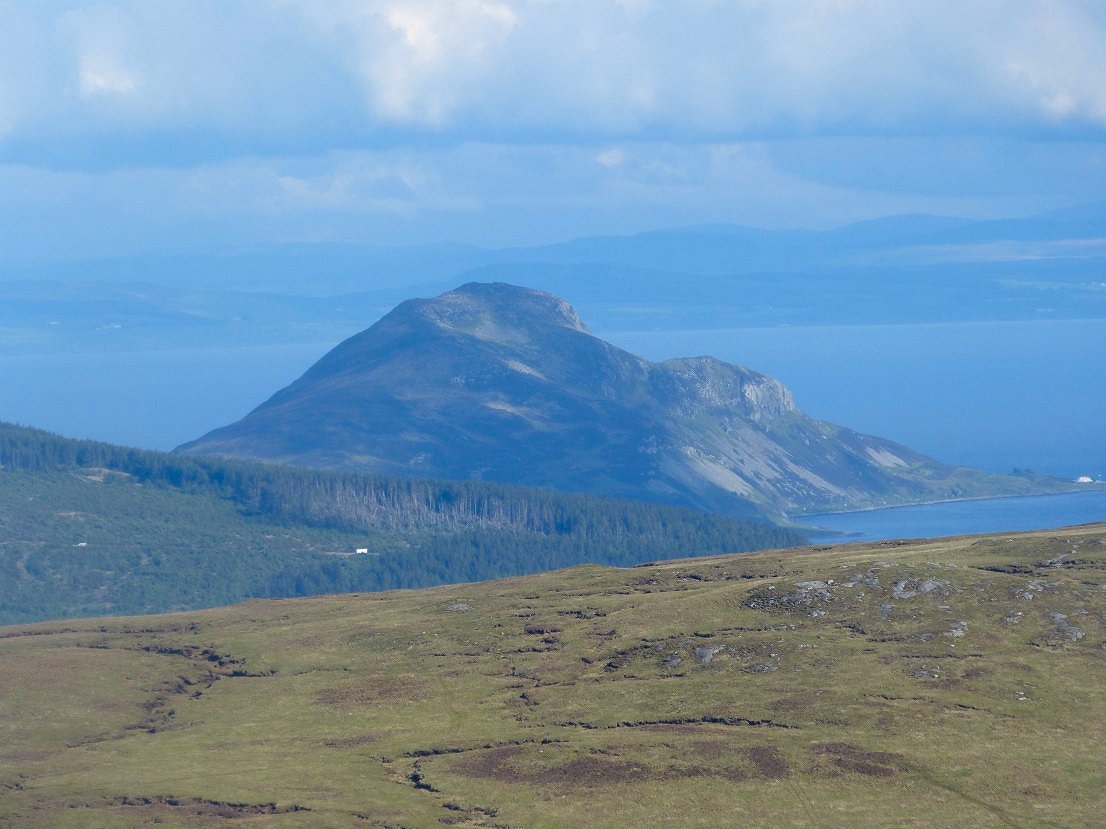 Looking back to Holy Isle.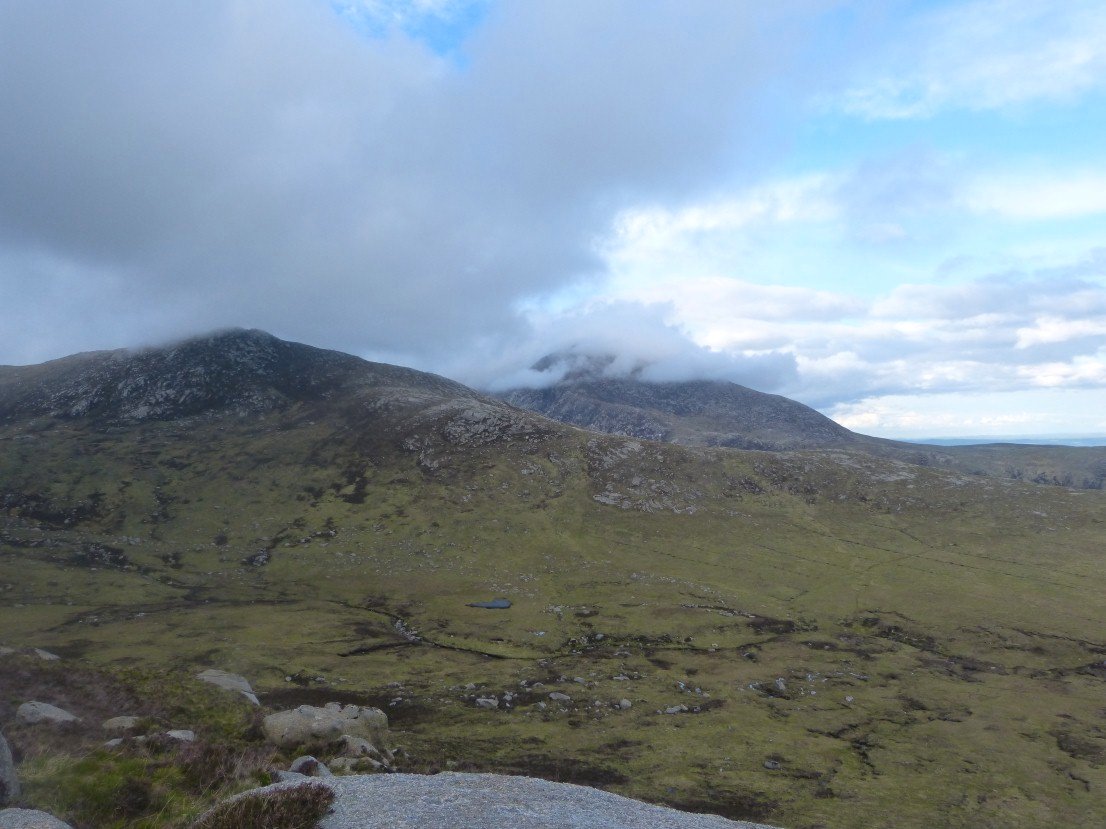 I found a little shelf on the slopes of Beinn Nuis and decided I would camp there. Goatfell is in the cloud.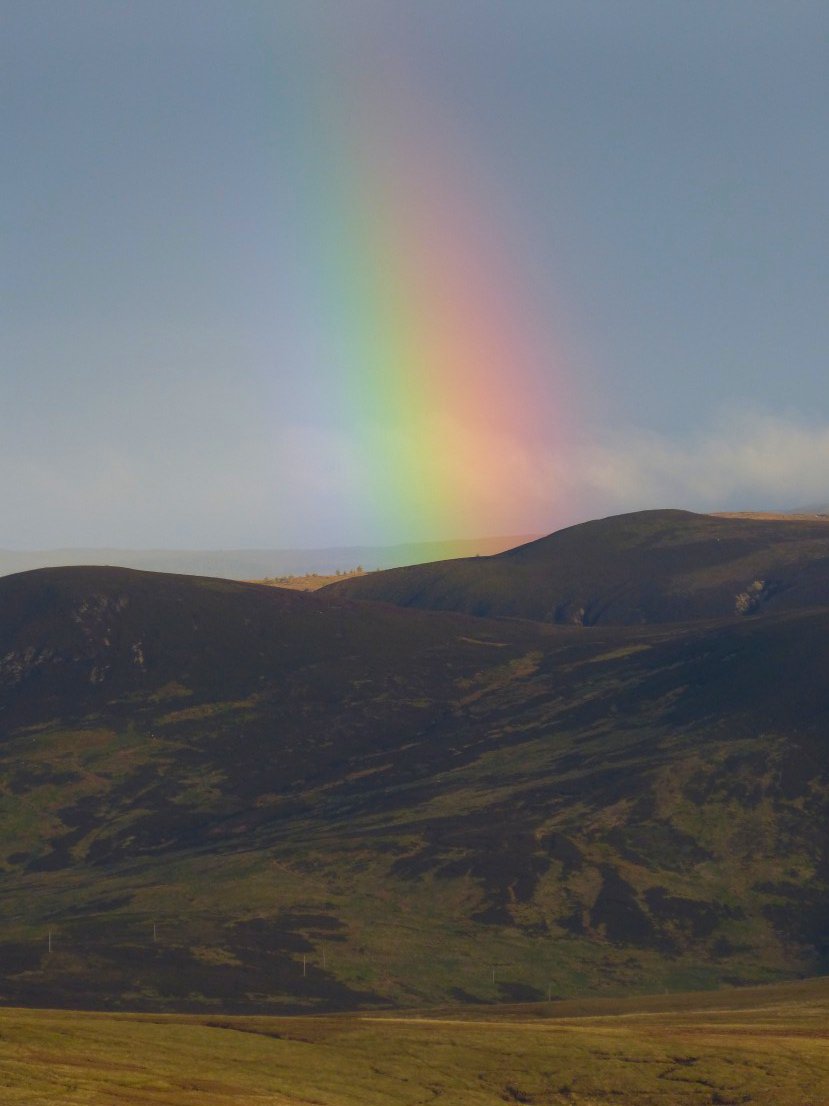 Looks like they have a bit of rain over the coast.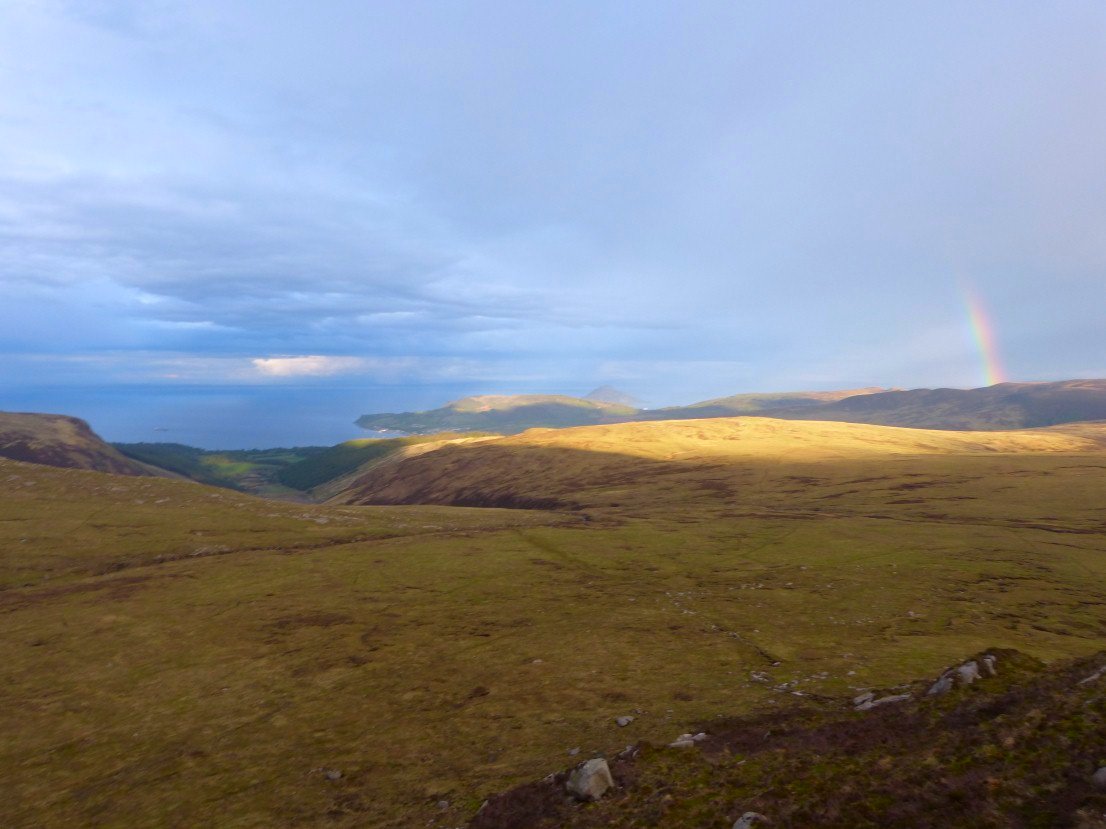 Nice evening light over Brodick.
My camp spot for the first night.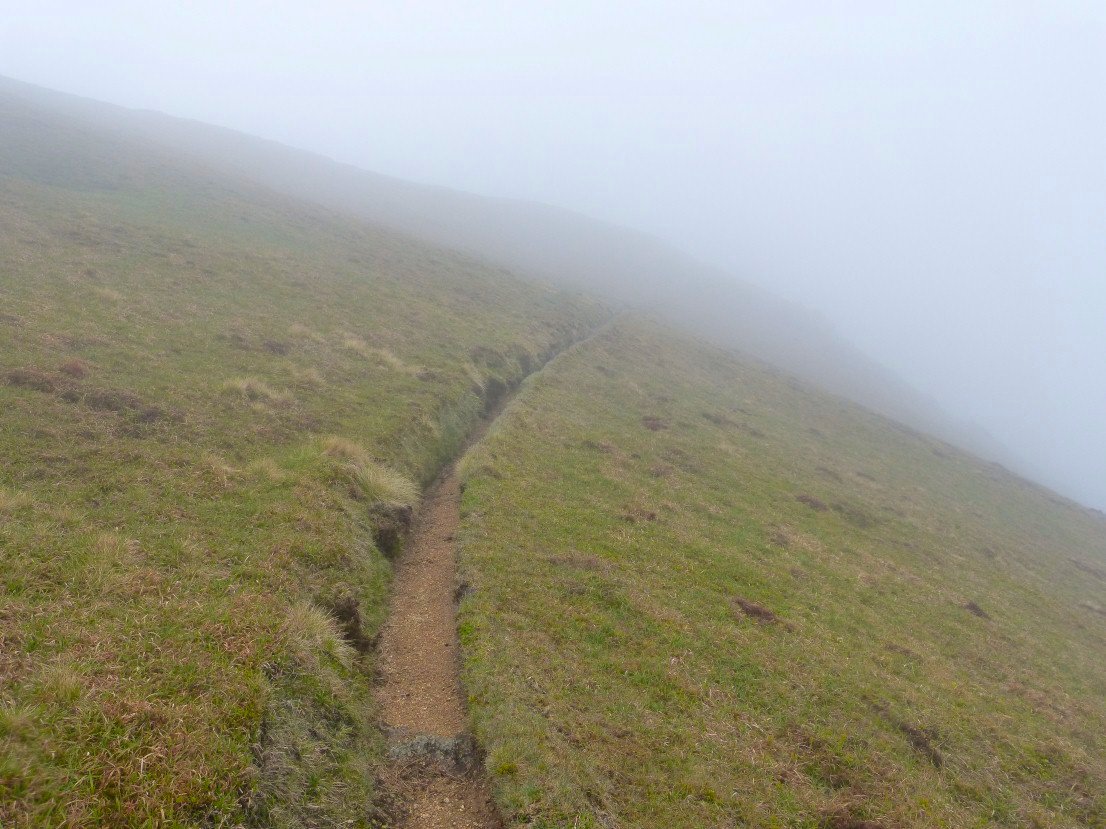 I awoke to heavy rain and mist so decided that it was pointless to set off walking without a view and get wet as well, so I read for a couple of hours. The rain stopped around eleven but the mist didn't start to move till after lunch and the weather did look like it was clearing but after I had packed up the cloud descended again so all the way to Beinn Nuis and Beinn Tarsuinn I ha no views at all. This thin path had a tremendous drop to the right and I got the feeling that there were some pretty big drops just by the path.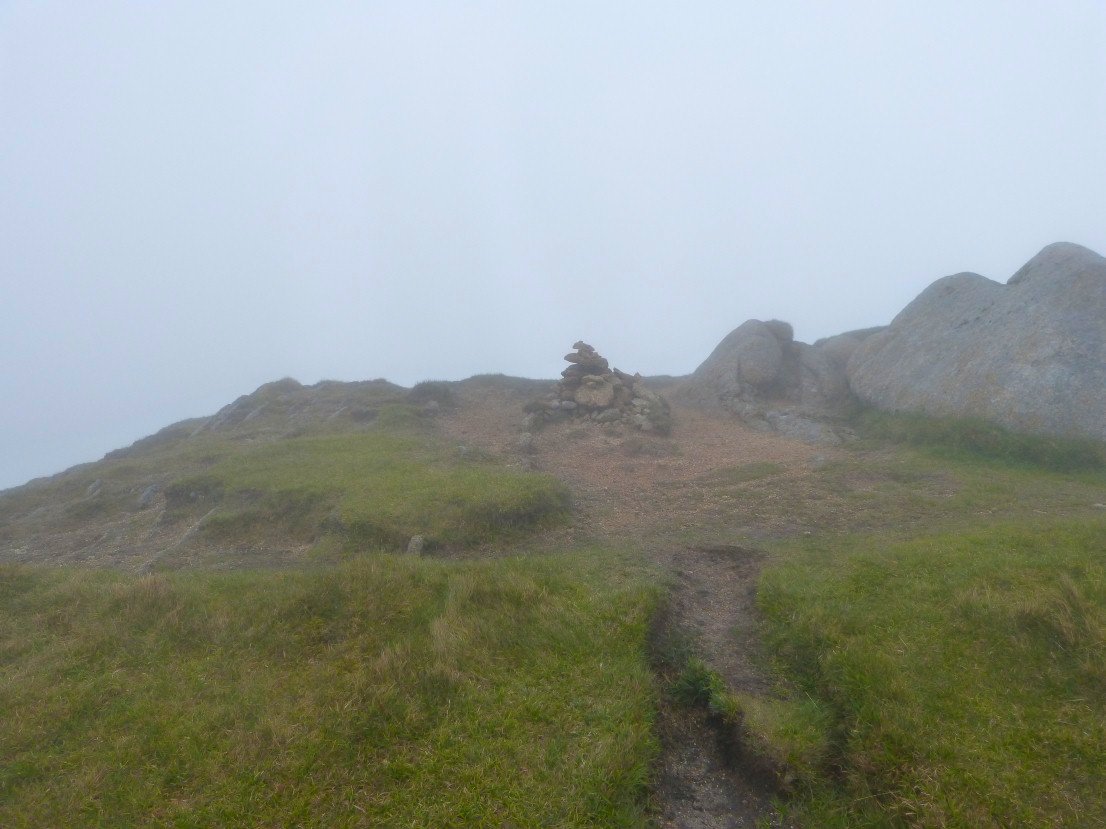 Beinn Nuis top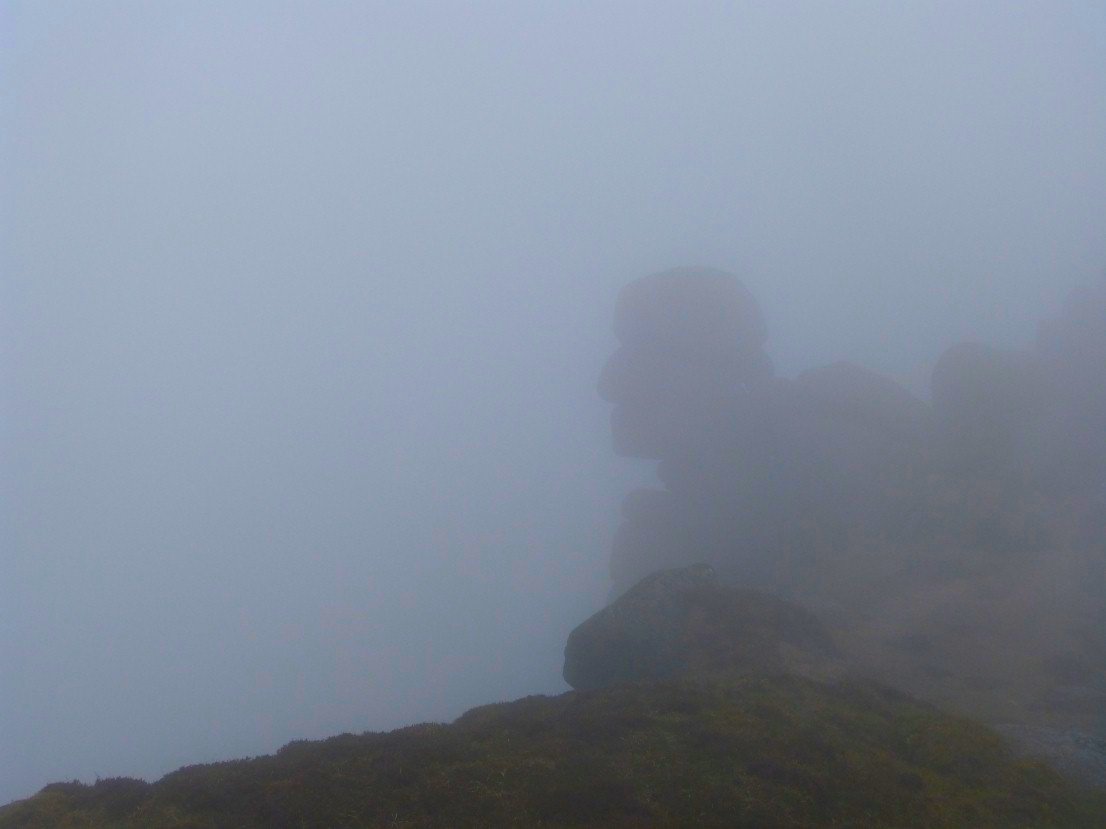 I climbed a little knoll which looked like the top of Beinn Tarsuinn and got a bit of a fright when I turned and saw this giant head in the mist.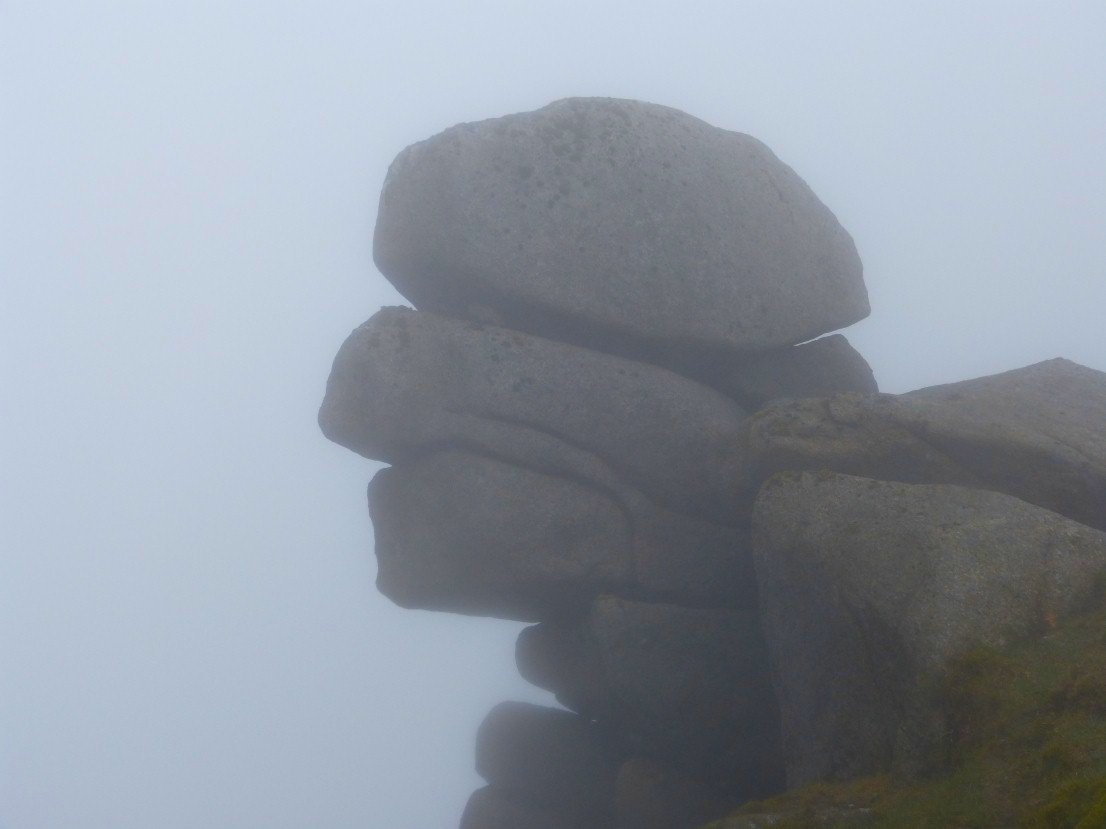 But thankfully it was the friendly Old Man of Tarsuinn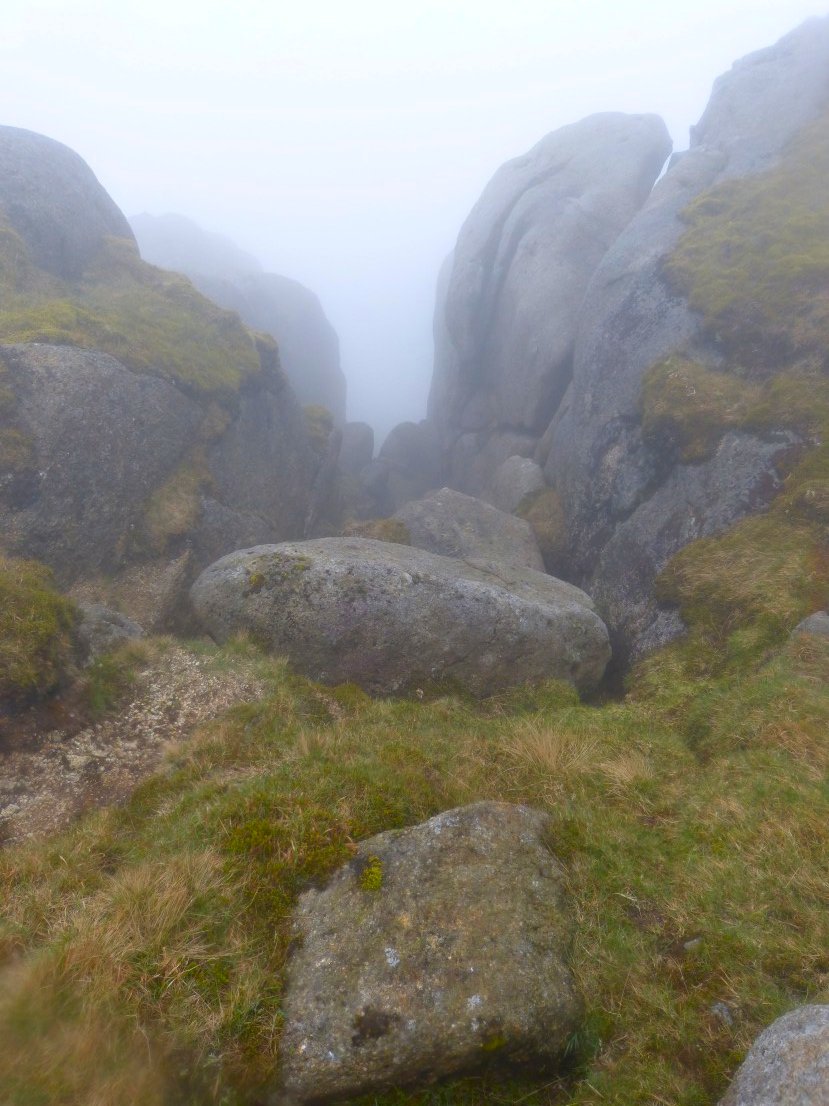 The path along the ridge is pretty rough with hands needed nearly as much as feet. I think this is the drop down a gully by Consolation Tor.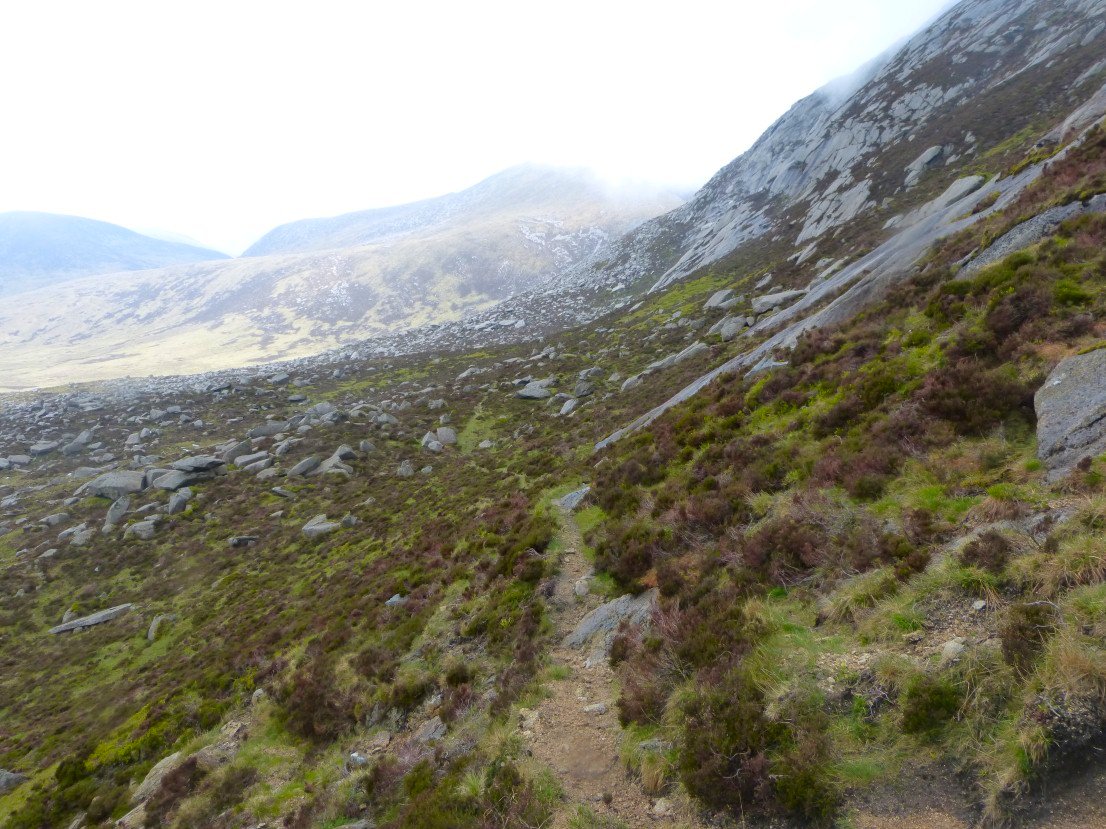 In planning my walk I had read that the top of A'Chir was more of a climb than a walk ( there apparently is a fixed rope down one section ) so I was careful to make sure I took the by pass path which actually was quite clear, this lead down to a narrow trod above a valley with the giant granite slabs of A' Chir towering above..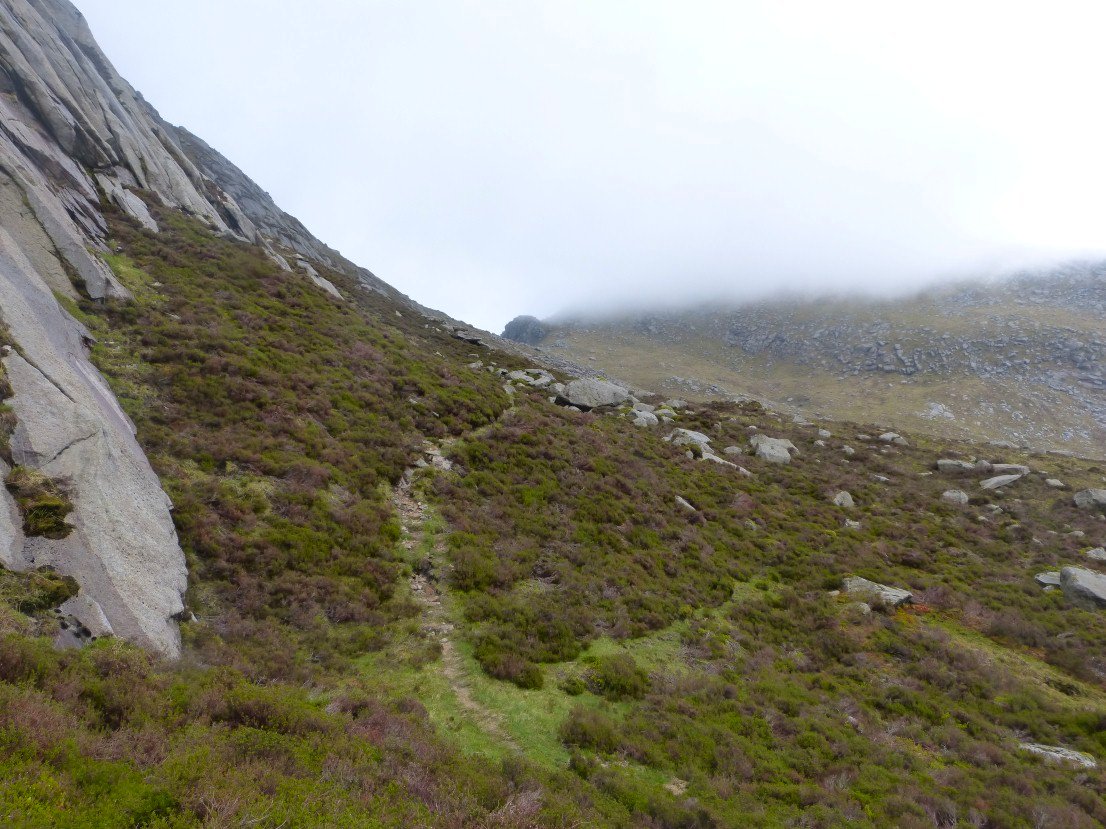 Looking back to Beinn Tarsuinn still in cloud..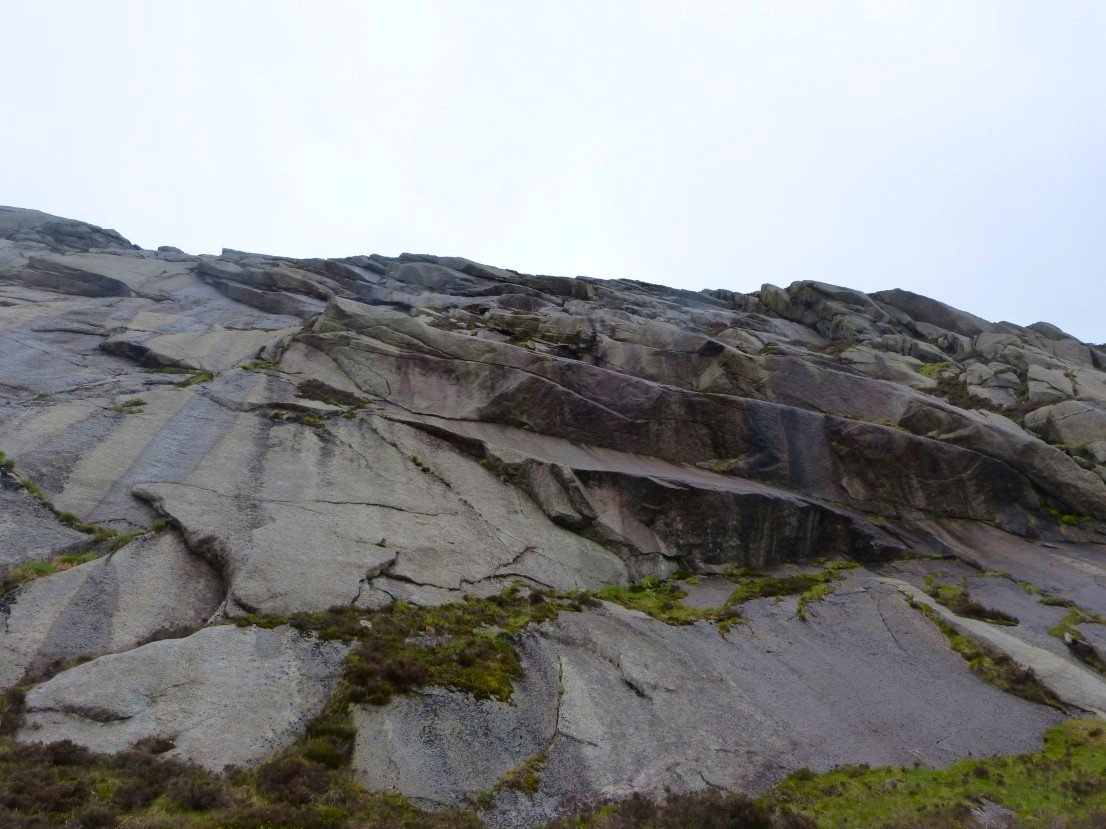 The giant slabs above the path.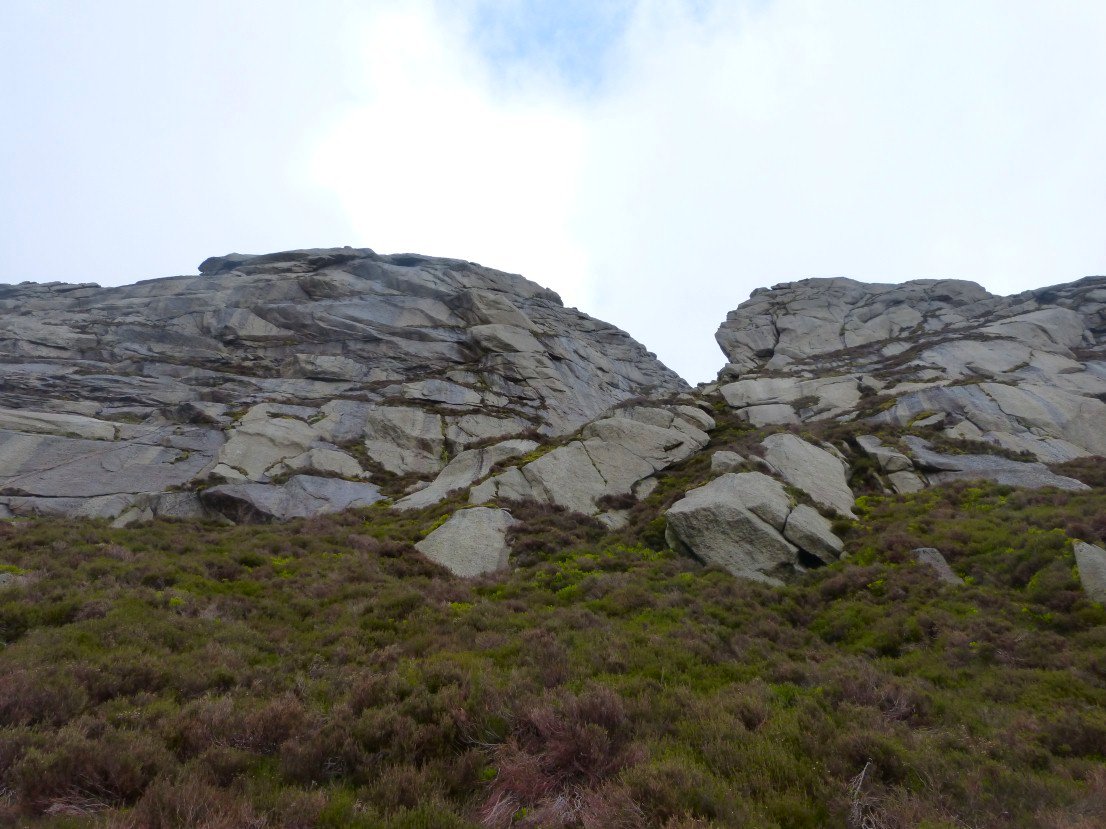 I wondered if that gap was where the rope was.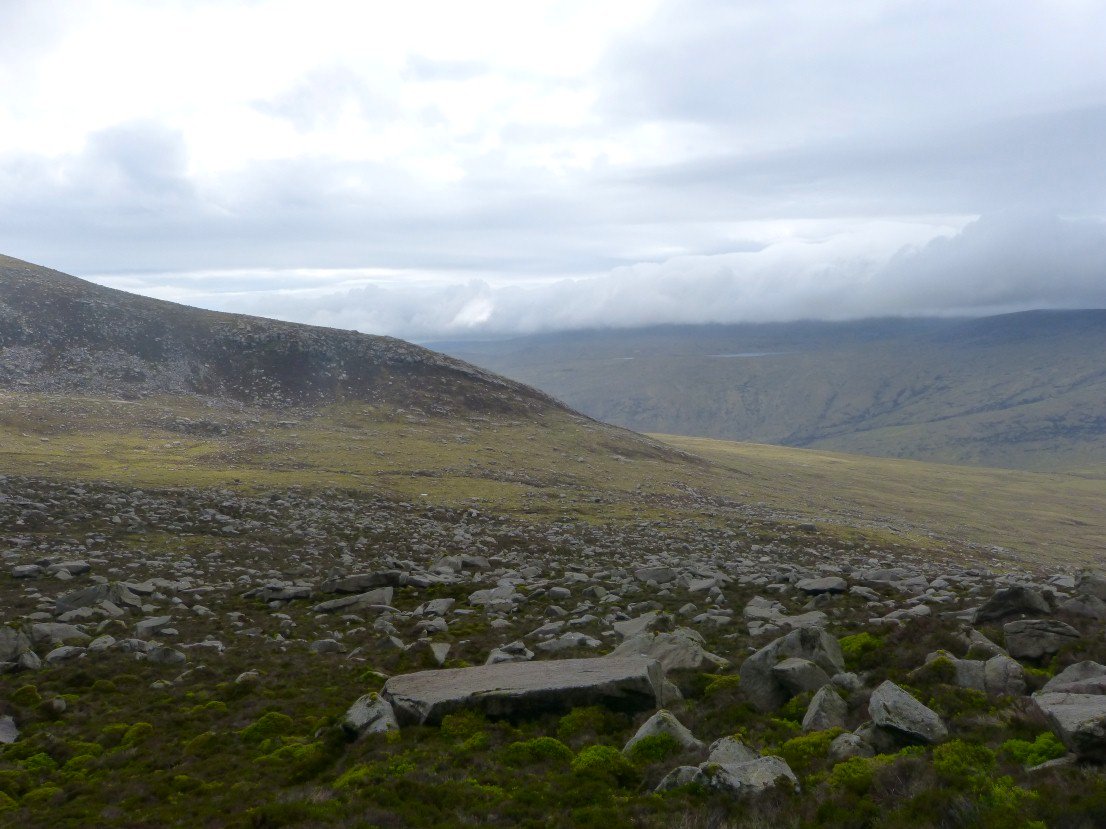 Loch Tanna can just be seen across Glen Lorsa..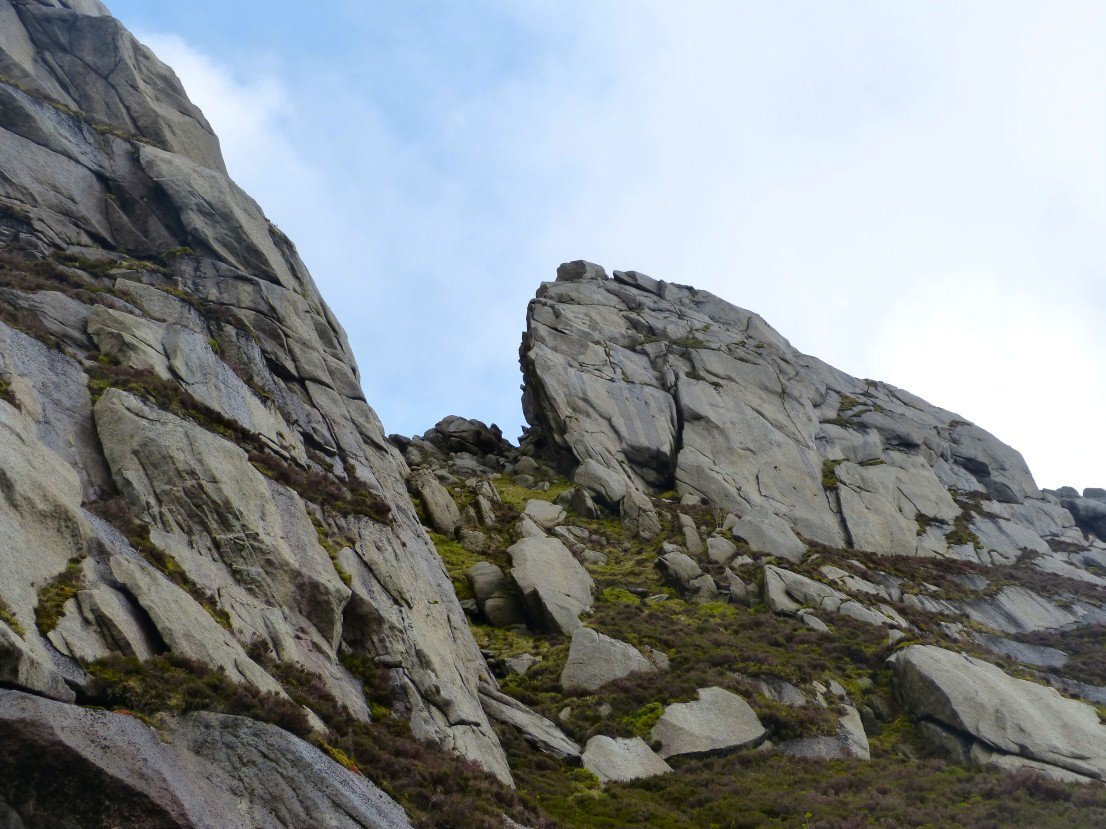 The pictures really don't do justice to how high and rough these cliffs looked.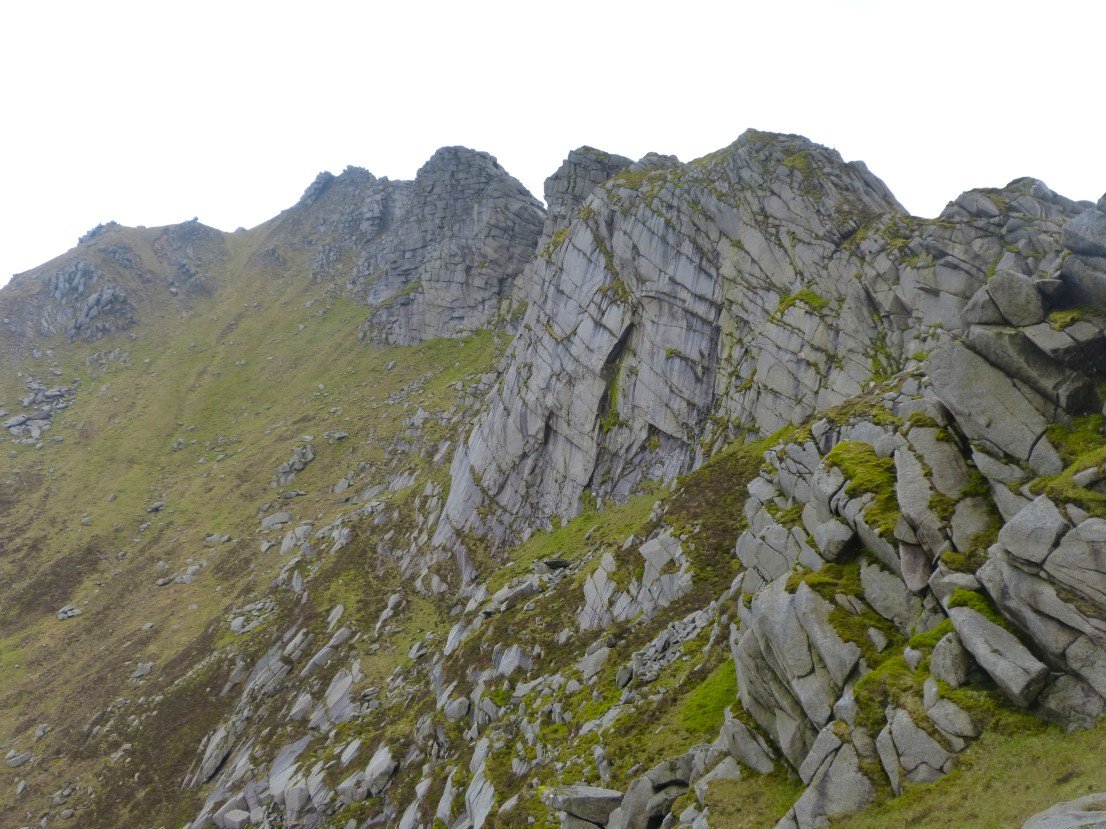 A' Chir from where the paths rejoin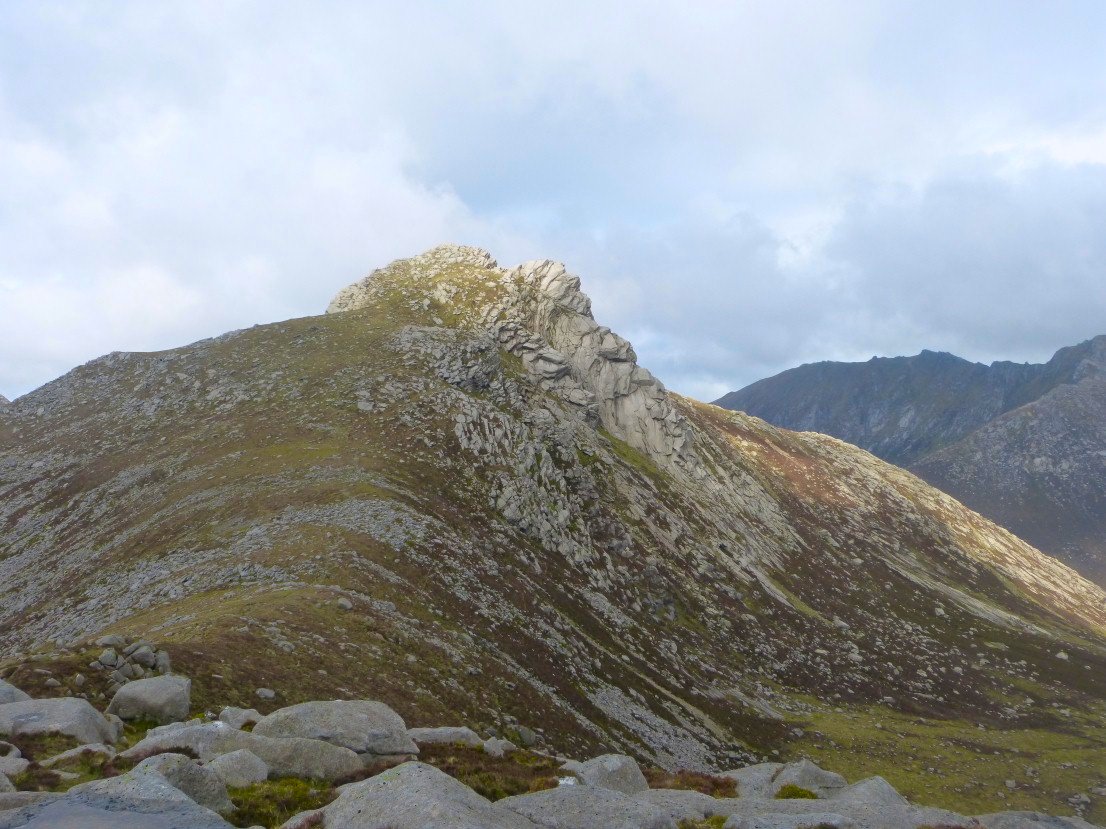 Rosa Pinnacle on Cir Mor ahead and the as the weather has cleared I set off to climb it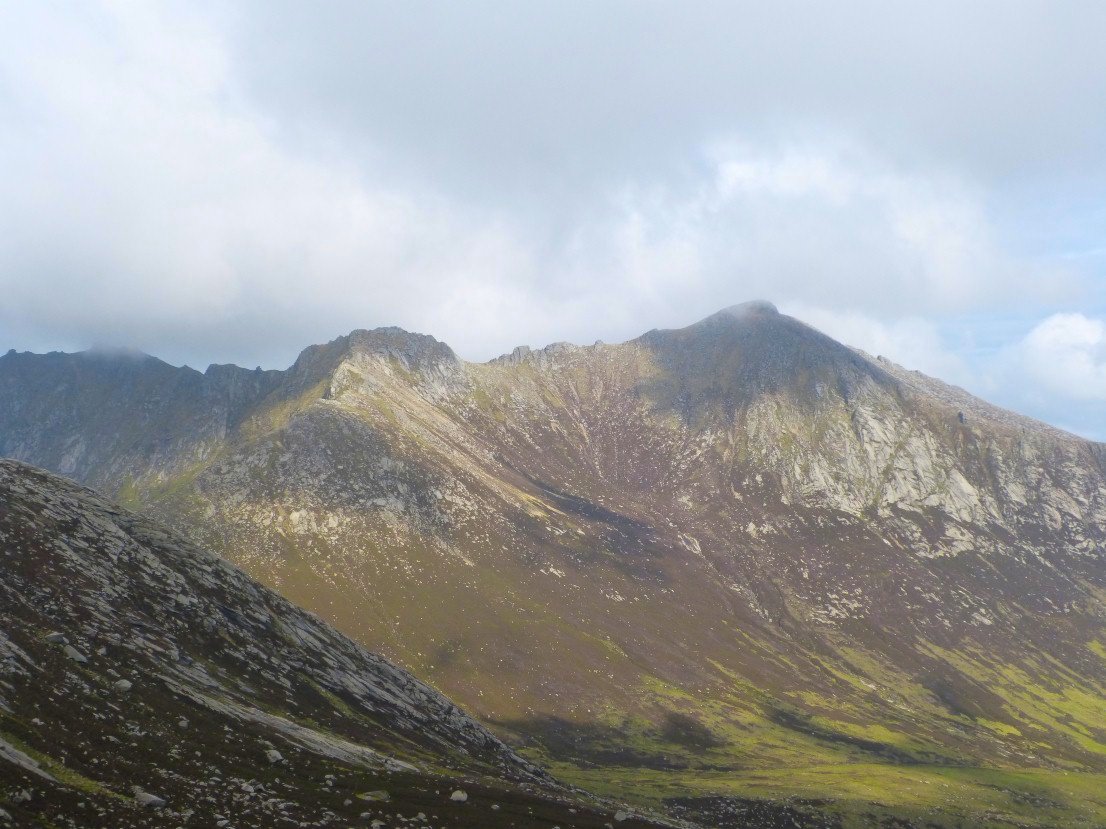 North Goatfell and Goatfell across Glen Rosa.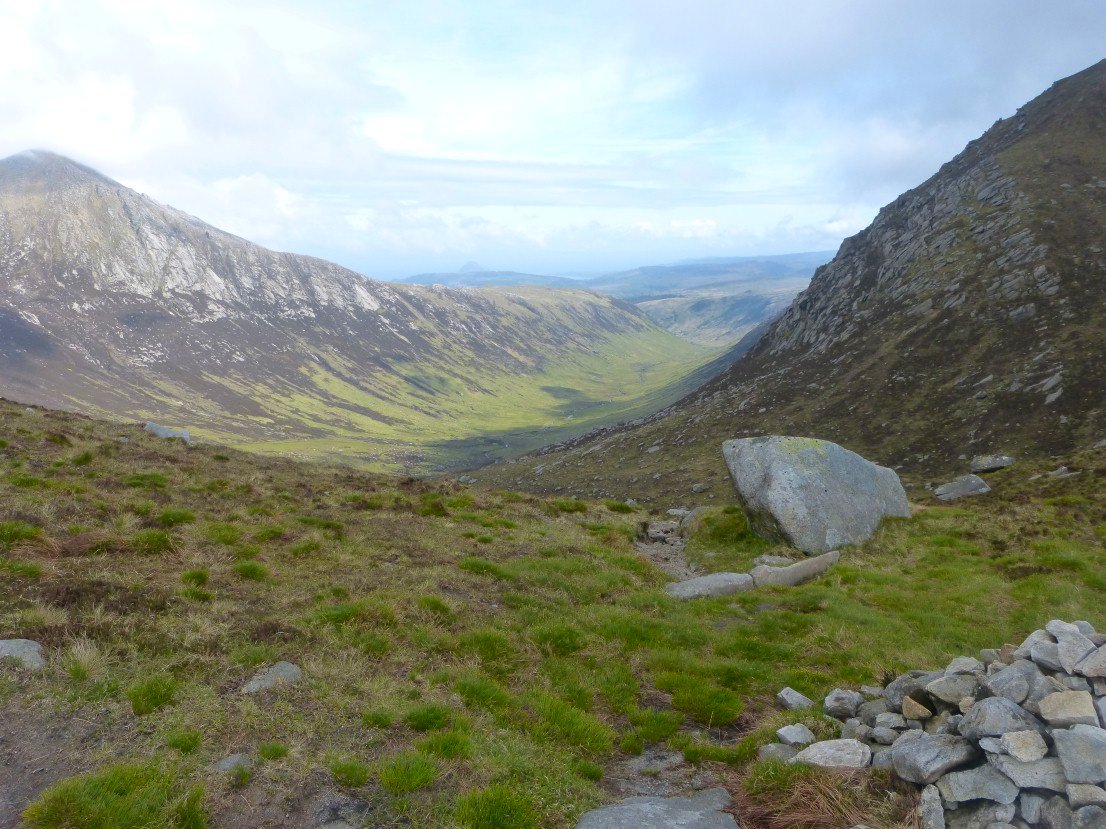 Looking down Glen Rosa from Coire Biudhe. There is an easy escape route to the glen from here.
Unfortunately my plan to climb Cir Mor was scupperd by the mist coming back down and also a pretty strong wind started blowing so I abandoned my attempt and picked up the ridge path to Caisteal Abhail .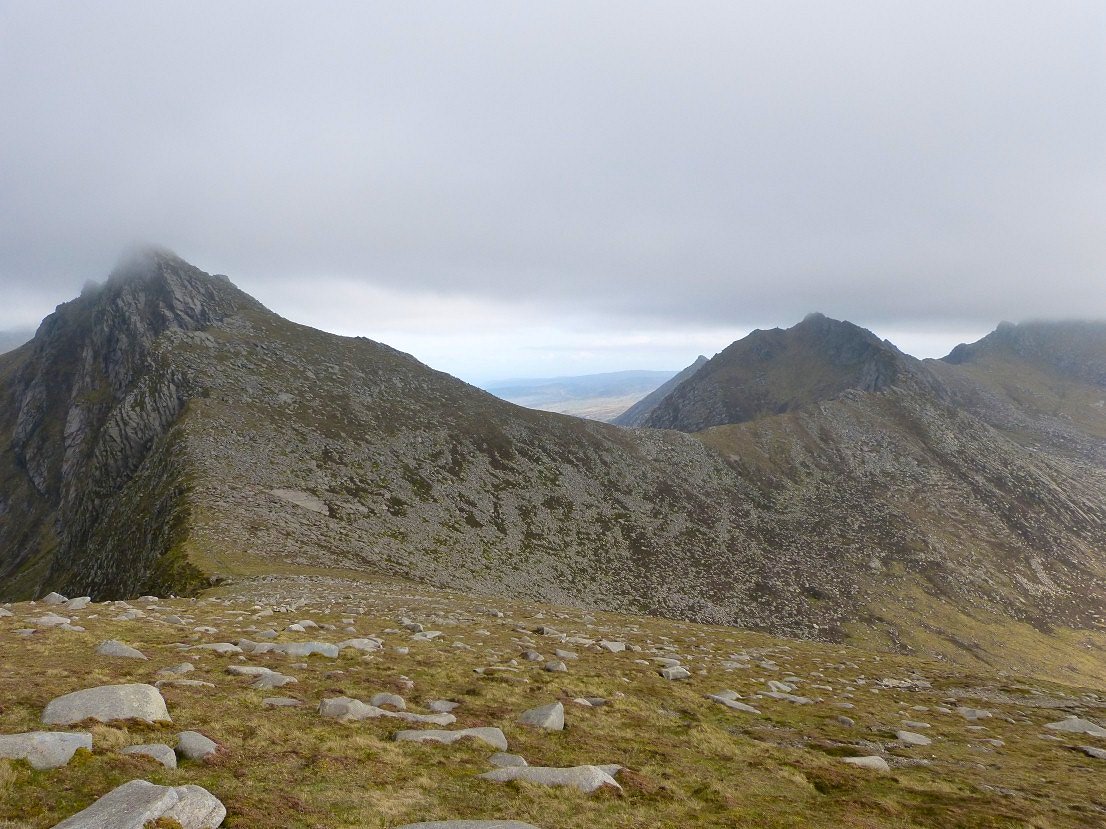 The view back past Cir Mor to A'Chir with Beinn Tarsuinn to the right still in cloud and I think the little point sticking up beyond A'Chir might be Beinn Nuis.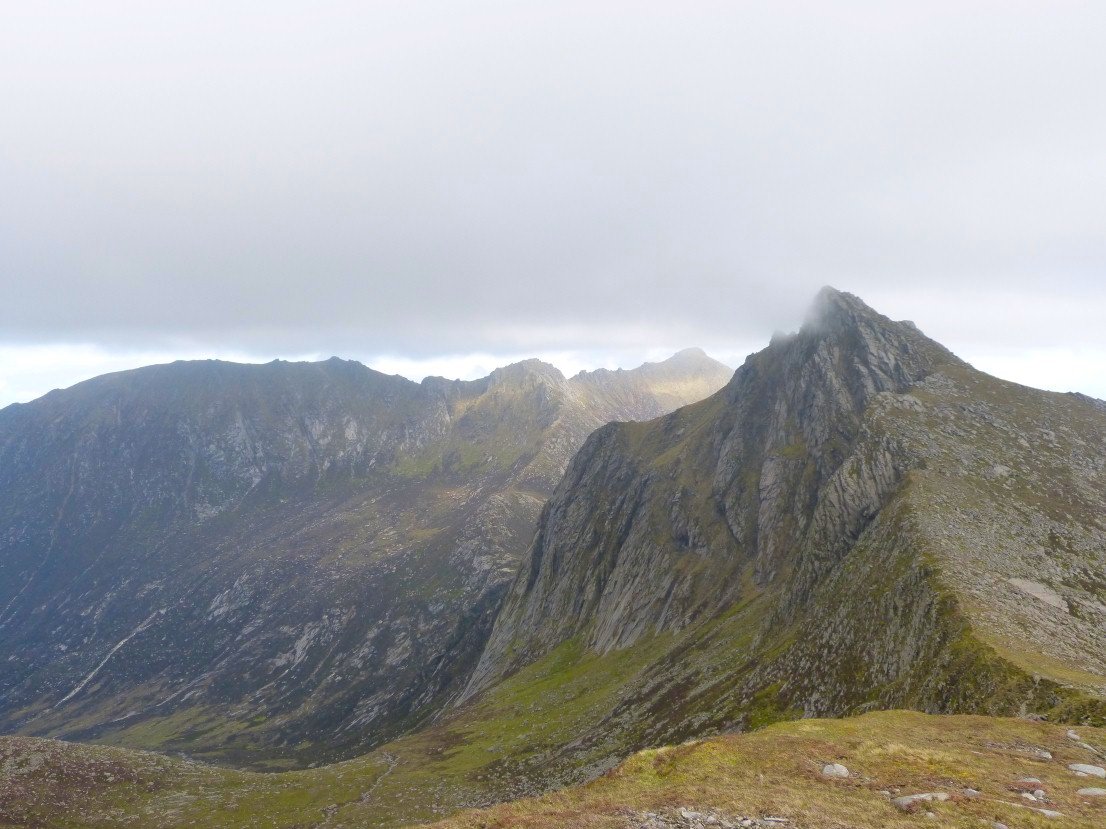 Cir Mor again but I was interested to look at the ridge up from Sannox that I would be attempting on Tuesday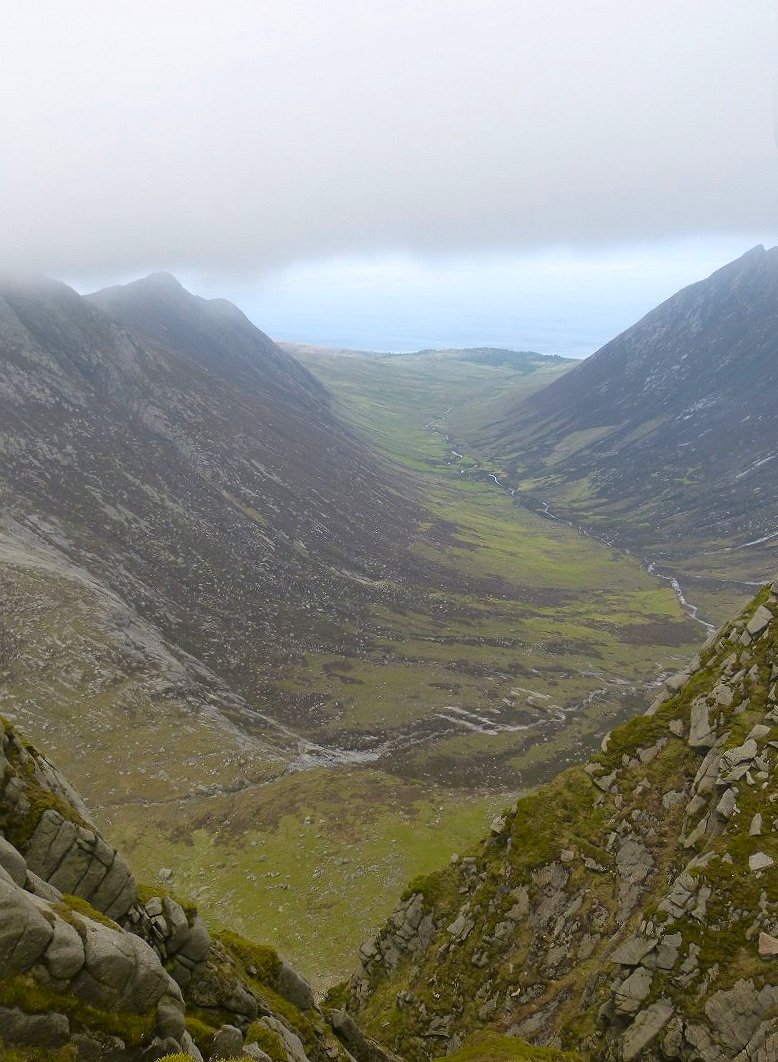 Fearsome drop from the path into Glen Sannox.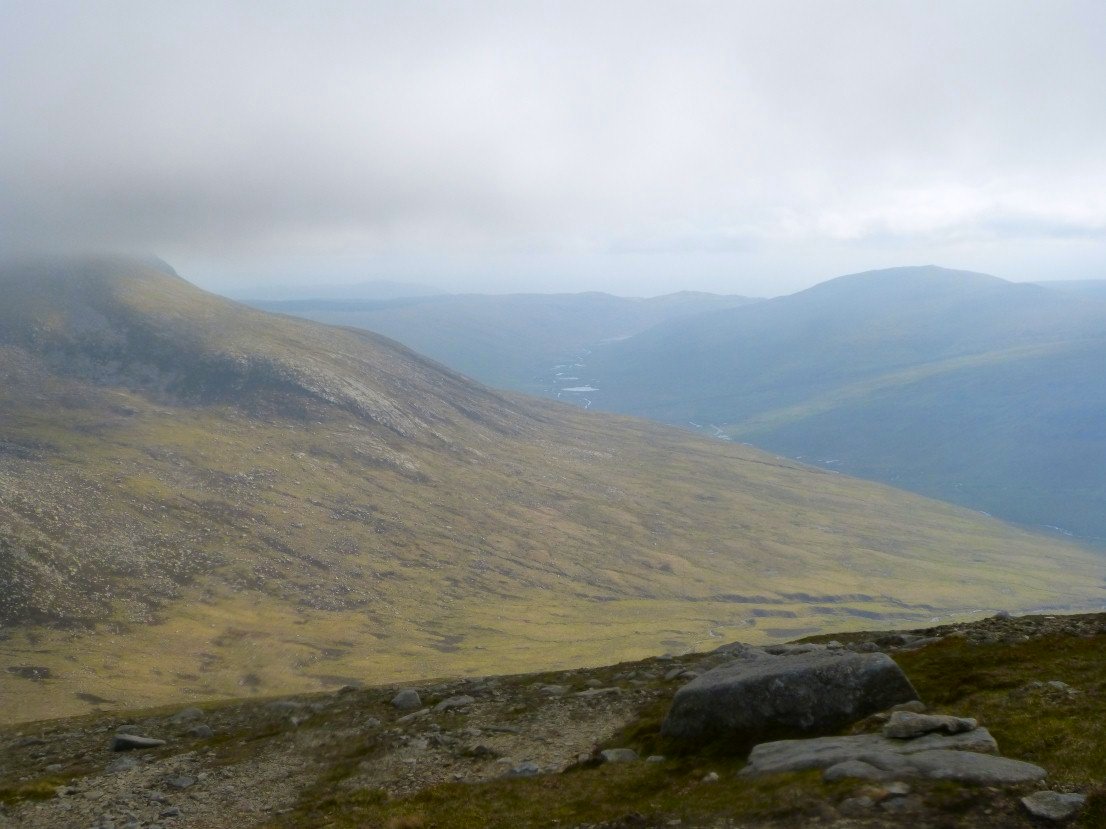 Looking in the other direction down along Glen Lorsa.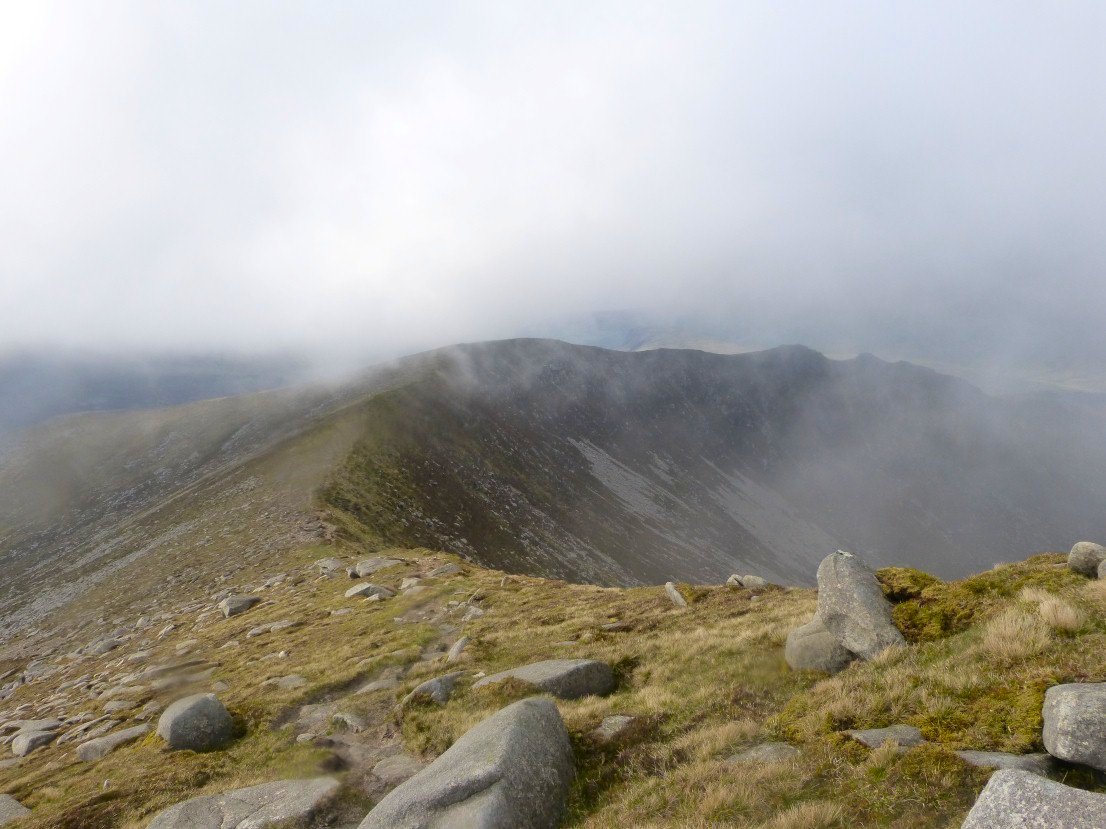 I had no views at all from Caisteal Abhail and I was very careful with my navigation and made sure I found the path I wanted and didn't walk off on the path down to the Witches Step which again is a very tricky scramble.. This is the ridge down to Creag Dhubh.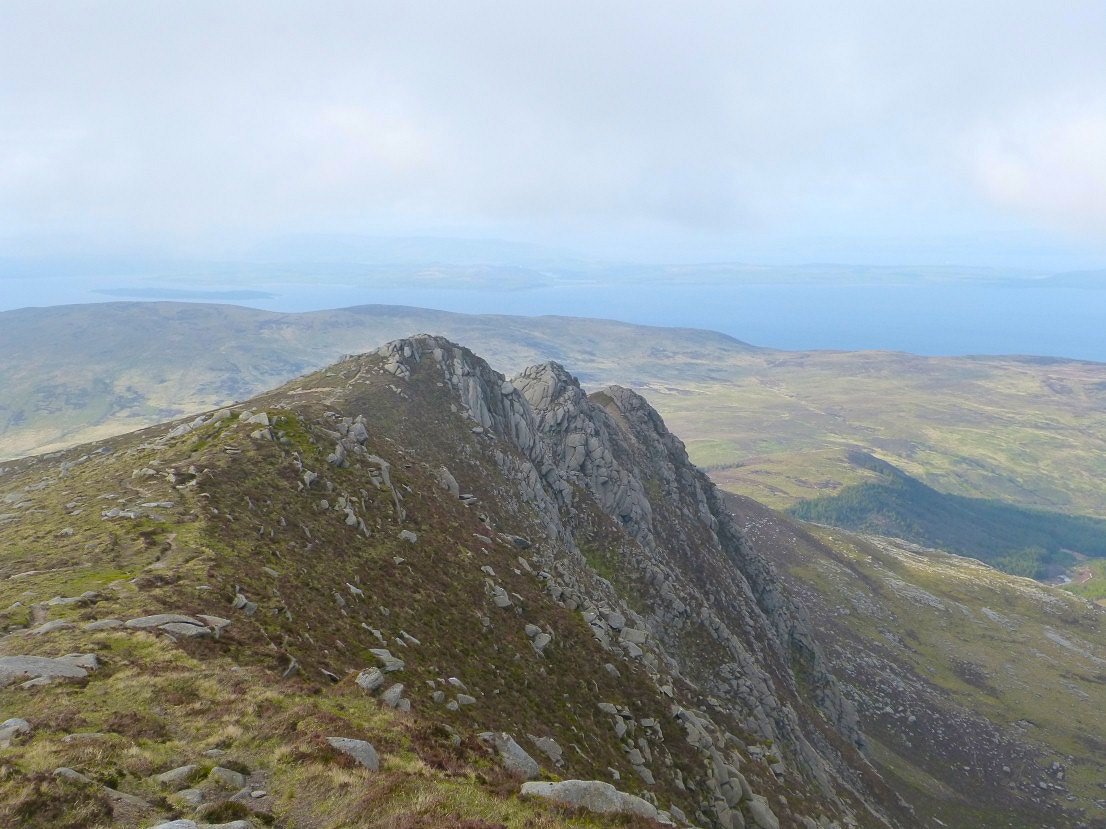 Sail an Im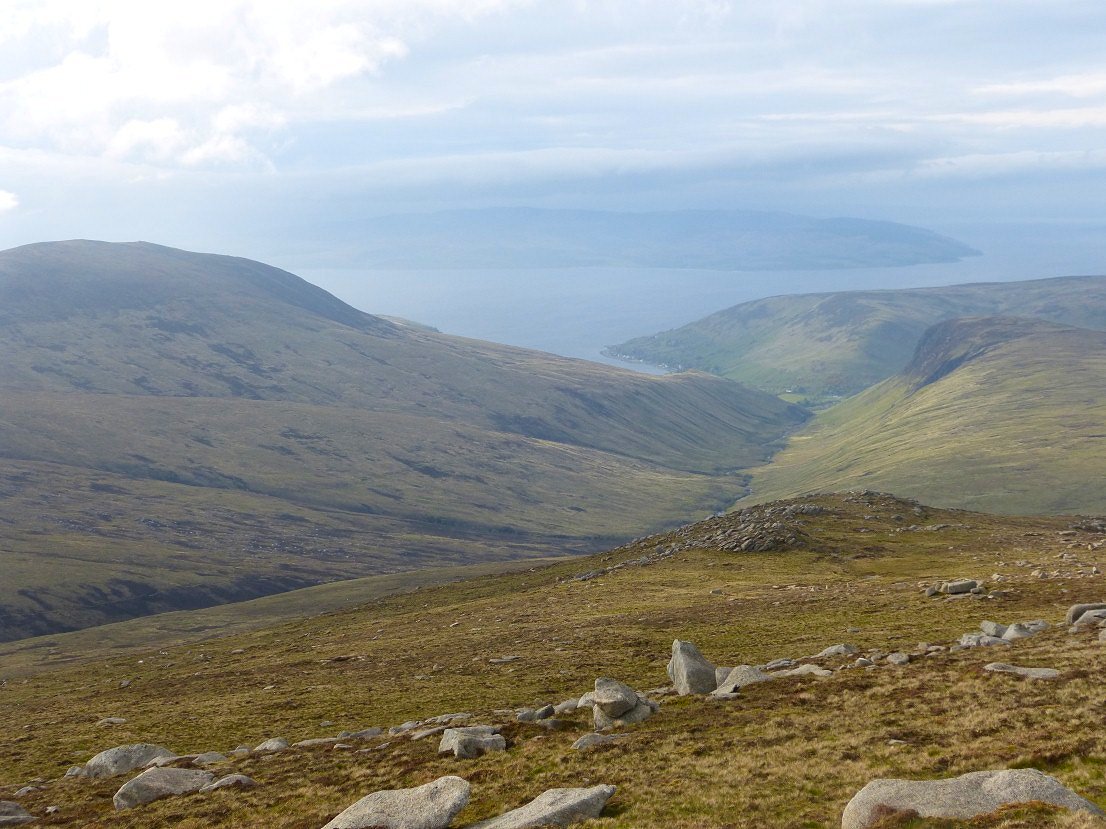 Lochranza, the north coast and Kintyre ahead. The little out crop looked an ideal camp spot.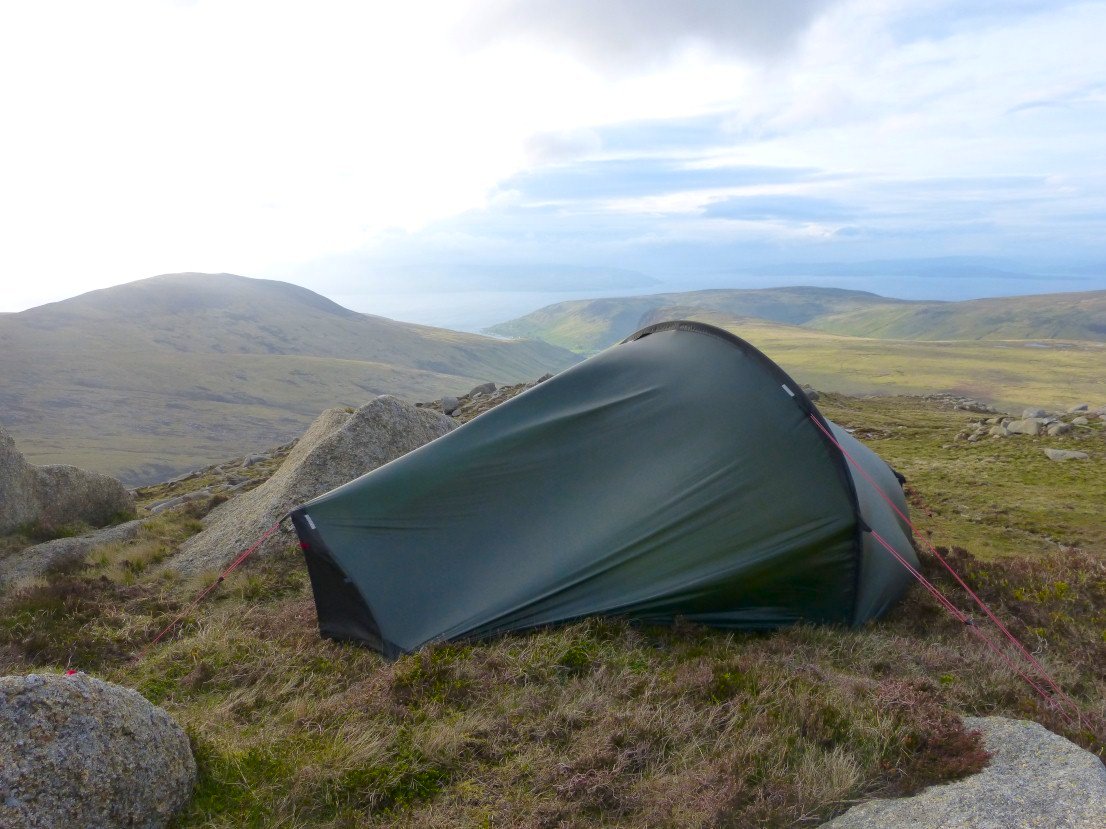 And it was.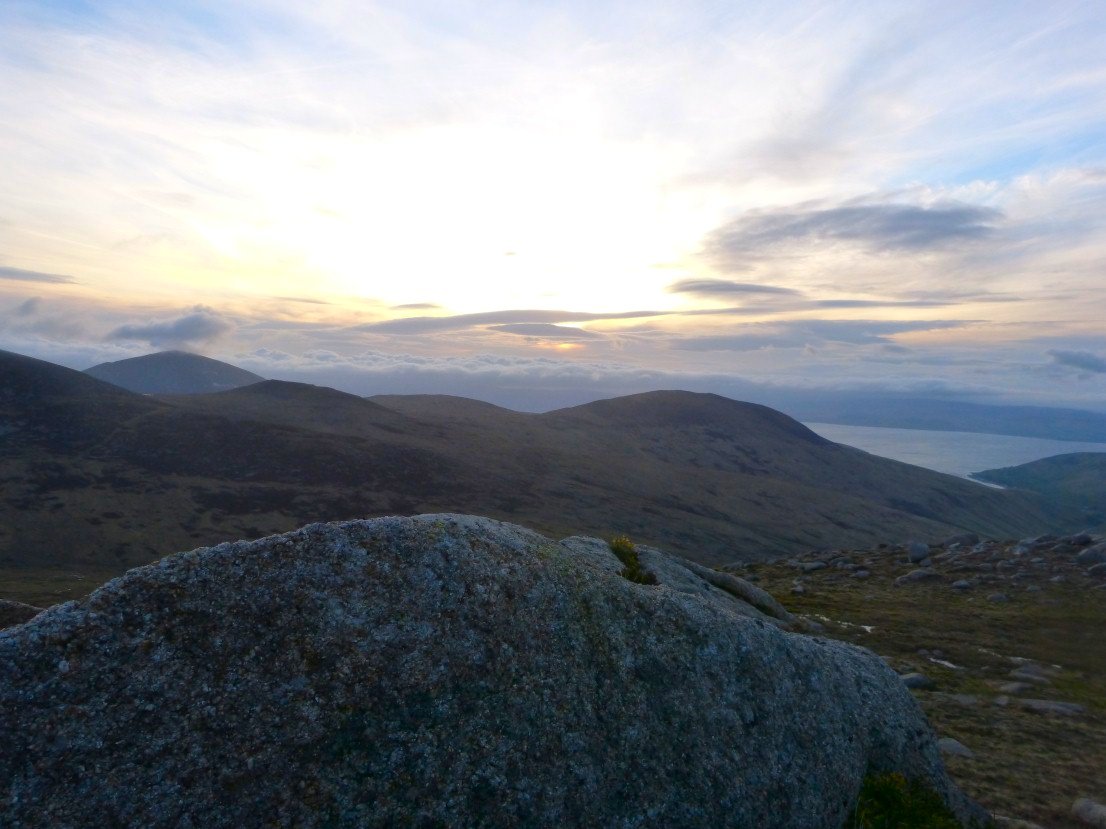 A nice dry ( if a bit windy ) evening followed.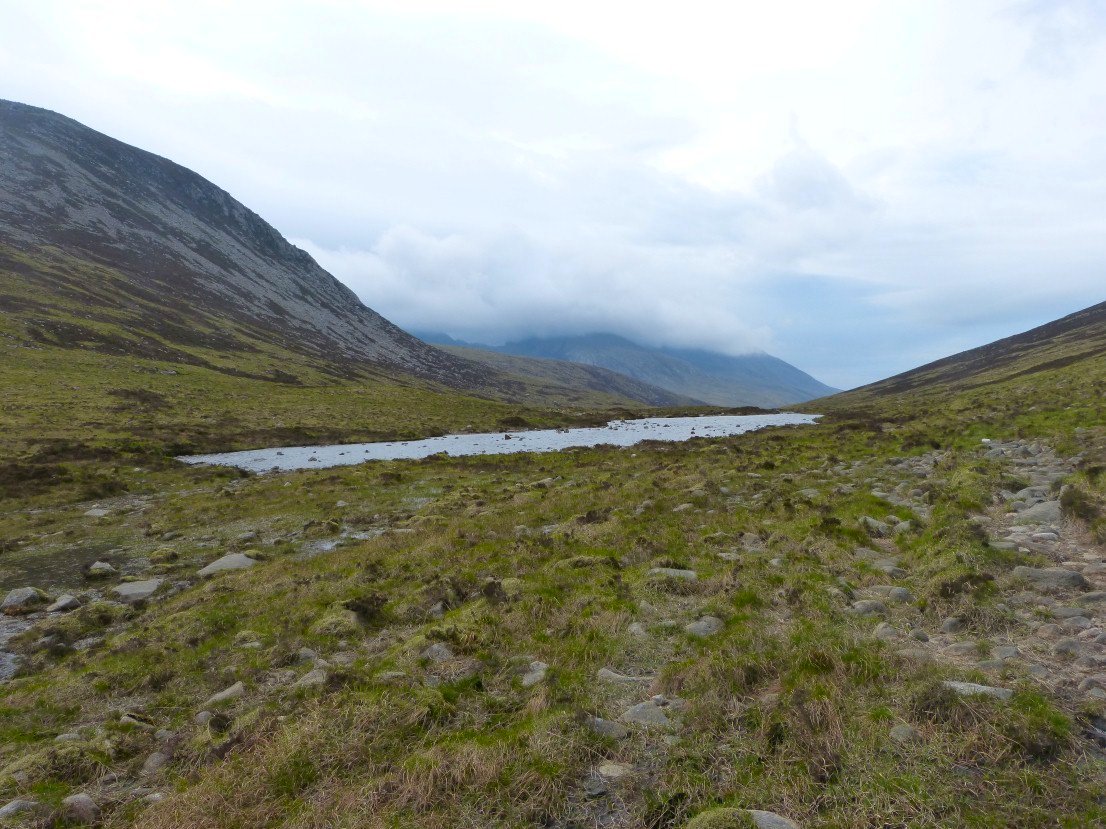 In the morning I walked down to Loch na Davie which I had read was famed for it's pure clean water but I have to say today it just looked like any other mountain tarn.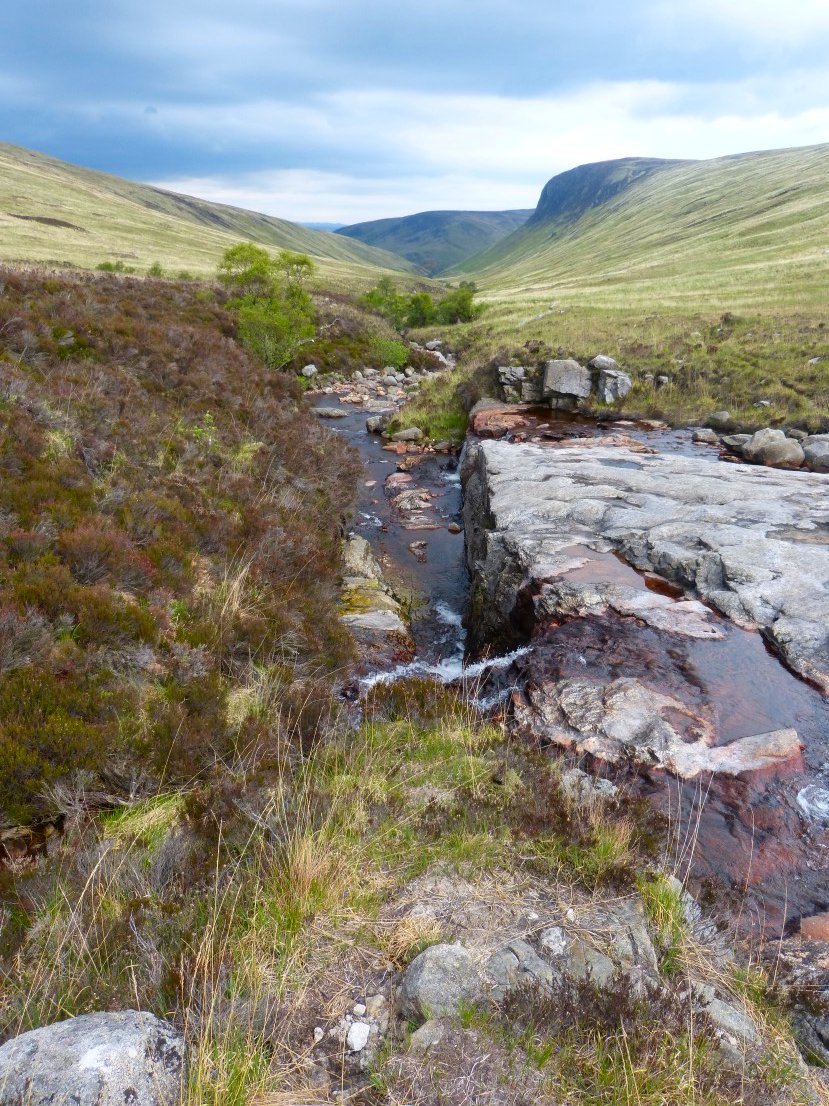 Following the river downstream.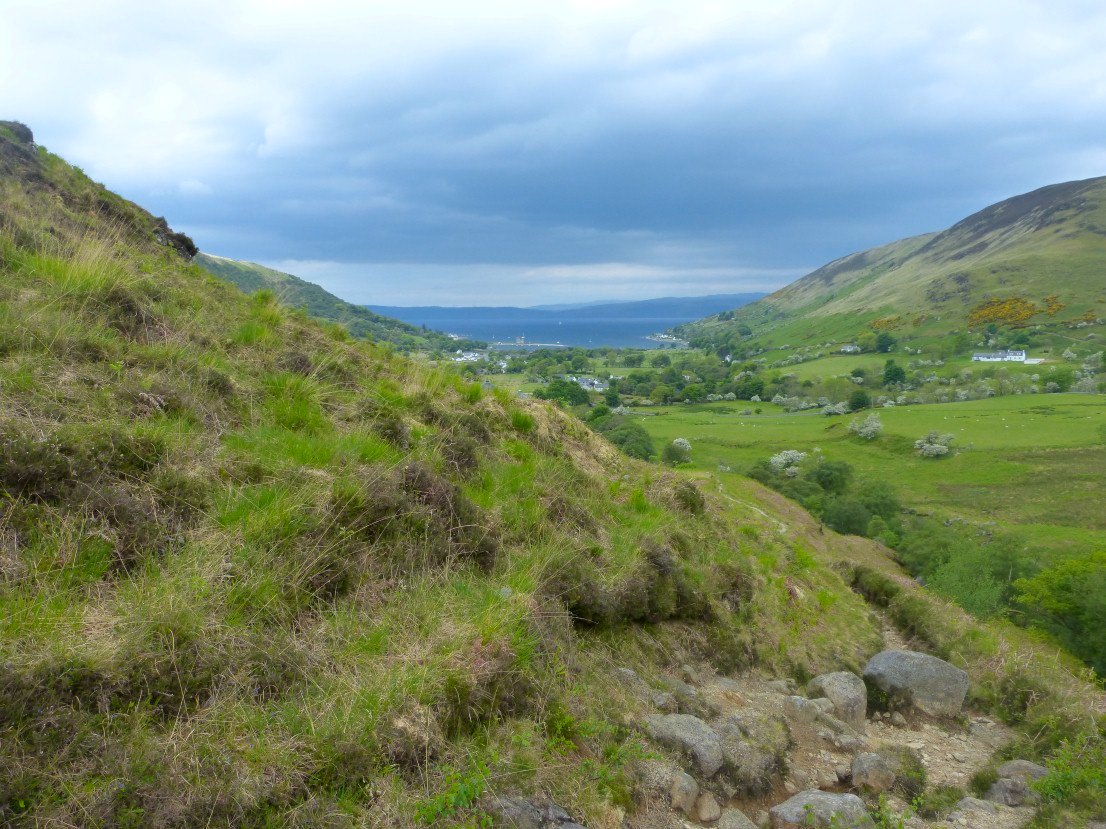 Lochranza ahead.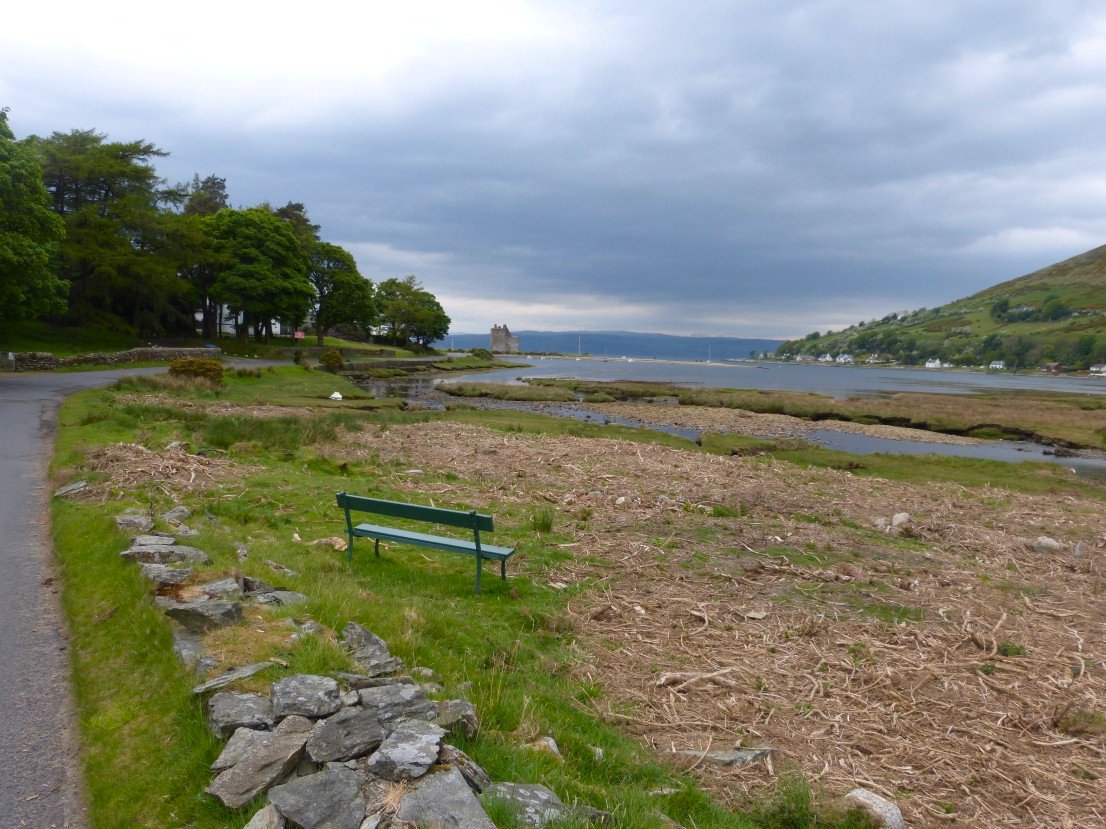 Lochranza. The ruined castle in the distance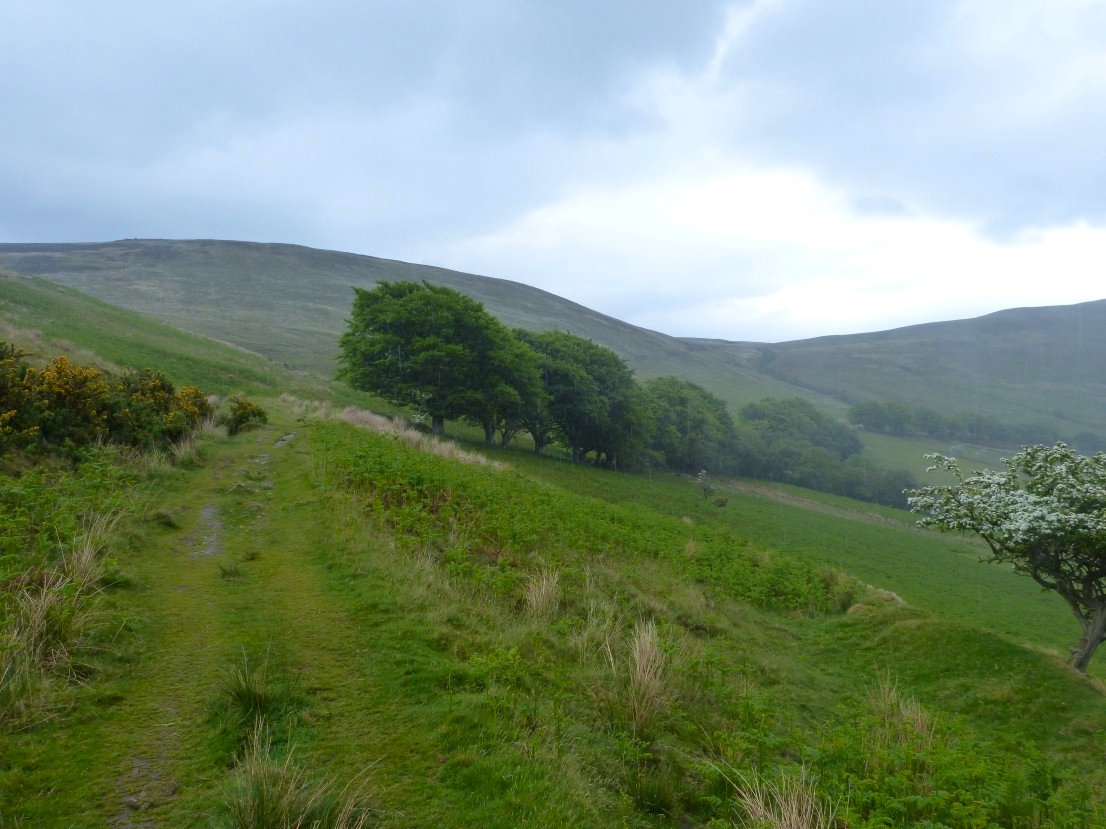 On the path now over to the Cock Of Arran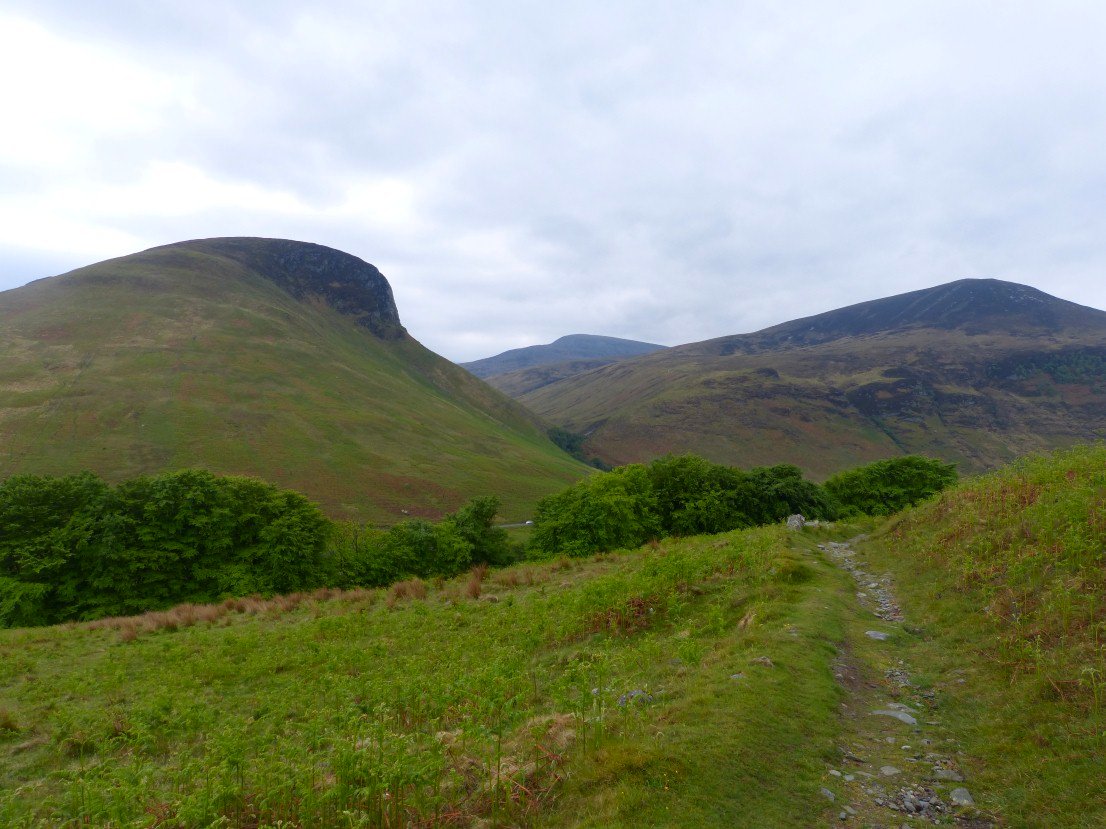 Looking back to the valley I had descended with Tor Nead an Eoin on the left and Meall Mor to the right.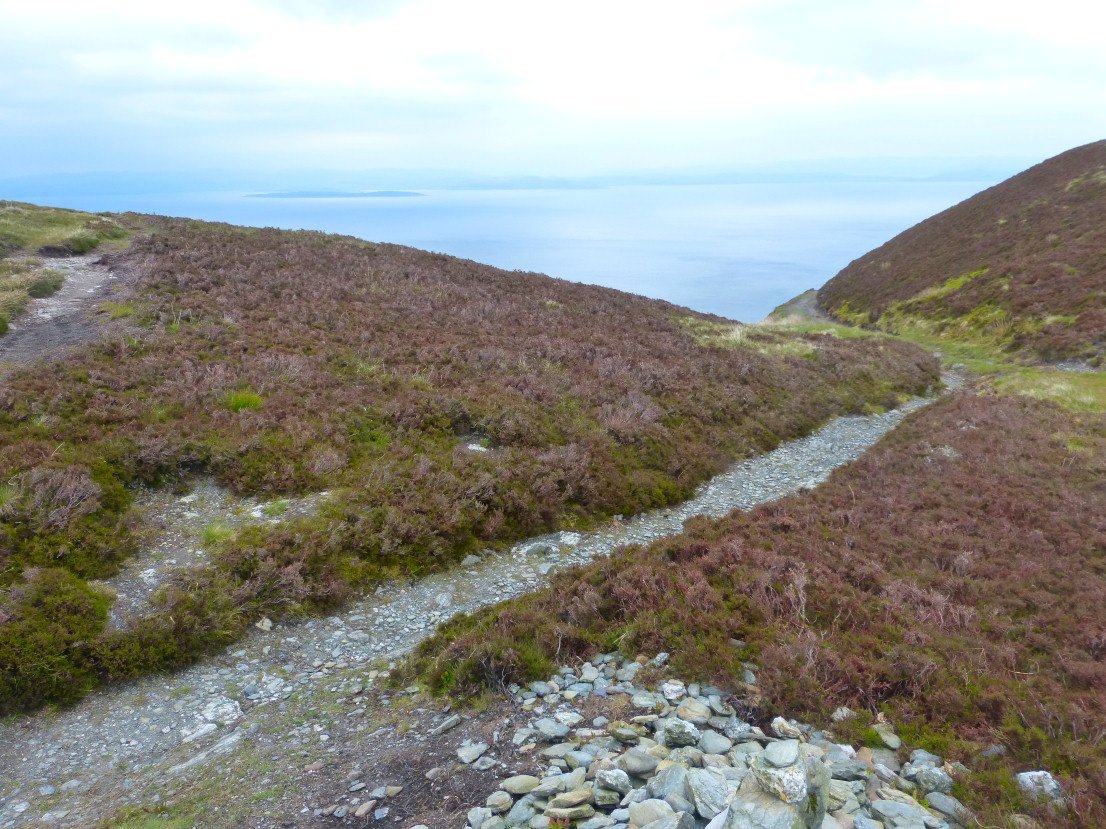 At the top of the hill now and this is where I regret my choice of route, I now wished I had dropped down and followed the coast path south to Sannox but I wanted to stay high and get the longer range views over the sea.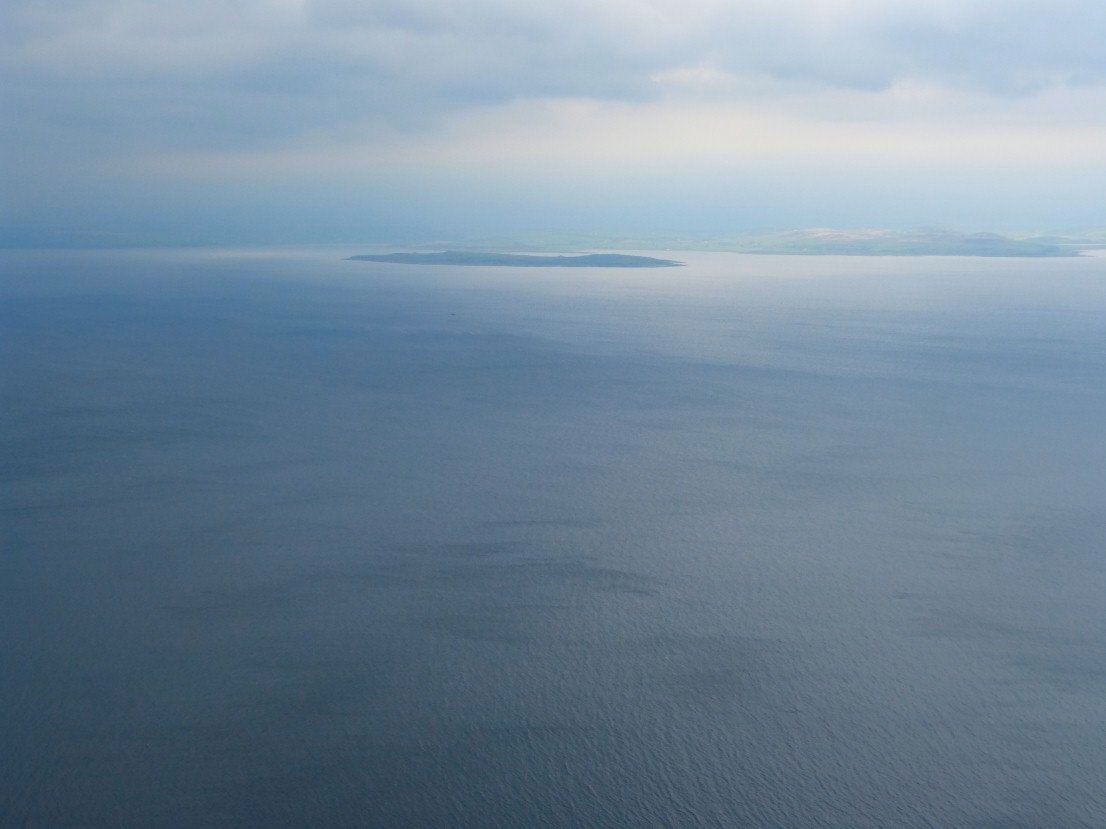 And there were a few nice bright spots.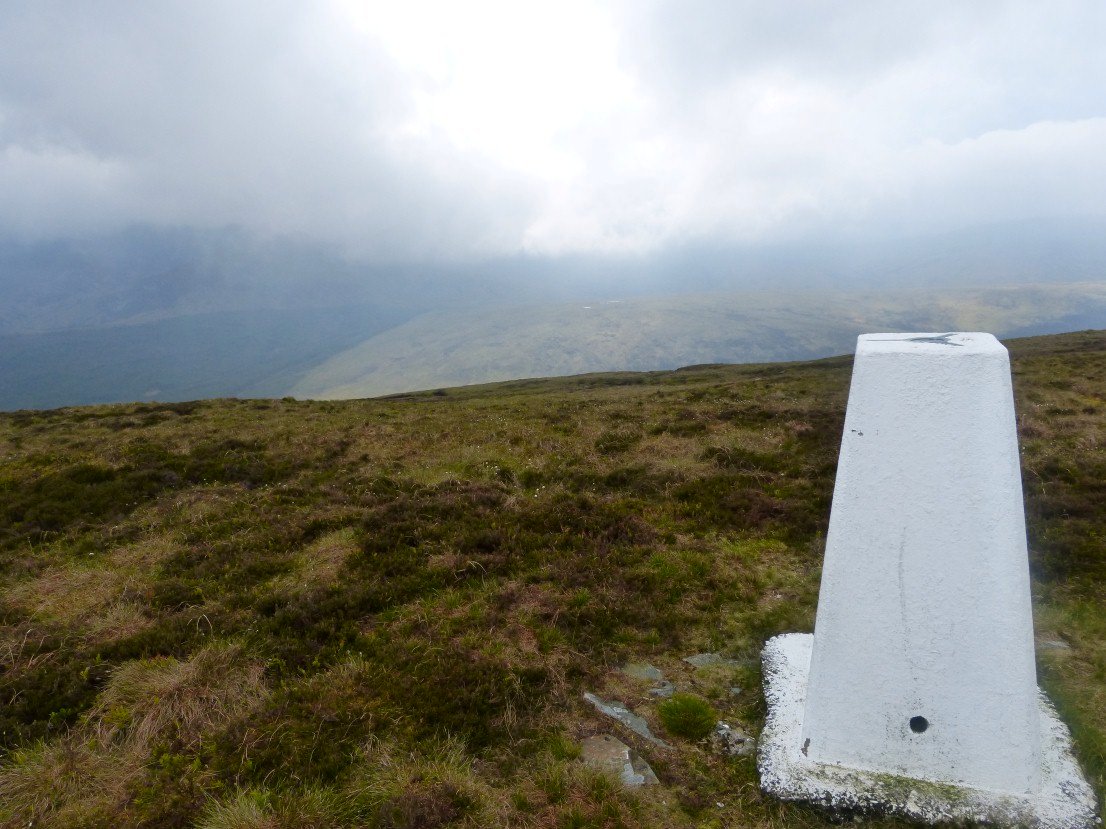 Mostly though the going was very wet and very hard through the heather and I was glad to reach the trig point at the 444 meter spot height which marked the highest part of my climb.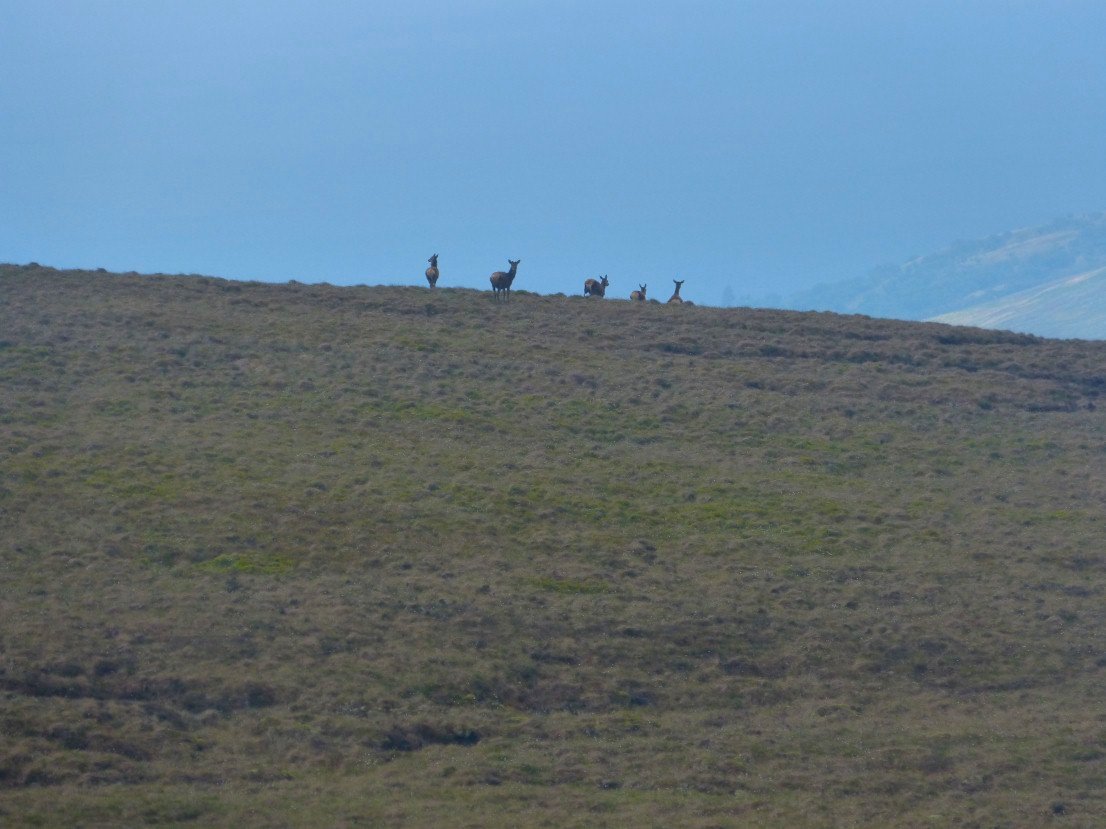 I was surprised that I hadn't seen any deer so far but I saw quite a few on these boggy hillsides.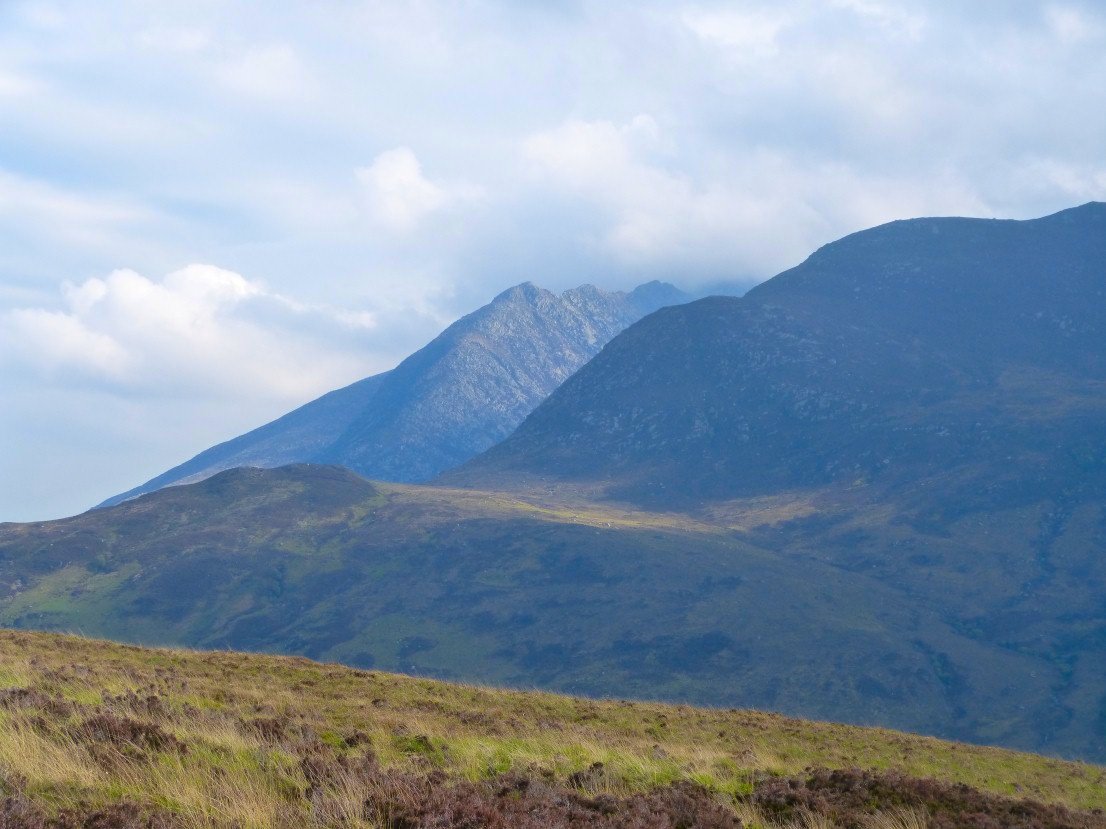 I got a bit tired of bog trotting so I made my way down to the path shown on the map which wasn't much better but thankfully improved as it lost height. I got a glimpse of tomorrows first hill Cioch na h Oighe.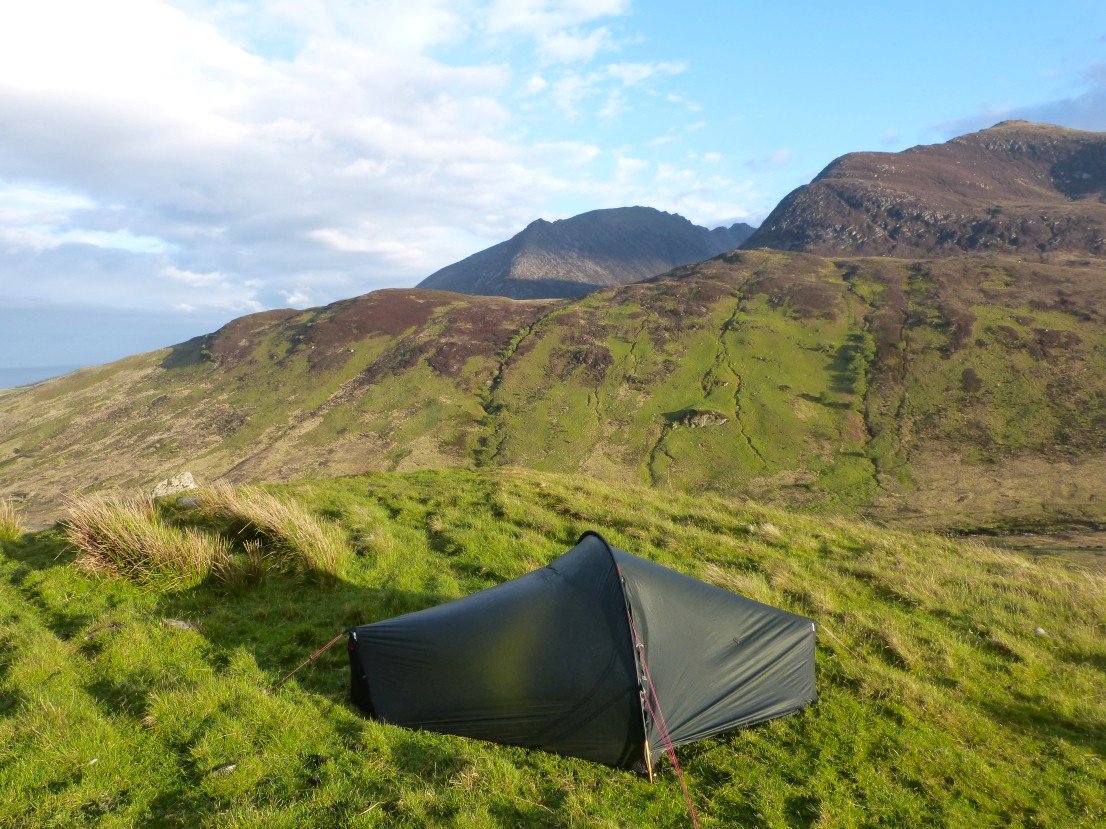 I got my tent up just before a tremendous rainstorm which lasted about an hour but after it cleared the air was a lot fresher and cooler.