WWW.KARLSWALKS.CO.UK
PICTURES AND TRIP REPORTS FROM MY WALKS IN THE ENGLISH LAKE DISTRICT
Above Eskdale
16th May 2015
Route.
Woolpack Inn - Whin Crag - Dawsondground Crags - Cat Cove - Great How on Eskdale Fell- Black Apron - Whinscales on Eskdale Fell - Stony Tarn - Peelplace Noddle - Woolpack Inn
(about 5.5 miles 1600ft ascent)
I have been looking forward to this walk for a while. I love the open high ground above the Eskdale valley, the combination of quiet mainly pathless secretive fells and the little knolls and hollows some cradling small tarns I find wonderful. Sue had a few Birketts to knock off in the area so along with Helen off we went.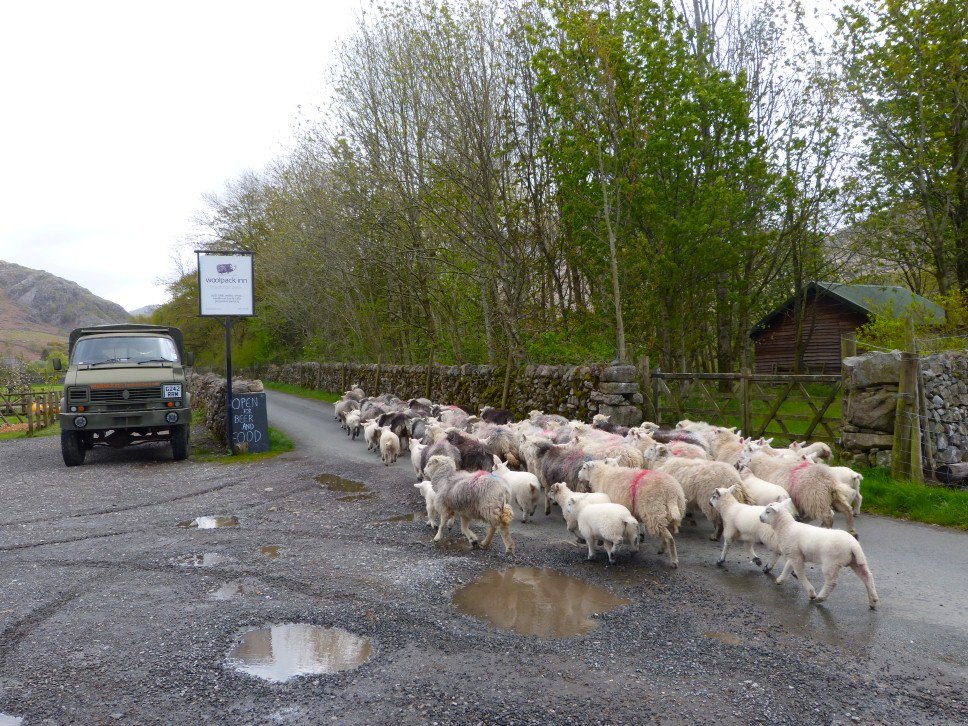 Rush hour Eskdale style.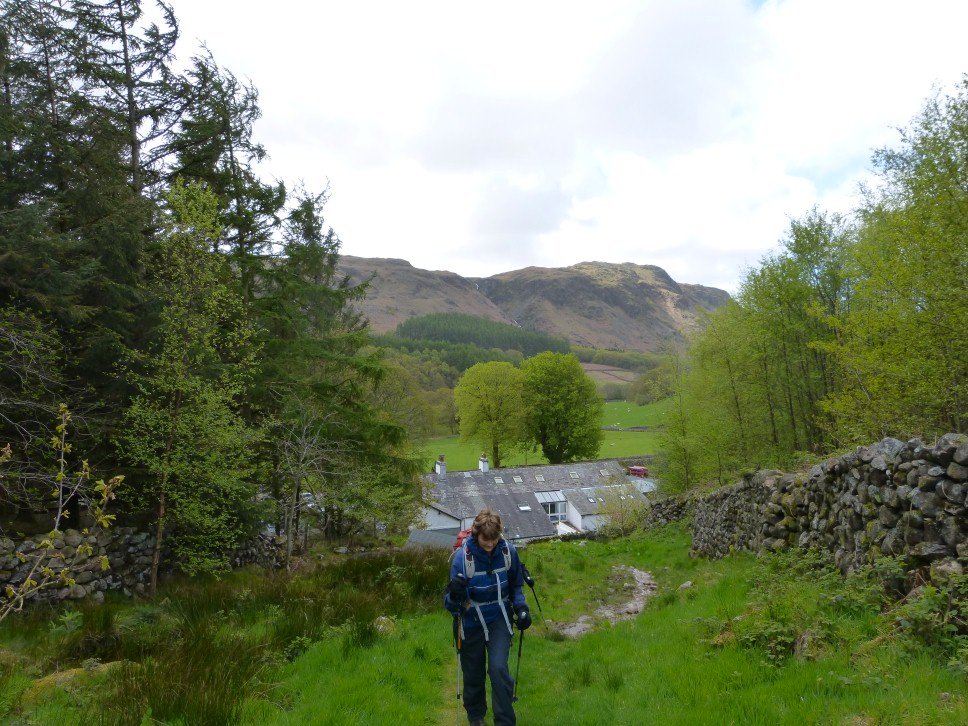 Setting off from behind the pub. Birker Force waterfall across the valley.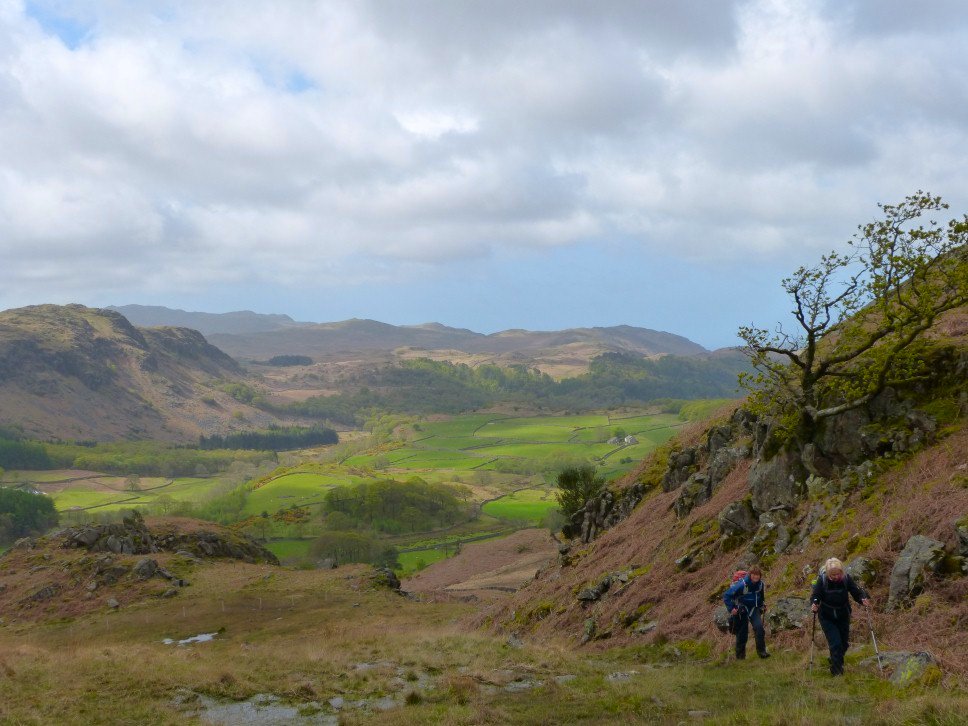 A little higher on the climb now looking back at beautiful lower Eskdale.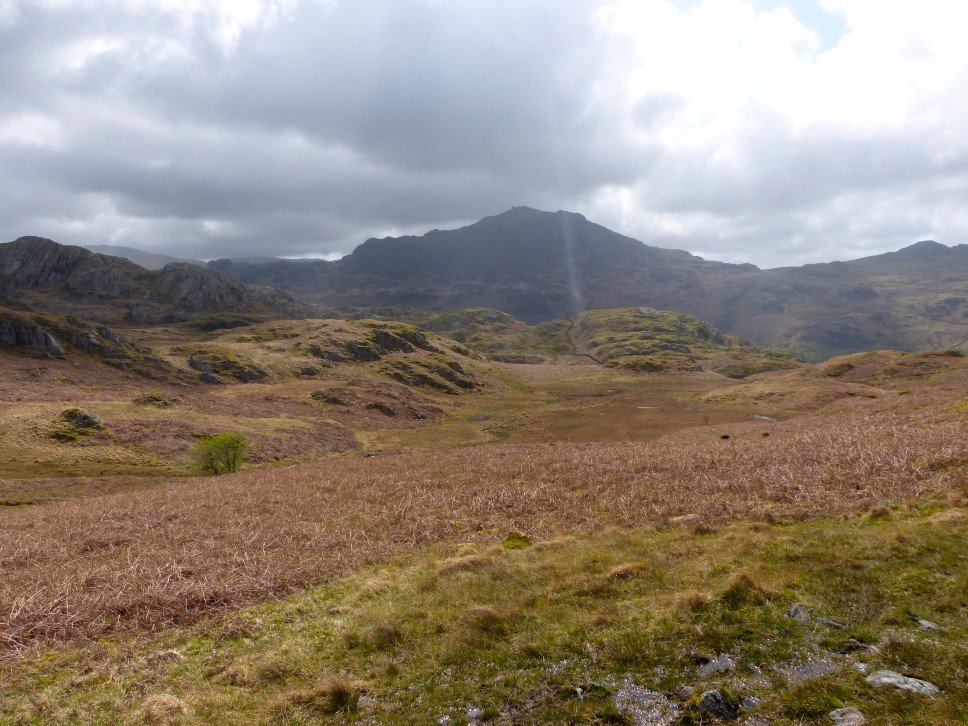 Around every corner was a suprise, here we pass above a secluded moss.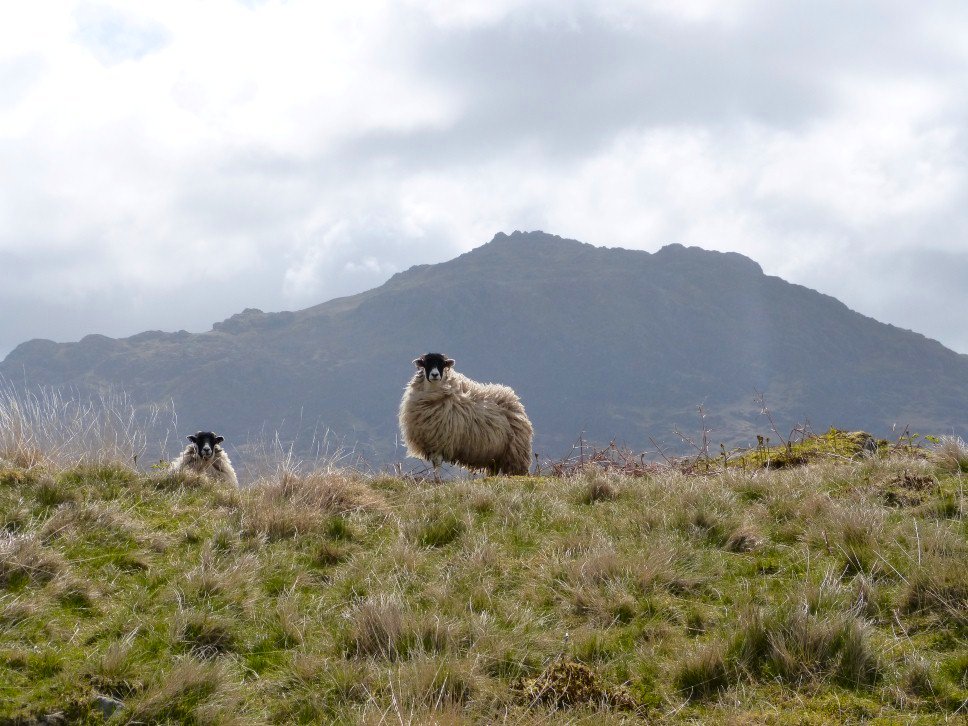 Not totally uninhabited though.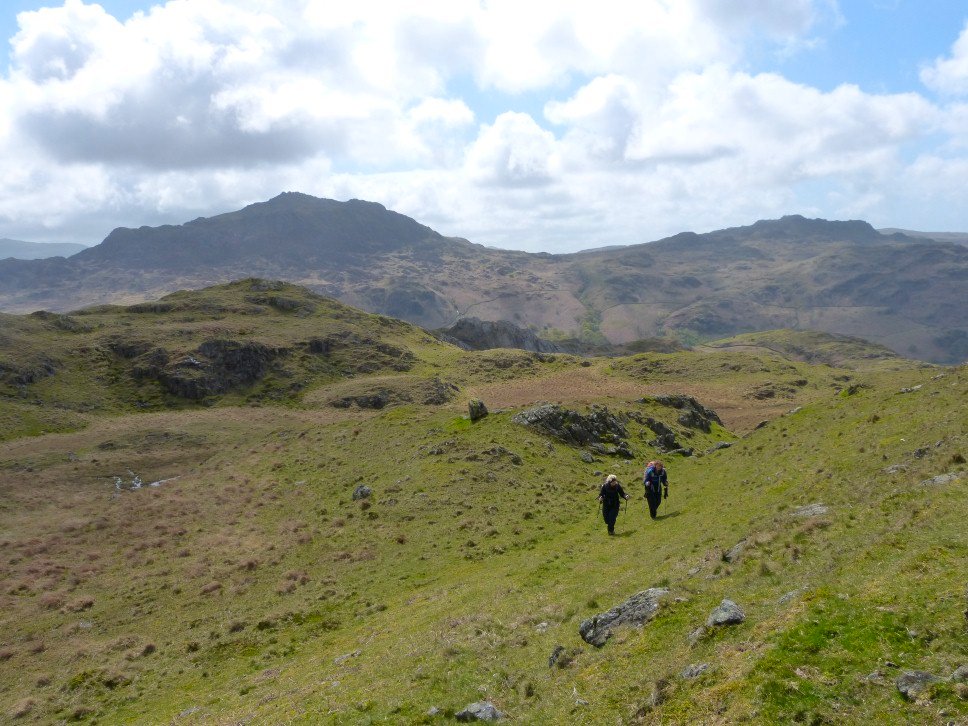 Harter Fell on the left separated from the Green Crag fells by the pass over to Dunnerdale. The weather was quite nice but there was a stiff westerly blowing straight from the sea so we took a bit of a circular route to Whin Crag and sneaked up around the back.
Stony Tarn from Whin Crag.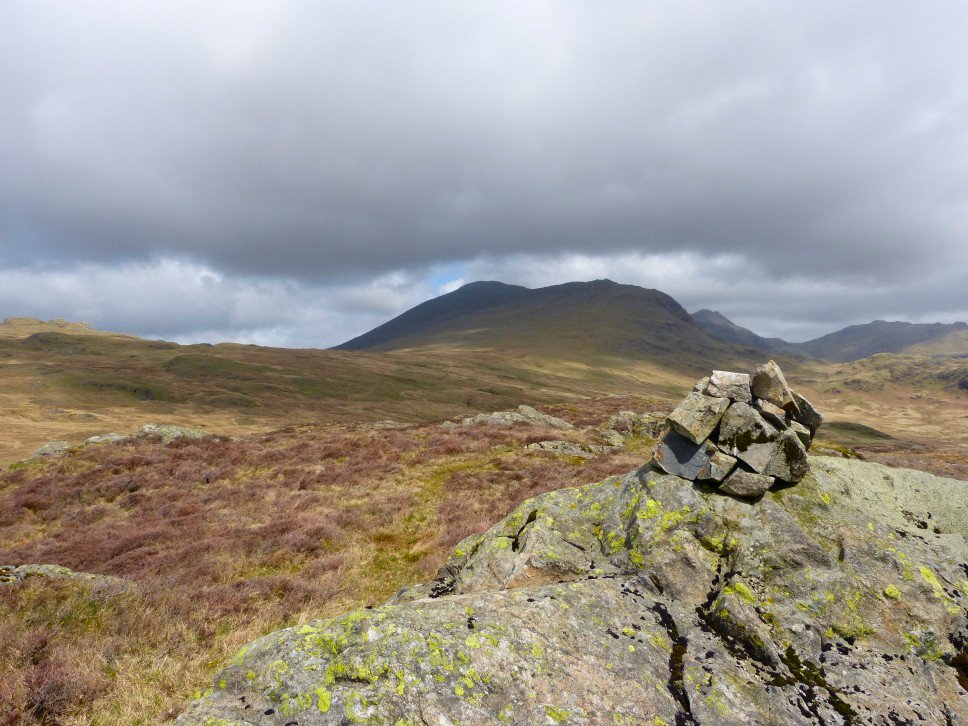 It's not very far to our second Birkett of the day, Dawsonground Crags.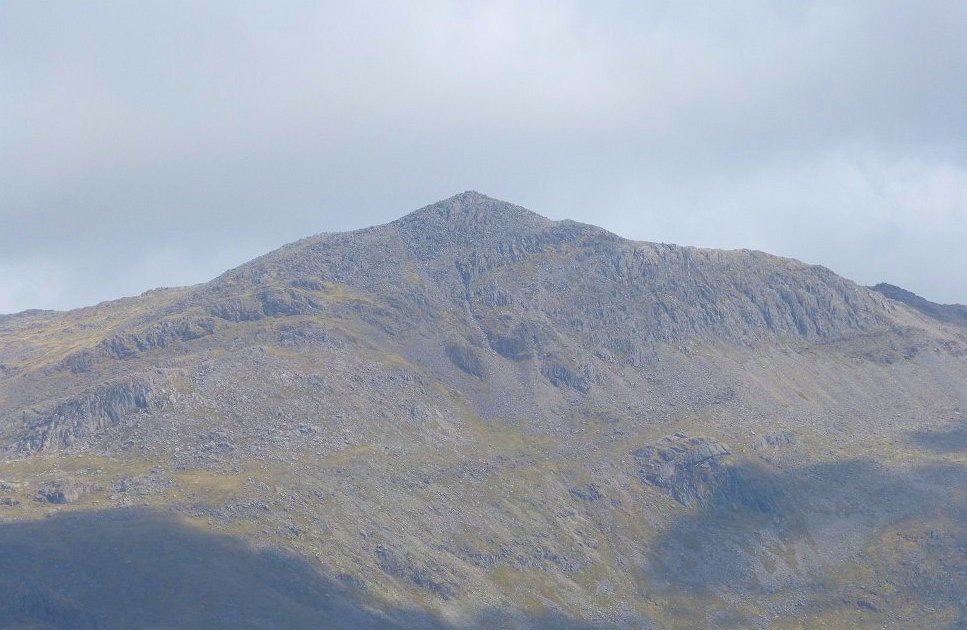 Unmistakable Bowfell.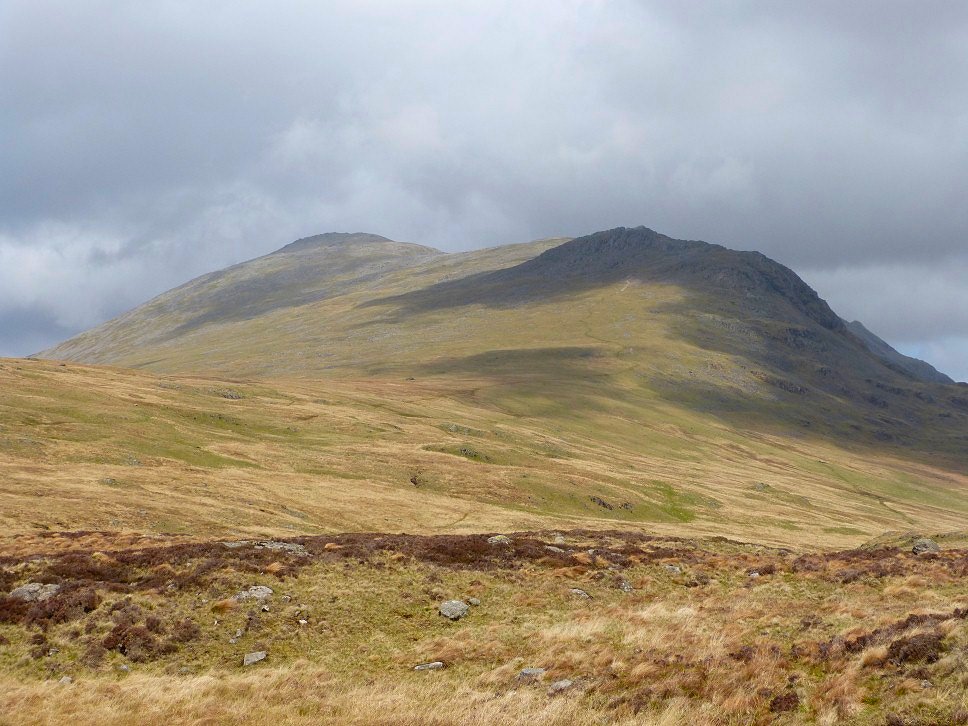 These two pictures were taken just a few minutes apart and show Scafell and Slight Side as nice friendly fells just asking to be climbed.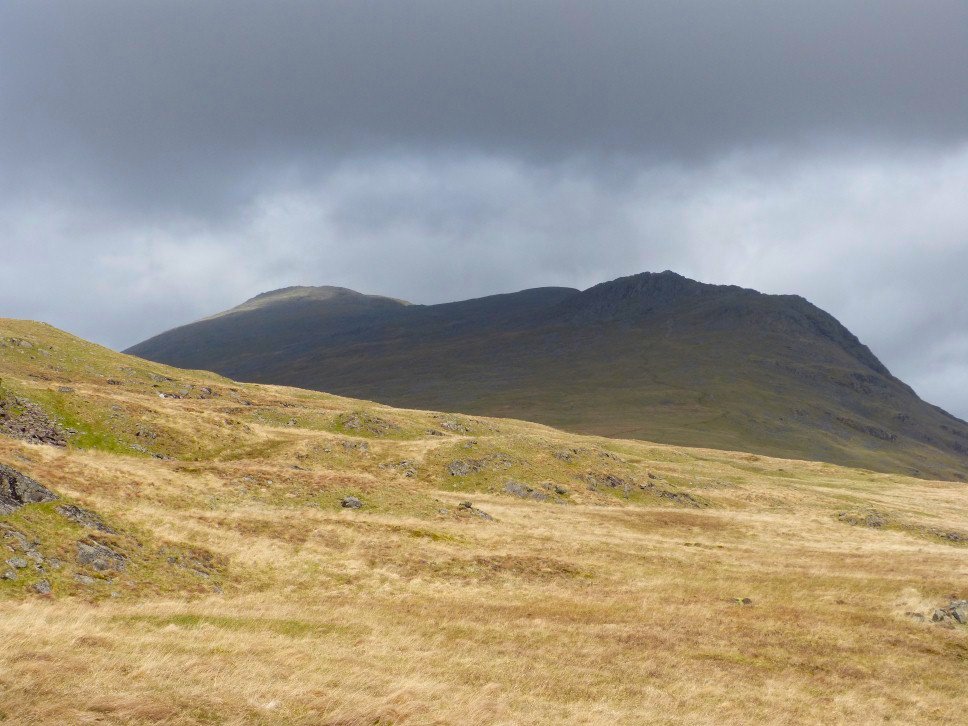 Then as a huge brooding mass saying "keep away"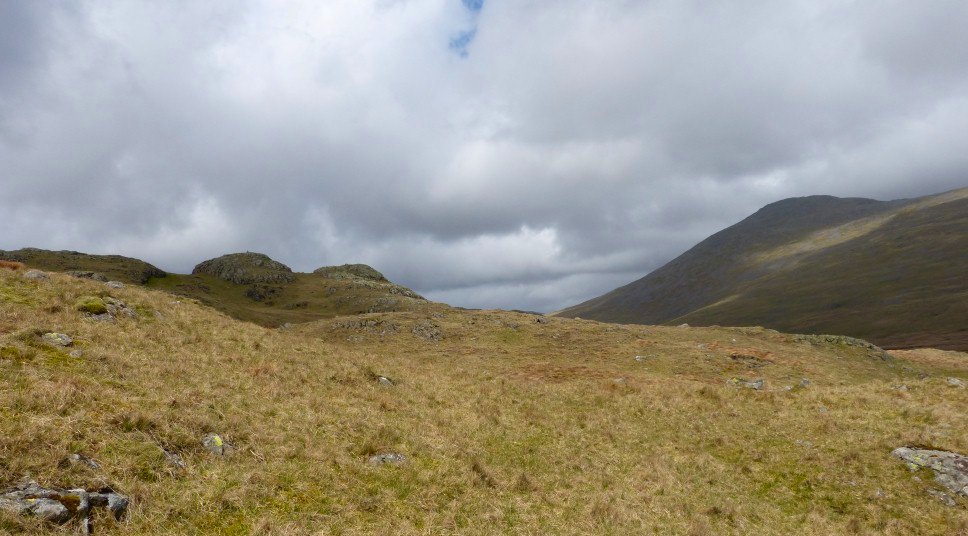 We are not going that high today though. Our highest fell Great How is ahead.
Looking back to the Bowfell, Crinkle Crags, Stonesty Pike and Little Stand group.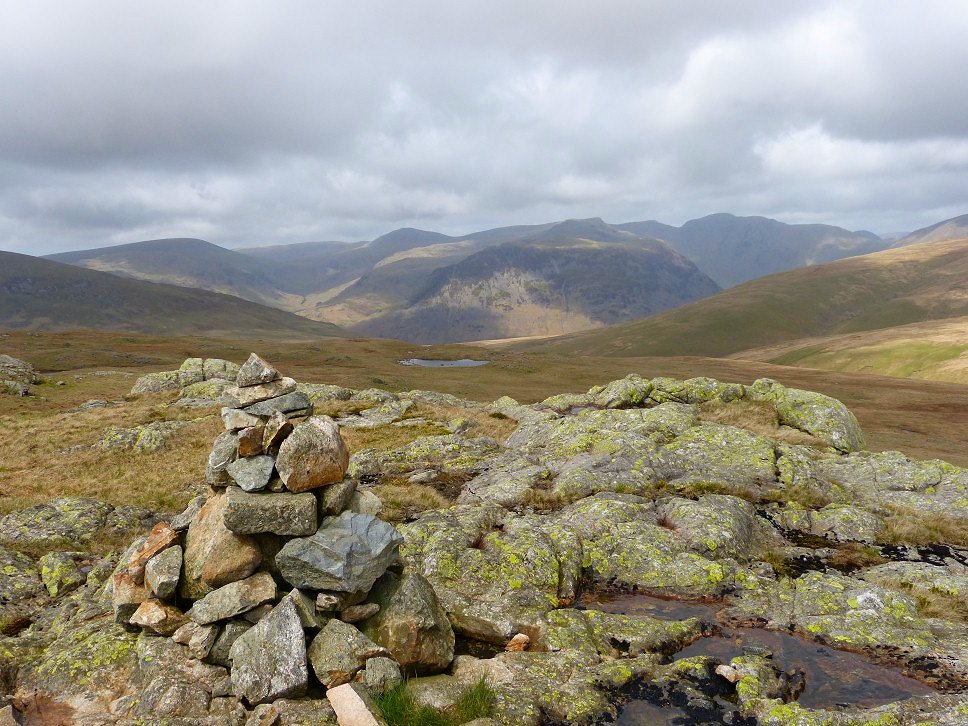 Super view of the Wasdale fells from Great How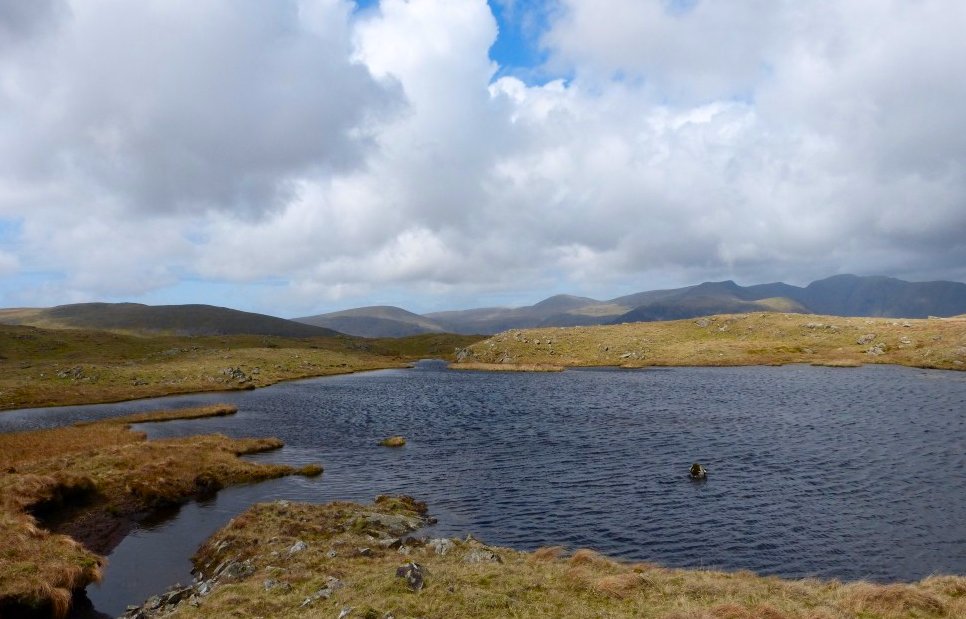 Great How tarn looking across to where I camped on a memorable walk in 2009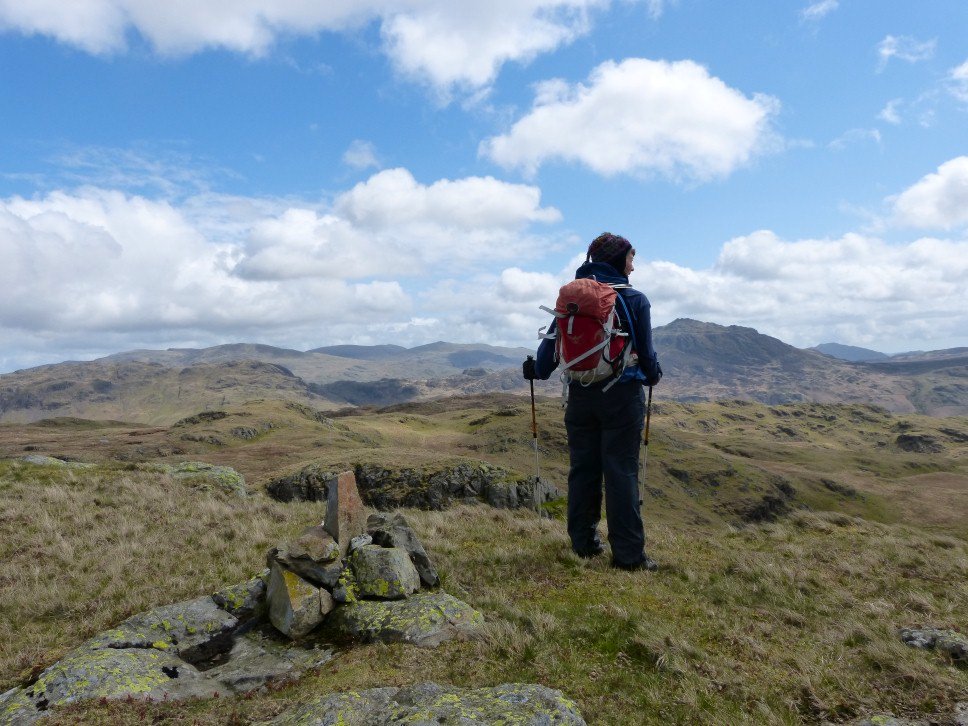 Sue looks out from our last Birkett, Whinscales.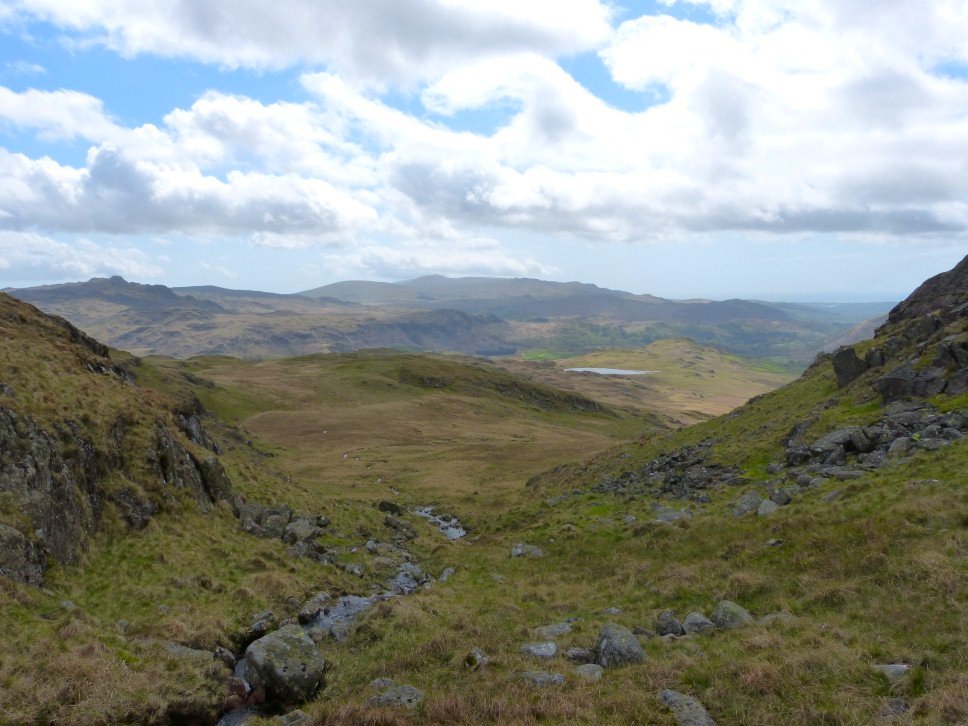 Eel Tarn seen from our pathless wander down to Stony Tarn.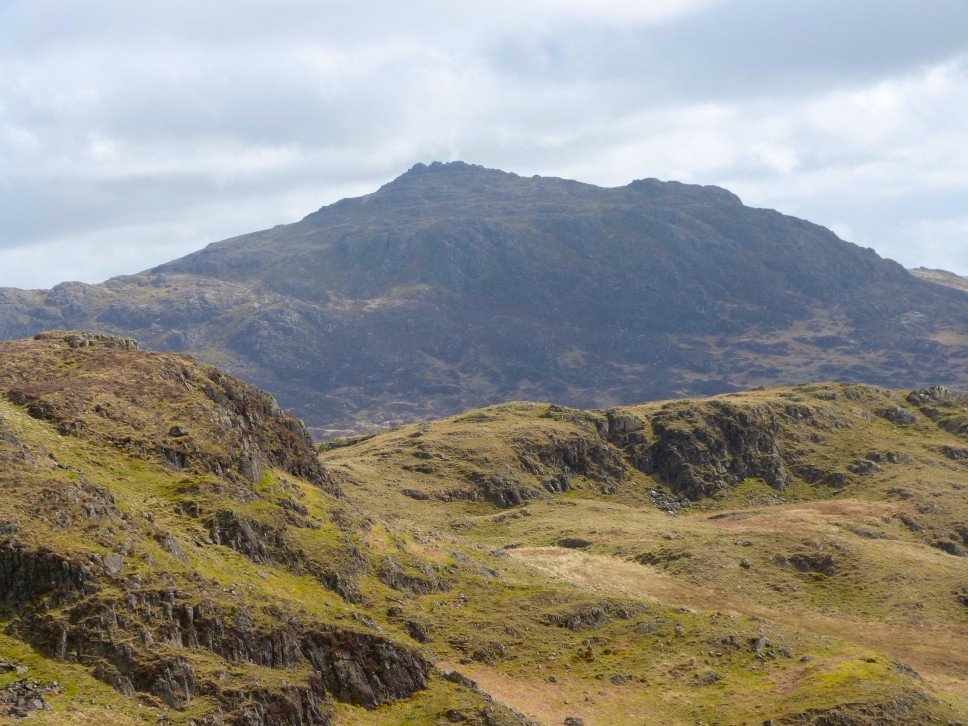 Harter Fell across Eskdale.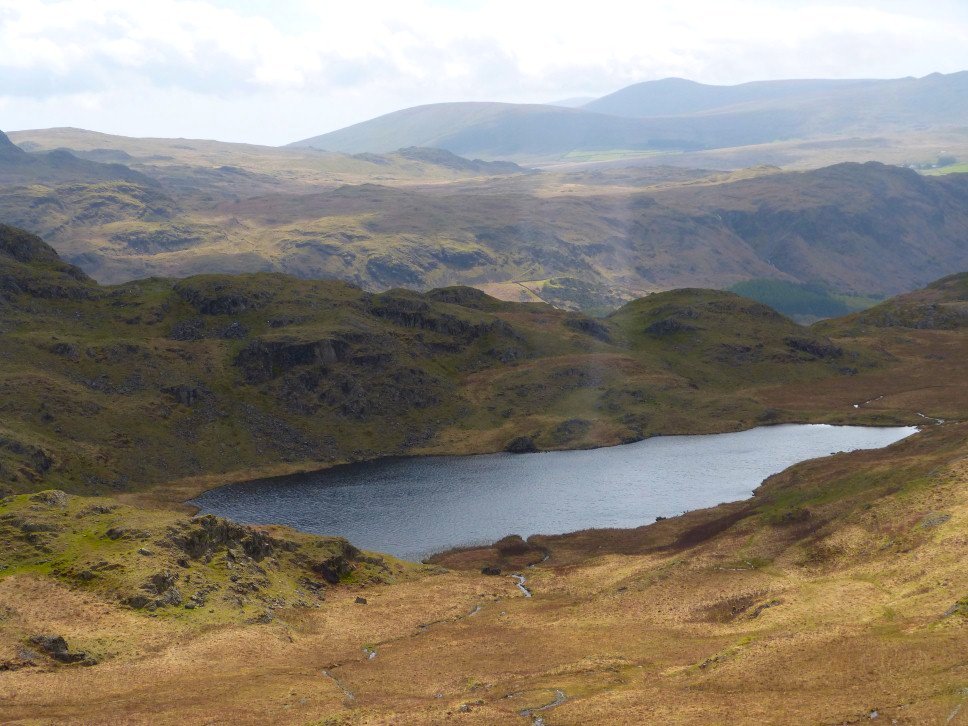 Although it's not hard to find Stony Tarn is hard to see from anywhere but close by. We racked our brains could not think of any fell that you can see the tarn due to it being surrounded by quite high crags.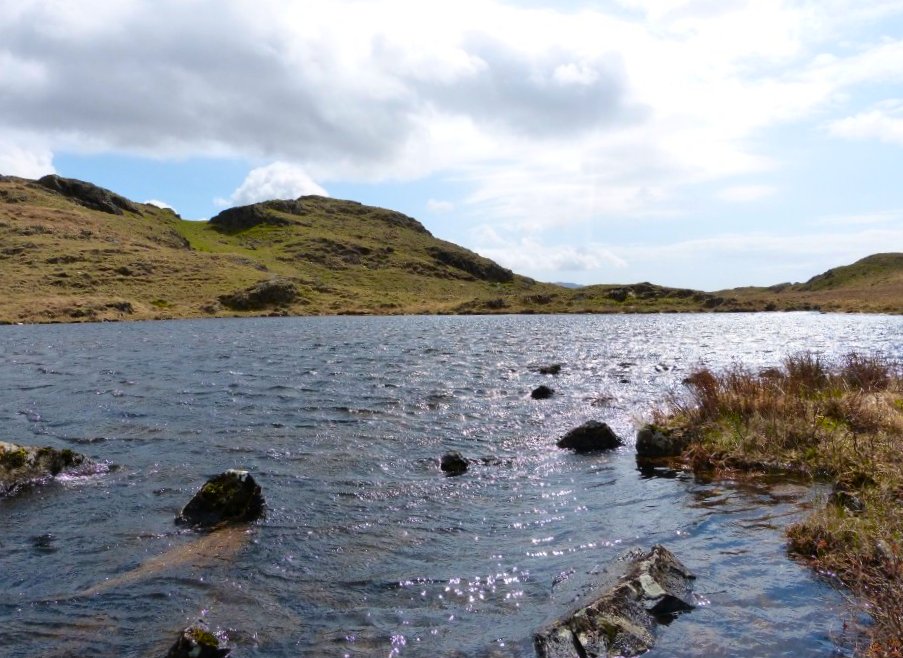 Down by the tarn looking along to what we think is Peelplace Noddle.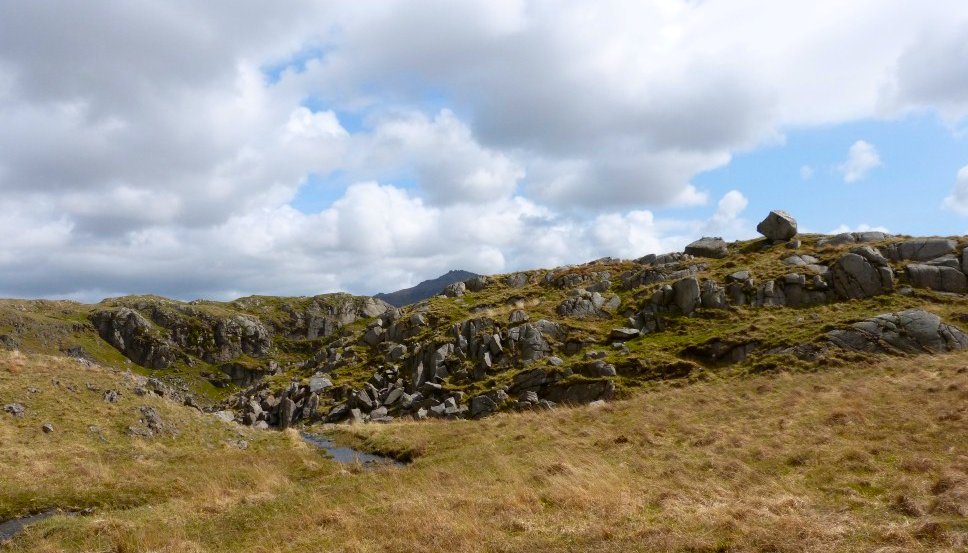 Anyone who has studied the map of this area cannot fail to have noticed the comical name of Peelplace Noddle. We wanted to find out exactly where it was.( as it's not really clear on the map). We decided that "noddle" might be an alternative name for an erattic rock ( Glacial erratics are stones and rocks that were transported by a glacier, then left behind when the glacier melted ) I have read a description of the Noddle as a rock on a piece of slightly higher ground so we might be right.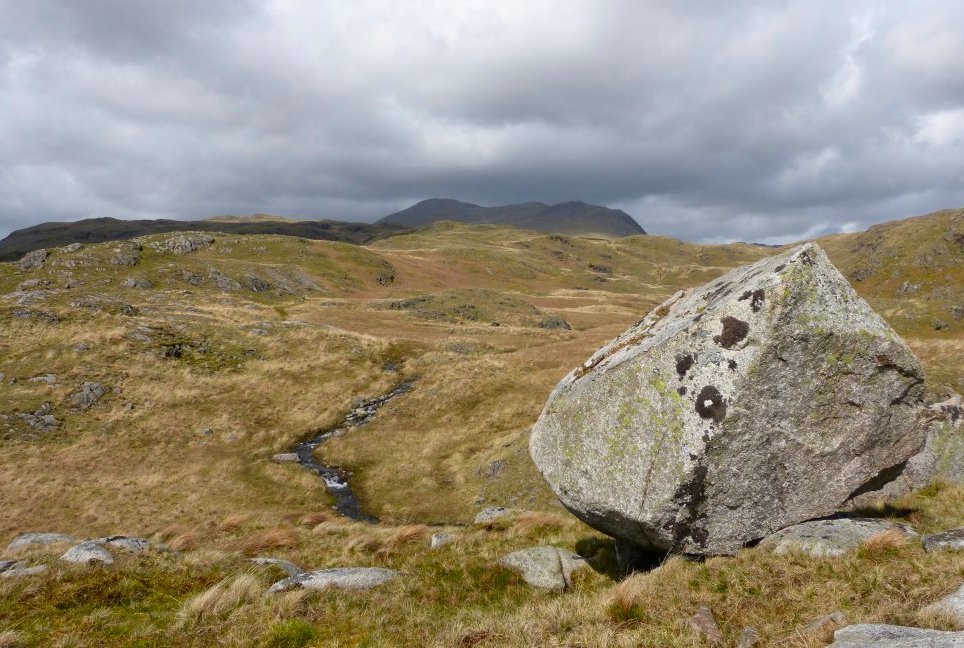 Scafell looking dark again from the might be Peelplace Noddle.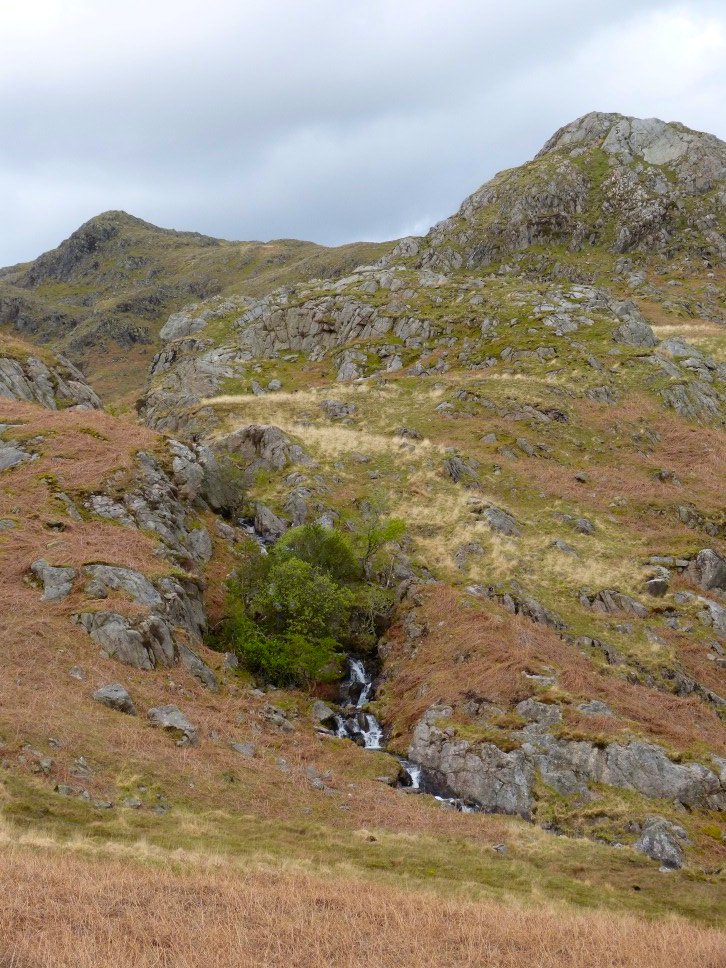 Lovely cascades seen on the way down.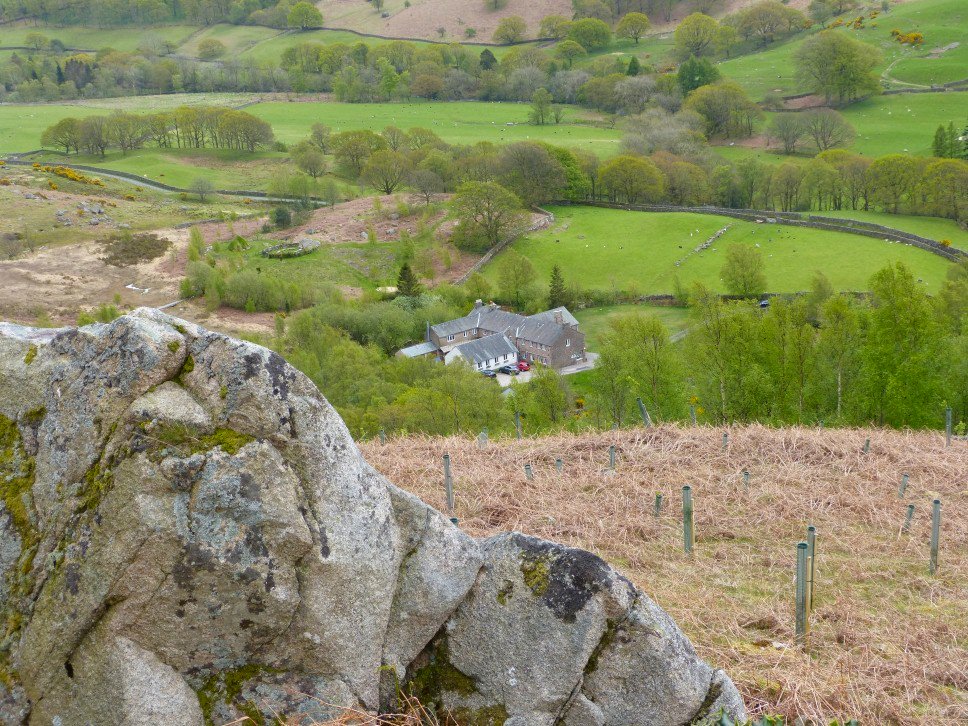 Passing above Eskdale YHA as we return to the Woolpack for a huge pot of tea for three. Great value we thought at £1.50 each including a digestive biscuit.