WWW.KARLSWALKS.CO.UK
PICTURES AND TRIP REPORTS FROM MY WALKS IN THE ENGLISH LAKE DISTRICT
---
A Wythop and Whinlatter round
11th March 2012
Route. Brumston Bridge - Sale Fell - Ling Fell - Wythop Moss - Graystones - Aiken Valley - Whinlatter - Tarbarell Moss - Barf - Lord's Seat - Broom Fell - Old Scales - Brumston Bridge
About 12 miles 4000ft ascent
I headed over to the North-West of the Lakes today and had high hopes for clear weather as the fells looked great from the M6, but as I traveled Westward the mist moved in and by the time I parked up at Brumston Bridge the fells were covered in low cloud.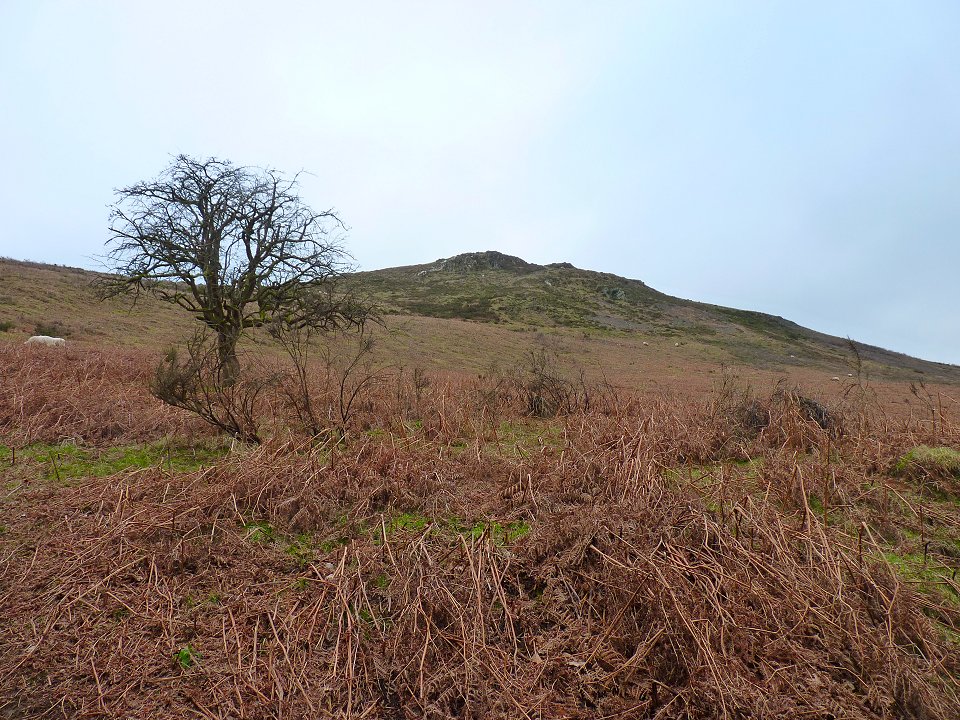 Heading up to little Sale Fell which was clear. This round ( which is similar to one in Stuart Marshall's Walking the Wainwrights book) would normally start from the Whinlatter area but I had read that parking might be a problem so I had to retrace my steps back down past my car on the way to Ling Fell.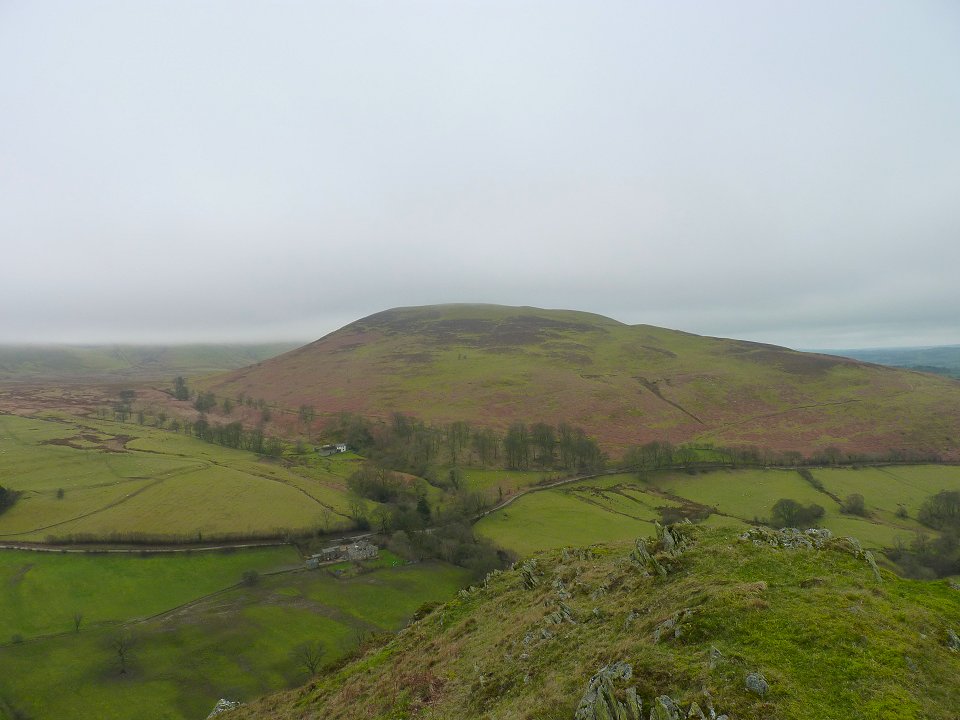 Looking over to Ling fell. that's not the horizon in the left background it's the cloud covering the higher reaches of Graystones.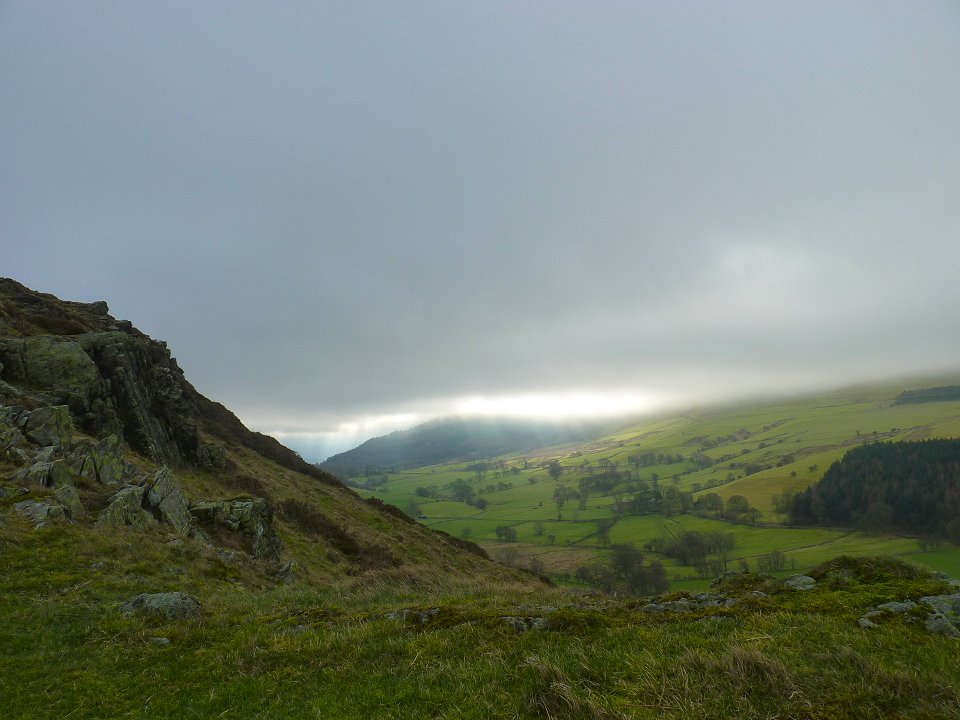 I did hope that the weather might improve as the sun trid to break through over Barf.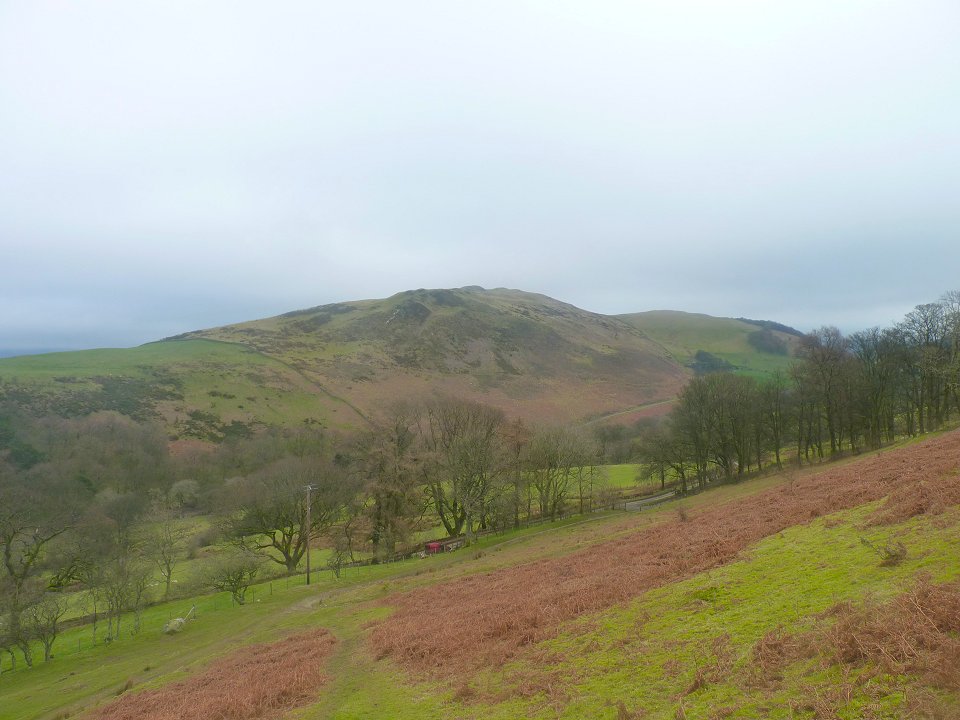 Looking back to Sale Fell from the climb up Ling Fell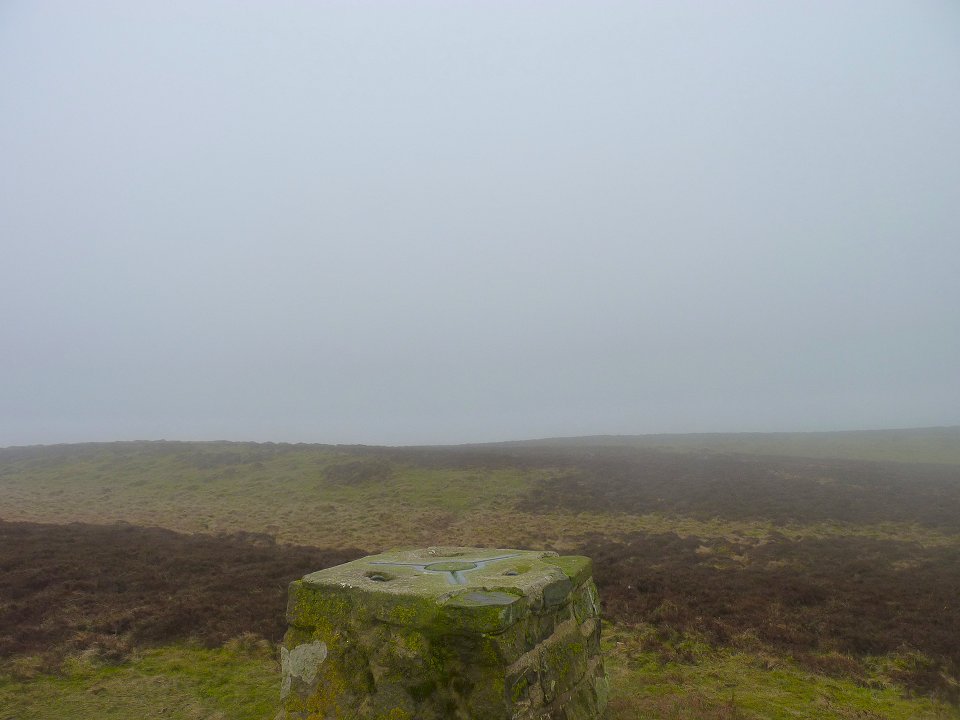 Definitely not improving as I look to where Graystones should be.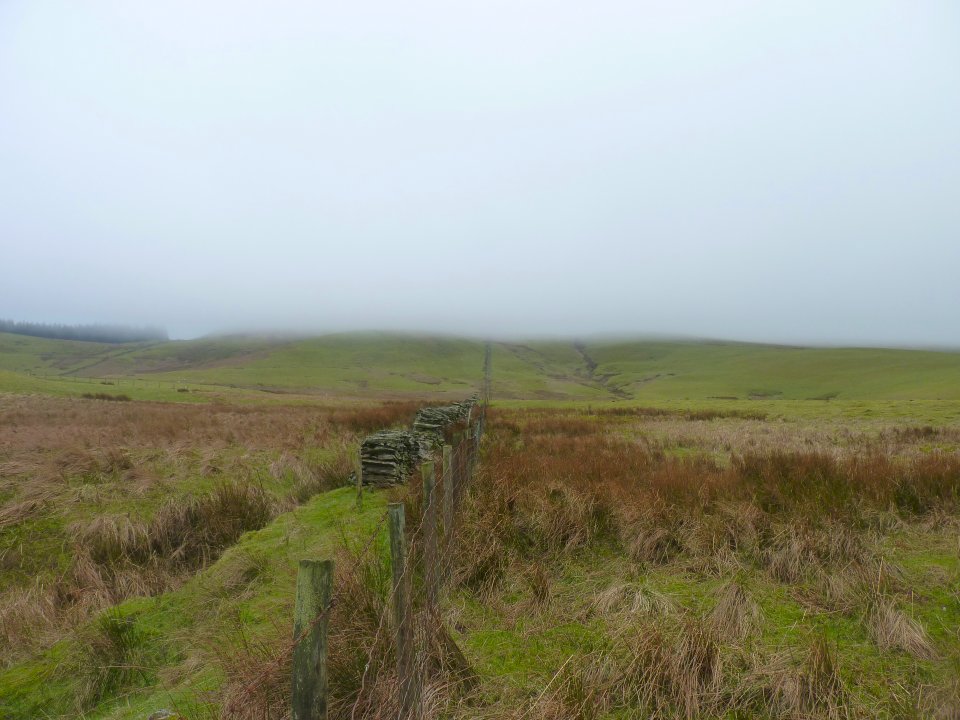 I followed the fence down off Ling fell and all the way up Graystones.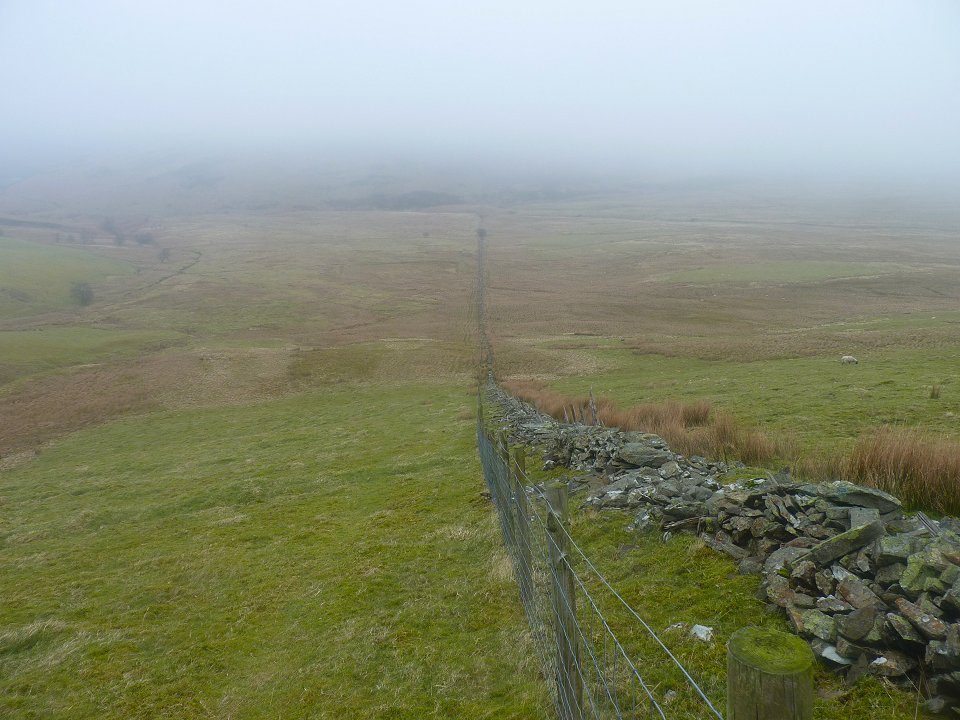 Looking back down the fence from the pull up Graystones. It seemed to be a day of following fences up and down hills, which is very useful in misty weather.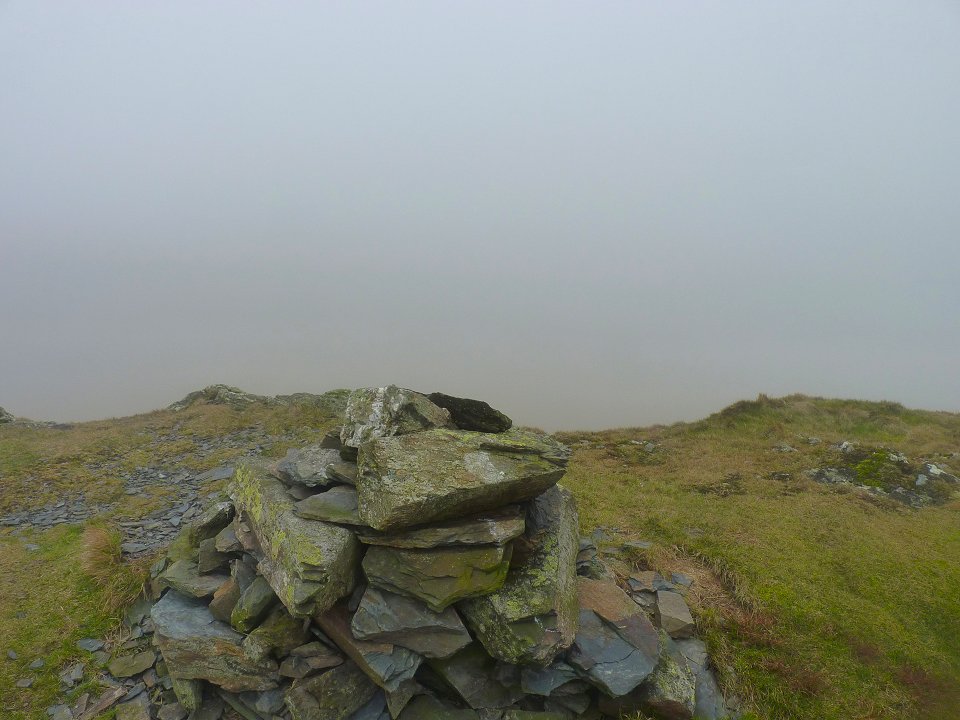 You'll just have to believe me that this is the Wainwright top of Graystones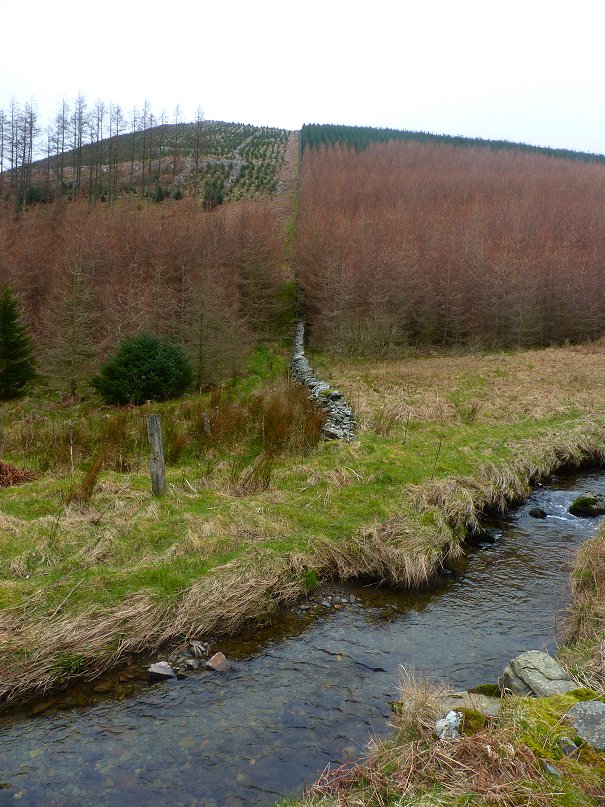 After visiting the actual summit of Greystones which is about 50 feet higher I went round the trees at Widow Hause and dropped down by another wall, jumped over Aiken Beck and reached the forest road.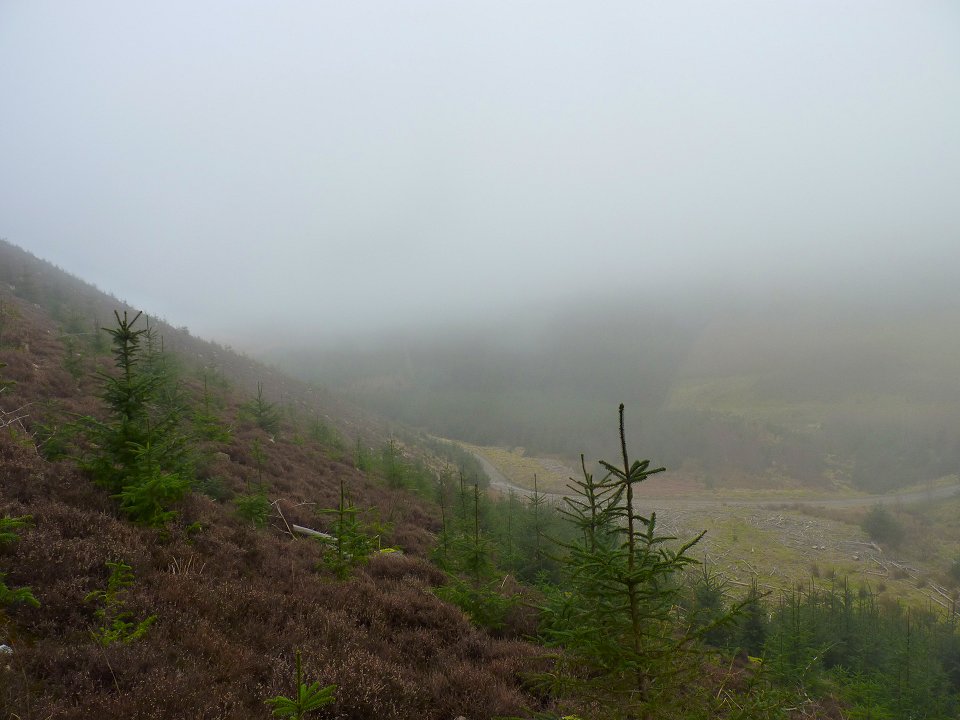 Looking back on the steep pull up to Brown How the Western top of Whinlatter. It seems that there is no easy way up Whinlatter all routes involve climbs through cut down trees and then clinging heather
Following the path through the trees.
After following the ridge path to visit Whinlatter's eastern top I went a bit astray on Tarbarell Moss and ended up a bit lower and to the west of the usual path into the forest but although I lost a bit of height the path through the forest got the job done and I came out of the trees virtually opposite the very muddy shortcut path that cuts across the fell to Barf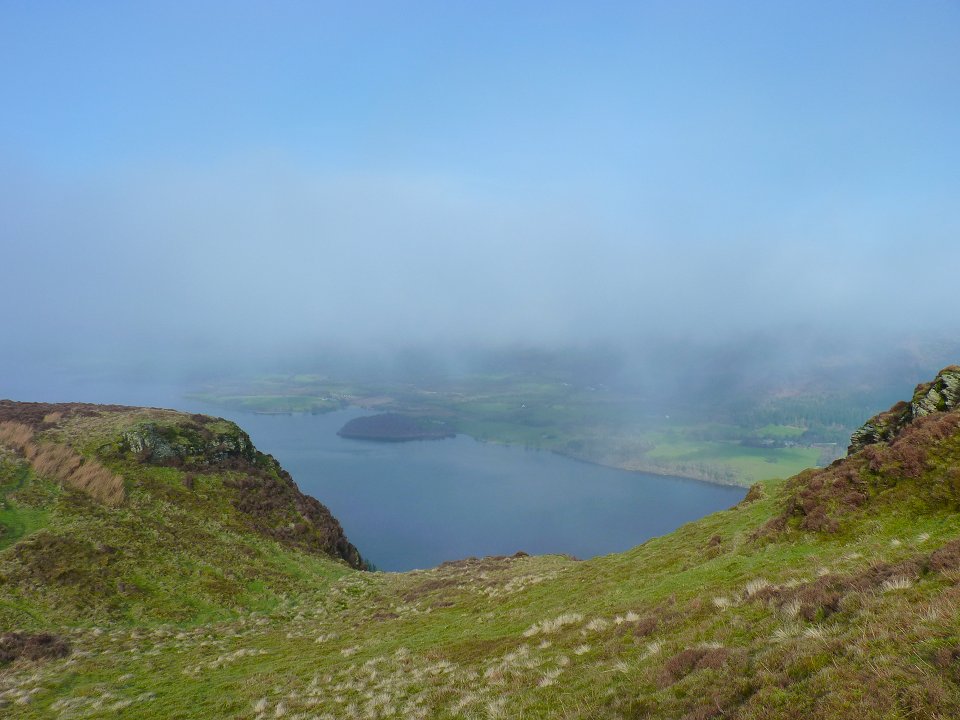 As I approached Barf a miracle occurred and the skies started to clear and at last I got some views. This looking down on Bass lake.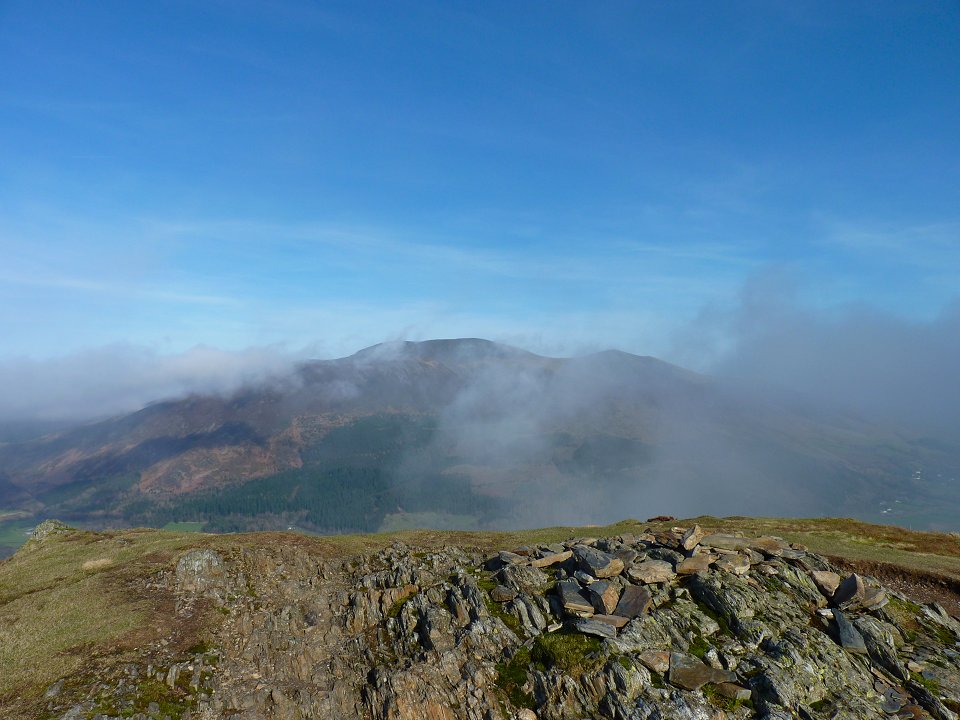 Barf summit with Skiddaw behind.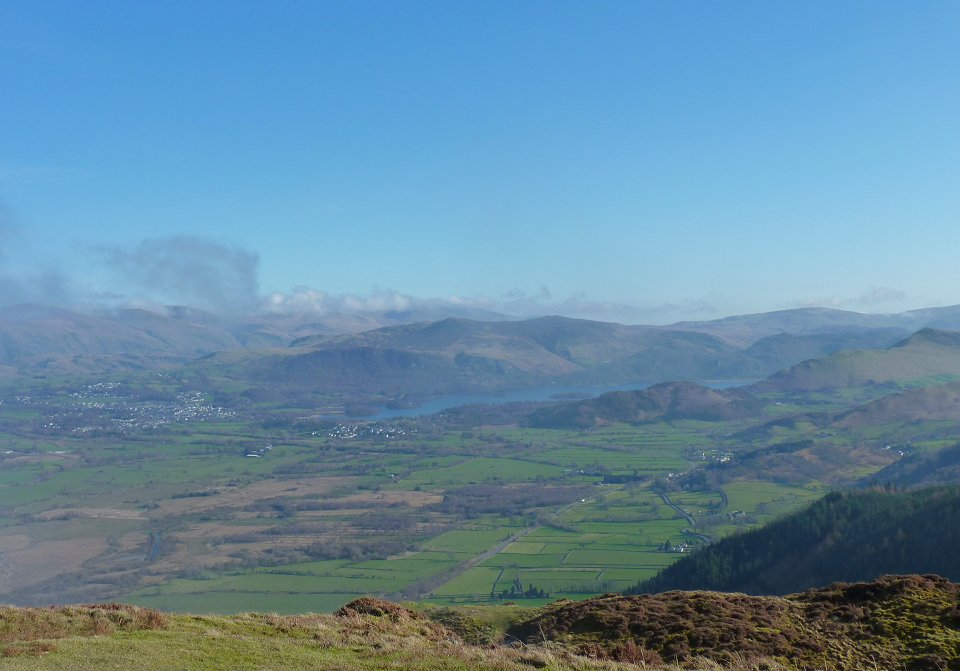 Looking down on Keswick, Derwentwater and the central fells.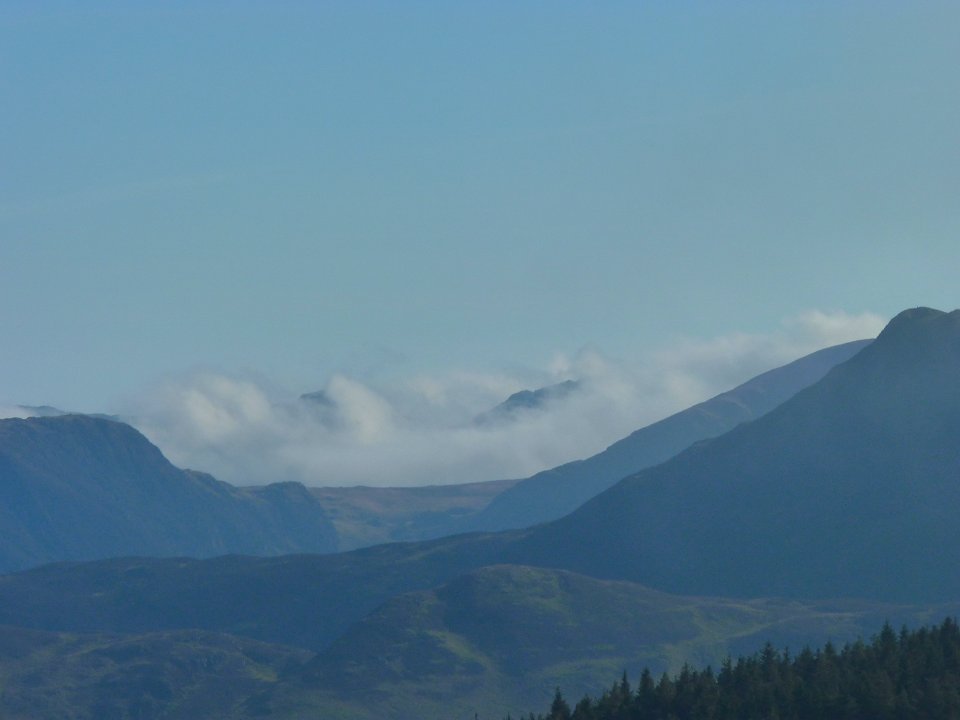 Looks it's not just me in the cloud. I think that must be Langdale in the mist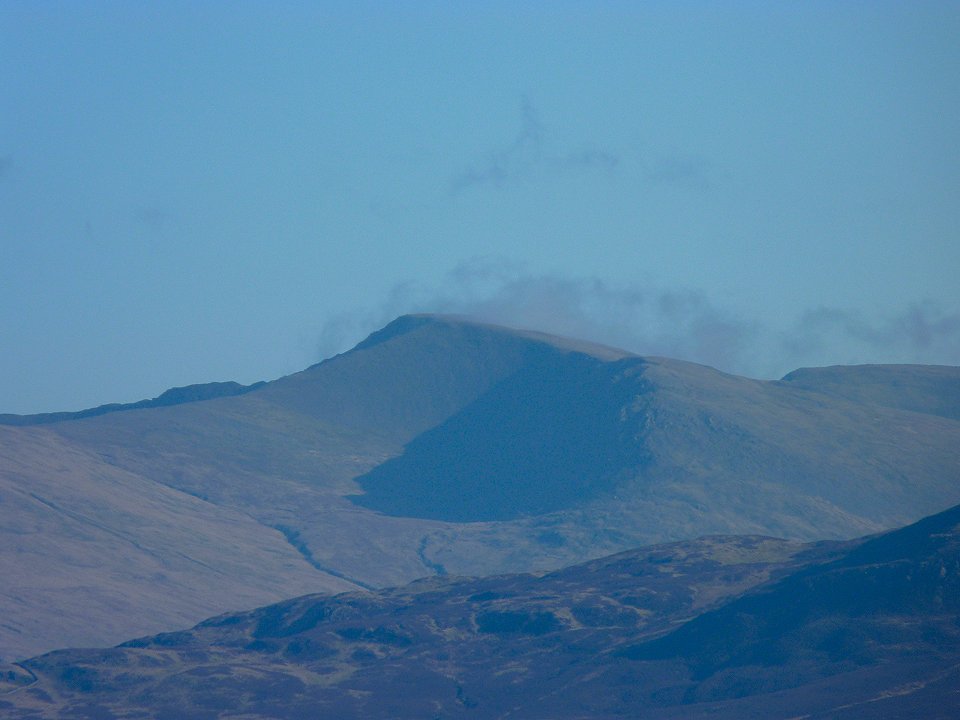 Zooming in on Helvellyn.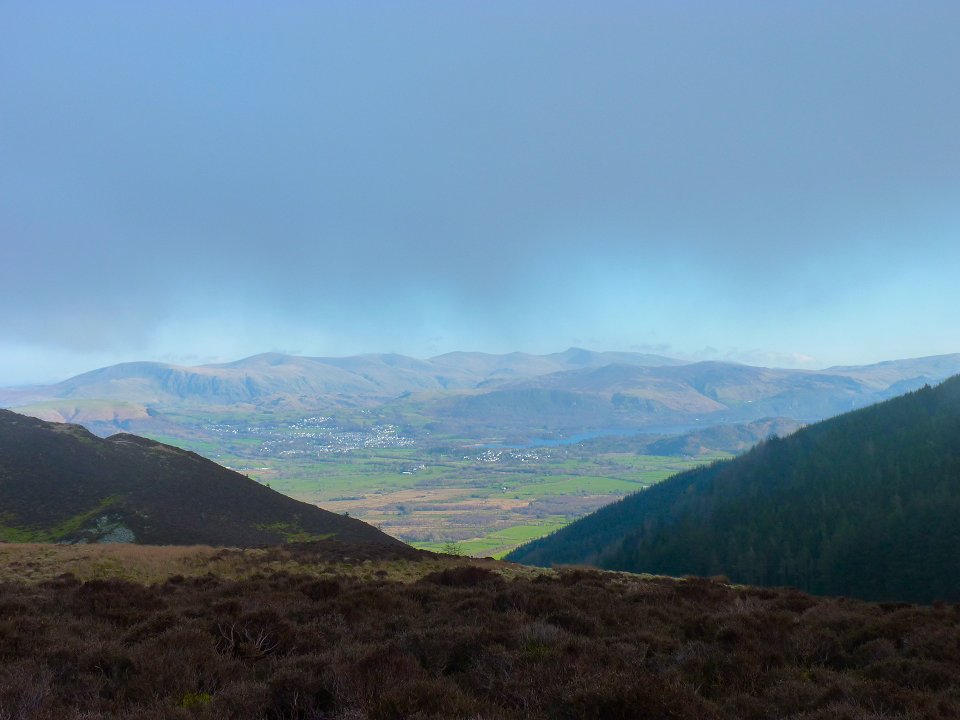 And a long view from the path back from Barf to Lord's Seat.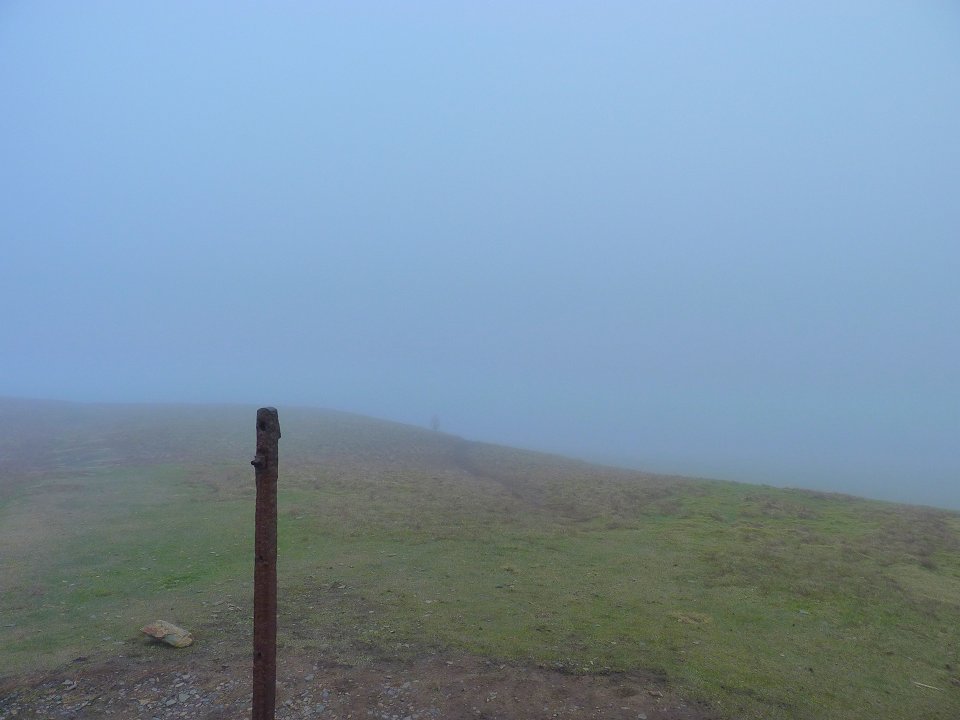 Back in the cloud again on Lord's Seat with a ghostly figure approaching the summit post.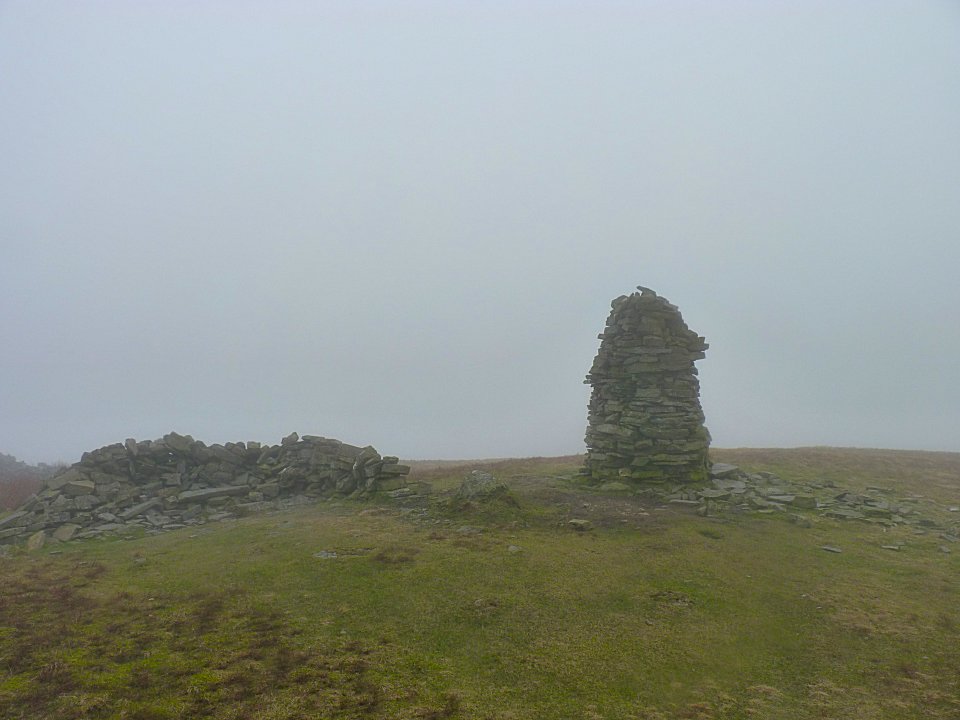 My last summit of the day, Broom Fell. From here I followed another fence back down to the valley and Old Scales farm and was soon back to my car