WWW.KARLSWALKS.CO.UK
PICTURES AND TRIP REPORTS FROM MY WALKS IN THE ENGLISH LAKE DISTRICT
---
An extended Fairfield horseshoe 12th June 2011
Route - Rydal - Nab Scar - Heron Pike - Great Rigg - Fairfield Brow - Seat Sandal - Dollywagon Pike - Nethermost Pike - Hard Tarn - Deepdale Hause - Cofa Pike - Fairfield - Hart Crag - Dove Crag - High Pike - Low Pike - Rydal Park - Rydal.
( about 16 miles 6500ft ascent)
The weather forecast was for for a fine morning with rain later so I was up at 5 and walking by 6.45. I don't seem to have been able to get away to the fells recently so that although I'd only intended to walk the Fairfield horseshoe ( to be home before the rain) I got a bit carried away and ended up taking an off piste route and adding a few extra fells to my walk and even paid a visit to an old favourite.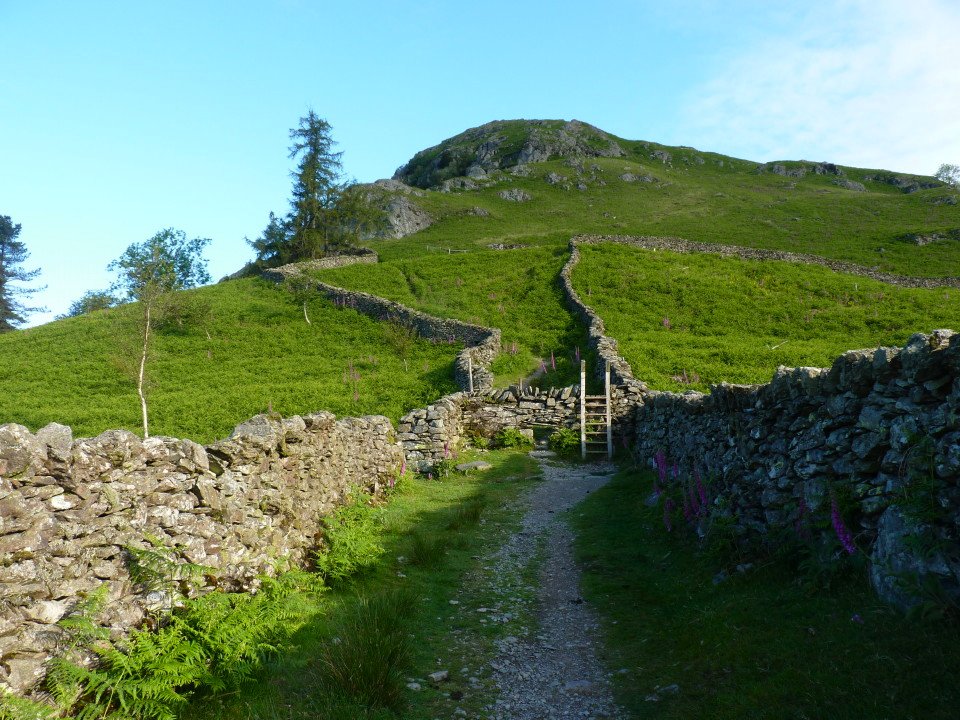 As promised it was a lovely morning as I set of up the stone staircase to Nab Scar.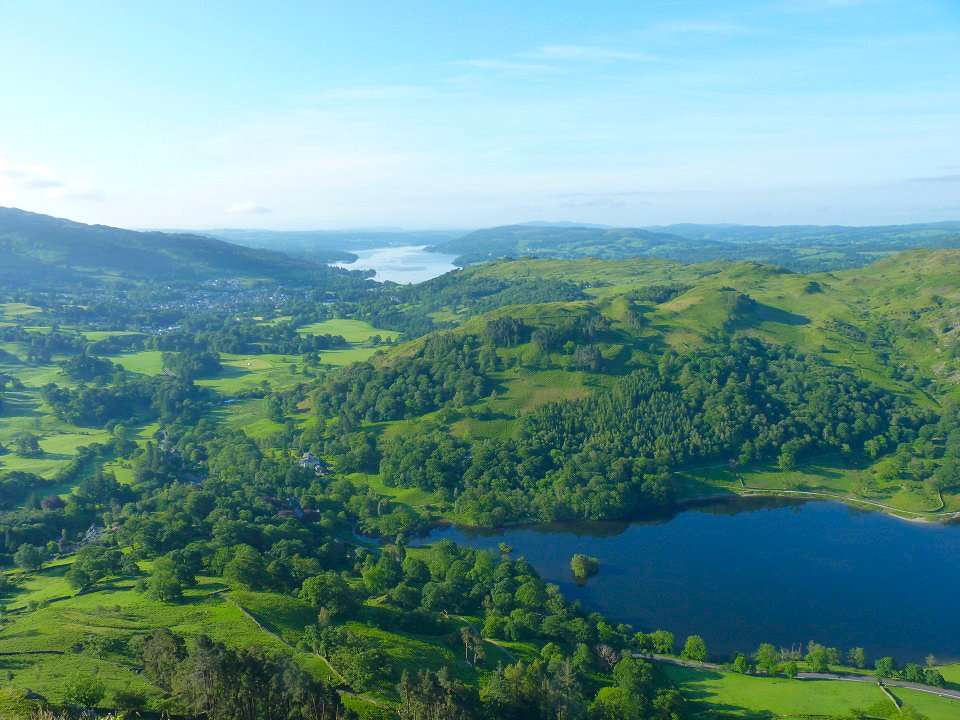 Height is quickly gained and you soon get a view of Rydal Water and Windermere beyond.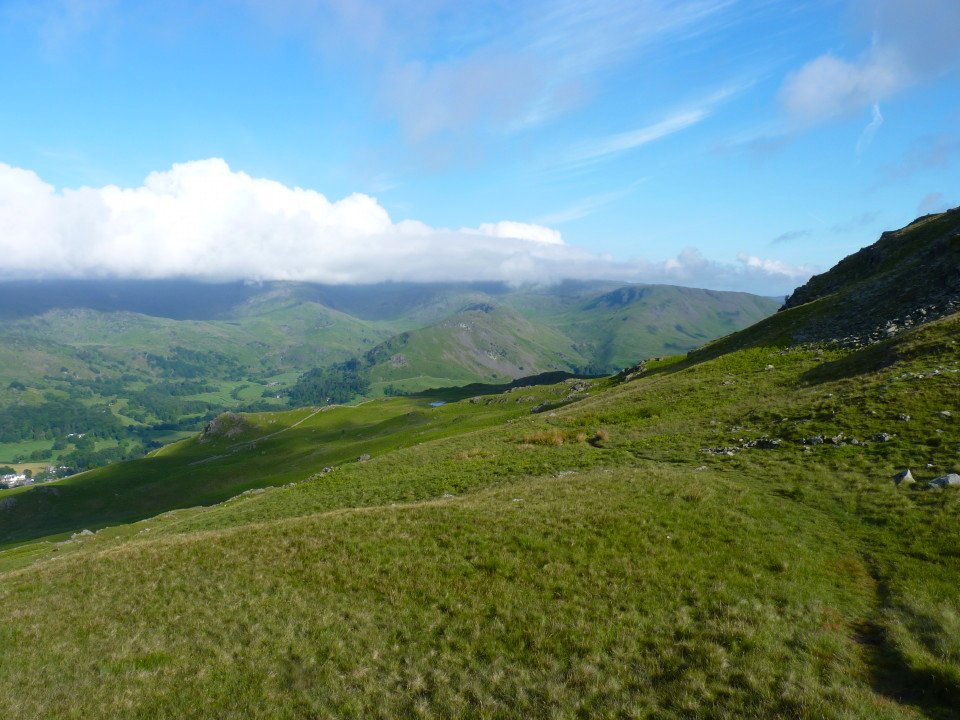 Looking over Alcock Tarn to Helm Crag in the centre with Steel Fell to the right.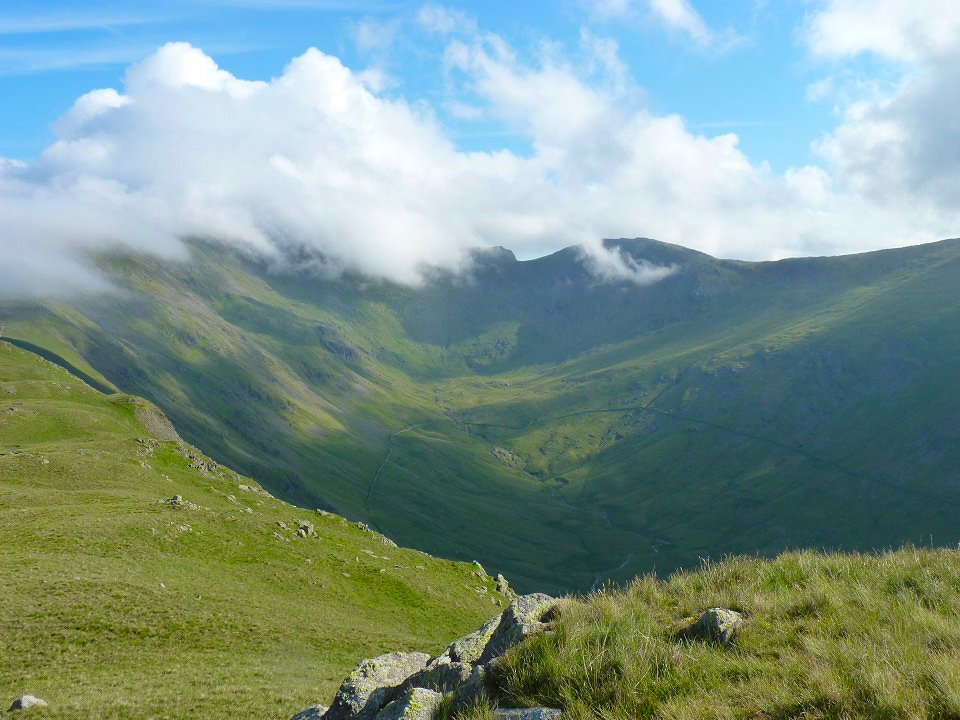 Fairfield and Rydal Head troubled by a bit of cloud.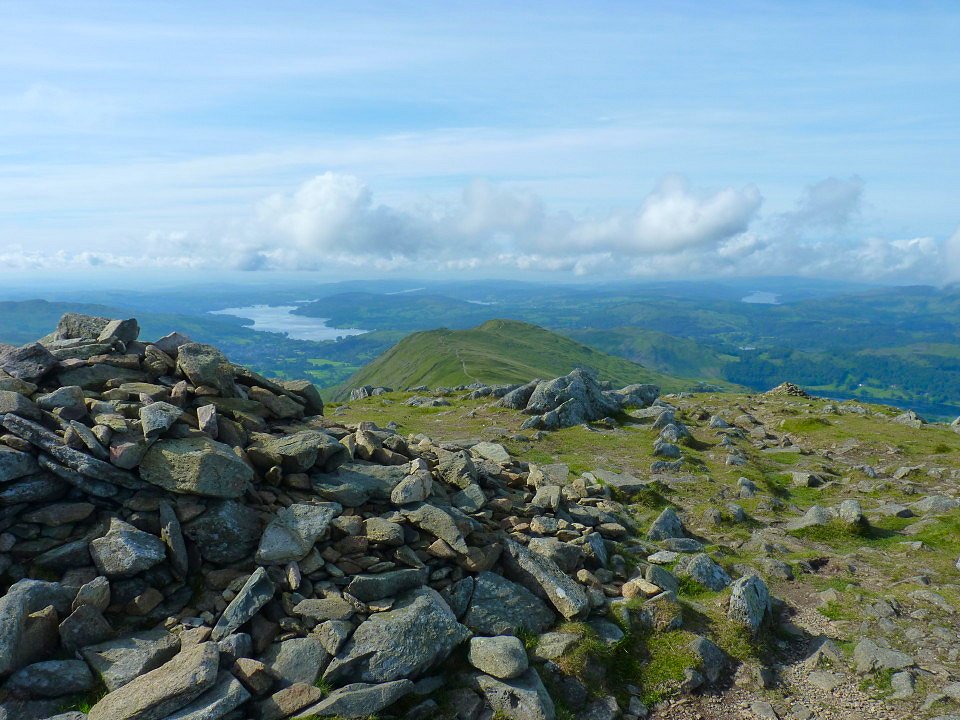 Looking back down the ridge.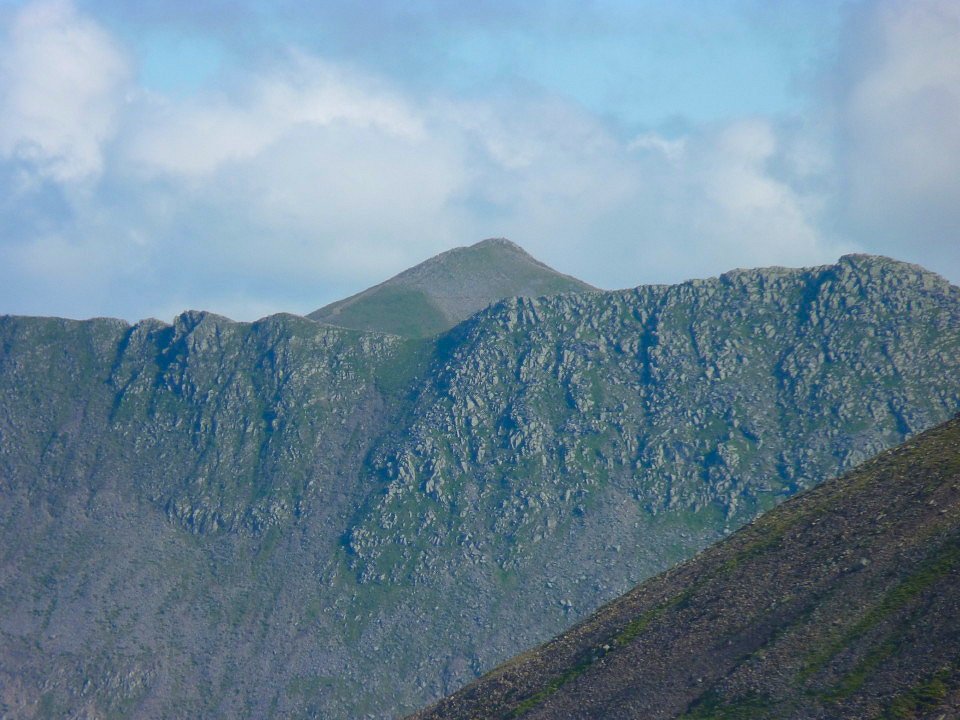 Catstyecam peeping above Striding Edge.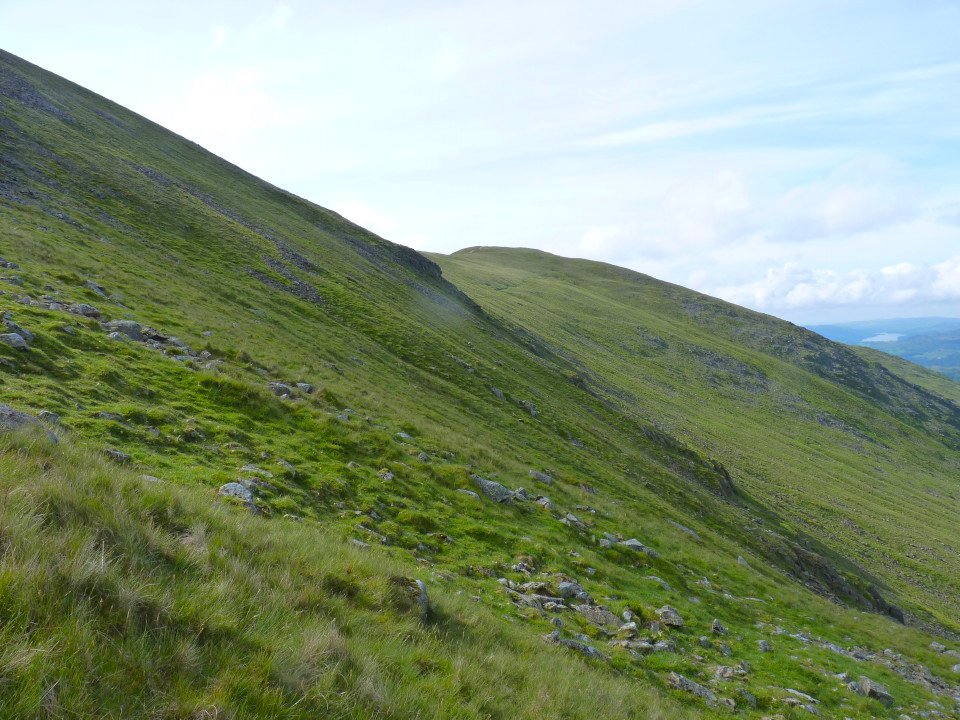 This is were I got a bit carried away. Standing on Great Rigg I started to think of ways to extend my walk, I knew I would probably end up getting wet but when you have a bad case of FWS (fell withdrawal syndrome) the only cure is to walk. I weighed up the route contouring round the slopes of Fairfield and decided it didn't look too steep so off I went and headed for Seat Sandal. This picture is looking back to Great Rigg from my route.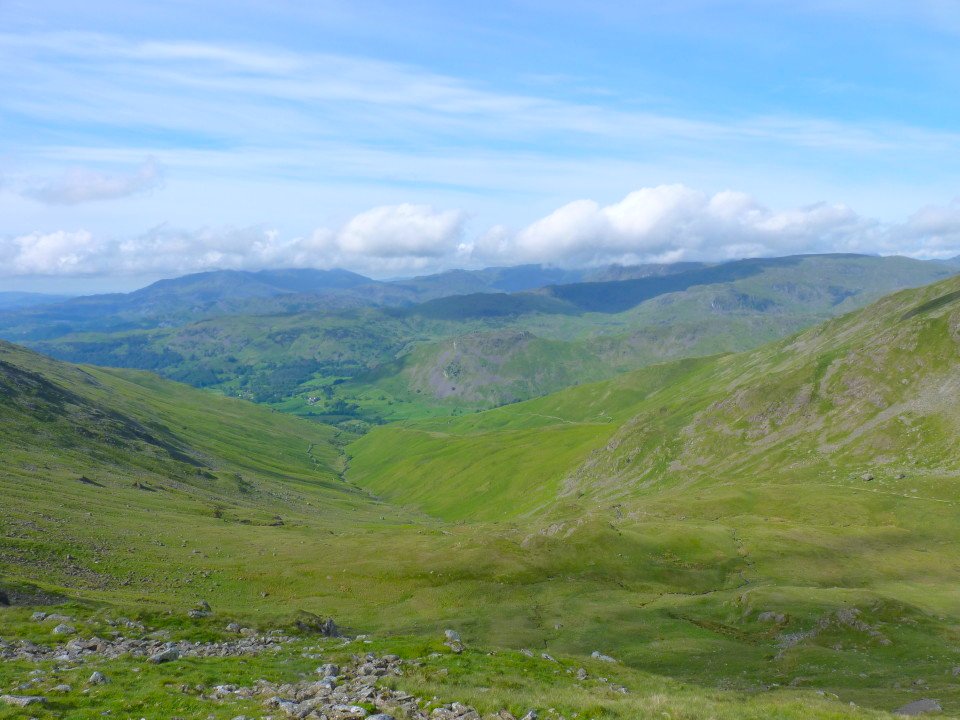 And this is looking down the valley with the path up to Grisedale Hause visible.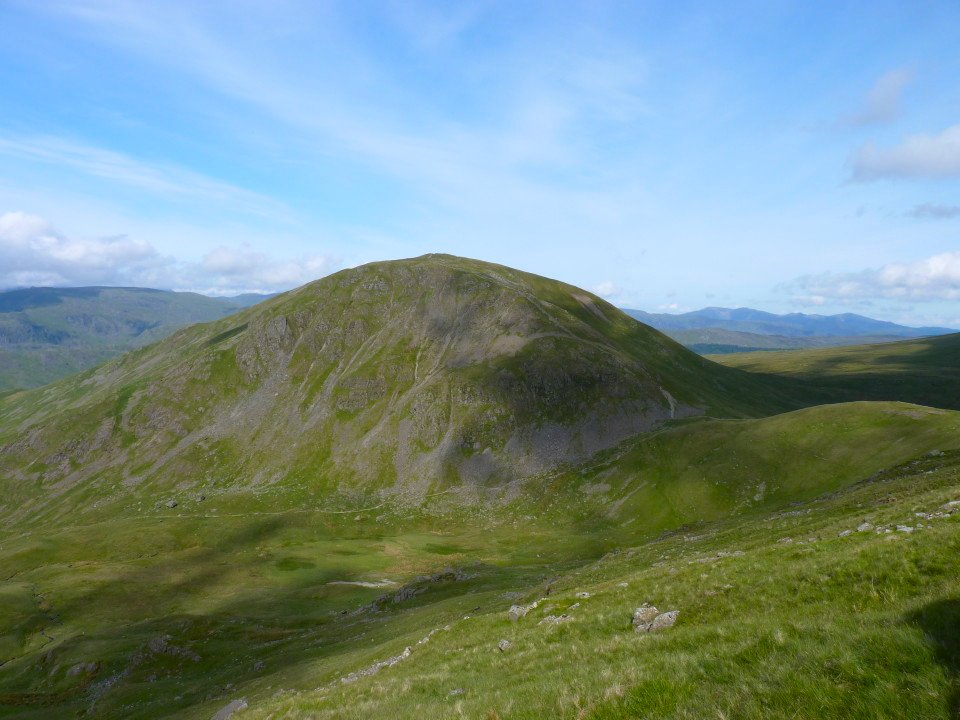 Seat Sandal.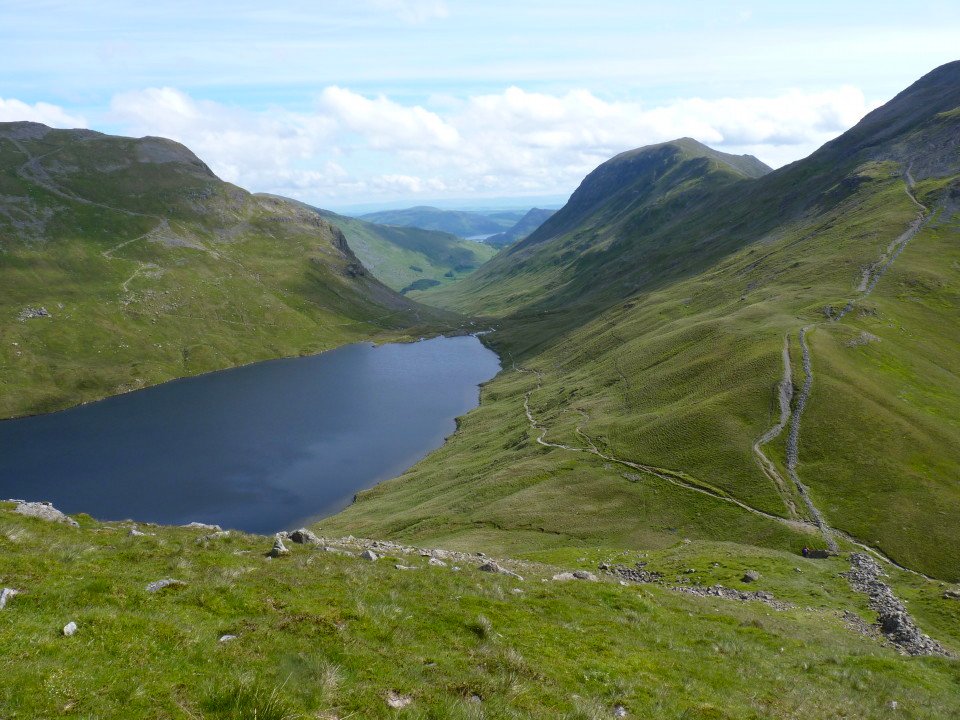 The lovely view down Grisedale to Ullswater from the ascent of Seat Sandal.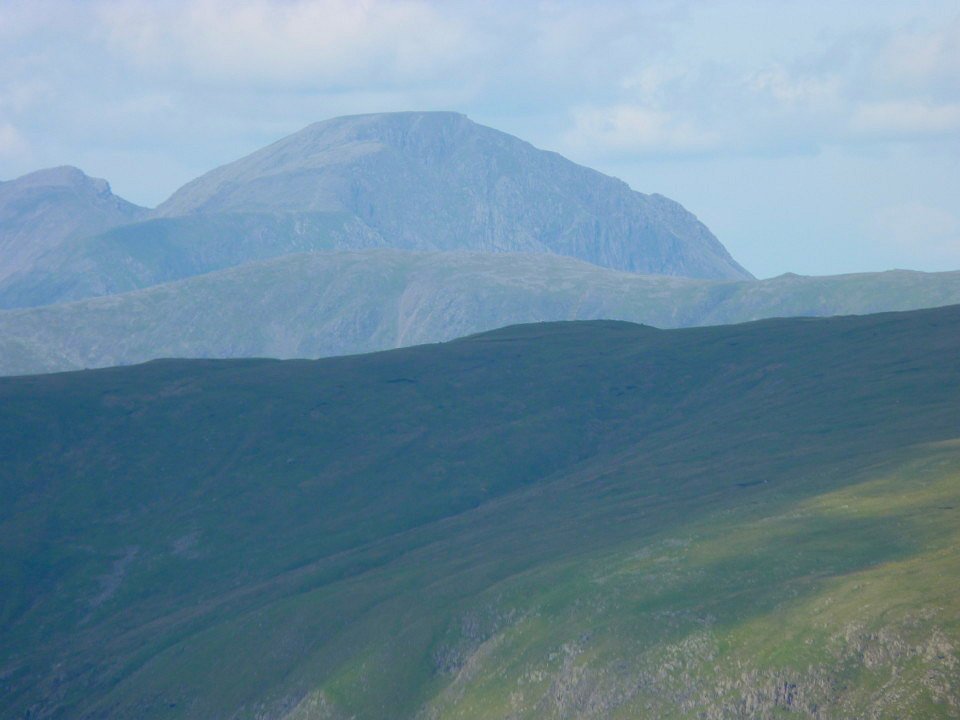 Zooming in on Pillar from the top of Seat Sandal.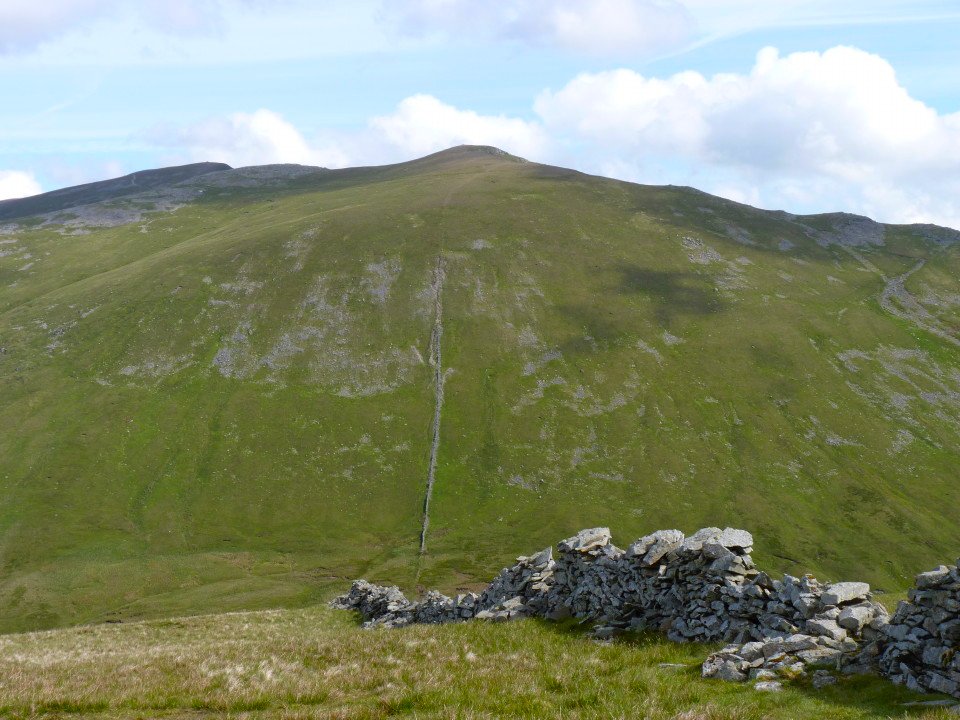 From Seat Sandal I took the direct route to Dollywaggon Pike following the wall down then up.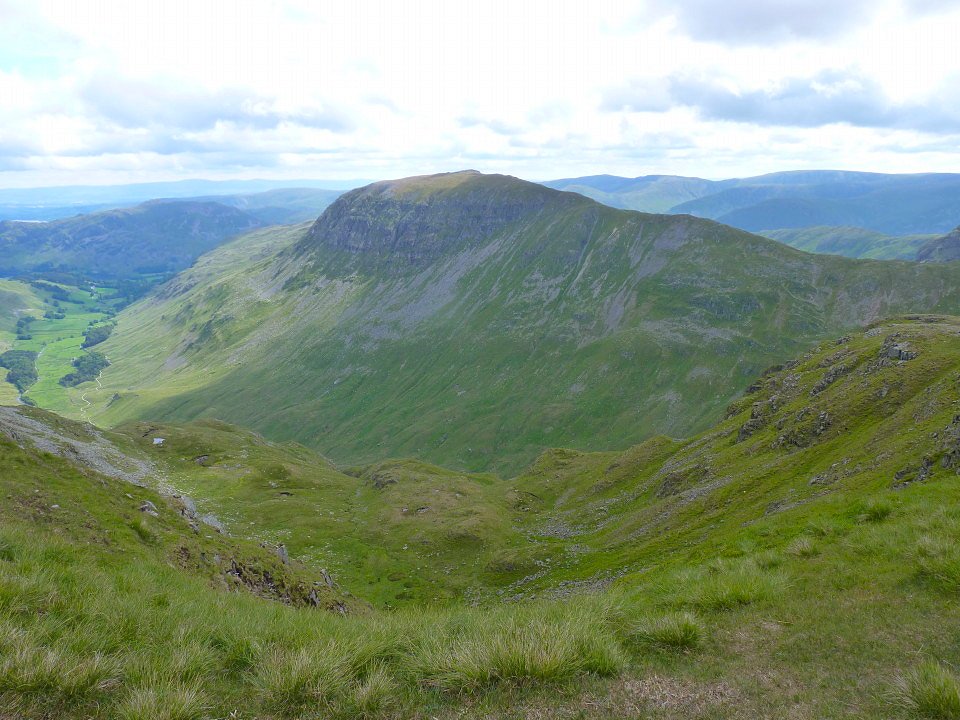 On Dollywaggon now looking across to St.Sunday Crag.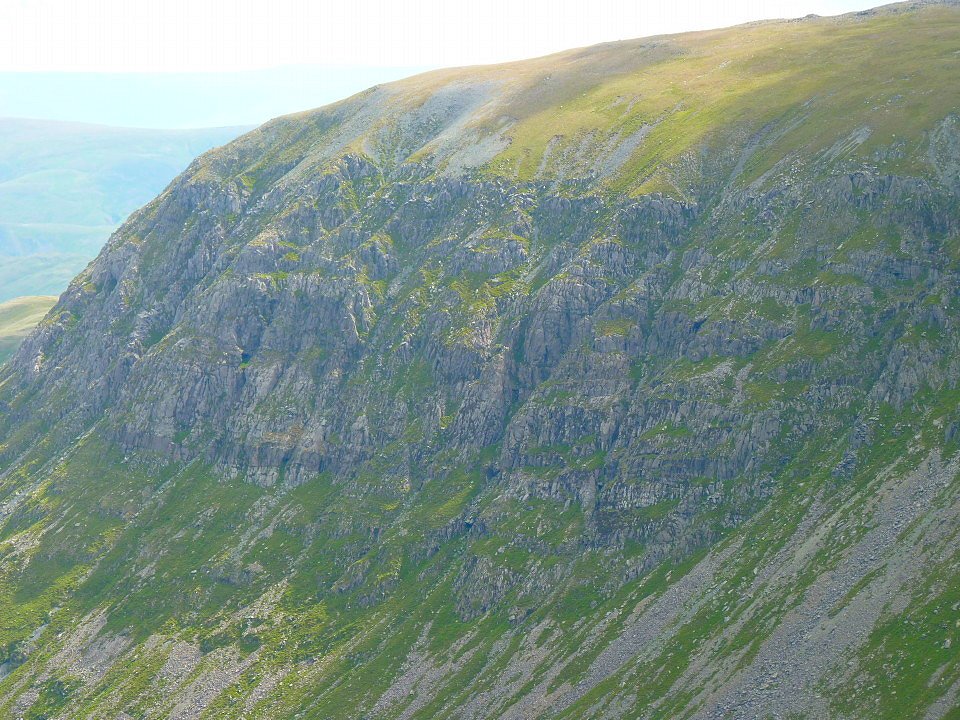 Close up of the crags of St.Sunday Crag.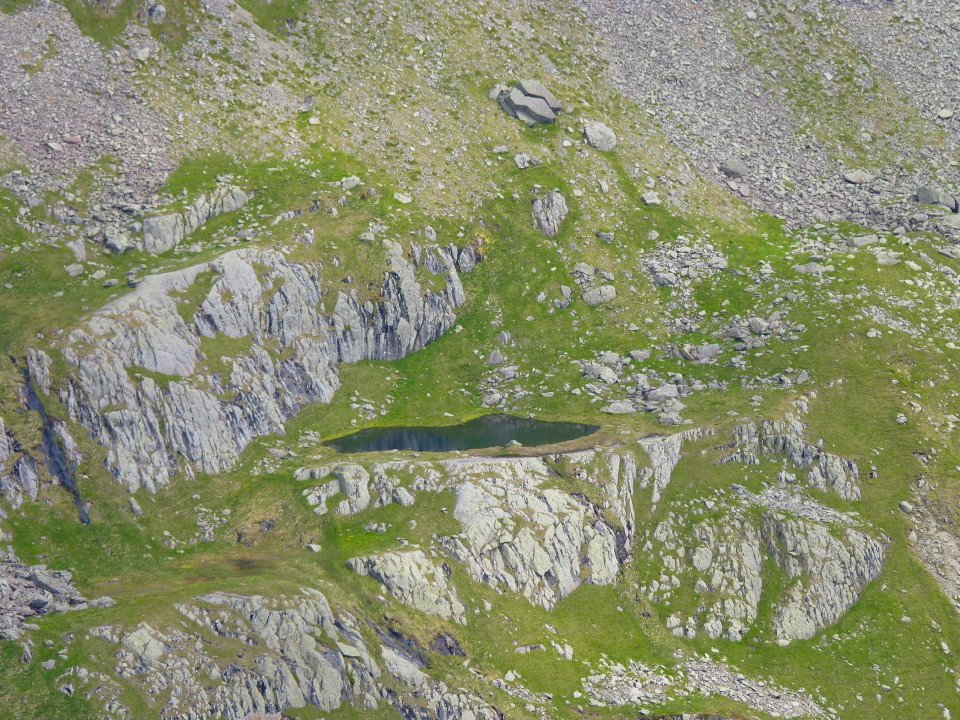 Walking along the ridge I wasn't sure where to go next, I knew I had to get down to the Grisedale valley but I couldn't decide how. I considered going to Helvellyn and down Striding Edge but then I saw one of my most favourite places in the Lakes, Hard Tarn. I decided then to go down the steep East ridge of Nethermost Pike and pay it a visit.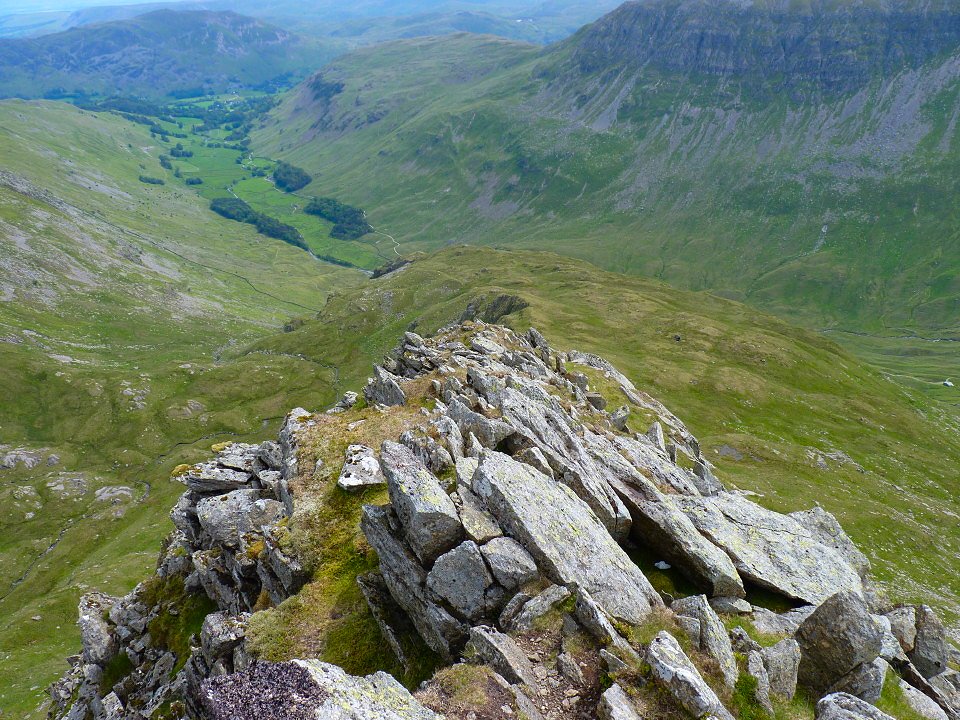 Looking down the East ridge.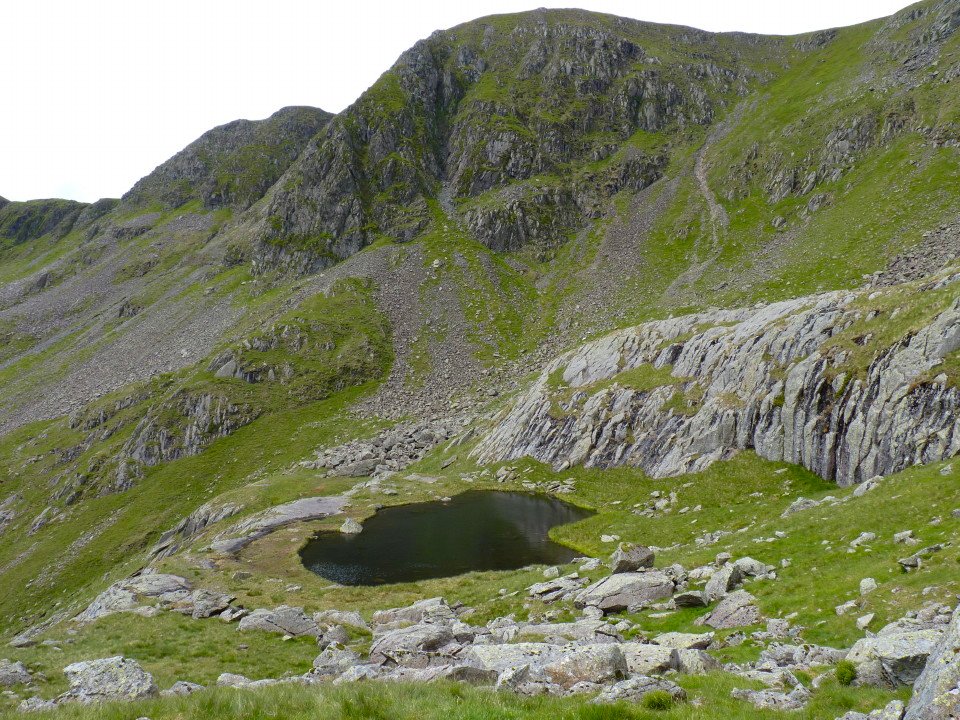 Hard Tarn, where I spent a night last year.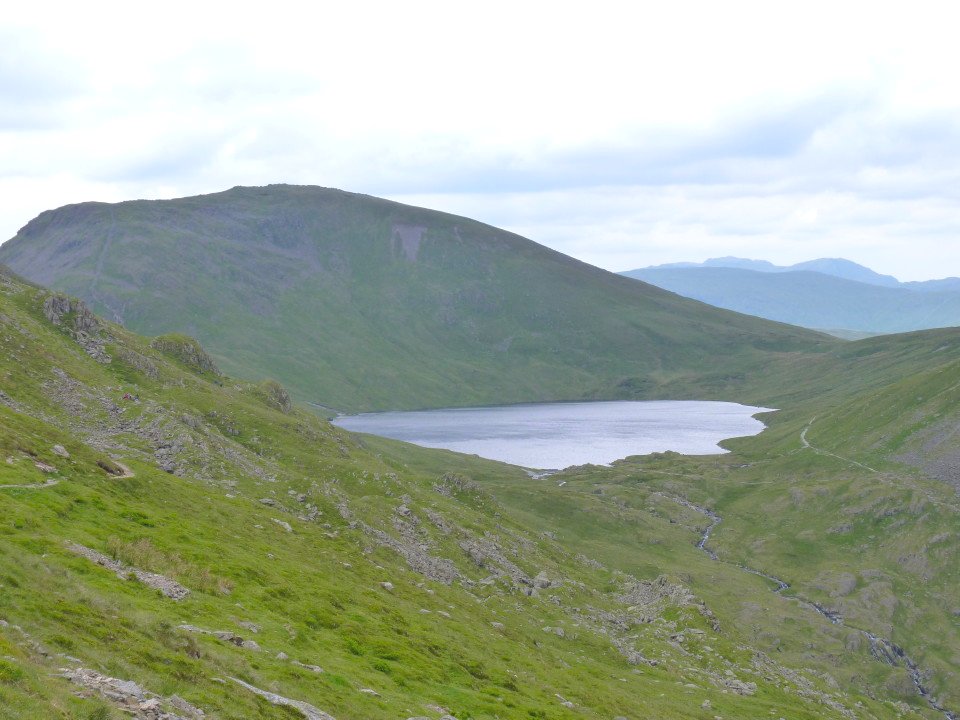 After lunch I dropped down to valley path the started up the climb to near the brothers parting stone from where I took the well graded path up to Deepdale Hause. This is Grisedale Tarn and Seat Sandal from the path.
Cofa Pike looks impossible to climb from this angle. As I was struggling up and over the promised rain (and a cold rain for June it was too) arrived and I started to think I was over my FWS and decided I was afflicted with the "get of this freezing hill" virus so I wasted no time in getting up to Fairfield and headed for Hart Crag.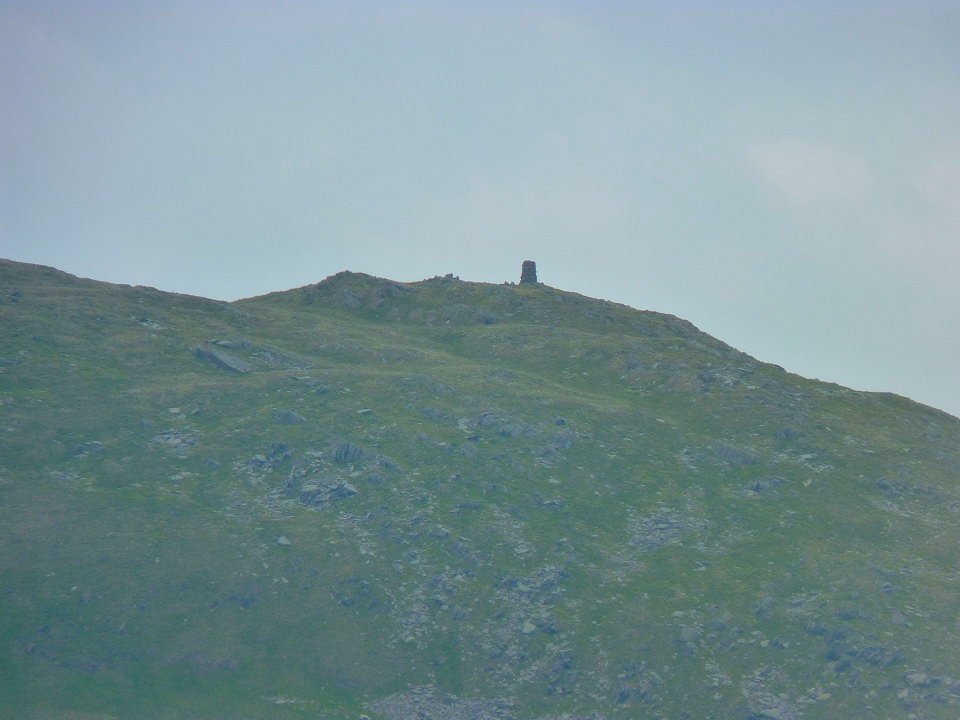 The rain came down quite a bit heavier so my camera stayed away until I had passed Dove Crag where a lull allowed me to get this shot of the impressive cairn on High Bakestones.
Nearly back to Rydal now looking over to Nab Scar.
Last walk - Black Fell Next walk - 2011 YHA trip