WWW.KARLSWALKS.CO.UK
PICTURES AND TRIP REPORTS FROM MY WALKS IN THE ENGLISH LAKE DISTRICT
---
Eskdale and Wasdale in August
10th August - 13-14-15th August 2016
Route - 10th - 11th August - Jubilee Bridge - Brotherikeld - Lingcove bridge - Great Moss - Slopes of Scafell Pike - Great Moss - Damas Dubs - Scale bridge - Taw House - Brotherikeld - Jubilee Bridge (about 8 miles 2400ft ascent )
Thomas and Emily and myself had a ride to Eskdale with the plan of camping on or near Pen and then climbing to Scafell Pike. The weather forecast was not very promising but we decided to have a go and hoped the weatherman might be wrong.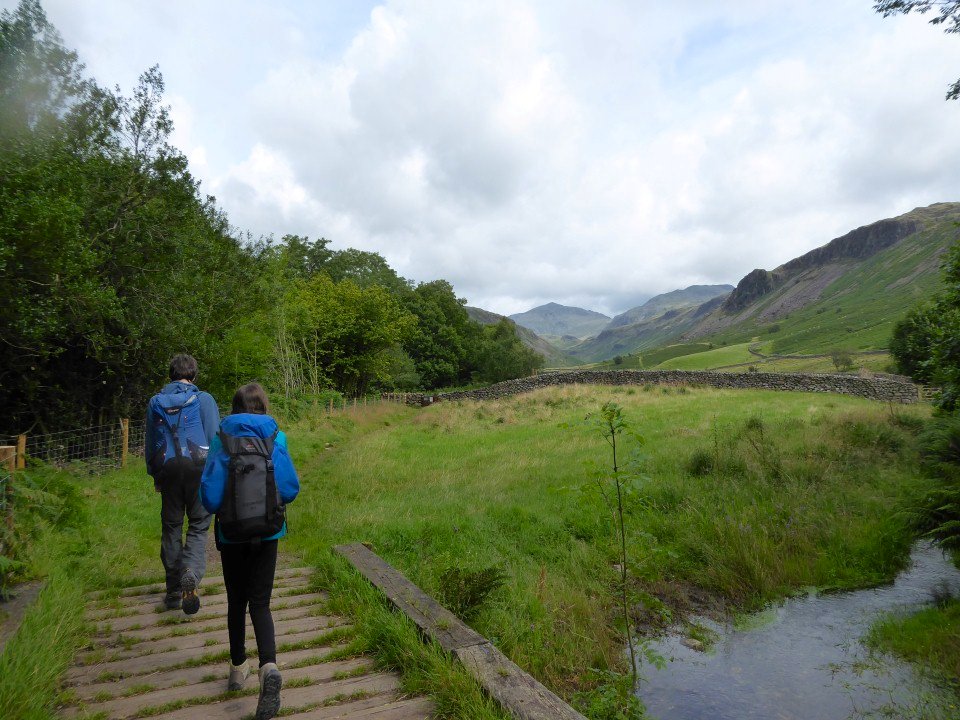 The weather was quite calm as we set off along the lovely path heading for Lingcove Bridge. Bowfell dominates the view ahead.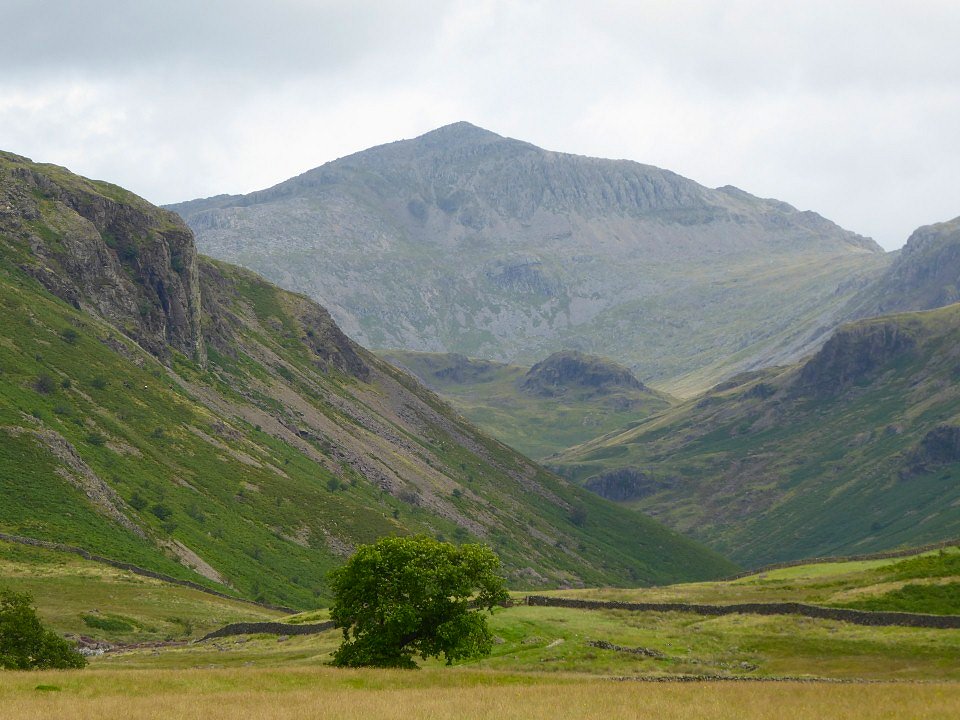 Zooming in on Bowfell.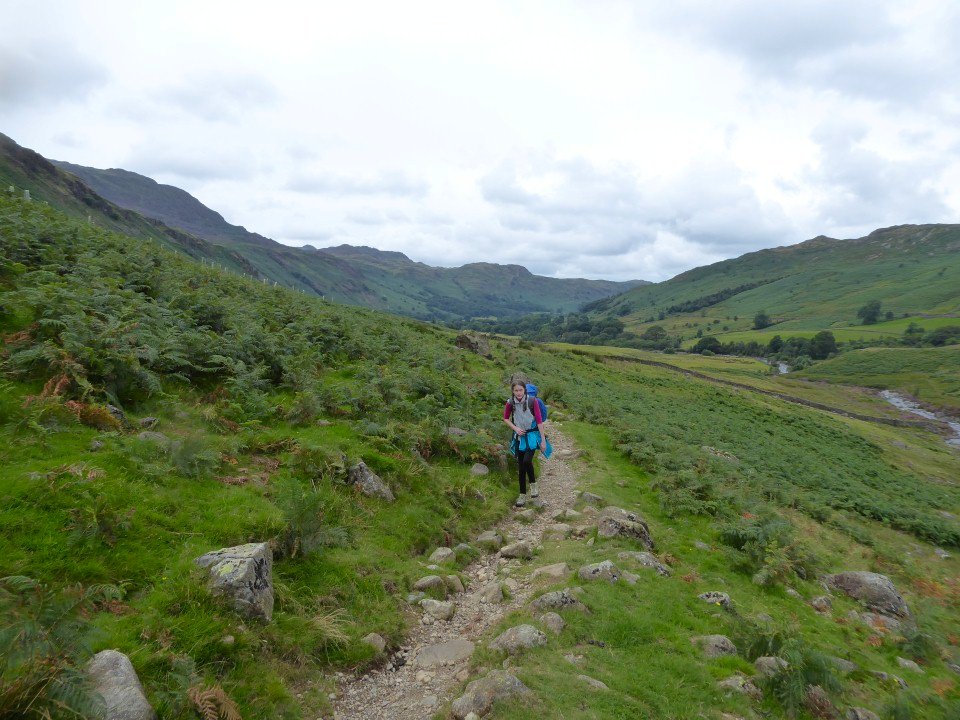 Looking back down the valley.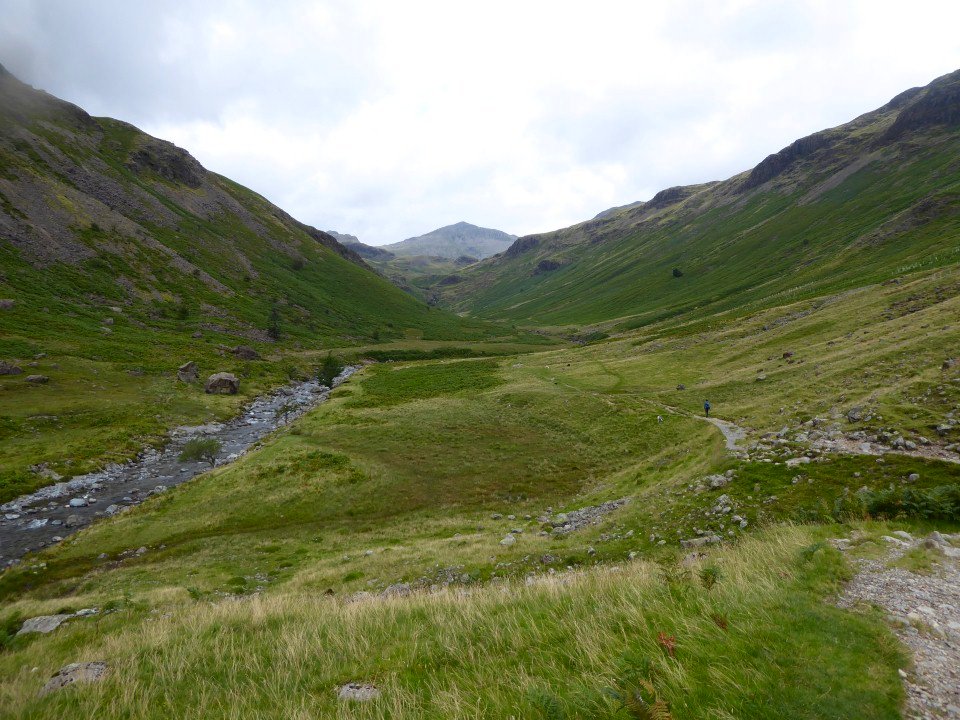 Every time I come this way I think how after a short while and hardly any effort you seem to be in the real heart of the Lake District.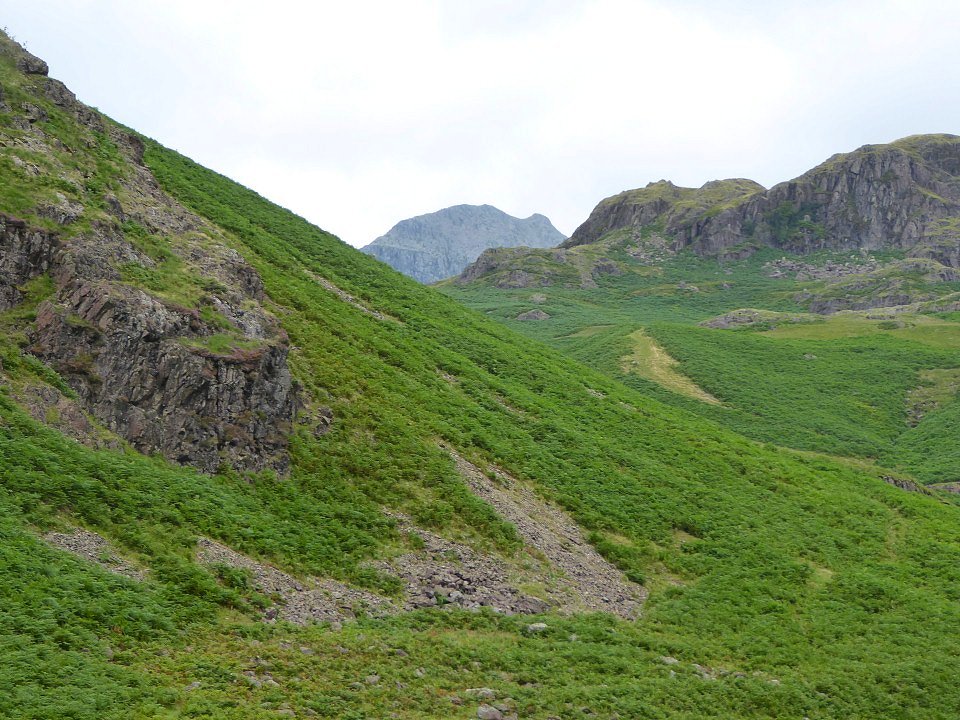 Ill Crag rises into the view.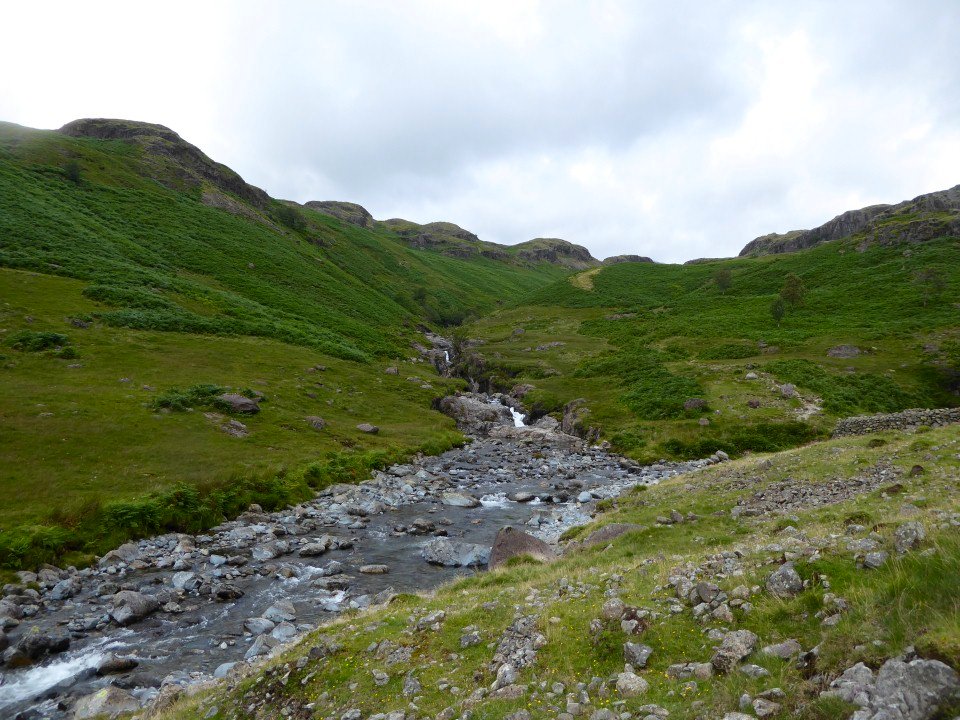 Soon we are at Lingcove Bridge and feel the first spots of rain.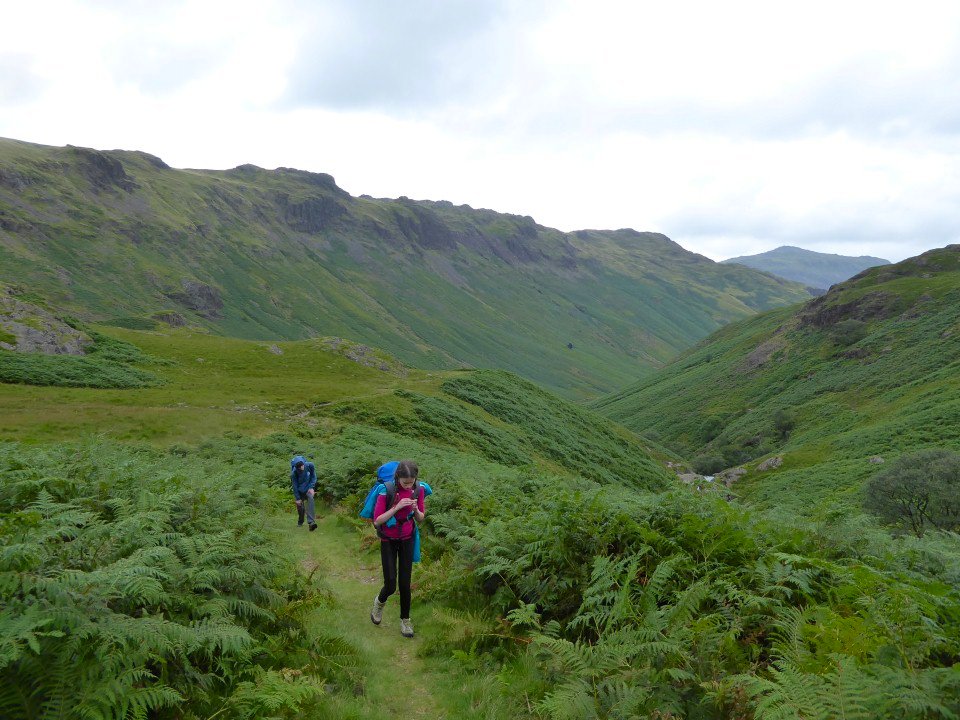 Still quite warm especially on the climb up to the Great Moss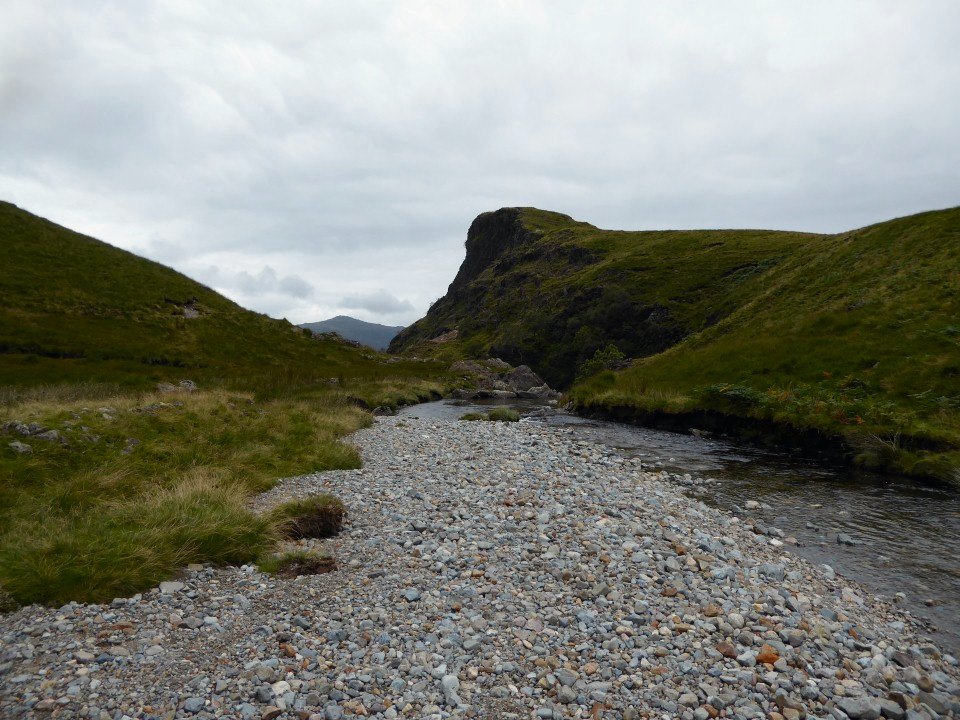 Green Crag towering over the Esk.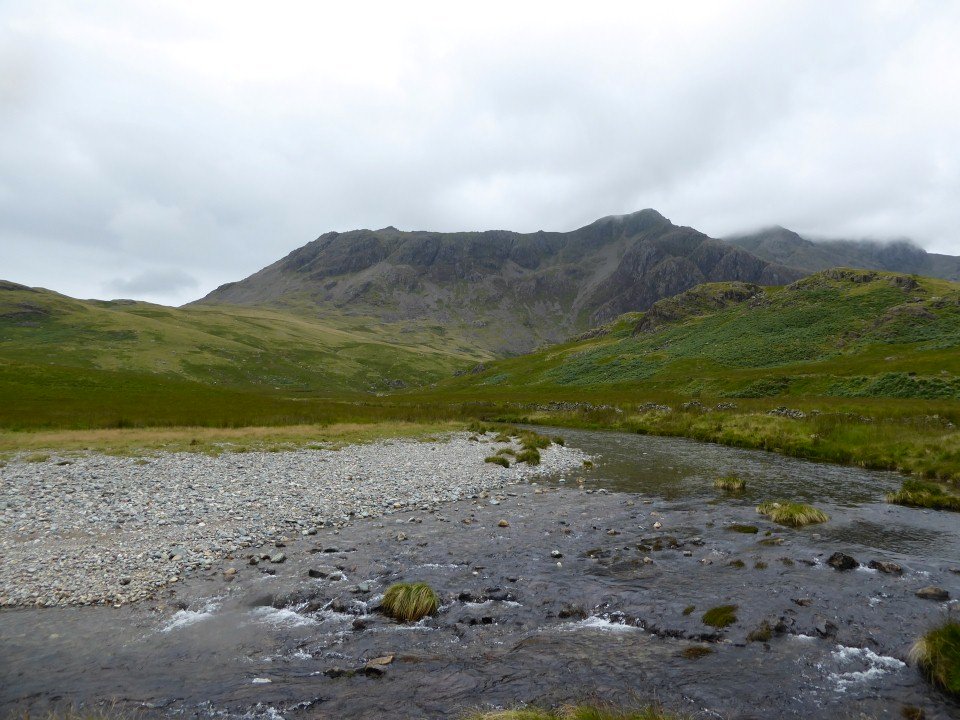 Slight Side and the ridge to Scafell.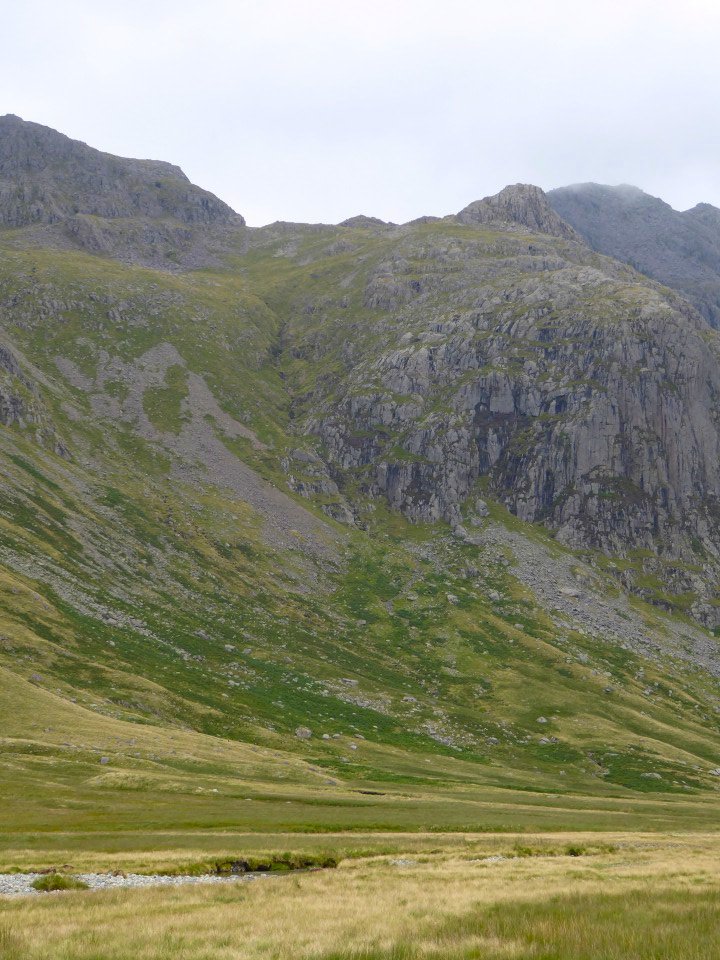 I tried a different route to Pen than I have used before. Usually I cross the scree and follow the steep stream bed up to the col and then climb to the right then up to the top. This time though we went more to the left keeping mainly to grass.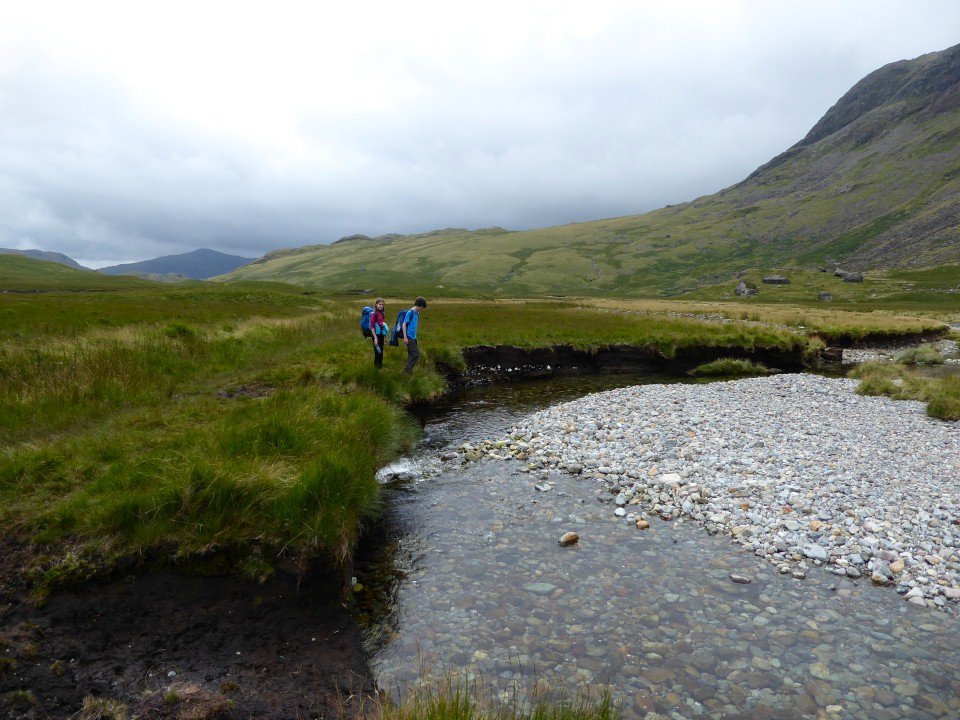 Tom and Emily prepare to jump the Esk. Water crossings were a lot easier than when me and Sue came up in April.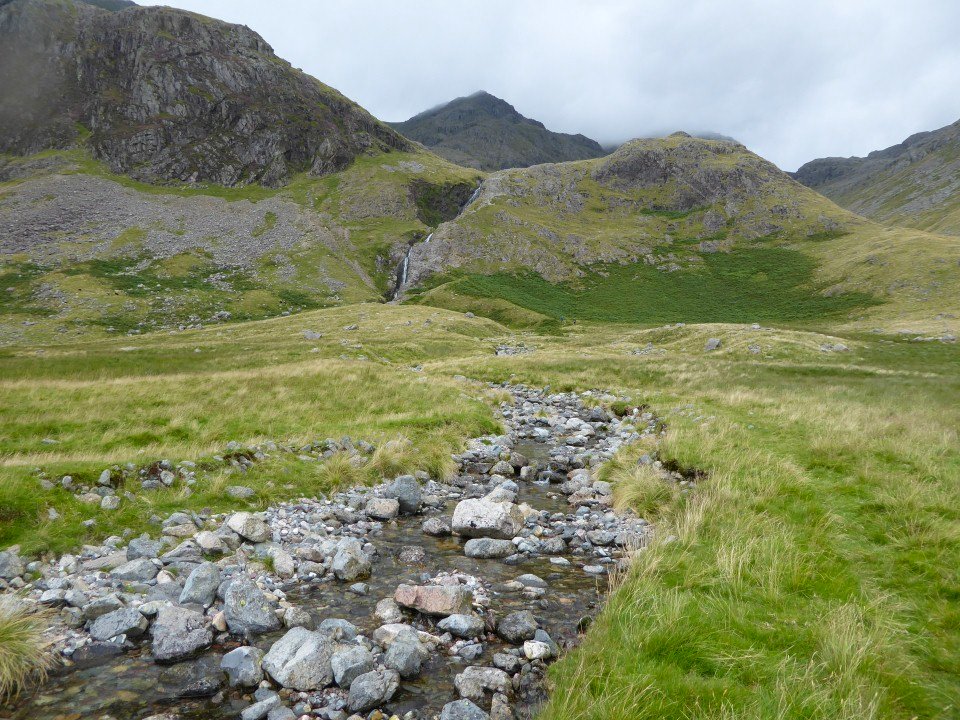 Looking across to the Cam Spout route to the Scafell massif. On our climb to Pen the promised rain came and did so with a vengeance. I realised we weren't going to make Pen so looked for a camp spot and luckily we found a little shelf around the 700M mark. I threw the tent up and we spent a very stormy night. The rain continued all through the night and we woke to heavy clag, wind and rain so we decided the climb up to Scafell was too dangerous so headed back the way we came. The Great Moss was now doing a passable imitation of the Mekong Delta so we stayed on our side of the river and came back by the way of Damas Dubs which was very wet.
August 13th - Route - Greendale - Greendale Tarn - Seatallen - Middle Fell - Greendale ( about 5 miles 2500ft ascent )
Sue and I were back to the Lakes on Saturday staying at Wasdale Hall YH. We were joined by Dave. We had a short walk to Seatallen and Middle fell on Saturday afternoon.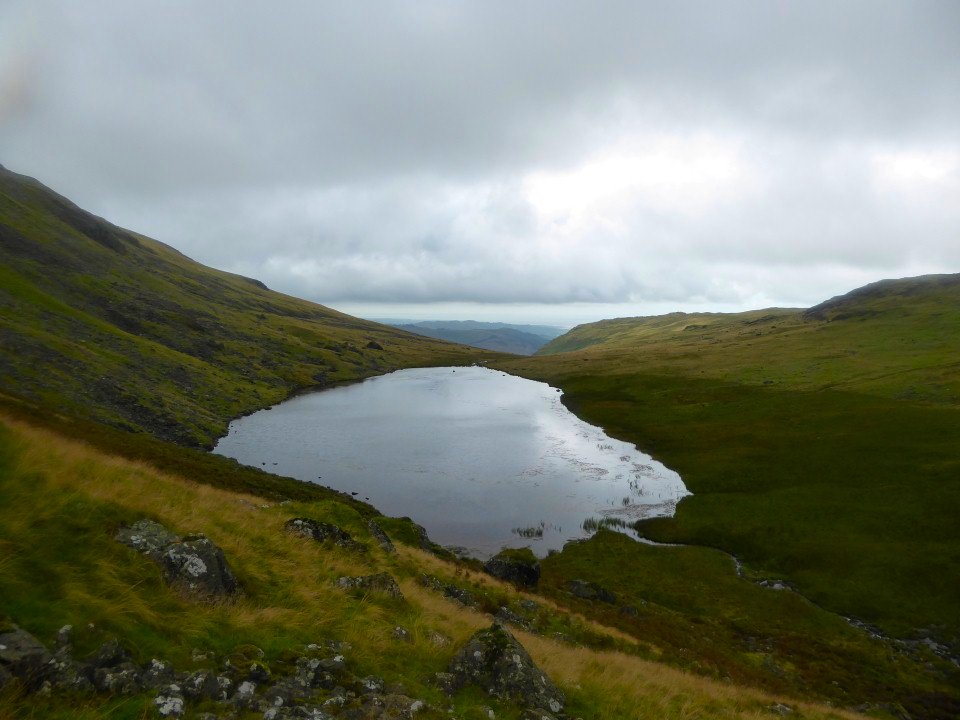 A little dull to start with today but a lot better than earlier in the week.
Greendale Tarn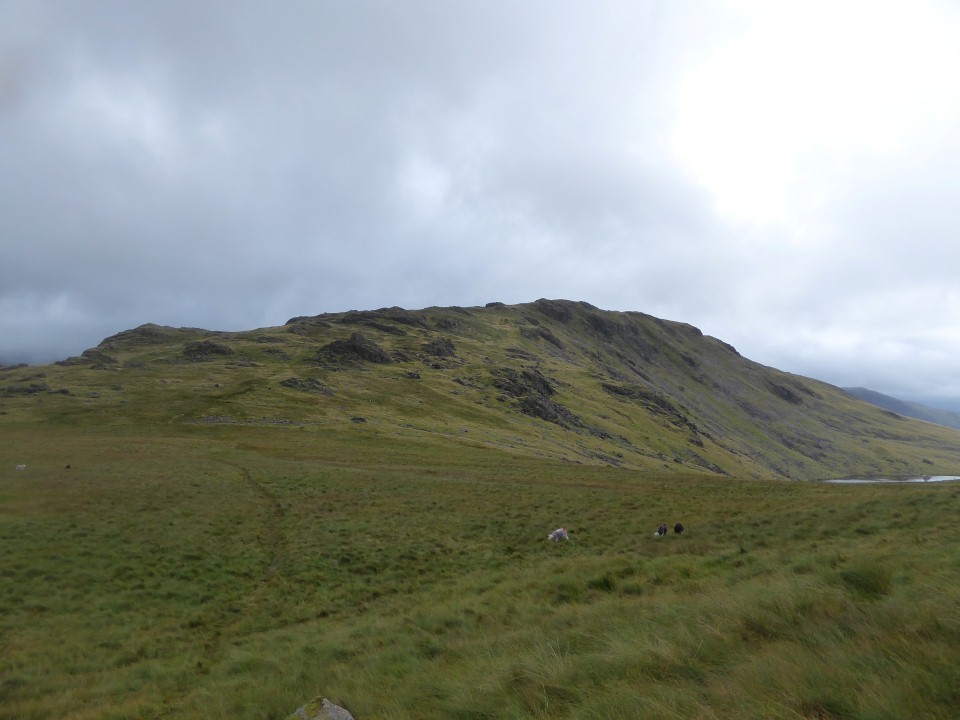 Middle Fell from the start of the steep pull to Seatallen.
Dave heading in to the clag.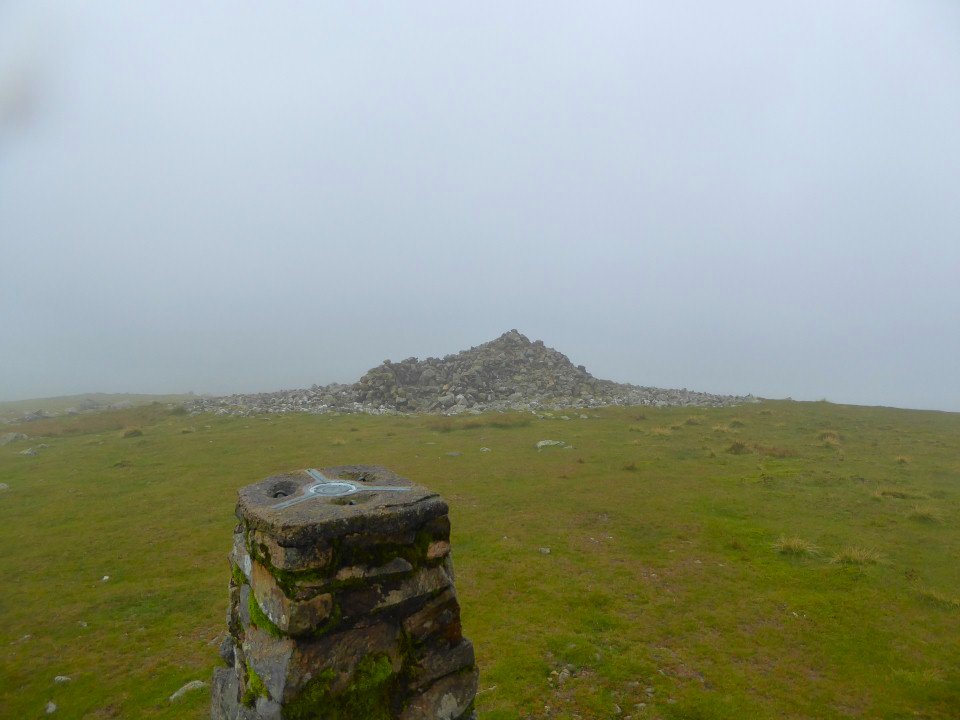 Not much of a view from Seatallen.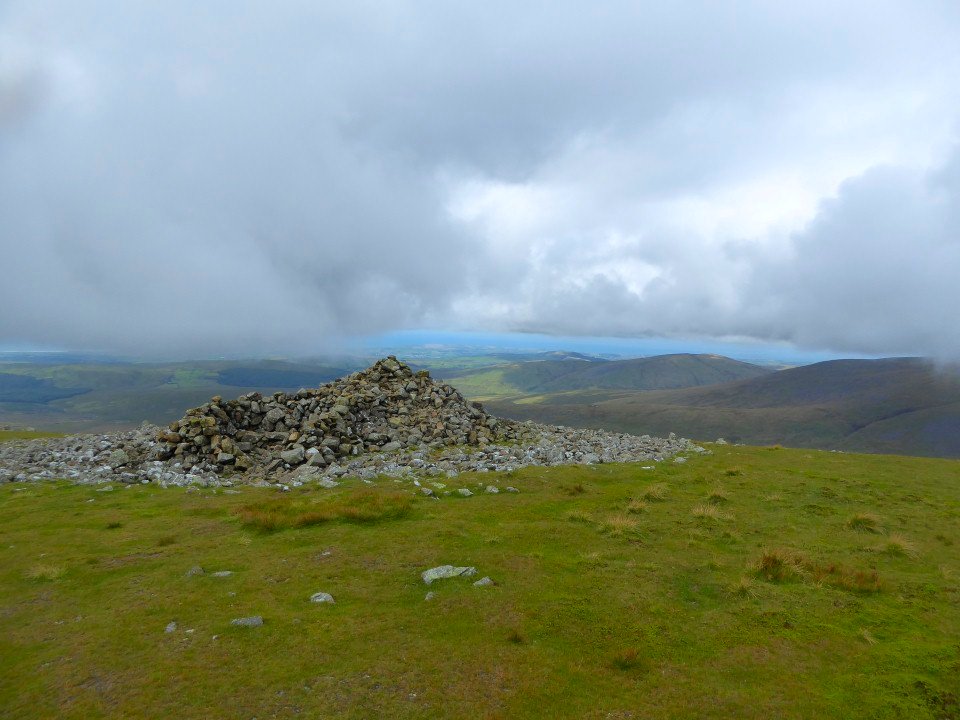 But the magic happens and we have a view.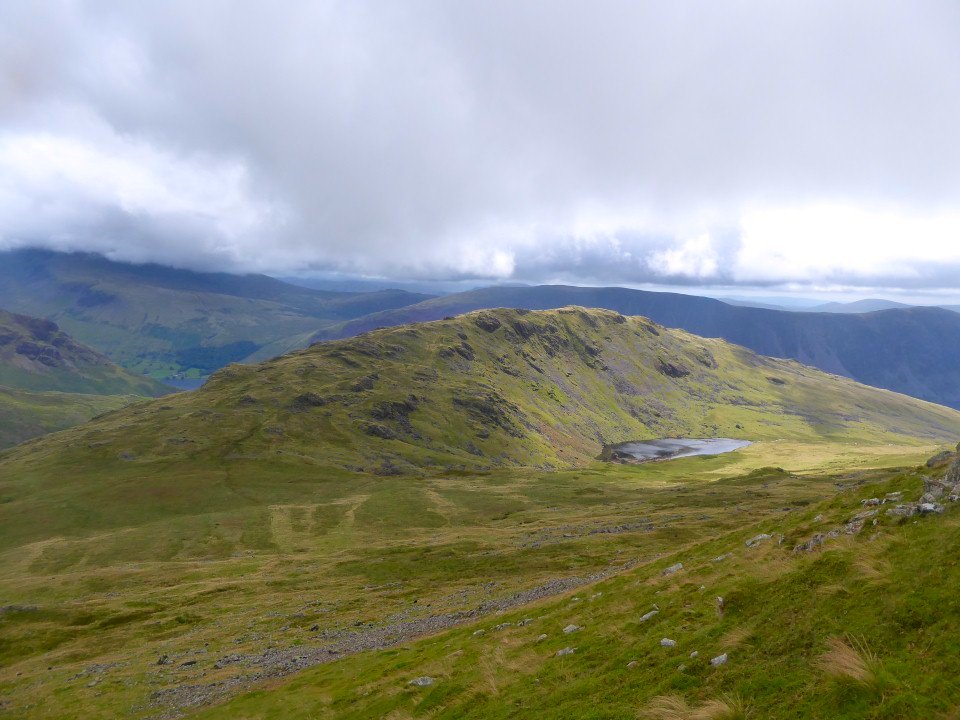 Middle Fell and Greendale Tarn looking a lot brighter than a few minutes before.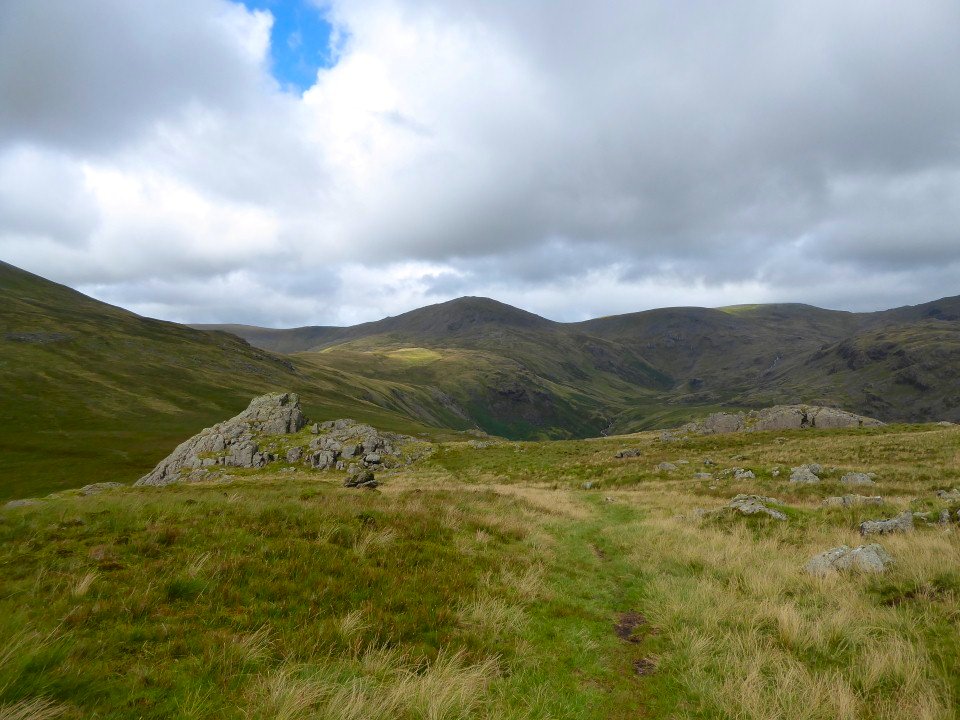 Haycock from Middle Fell.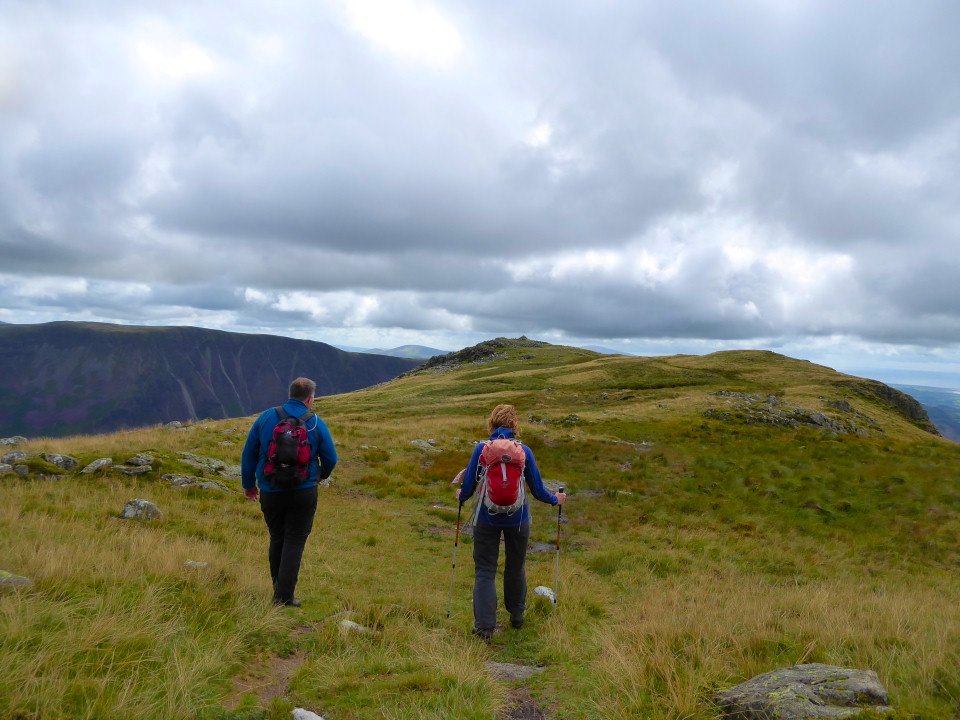 Sue and Dave head for the top.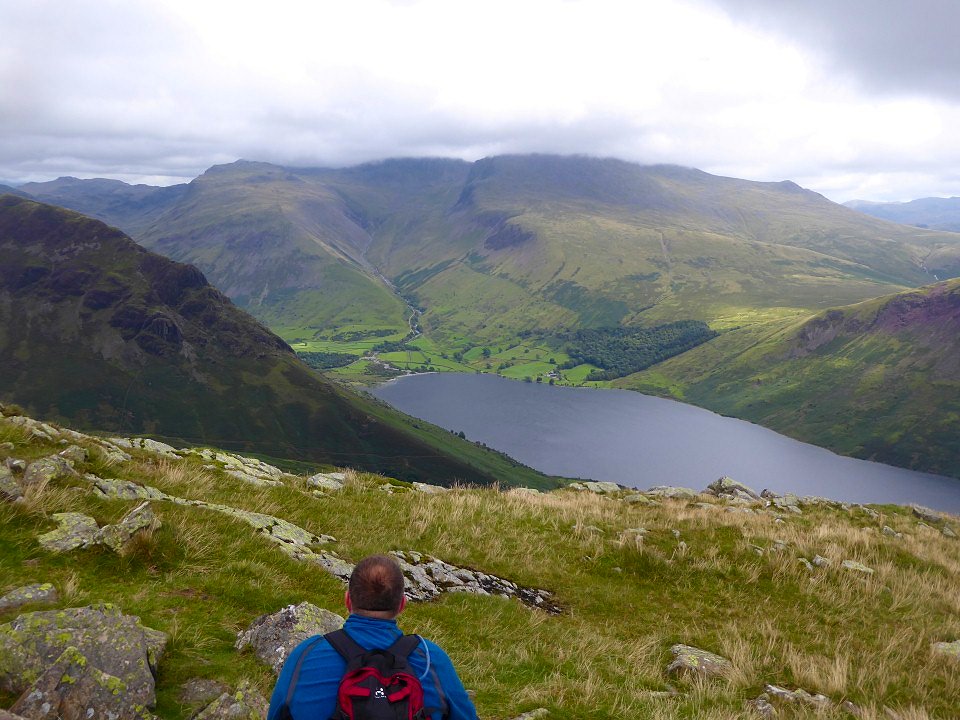 Cloud covering the very top of the Scafell range but still a lovely view.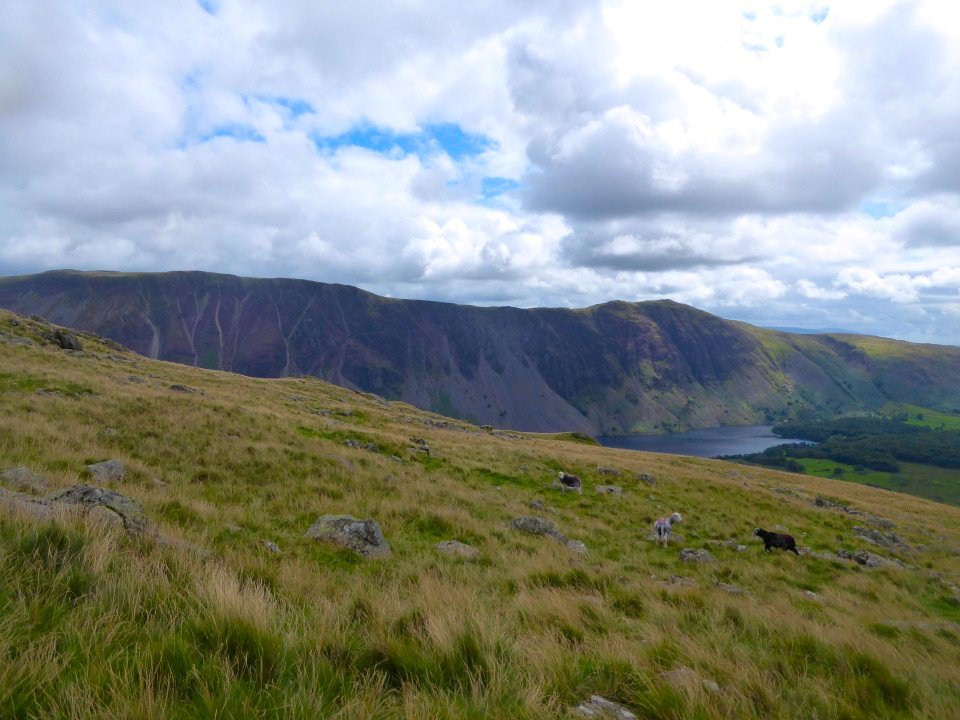 Wastwater Screes from the path down.
14th August - route - Over Beck car park - Nether Beck - Scoat Tarn - Steeple - Scoat Fell - Red Pike (W) - Dore Head - Yewbarrow - Over Beck (about 8 miles 3400ft ascent )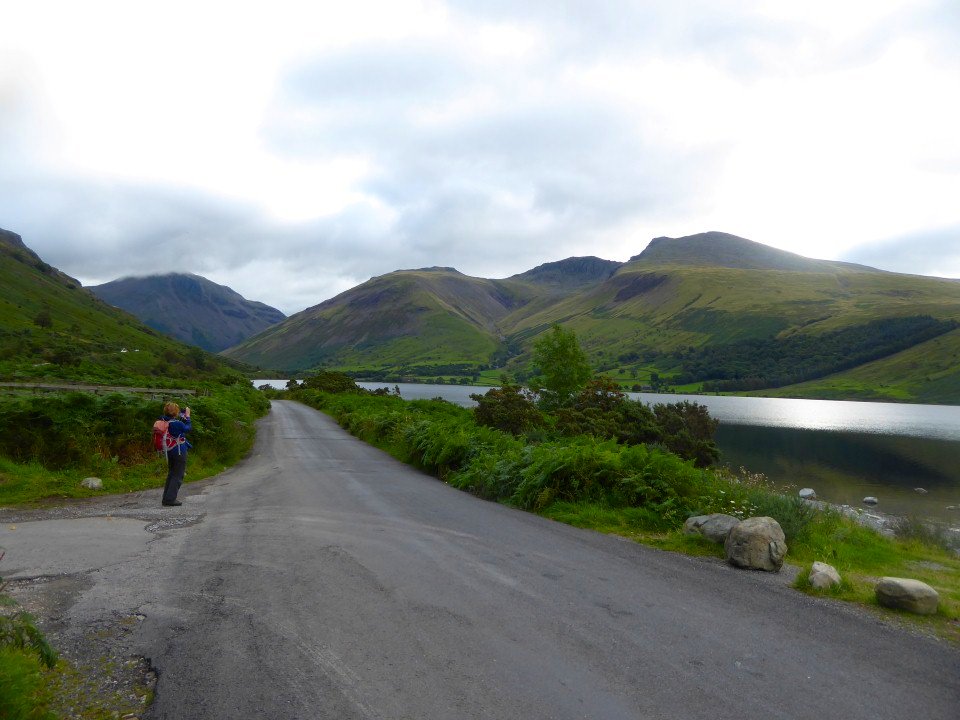 Today was to be our longest walk and one as I was really looking forward to as we were visiting Scoat Tarn which I have never done and also climbing Yewbarrow one of my favourite fells.
Heres a picture of Sue taking a picture of Lingmell and the Scafells'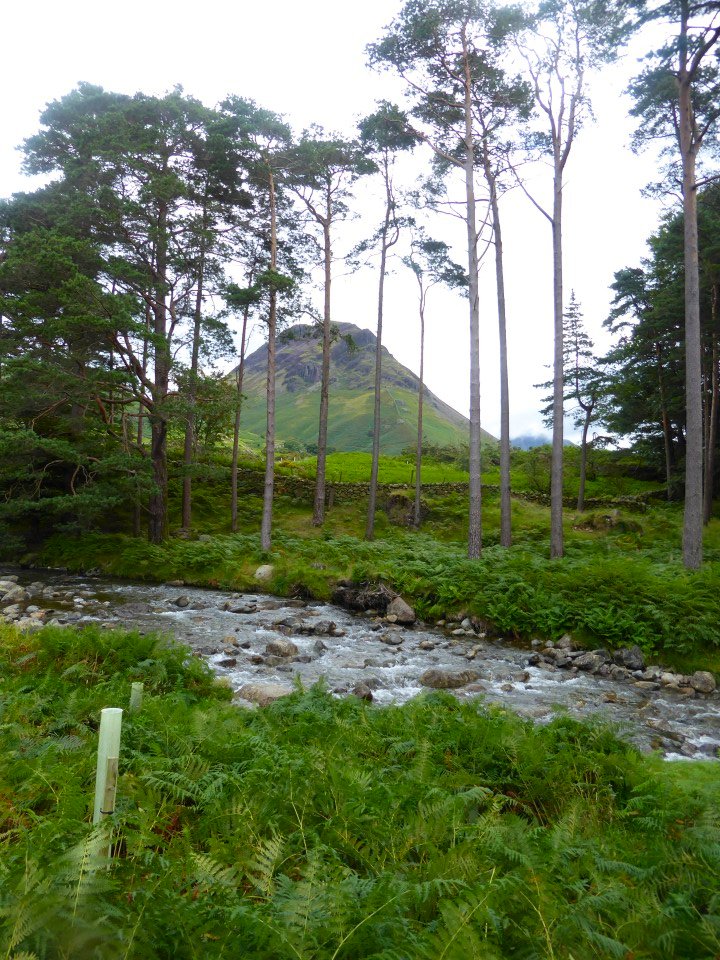 .The iconic Yewbarrow seen from Nether Beck.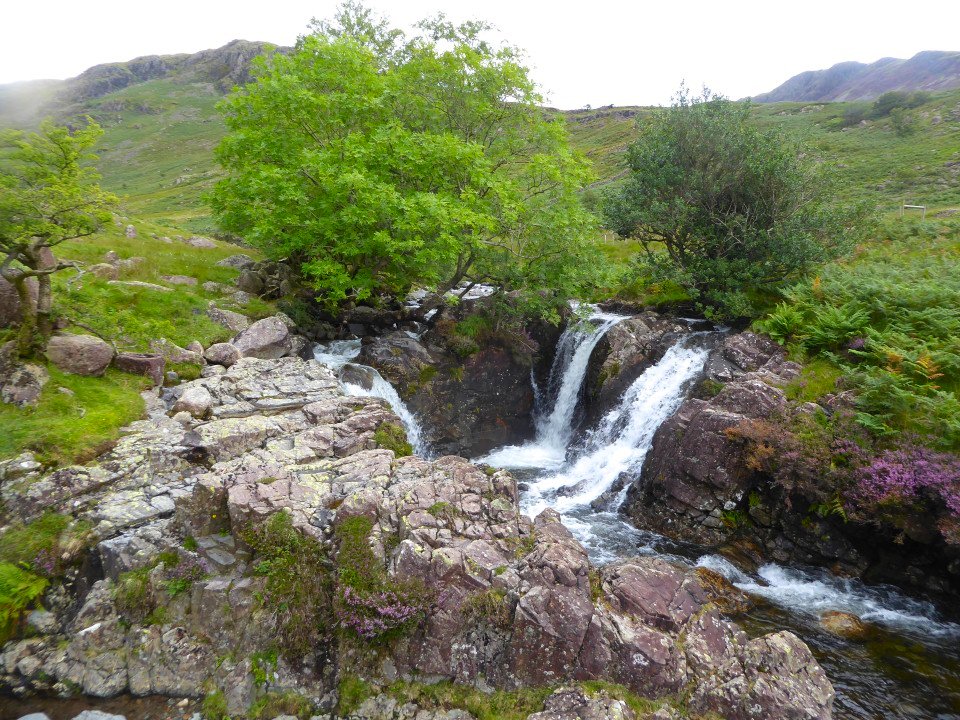 With the rain earlier on in the week the cascades in Nether Beck were quite spectacular.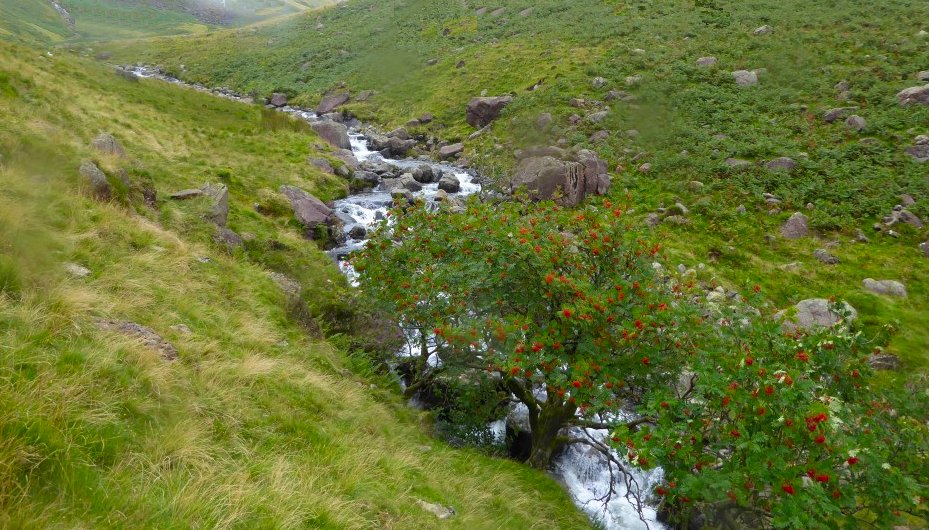 Rowan by Nether Beck.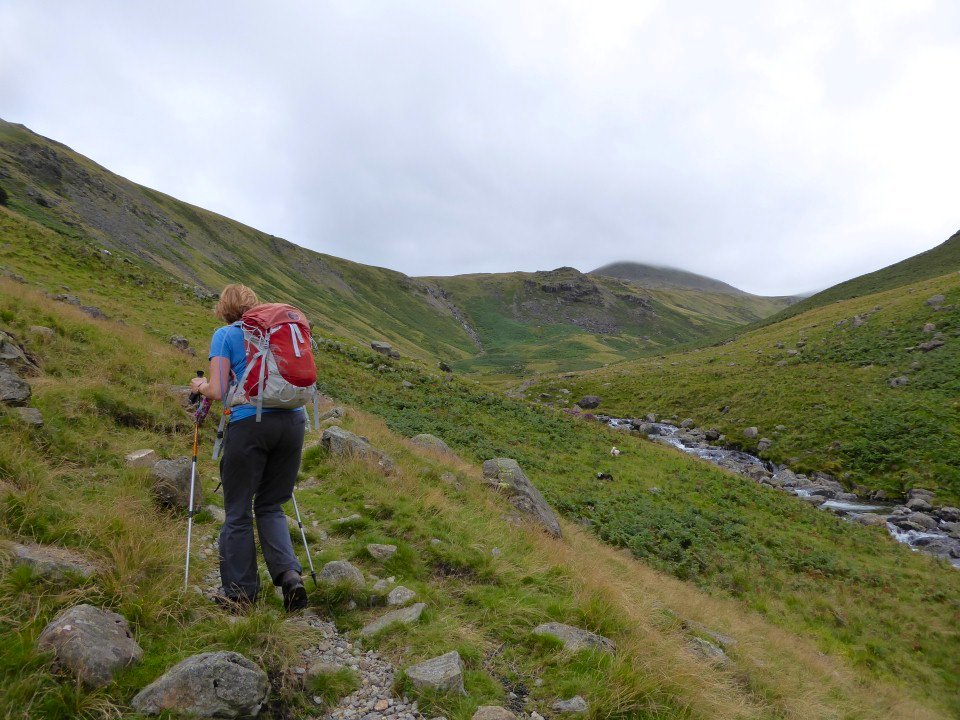 Nearly at the head of the valley where we will take a right turn and climb to Scoat Tarn.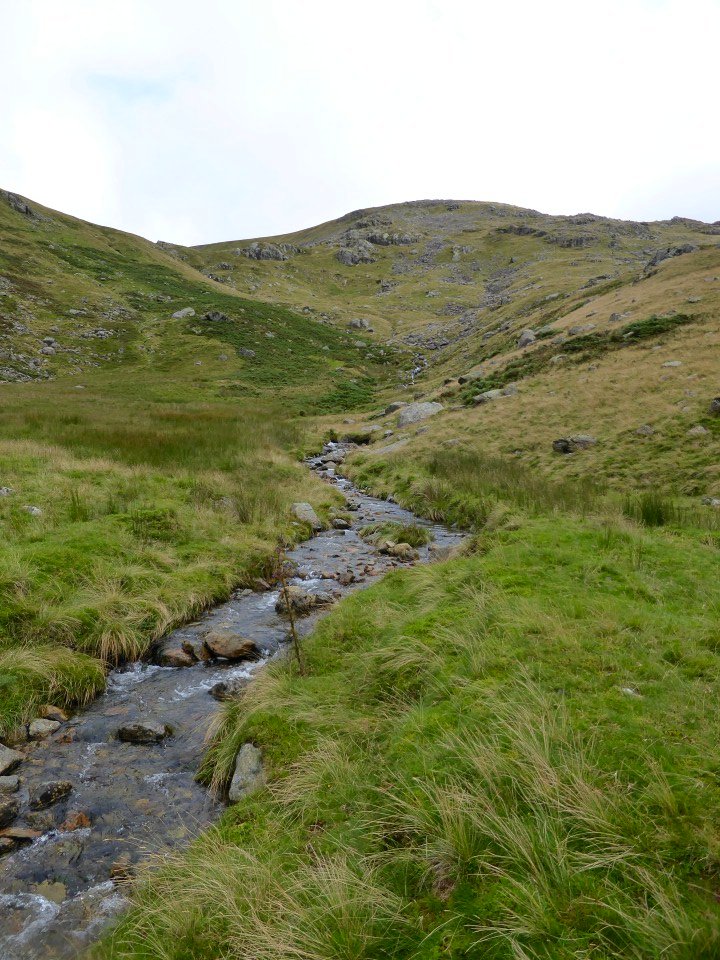 Little Lad Crag.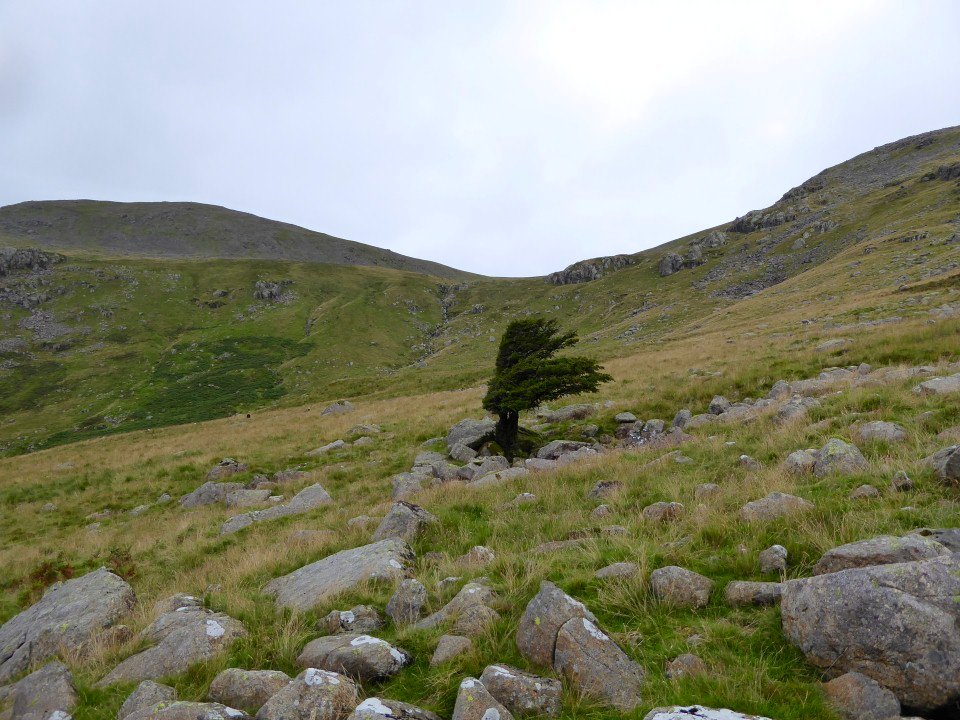 Wind direction indicator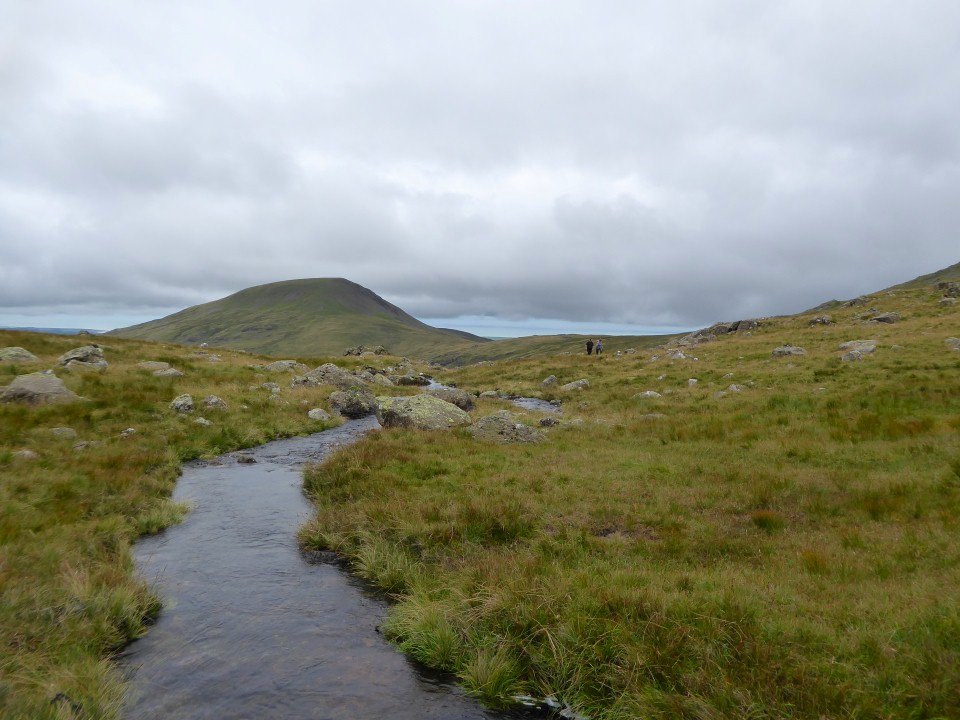 Seatallen from Scoat Tarn.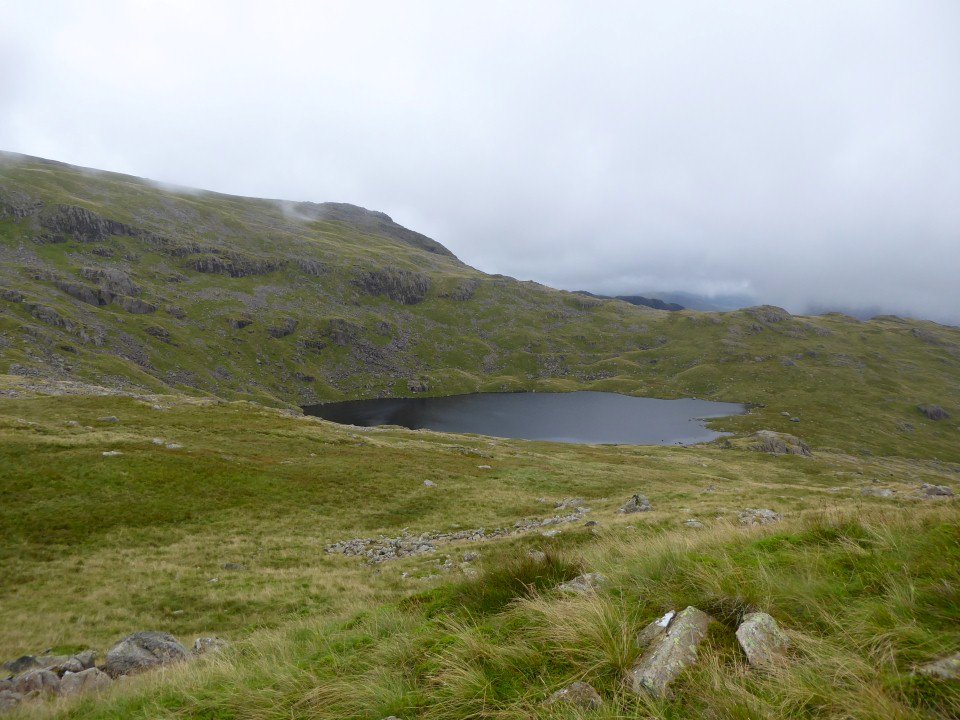 Scoat Tarn from the climb to Scoat Fell.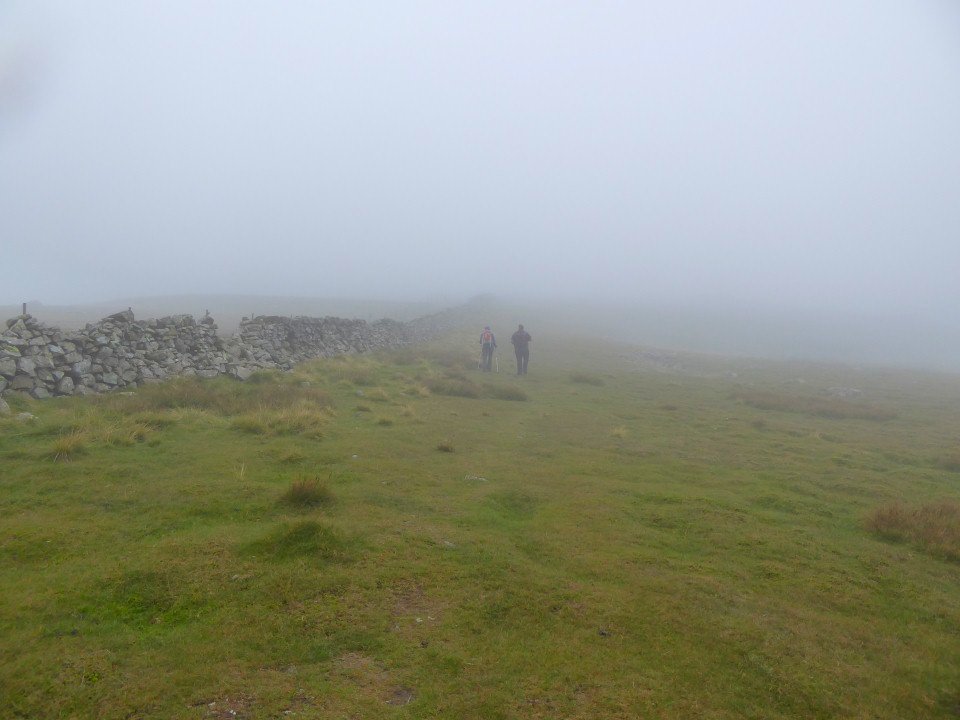 We encountered a little mist on Scoat Fell.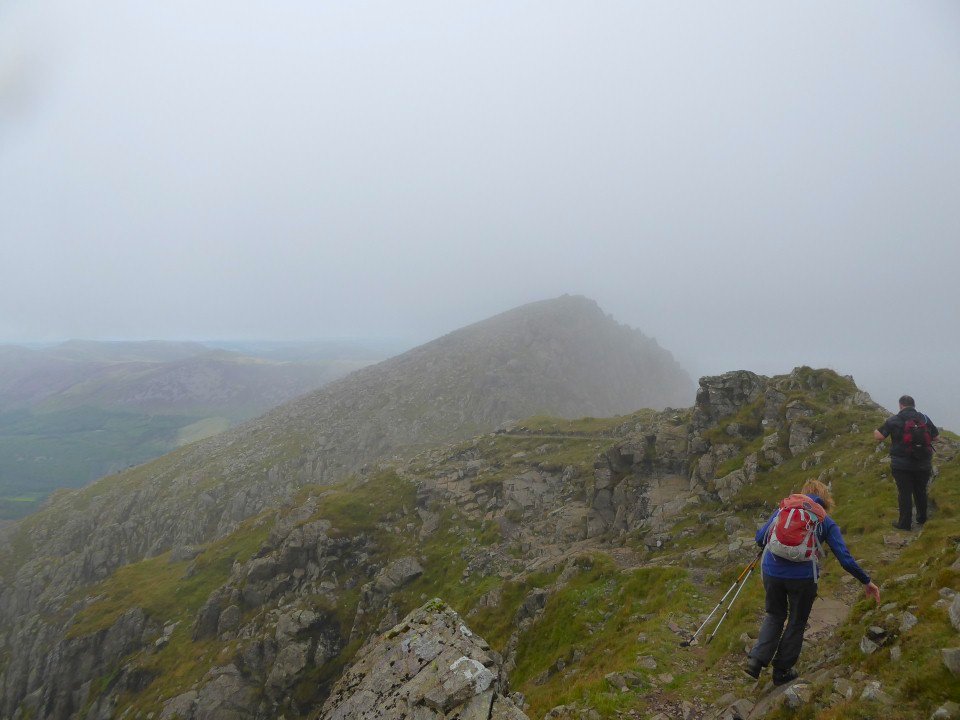 But it cleared as we walked across to Steeple.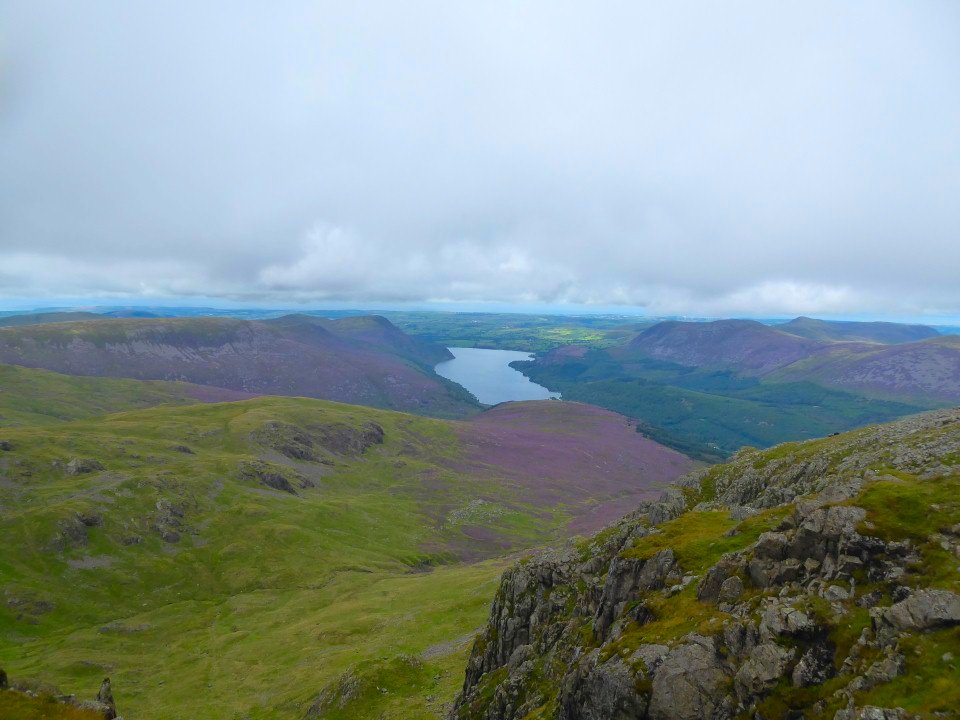 Ennerdale and lots of very colourful heather.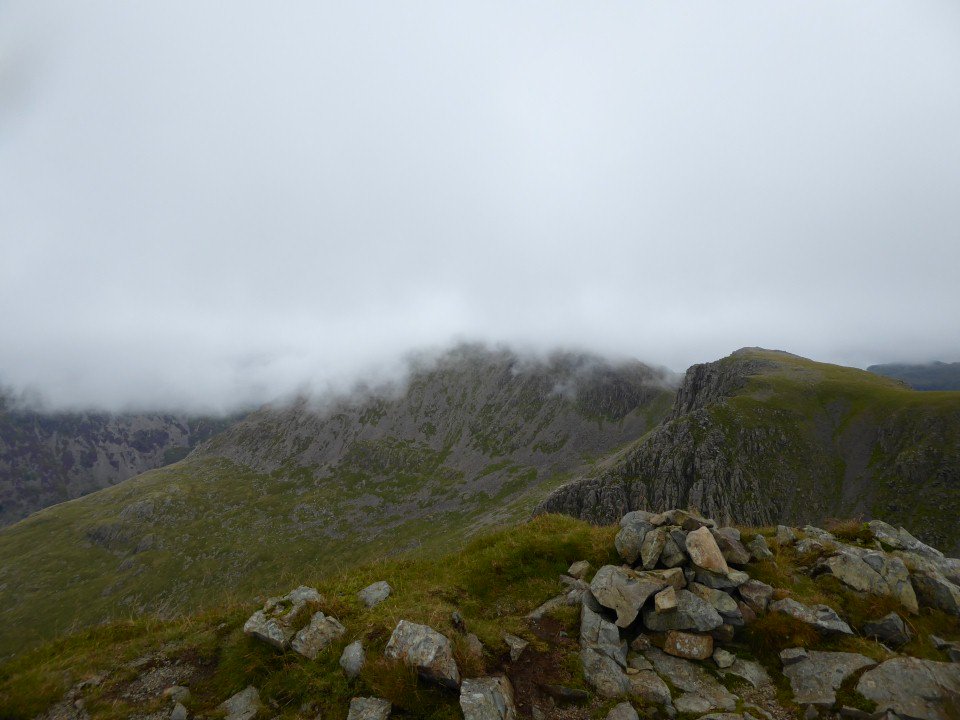 Pillar was still bothered by the cloud though.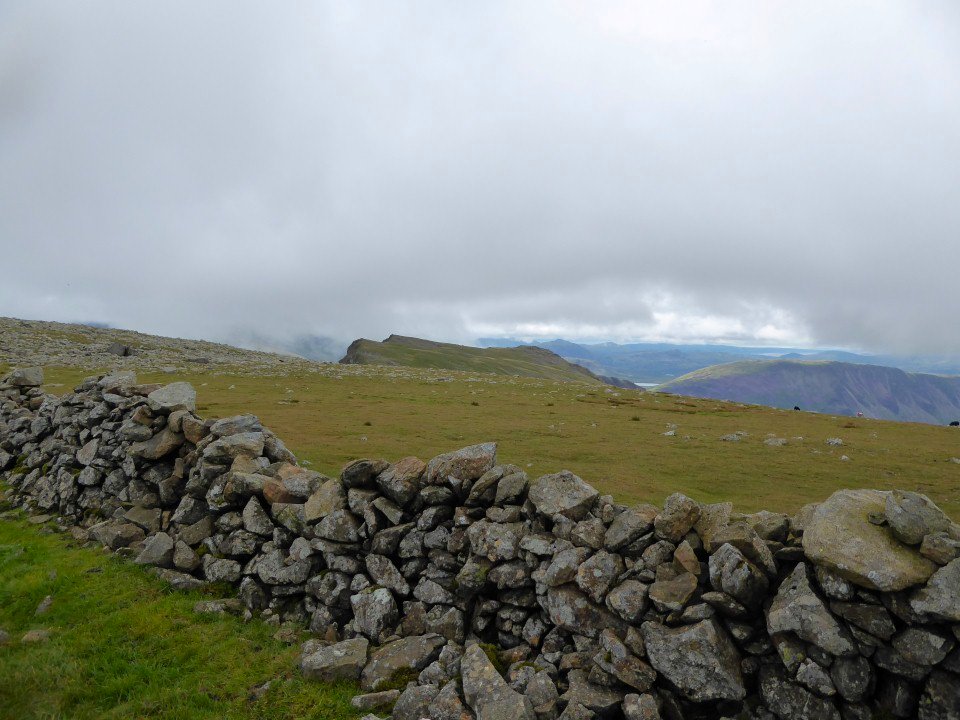 Our next destination, Red Pike.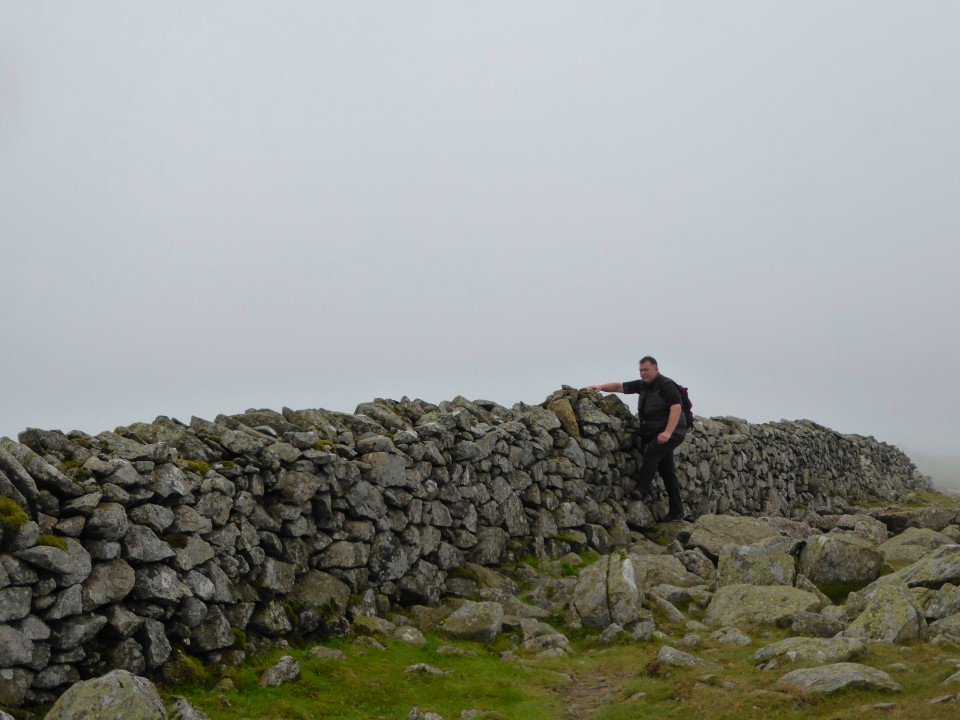 Dave just making sure he touches the little cairn on the wall that marks the top of Scoat Fell.
Red Pike ahead. Great Gable peeping up above Kirk Fell.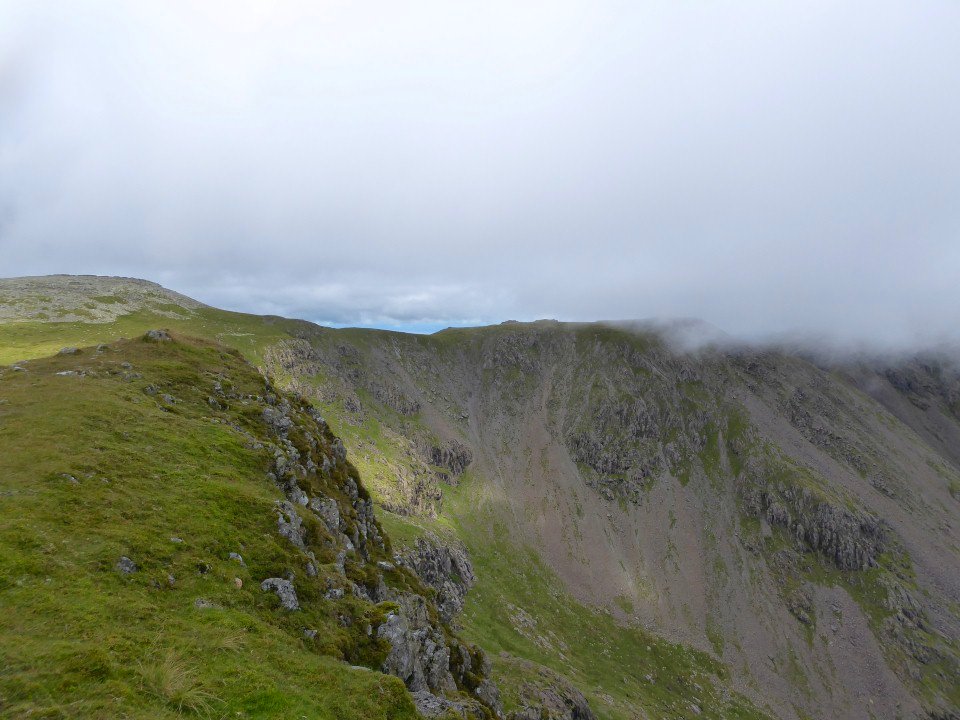 Looking back to the Scoat Fell ridge.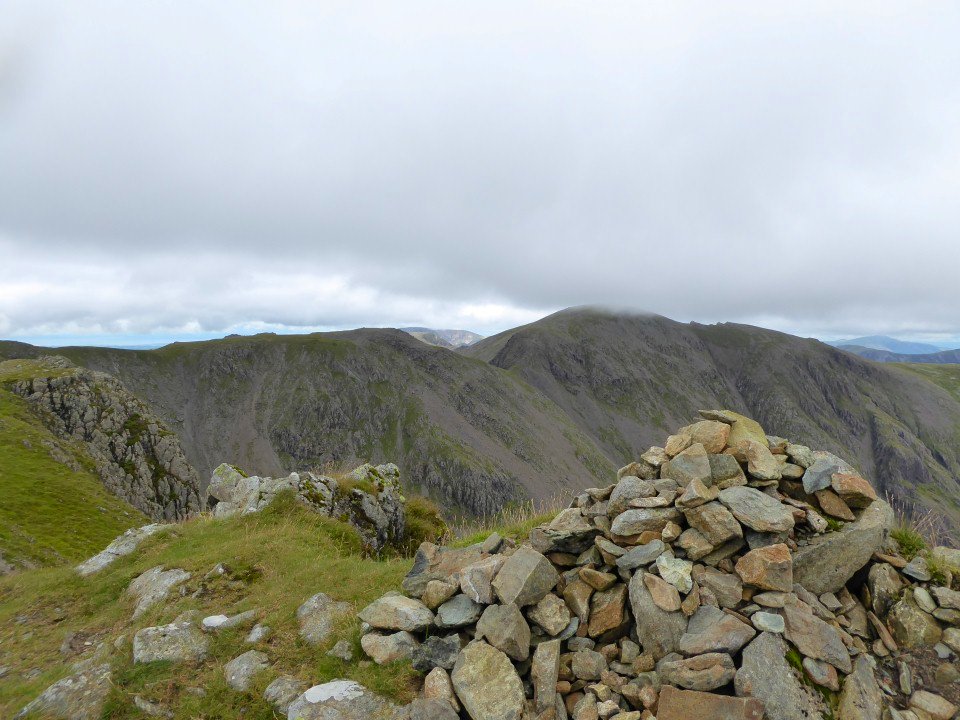 Red Pike top. Pillar is just about clear now.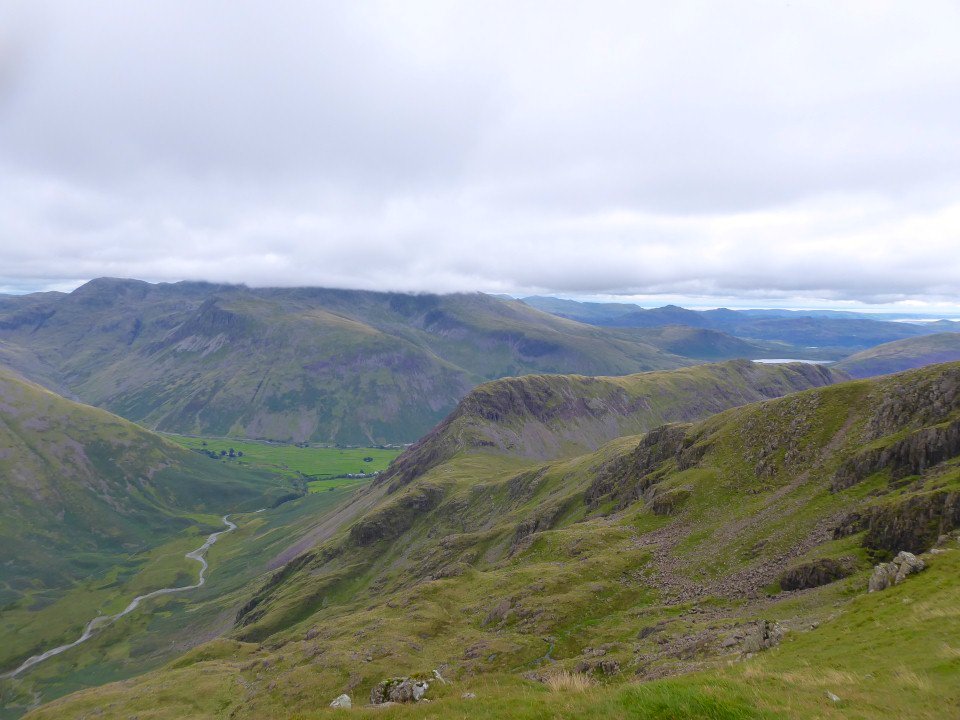 Yewbarrow was next on our list.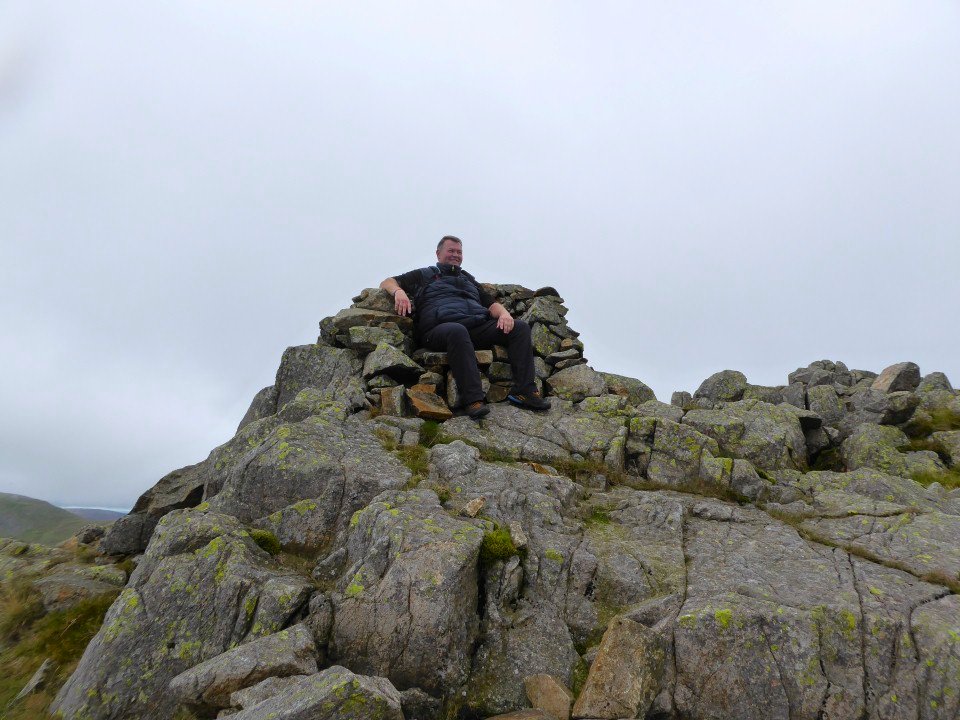 But not before we have all had a sit in the chair.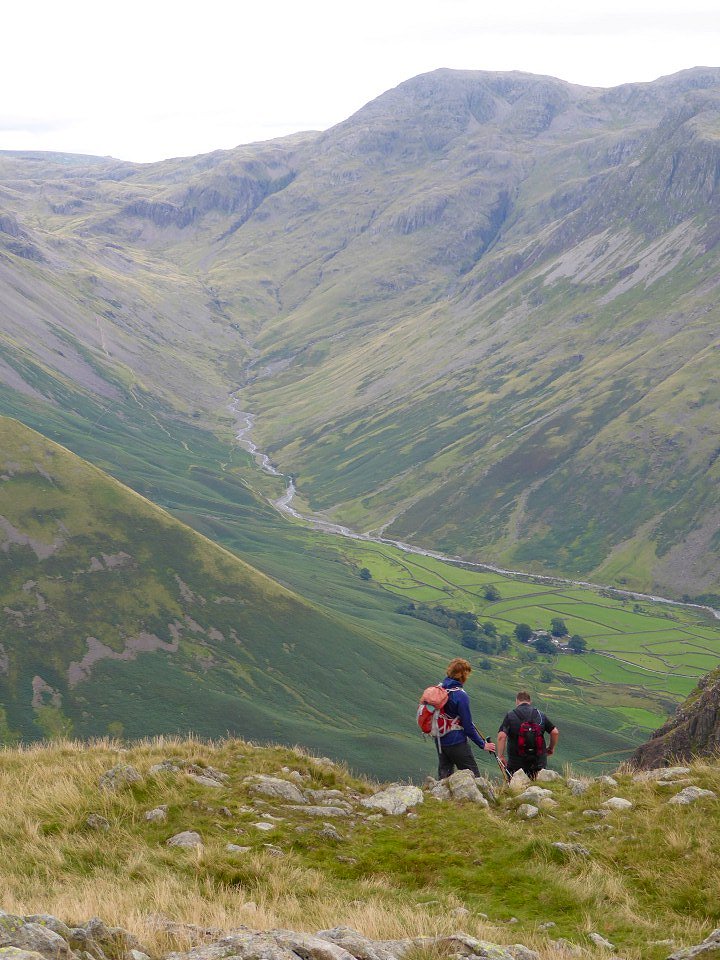 Wasdale Head far below as Dave and Sue start the descent to Dore Head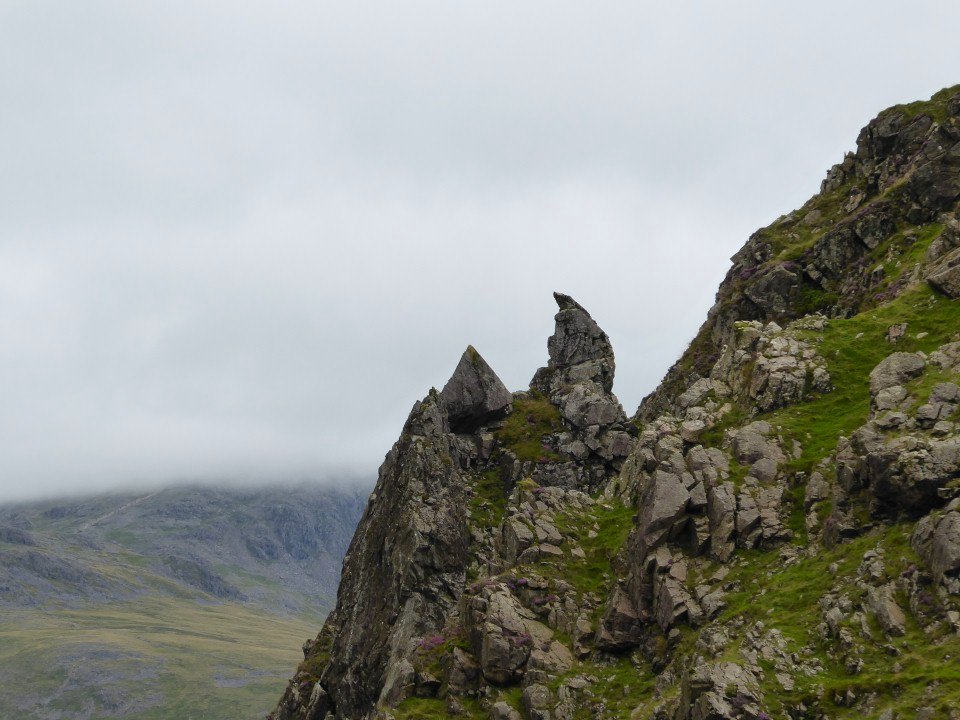 The claw rock on Stirrup Crag.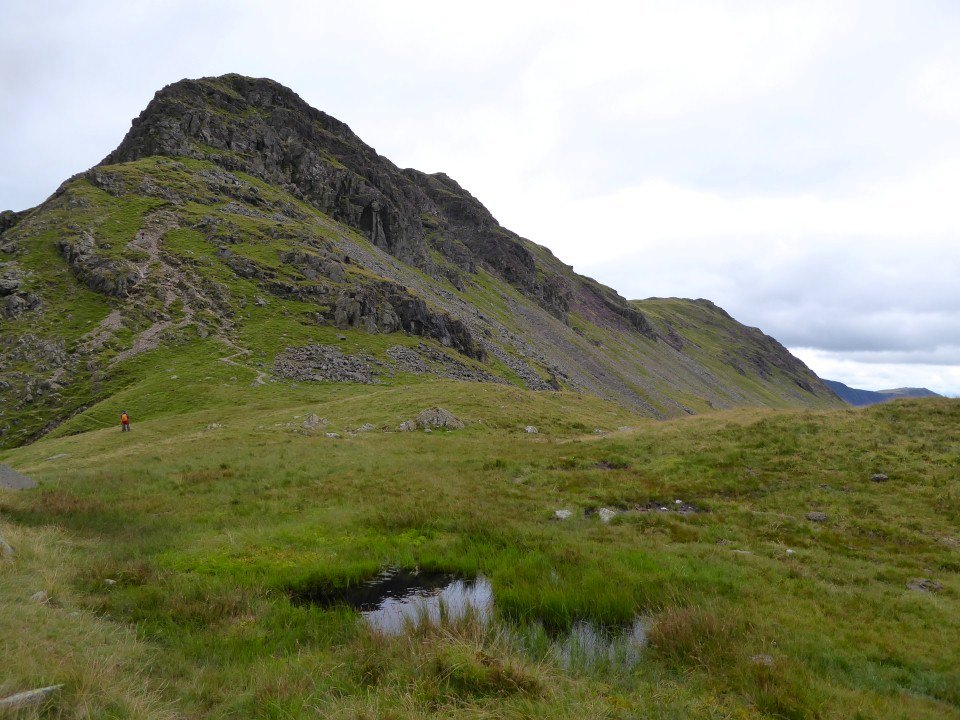 Sue wasn't confident she could manage the scramble up Stirrup Crag so I went with her on the side path whilst Dave tackled the climb.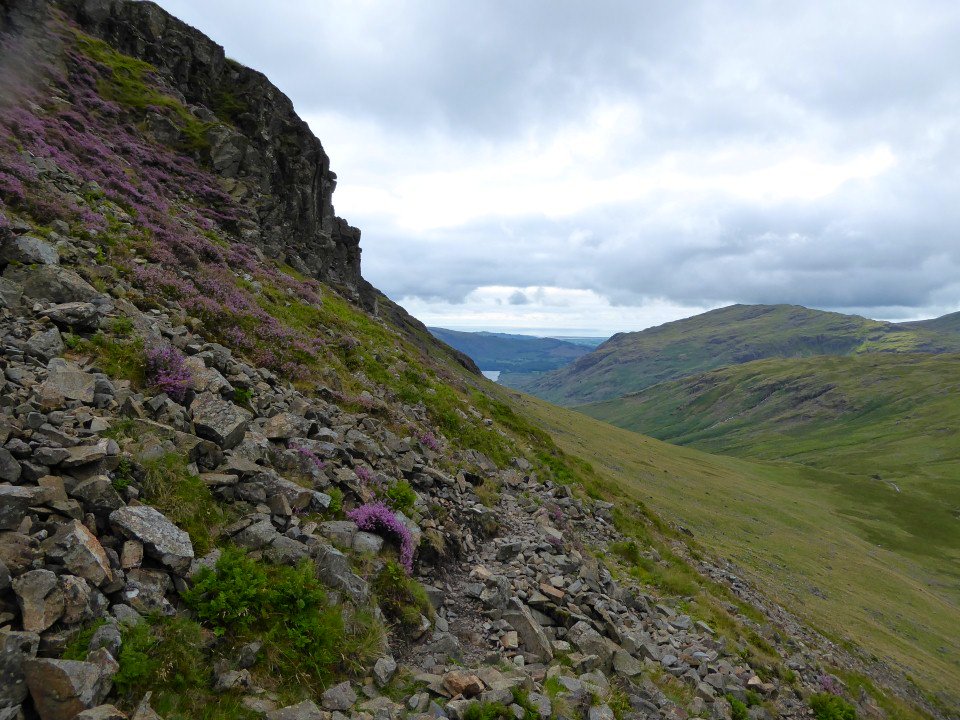 There are a few boulder and scree sections to cross but the side path to Yewbarrow is quite simple.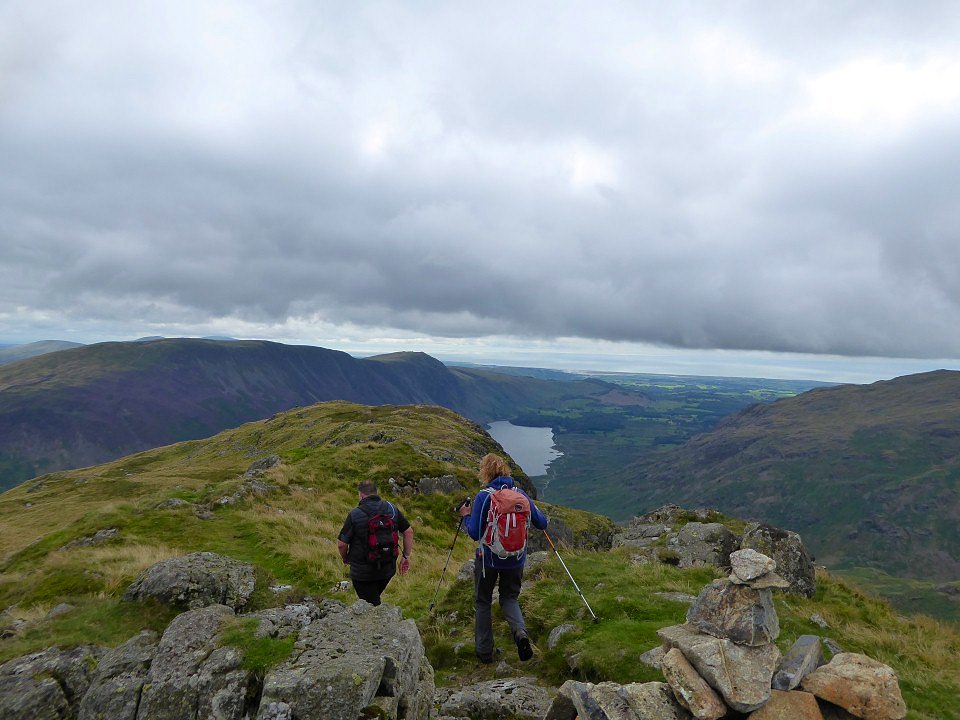 Here we are reunited on Yewbarrow top.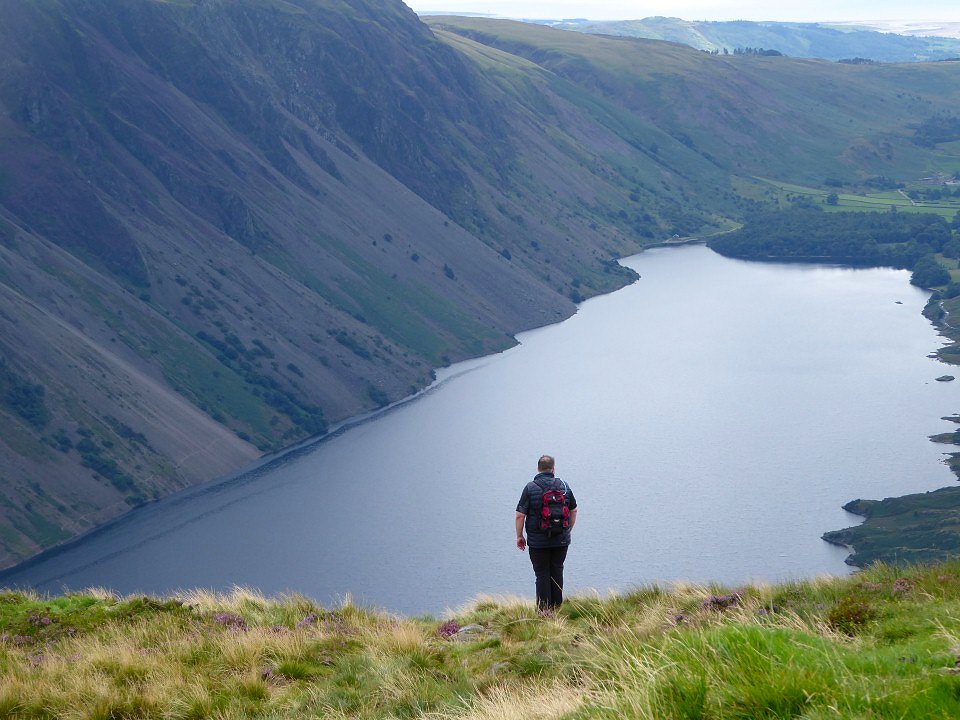 Dave takes in the view of Wastwater and the screes.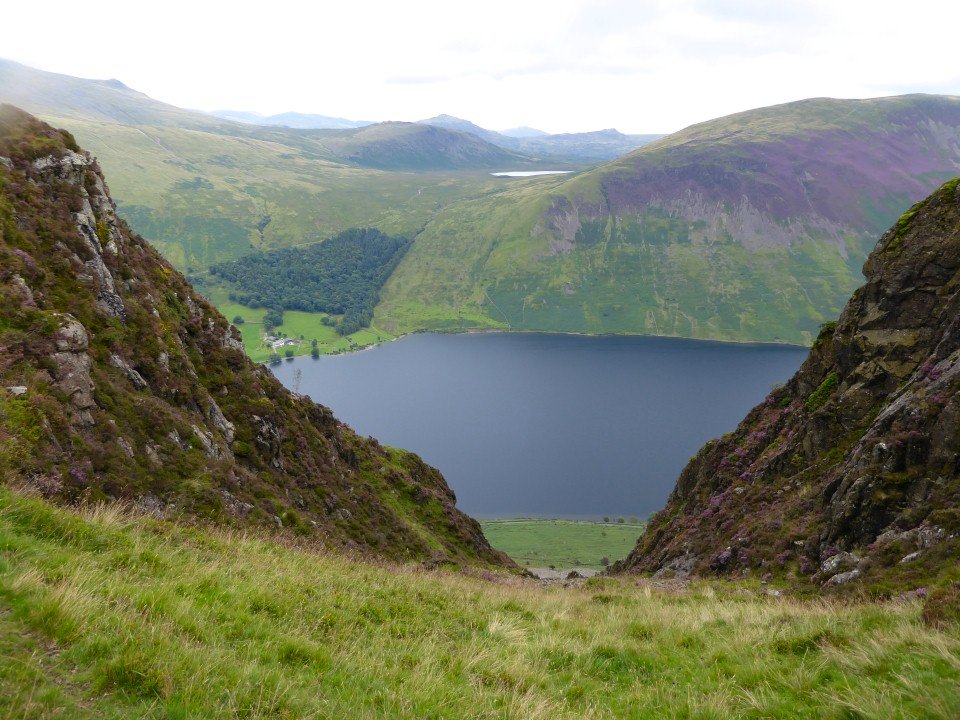 Looking down Great Door to Wastwater with Burnmoor Tarn above.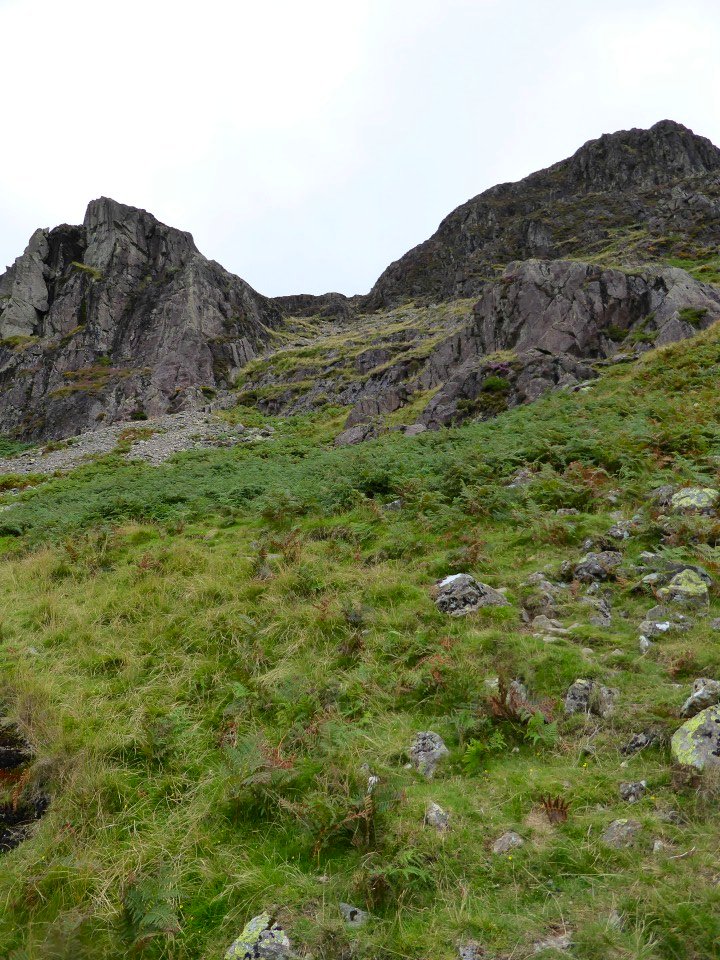 We carefully pick our way down the steep descent off Yewbarrow.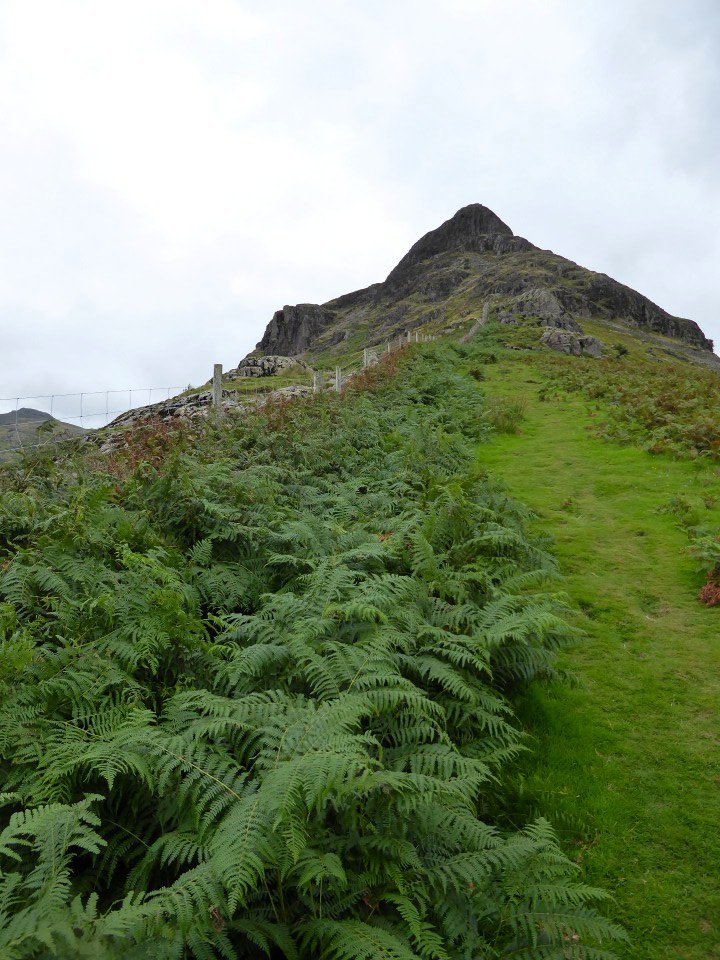 Bell Rib.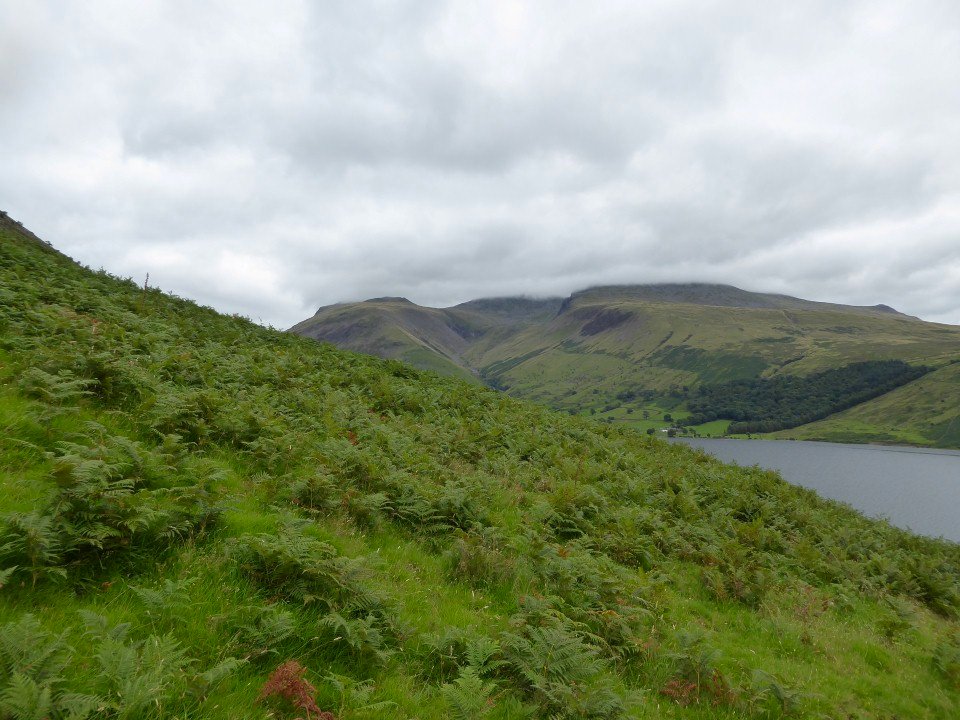 Another look at the Scafells', still in cloud.
15th August - Route -Wasdale Head - Lingmell west ridge - Lingmell lower cairn - Lingmell - Lingmell Col - Piers Gill - Lingmell Beck - Wasdale Head ( about 6 miles 2500ft ascent )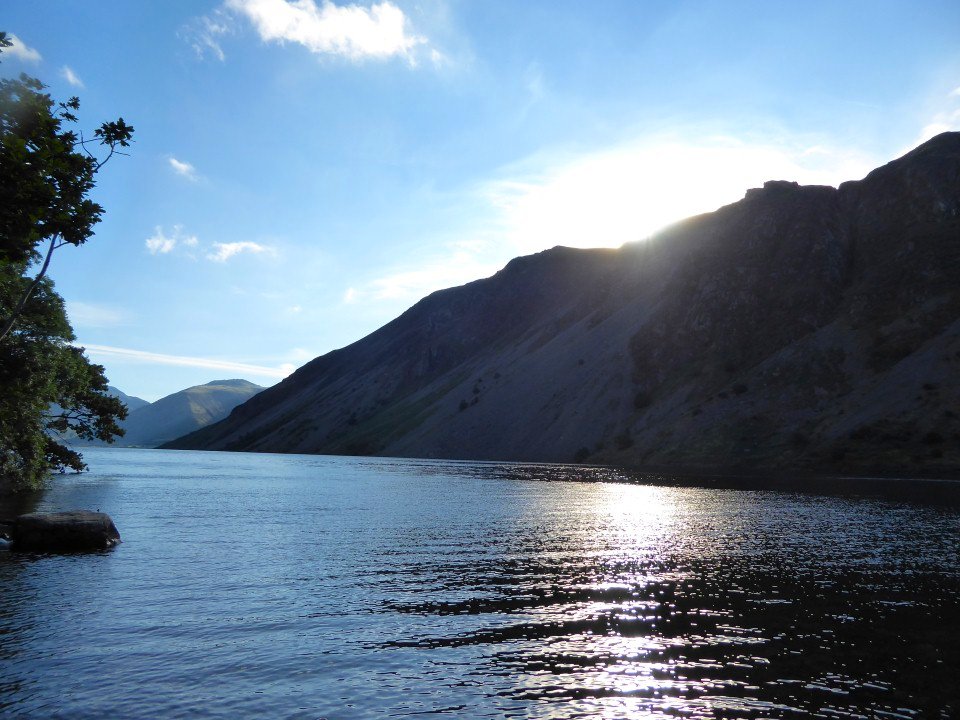 Monday was a beautiful morning.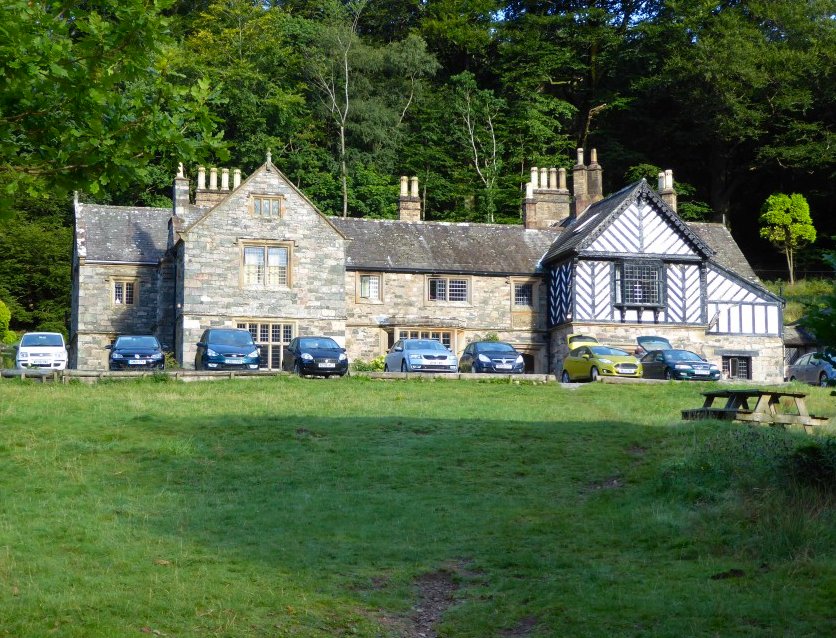 Wasdale Hall YH. Our home for the last few days.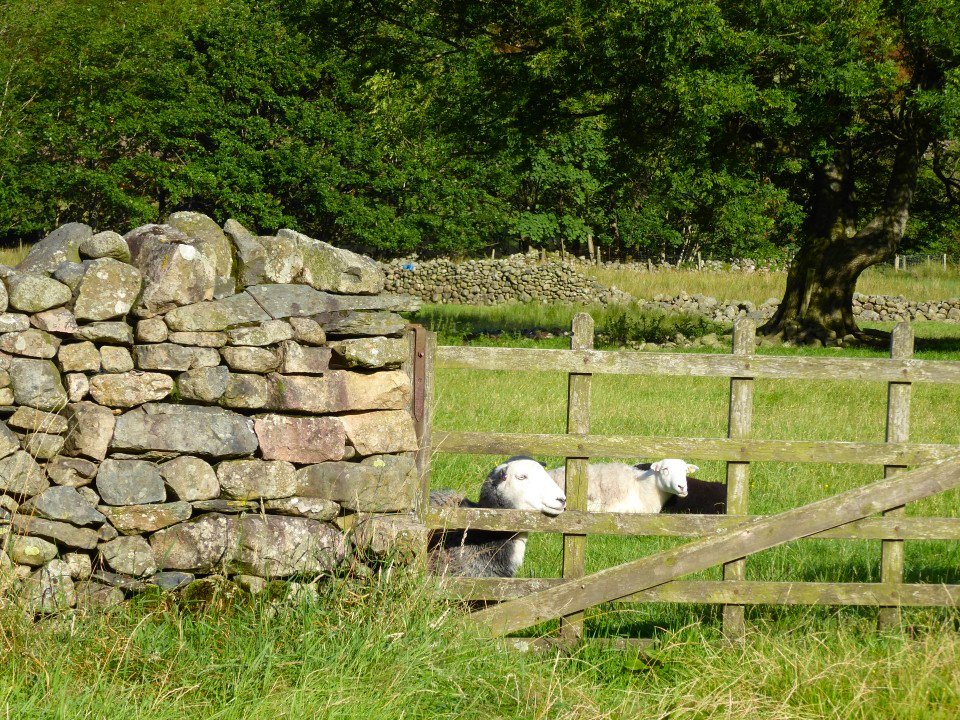 Another busy Monday morning in Wasdale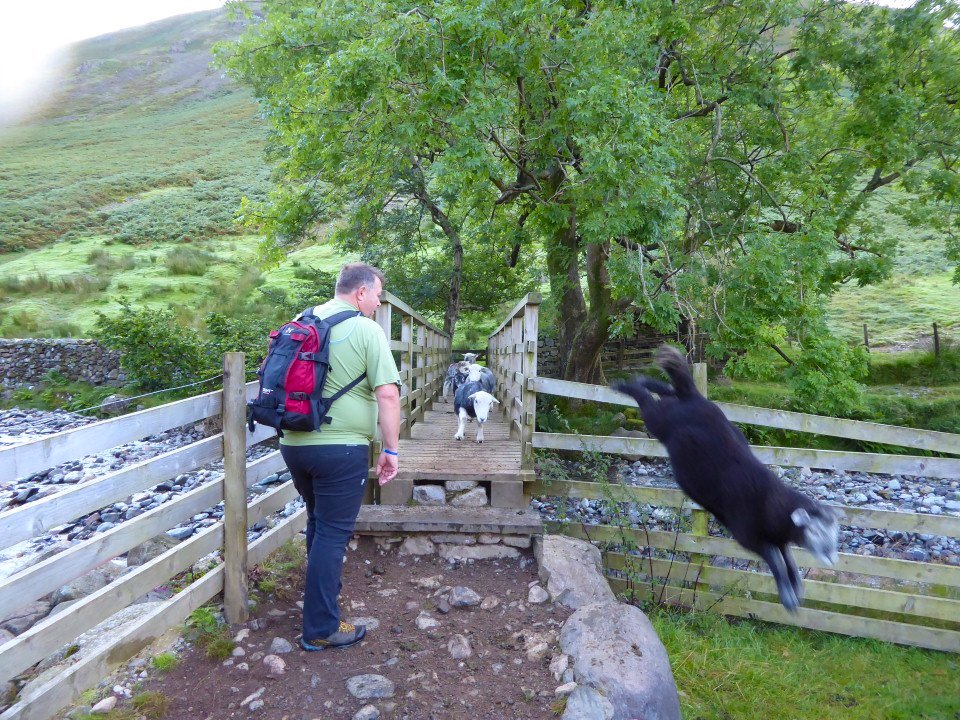 These sheep weren't for giving way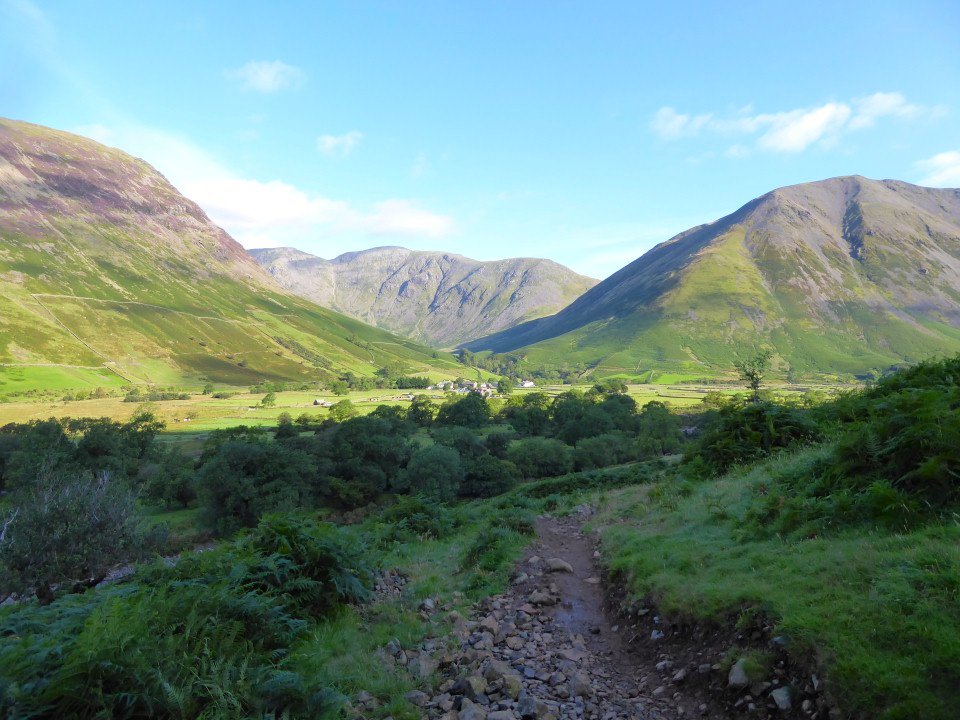 Looking back to Wasdale Head.
Engage first gear, head down and plod.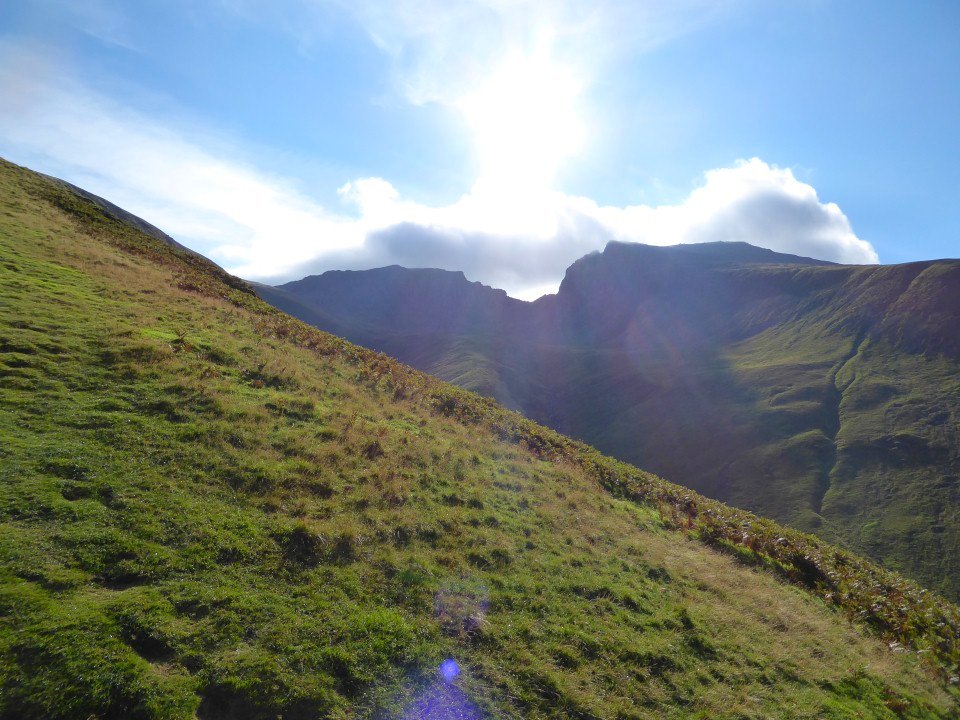 Dark and brooding Scafells'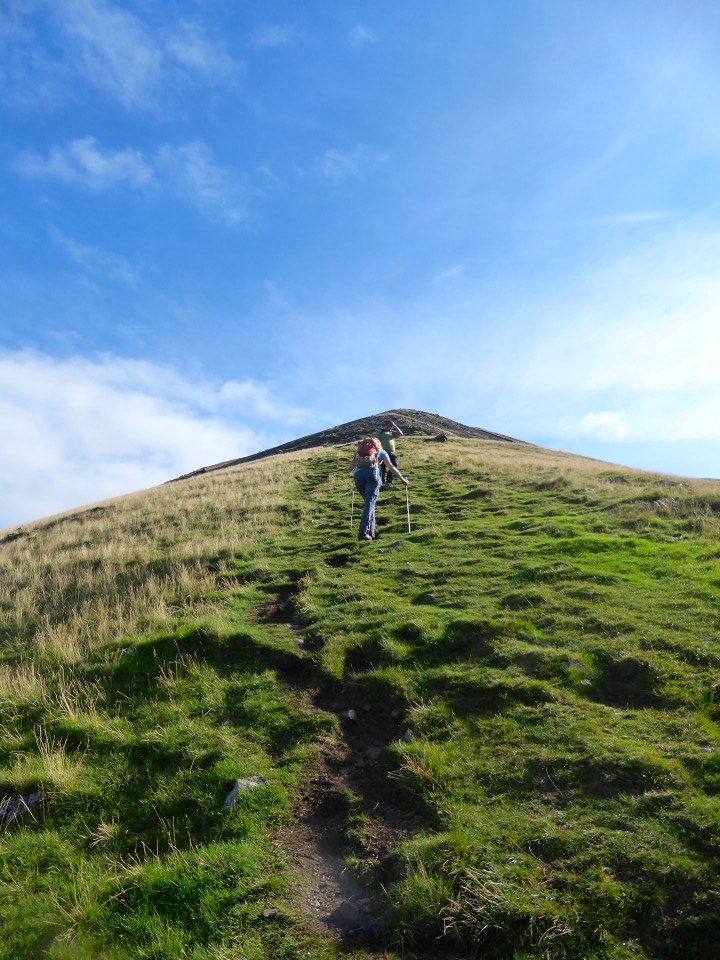 Still plodding.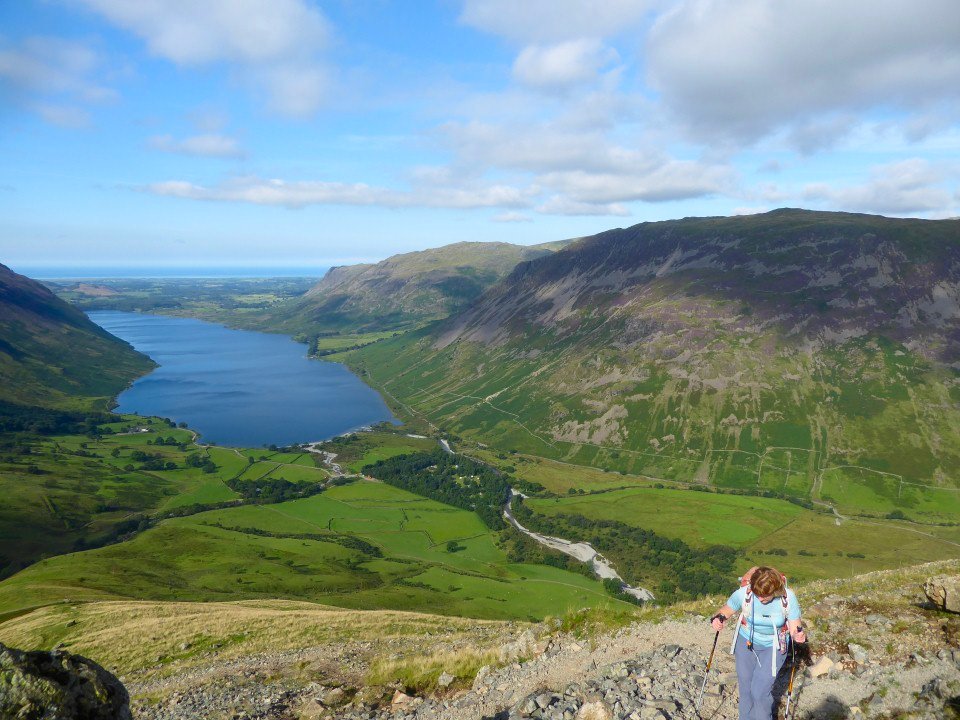 It was hard work but a still a great way to spend Monday morning.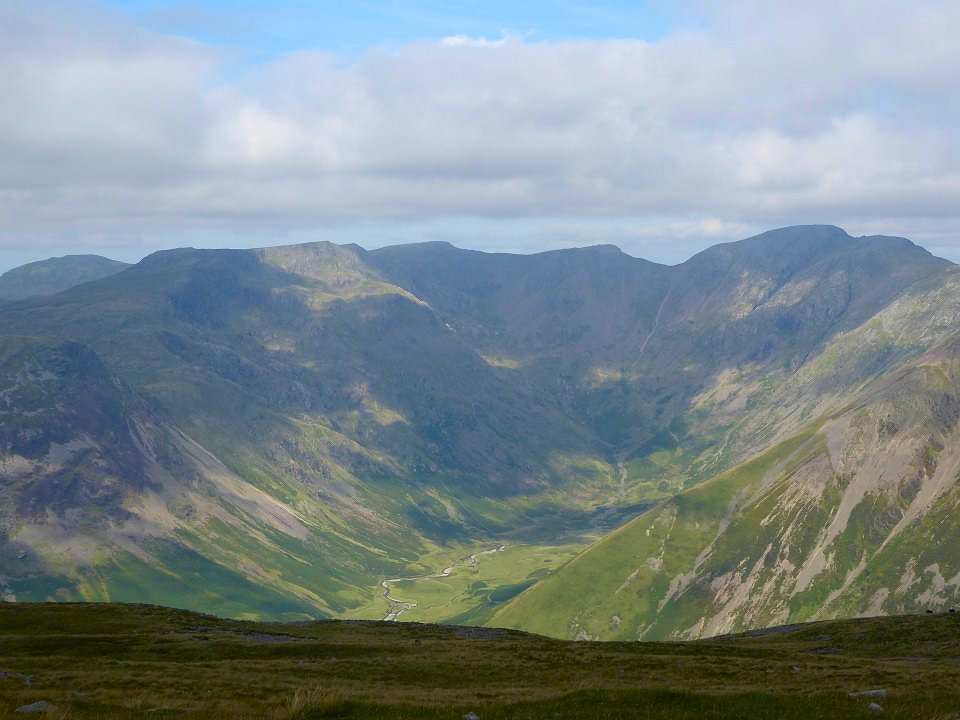 The view across to Mosedale from Goat Crags.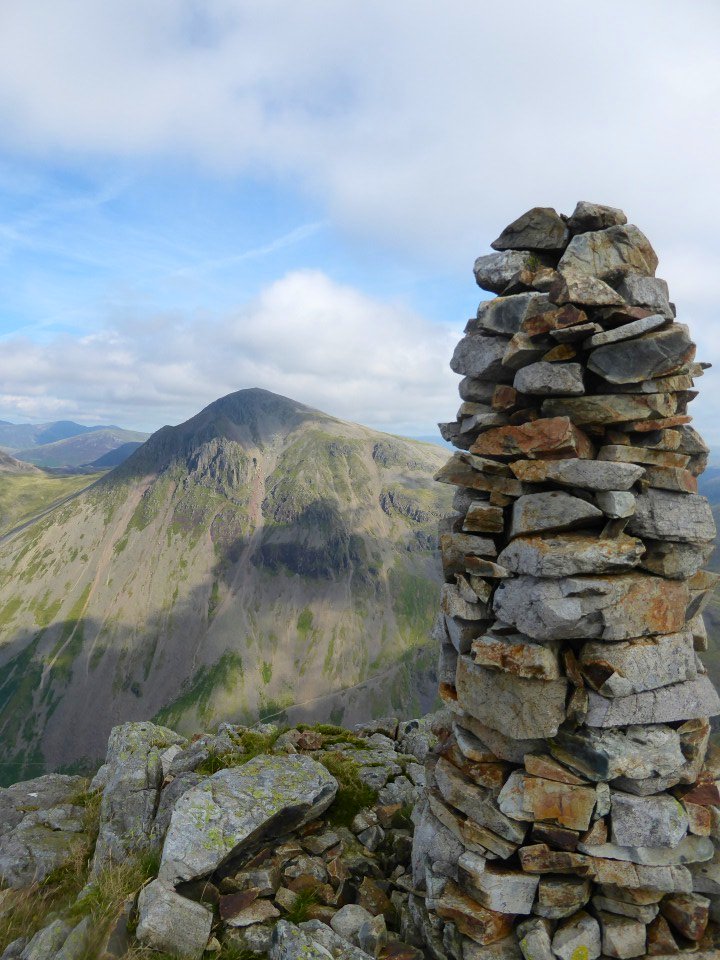 The lovely lower cairn on Lingmell with Great Gable behind.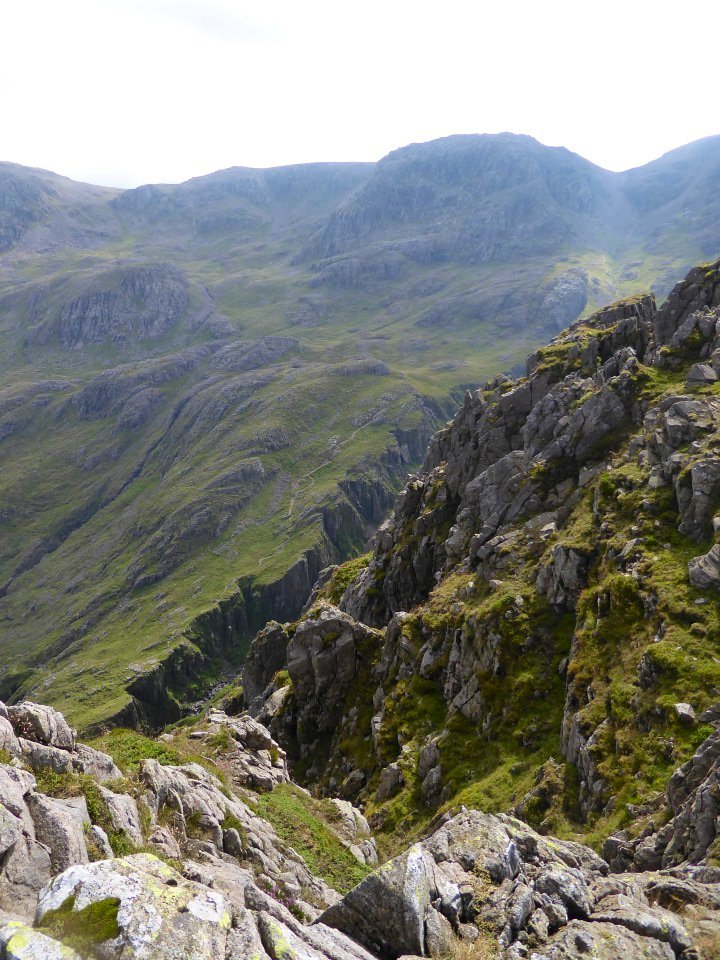 Piers Gill from above.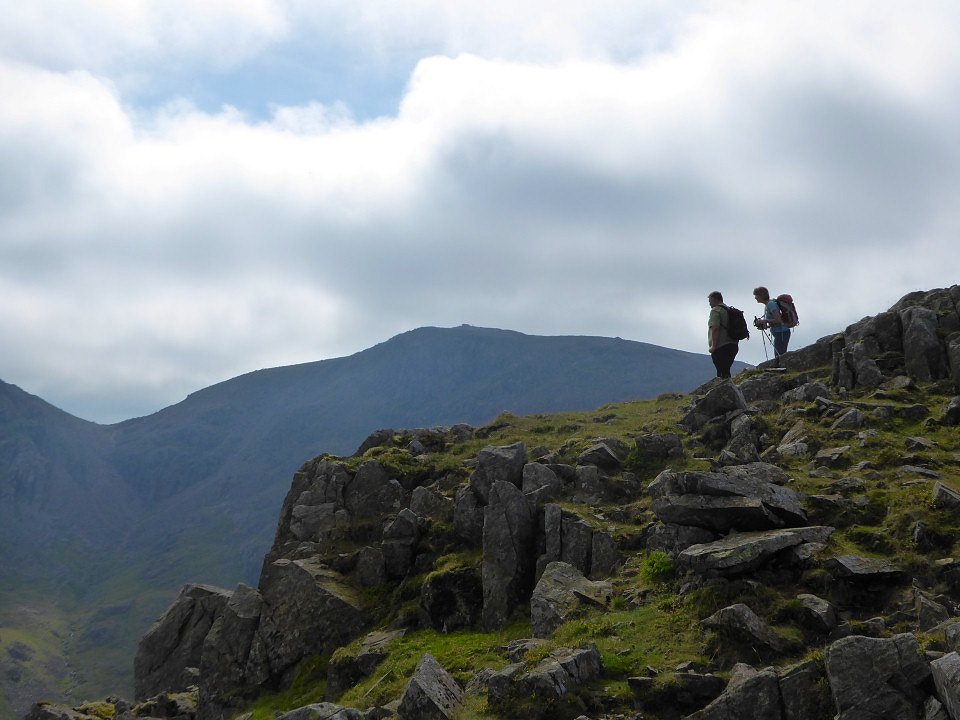 Scafell pike in the distance. Sue looks to be having a tentative peek over the edge.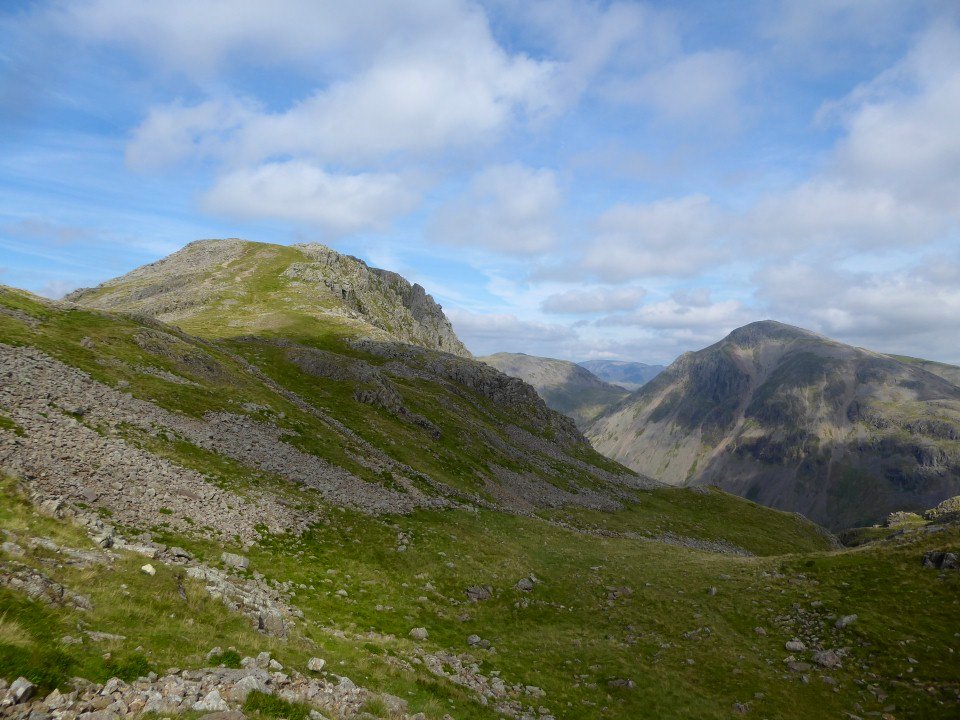 Lingmell from Lingmell col.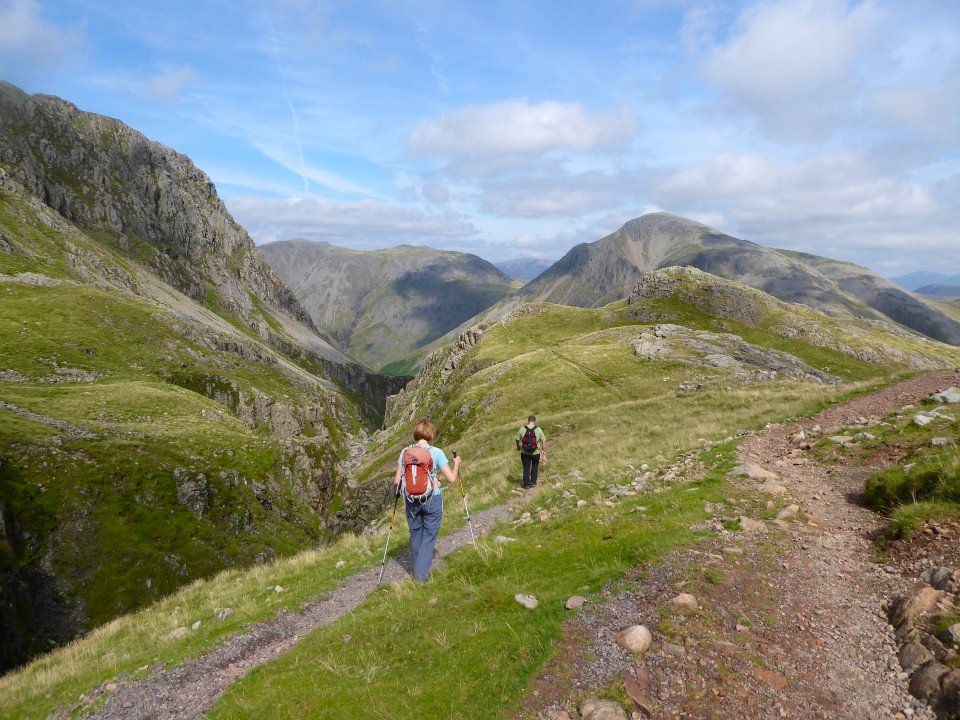 Heading down the path by Piers Gill.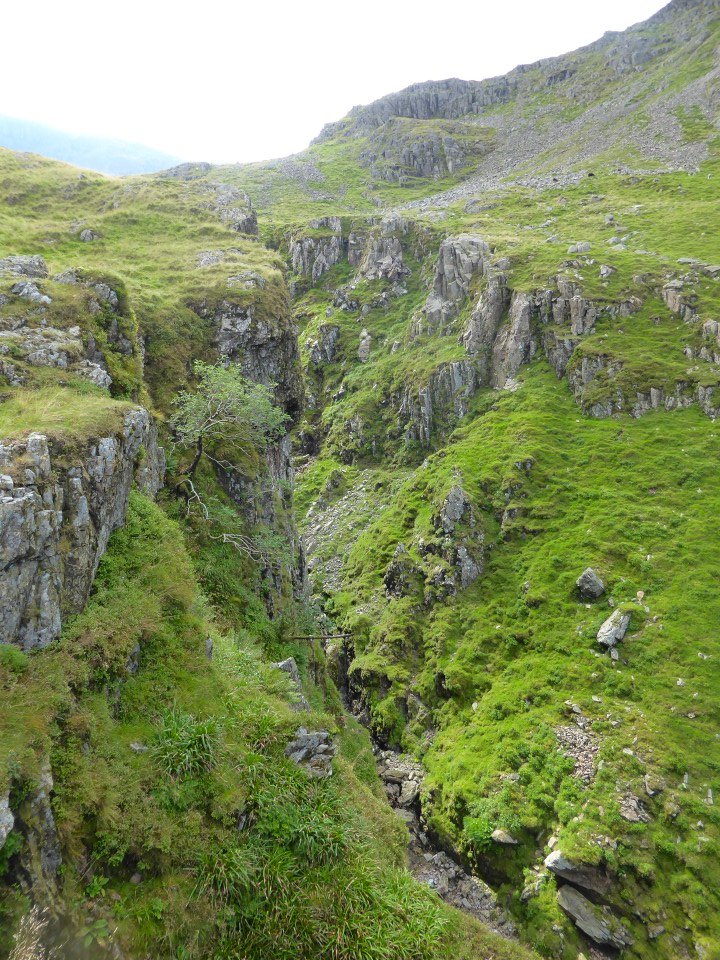 I thought the little tree sticking out would make a great place for a rope swing. Sue didn't agree.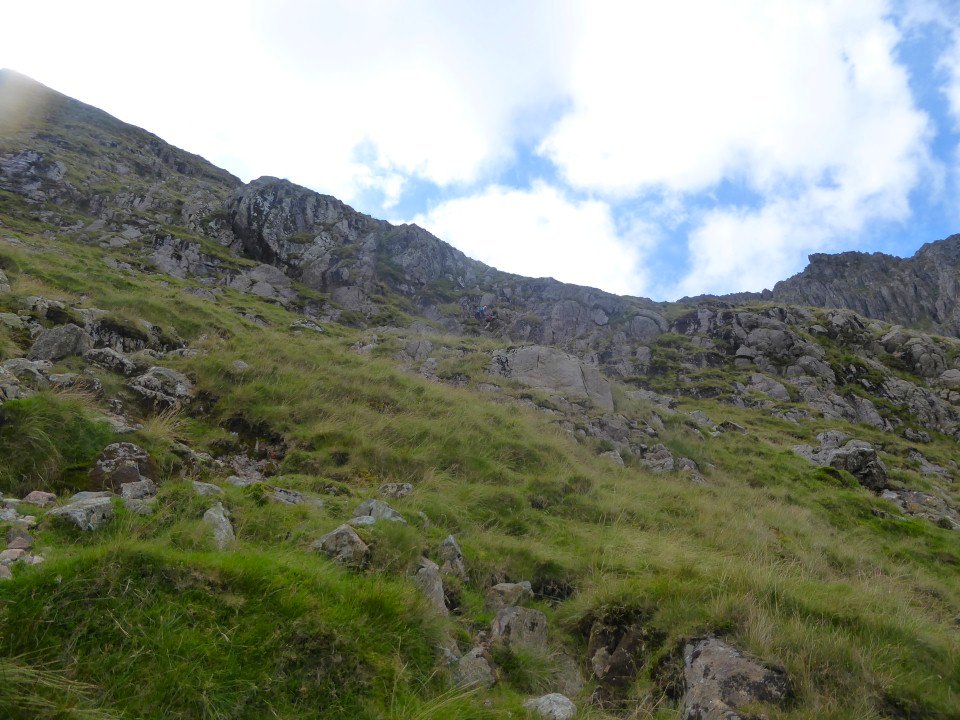 Looking back up to the tricky section. I should think coming down is harder than going up as we did struggle in a couple of spots but a family with young children who passed us climbed up with no bother at all.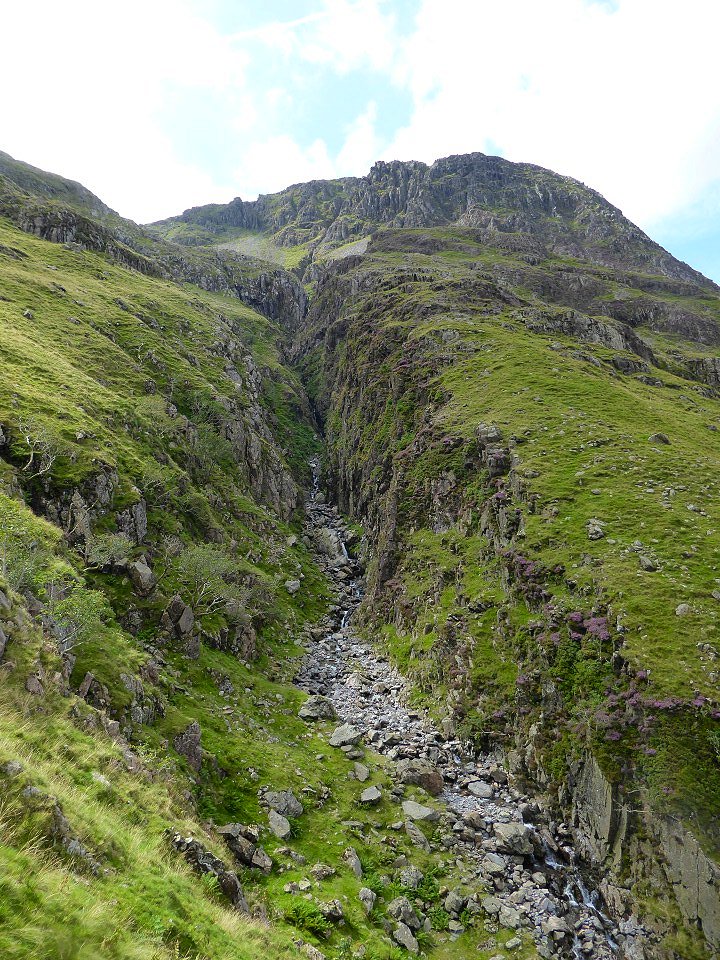 Nearly every step brought another wow moment looking into the gill.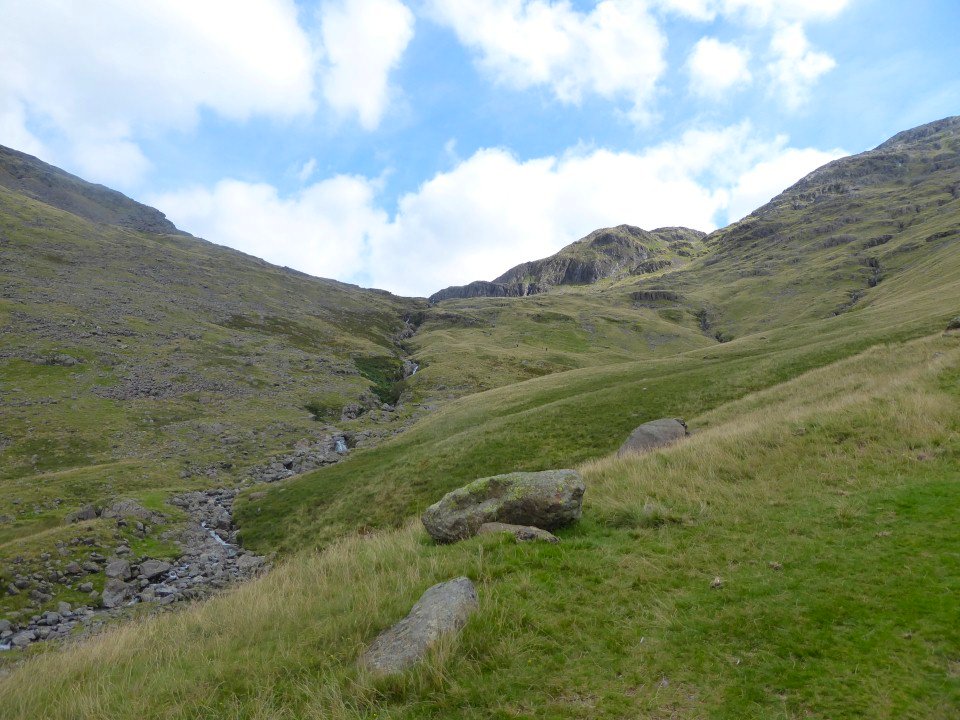 Eventually the fun is over and we reach the valley floor.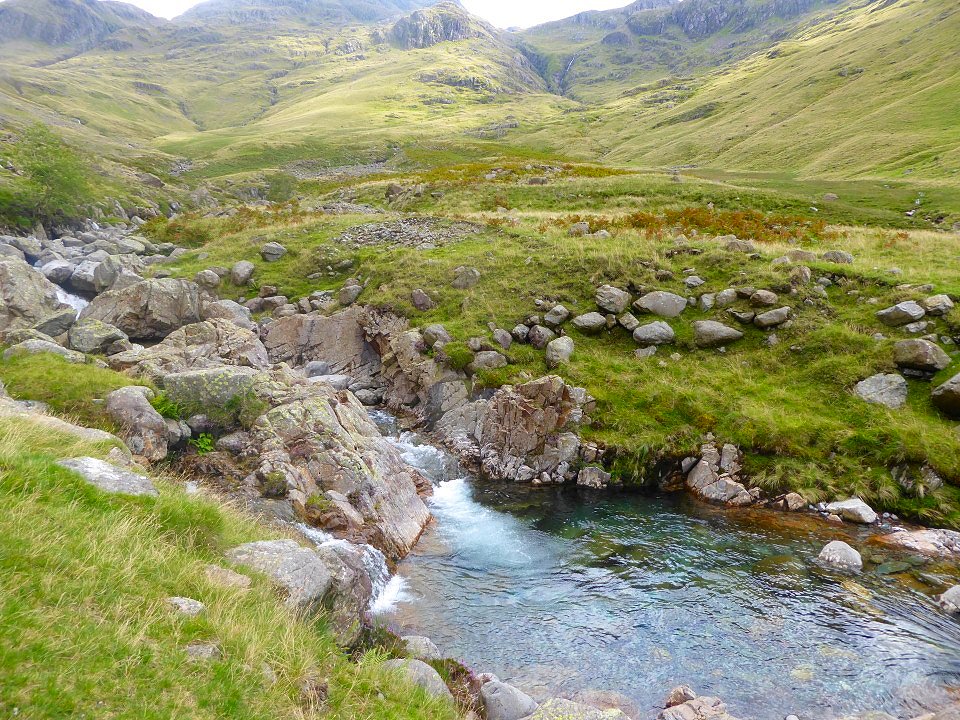 Lovely pool in Lingmell Beck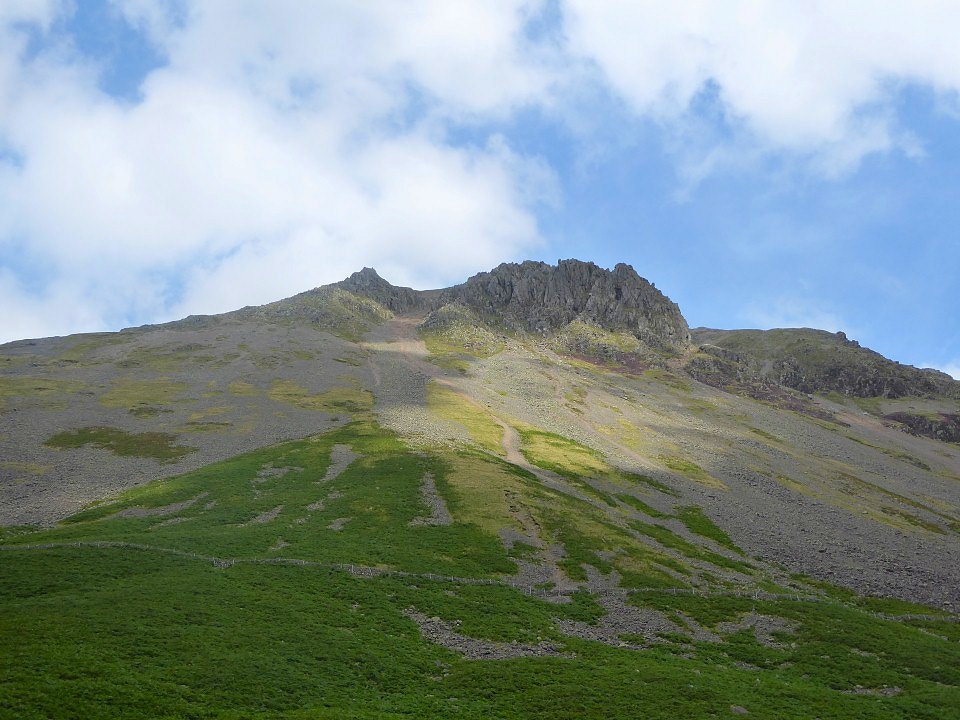 A look up to the Napes on Great Gable.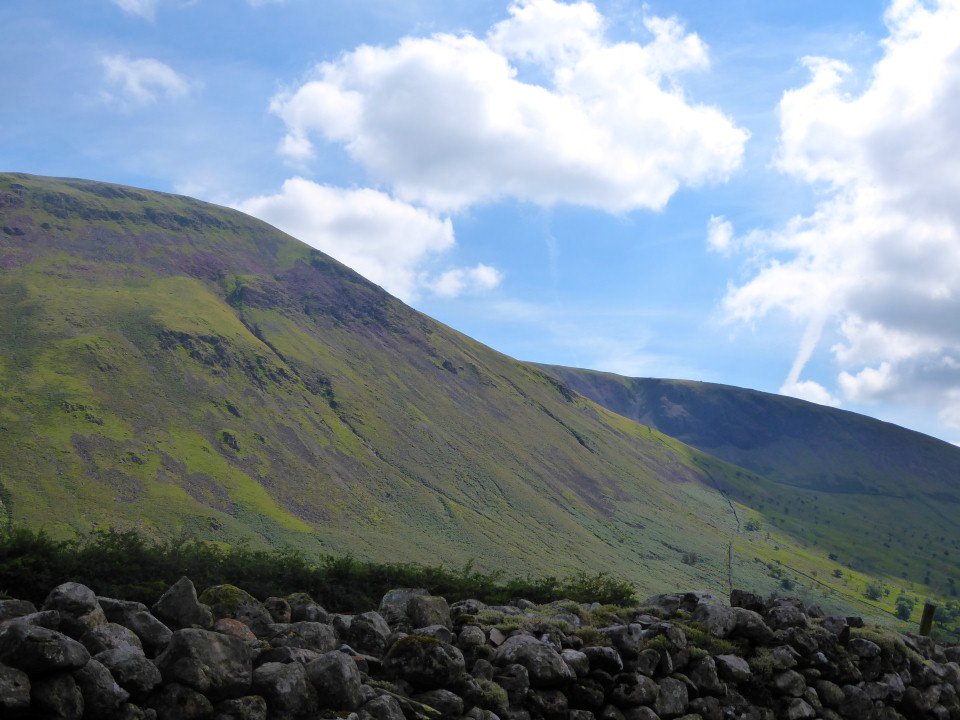 Our ascent route. Looks nothing from here!